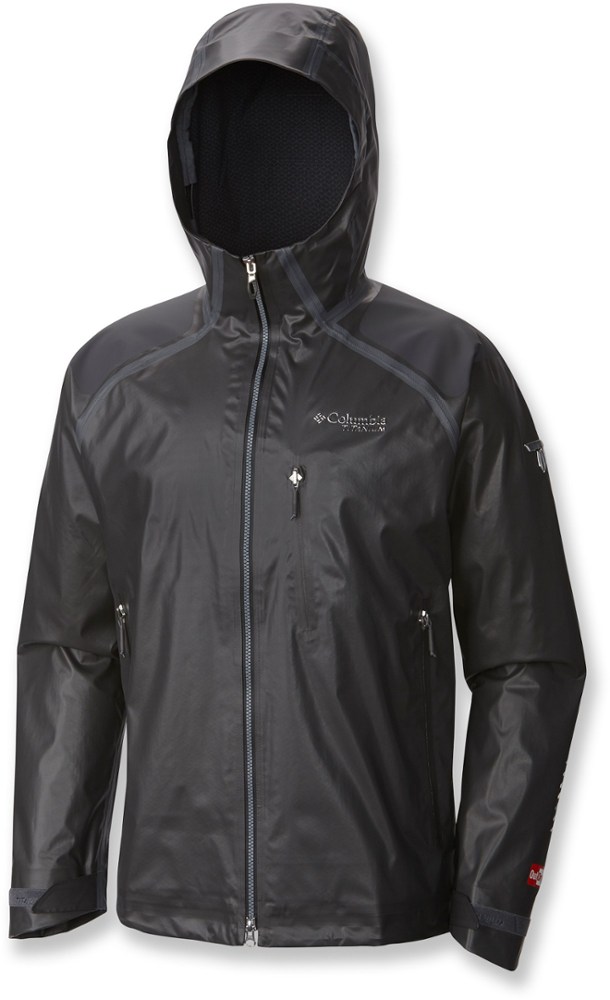 Specs
Price
MSRP: $400.00
Historic Range: $199.83-$399.95

Reviews
1

review

5-star:

0

4-star:

0

3-star:

1

2-star:

0

1-star:

0
The Columbia OutDry EX Diamond Shell Jacket is a waterproof shell that does great keeping the rain out, but places form over function.
Cons
Breathability
Cost
Plastic finishes
Form over function
I tested the Columbia OutDry EX Diamond Shell during the winter and spring of 2016 in the White Mountains Region of New Hampshire. The temperatures were above average and precipitation was more often rain or wet snow than anything else.
I had planned on testing this jacket as an alpine touring and skiing jacket, but with the low snow levels I ended up mostly using it for hiking. While this was disappointing in terms of winter activities, I think it was a benefit to the jacket because I do not think it would perform well as a backcounty skiing shell.
As I reviewed this jacket I constantly debated the rating I felt was best. On one hand, it was highly waterproof, some might call it extreme, which is great and is exactly what Columbia designed the jacket to be. However, on the other hand, I never enjoyed wearing it. The material that makes the jacket waterproof also makes it feel like the plastic rain coat I had when I was growing up. This causes it to move in a stiff manner and does not allow for a smooth range of motion found in other waterproof shells.
I also looked at how the jacket was designed to be worn versus what I felt it was best used for. Based on the marketing materials you would suspect that the jacket was designed to use during four seasons of hiking and skiing. However, my experience makes me feel that it is best for front country resort skiing and little else.
Finally, the retail price gave me pause. For those that have read my Review Corp posts in the past you will notice that I rarely mention price. I feel that I cannot dictate what someone decides is expensive versus inexpensive. The only time I discuss price as a pro or con is when I feel a product does not match the price point.
This jacket currently retails for $400. If I were to only look at the waterproofing component I would say that that price point is appropriate since other highly waterproof shells made with high end materials will hit that level of cost. However, there are a number of other things to take into account when it comes to looking at a jacket and I found that many of the features I look for in a $400 jacket simply were not present in the Columbia OutDry EX Diamond or they were done using inexpensive materials.
All of these issues will be discussed more fully in the review.
Fit and Comfort:
The Columbia OutDry EX fit me well. At 5'10" I fall well within the range for a size medium jacket. The arms fell just below the wrist, which is ideal and allows for continued wrist coverage even when reaching. The hood fit over a beanie or ball cap well.
I was disappointed to find that the hood was not helmet compatible.
This is a big deal for me because many of my winter activities, as well as some summer activities, involve the use of a helmet. To not have helmet capability really limits the use of this jacket to only low angle, low risk activities.
The inside of the jacket is lined with a soft fabric that I found to be comfortable against the skin and prevented some of the sticky feeling that I have experienced in other shell jackets.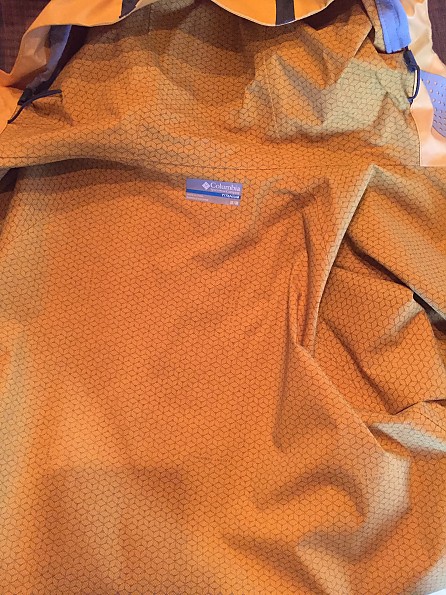 As mentioned previously, the outer material reminds me a lot of the rain jacket I had when I was a kid. It is slippery and does not move as freely as other materials. I noticed, or at least felt, that I was making a lot of noise while moving. It also created a situation where I never forgot I was wearing the jacket and did not ever enjoy putting it on.
Adjustability:
This jacket has rather limited adjustment options. The hood has a simple pull string on either side of the front to close the opening around the wearers face and only a hook and loop tab on the back to adjust for head size.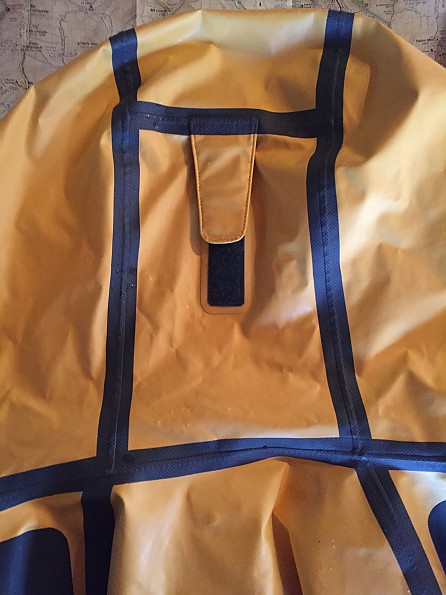 This does not allow for much custom adjustment. I found that I never moved the adjustments because the fit did not change much and was just not worth the effort.
There is a drawcord on either side of the waist to close the bottom.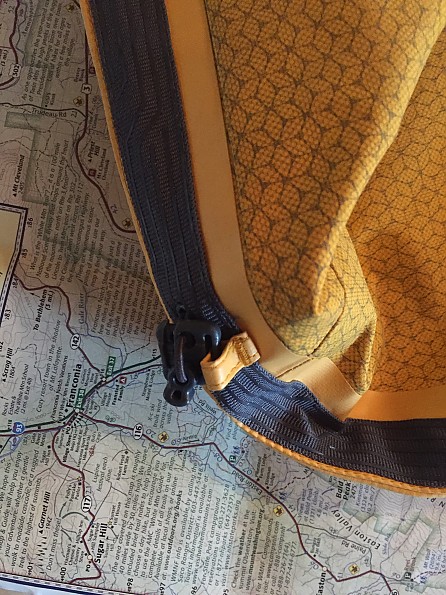 Again, I did not end up adjusting this because it was not worth the effort for the small gain I would receive.
Finally, the wrist cuffs have a large amount of adjustment to tighten the cuff around the hand or glove.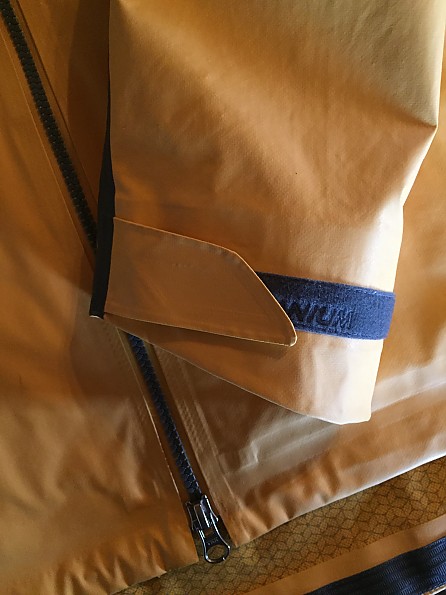 This feature worked well and allowed for some nice customization.
Water Resistance:
The water resistance was the best feature of this jacket. The OutDry EX material sheds water and snow and I never experience any wetting out. Also, based on the feel of the fabric I don't think it would ever lose its waterproofing ability. This is a great feature in a waterproof jacket and the Columbia OutDry EX Diamond exceeds expectation in this category.
Breathability: 
The constant and continued struggle with outerwear is the balance of waterproofing and breathability. Over the years I have had many shell jackets and they all fall somewhere along a spectrum that ranges from 100% waterproof/0% breathable to 0% waterproof/100% breathable. This jacket falls closer to the 100% waterproof end of the spectrum.
I found that when I began hiking uphill and building up my perspiration the inside of the jacket got rather warm and steamy. This happens with most shells but I found it happened with this one even at temperatures between 30 and 40 degrees. Columbia does provide underarm zips to help dump some heat. This is helpful, but I found that the zips were much shorter than I was expecting.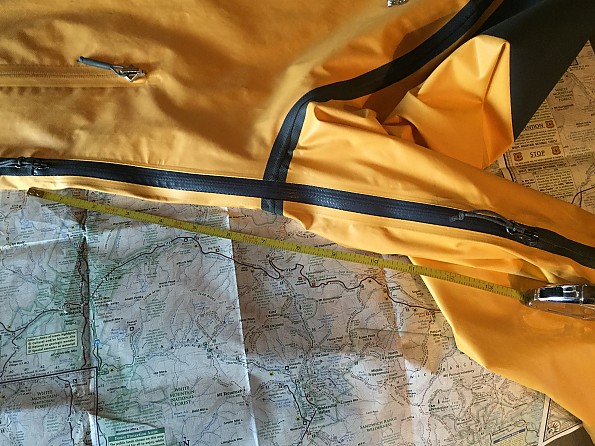 It is a little hard to see in the picture but the zips only measure 14 inches from top to bottom. Most other shell jackets I have that come from a comparable price point have zips many inches longer and some extend from elbow to waist. Extending the zipper length would go a long way to help this jacket have a little more breathability.
Moisture: 
I mentioned earlier that the inside material was soft against the skin and helped prevent the sticky feeling that sometimes occurs while wearing waterproof shells which was appreciated. 
Warmth:
As an outer-shell with no insulation I did not expect this jacket to keep me warm by itself because that is not how it is designed. With that being said, it did trap body heat and retain it for extended periods which kept me warm when it was cold out, but also kept me warm when it was not so cold out.
Layering:
I found that the jacket was designed very well as an outer shell. It had enough room to comfortably fit an insulating layer and maintain that layers loft for warmth and did not feel too big when worn without additional layers.
Abrasion:
The OutDry material is rather slick allowing sticks and other abrasive objects to slide off without issue. I have long-term concerns for the branding labels because they are raised and attached with adhesive and I assume they may begin to peel off overtime.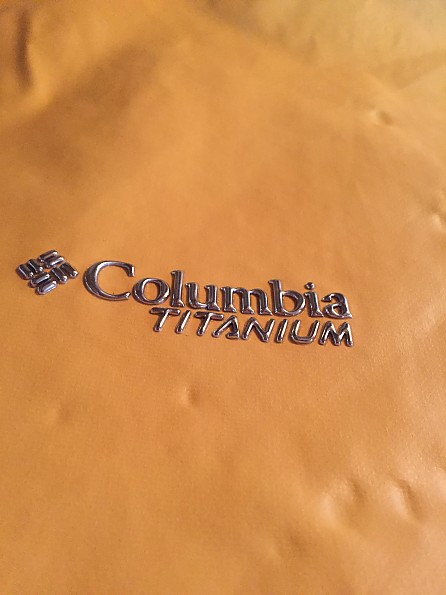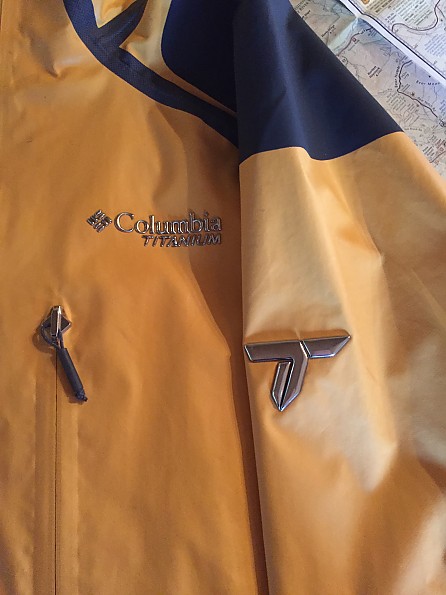 Function:
I feel that this jacket was designed with style before function. There are a number of "cool" looking lines and features that catch the eye but do not provide anything towards the function of the jacket, like the shoulder material and the branding.
The shoulders on the version I tested were a different color than the jacket itself. This makes for an aggressive look that makes one assume the material is more durable in that area. I found that it is the same material as the rest of the jacket and is not reinforced. It is simply for looks.
The branding is raised and has a polished silver look. Again, this catches the eye, but it also will catch backpack straps and frames, and branches. One of the branding labels is in between the shoulders on the back. This is a great way to tell the person skiing behind you what jacket you have on but if you are wearing a pack it will eventually press against your skin causing discomfort or just wear off entirely because of your pack.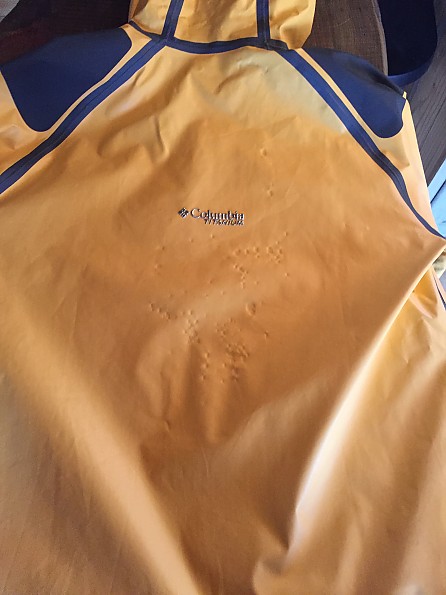 There are also stylistic features that I feel impede the function and performance. These include the zippers, pocket locations, and lack of hanging loop. The only YKK metal zipper on the jacket is the main zipper up the middle. This is great since it is the one that gets the most use. However, the pull on that zipper is was enlarged enough to include a small "T" which is in reference to the product. For those counting ounces this is an example of something that would have been lighter if it was just a nylon pull cord.
All other zippers on the jacket are shiny and look nice from across the room but they are simply plastic. As anyone who has spent a lot of time in the backcountry knows, thin plastic will break.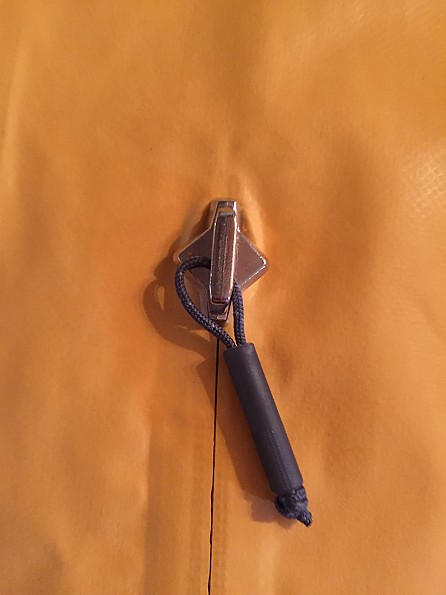 The front pockets are not designed for a hip belt. I found that every pack I tried with this jacket had the hip belt land halfway between the top and bottom of the opening rendering the pocket useless.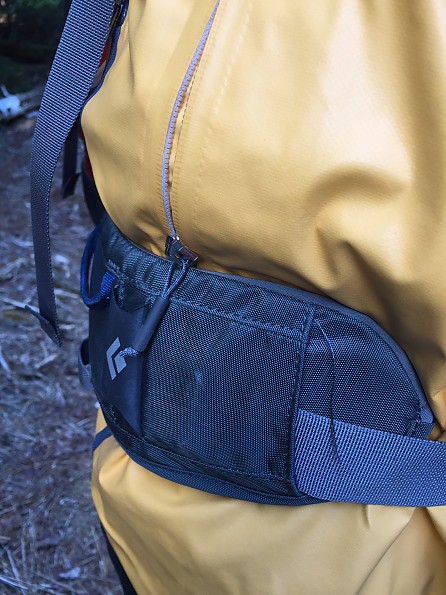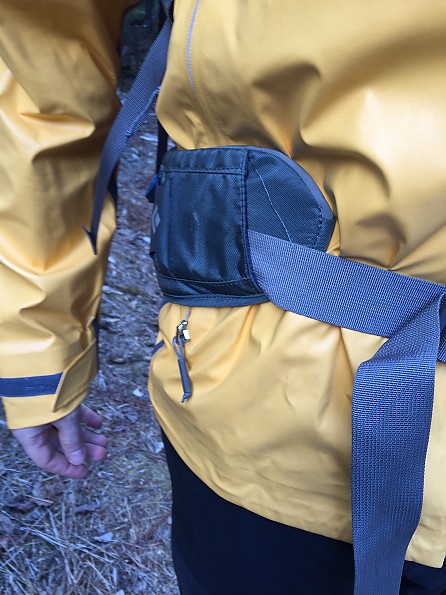 Moving the zippers up slightly would eliminate this issue. However, I know that many people who do not backpack would find the height of the pockets odd. My assumption is that the target audience for this jacket is not a seasoned backpacker and therefore the placement of the pockets was designed for traditional hand location versus interaction with other outdoor equipment.
A small feature missing from the jacket is a loop so that it can be hung from a hook.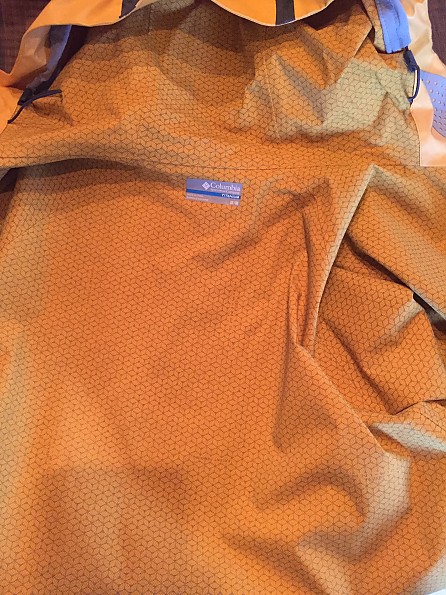 My assumption is that this was done to keep the inside looking "clean." However, this is a problem when it comes to trying to hang a jacket up. You can hang it from the hood but it then hangs low and is not secure on the hook since the hook does not pass through the hood. I know that this is not a big deal for everyone but I find it very frustrating. 
Construction and Durability:
The shell material on the OutDry EX Diamond jacket is well made and does what it is designed to do. My only concern is that I have not been able to identify if there is a way to repair this material in the field or at home. Many other waterproof fabrics have patch kits but I have not found one for the OutDry material. Columbia does repair or replace outwear that is damaged as long as it occurs within the expected lifetime of the product.
Besides the shell material I found the construction of finishes to be weak. My biggest concern is that the zippers will fail since they are made of plastic.
Conclusion:
The Columbia OutDry EX Diamond Jacket does not fall high on the list of my favorite shells. While it was waterproof, I found that style was put before function and does not match in quality to other jackets at its price point. I think that it is perfect for a resort skier who is looking for a waterproof shell but will never put on a pack and head to the woods.
At its current price point, those looking for a hardworking, functional, waterproof/breathable shell that will perform in harsh backcountry scenarios should look elsewhere.
Source: received for testing via the Trailspace Review Corps (Sample provided by Columbia for testing and review)


All OutDry Ex Diamond Shell Jacket versions
In addition to the 1 men's review above, there is 1 review for another version of the OutDry Ex Diamond Shell Jacket. Read all reviews »
You May Like
Recently on Trailspace