Dana Design Bridger

Dana Design is no longer in business, and the Bridger has been discontinued. If you're looking for something new, check out the best weekend packs for 2023.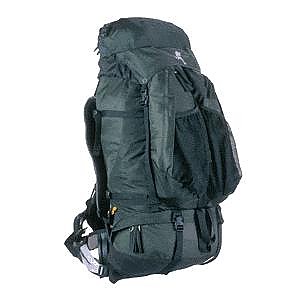 I used this pack for a one week, 60+ mile solo backpack in the Sierra Nevadas. In general, I am very pleased with the Bridger. It is relatively light (4 lb. 7 oz.), reasonably priced, and very comfortable to carry (up to 35 lbs.).
What I like:
Comfortable shoulder straps and hip belt. Useful long pockets on the outside. Pack feels "light" when loaded -- for some reason, I walk more upright with this pack. Probably the easiest pack to carry I've ever tried. Bomb-proof construction. Infinitely adjustable shoulder harness. Top and side compression straps work well. Simple, non-gimmicky design. Optional "Rib" pocket that attaches to bottom of shoulder straps is very convenient, though the combo one with pocket and bottle holster gets in the way of your leg when hiking off trail.
Didn't like: Velcro suspension is very hard to adjust -- be prepared to lose all the cuticles on your fingers. On this line of packs, Dana Designs does not give instructions on how to use the harness adjustments; I still don't know how to use all the shoulder strap options. Pack material is dark, making it hard to find stuff inside. It is also clumsy to use the main compartment. The hydration pocket, storm collar and floppy shoulder attachment all get in the way of loading; the internal vertical compression strap (which you must use) almost always falls to the bottom of the pack while loading. The hip belt works well up to 35 lbs.; I carried 40+ and the hip belt couldn't keep the load up. You can't adjust the hip belt too low on the pack because the curved bottom of the pack gives it too much cant. Top lid is too small. The buckles that attach the top lid to the pack face the wrong way; they can only be adjusted with the lid unlatched. This is a real pain when the main pack compartment is extended and you are trying to get the lid strapped down just right. Pack capacity runs smaller than specified -- it is more like a 3300 cu. in. pack. Dana may be measuring the capacity of the fully extended pack (it is significantly smaller than the Gregory Reality or Lowe Ophir). It was kind of tough getting a week's supplies in this pack. The pack also needs wand pockets to secure gear like tent poles to the outside.
Bad: A bear cannister will not fit sideways in this pack. I had to purchase a bigger pack (Gregory Reality -- nice, but not as comfortable) for bear territory trips.
Design: Internal
Size: 4000 (mfg. spec.)
Number of Pockets: 4
Max. Load Carried: 40+ lbs.
Height of Owner: 5' 1"
Price Paid: $250

I don't know how fair this review will be since this was my first and only pack for my first extended hiking trip. I carried this with me for 80+ days this summer while section-hiking the AT.
It is a smaller pack than most of the other ones carried but that was what I was looking for. At the beginning it was a little hard to stuff but after I realized I didn't need everything I had and sent it home, the pack was great. Inside the main compartment I would easily fit my sleeping bag, tent, food bag (and cookware), clothes bag and along the inside I would place my platypus bladder. The two outside pockets were very convienent for an extra nalgene bottle, headlamp, water filter, etc. Basically anything I needed throughout the day I could fit in those two pockets.
One reviewer was right about the velcro suspension system. It is difficult and somewhat painful to separate high performance velcro like that. But it gives you a lot more range in adjusting packs than others do. During the whole trip I had to adjust it twice. The straps on it were very easy to adjust although the top straps would occasionally loosen up while hiking. It was a VERY comfortable pack for almost the whole trip. By time I reached the end I had lost 25 lbs and I was in need of a smaller hipbelt.
I had already exchanged a hipbelt out while at Traildays with the Dana Design guys. They thought a smaller one would fit me better than the medium. After I got back on the trail I realized that the small one wouldn't work. So at the NOC I called Dana and they said they would send a medium one to Fontana Dam. They really went out of their way to get it to me in time. The best part is that I was at the Fontana Hilton Shelter when the FED EX man showed up there with my new belt.
I would recommend this pack to anyone doing a hike with up to six days worth of food as long as they don't overpack on other things. Cheaper and lighter than the Terraplane X.
Design: Top Loader
Size: 4000
Number of Pockets: 3
Max. Load Carried: 45lbs
Height of Owner: 5'8"
Price Paid: $240

Once you decide to carry lighter loads for ALL your backpacking, this is a good pack to have. Provided the fit is correct, many days worth of gear can be carried.
I have used this pack primarily for trips up to one week. It looks just like Dana's Terraplane. The suspension is recommended for up to 40 lbs. but only slight discomfort appears approaching 60 lbs. It has the full complement of Dana's bigger pack features like contoured straps, 1000d & 500d cordura, storm sleeve, top pocket, etc. The hipbelt may appear to be lacking in padding, but it wraps all over your hips, not directly on top, thus not requiring much padding.
It rides very well and stable. Classic compression, stabilizer, and lifter straps abound. The front pockets hold two nalgene's a piece. A single alum. stay w/ plastic framesheet provide enough support for the loads you may feel like carrying. I have used it climbing as well, and it performs adequately. A somewhat clean profile makes arm movements smooth, and big zippers with 1000d cordura body make it strong. The Overkill version offered adds only 1000d in the pockets, yippee.
I recommend it highly for whatever you want.
Design: internal
Size: 4000
Number of Pockets: 4
Max. Load Carried: 60 lbs
Height of Owner: 6'0"
Price Paid: $250

Best pack you can't get anymore.
Pros
MOCs (materials of construction)
Workmanship
Basic compact design
No gimicky compartments and extra zippers etc.
I bought this Jan 2000 before the lightweight craze got going. It has a small upper and large lower internal compartment and the two dive tanks on the back. Workmanship is beyond reproach. If you can fit it in, it carries like a dream.
It can be a bit warm as is typical with internal frames. This pack makes you think twice about what you want to carry since it isn't overly large. The outside is simple with just enough places to attach things that don't fit inside.
Source: bought it new
Price Paid: $255

This is the only pack I continue to use time after time. I have tried other packs to get lighter but they always hurt me after awhile. Not so with my Dana and I have put 60# on her and hiked a week with no problems. Other packs with a 20# load kills me.
I had to replace the hip belt for a smaller one but that's the only thing done to it in 10 years of packing with it. Sorry they are no longer being made.
Price Paid: don't remember

Very good design, good craftmanship. Again. The front two column pockets can easily accomodate the tent/fly poles.
Comfortable if you don't overload (~40 lbs), my shoulders sore when the weight exceeds ~60lbs
In general, I am very pleased with the overall performance.
Design: internal frame
Size: 66 L
Number of Pockets: 5
Max. Load Carried: 60 lbs I guess
Height of Owner: 173
Price Paid: ~ US $250

Your Review
You May Like
As of 2006, the Dana Design Bridger is being sold as the Marmot Bridger.
Specs
Price
Historic Range: $149.94-$169.95
Reviewers Paid: $240.00-$255.00

Recently on Trailspace