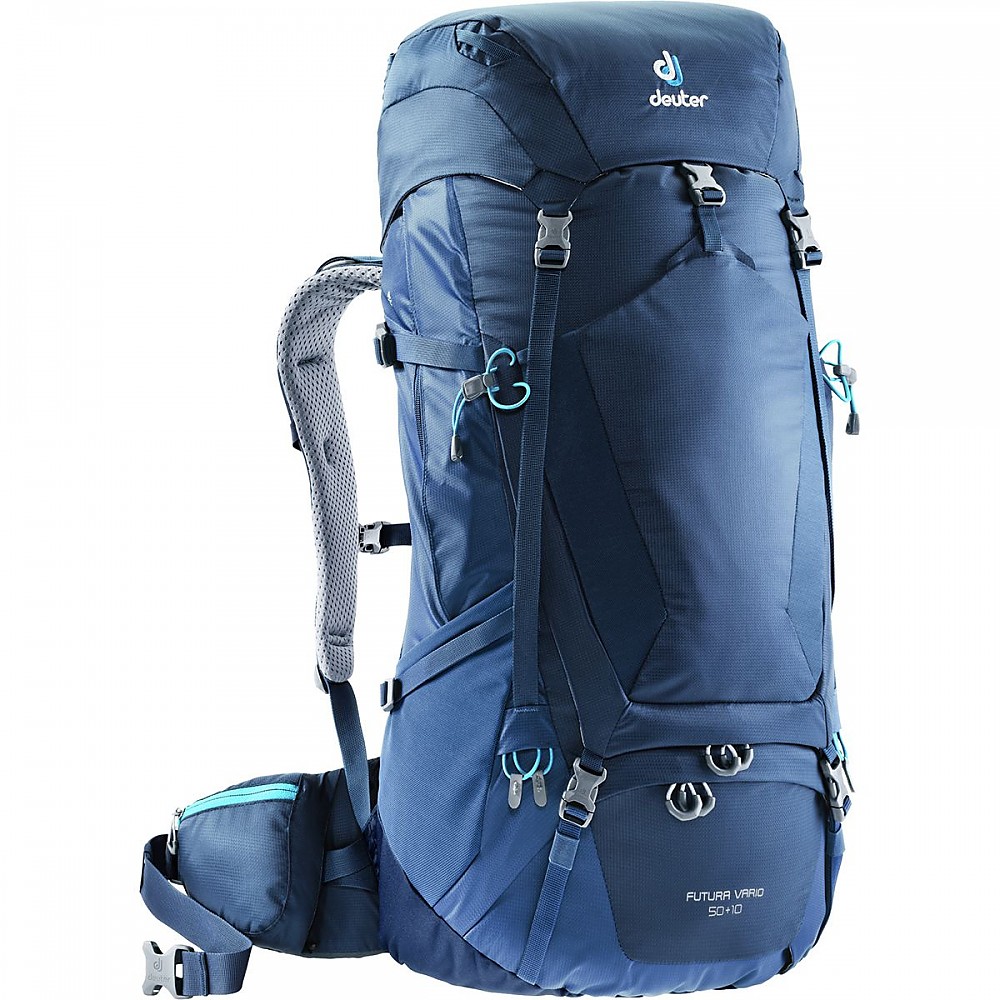 Specs
Price
MSRP: $199.00
Historic Range: $99.95-$230.00
Reviewers Paid: $70.00-$178.00

Weight
4 lb 10 oz / 2100 g

Capacity
3050 cu in / 50 L

Size
30 in x 14 in x 11 in / 76 cm x 36 cm x 28 cm

Material
Deuter-Ripstop 210 / Deuter-Super-Polytex

Reviews
5

reviews

5-star:

1

4-star:

2

3-star:

0

2-star:

2

1-star:

0
Good for ultralight, noisy squeaking, worth the price.
Pros
Cheap, I got it discounted 50% from $170 to $87 (IDR 860k)
Good airflow
Waterproof
Many pockets
Tough, I throw it many times from 10 meters height
Fit onto the body
Can carry comfortably up to 18 Kg
Provided with raincover with its pocket at the bottom of the carrier. and many more
Easy access to the top lid/pocket/fanny. This is the only pocket I was capable to reach while walking
Cons
Heavy for 2,2 Kg
Can't carry confortably more than the recommended load: 18Kg
Noisy, always squeaking every step... "ngik ngik ngik"
Weight is not distributed well to lumbar, waist and back
Hard and stiff harness and belt
Rain cover is not waterproof
The stretchy mesh side pockets are useless, unreachable even with my hand bending
The top lid or fanny is a non-removable. and many more
no pocket at the hip/waist belt
I'm male, 172 cm height, 70 Kg weight.
This is the third carrier I had. Previously I had Eiger 38 L, but the back system makes me sweat, so I find another carrier with good airflow system.
This carrier is good for 18Kg load. But worst distribution weight if you carry more than 18 Kg.
When I hike Mount Ciremai at Central Java, I brought 25 Kg with this carrier, which is soooo wrooong...
It's so uncomfortable along the trek, and the weight distribution point likely to be pressuring my back which is very painful because I overload. and also painfull to my shoulder.
The vari-fit for Vario version is good enough to adjust the torso. There are so many compartments. Right, left, and front for H2O. It's like bulletproof though. The top lid access is easy to reach even when we walk.
The stretchy mesh side pocket is useless. I didn't use it at all while three days and four nights walking on the Mountain Ciremai. The squeaking noise is so annoying, you just need to be patience with the noise, or you can polish some Virgin Coconut Oil to the aluminium frame at the back of the carrier. The airflow aystem is the only favorite thing I like within this carrier.
If I just had a little more cash, I would spend it on Jack Wolfskin Denali (IDR 1200k) or Deuter ACT Lite. If I had more money, maybe I would buy the Gregory Whitney for the weight capability.
Source: bought it new
Price Paid: $87, already discounted 50% from $ 170 at Tandike

Great backpack with useless hip belt suspension.
Pros
Durable materials
Many pockets
Cons
Poorly designed suspension
The pockets on the belt are too small
I used to be a huge fan of Deuter's products but I'm very disappointed in this backpack.
The hip belt is poorly designed and it doesn't transfer the load properly. It lays too low (on the upper part of my butt) even if I tighten the belt very hard. The lumbar support doesn't exist practically. This makes the backpack very uncomfortable.
Otherwise the backpack is great. It''s not so lightweight, but it's durable and has so many options. It has many pockets. 
I like the mesh back—it's comfy and keep me ventilated.
I would switch to Gregory's Zulu 55, on which the suspension is very good and it's lighter, but not so durable and has less pockets.
Experience
I have it for three months and I'm using it in the Bulgarian mountains for trekking.
Source: bought it new
Price Paid: 215 EU

Pros
The zippers swivel side to side 180 degrees, making them extremely easy to zip back and forth
Pocket divider that divides the sleeping bag compartment works excellent
The only backpack tried so far (of more than a couple dozen!) that felt good holding the weight of the pack before loading it And even better with weight in it!
Top loading compression straps are just the right length, not so long that you look like you're wearing a parachute, just enough length to work.
Has its own built-in rain cover! How cool is that?
It's adjustable to fit your individual back length
Cons
It doesn't really have any cons.
Don''t bother going into stores and spend hours trying out packs.
Don't order twenty or thirty packs online and find there's always some feature on them you don't like! Just get this pack instead!
Design: top loading internal frame backpack
Size: one size
Number of Pockets: 7
Max. Load Carried: 40-60 lbs
Height of Owner: 5' 11"
Price Paid: $178

Keep two things in mind when you read this review: 1) I typically read multiple reviews on a product before purchasing, and 2) this is my first internal frame pack.
I was immediately impressed when I saw the pack in the store, both with the quality of the pack. It seemed to stand out from the other packs on the wall (gregory, osprey, kelty, mountain hardware, etc.). Maybe I'm just a sucker for blue, but I liked this pack visually at first.
Once I picked it up, I was very impressed with how light it was, and after carrying your typical walmart brand back-pack on day hikes, I knew I wanted my first internal frame pack to be light. I was also impressed by the Vari-quick harness and the Aircomfort ventilation system.
Many of the packs I saw were set up to a specific torso range, but with the Vario you can adjust the location of the shoulder straps to get the best fit for your body size. With the Aircomfort system, you'll be less likely to develop that huge wet-spot on your back that comes from a normal hike with a pack that sits flush to your back (unless you just sweat a lot anyways, then it doesn't matter).
I did my homework on the pack size and weight and still I came away impressed, so I started looking for it online and found a store that had one open-box. I took a gamble and got it for a great price and have enjoyed it ever since. The times I've used it for an overnight trip I've had it loaded w/ a 3L sleeve, jet-boil system, msr hubba hubba tent, a large sleeping bag (i need a smaller, light-weight one), thermarest pad, food, change of clothes, and other small essentials, and there was still plenty of room.
I will say that the sleeping bag compartment on the bottom is a bit small, but I have a honker of a sleeping bag, so it will be just fine for a regular bag. Also, the pocket on the hip strap is small. It would have been nice for Deuter to make it larger or put one on the other hip strap.
All in all, I love this pack. I've used it as a camping pack and a traveling pack, from trails to ski resorts, and I can't wait to take it to Ecuador this summer. Again, ground this review based on what I mentioned at the beginning, but seriously consider this pack if you are looking for a 50-60L pack.
Design: top-loading internal frame pack
Size: 50-60L
Number of Pockets: 9 (assuming you use the main compartment divider
Max. Load Carried: ~40lbs
Height of Owner: 6ft 0in
Price Paid: $98

The only thing that would be considered a negative was that the zippers on the pocket pulled off easily. But this was easily fixed with a multitool. Just crimp them back a tad bid tighter. Love the quality, built in raincover. I have 4 Deuter packs and they are top notch.
Design: Internal Frame
Size: Large
Number of Pockets: Hood pocket, 2 side ballon pockets ,mesh side pockets
Max. Load Carried: 30 pounds
Height of Owner: 5' 8"
Price Paid: $70 US Dollars

You May Like
Recently on Trailspace