Eagle Products Wooden Tableware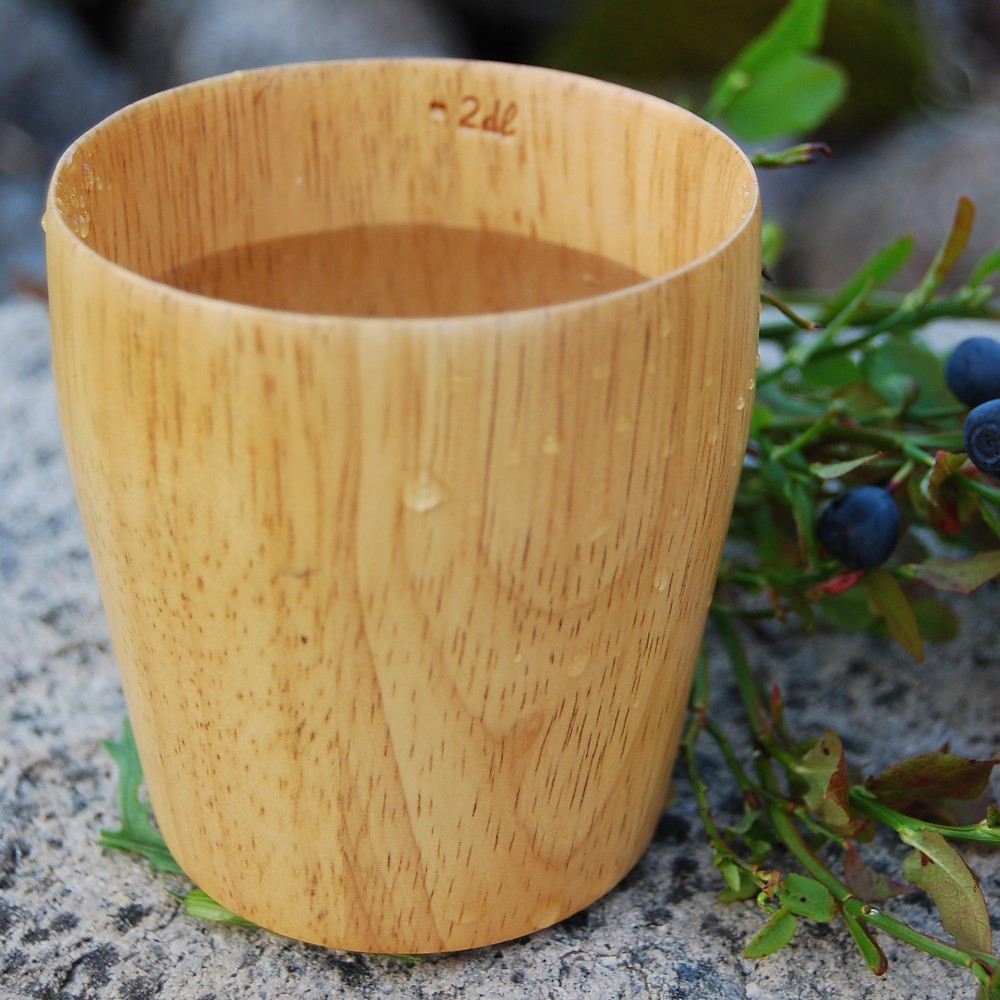 Well-made wooden utensils and plates, nice for car camping and light enough for backpacking.
Pros
Natural wood with a water-resistant finish
Spoon is as light or lighter than plastic or titanium spoons of similar size
Cons
Uncertain durability (as yet)
Wood source unknown, would be nice if it was certified
Sometimes my wife and I like to go what we call "mardy camping"*– basically car camping but also overnights or weekenders where we can afford to bring along comforts and luxuries in the gear and food departments. Once in a while we just walk out the door and into the city forest that is our backyard, loaded down with goodies, just to spend a night among the trees, returning home in the morning.
A few years ago, a friend (who is not particularly outdoorsy herself but tries to understand) gave us two settings of Eagle Products (hereafter: EP) wooden tableware as a Christmas present. We expressed our thanks but then filed the new items in the mardy camping section of the gear cave and got out our plastic spoons and bowls for our next weekender.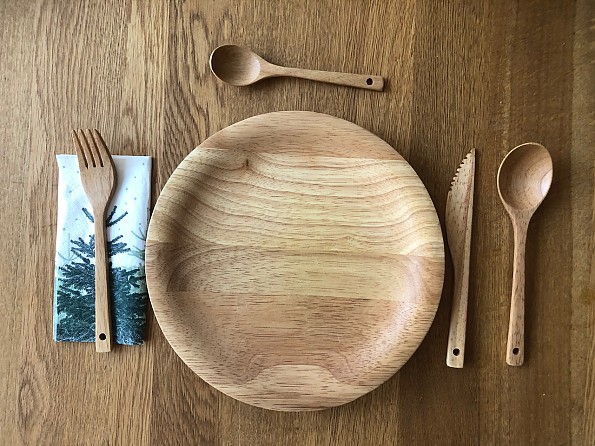 But here's the thing: this wooden tableware is lightweight and rather pleasurable to eat with. Consequently, the full place settings are now a fixed part of our mardy camping kitchen and sometimes even come along on short backpacking trips. The spoons alone, leaving the rest behind, are now undergoing testing as the Spoon Of Choice in our pared-down backpacking kit.
Here's our current spoon selection: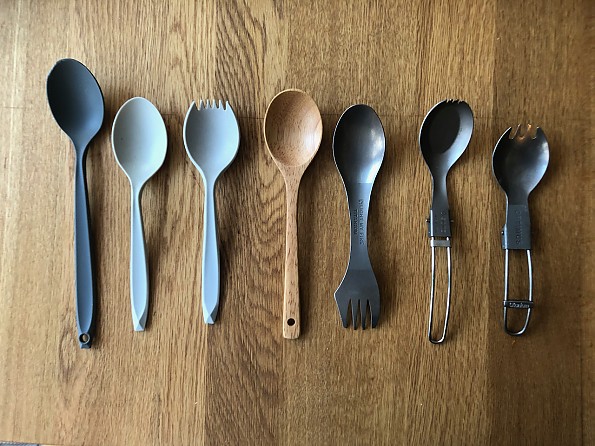 And some weights in grams:
Eagle Products wooden spoon 11.8

REI Delrin spoon 11.8

REI spork 13.5

GSI pouch spoon 14.4

Optimus folding titanium spoon 18.4

Light My Fire titanium spork 20.2

Soto folding titanium spoon 21.6
So the humble EP wooden spoon ties with the REI as the lightest in the bunch. I also compared the volumes of three spoons by filling them with cold water and emptying into a cup on the scale: Eagle  Products 11.2 ml, GSI 10.3 ml, and REI 7.9 ml. So, despite its somewhat smaller appearance, the deeper bowl of the Eagle Products spoon actually delivers more volume per raise of the wrist than the other two.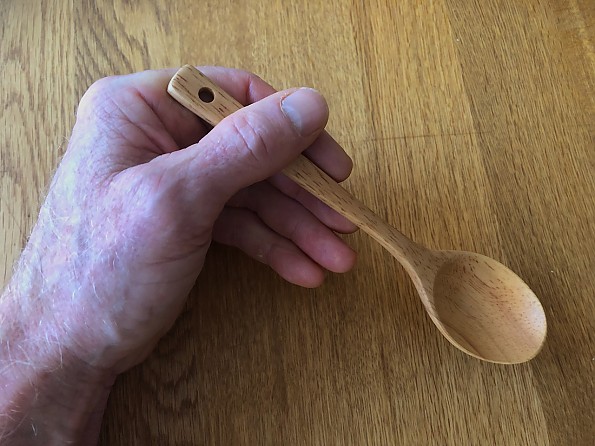 The knife and fork are more dispensable in the backcountry but have proved worthy for consumption of bacon and egg breakfasts and a birthday steak or two, with the serrations of the knife sufficient to work through tender a cut of meat without damaging the plate as a sharp knife might. It also spreads butter, peanut butter, cream cheese, and the like while being easier to clean than a folding knife, where the blade slot can get gunked up with the spreadable of choice.
Eagle Products (EP) is a Norwegian company that sells this wooden campware, stainless cookware, stoves, chairs and other camp gear mainly to retailers here in Norway. Here, where it is still common to drink from open water sources (without apparent side effects), EP's variety of wooden dipper cups are probably its most popular items, although there is plenty of competition in that department.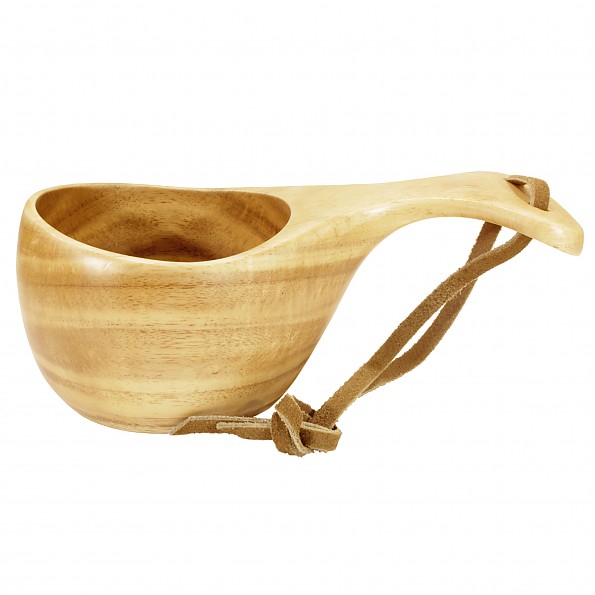 These and the two-finger mug, at 200 to 250 ml, all are too small and bulky for my needs—I like a big mug of coffee in the morning. I would surely welcome a handle-less 400 ml cup, maybe a double size version of the EP drinking cup, preferably with a tight-fitting sip-lid, to replace my plastic GSI mug with something non-petroleum based. I would think wood would offer as much insulation as the thin nylon sleeve on the GSI mug.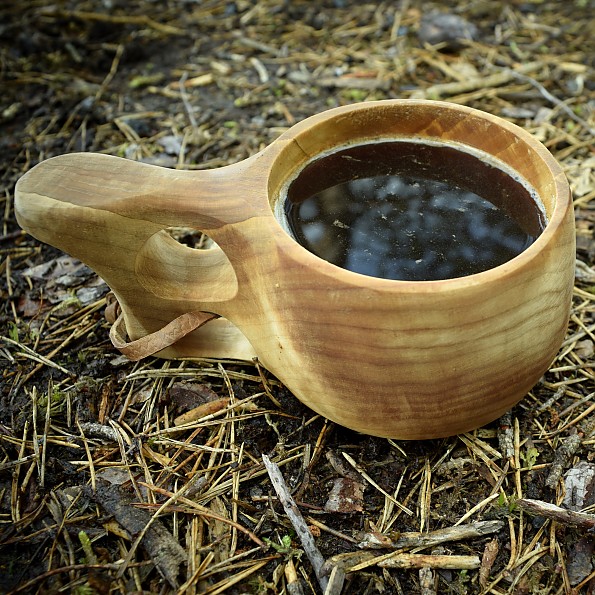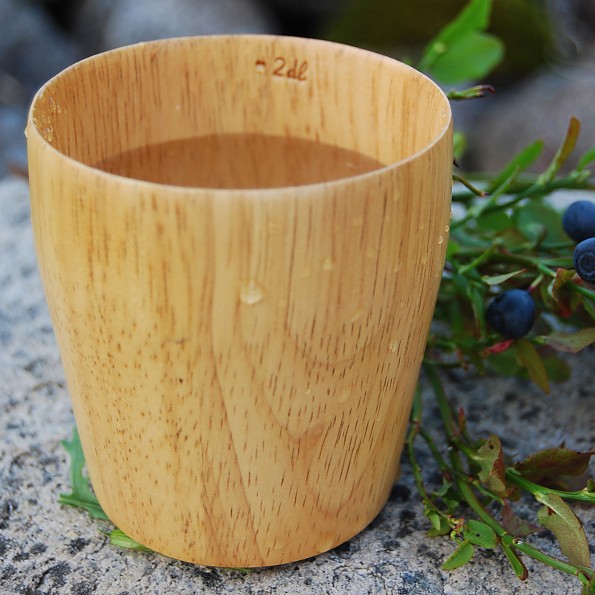 Durability is a potential issue with the wood products. EP does not say what kind of wood they use, and I can't clearly identify it as any of the common Scandinavian species, so I'm actually wondering if it's some tropical species that is easy to work. The back of the plate is stamped "designed in Norway" so it's probably made somewhere in Asia.
All the wood items have a light coating of some kind that has held up well so far, but they haven't really seen daily use. We have a 10-day canoe trip coming up this summer where we can bring along some mardy items, so we'll see how the cutlery at least holds up. For now I can say I am pleasantly surprised at the aesthetic qualities, light weight, and renewable build of EP's wooden lineup.
Unfortunately, EP only sells through retailers, not direct from its web site, which is in Norwegian but it's easy enough to look at the pictures. They designate one reseller each in the US and Canada, but neither seems to carry the woodenware.  Maybe some politely worded letters to your favorite North American retailers would stimulate some international trade!
*This term entered my vocabulary when a guy named Ned, a fellow students, used it during the debriefing after our 1973 freshman wilderness orientation at Prescott College in Arizona. Our group of about a dozen students was supposed to spend a month in the Maze and the Manti-La Sal Mountains in Utah, but some sort of stomach bug burned through the group so that we were never all well enough at the same time to embark on any sort of wilderness journey. We ended up driving around southern Utah with the students and a mound of gear in the back of a Uhaul truck, leaders up front, and camping out at various roadside sites, not least Arches in its dirt road national monument days (Abbey called that one right!). So during the debriefing Ned complained that all we had done was some mardy camping instead of the intense wilderness experience we were all counting on. I adopted the term, but it seems to have no life on the internet and so is somewhat unique, maybe until now. You're welcome!
Background
Used on and off for car camping and overnight/weekend hiking trips. I've been camping one way or another, including long backpacking trips, most of my life.
Source: received it as a personal gift

Your Review
Where to Buy
Help support this site by making your next gear purchase through one of the links above. Click a link, buy what you need, and the seller will contribute a portion of the purchase price to support Trailspace's independent gear reviews.
You May Like