Fischer BCX 6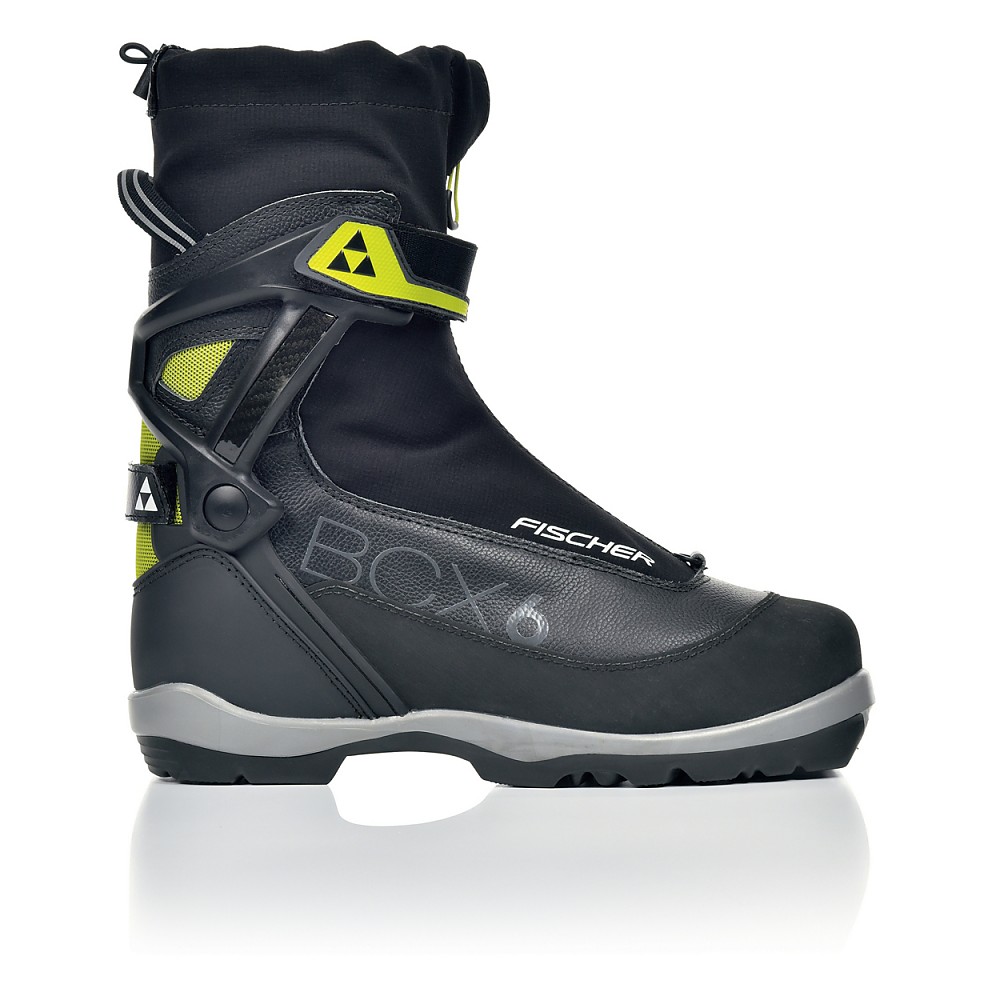 Used these for some cross-country skiing at Windblown XC center. It was the first time out this year and one of the few places skiable here yet.

The boots were incredibly warm (it was 18 degrees) and the boots worked great. Good kick and glide and very comfortable. Also managed some powder across a lake and a few steep downhills. Boots are able to put a good amount of pressure on the skis and allow good turning.
Pros
Insulation, this boot is the warmest BC boot I have used
Great lacing system and cover
Good support system and power strap
Cons
Plastic support buckle strap threads through weak and broke, but I manged to thread strap through hole
List price
Questionable durability and construction
A VERY WARM and supportive boot that will allow you to focus on having fun making good turns.
This boot is a good boot for XC/Backcountry skiing and will have the power to drive skis up to 69-78mm. I have used several different brands and this is the warmest and most supportive of all.
I've used them with Magnum BC bindings mounted on Atomic Sierra skis (69mm shovel) and for low angle skiing and turning these are a blast. Not too heavy climbing but supportive enough they let me rip some turns. Also have them mounted on Alpina Trackers and they work equally as well.
Compared to Rossignol BC X5's they have more support and are warmer. The only problem was the buckle end the strap fed through broke due to-5 degree temps but the plastic support had a slot that allows me to threar strap through.
* Edited this on 02/21/2013 the day after I skied and they failed on me.
These boots are barely used two seasons worth of skiing. After a sparse winter last year I have been taking advantage of the recent blizzard and 1 other storm. They have worked fairly well as you can see on my earlier reviews. Yesterday after 7 or 8 miles of skiing a State Park that has some rolling hills I had a small spill and noticed that the right boot toe had pulled away from the sole to nearly the mid boot area with the sole staying attached to the binding. I'm glad I spilled as I would have been even father away from my truck if it seperated.  
Don't think I can recomend these anymore. When I had a buckle break and contacted Fischer they said to contact the retailer I bought from and see what they said. Not sure I have reciept anymore, but, a manufacturer should stand by their products no matter what!!! I ordered new ones last night and decided on the Rossignol BC x6.
Price Paid: $119

This is a great combination of support and flex in a Nordic touring boot, but has a few flaws.
Pros
Great edge to edge support
Better ankle support than any other touring boot
Reasonable front to back flexion
Cons
The sole leaks around the NNN-BC bar
All seams need to be sealed to waterproof the uppers
The boot liners wear out pre maturely
I am an outdoor guide and spend maybe 60-70 days a season in nordic boots. The old binding systems (75mm three pin) only last so long for me three to four seasons before the soles start to crack. The NNN-BC has been a great solution to this problem by replacing the sole flexion with a mechanical pivot point.
This boot offers some of the support that used to be available only in the older top grain leather 75mm boots without the stiffness of the plastic tele boots leaving more freedom of movement for touring. This boot has a superbe combination of edge to edge support with frount to back flex for a longer stride.
It is however not perfect, there are two weaknesses that only show up with use. The first is that the lining fabric is not abrasion resistant and will wear through to the shell in just a few dozen days of use maybe as few as two dozen for a larger skier.
The second is that the NNN-BC bar in the sole is not sealed into the boot rubber and will loosen and start to leak after a few uses where heavy edging or wider skies are used. This is a particularly frustrating problem since in the spring if skiing in wet snow like we so frequently get here in the Northwest these boots will start to fill up with cold water from the saturated snowpack. 
Source: bought it new

Nicely-made, burly construction with best-of-class NNN-BC torsional rigidity and ankle support. But made for big feet and ankles only, and the four steps involved in putting these on and taking them off could get tiring (and difficult to do on-trail).
Pros
Nicely-made, burly construction
Torsionally rigid
Excellent ankle support
Cons
Made for high volume feet (i.e., E-width) and big ankles
Way too loose-fitting for my C-width foot and skinny ankles
Four steps are involved in putting these on!
These are the nicest-made and burliest "new school" NNN-BC boots I've seen. They have great torsional rigidity and the exoskeleton actually provides superior ankle support (vs. the burly all-leather Alpina Alaska), which I can't say is the case for the Rossi BC X-10.
Unfortunately they are made for fairly wide feet and big ankles. The size 42 I tried was the right length for my foot but my C-width was swimming inside (and going to a 41 would've been too short). Also the exoskeleton's ankle strap was too long for the circumference of my ankle and wouldn't tighten sufficiently (and even if it could the outerboot's material needed to crease considerably to take up the space.
I'd have given these 5 stars if they came remotely close to fitting my foot well (Rossi's and Alpina's are definitely lower volume), and I returned them without being able to ski on them....
Source: tried it in the store

If you want a 200€ boot that lasts a good half a season.
Pros
Comfortable
Warm
Snow gaitor
Cons
Terrible build quality
Carbon fiber sticker, like actually
Used a total of 30 days before having to retire the boots. Within the first day the first seams of the boot started to unravel. The plastic exoskeleton wears out the boot material on the heel (this is only aesthetic).
Above the toes on the top of the boot the seam between the hard plastic protective toecap/sidewall and the soft top material unraveled and the hard plastic also teared due to the boot flexing. This lets snow into the boot (first tearing after 6 hours of use).
After 20 days the soles of the boots began to separate from the upper. After about 30 days the sole completely separated from one of the boots.
I sent a warranty claim after my first 10-day trip and received a full refund, Fischer did not require returning the boots for the refund so I decided to see exactly how bad these boots were. And they were bad.
Experience
I have used the boots on 1: 10-day trip 150km and about 20: 1-day trips between 5-15km. Rolling fells in Lapland Finland
Source: bought it new
Price Paid: 219€

I used these one season and noticed the stitching was coming apart. Contacted the place I bought them at, sent a picture along. They said they would not warranty, because of wear marks near stitching that was coming part.

So disappointed. What junk! A little wear should Not make a difference. I would go with another company. I would not endorse Fischer products if they are not going to warranty their products!
Cons
Poor quality in manufacturing and warranty.
Experience
Less than one season, under 100 miles. Maybe 20 trips. Bought boots years ago and they held up much better than this Fischer junk!
Source: bought it new
Price Paid: #+$250

Boot materials and design are improving.
Cons
Older models pinch foot (metatarsus)
I have owned this boot for a few years and loved the performance out of the box, but eventually had to abandon them. The older version of this boot (grey and black) has a serious design flaw. The flex point in the boot pinches and squeezes your foot (metatarsus). By the time I finally gave up on this boot my feet remained tender for a couple of weeks.
The new model (brown) has an improved design and materials. Apparently (my close friend has a season on the new design) the redesign has resolved the pinching/squeezing issue.
Source: bought it new
Price Paid: $200

After several outings in less-than-optimal boots, I found these. I originally planned on getting the Rossignol BC X-5 but could not find my size. I tried these on and loved them. They have a much sturdier design than the Rossignols. This will give you many more degrees of control over your skis then most other boots. Wear them with the power strap loose and if you hit a downhill just snug them up.
Voted the best NNN BC boot and also the most warm of what's available. I cannot wait to try these out! I compared them to the Alpina BC 1550 and Rossignol BC x-5 and there was no comparison. Much comfier inside, sturdy heavy duty laces covered by a zip-up lace cover. It's also a fairly tall boot.
Price Paid: $120

Your Review
Where to Buy
Help support this site by making your next gear purchase through one of the links above. Click a link, buy what you need, and the seller will contribute a portion of the purchase price to support Trailspace's independent gear reviews.
You May Like
Specs
Price
Historic Range: $107.97-$249.95
Reviewers Paid: $119.00-$250.00

Weight
880 g

Sole
Rottefella BC

Sole Flex
stiff

Recently on Trailspace