Five Ten Access Mesh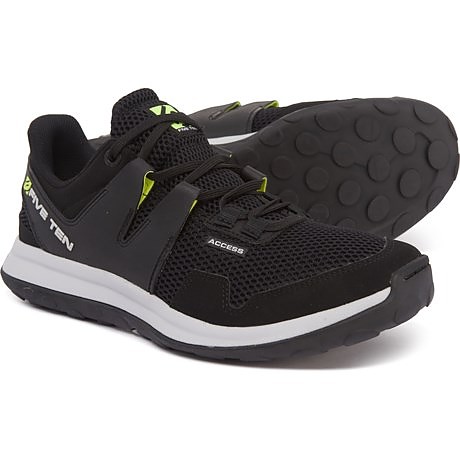 The Five Ten Access Mesh is a lightweight, low cut approach shoe that offers superior traction, support, and breathability. The Access Mesh would be best for someone looking for an all around Access shoe (get it?), whether that is an approach for climbing, hopping on a flat pedal bike for the day, or light duty scrambling (maybe up to low fifth class). They could make some improvements by adding a heel loop to clip them to your harness and extending the lacing to the toe.
Pros
Stealth S1 Rubber
Traction
Versatility
Cons
No heel loop
Lacing doesn't extend to the toes
Slightly too wide
PREAMBLE
First we need to address the question of what is an approach shoe, and what should it do? Quite simply an approach shoe is anything you wear to get to your climbing destination—boots, shoes, runner, etc. To me an approach shoe must be primarily three things—lightweight, grippy, and supportive. I want something that isn't going to tire my feet out before a day of cramming them into climbing shoes, provide solid footing for hiking or scrambling and provide support from twisting an ankle or sharp rocks under foot. If they can climb a little, and keep you from having to cram on your climbing shoes till a little later, I guess thats a bonus as well.
To be honest, a standard old trail runner often meets two of those three criteria. So why do I need a whole new pair of shoes? Well you don't NEED them. Honestly, before testing these shoes I just wore whatever the oldest, most beat up pair of runners I currently owned was. After testing, I reach for these, every time, even with the few flaws I've found in them. Here's why...
FIT/COMFORT
I have a very narrow heel through to the ball of my foot with average toe splay and a medium arch. I have found the Access to be too wide both in the heel and the mid foot. The toe box is nice and roomy, which is especially helpful on downhills as I've never experienced any banging. It certainly aids in the approach but the lack of "to the toe lacing" definitely hinders its climbing ability.
Don't get me wrong, mild climbing is still no problem, but compared to something like the Guide Tennie with lacing running right to the toe and the narrower toe box, it certainly won't match.
The arch support is great and I've found my feet aren't tired even after wearing these upwards of six hours a day. The lacing system is well designed and tightening the laces pulls in the back of the heel through a rubber exoskeleton. I've found it helps to take up some of the volume of the heel but I have to wear them really cranked down. From reading others opinions on these I am in the minority. As I've said I have the classic La Sportiva last of a foot, so if you're anywhere near a slightly narrow to medium heel these would fit great.
I wore these out of the box on a light hike the day after I received them. No blisters at all even though the fit wasn't spot on. The tongue is nicely padded to even tightening the laces up hard doesn't amount to a lot of pressure over the top of the foot.
A toe cap comes up nice and high to prevent you from getting overzealous while jumping rock to rock. Well, maybe not prevent, but at least minimizes the pain.
At only a little over 14 ounces they certainly aren't the lightest option you could pick, but are far from bruisers and are a welcome comfort after a day of climbing.
WEATHER RESISTANCE
None. They are all mesh across the top! What are you looking for!
Where this does help though is in the breathability of the shoe. It's been a brutally hot summer and even into the start of the fall and the mesh shoe, paired with a low cut merino socks is the perfect combo. Five Ten does make the same shoe in a nubuck leather upper (reviewed there) which offer slightly more weather protection.
Notice the key word, slightly. They both still wet out within minutes, but you'll add some durability in the leather model. That water weight that is absorbed can be less than enjoyable if you're dragging these shoes up behind you (see: wet butt and legs from hanging them off your harness).
TRACTION
Now we're into the meat and potatoes of where this shoes makes its living. The Stealth S1 rubber. Originally designed for the Five Ten climbing shoes it's been adapted and put into a dotted pattern sole to give you confidence you've never had before. These things stick like glue (especially if you're cheap like me and are used to wearing old, worn down running shoes).
Taking inspiration from their climbing shoes the ability of the the Access to smear and edge is something often not found on approach shoes. The midsole is stiff enough to support the weight without a lot of foot fatigue all the while not sacrificing the ground feel or sensitivity. These are certainly not running shoes, and you'd be foolish to mistake them as such. There is very little rebound to the midsole. The dot pattern and the quality rubber make even the most polished limestone, shale, and granite that I've had the chance to use them on seem like I'm walking on a boardwalk.
I do wish there was a completely flat area on the toe instead of continuing the dot pattern. It is a thicker rubber across the toe to add some durability. 
The mid foot is fairly flexible which aids in the shoes ability to smear and to provide a wide, stable grippy area of friction against rock. The sole is a little stiffer, and thicker, than I would like, but I think that's to compensate for the softness and (relatively) quicker wearing of the rubber. You can read about that below.
CONSTRUCTION AND DURABILITY
The Access is offered in two different models, one with a nubuck leather upper and this one with a mesh upper. As you can imagine they have a significant gap in terms of abrasion resistance. Climbing a lot of granite cracks? Get the leather version. More open, exposed approaches and can sacrifice some durability for breathability? Get the mesh uppers.
The Stealth S1 rubber wears down. You can't really have your cake and eat it too. I don't think this is necessarily a negative. Softer rubbers are stickier, if you want that added grip you're going to have to give up some long-term durability. I have probably around 100 miles on each pair (probably more on the mesh pair) and the tread is (in my best estimation) at most, maybe 20 percent worn down. Depending on the type of rock and the frequency used I could see them lasting at least three or four more seasons of climbing. That said, I do believe this was the right choice in rubber as it meets a happy medium of durability and grip.
Last thought... Please put a loop on the heel for hauling them. It's a blatant oversight on an approach shoe with the reputation of Five Ten. You have to use the laces (or the lace loops) and it just doesn't work as well.
CONDITIONS
I have a size 11 or 11.5 foot dependant on the manufacturer and ordered a size 11. I feel like they fit true to length although I'm wondering if I should have gone half a size smaller to get a more performance fit. They have been worn for over three months and travelled with me from my home in Canada as well as on trips to New Hampshire and South Carolina.
My preference (certainly during the summer testing period) was to favour the mesh model. While I prefer the leather model visually they just don't add enough weather resistance to overcome the superior breathability of the mesh. I probably have around 130 miles in the mesh and 90 miles in the nubuck through a range of activities—hiking, approaching climbs, biking, traveling, and around town.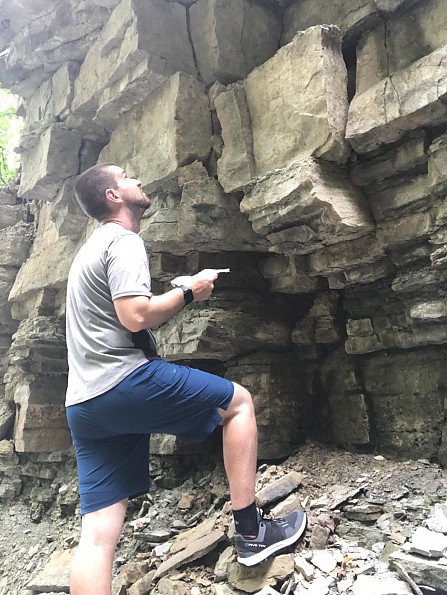 My thanks to FiveTen and Trailspace for the opportunity to test the Access Mesh approach shoe.

Source: received for testing via the Trailspace Review Corps (Sample provided by Five Ten for testing and review)

Your Review
Where to Buy
Help support this site by making your next gear purchase through one of the links above. Click a link, buy what you need, and the seller will contribute a portion of the purchase price to support Trailspace's independent gear reviews.
You May Like
Specs
Men's
Price
Historic Range: $39.00-$130.00

Women's
Price
Historic Range: $15.00-$130.00

Recently on Trailspace