Garmin fenix

#5 in GPS Watches
The fenix has been discontinued. It was replaced by the Garmin fenix 6.
The Garmin fenix GPS watch is almost in a category all it's own (the Suunto Ambit series is the only other real competition from what I could find). You can't compare this to any of the typical fitness GPS watches as this does SOOOO much more. This watch is a land-navigator's dream.
Pros
Keeps you out of navigation jams
Solid waypoint navigating — this is a serious tool
Can add your own basic topo basemap
Takes a beating
Best alarm system in a watch ever
Cons
The screen can fog
The map can take a while to catch up to your location when you're on the move
Needs external antenna when under tree cover
I'd like tide tables added
I think it's important to start by clarifying that I'm reviewing the fenix as a tool for a specific job. Example: I noted in my "Cons" that the fenix needs an external antenna when under tree cover. In other words, if you're under a decent canopy, you're not going to get a great GPS fix. Further, the GPS antenna will work harder in this scenario and drain the battery faster. Long story short, when under a thick canopy, turn the GPS off (and get to know your equipment).
OK, that's good to know.However, I don't really see that as a genuine downside for my purposes. If you compare this watch-GPS to other typical handheld GPS devices then you'll find this is a typical problem. In other words, this device is not performing any worse than its competition. If considered as a watch, it's leaps ahead of its competition.
So, what is the specific job that I'm using the fenix for? Hiking and backpacking (especially with Scouts).  For this purpose, the watch is astounding.
I bought my Garmin Fenix in March 2013 and I have to say it's amazing for what it is (I've put it through a few hundred miles of hiking and a few peak ascents). It also has a few drawbacks to be sure. 
First of all, I can not find a single source user manual from Garmin that lists all functions and how to use them. That makes it a bump-around-and-fitgure-it-out-on-your-own type of gadget. Also, you have to learn how to load a usable map since the pre-loaded base map is close to unusable. NWTopo has worked perfectly for my trail needs here in the Pacific NW, though my experiences with it tell me that you should only load three or four tiles at a time since usable memory is limited to 20Mb.  Three tiles seems to be the sweet spot. 
Also, the screen size is very small.  So, in the field you're getting a limited view. Due to that, I use the zoom and scroll functions regularly and generally find the map function limited at best (though it's great to have).
I use ViewRanger software on my Android phone for broader mapping needs. If I use them together with my paper map and compass, I get every little bit of my map-OCD fed.  In practice, I use my paper topo map the most, navigate from the watch and use the phone as a last resort back-up just in case I need the finer details. All three are topographical and detailed, so I find them very easy when working them together.  
Second issue: the processor is slow. Though as a watch processor, it's amazing. How will this effect the user?  As I'm trekking along, sometimes I get moving at a pretty good clip. The processor can not load the map fast enough to keep a full map on my screen. So, when I want to have a look at the map, I might have to stop and give it 20 seconds to catch up. This is not really a big issue.
Third issue: the screen can fog. If you read the many reviews on the web about this watch, you'll find that screen fogging can be an issue. I've only had mine fog once, and that was when I was at 6,000 feet and just off a snow field. The fogging was just in the center of the screen, so it didn't keep me from being able to use the functions.  That said, I'm still keeping an eye on this.
Last issue: Garmin has added tide tables to two of their other GPS watches. All three watches use the fenix architecture both physically and from an operating system point of view... so gosh, I'd like tide tables on my watch too thanks. It's a small thing, but it would be handy here in the Puget Sound part of Washington State.
That said, it is SOOO small (for what it is), so UL (for what it is) and it offers SOOO many watch / GPS / fitness functions all in one device. In addition, if you spend the time to figure out how to set the tracking, you'll find that it absolutely does last more than 40 hours (it's rated to 50, though I have not tested it's limits so I don't know if it gets to 50). However, if you just use the regular settings, you'll burn the battery in less than 16... more like 8 hours if you're playing with all the tools while using it (e.g. constantly checking altitude, temp, etc).
Note to self: don't complain about user error. I also have figured out that if you fully reduce the tracking to its minimum limits, and only focus on navigating tools you'll get the best results. One more great thing about the Fenix: all alarm functions include vibrate or audio+vibrate as an option. Man, I can't even tell you how many times that has come in handy.  What an amazingly usable function, and BRAVO to Garmin for figuring that one out.
Where it shines: this watch is a navigator's dream. You can visually set nav points "on the fly" while in the field.  If you've pre-planned your trip and have pre-loaded tracks on the device (I do), then you can pick any point on the track (using the scroll function while viewing the map) and set the watch to navigate you to it.
I like to use this function to get to trail junctions or other waypoints I'm looking for while using my paper map... then you can set a vibration alarm to tell you when you're so-many (user defined) feet away from the destination.  I can go on and on.  I used it to cross a very confusing snow field (glacial?) this last summer and that's when I fell in love.  Long story short, it can genuinely save your bacon.  Good stuff.
Last but not least, if you're comparing the Garmin Fenix and the Suunto Ambit here's my perspective on that decision: the Ambit seems to have better sensors and software, so readings will likely be more accurate if hyper-accurate tracking is your thing. 
The Garmin seems to have many more built-in software tools.  There are so many in fact, that I don't think a single user would use them all. On the other hand, that makes is very versatile. The Ambit's operating system allows the addition of apps:  ultra cool for the mega user.
The Ambit appears to ACTUALLY and USABLY be water resistant.  I have had no real issues with my Fenix, but I am watching it closely as its reputation is not a good one in this respect (see my "screen fogging" con as reference). 
Last but not least, and the reason I bought the Fenix over the Ambit: the Ambit (according to Suunto when I called them) will never support a base map, while the Fenix does. In the interest of full-disclosure, Suunto did come out with an Ambit2 that I know nothing about. So leaving the Ambit2 out of the conversation for now, I thought that the best comparable Garmin product to the $500 Ambit is the Garmin Foretrex 401 at roughly $180 (personally I think the 401 is the bargain-hunter's GPS solution).  If a base map is not a necessity, the Foretrex 401 may be just the thing for your needs (it's an ugly and big thing if thought of as a watch, but it's tiny if compared to typical GPS devices.  
In fact, you might consider the Foretrex 401 even though it does not have a base map.  Just pre-load GPX files for trails you're using and voilà, you have a visual to add to the many Nav tools.  I'm getting a 401 for my sons if that tells you what I think of it (especially for only $180).
I hope that helps the GPS discussion. Happy hiking!!
Source: bought it new
Price Paid: $400

The standard of excellence in GPS/Navigational watches. A "must have" for the hunter, backpacker, or woodsman.
Pros
Class leading technology
Feature packed way beyond the competition
Quality built
Adjustability
Garmin Fenix is quite possible a hunter's or those that travel in the backcountry's best tool. There are many good technical reviews of the Garmin Fenix. My goal is to field test the Fenix from a hunter or backpacker's point of view. The Fenix is so versatile and wears so many hats, its impossible to narrow its target user down to a particular activity. One thing to keep in mind with the Garmin Fenix is that everything, and I mean "everything is customizable. You set up the display info for your needs. It would be impossible to list or capture the unlimited combinations.
(One of many customizable time displays)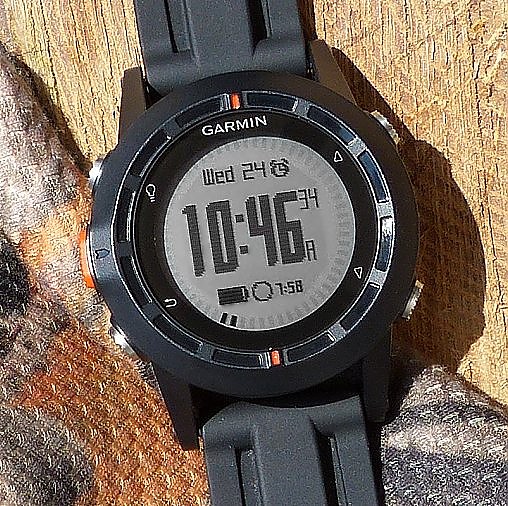 After owning many GPS navigational watches, I feel the Garmin Fenix is the market leader for Hunters, Fisherman, Backpackers, Campers, Fireman, Search and Rescue, etc.... The theme is anyone that travels deep in the mountains or may find themselves caught in a survival situation without communication or back-up. The best GPS is useless if you dont have it on you when you need it and that's why a GPS watch worn as a everyday watch makes the most sense.
The Garmin Fenix is a larger watch but not any larger than a typical ABC watch. A big advantage is that it uses standard 26mm lugs so your strap choices are limitless. The factory Fenix straps are very comfortable and pliable. I especially like the orange strap but I also purchased a few other straps just to mix it up and show the possibilities of the case design. As a guy with a 7" wrist, I can easily wear the Fenix as your every day watch. If you can wear a Casio G-shock or Suunto Core, the Fenix will feel right at home.
The GPS antenna is also incorporated into the watch case making it look like a traditional watch. No odd antenna bumps or protrusions like other GPS watches. I find the watch attractive and purposeful looking. Its got a solid build with a stainless steel smooth case back for comfort. Display is sharp and crisp with very good contrast that makes the detailed graphs,icons,etc.. very easy to read.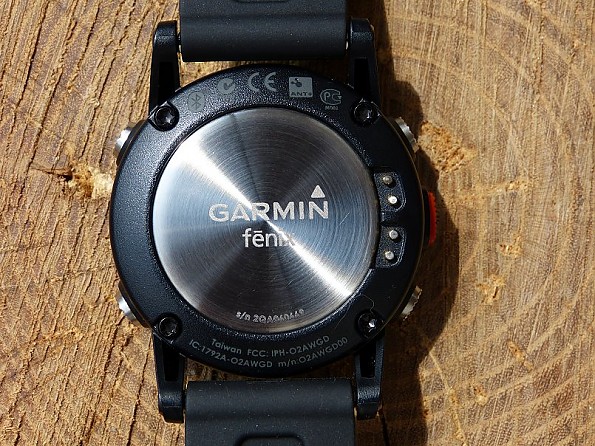 Don't worry about swimming with the Fenix because it is WR rated to 50M. 50M is fine for swimming but not snorkeling so any outdoor activity around or in the water, the Fenix has you covered.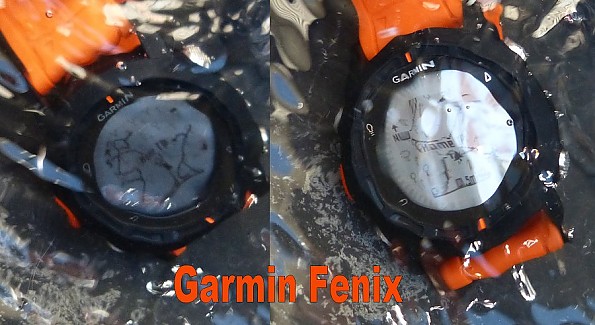 The battery is a rechargeable lithium ion battery that can be charged via any USB port. Garmin didn't cheap out and includes a AC adapter with the watch. Battery life is reported as 16-50 hours (GPS mode); 2 weeks (sensor mode); 6 weeks (watch mode). There are a lot of factors on how long your battery will last between charging but all the factors can be individually adjusted on the watch. Once again flexibility is were Garmin thinks ahead of its competitors. And a way way ahead feaure is the wireless Bluetooth sync to your mobile devices. I love this feature. As soon as I get back from a trip in the backcountry, I synch all my tracks and waypoints to my iPad via Bluetooth to the Garmin Basecamp app. Synch times are fast and effortless.
Garmin is no doubt the world leader in GPS devises and they used their prowess by creating a GPS watch that still has many of the same features as their hand held devices like track back or creating a route.
(Satellite info display)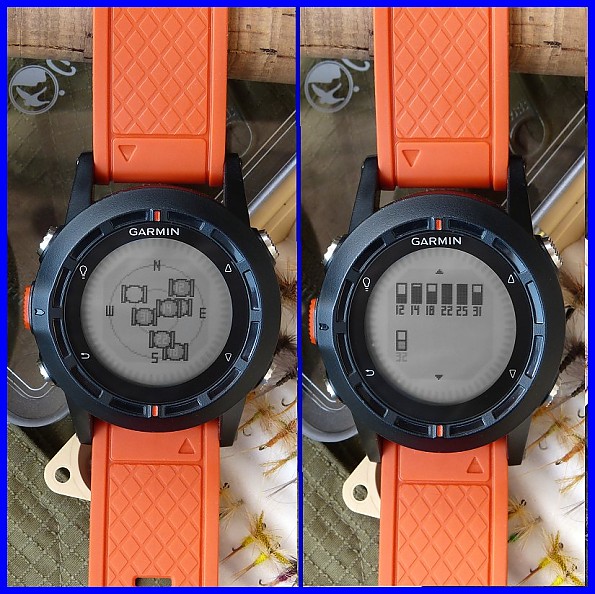 You also do not need any proprietary software to use the Fenix. Plug its charging/synch cable into your computer and it is instantly recognized as a storage device. You can easily move or transfer way-points, maps, or tracks. The Garmin Fenix comes with a rudimentary base map but there are several 3rd party maps that are more detailed that you can load onto your Fenix. Just remember there is a limited amount of on board memory so you will not be squeezing a entire Countries road map onto the device. I managed to put a 300 square mile map of central/north central Pennsylvania that includes all the roads, log roads and towns. This took up very little memory and gives lots of extra room for tracks and way-points.
This is more than enough information and can get me out of a jam if I get lost deep in the mountains and need to find a log road to pack out on. (You will see this map in many of my pics).
I found my self reviewing the map from my tree stand by panning and zooming around the map. You do not need to be connected to the satellites to do this and it was very educational for hunting new areas. No other watch uses maps directly on the watch and lets you use the Fenix like a traditional hand held GPS. You can transfer all your tracks and waypoints to Garmin's Basecamp or even Google Earth, but you dont have to and that is a big difference with other GPS watches. This is one of the biggest and should not be underestimated advantages of the Garmin Fenix over any other GPS watch. Once you have this capability, all others seem like last years cell phone.
All the moon and sun info you could every want. There is even a moon phase icon displayed on the main time display and it changes from moon to sun info pending on the time of the day.
(This is a more detailed moon sun display. You can also scroll to different dates for that info)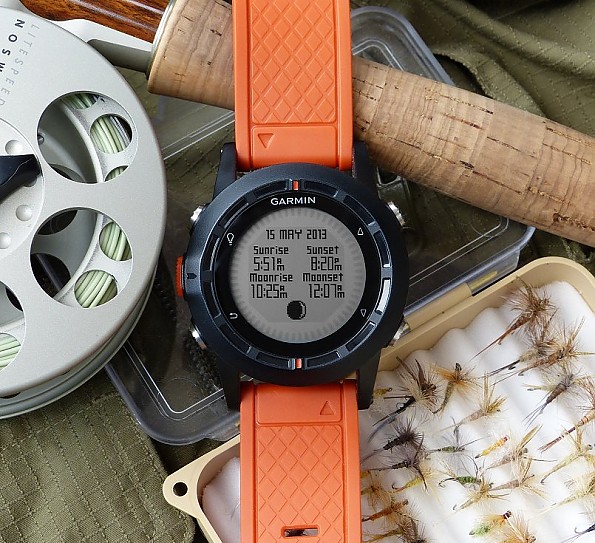 From a hunters point of view, I can scout new areas, mark buck rubs and scrapes, new treestands, food sources, plot enter and exit tracks to and from my tree stand all on the watch without the need for a computer.
A hunting and fishing report for the best times are calculated for your exact location. You can also scroll days ahead to plan the best times.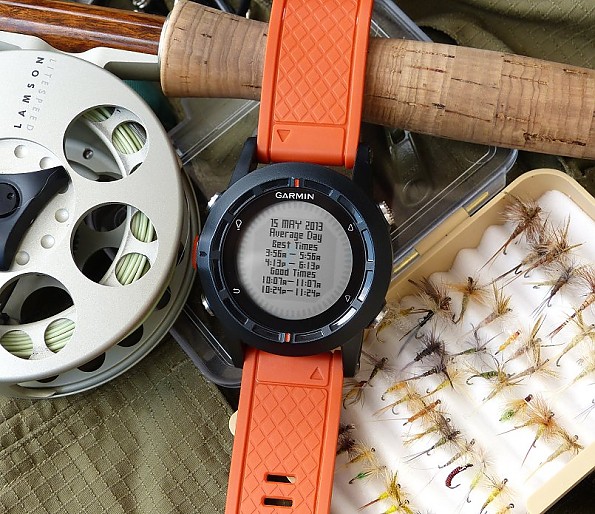 Take your scouting to the next level and you can walk various game trails and plot the movement of the mountain just from the Fenix. Transfer this data to a satellite map like Google earth and you have the best recon/lintel you can get for your specific area. After the shot you can mark your blood trail and come back the next day if the weather changes on you. No more tying ribbons on trees in the middle of the night to mark the last know blood drop. Speaking of the middle of the night, the Fenix has a flashlight mode that can be programed to any one of its buttons as a "hot key". When you hold the designated button down, the screen goes blank and the back light is turned up to 100%. It is very effective and bright. Once again, Garmin is thinking outside the box for the end user.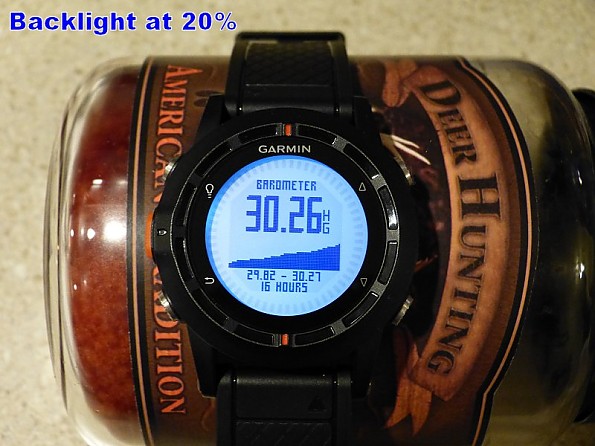 The ABC functions are very good with a very detailed and sensitive Barometer graph for predicting weather trends.
Multi axis compass with multiple displays were very accurate and easy to use.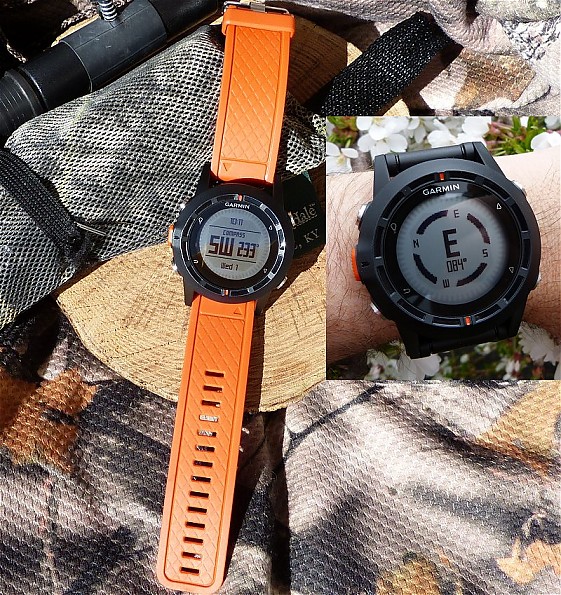 As a watch the Fenix will give you any time displays you want with multiple time zones at one time. Unlimited alarms with the ability for a tone or vibration or both is class leading. Count down timers that can also notify you with just a vibration alarm, tone or both.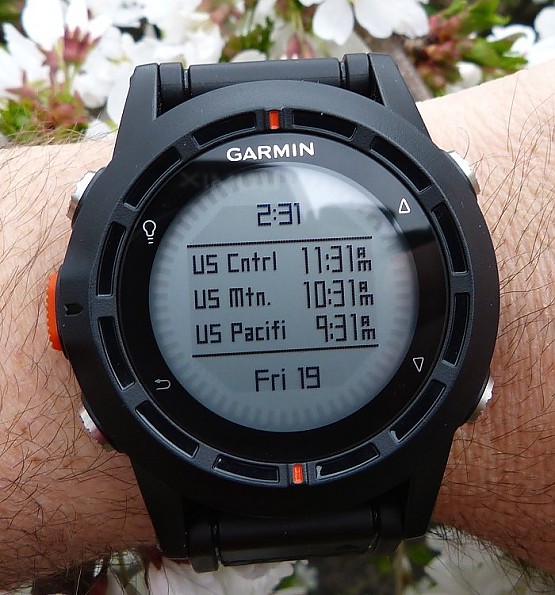 Garmin has been very proactive keeping the watch and satellite info up to date with regulate firmware updates.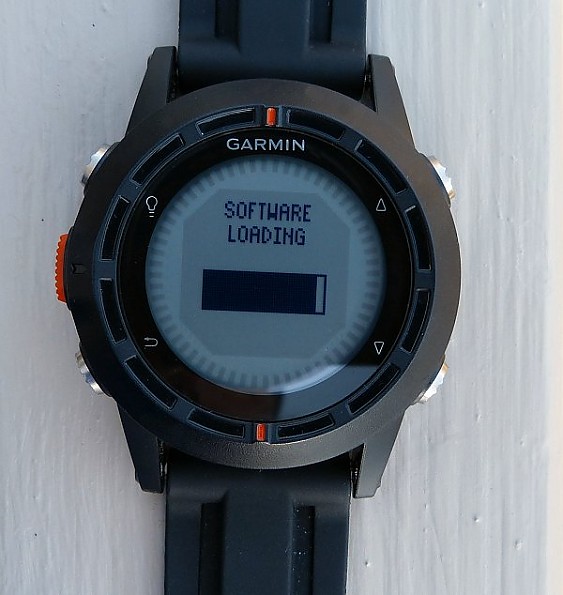 I consider myself pretty picky with navigational watches and the Garmin Fenix surpassed my expectations. Just when you think you found every option, you find a shortcut or feature. With a watch that is constantly evolving by a world leader in GPS technology, you are sure to have a great explorer companion always on your wrist when you need it.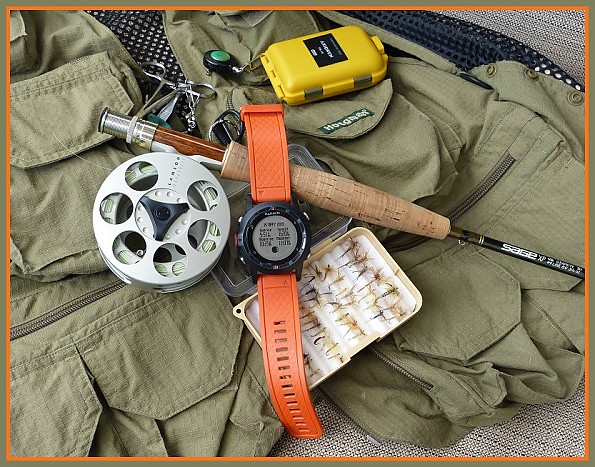 Source: tested or reviewed it for the manufacturer (I will buy it from manufacturer)

I took this guy out for our first field test on the Buffalo River a few weeks ago. Really great watch for the avid outdoors man. The trackback feature came in handy several times on that rocky terrain. The storm alarm was a lifesaver too. The river rose 5 feet during the night!
Pros
All in one GPS watch
Many customizable functions for different activities
On screen display
Cons
Battery life is not very long in GPS mode
The Garmin Fenix is the product for you if you are heading outdoors. If you like to bike, hike, run, fly, swim, float, or fish then this little package has a lot to offer. It has multiple profile settings that you can choose from depending on your activity which will make certain functions accessible with the push of a button.
The GPS is very accurate and you can even download maps to be used if hiking or driving. The trackback feature will track your course and allow you to find your way back to your starting point. It also can be paired with multiple devices which can give accurate temp, humidity, and pressure or heart rate and calories burned.
There's so much to say about this wrist top computer so if you want to see it all you will have to try one out for yourself.
Source: bought it new
Price Paid: $300

Your Review
You May Like
Specs
Price
Historic Range: $159.93-$449.99
Reviewers Paid: $300.00-$400.00

Recently on Trailspace