Garmin GPSMAP 66i

Top 50 in Handheld GPS Receivers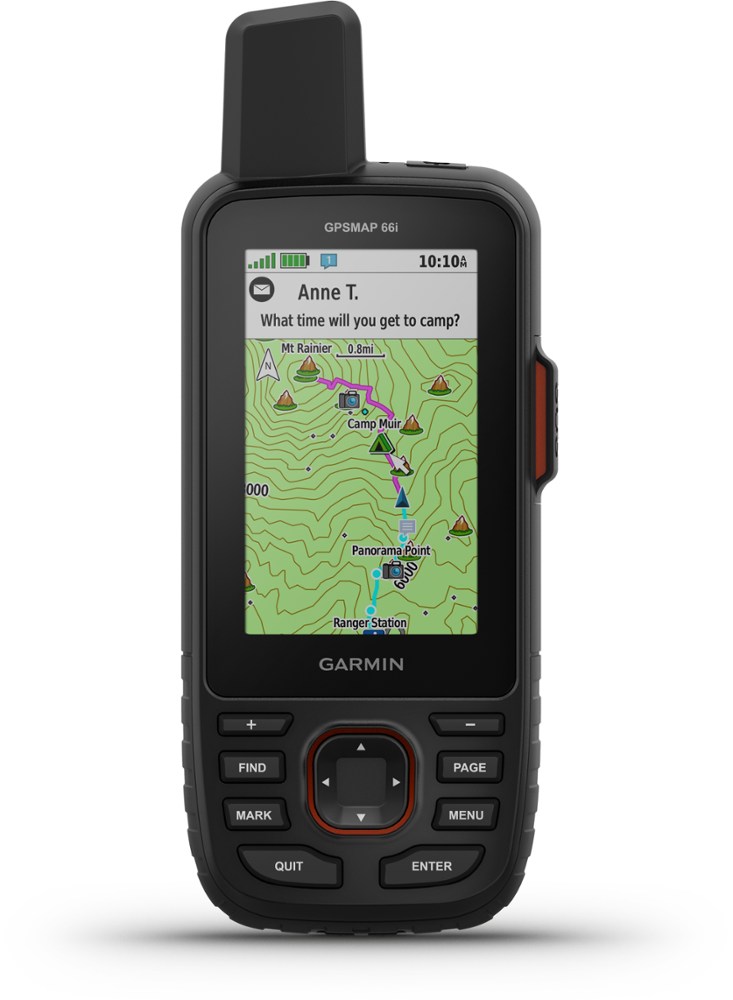 Specs
Price
Current Retail: $599.99-$600.00
Historic Range: $599.99-$600.00
Reviewers Paid: $600.00

Reviews
2

reviews

5-star:

1

4-star:

0

3-star:

0

2-star:

0

1-star:

1
Not for everyone, but uniquely wonderful for those who need it.
Pros
As good as best backcountry consumer GPS receivers.
As good as best satellite text communicators.
Half-pound weight
Rugged
Battery lasts for days.
Cons
$600 price tag
A couple of problems Garmin says will be corrected soon.
The five stars is for people who are weight conscious and need this much nav/comm. For most outdoorsmen, its functions are overkill.
The Garmin GPSMAP 66i introduced in June 2019 is the world's first consumer handheld device that combines a full-featured GPS navigation tool and a satellite text message system in one half-pound, rugged, battery-efficient device. And it has a new feature, Expedition Mode, that greatly reduces power requirements.
Its attributes are easy to describe to anyone familiar with past Garmin products: Take Garmin's best GPS receiver and combine it with its best InReach communicator in one device that weighs about half what those two devices weigh and uses about half as much power and cost slightly less than their combined prices.  That's the 66i.
The device is still buggy.  It still does not provide current local weather info, even though it's supposed to.  The documentation is bad.  Garmin's system of syncing with smartphones, web sites and all is hopelessly non-intuitive.  I had to exchange the first unit I bought because of some firmware corruption.  And, yes, all those things are frustrating.  But they don't change the fact that this device will do vastly more than any other single backcountry electronic device in the world today.  And it only weighs a half-pound.  And its battery will let it do everything I want for a week without recharging it.  When I go for longer, I take a five-ounce phone charger that holds 37 Watt-hours of energy (about 10 Amp-hours at standard lithium battery 3.7 Volts).  The 66i battery holds 9.3 Watt-hours.  Allowing for entropy, the 37 Watt-hours should recharge the 66i almost two times. From personal testing, I know it will recharge it at least once.
For those less familiar with Garmin's line of GPS receivers or its line of InReach communicators, here's what you can expect from the GPSMAP 66i:
▶ Like earlier InReach devices, it sends and receives geotagged text messages and emails from anywhere on or close to the planet.
▶ It provides the necessary navigation tools available on Garmin's backcountry GPS receivers, i.e. electronic maps, tracking, waypoint creation, etc.
▶ It is rugged, water- and dirt-resistant.
▶ It accepts the Garmin map products made for Garmin GPS receivers, i.e. it contains the inferior map products made for previous InReach devices, but it is not limited to those maps.
▶ It is energy efficient. If power is husbanded, a single charge will last for days. Garmin tech support says the battery capacity is 9.3 Watt-hours (33480 Joules).  So a 10,000 milliwatt-hour external battery should completely recharge a dead 66i one time.  
▶ You can manage navigation information on the 66i with Garmin Basecamp via a USB cable to a Windows (I know) or a Max (I believe). Like Garmin's other backcountry GPS receivers, you can easily move tracks, waypoints, maps, routes, etc. between the 66i and your library of navigation information. Unlike all other InReach communication devices, you do not need an Internet connection to do this.
▶ Like previous InReach devices, the 66i communicates better than advertised in that you do not need the clear view of the sky from horizon to horizon that Garmin recommends. The devices work just fine from inside a tent at the bottom of a canyon under a heavy canopy. It will take longer for message or tracking bursts to reach the satellites, but that is all handled automatically by the device and does need user attention.
▶ Like earlier InReach devices, a simple SOS button will alert rescue authorities of your precise location and need for help.
▶ Like all InReach devices, the explore.garmin.com web site allows you keep anyone you choose informed of where you are, at worst within a few hours of real time. Even if you are so injured you cannot send an SOS, people can at least know approximately where you are.
▶ The InReach communication features do not need to be activated for the device to be used like other backcountry GPS receivers. In other words, the device can still be your GPS navigation tool even without activating the fee-based communication subscriptions.
▶ Even when you're not in the backcountry and don't need the navigation features, you can still send and receive text messages from anywhere on the planet without fear of monitoring by local authorities. So if your car breaks down far from the nearest cell tower, you can still get help.
For those reasons I bought the device and am grateful to Garmin for creating it. I bought it mainly for use in the backcountry. It replaces equipment, including a fragile expensive iPhone, an early InReach communicator, an Oregon 600 GPS receiver, AA batteries, and cables that collectively weighed three to four times as much as the 66i and that required significantly more user attention.
I am away from the power and Internet grids for three to seven weeks every summer. About two-thirds of that time, I'm at some kind of basecamp that may have limited solar power. The rest of that time I'm walking overland carrying everything, usually without stock support.
Experience
I've used the device one summer. I have years experience with similar GPS receivers and InReach communicators that preceded this device. I'm 71 years old. I spend several weeks each summer away from Internet, cell and electric service, usually for one to three weeks at a stretch, usually alone, sometimes days away from the nearest road.
Source: bought it new
Price Paid: $600

The 66i is garbage. Don't buy it. You can't download maps onto it. I spent two hours trying to do so and gave up. The 66i, once plugged in, powers down so that the computer doesn't recognize that it's connected. The computer just searches endlessly for the 66i. It's a fatal flaw that doesn't let you download maps onto the 66i. What good is the 66i if you can't download a topo?? I suppose the SOS feature has marginal value. But at the price point? Forget it.
Pros
Minor pros. Not worth it.
Cons
Does not work with topo maps.
See above. Don't buy this garbage. 
Experience
The worst. Never buy this.
Source: bought it new
Price Paid: Roughly $600

You May Like
Recently on Trailspace