Garmin GPSMAP 66i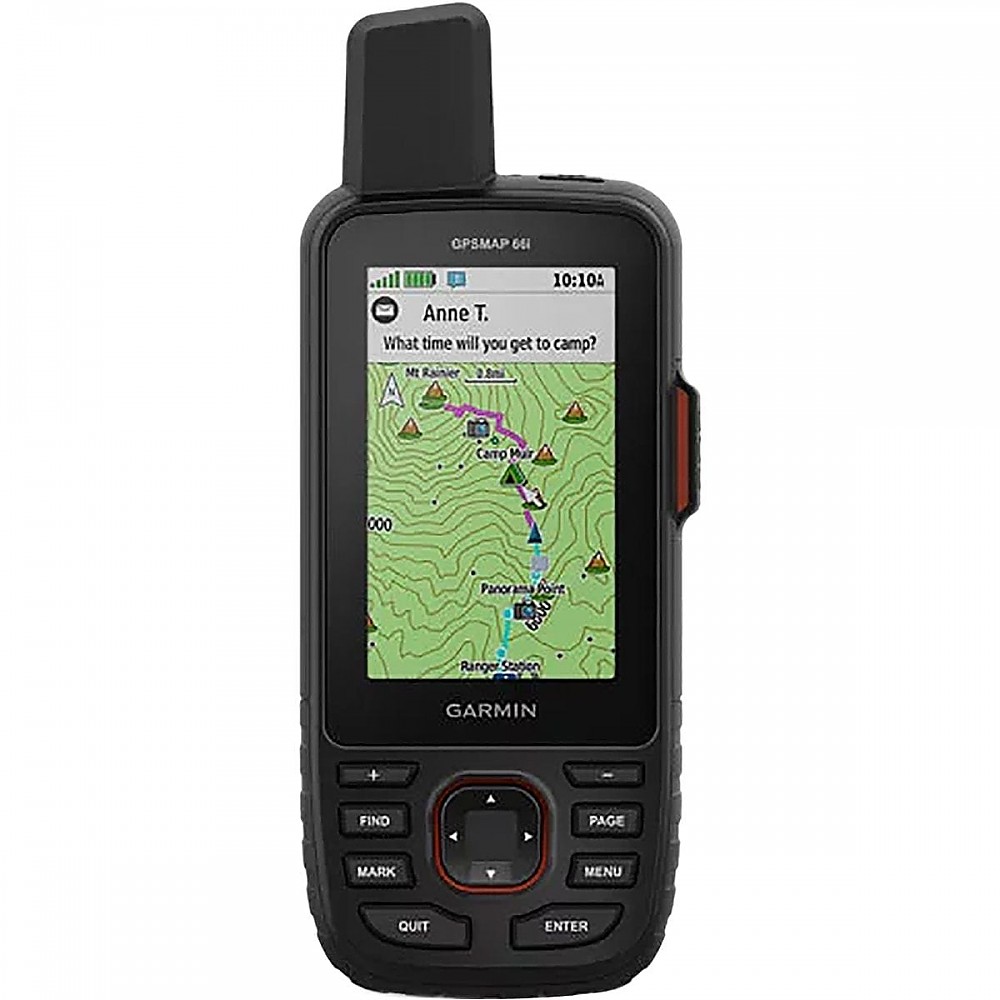 Not for everyone, but uniquely wonderful for those who need it.
Pros
As good as best backcountry consumer GPS receivers.
As good as best satellite text communicators.
Half-pound weight
Rugged
Battery lasts for days.
Cons
$600 price tag
A couple of problems Garmin says will be corrected soon.
The five stars is for people who are weight conscious and need this much nav/comm. For most outdoorsmen, its functions are overkill.
The Garmin GPSMAP 66i introduced in June 2019 is the world's first consumer handheld device that combines a full-featured GPS navigation tool and a satellite text message system in one half-pound, rugged, battery-efficient device. And it has a new feature, Expedition Mode, that greatly reduces power requirements.
Its attributes are easy to describe to anyone familiar with past Garmin products: Take Garmin's best GPS receiver and combine it with its best InReach communicator in one device that weighs about half what those two devices weigh and uses about half as much power and cost slightly less than their combined prices.  That's the 66i.
The device is still buggy.  It still does not provide current local weather info, even though it's supposed to.  The documentation is bad.  Garmin's system of syncing with smartphones, web sites and all is hopelessly non-intuitive.  I had to exchange the first unit I bought because of some firmware corruption.  And, yes, all those things are frustrating.  But they don't change the fact that this device will do vastly more than any other single backcountry electronic device in the world today.  And it only weighs a half-pound.  And its battery will let it do everything I want for a week without recharging it.  When I go for longer, I take a five-ounce phone charger that holds 37 Watt-hours of energy (about 10 Amp-hours at standard lithium battery 3.7 Volts).  The 66i battery holds 9.3 Watt-hours.  Allowing for entropy, the 37 Watt-hours should recharge the 66i almost two times. From personal testing, I know it will recharge it at least once.
For those less familiar with Garmin's line of GPS receivers or its line of InReach communicators, here's what you can expect from the GPSMAP 66i:
▶ Like earlier InReach devices, it sends and receives geotagged text messages and emails from anywhere on or close to the planet.
▶ It provides the necessary navigation tools available on Garmin's backcountry GPS receivers, i.e. electronic maps, tracking, waypoint creation, etc.
▶ It is rugged, water- and dirt-resistant.
▶ It accepts the Garmin map products made for Garmin GPS receivers, i.e. it contains the inferior map products made for previous InReach devices, but it is not limited to those maps.
▶ It is energy efficient. If power is husbanded, a single charge will last for days. Garmin tech support says the battery capacity is 9.3 Watt-hours (33480 Joules).  So a 10,000 milliwatt-hour external battery should completely recharge a dead 66i one time.  
▶ You can manage navigation information on the 66i with Garmin Basecamp via a USB cable to a Windows (I know) or a Max (I believe). Like Garmin's other backcountry GPS receivers, you can easily move tracks, waypoints, maps, routes, etc. between the 66i and your library of navigation information. Unlike all other InReach communication devices, you do not need an Internet connection to do this.
▶ Like previous InReach devices, the 66i communicates better than advertised in that you do not need the clear view of the sky from horizon to horizon that Garmin recommends. The devices work just fine from inside a tent at the bottom of a canyon under a heavy canopy. It will take longer for message or tracking bursts to reach the satellites, but that is all handled automatically by the device and does need user attention.
▶ Like earlier InReach devices, a simple SOS button will alert rescue authorities of your precise location and need for help.
▶ Like all InReach devices, the explore.garmin.com web site allows you keep anyone you choose informed of where you are, at worst within a few hours of real time. Even if you are so injured you cannot send an SOS, people can at least know approximately where you are.
▶ The InReach communication features do not need to be activated for the device to be used like other backcountry GPS receivers. In other words, the device can still be your GPS navigation tool even without activating the fee-based communication subscriptions.
▶ Even when you're not in the backcountry and don't need the navigation features, you can still send and receive text messages from anywhere on the planet without fear of monitoring by local authorities. So if your car breaks down far from the nearest cell tower, you can still get help.
For those reasons I bought the device and am grateful to Garmin for creating it. I bought it mainly for use in the backcountry. It replaces equipment, including a fragile expensive iPhone, an early InReach communicator, an Oregon 600 GPS receiver, AA batteries, and cables that collectively weighed three to four times as much as the 66i and that required significantly more user attention.
I am away from the power and Internet grids for three to seven weeks every summer. About two-thirds of that time, I'm at some kind of basecamp that may have limited solar power. The rest of that time I'm walking overland carrying everything, usually without stock support.
Experience
I've used the device one summer. I have years experience with similar GPS receivers and InReach communicators that preceded this device. I'm 71 years old. I spend several weeks each summer away from Internet, cell and electric service, usually for one to three weeks at a stretch, usually alone, sometimes days away from the nearest road.
Source: bought it new
Price Paid: $600

Poor syncing abilities with desktop and apps...and other issues.
Pros
Good gps accuracy in the forest
Cons
Technologically limited, expected better from Garmin
I am returning this product after playing with it for a few days, watching YouTube videos on how to operate it. I am glad I had not signed up for an inReach subscription yet.
First, I am a forester and have been using a GPSmap60CSx for years, one of the best in terms of its signal and accuracy under forest canopy. I live in Canada and will be heading to the Yukon where cell service is non-existent when away from any roads. Having the ability to use the satellite connection for sending messages, or an SOS, seemed to be the best of both world. 
My review is more about the GPS itself and its pitfalls in terms of using the Explore app on my smartphone, or using the web version. It is a gymnastic of using apps to connect your gps with the Garmin connect app, which had difficulty pairing my device.
Then it was the Explore website that kept disconnecting from the device and I couldn't sync, or my desktop screen would simply freeze and you couldn't click on any features anymore. Many times I got an error message that it couldn't connect to my device. It seemed that I was most successful at using the smartphone app to sync what I'd done on my desktop, and then sync it to the GPS unit. Yikes!
The whole gymnastic between all these devices is very chaotic and made me think about what I would do if I needed to modify some waypoints on the fly.   As an alternative, you can simply plug your device to your computer and move gpx files directly to the unit (like the good old days).
After doing so (the easy, old fashion way), some of my waypoints came in with no labels (just flags and no numerical id numbers). I imported the same gpx files in my old gps to verify if there was a file corruption, but it worked fine in the old gps.  As I have hundreds of waypoints for different study units I thought the idea of using "collections" where waypoints can be grouped, was a great idea. However, this step must be done through the Explore app first.   This function turned out to be futile once in the gps.
I saw that I could disable some collections (thinking they would no longer appear on the library), but when finding a waypoint, ALL waypoints were still visible. They must be sorted by symbol or name to minimize the waypoint data set, like the old way of doing things...so no improvement in that regard.
Birdview imagery seemed like a real positive to have. I surprisingly was able to get imagery for the Yukon where you can select a certain radius around a waypoint. The image for a 10km (6 miles) radius downloaded in about 15 minutes. I created my waypoints from Google Earth imagery and noticed an offset of at least 20-40m with the Birdview image...I had sampling sites in a lake!
I believe that Birdview is Esri imagery as I know that in mountainous terrain there is some geo-referencing warping issue of sort. This is not a consistent issue across the landscape, but definitely something to be aware of! As many others have reported, the resolution was also mediocre.
Another downside is that I thought that I could see the Birdview imagery in Explore on my phone with a bigger screen and better facility for zooming in and out and pan around. No. The imagery doesn't sync and it is not a download option directly from the Explore app. 
When I downloaded the Yukon topo map available from the Explore app, which was some 500 Mgs, it downloaded straight to my internal storage and didn't ask me to store it on my microSD card. So another negative point.
I am opting to keep my old gps and simply investing in a satellite communicator (like the Garmin Mini, or a SPOT or a Zoleo that seems to have very good reviews).
Oh, and I did a test between my old 60CSx (bought in early 2000s) and the 66i under a thick forest canopy. After both units were on for about 10 minutes, the position reading between the two units was off by only a few meters and elevation was off by only 1m.  
The one positive aspect of the 66i compared to my old unit, is the speed at which it acquired satellites. However in the first few minutes, the difference in positioning between the two units was about 50m. Can't tell you which one was more accurate though, but I would feel quite confident with the 66i especially after it has been turned on for several minutes (like any gps).
Experience
I am a forester who has worked with gps units for the last 30 years. I load numerous waypoints of my sampling sites ahead of time. I use the gps to navigate to these points and I also use the gps unit to record new points. I do not create routes or tracks.
Source: bought it new
Price Paid: $600

InReach Service is expensive and set up to scam you out of money by automatic renewal of monthly service with no way to opt out when selecting a monthly plan. Garmin will charge you the minute your month is up and you can call them the minute after but they will charge you for the full month that is starting, no refunds, partial credits, or even an apology.

Cons
Very expensive for InReach service. Rent a Sat phone. Much more capable (not just texting) and cheaper.
I have lots and lots of Garmin products and have been a repeat customer of theirs for as long as I can remember. I have never had a problem with any of their products or their technical support.
My most recent purchase was this top of the line GP66i with InReach capability which I purchased to have InReach capability to text family for 1-2 week trips I take out West every few years.
I selected the "Freedom plan" which allows you to add monthly service for up to one year but they have it set up to automatically renew at the end of each month and do not give you an option to opt out of auto-renewal nor do they send you any notifications that your plan is about to renew.
I have contacted them the day the plan was renewing within hours (not a day or days!) of renewal period and receiving an Invoice for a new month. They would not cancel/remove/modify any charges for the month forward that service was starting and charging me for. Their customer service rep was rudely talking over me when I tried sharing ideas for changes to better serve their customers such as allowing to de-select auto-renewal when placing the order manually or simply sending out a notice before the plan automatically renews.
I requested to speak with a manager but was advised that a manager wasn't available and I would have to put in a request for them to call me which could take a few days.
I went from loving my Garmin devices to loathing the company for being rude, unprofessional, and unwilling to work with their me, someone who has purchased so many of their products and until now has been an advocate of their company. With the money this device is costing me to simply text I so regret not simply renting a satellite phone like I have done in the past to check in with family.
Absolutely do not buy any Garmin devices with InReach. They have it set up to scam people out of money with the automatic renewal and no leniency. We've all seen this from other companies but never have I ever heard or seen of issues when you call in within hours of a renewal that a company wouldn't gladly end a resubscription with a full refund.
Experience
I used to love Garmin but after my experience with their InReach service and customer service after trying to cancel service within hours after it automatically renewed I will never recommend or buy another of their products. So sad to see companies that don't care about their customers.
Source: bought it new

Cons
Almost impossible to sync to my phone
I have never been more disappointed by a product. Every other Bluetooth device I own shows up on my phone and pairs in seconds. This device has never paired in less than a dozen tries. I have had to sit down multiple times with the Garmin "how to" video to pair it.
I can't recommend this product at all. 
Source: bought it new
Price Paid: $650

This is a great unit. I do a lot of backcountry hunting and backpacking. This is perfect.
Pros
Great GPS unit
All the features I need and no problems
inReach and GPS in one unit
I have been using GPS and inReach for a few years. GPS since the '90s. I'm experienced with Basecamp and make all my trips with it. I'm so happy to have one unit to do both things.
Experience
Years of experience
Source: bought it new

I agree with Timothy Emery's review 100%. I'm pretty intuitive with new tech like this but this is super difficult to through a 2- or 3-night hike onto. There's other map sites you can use to try to avoid the clunky Garmin Explorer site. Don't waste your time there. There is little to no "How to" clips online which help you with the Explorer site and syncing. If you decide you want to find a Network Engineer to try to sync your devices good luck. Please send him/her my way.
Cons
Need 10 years I.T. experience to work out how to find a hike with it and use it to . . . . HIKE!!!
Experience
Have used other GPS devices in the past no dramas. The only experience I have with this device is trying to find a place to put in deep in my backpack so I can just hike the pent-up regret and buyer's remorse away. It does look nice though.
Source: bought it new
Price Paid: $770

The 66i is garbage. Don't buy it. You can't download maps onto it. I spent two hours trying to do so and gave up. The 66i, once plugged in, powers down so that the computer doesn't recognize that it's connected. The computer just searches endlessly for the 66i. It's a fatal flaw that doesn't let you download maps onto the 66i. What good is the 66i if you can't download a topo?? I suppose the SOS feature has marginal value. But at the price point? Forget it.
Pros
Minor pros. Not worth it.
Cons
Does not work with topo maps.
See above. Don't buy this garbage. 
Experience
The worst. Never buy this.
Source: bought it new
Price Paid: Roughly $600

Your Review
Where to Buy
Help support this site by making your next gear purchase through one of the links above. Click a link, buy what you need, and the seller will contribute a portion of the purchase price to support Trailspace's independent gear reviews.
You May Like
Specs
Price
Current Retail: $599.99-$600.00
Historic Range: $479.99-$600.00
Reviewers Paid: $600.00-$770.00

Recently on Trailspace