Give'r Classic Give'r Gloves

#1 in unisex Waterproof Gloves and Mittens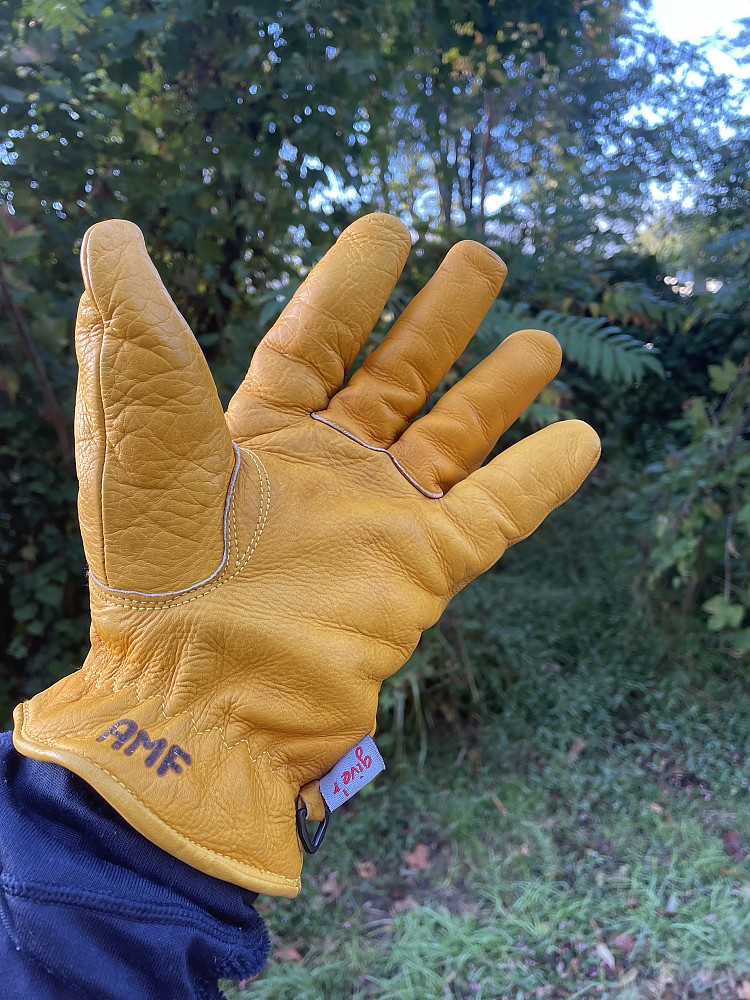 Specs
Price
MSRP: $44.00
Current Retail: $39.99
Historic Range: $39.99-$49.00
Reviewers Paid: $37.00-$44.00

Materials
all-leather glove, coated with a natural wax for weatherproofing

Reviews
2

reviews

5-star:

1

4-star:

1

3-star:

0

2-star:

0

1-star:

0
An unusually durable shoulder to winter season glove. These gloves are well-finished, have a moderate amount of insulation, and arrive pre-waxed so they resist wetting out. Sizing can be an issue, so be careful when you order. Also, there are less-expensive alternatives.
Pros
Comfort
Durability
Finishing/features
Moderately warm
Cons
Price
Not ideal for colder conditions
SUMMARY
I purchased these gloves after reading a review on Trailspace and because finding a good glove for cooler but not freezing weather has been challenging. In my experience, gloves that give you reasonable use of your hands and a fair amount of resistance to abrasion aren't that warm...or aren't as durable as one might want.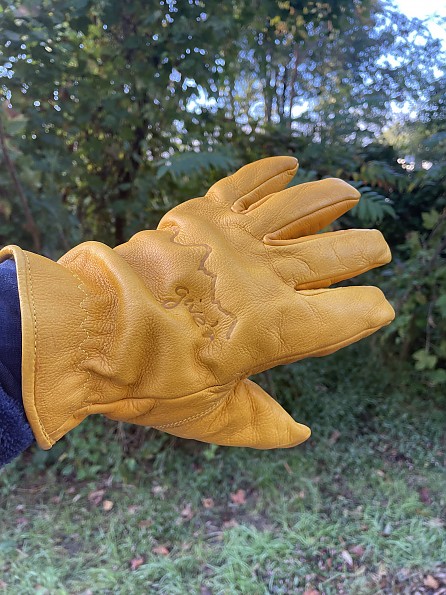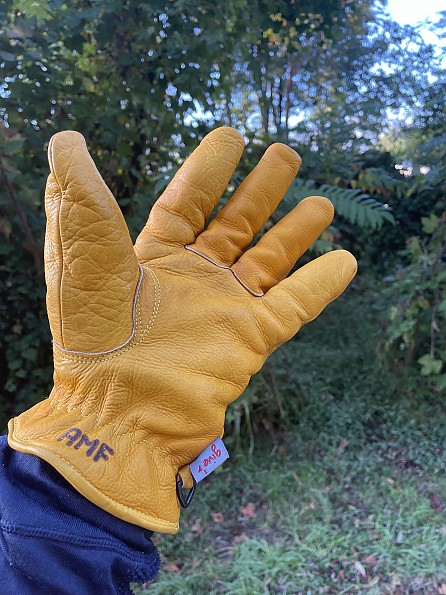 BASIC INFO
Give'r Classic gloves are all leather cowhide with a light fuzzy insulating layer inside. As you can see, they have elastic at the wrist (not super tight), a clip so they can be clipped together, and if you choose, they'll brand your initials on them straightforward. They come in sizes XS through 2XL in the Classic.
They also make unlined gloves, the 'lightweight,' in sizes XS through 3XL, and an insulated 4-season glove with a waterproof membrane, doubled-up palm and fingertips, sizes XS through 3XL. They also make mittens for people who want them. The company seals them with wax, though you can order the 4 season wax-less, subject to availability. Prior to a discount I used, the price for the classic pair was $44.  
ORDERING/FIT ISSUES
I ordered online from their site. The sizing chart shows a couple of measurements you can use to get the right size. Leather gloves can stretch a bit; the leather used with the Classic glove is reasonably soft and forgiving. I sized up both because my hand is wide and because I wanted the option of wearing them with a liner glove. On me, the XL fits well and has room to use a liner; the fingers are a tad long. My dad purchased a pair and returned them because he couldn't find a good size for him using their measurement system.
WILL THEY KEEP MY HANDS WARM?
Depends on how you use and wear them. I have taken at least a dozen hikes with the Give'r Classic where the temperatures ranged from the mid-30s to high 40s, and my hands were fine without liners so long as I was moving.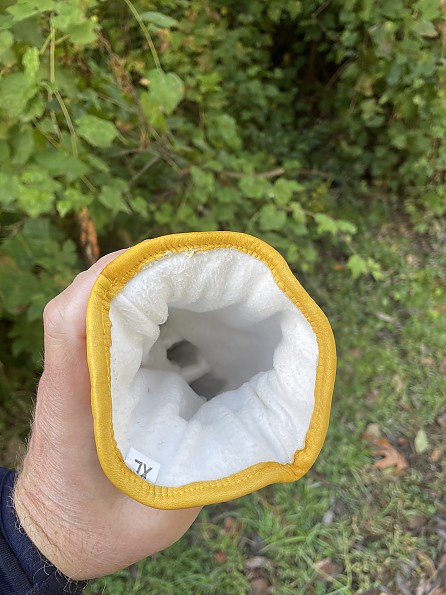 Sitting still outside for extended periods of time, my fingertips felt cold in these without a liner. Because I intentionally sized up, they easily accommodate a thicker Polartec fleece liner (eg Power Stretch). With a liner, they're good, sitting still, to about 30° for me.  If you are looking for a dedicated, all-winter glove for working outside or skiing, I recommend the 4-season or a better-insulated equivalent.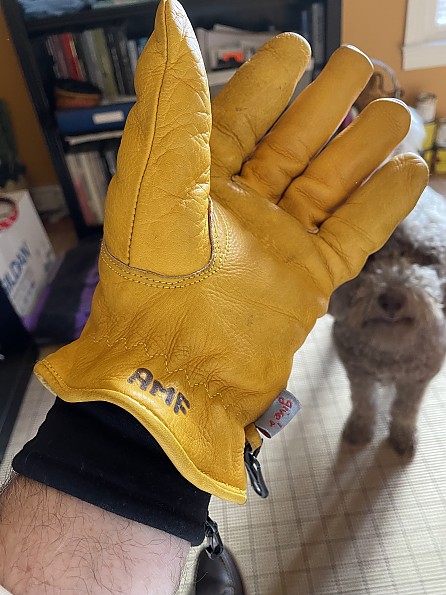 USE OF FINGERS
As I noted above, more insulation generally means less ability to do stuff with your hands. The Classic glove strikes a nice balance in this regard because the leather is forgiving and the insulation isn't too thick. I have found these gloves are very good in terms of using zippers on clothing and packs, no issues gripping trekking poles, even with minimal break-in. That's a step up in finger freedom from a fully-insulated pair of Kinco gloves or insulated guide gloves I use in colder weather.
Examples—no issues using a socket wrench to dismantle a metal structure in our backyard or using a machete to knock back the pernicious bamboo that plagues our yard. if you really need fine use of your fingers and don't care too much about your fingers getting cold, think about getting a pair of the lightweights, or cowhide or deerhide gardening gloves. (the leather on these has more heft than most cheap gardening gloves, but I have found a few pair of unlined leather work gloves that are pretty good).  
WATER/WIND RESISTANCE/DURABILITY
I like that the company pre-waxes the gloves. They have instructions on their site about how they do it, and how you could re-wax them, which you'll probably need to do at some point. While I don't think of these as waterproof in the sense of a glove with a Goretex membrane or DWR coating, I hiked with them in light rain and mist with no leakage, and the gloves didn't wet out. They might in an all-day rainy hike, but I haven't tested that and would probably take a Goretex mitten shell in that situation.
Their instructions say to use something that doesn't have silicone to treat the leather, so you're better off with a wax-based treatment to treat them—one of the beeswax waterproofers like Obenauf's or Sno-Seal. Leather gloves do great with wind and durability, they're not air-permeable at all, and the leather is robust. I have had some durability issues with some brands of outdoors "guide gloves" that have leather palms but nylon panels elsewhere.
Also, some "guide gloves" from outdoor brands go minimal on finger insulation so you have better use of your hands. These gloves fall in the middle, a bit warmer than many minimally insulated guide gloves, better hand use than a more heavily insulated glove.
HOW I HAVE USED THEM
I purchased these at the end of last winter, didn't wear them for a while, then used them as my everyday glove this fall. They accompanied me on a lot of hikes in the mid-30s to high 40s, several evenings chucking balls with Ruby, and a couple of gatherings or football games where I was out in the cold recently. They have permanently replaced a pair of lightweight guide gloves that used to be my go-to shoulder season glove, and they're a significant improvement in terms of warmth and comfort.
Here is what they look like today: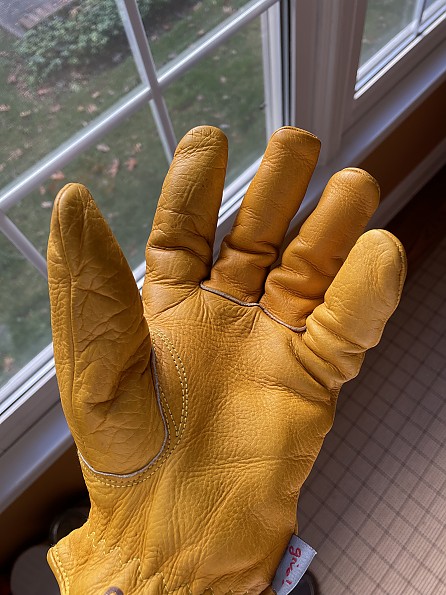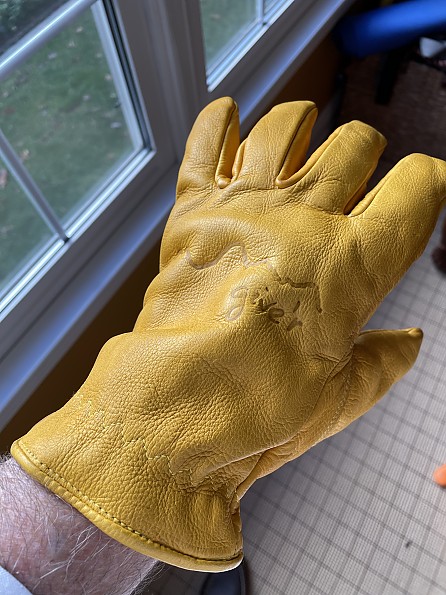 FINAL THOUGHTS
These are nice gloves that serve a niche I needed. It's hard to put a price on happy fingers in cool to cold weather. The full retail price is kind of high compared to a pair of more work-oriented gloves—Kinco makes several flavors that cost half of what these do. Dedicated work gloves tend to need a bit of break-in, often arrive unwaxed, and often have cloth backs rather than full leather, in the interest of controlling costs. 
I expect these will end my glove issues for freezing-to-forties weather for years, and who can ask for more than that?
Experience
A few months of steady use hiking and wearing outside in cooler weather.
Source: bought it new
Price Paid: about $37

These gloves are for morning chores, all day on the slopes from first chair to last call, and still perfect for that après time around the campfire.
Pros
Fast break-in
Warm
Rugged
Great customer service
When work and play become indistinguishable, you've got it figured out. In our forest, we smile just as hard when we're enjoying a cocktail as when we're chopping wood and watching it burn. The foundation to a successful day in the woods are your boots… of course. But second only to your boots are your gloves.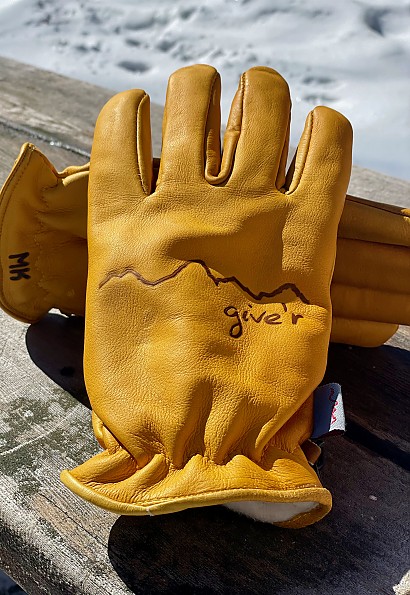 We were told about Give'r products by our friends at Prospect Farm. These folks work in the rugged outdoors of northern Vermont through long winters and warm summers. They have their hands in everything from grease to poop. They build fences and drag poultry tractors. While Lane breaks the ice in the water troughs, Meryl fixes the bailing wire on the gate. I was splitting wood one day when they stopped by our acreage in New Hampshire's north country. Between swings of my axe, I was whinging about my gloves wearing out after a couple of months use. 
Now I have Give'r gloves.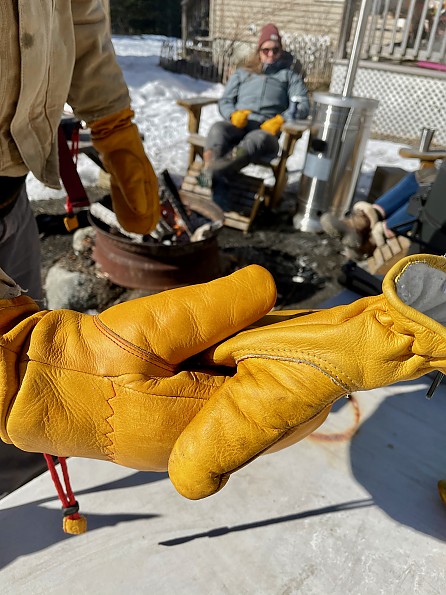 Since the end of February, I have worn my Give'r gloves every day. I've skied in them a dozen times. I've dropped trees, split cords, and stacked firewood with zero complaints. While the gloves are sturdy as can be, they are not stiff, and the break-in period is two full days at most.
I have skied in the finest gloves from Outdoor Research and Black Diamond. As an employee of the ski industry, I have worked long, cold hours in Kinco gloves, model 1927 with safety cuff. What I get from my Give'rs is dexterity without compromising on warmth; insulation without losing out on durability; and a compact, simple design without having to trade craftsmanship.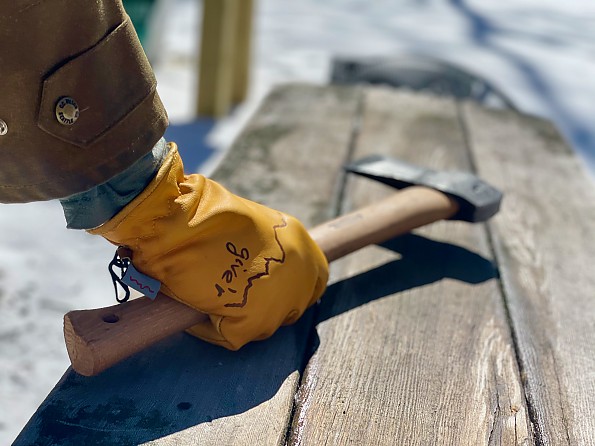 The first test of a glove is how easy it is to put on. While Black Diamond and Outdoor Research gloves slide on easily enough, and Kincos practically slip onto your hands by accident, my Classic Give'r gloves go on easily enough that I no longer wrestle zippers and pocketknives with leather fingers. An easy-on, easy-off glove is crucial for our purposes. Gloves that are so hard to get your hand into that you delay gassing up the saw, leave a pocket unbuttoned, or decide I'll lock up the coop in a minute, is a great way to run out of fuel, lose the keys, or let the chickens run wild.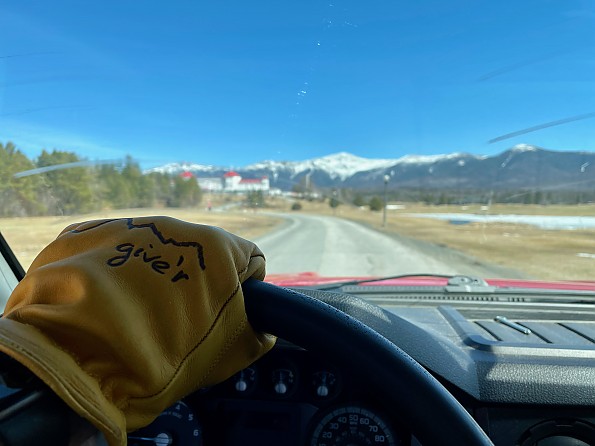 I often choose to ski in leather gloves, so I needed my Classic Give'rs to be warm and low profile. I don't like to have to mess with Velcro, cord lock bungees, or tucking my gloves in under my cuff. Where the Kinco 1927s go over my sleeve nicely, they all but eliminate access to my Apple Watch. My watch plays me my tunes and my Audible books, things that are crucial to my sanity. Ever split wood to Miles Davis? Try it.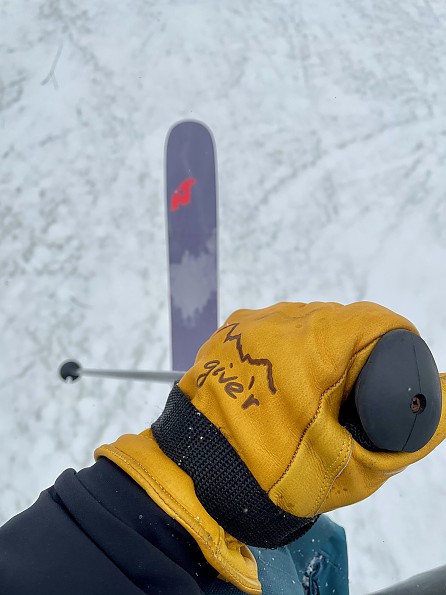 The simplicity of the Give'r Classics means sleeve meets glove cuff, offers a casual greeting, and the two move on with their lives. No drama, no funny business—just polite cohabitation.
Compact design is crucial for stowing your gloves when they are not in use. I shove my work gloves into my left back pocket. Whether I am in Filson wool bibs, Carhart double knees, or Johnson Adirondack Plaid Cargo Pants, my left back pocket is stretched out from years of toting bulky leather work gloves.
This tradition is altered when I'm skiing. My Flylow Baker Bibs inexplicably have no left rear pocket. However, as it was with my previous gloves, so it is with my Give'rs, when the gloves are off, they are under my arm, when briefly visiting the men's room, or on the bar in front of me. Every reader who has stepped into their skis only to find that a single glove remains in their jacket pocket will identify with this devout practice.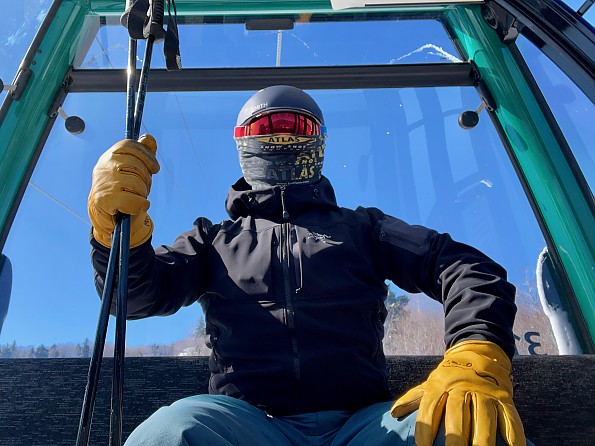 So many of my old gloves were so bulky, I had to attach ski pass wickets to them, allowing me to hang them from carabiners when they were not in use. The Give'r Classics fit nicely into my back pockets, so I'm never without my complete pair.
There are all kinds of wacky tests on the web involving fire, boiling water, and extreme tests of glove superiority. As a sane and grounded user of gloves, I don't go in for that sort of thing. However, do Give'r Classic and Lightweight gloves allow me to move flaming logs around in the firepit? They sure as heck do!
Do they allow me to slip when sharpening my hatchet, grazing the back of my hand along the katana-sharp blade because our nine-year-old pointed out a butterfly and I had to look? Yep. Can I ski first chair at minus 14 degrees F, then shovel out the sheds and coop at minus six, then smoke twenty pounds of Prospect Farm ribs over mesquite at just under zero? The answer is, "happily," and as often as possible.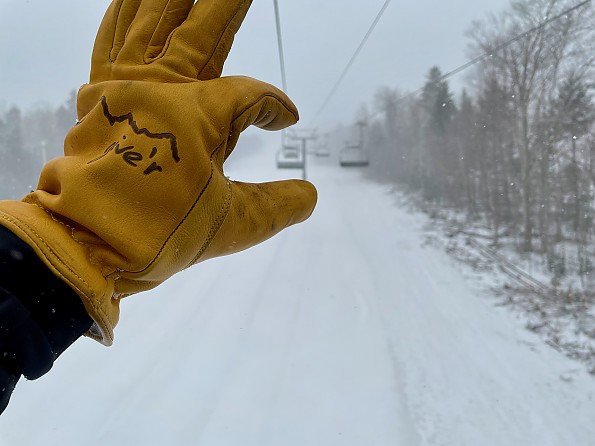 At a competitive price, with excellent customer service, and with a plethora of applications from powder turns to forestry work, the Give'r Classics are the go-to glove for every member of our family and a growing number of our friend group. After twenty years in the outdoor recreation community, I have many gloves, and they are all different and each one is appreciated, but it's my Give'rs that I reach for every day.
Experience
I wear gloves six months a year, all day, everyday, from the morning chores, to the day at work, to the evening chores, to the evening fires, and the weekend recreation. Give'r is my new favorite glove maker.
Source: bought it new
Price Paid: $44

You May Like
Recently on Trailspace