GoLite Jam 70L

GoLite is no longer in business, and the Jam 70L has been discontinued. If you're looking for something new, check out the best expedition packs for 2023.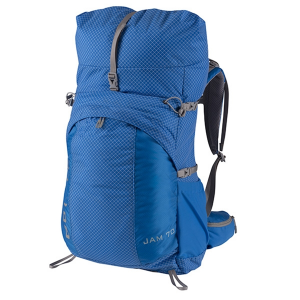 This is a solid, lightweight bag. If you need frills, you'll want to look elsewhere. It has lots of room (almost too much). The material held up under some tough conditions.
Pros
Lightweight
Strong materials
Comfortable
Cons
Does not handle overloading well
The Golite Jam 70L is an awesome bag when you use it the way it was designed (I'll bet you know what's coming next). This bag has a great deal of room, and for someone smarter than me, that is a very good thing. It makes cold weather backpacking easier because you have room for the bulkier items that you need.
During three-season camping, it works great, and has a good cinch system to compress the load. However, when you're all giddy because your pack is so light (my base weight was 16 pounds on a 4 day trip), you may lean towards stupidity (such as I did).
The shoulder straps are comfortable, but it doesn't have the extra padding one would desire for heavy loads. That makes sense because it's a lightweight bag, designed for a max load of 30 pounds. When you overload the bag, it does get less cloud-like, and becomes more of a noticeable addition to your shoulders.
My problem is that it felt so good, I started adding the little extras that usually make the difference between a easy trip and a hard one. I do take full responsibility for this, and I blame myself, not the bag. When I keep my extras realistic, the bag makes me very happy. The load adjusting straps did help, and would have been more effective if the bag was WNL (within normal limits).
The waist belt is also very comfortable, and has small pockets on each side. They won't hold a Jimmy Johns Sandwich, but a Clif Bar fits just right (I highly recommend White Chocolate Macadamia).
The bag will hold a hydration bladder (but none is included). The side pockets are very large. I have read other reviews that say these pockets are fragile and tear too easily. The material is thin, but I had a few encounters with aggressive tree branches and rocks, but the pockets on my pack have held up fine so far.
As with most Golite Ultralight bags, the only access is from the top. There is a lot of room in the bag, so when it's not overloaded, it is easy to find items inside. There is a generous front pocket for quicker access to needed items. The opening was wide enough that I didn't have to fight to get anything out of there.
There are a few places to attach some things (they call it ice pic holders), but they also did a great job of keeping hold of my Sheriff Woody coffee mug.
One thing to note with the overloading of this bag is that I really had this thing crammed full, and aside from the payback it gave my shoulders, it held up fine. No threads loosened up, nothing ripped out of its stitching. It is just a solid bag that is extremely well made.
I've had the bag for about a year now, and I expect to use it for a lot longer.
Source: bought it new
Price Paid: $80 on sale

A very well designed, ultralight frameless pack at an affordable price.
Pros
Ultralight
Large capacity
Comfort
Strong/durable material
Compactable for smaller loads
Cons
Cannot be overloaded
Non-adjustable size
Non-removable/replacable belt
Since reducing my base load weight to under 20 pounds (including a 5 lb. CPAP), I decided to try an ultralight backpack. I have been using a Kelty Trekker 65 and a Yukon 48 for years, and never expected to find a lighter pack that was capable of handling my necessarily bulky load with the same amount of comfort. After taking the 31 oz. Jam 70 on an overnight hike, I was not disappointed in its simplicity, comfort, capacity, and compressibility.
These packs come in small, medium, and large torso sizes, so you must get the one that fits. This is not an interchangeable pack that different members of the family can use (unless you're all the same size). It also has a 30 lb. weight maximum, and the lack of frame would make this pack uncomfortable if overloaded. Packed properly, I found the Jam 70 to be very comfortable indeed.
The shoulder straps and hip belt are not overly padded, and yet very comfortable. I appreciated the small zippered pockets on each side of the belt for holding lip balm, camera, etcetera. Being an ultralight pack, it has the one large main compartment, a very accessible generous front pocket (even when the main bag is compressed), and two large stretchy side pockets, all of which I found to be plenty, in number as well as capacity and on-the-trail accessibility. The side pockets rode a little high to reach back and get my water bottle back into, but that's a minor issue for me, and is a tradeoff for them being a good depth for taller bottles.
I had to climb up from a tiny spring trickle with one gallon jug and Sawyer 32 oz. and 64 oz. bladders full of water. I emptied the pack before going for water, and used the ComPACKtor system to compress and tighten the load down onto my waist and back. The load lifters, a feature that many ultralight backpacks do not have, helped a lot as well. There was no shifting or sagging with the 14 pounds of water during the climb and hike. Every step was as efficient as could be because the load was tightly contained.
A feature that I thought was well designed is that the side compression straps can be easily and quickly reconfigured to cross over the back of the pack, giving you another option for carrying or compressing. There are also stretchy loops up top that can be used in conjunction with the axe loops for carrying hiking poles or other like items. I do not use the hydration bladder pocket (+ hook), but liked the fast-close/open cord and roll design of the main compartment.
The material (210 denier Double-Diamond Ripstop Nylon + Dyneema) feels strong and durable, and I think it will hold up for quite a long time.
Overall, I am impressed with the GoLite 70L (4270 in3). If you keep the load within the weight limitation and pack it properly, this pack does what it was well designed to do, at an affordable price, minimal weight, and in comfort.
Source: bought it new
Price Paid: $129.99

An extremely solid and reliable, lightweight, multi-day backpack. Well-designed and comfortable.
Pros
Comfort
Capacity
Design
Reliable materials
I like the no-frills design: a large, capacious bucket with an additional front pocket, and two more pockets on the belt that accommodate my glasses and camera; two more unzippered side pockets hold Nalgenes easily. The fastex closures and nylon compression straps work well: easy to pack, open, close, and adjust.  The dyneema fabric is claimed to be the strongest available.
I'm often probably packing more than the rated 30 lbs., and the pack has remained comfortable and doesn't shift around.  Since it's designed for ultralight hiking, it's nearly frameless, and correct packing is essential.  You should reinforce the bag's shape by inserting a rolled foam sleeping pad vertically into the bucket, then spread it out to form a tube inside the bag, within which you'll pack your gear, the heaviest items at the bottom, to create a column.
I actually leave my pad slid inside my bivy sack, and use it to form the tube, which adds another layer of waterproofing. Packing in this manner distributes and cushions the weight.  I can say that the Jam 70L is more comfortable than other bags I've used that cost three times as much.
There are no D-rings and few places to lash gear onto the outside of the pack. I attached two carabiner-like clips to the cloth guides for the load-lifter straps, and they work quite well for trekking poles or other gear I need easy access to.
Great pack, great company; would buy again from them.
Source: bought it new
Price Paid: $119.99

Great pack, but it was uncomfortable in the shoulders and with the frameless design.
Cons
Less than adequate shoulder padding
Frameless design was uncomfortable
This a is great lightweight pack and works for weekend backpacking trips and for lightweight loads. I recently took it on a two-week section hike of the AT and found that the shoulder straps do not have enough padding and the frameless design made it really uncomfortable if I was carrying 30+ lbs.
Apart from that it was big enough to fit all my gear in and still have extra room.
Source: bought it new

Your Review
You May Like
Specs
Price
Historic Range: $129.99
Reviewers Paid: $80.00-$129.99

Recently on Trailspace