Granite Gear Crown2 60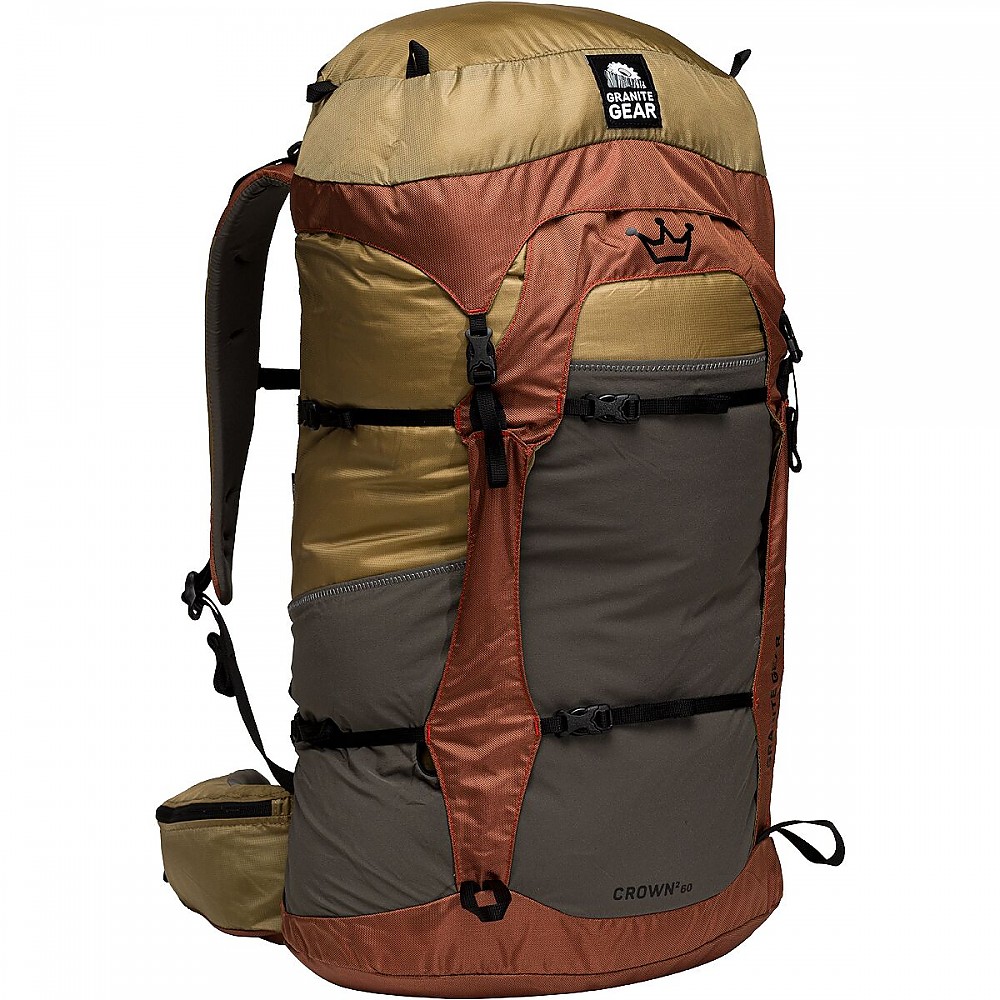 A great lightweight backpack suitable for everything from a weekend to a through hike. Very comfortable up to a 40-pound load.
Pros
Lightweight but tough
Detachable top pocket to save more weight
Totally adjustable waist belt
Excellent buckles
Water repellent treated
I first caught a glimpse of the Granite Gear Crown 2 60 liter backpack at the Winter Outdoor Retailer show this past January while rushing from one meeting to another. I rounded a corner and instantly fell in love. After my meeting, I stopped in at the Granite Gear booth and one of their smiling salespeople took me through the specifications and new ideas that make up this lightweight backpack.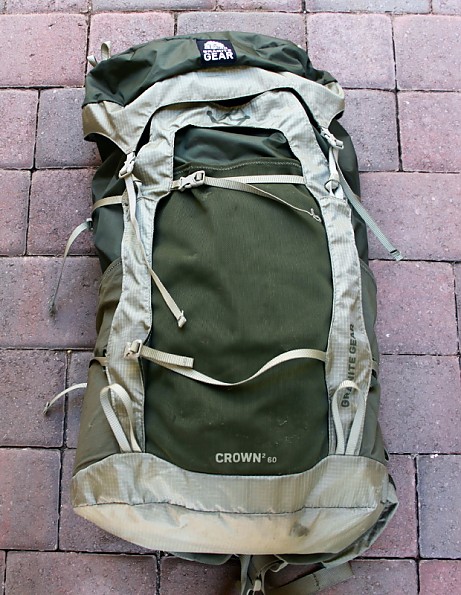 The first item that got my attention was the pack weight, under 2.5 lbs with the 2.8 oz detachable zippered lid. For ultra-light backpackers, the molded polypropylene frame sheet with weight saving die cut holes can be removed to get the pack weight down to 1.7 lbs. Having worked my way down from a 5 1/2 lb North Face pack to a 3lb 8oz REI Flash 60 I was in heaven. The use of the lightweight frame sheet, 3/8 straps, and buckles, plus less padding and a thinner waist belt all contribute to the lighter weight.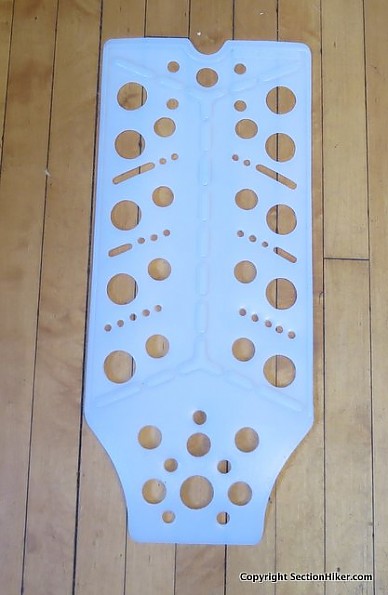 The combination of the frame sheet and a molded foam back panel with mesh ventilation channels provides plenty of rigidity up to Granite Gear's claim of 35lb loads. Nicely padded shoulder straps, of course, are adjustable and feature load leveler straps.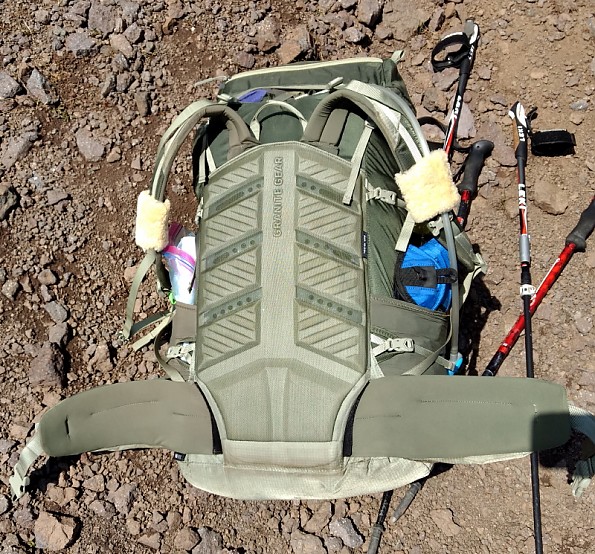 Granite Gear's RE-FIT fully adjustable waist belt is genius. By overlapping Velcro type fabrics the belt can fit a range of 28-40 inch waists. It is held in place by another piece of hooked material.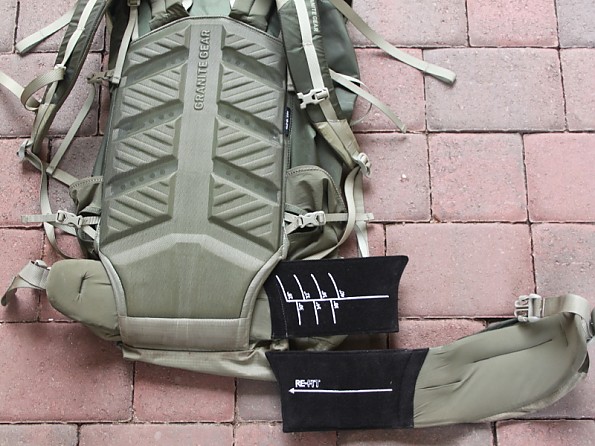 The pack fabric is 110D High-tenacity nylon with NeverWet liquid repelling treatment over the body with 210D for the bottom and other areas that need a bit more strength. The 60-liter central area of the pack features a dry bag type roll top with buckles and an adjustable compression strap. This allows you to increase or decrease the load carrying capacity.
The main body of the pack also has two compressions straps per side to keep the loads from shifting. A large mesh pocket in the rear is supplemented by two good sized mesh side pockets, the mesh is extremely elastic and you can really jam a lot into each space. The hip belt carries a zippered pocket on each side.
A handy hook is provided for hanging a hydration system and the pack has double water hose ports so you can have your hydration hose on either side.
So enough with the specs, how did I like the Granite Gear Crown2 60? I love it. I was lucky enough to get a test sample as soon as they were available in late March. By May I had the pack on the trail for a couple of overnight trips with my wife and some of her beginning backpacker students. With my standard equipment my base weight was under 20lbs and with my mandatory REI Flexlite chair, I was still under 22lbs without food, which my wife carries. At that weight the Crown2 is a dream, the waist belt fits me perfectly, it's thinner than others I have used.
Since I don't have much meat on my hips or butt I wear my waist belt very tight, having the thinner belt is much more comfortable. The dual adjustments to tighten the belt allows me to easily keep the buckle centered, again for more comfort.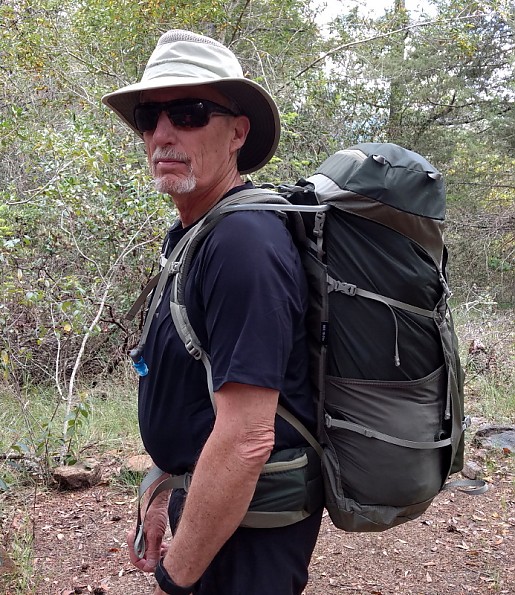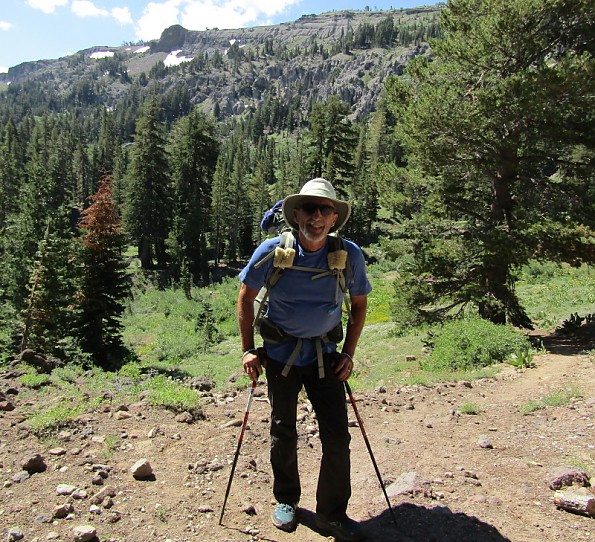 After four more trips of up to a couple of days each, I had my packing down, sleeping bag, tent, ground cloth, sleeping pad, and clothes went into the main compartment. Cooking and eating items went into the rear mesh compartment. In the photo, you can see my Jetboil, Steripen, extra fuel, insulated cup and a bag with bowls, spoons, small multi tool, measuring cup and soap, scrubber and towel.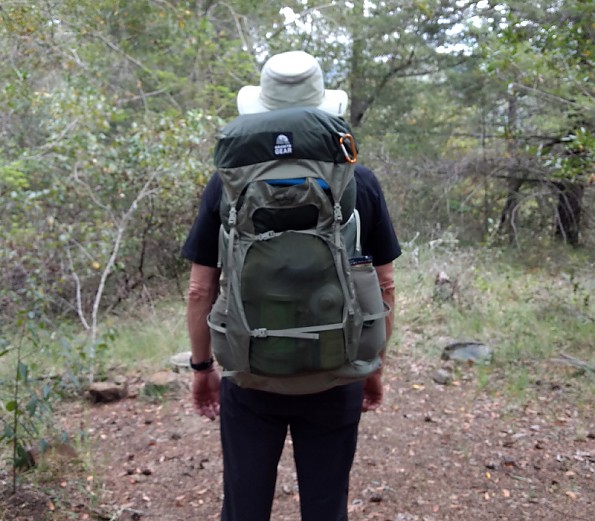 The side mesh pockets hold my chair on one side and a rain jacket, pack cover and sunscreen on the other. The top lid holds wallet, cell phone, first aid/hygiene kit, and a ditty bag with a small headlamp, head net and some extra shock cord used as a clothes line.

In this photo from a later trip, you can see another way of pack addition all items such as the Tyvek ground cloth, a small sit pad, a Nalgene bottle, and a Platypus filter bottle.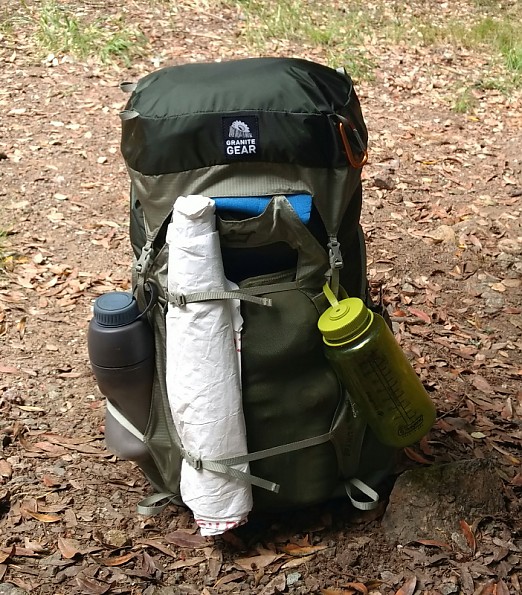 All of these trips were a prelude to our Tahoe to Yosemite through hike on the Pacific Crest Trail in late August. Originally planned for mid summer, we smartly rescheduled due to the massive winter we had in all parts of the Sierra but especially in the northern section where we had 200% of normal snow fall. 152 miles over 16 days meant both my wife and I would need to carry a bear canister for our food.
Having just completed her new book "The Hungry Spork: A Long Distance Hiker's Guide to Meal Planning" my wife, award winning author Inga Aksamit had made us enough calorie dense and protein packed food for the whole trip broken into two parts. We would be carrying 27 pounds of food to get us to our resupply in 9 days and then would load up again. On top of that, it all needed to be carried in a Yosemite National Park legal bear proof canister.To carry this much food I packed 17 lbs into a Bearikade Expedition for myself and 10 pounds into a Bearikade Scout for my wife. 
Here you can see the size of the canister, 9" round and 14.5 inches tall, it's massive.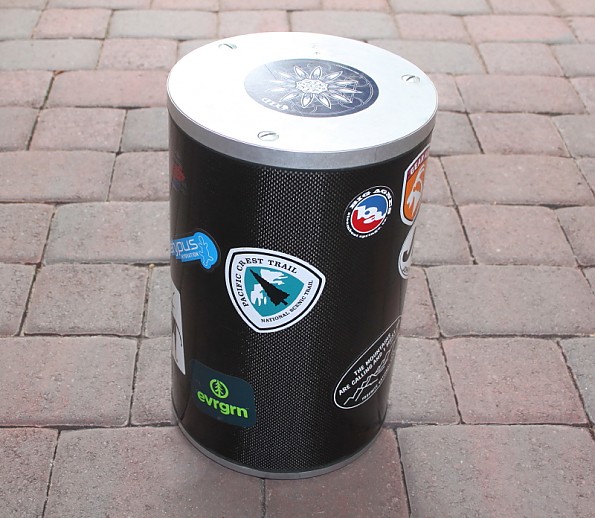 In this pictures, you can see the canister loaded into the Crown 2 backpack. Under the canister is my sleeping bag placed horizontally with the canister semi centered next to my hydration bladder. My sleeping pad went on one side and my clothes bag on the other, this kept everything from moving around. My puff jacket went on top of the canister. After rolling down the top I placed a pair of Oofos camp and water crossing shoes on top and then used the vertical compression strap to keep everything secure. The rest of the pack was packed like always and I added the two empty Nalgene bottles used for camp water.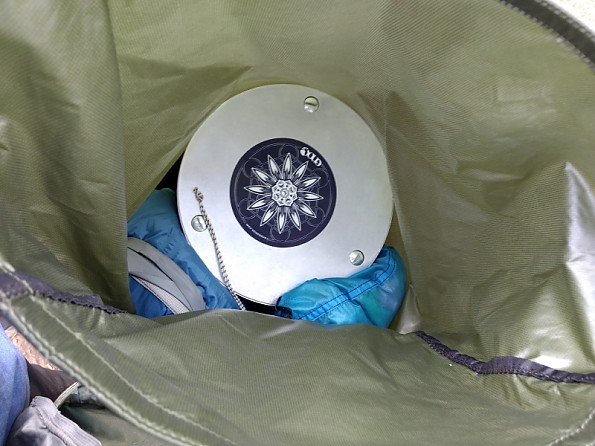 Once packed and including a liter of water my pack weight was 39 lbs, above what Granite Gear recommends. Once I had it on my back and adjusted to my 5'9" 165-pound frame it felt good even in its so called over loaded state. The pack rode really well and was well centered. I adjusted my pack with almost no load on my shoulders and all the weight on my hips. Moving down the trail everything felt real solid, no swaying or shifting.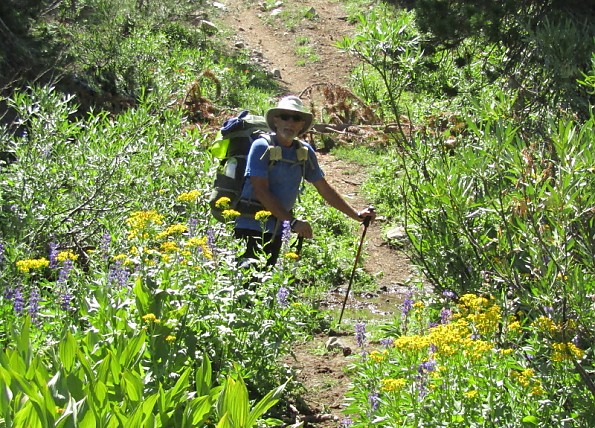 The RE-FIT adjustable hip belt would play a valuable part in our successful hike. Twice during the hike, I had to readjust the maximum waist belt length due to losing weight around my waist. Having started with the belt set for a 30-inch waist I eventually went down even lower than the 28-inch mark. This allowed me to keep the waist belt tight enough to both carry the weight and remain comfortable.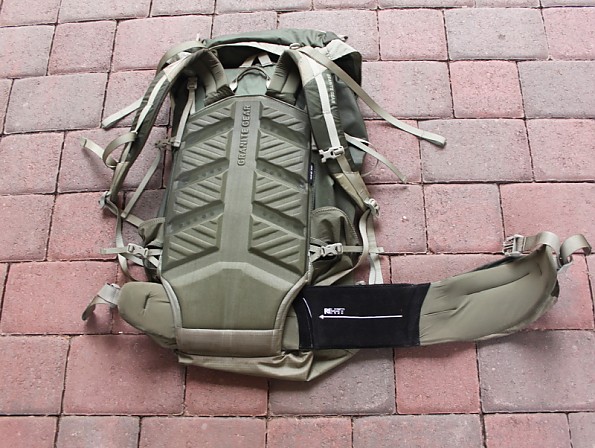 I have about 30 days of use on the Crown 2 pack now, and after the 16-day trip, a quick scrub made it look like new. The fabric looks perfect, even on the bottom where it came into contact repeatedly with the tough abrasive granite of the Sierra. The fabric did a good job on the trail of shedding rain, although I used a pack cover since I like to wrap my pack in it at night.
I would have to say I love this pack more now than when I first saw it at the show. The Crown 2 was so popular in the spring that it sold out and only became available again in August. At a cost of $199.95 for a 2.5 lb 60-liter backpack, you can't go wrong. 
Thanks to Granite Gear for providing a sample for my testing and review.
Source: tested or reviewed it for the manufacturer (I kept the product after testing.)

Disclosure: The author of this review received a sample of the product from the brand or its representative in exchange for a review.
After comparing all the features important to me, I decided to go with the Granite Gear Crown2 60. Even though it doesn't have sleeping pad straps (REALLY???). I added those to the pack myself via some ultralight Sea to Summit straps. The reservoir sleeve is more a peace of mind thing than an actual necessity, so I don't mind that this pack lacks one.

It's a bit larger than I prefer, but I'd rather have extra room than run out of space. There are so many great features with this pack, and it fits me well. I look forward to many good years and adventures with this pack!


Pros
Lightweight
Large hip belt pockets
Roll top closure
Cons
No sleeping pad straps
Only one big front mesh pocket
No outer zipper on brain
I actually love this pack so much I wrote a very detailed article about it on my outdoor blog, Firestarter's Guide!
Source: bought it new
Price Paid: $199.95

Your Review
You May Like
Specs
Men's
Price
Current Retail: $109.97-$199.95
Historic Range: $109.97-$199.95

Women's
Price
Current Retail: $149.96
Historic Range: $117.38-$199.95
Reviewers Paid: $199.95

Recently on Trailspace