Wild Ideas Bearikade Expedition

#4 in Bear Canisters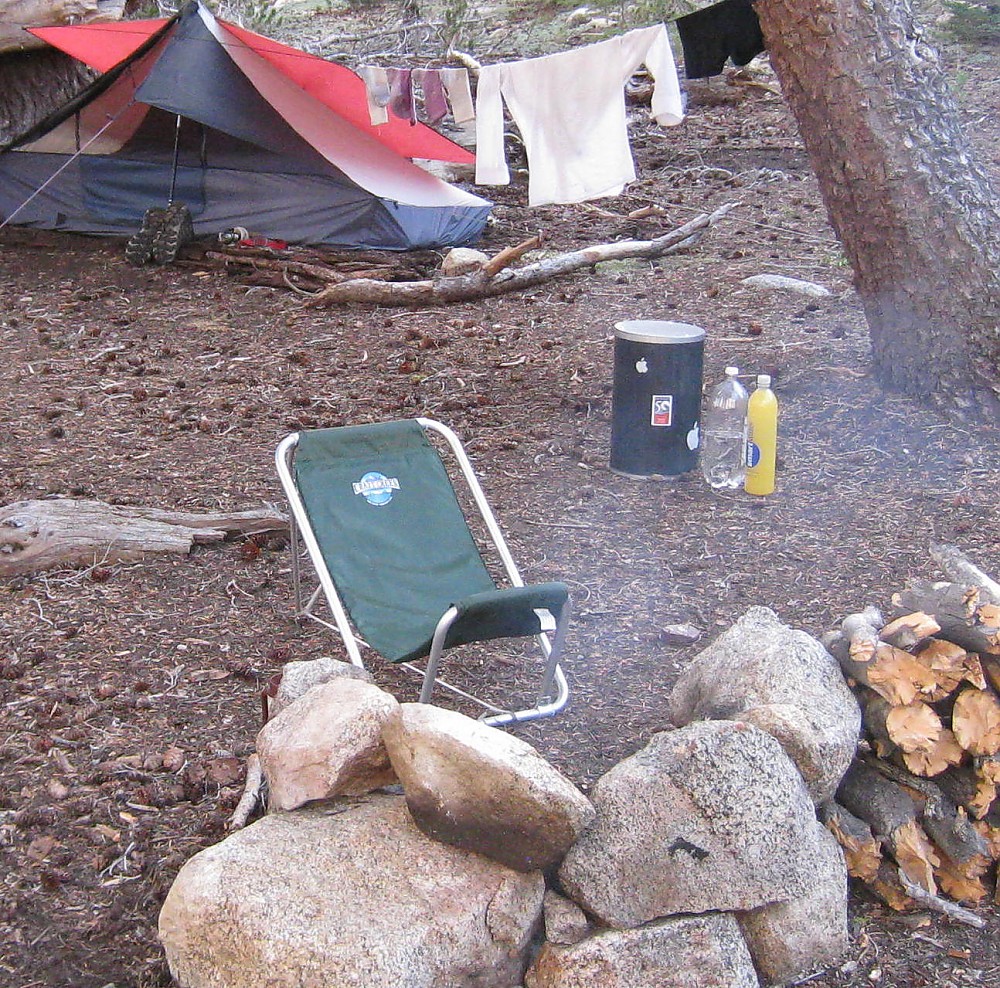 If you are young, get this item, regardless of the pri$e, as it will last a lifetime, unlike most other pricy gear purchases, and you will get more than your money's worth in the long run. If you are old, hopeful you can afford the coin to shave some weight while increasing carry capacity.
Pros
Rugged, durable design
Lightest canister by volume on the market
Also serves as a camp stool, clothes washing tub, and water fetch bucket
Cons
$$$$$$$!
Gotta memorize the lock/unlock directions to rotate the locking screws
Reflective stickers do not stick well to black canister body (but do stick to the metal ends)
Challenge to carry using smaller packs
Flat out, one of the best designed pieces of gear I own. I've been using my Bearikade since 2016. I happened to get the Expedition model, which at 900 cu in has about 20% more capacity than the Blazer, but at 36oz is only about 9% more weight. I EAT A LOT, about 1 1/2 times the portions of my trail partners. The Expedition will carry 12 days of food for me. If I repackaged items and crammed, I might get 2 or 3 more days of food in.
All of the Bearikade models have the same diameter. They are large enough to be problematic for smaller packs. In my case I have a huge expedition size internal frame gear hauler, and a large Kelty Sonora external frame pack. The canister fits nice in the bottom of my gear hauler, and that is good, as I use that pack for XC and snow travel, conditions where you want a low center of gravity.
The canister can go almost anywhere on my Kelty. Typically I'll lash it to the frame where the sleeping bag normally goes, but if my load is heavy I'll place it atop of my pack, where the weight is more centered over my hips, allowing me a more upright, comfortable posture when I hike. 
The volume comparison of the Bearikade and Bear Vault, going only by the numbers, understates the capacity advantage of the Bearikade. Both products honestly state their volumes, but the ribbed sides of the Bearvault result in a reduction of useable storage space, while the smooth sides of the Bearikade afford full utilization of the volume available.   
I will often stow nonfood items in the Bearikade. If you refer to the image LoneStranger included in his Blazer review, note that the machined edges of the aluminum tabs that receive the locking screws have two corners that potentially can snag and damage fabric items, such as a sleeping bag. I precluded this risk by rounding the corners and dulling the edges of the tabs.
Experience
The Bearikade has been on 24+ trips since 2016. I previously used a Bear Vault for about 15 years. I have been backpacking since the early 1960s.
Source: bought it new
Price Paid: $349

Perfect size for 10-nighter; most efficient volume-to-weight.
Pros
Big
Light
Fast open/close
MKII's benefits come to bear on trips requiring 10 person/days of food storage: 2.25 lbs of SIBBG (Sierra Interagency Black Bear Group)-tested and approved, 900-cubic-inch capacity.  I'm not aware of any legal alternative (for Yosemite or King's Canyon) close to the volume/weight ratio of the Expedition MKII. I've carried this can on 274 nights of outings over 12 seasons.
Bearikades are made from a carbon fiber tube with high-grade aluminum bottom and top. Three aircraft turn clips lock the flat metal top onto an 0-ringed, glued-on metal seat. The inside walls are smooth, slick, and straight. The flat bottom is glued on. Lid and bottom are very thin, beefed up with star webs.
The can's mouth very nearly matches the inside diameter of the can. Turn clip seats have sharp edges and will snag anything on the way in or out. The open lid hangs close on a wire cable, though I've always disliked that and when the cable broke I removed it. Turn clips lock the lid fast and usually easily with a coin or key, but do require much more torque than a BearCache. Though a tool is required, I find the fastening easier to manage than having to depress a tab to clear a nub, especially when fingers are cold.
It might make a passable stool, but I don't use it that way. I worry of damaging the bottom if it's on any kind of rocky surface; and I never want it close to the fire.
Any one of the turn clip seats provide great one-hand purchase to tote the can from a water source to a laundry site. The can's a great wash tub, being mindful of the clip seat edges.
Issues have developed from the sharp-edged top and bottom, having actually cut through backpack material. With the bag stuffed, any abrasion against the can edge will cut nylon. Placing a towel around the edge where it contacts tight nylon mitigates that risk.
Those "sharp" top and bottom edges, along with the straight-cylinder shape all conspire to make the Expedition sometimes difficult to get in and out of the pack. Rarely will it just plop in or slip out as the "corners" grab fabric.
Being straight up and down does make the can easier to fill/empty. I typically pack the can using two plastic bags, hoping not to need the bottom one until the top one is nearly empty. Careful to avoid snagging on the turn clip seats, it is possible to extract a half-empty top sack to get to bottom-sack contents more quickly.
All four Bearikade models carry a heavy price. I can only justify the MKII. For any Yosemite trip over a week, I'd have to carry two of any other brand; and the most efficient combination weighs 74 oz. That combo is only about 40% of the cost, and offers 27% more volume. But I don't need more volume than the 36 oz Expedition. It yields about 25 sq in volume per oz of weight vs. 15.4 sq in, which is about a 62% greater volume-to-weight efficiency. In addition to carrying a bit less than ½ the tare weight, I'm only dealing with the bulk challenges of one can.
After choking down the cost, the only issue I have is why to carry any other can even when I don't need the volume.
Comparing:
BearCache is smaller and heavier; easier to open; leaks if right side up.
BearVault 450 is same weight, but much smaller; 500 is heavier and smaller;  no tool required, but not easy to open; threads break if someone sits on unfastened lid.

Frontiersman is tall and skinny; excruciatingly slow to open/close; not approved in Yos/Kings.

Ursack is lighter and compressible, but not approved in Yos/Kings.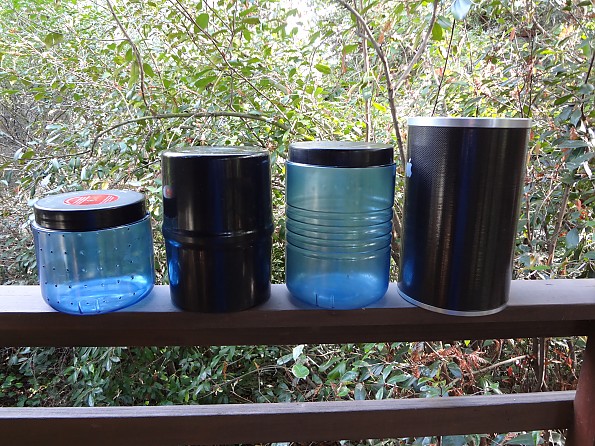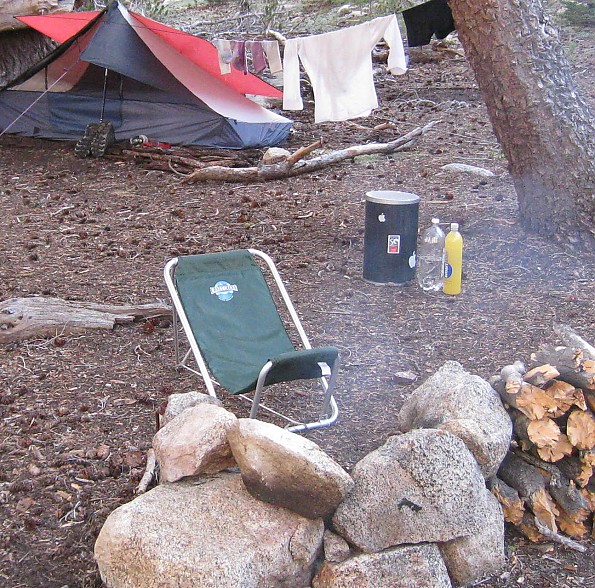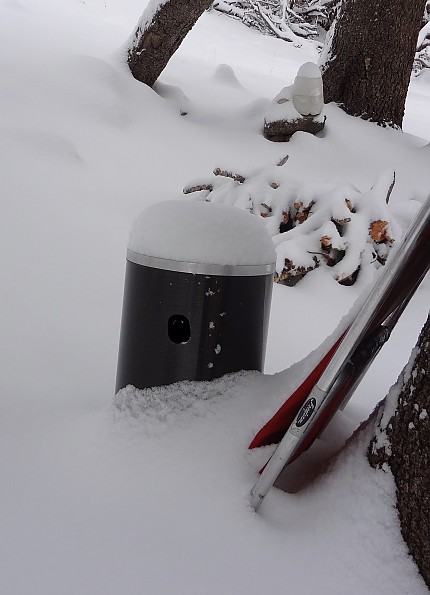 Experience
I've used portable animal resistant containers 1,113 nights of 1,430 nights out since getting my first bear can. MKII has provided service over 12 years on 274 nights. I also use BearCache; two sizes of BearVault; 2 of Ursack; and a Frontiersman. MKII always gets the nod on any trip of a week or more where I'd otherwise need two cans.
Source: bought it new
Price Paid: 275 + tax & shipping

Version reviewed: MKII
This is a review of the Bearikade Expedition MKII model by Wild Ideas. As bear cans go (especially for one of this capacity) it's lightweight. As a result it is the canister of choice for long-distance through-hikers on trails like the PCT and JMT. I borrowed one and used it for a 30-day John Muir Trail through-hike in 2012.
Pros
Lightweight for its size
Large capacity
Top fully opens with nearly unrestricted access
Approved for use in all Sierra Nevada parks (at least as of 2012)
Cons
Requires "opener" (large coin or similar)
Latches can be difficult to turn
Extremely expensive compared to other bear canisters
This is a review of the Bearikade Expedition MKII by Wild Ideas.  As bear cans go (especially for one of this capacity) it's lightweight.  As a result it is the canister of choice for long-distance through-hikers on trails like the PCT and JMT.  I borrowed one and used it for a 30-day John Muir Trail through-hike in 2012.
Background:
In many parts of the Sierra Nevada and elsewhere bear cans are required for food storage while in the backcountry. This is to not only protect hikers' food supplies, but to protect the bears themselves. Bears are easily habituated, and if they learn they can obtain food from humans, they become aggressive — and as a result may be killed by governmental authorities. 
In my opinion canisters are a good idea in general, regardless of the regulations (or lack thereof), as they protect not only against bears, but any other critters which may enjoy our food. The extra weight and bulk is worth the peace of mind of knowing my food is safe.
Due to its light weight and large capacity, the Bearikade is a popular choice. They come in several models of increasing capacity (Scout, Weekender, and Expedition). This review is of the Expedition model, with a rated capacity (per the Wild Ideas website) of 900 cubic inches.  Due to its efficient use of space (no tapered neck or other restricted spaces) it measures just 9" by 14.5".  The rated weight is "just over 36 ounces".  I weighed the one I used at 34.5 ounces.
Construction:
Per the Wild Ideas website, "The patented Bearikade canisters principally consist of 6061 T-6 aluminum hatch, locking collar, and end fittings securely bonded to a proprietary composite carbon-fiber cylinder with high strength epoxy". 
The locking latches require the use of a large coin (e.g. a US Quarter) or similar to close (and open) the can.  The can feels solid and well constructed.  One issue I did encounter, however, is that the locking mechanisms can be very difficult to open or close. It seems under some conditions they bind, and a coin doesn't provide enough leverage to easily turn it.  At one time when my hands were cold and wet from the rain, I seriously wasn't sure I could open the canister to get my dinner (though I did ultimately open it). 
It should also be noted that because the openers require a coin or similar, this means having to keep track of same while in the backcountry. This can be inconvenient at times, and one may be well advised to carry a spare.
General Comments:
Since the carbon fiber sides of the Bearikade are black, the canister could be easily mis-placed, especially if a bear were to play with it and roll it away during the night. For this reason it's a good idea to apply some sort of reflective stickers at various points on the sides and ends. This would be especially helpful if one were to chase off a bear and need to find the canister at night.
Regarding capacity: Wild Ideas rates this canister as holding food for one person for 12 days (or 3 people for 3 days). I hiked solo and the most I got in it at any point was a 10-day supply (including toiletries and cookware / cozy). I packed pretty carefully, though not with the ultimate of compactness. I felt quite hungry, felt a lack of energy, and lost significant weight on this trip.  YMMV ...
Conclusion:
The Bearikade Expedition is in a class by itself for its capacity and weight-to-volume ratio. As a result it seems to be the canister of choice for long distance through hikers. This comes at a price though - the Expedition MKII model sells for $299 plus shipping, and is only available through Wild Ideas (no discounted retailers).
Rentals are available as well (also directly through Wild Ideas), and may be a better option for those who don't need a canister of this capacity on a regular basis. I was fortunate to be able to borrow one for my trip. I hope to purchase one of the smaller models for my shorter trips.
The images below show the canister in use on the trail.
Bearikade - not packed really tightly - only ~4-5 days food at this time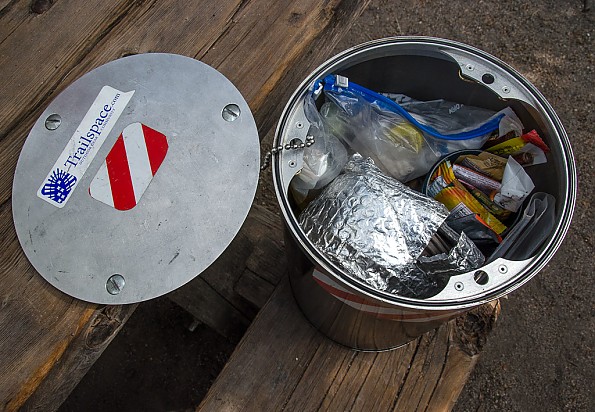 Source: borrowed it

Your Review
Where to Buy
Help support this site by making your next gear purchase through one of the links above. Click a link, buy what you need, and the seller will contribute a portion of the purchase price to support Trailspace's independent gear reviews.
You May Like
Specs
Price
MSRP: $424.00
Reviewers Paid: $275.00-$349.00

Weight
just over 36 oz / 1020.58 g

Volume
900 cu in

Diameter
9 in / 23 cm

Length
14.5 in / 37 cm

Best For
The Bearikade Expedition MKII is the choice for longer trips or larger groups. It can supply a group of 3 for 3 days. If used as a personal unit, it can supply you for up to 12 days.

Recently on Trailspace