Grayl Ultralight

#9 in Bottle and Inline Water Filters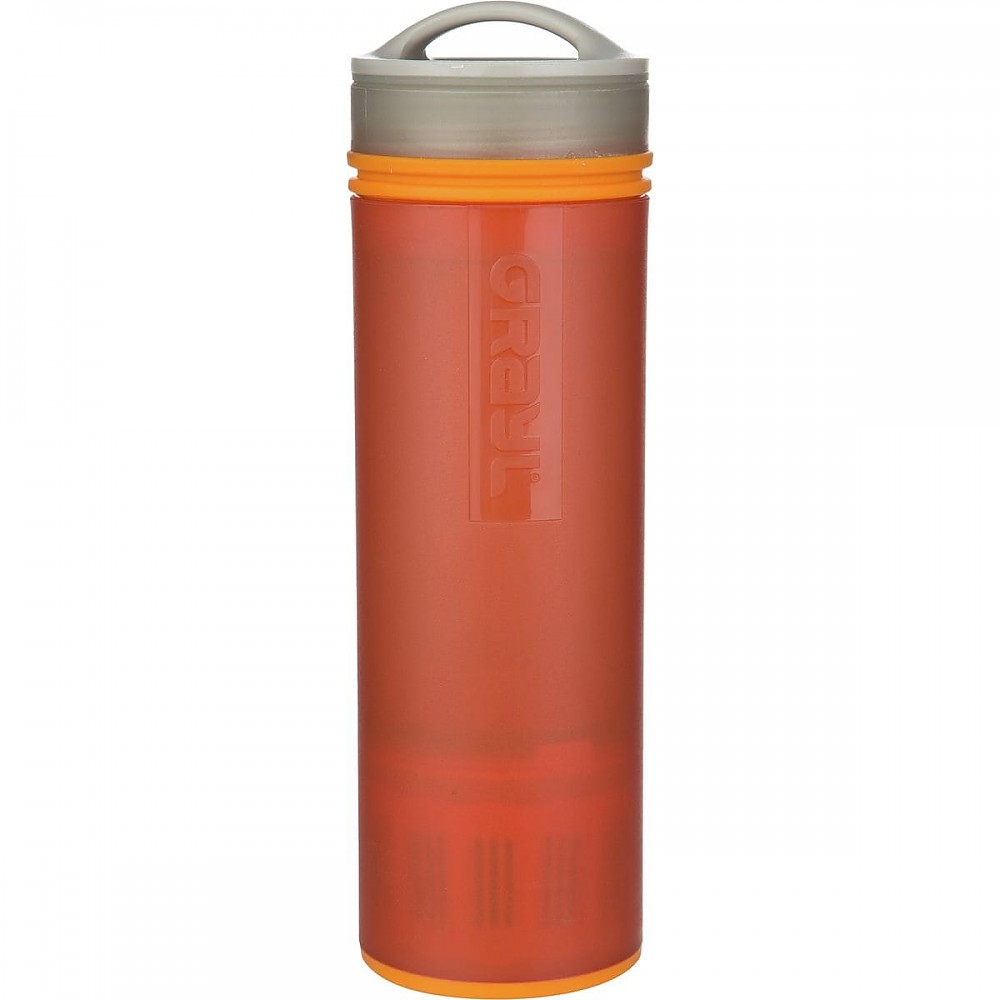 I purchased this water filtration bottle primarily to take canoeing, for day trips and canoe camping outings. It is small, easy to carry, and can provide clean drinking water in a short period of time. It is really tough to use in the canoe, due to pressure needed, but a quick stop off at shore and I can get clean water quickly. It is also handy to use when hiking, as it fits nicely into backpack bottle pockets.
Pros
Simple operation
Long lasting filter
Easy to transport/small and lightweight
Durable
Cons
Can be hard or uncomfortable to press
Limited capacity for each use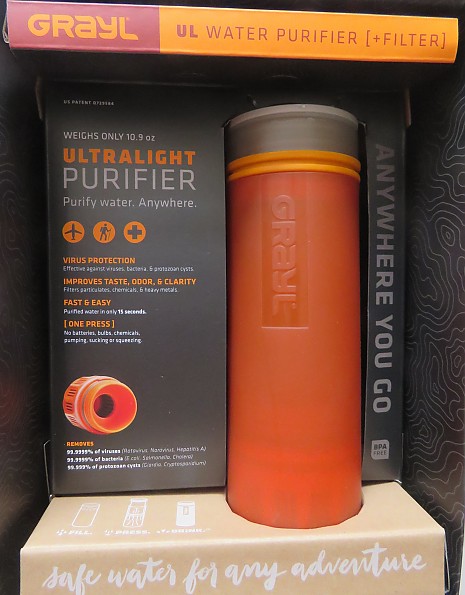 With the unseasonably warm summer we had, and with numerous canoe camping trips on the agenda, I was looking for a simple, easy to use, and portable water filtration system/product that I could bring canoeing, camping, and hiking. Having potable water in the canoe is essential for both paddlers and dogs, and at remote canoe camping sites, relying on the lake water can be risky.
Though we hike in areas with mostly clean waters, it is not wise to depend on luck when utilizing our streams for drinking water. The Grayl Ultralight Purifier, at a price of only $59.95, seemed as though it would be a feasible product to meet our needs. We have found it a simple, uncomplicated way to provide us with safe water for drinking and cooking.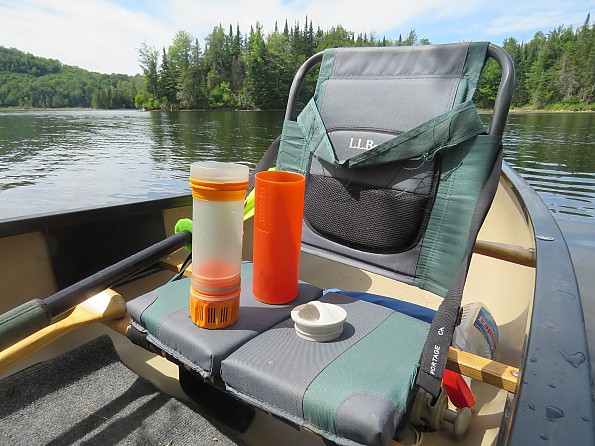 We have used this bottle this past season for day canoe trips, as well as during backcountry canoe camping excursions. In Kejimkujik National Park in Nova Scotia, we had numerous portages, packed a lot of gear, and could not realistically carry much drinking water with us. The Grayl Ultralight Purifier was just what we needed.
This water filtration bottle is easy to use, with only three components (bottle, filter, cap) and works with a simple pressing system. Fill the outer bottle with water to the indicator line, insert the inner filtration cylinder, put on the cap, and press downward. You then drink from the bottle, cap it for later use, or repeat the procedure to collect larger amounts of clean water.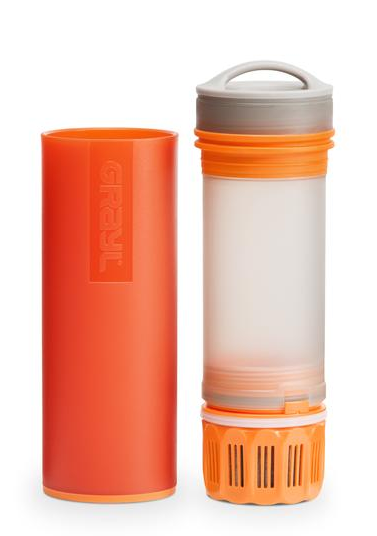 This works well for us, as there are no tubes, bags, or additional components, and the results are immediate. Granted, the capacity for each use is only 16 oz., but since each use takes less than a minute, it works just fine for one or two people. Once we have filtered each 16 oz. fill, we usually then place the filtered water in a larger capacity water bottle or jug. 
I did find that when the outer bottle is filled to the indicator line (16 oz./473 ml) it is actually a bit tougher to compress, and there is some spillage out of the side edges. I generally fill to about 12 oz. before compressing the top. It does take a good amount of two-handed pressure to compress the top down, allowing the water to work through the inner filtration cylinder.
For effective use, this pressure should be from directly above; this fact makes it a bit problematic to use the bottle in the canoe while underway. With two hands, applying direct pressure, while situated on a firm surface, the water is filtered in 15-20 seconds. We experimented with applying pressure without the cap on, thinking perhaps there may be less resistance. However, it made no noticeable difference in the amount of pressure required.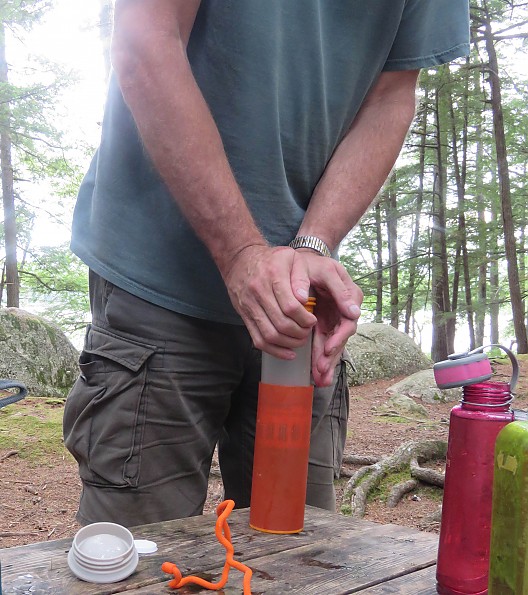 Grayl's specs for the product indicate at 15 seconds of compression, you can filter 2 liters of water a minute. However, that apparently does not allow for the time of emptying, pouring into another container, and then refilling the Purifier Bottle. But who said this is a race? It works well, provides what we want (safe, potable water), and is simple in construct and easy to use.
The replaceable filter cartridge is reported to be effective for 300 uses (40 gal/150L), We do not count the number of times we use the purifier, but for our purposes, that would exceed our annual use. The opened cartridges are said to be good for three years; to be on the safe side, we anticipate replacing the cartridge every two years. When the cartridge is nearing the time for replacement, the time to press the purifier completely does apparently increase. We have used the purifier probably less than 100 times, so are not yet nearing that point.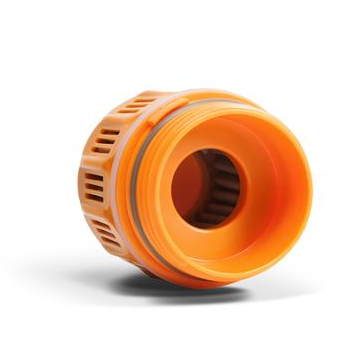 Cost for a replacement cartridge is $24.95. An unopened cartridge has a reported shelf life of 10 years. Since technology changes, and products do undergo modifications, we may purchase extra cartridges now, for use in the future.
How effective is the filtration? We have never suffered any ill effects after using the purifier with water from many different sources. The product specs from Grayl indicate that it is 99.9999% effective against viruses, bacteria, and protozoan cysts. I am not a biochemist, but I think that an effective rate that high is a pretty good indicator for safe use.
The purifier is also said to be effective against particulates, chemicals, and many heavy metals. Grayl does not give efficacy ratings for those, but we have found the purified water to be clear, free of grit or discernable particulate, and free of odor.
The antimicrobial bottle weighs 10.9 oz.(309 g) empty, and is made of BPA-free and chemical-free materials. The bottle is 9.625" (24.5 cm) H x 2.875" (7.30 cm). It is available in four different colors (orange, green, blue, black). The warranty is for 10 years. The purifier bottle had proven durable and tough.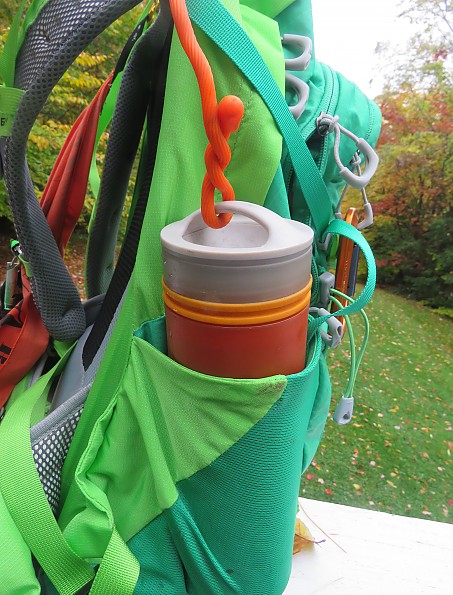 Technical specs (from Grayl website) Tested according to NSF/ANSI standards: 42 + 53
Active technology: Electroadsorption, ultra-powdered activated carbon and silver treated zeolites. Unlike standard mechanical filtration, the Ultralight Purifier Bottle is powered by a patented electroadsorptive media capable of removing submicron pathogens and inorganic contaminants. With [ONE PRESS], electroadhesion and ion exchange create a powerful submicron trap for pathogens (viruses, bacteria and protozoan cysts). Additionally, the purifier media contains many embedded layers of ultra-powdered activated carbon which create a large surface area for removing toxins like chemicals and heavy metals. Silver treated zeolites, a natural antimicrobial, inhibit growth and keeps the purifier fresh between uses.
I am comfortable in recommending this purifier bottle, as an easy way to obtain safe drinking water from many sources. I do not usually travel to populated locations with questionable water supplies, but I think that Grayl's suggestion of this as a good item for travel or emergency use is a good one. I know that it works well in an outdoor setting, and I anticipate using it for many more seasons of canoeing, camping, and hiking.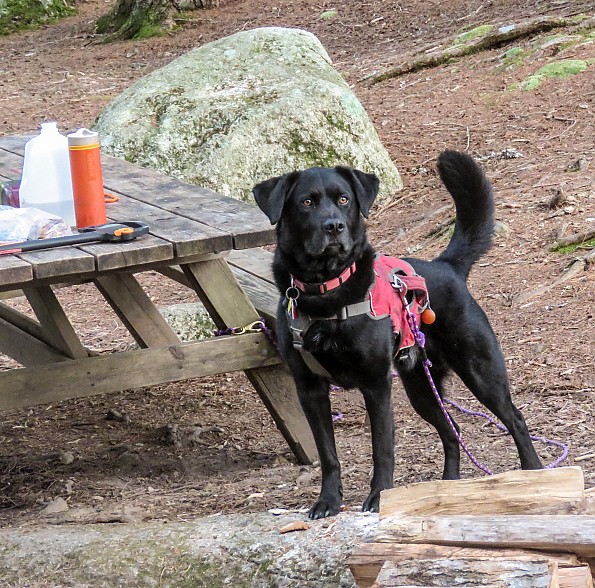 Source: bought it new
Price Paid: $60

The Grayl UL is heavier and more expensive than in-line filters like the Sawyer Mini or Squeeze. But when we consider that it doesn't require a container and also filters out viruses and chemicals/odors, it shows some advantages. It's an all-in-one solution, good for outdoor use, but perhaps even more for emergencies: for those qualities I keep one new in my bug-out-bag.
Pros
All-in-one solution for water
Easy to collect water
Lighter and cheaper than other virus-capable filters
Doesn't require a container
Removes chemicals and odors (good quality water)
Can be used as water bottle
Durable
Cons
Short cartridge life (150L)
Tough to press after some time
I see the Grayl UL as more of an all-in-one solution to water treatment and storage than a simple filtration system. I can collect, filter, treat (it filters out viruses, chemicals and odors), store, and drink from it in one shot.
The capacity is limited though, so it's a compromise. It's good enough for quick hydration when I'm in a rush. Sometimes I'll just fill it, cycle, and drink right away, repeating if necessary, saving my stored clean water.
Takes less than a minute for that, and I can fill/squeeze it once more and take another ~450ml of clean water along, using it as water bottle (it has a cap to avoid spillage and/or contamination). 
But it can also be used to treat larger quantities of water, which can then be stored in other containers like water bottles and bladders. When I have time, I simply collect 2 or 3L of untreated water and cycle it through the Grayl UL five or six times and I'm done. That's usually my daily need of clean water for camping and backpacking. 
For that I use my CNOC Vecto 2L, which I also use with my Sawyer Squeeze (or Mini), including for gravity filtration when I'm set in the camping. Other plastic bottles and containers can also be used too. I don't take the Grayl to every trip, most of the times I prefer the Sawyer for small size and low weight. If water is too suspect, I use chlorine. 
The Vecto is just perfect to collect water anywhere with its large top opening. I take two, one for pre (dirty) and another for post (clean) water. I did an adaptation and also use it for showering and cleaning the dish. Highly recommend it (will write a review soon).
The cartridge uses a magnetic technology that's said by the manufacturer to be efficient for safe drinking water, and I've never had an issue. It's not uncommon that I need to pre-filter the collected water using the traditional bandana method (I actually prefer a disposable uncompressed towel tablet folded twice) in some trips due to water quality, but I feel safe drinking from the Grayl after that. 
BTW, pre filtering is usually a good idea with most filters, but especially with the Grayl. Its system seem to be efficient for top-quality filtration, but the cartridge seem to be somehow delicate and subject to clogging. And there's no backwashing it.
Before reaching the advertised 150 L my cartridges stop working, and well before that it starts to get really hard to press down, which indicates a limited funcitonality. Even with clean water. I have a new cartridge on the way so maybe I'll make a test with tap water to learn more about this. But I wouldn't count on it for the declared capacity in a trip. 
I keep one Grayl UL new in my BOB because of its qualities too. After using it for some time in my outdoor activities, I feel it would be an excellent alternative for safe water during an emergency. It has limited capacity and relatively low cartridge lifespan, and I wouldn't count on it for more than half its advertised life in less-than-perfect conditions. If much.
But that's still around 70-80L of safe water, so with some adaptation that's enough for one or two people drinking/cooking in a multiple-day evacuation or emergency trip. Being a "full" solution, it may present some advantages in those circumstances. 
Experience
I've been using in-line, straw, and pump filters for camping and backpacking, and sometimes even for mountain biking explorations in the backcountry. I'm still on my third Grayl cartridge, the first ones stopped working at around 120L or about 200-something cycles according to my notes, after which it became impossible to press the bottle even standing on it (and I'm 176lbs).

I'd have used it up to the limit of 150L for sure, because I acknowledge this could be a conservative number from the part of the manufacturer, and so it should. But it won't, so I don't count on it and try to adapt. The tech seems to work well, but it also looks delicate, so there's the compromise. But overall it's a good product, solidly built, and works well while it does.
Source: bought it new
Price Paid: USD70 plus local importing fees

Convenient, lightweight, perfect for short trips.
Pros
Very lightweight
Super fast filtration
Very convenient as there is one container, no extra pump to worry about.
Cons
I would not depend on it as my only filtration system for extended journeys into the Outback.
For short trips this thing is perfect! If you're going to be out for a week or less this will suffice so long as there is a freshwater source in the vicinity. Super easy and fast to use. Great for on the go!
Used it while in an endurance race down a river in Florida for two days. Worked perfectly! It now replaces my Berkey sport bottle.
Source: bought it new
Price Paid: $45

Your Review
Where to Buy
Help support this site by making your next gear purchase through one of the links above. Click a link, buy what you need, and the seller will contribute a portion of the purchase price to support Trailspace's independent gear reviews.
You May Like
Specs
Price
MSRP: $69.95
Current Retail: $69.95
Historic Range: $34.93-$69.95
Reviewers Paid: $45.00-$70.00

Recently on Trailspace