Sawyer MINI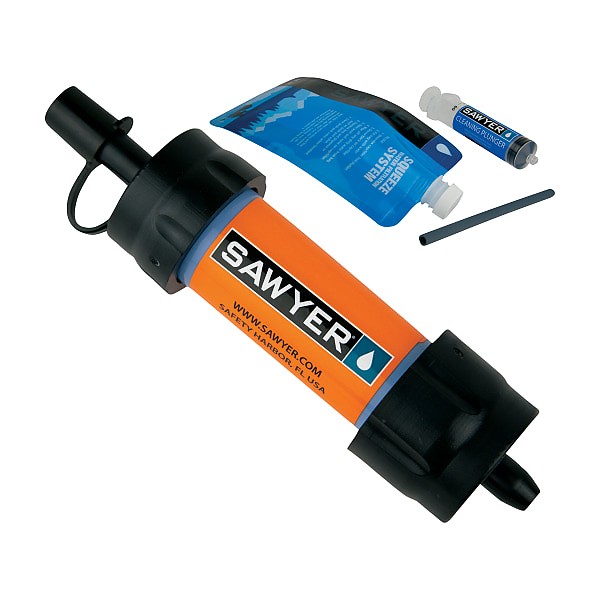 At 2 oz, this mini filter is a soloist's lightweight dream. No waiting for tablets anymore.
Pros
Compact
Lightweight (2oz)
Cheap ($18-25)
Claims to filter 100,000 gal!
Easy to use squeeze
Really easy backflush (just blow in the opposite end)
Cons
Not for multiple people
Low output vs. time ratio
Bag wears out after several outings
Bag collapses when you submerge it
Effectiveness: The product is a particulate filter and does not claim to kill pathogens like a tablet. It's claim of effectiveness is pretty high: "0.1-micron filter physically removes 99.99999% of all bacteria, such as salmonella, cholera and E.coli; removes 99.9999% of all protozoa, such as giardia and cryptosporidium". 
I find those claims to be reassuring.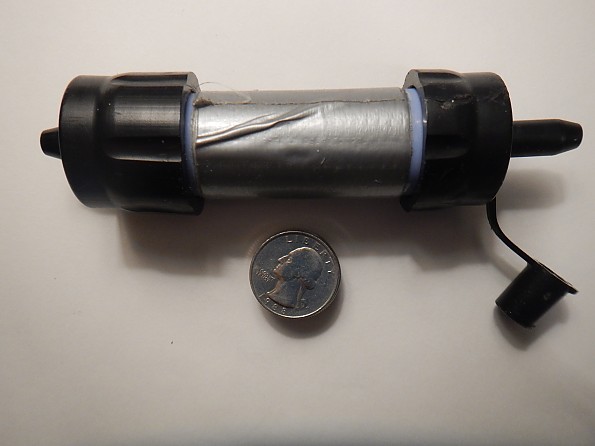 The compact Sawyer Mini Filter
Speed and Efficiency: The filter does not move a lot of water quickly. The volume is based on how much particulate matter is in the water and how effective you are at squeezing a bag or bottle. I fill up a 32oz bottle in about 3-4 minutes. I use the bag provided with the filter and it holds about 16oz. Sometimes I just fill up the bag with whatever water is around, screw the filter onto the pouch, drink as needed, and throw the remainder in my bag till the next water stop.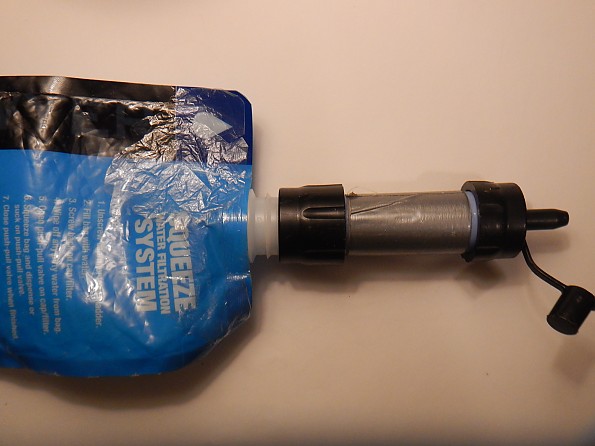 Sawyer attached to included 16oz bag
As far as pumping goes. There's not really a comparison to this little filter and my MSR Sweetwater pump filter. Bigger filters like the Sweetwater and Katadyn will pump about 3x as fast. If you are on a trip where 2-3 of you are all sharing one filter, then bring the larger capacity pump type if it is an option.
Capacity: One option that the filter has is that you can just splice it between your hydration pouch and your mouth piece. That way, you can fill up your hydration pack with unfiltered water and just drink it as you would normally. Although this is a nice feature, I don't use it because I come from the land of 10,000 lakes and I always know there's water around every corner. I'm not keen on carrying around all the extra weight for no reason.
I will say that I really wished I had a bladder with me when I was in Zion this past year. In areas where water is little and far between, I think this would be a great option. This just saves an extra step of putting it into the included bag and squeezing it into the bladder first.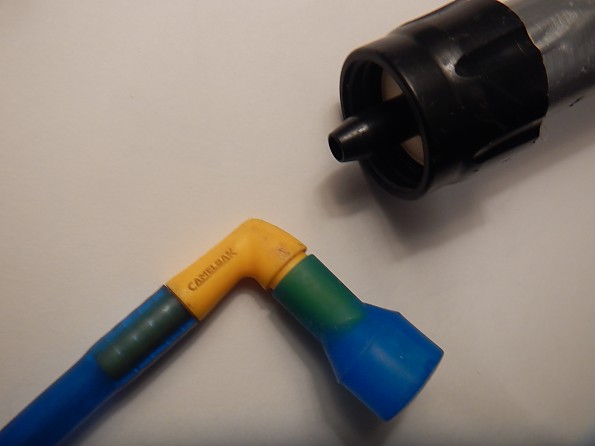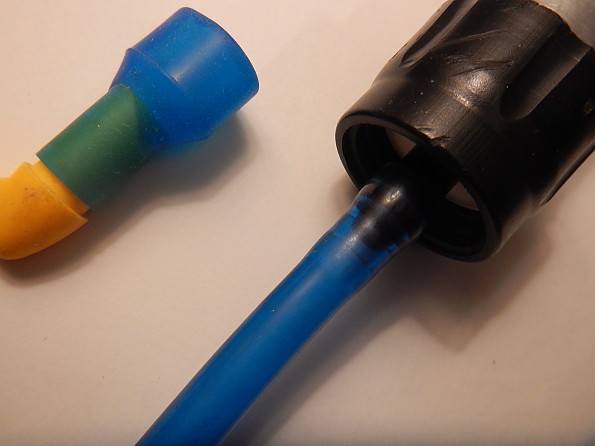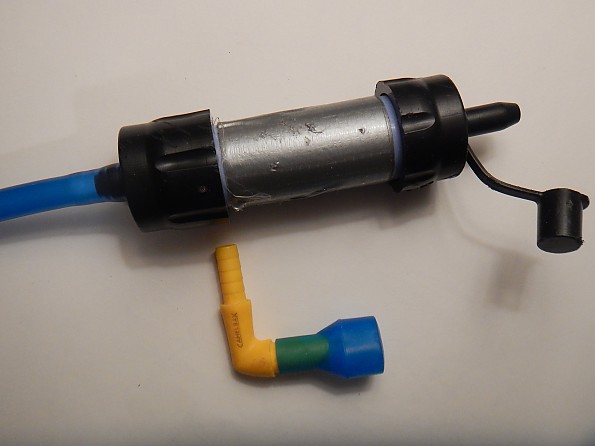 Sawyer hooked up to bladder hose
Ease of Use: The filter comes with a bunch of accessories. For instance, it has a back flush pump. I used to carry it with me and back flush after every use (highly recommended to prolong the use of the filter) but found that it was the same size as the filter and I could get the same result by blowing into the out hole with my mouth really hard after each use.
I stopped carrying it. I think you're supposed to connect the straw from filter to syringe to get an airtight fit but it also works if you just sort of jam it against the filter and push out air.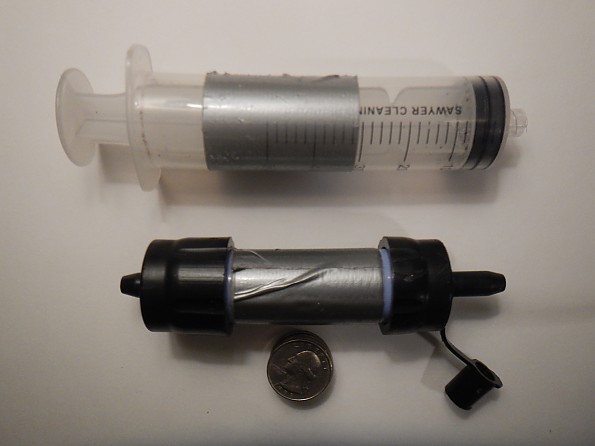 Back flush syringe is bigger than the filter. I just blow into the filter with my mouth to flush it.
It also comes with a straw that you can use to suck right out of the source (kind of like the "Lifestraw". I'm not fond of laying down on the ground each time I want to get a drink so I don't use it.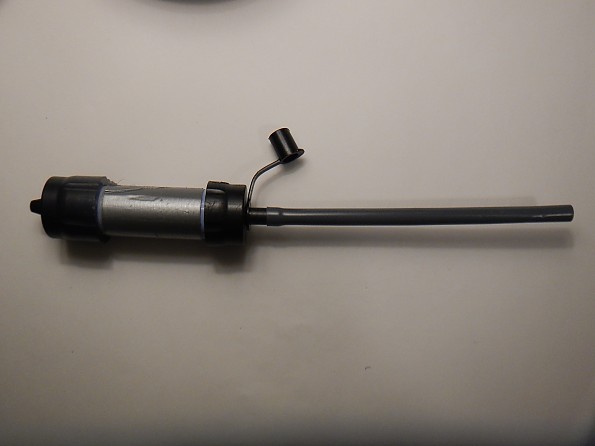 Filter attached to the straw for drinking straight from the source
I used nothing but this filter since last year. A week in Wind River range, and campouts every month. It still performs like the day I got it. As it should if it's supposed to be good for 100,000 gal. (Note: the 100,000 gal claim is assuming you use the filter in clear water and back flush each time)
Construction and Durability: It's a tough little bugger. There's some sort of fiber micro tube filter so it's not brittle like the old ceramic filters. I've had it in temps around freezing and it has not broken the filter. I do blow out as much water as I can after each use. I have not used it in really cold temps yet (sub 0°F)
The included bag is a heavy duty plastic. It is also coated with an additional plastic layer that flakes off after about 20 uses. I'm not quite sure what the 2nd layer is for but I know it doesn't last for long. You can purchase additional bags for a reasonable price.
The biggest drawback for the Sawyer system for me is that when you submerge the bag to fill it up, the weight of the surrounding water collapses the bag! This makes it very tricky to fill the bag. You sort of have to wave the bag through the water to force the water into the bag. In small areas of water or really shallow water, it is very difficult to get water into the bag. This is where the straw would come in handy.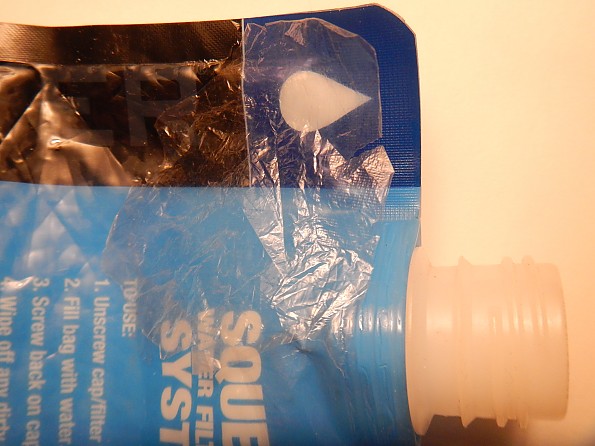 flaking exterior layer of included bag
Caps and Compatibility: One thing that I love about the Sawyer filter is that it is compatible with some market water bottles. One thing to take note of is that it is NOT compatible with the newer short cap water bottles. It works well with the more durable bottles like Dasani or H2OH! Make sure you bring the right type of bottle with you if you are counting on using it with the filter.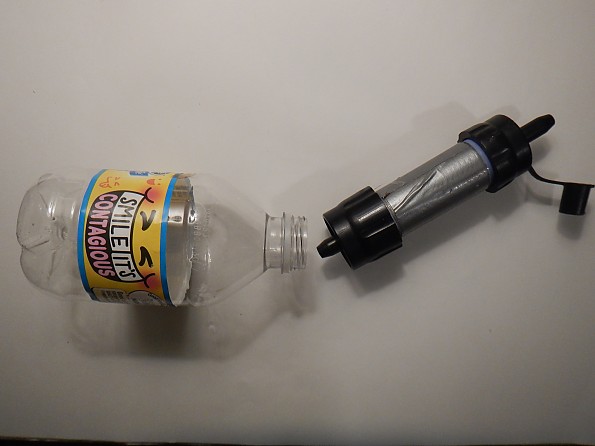 not compatible with the newer plastic reducing bottles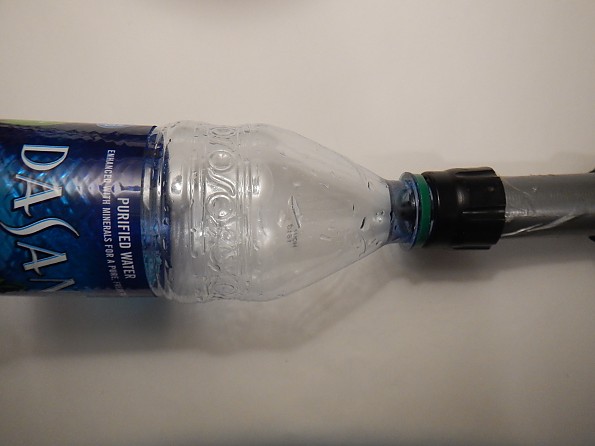 compatible with bottles with bigger caps like Dasani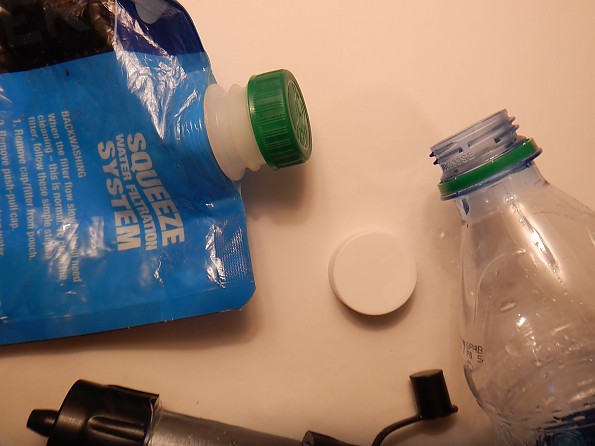 bag cap is compatible with any bottle cap that is compatible with the filter

Conclusion: After having used this system for a year now, I find that it is a great addition to keeping things compact and light. For single person use, you can get all the water you need. The system with all of its components is well thought out and pretty durable. I am really glad I bought the Sawyer and have no regrets. Above that, I recommend the Sawyer to all of my friends. 
Source: bought it new
Price Paid: $18

Version reviewed: SP128
Very small, versatile, robust and high flow water filter system. This filter system fits in the palm of your hand, weighs nothing and has is rated to 100,000 gallons.
Pros
Small and lightweight
Robust
High flow rate
Easy to clean
Great with bladder/hydration packs
Cons
Pouch may develop leaks
Will freeze up in cold weather unless protected
No adaptor for Nalgene bottles
No carry bag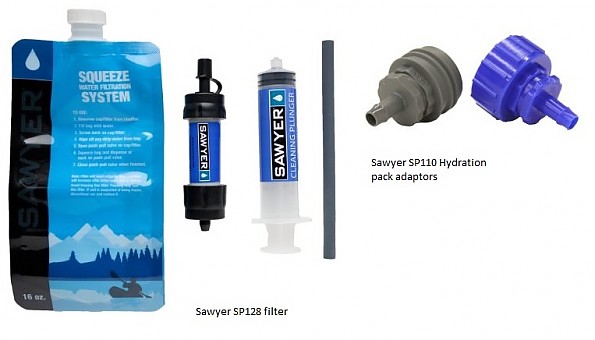 I'm writing to express my enthusiasm for a new Sawyer SP128 water filter device that I tested while hiking in the Adirondack mountains this past weekend.  I'm an avid mountain climber and my hikes will often consume 8-10 hours per day or take a full weekend with an overnight camp.  As such, I always take great care to be prepared.  
One of the elements I always carry is a water filter.  I have numerous types of Katadyn and MSR filters, all of which work great, but each takes up a good chunk of space in my pack and each requires effort to pump 2 liters of water (which is the size of my hydration bladder).  At times, after a lengthy hike, the effort to pump 2 liters can take quite a bit of energy.
On seeing the Sawyer SP128 system, I marveled at the size and the tech specs and wondered if it really could do the job that the packaging stated.  As I use a 2 liter bladder, I could not see how it could work for me until the EMS store clerk pointed out that the SP128 screwed onto most bladder systems or could be retrofitted to any bladder system with the SP110 adapters.  I quickly discovered that my "WLP" bladder system was not compatible but could do so with the SP110 adapters.  I bought the SP128 and SP110 adapters.
I flushed the filter out as per manufacturers instructions and then set about testing the filter before my ADK hike. I filled the 16 ounce bag with tap water, attached the filter and then squeezed the water from the bag into my Nalgene bottle. I was quite surprised at the high flow rate that the filter allowed.  I was able to squeeze the water out of the bag within 20 seconds.  Not bad for 16 ounces and faster than my other filter systems.  
I then attached the straw to the filter and then sucked the water from my Nalgene bottle.  Again, the flow rate was quite acceptable.  I then tested the black flushing mechanism - which was simply filling a syringe with water and then attaching it to the filter in reverse and then flushing.  Again, simple.  I could not tell whether this really worked - so I have to trust the manufacturers instructions for repeating the flushing two or three times with fast flushes.
With trepidation I did the unthinkable and cut the hose on my hydration bladder and then pushed the SP110 adapters into the tube ends.  This was quite hard and it told me that there was a good seal. I then screwed the SP128 filter onto the adapters, filled my bladder and tested by sucking through the tube.  I was very pleased to find that it did not added any more effort to suck water from the bladder system, nor did I see any sign of water leakage from the adapters.  
My ADK hiking trip this weekend targeted the "Lower Great Range" 27Km and 5 ADK peaks.  This trip took 10 hours and we experienced snow and chilling high winds.  Prior to our ascent to the peaks I filled the bladder from the stream at Lower Ausable Lake, knowing that I would drink lots of water as we climbed. I was now committed to using this new filter and I hoped that (1) The filter would do its job (for obvious reasons) (2) The adapters would not leak over the duration of my hike (didn't want wet clothes or food on this particular journey).
As we climbed and crossed each peak, I drank from my bladder - forgetting that I had fitted the SP128 filter inline on my bladder.  On Armstrong Mountain Peak I noted that my drinking tube was freezing.  In all my winter climbing, this was a first.  I then remembered the SP128 filter and was pleased that I had attached it at the lower end of my drinking tube and it was buried in my pack.  I believed that it would have likely iced up has it been exposed.  
At the end of my hike I checked the filter and adapters - no leakage and they had withstood being jostled around against all the other items that I had in my pack.  On returning to my motel I was able to easily and flush the filter and it dried overnight.
I was extremely pleased with this system.  I have now deleted a larger and heavier Katadyn / MSR filter from my pack.
After I returned from my trip, I disconnected the filter from the adapters and screwed them together and tested them for leakage.  I was pleased to see that they made a water tight connection.
My initial thoughts for the SP128 filter are:
PROS
Small and lightweight and appears to be quite robust.  All great values.

Quick to flush and quick to dry

Easily adapted for non compatible Hydration systems 
CONS
Though not experienced by me - several reviews indicate the pouch may develop leaks.  This is quite plausible as you have to squeeze the pouch while it is full of water.

I'd like to see an adapter for the Nalgene bottles with the small opening as this would allow you to carry a Nalgene bottle with the filter attached -  for me this promotes mobility and saves holding the filter and straw while holding a Nalgene bottle.  I do realize that the filter screws into the commercial plastic water bottles - but I will never carried these flimsy bottles on my hiking activities.

The SP128 system I bought contained a filter, straw and 16 ounce squeeze bag.  There was no carry bag.  This is a significant oversight in my opinion.  I will purchase a small bag from a local store to keep these items secure and together.
EDUCATION
I am a Scout leader and teach outdoor skills.  For the last three years I have been demonstrating to youth and adults how to make portable water from back country sources.  I have developed an educational program that covers (1) learning about pathogens in back country water and (2) Practical hands on experience with different filtration/purification devices for (3) Solo/Group activities.  
I have lots of different pieces of equipment for this program - but not a Sawyer water filter system.  After personally trying out this water filter, I am going to get another system and add it into my program as a teaching aid.
I bought my system from the EMS store in Lake Placid for $25 plus taxes. A very reasonable price. EMS did not carry the full line up of Sawyer filters, but were pleased to answer questions and order for me anything that I wanted. Because the clerk was able to help me figure out how to use the filter with my hydration system, it was clear that the staff knew their stuff.  Pretty good service.  
I checked on Amazon and note that the costs for Sawyer filters were slightly higher than EMS (not including shipping) - but more significantly, you could buy them in packs of two with better pricing.  This suits me as I can have an inline filter on my bladder system and then have another filter for a teaching aid or a portable system for filling up Nalgene bottles if I were hiking in a group.
SUMMARY
Very pleased with my new filter. I can see it becoming established as a filter of choice for my upcoming ADK hiking activities.
Source: bought it new
Price Paid: $25 plus taxes

This is a very light water filter with adequate flow if you're focused on minimizing the base weight of your pack.
Cons
Seal that comes with filter can easily be lost
Just adequate flow
I have been focused on getting the base weight of my pack down under 20 pounds and one of the changes I made was going from a pump type water filter to the Sawyer Mini water filter. In general I am happy with the Sawyer Mini in that it does the job and only weighs in at about 2 oz.
The filter comes as a kit and includes a syringe for washing the filter using a back flow, a 16 oz squeeze pouch, and a cap and straw along with instructions. Since I am focused on weight and I don't like the squeeze pouch, I only used the filter that came in the kit along with a 1 liter Smartwater water bottler, and use this 2.6 oz combination to refill my 2 liter bladder when needed along the trail.
The filter did its job, but the flow through the filter is not all that great so it would take time to fill up my bladder, not really a big deal, but it is slower than using a pump type water filter.
One thing to be aware of is you need to keep track of the seal that comes with the filter that goes between the filter and whatever you attach it too. I carried the filter attached to the water bottle in a side mesh pocket on my pack and when I needed to get water I would unscrew the filter and go to the creek with the bottle to get water.
The problem I ran into is that the seal would sometimes stick to the top of the bottle when I removed the filter and at one point during a hike I needed up losing the seal between my pack and the creek and it took me twenty minutes to find it. The filter won't work without the seal, so you need to carry a spare one always, make sure you keep an eye on it when doing your refills.
While this review is on the Sawyer Mini water filter, I can't say enough about how tough the Smartwater bottles are, so if you do go this route stick with using a Smartwater water bottle and you can't go wrong.
Source: bought it new
Price Paid: $19

The Sawyer filter is a great option for filtering water for many lifestyles. Whether you are a worried about the water you drink everyday, or just an avid hiker/backpacker/adventurer who needs an affordable, reliable, and reliable solution for clean drinking water, the Sawyer Mini Filter is for you.

For about 20$, you can filter up to 100,000 gallons of water! I have one in my backpack, and my car. I use mine all the time for camping trips, and I highly recommend it to friends.
Pros
Filters up to million gallons of water!
Lightweight, compact, and sturdy design.
Affordable
Easy to use
Cons
It is hard to transfer clean water to other containers without a larger bag.
The Sawyer filter is a great option for purifying water. It is lightweight, affordable, easy to use, easy to maintain, and it will filter more water than you will probably ever be able to put through it.
The Sawyer filter weighs only 2 ounces! Its lightweight and compact design makes it great for everyday carry, or even those gram counters out there. Not a gram counter? Well, its weight and size is just a great side effect. Speaking of great side affects, did I mention it only cost about 20$?
If cleaned properly, and regularly, the Sawyer filter can purify up to 100,000 gallons of water, and remove 99.99999% of bacterias like salmonella, cholera, and E.coli, as well as some protozoa like giardia and cryptosporidium. 

But how hard is it to maintain it? Not hard at all! After a few uses you will notice that it is getting a little more difficult to drink through. That is because the filter is catching all of the nastiness and germs that would have gone into your mouth, had you not been using the filter. As a result of stopping all this bacteria and things, it gets a little stopped up.
To clean your filter, just use the syringe included in your kit to backwash any debris out of the filter. After four or five backwashes, I usually spray the water through in the regular direction to ensure the water I backwashed with didn't leave any debris either. Once you've cleaned it, just hook it up to the included bag or straw and you're ready to drink!

Speaking of accessories, the Sawyer Mini Filter comes with an included 16 oz re-usable bag that attaches right to the filter. The kit also comes with a drinking straw so you can drink straight from a water source, and a syringe for cleaning it.

The Sawyer Mini Filter is a great solution for personal water filtration, but in a large group it could be a little tricky filling bags and pushing water through into other containers.
I hope you choose one of the best water filtration products on the market, and add the Sawyer Mini Filter to your gear collection.
Source: bought it new
Price Paid: 21$

A viable option to lighten your load. Solo hikers will enjoy the convenience and protection this filter provides.
Pros
Lightweight
Compact
Effective
Convenient
Reasonable price
The Sawyer Mini is  probably the most viable filter option out there for the solo hiker. I use my filter in an "inline" configuration. I have used this filter on three overnight trips and one (4-day) multi-day trip.
The Pros:
This filter has not yet completely clogged. I am still able to get filtered flow from it. 

The filter is compact enough to thread through my hydration port on my pack. This means that I do not need to remove it whenever I remove my hydration bladder.

Readily converts to an inline filter. I have used it this way since I bought it. 

Can be used with various containers that have a standard bottle cap thread. This is a very handy feature.

The squeeze pouch that comes with the filter helps speed up your filtration. 

Well constructed casing insures it will not break under duress. 

Can be used as a gravity filter when desired.
The Cons:
Flow significantly reduced after my first use, though it has not clogged. I must say this is a concern. I have used the provided syringe to flush the filter both in the field and at home. I have found that the flushing syringe is helpful in increasing the flow of the filter.   

I have enjoyed the convenience of using my filter in the "inline" configuration. Using this setup saves time. I simply fill my bladder with creek water. I do not need to pump or hang another bag to filter my water.  This setup is what I have wanted to do for a long time. I just did not see a satisfactory filter that suited this need until the Sawyer Mini came along. 

I have used the original Sawyer gravity filter for 4 years prior without issue. I am hoping this filter will provide comparable performance. The upside is that since it only costs $25 it will be far less painful to replace it. 
Summary
A highly versatile lightweight option for the solo hiker. The filter will effectively provide safe water when you are out on overnights, day hikes, or multi-day adventures. 
One caveat: Be sure to carry the flushing syringe (1 oz) that is supplied with the kit. 
The Sawyer Mini set up for inline use with the Osprey Hydraulics 2L bladder.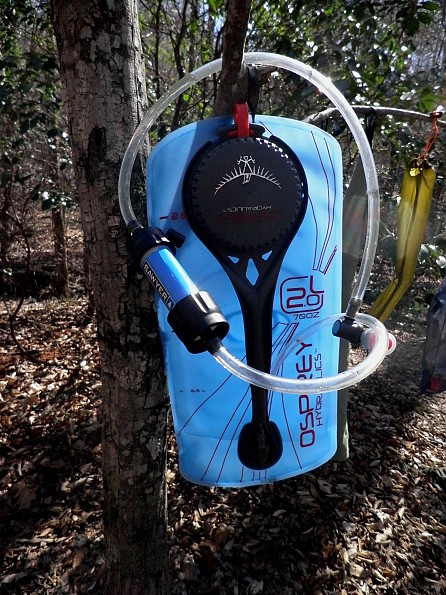 Source: bought it new
Price Paid: $25

Light, handy, and reliable. Out of several water filters I have and use, this one is the most convenient and sees the most adventures.
Pros
Small
Lightweight
Very convenient
Easy to use and clean
Cons
Has its limitations for hook-ups
Doesn't have the strongest flow at times even with clean water.
We have three of these Sawyer Minis in our family. They work really well and are lightweight and easy to use. They connect to a variety of bottles and bags as long as the screw top/threads match up. Fill the bottle and screw on the Sawyer. Then either squeeze the water into another container or drink right from the filter. Doesn't get much easier.
Get creative and I am sure you can come up with even more options. The thing I find super convenient is they will screw on to a Smart Water bottle, pretty much any 16.9 ounce plastic drink bottle (water, pepsi, etc) and you can pretty much choose whatever size bottle you want and the Sawyer will screw right on top. Helpful for the budget minded or weight conscious user who doesn't want to have to purchase special bottles or carry a heavy Nalgene for example.
I have used numerous water filters in addition to these Sawyers and have been able to do some comparisons. Filters I have mostly compared the Sawyer to are the Katadyn Hiker, Lifestraw, and soon it will be compared to a newly purchased Sawyer Squeeze which I haven't used yet. Each of these systems have their advantages and drawbacks. They all do really well at filtering water, but yet for something as simple as a water filter, you quickly learn what you like best and what is most effective and efficient. The Sawyer Mini handles a lot of filtering and gives you numerous options for a cheap price and a tiny, very convenient package. 
These things are easy to maintain and hard to break in my experience. They take barely any brain power and are put into service quickly and easily. Be careful in the cold because if you leave water in the filter, it will freeze up. Sometimes the water flow isn't the fastest, but for the size of it and depending on the cleanliness of the water being filtered, you can quickly understand that it does a good job at what it is intended for.
I will buy these again in the future and if it was my only water filter in the United States, I would feel confident that it would do what I needed it to do. I have no worries when I am using my Sawyer Mini that I am getting clean, safe water.
Experience
Extensive experience with numerous water filtration products.
Source: bought it new
Price Paid: $20

The Sawyer Mini is an excellent lightweight, compact, and reliable solution for filtering water at a very reasonable price. A $25 investment can help reduce the need to pack in all of your water and subsequently lower the weight of your pack.
Pros
Lightweight
Compact
Inexpensive
Fast
Reliable
Cons
Narrow neck makes for difficult filling
I bought my Mini Squeeze to reduce my pack weight and volume compare to my MSR Miniworks. While I really like the MSR and its ability to pump out of puddles and such, its 16 ounces and size can eat up a lot of space in a small pack. The MSR pump can also be comparatively slow when put up against squeeze systems. I've owned my Squeeze for about a year and have been quite satisfied with it.
The Sawyer is rated to .2 microns, so it should be able to remove any biological hazards larger than a virus. However, it won't remove chemical contaminants nor was it designed to do so.
The squeeze system is pretty fast. Just fill up the provided bag, attach it to the filter and slowly start rolling the bottom of the bag towards the filter. Within a couple of minutes, you should have about a liter of filtered water. Speaking of bags, the bags can be a bit challenging to fill in shallow streams. The narrow neck can be difficult to manage. If you're expecting to encounter situations like this, you can cut out the bottom of a plastic water or soda bottle and use that to scoop the water then pour it into the filtering bag.
I tend to use the provided syringe to backflush the filter whenever I get back from a hike. For dayhikes where I'll need less than a few liters of filtering, I leave the syringe at home. When I'm out longer or might require more, I bring it with me.
An important note is to ALWAYS make sure that you have enough filtered water left to backflush the filter. If you only have 4 ounces left, save it for the filter or filter more water. If you don't have any clean water, you can't backflush the filter without contaminating it. Depending on how far away the next water source is, I usually start with a couple of liters of water then drink all but the needed 4 ounces of that before stopping again.
The included water bag can be used to transport an extra half liter of unfiltered water to go along with the other two one liter bottles that I carry. I also purchased the one liter bag to replace the half liter bag included with the filter so that I could filter a liter at a time rather than having to fill the bag up twice per liter.
Another note, take care when using the filter in below freezing temps. If water inside the filter freezes, it can ruin the membrane. In order to avoid this, try to drain as much of the water out of the filter as possible. Storing it in a ziploc bag close to your body can also prevent freezing.
As to durability, I can't really tell how much life is left in it. I've probably filtered several hundred liters through it so far and it still works as well as it did when new. At this rate, I would expect it to last several more years of similar use. For 25 bucks, that's pretty good.
Source: bought it new
Price Paid: $25

Best product for the price. Works very well. The most lightweight water filter on the market that I know of. Easy to use and ability to filter 100,000 gallons of water!
Pros
0.1 micron
Weighs 2 oz
Filters 100,000 gallons
Easy to use
Great for hiking
Back flush to extend life of filter easy to do
Comes with cleaning plunger syringe
Cons
Cannot use in below freezing temperatures
Does not filter viruses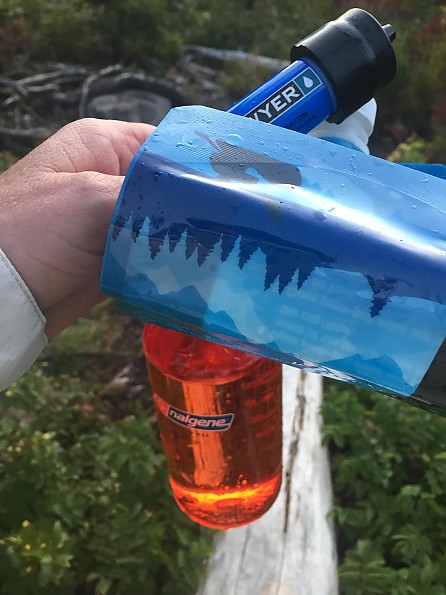 This is a handy little filter and easy to use. 
I have used this for all my water filtering in the back country and never had a problem. I did however opt to not use the flimsy bags that come with it. I use my Platypus bags and Nalgene bottle and it works great.
Lightweight, easy to use. It's great for solo hikers.
I used it for over 250 miles and it never clogged and it always worked beautifully every time. I would keep it in my pack side pocket and filter water as I hiked. Sometimes I would stop at a stream even if I didn't need water yet and fill my 2 liter bag and screw the filter on the bag and put the bag in my pack and when I got to camp just uncap it tip it over and filter it then. It is very user friendly.
I never got sick out on the trail either. I did not use any other filter system or treatment just this. I hiked in WA only. I was told by rangers that the Sawyer would be fine and it worked.
Source: bought it new
Price Paid: $24.95

A compact and simple water filter that is very adaptable.
Pros
Very light, weighs (1.4 ounces)
Compact
Simple
Easy to use
Very cheap
Cons
Must be protected from freezing
Doesn't kill virus
I purchased the full size Sawyer filter and didn't even realize this mini version was available.  I was so happy with the bigger model that I bought this one as soon as I saw it in the store.
I have had several different filters over the years and always hated the pumping of my Katadyn.  It felt like a chore and that is why I'm in the woods, to escape all the work of daily life.  I was also so turned off by the UV purifiers and the need for batteries and the relatively fragile construction of those units.
When I saw the squeeze filters and that they didn't require cartridge changes, I was instantly interested in making this my new water filtration method. 
I'm not sorry that I did.  I bought this at a local retail store and paid the full retail price for it. I like to support the local shops and am fine with paying retail for the services they provide me. The price was only $25 and it comes with everything needed to put the filter to use and maintain it. 
My first impressions of it were that this filter is so simple, light and idiot proof that I'm not sure why anyone uses anything different for filtration. The only reason for anything else is if you have a need or desire to kill viruses. This is just a filter and will not kill a virus. The weakest point of this filter is that you must not allow it to freeze. I keep it in a bag in my sleeping bag on those cold nights and in my jacket through those cold days.
I backwash this filter regularly using the provided syringe and it is really easy to do.  Simply fill the syringe and pit it on the output end of the filter and quickly push the water through the filter. They recommend a quick burst of water to dislodge the stuff from the membrane and flush the unit.  I have found that after flushing the filter, it can be more difficult to squeeze water through for a bit of time.  After some use though the water starts to flow as normal and is relatively easy.
Source: bought it new
Price Paid: $25

Hassle-free water filtering on the go.
Pros
Lightweight and portable
Versatile use
Long life
Cons
Cannot filter chemical polutants such as pestisides
Cannot filter viruses
The Sawyer MINI Water Filter is imported to Europe by a German company named Care Plus. Same filter, different brand. Just saying...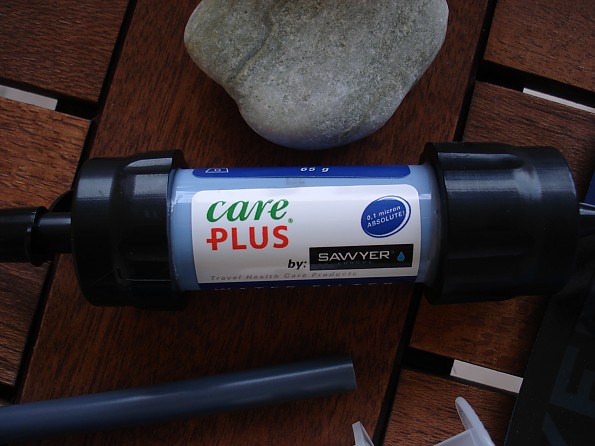 The package includes the filter (duh..), the cleaning syringe, the straw and a 0.5L water bag.
There is no smell whatsoever from the filtered water no matter from what component it goes through.
I personally like to fill in the included bag and then squeeze the filtered water into my hydration bladder.
The flow is excellent if you want to drink directly through the straw but if you do what I described before, well, you need to be somehow patient when you fill up a 3L bladder.
I wish there was a secondary activated carbon filter integrated to filter out chemical pollutants.
Source: bought it new
Price Paid: 39.95 EU

Compact lightweight water filter, easy to use, drink on the go, great for when you are on a river or lake.
Pros
Lightweight
Compact
Easy to use
Cons
Bags can break after prolonged usage
Difficult to fill bags in small creeks
Used this for two years so far, backpacking and river rafting. Bags last me about one year.
Sorry, I didn't keep track of how many gallons I filtered, but I go out on overnighters every month with several weeklong trips throughout the year. I "upgraded" to the 32oz bags when the small ones wore out. One should always carry an extra bag just in case. It's also nice if you have a hike from camp to the water source to just fill the bags and take them back to camp for future filtering.
It's a great system when on the river or lake to just fill and drink as you go. Here in Alaska there is a lot of water so I usually only carry one water bottle, with this system. It makes it easy to purify water and if I need to carry extra I have the bags.
In the winter I keep the filter in my pocket so it won't freeze. It's so light I hardly notice it. I used it in the Grand Canyon this summer for a weeklong trip and it never failed our party of five.
One drawback is trying to fill the bags in small creeks. What I do is fill one bag as much as possible and pour it into the second bag until full and then squeeze it into my bottle. Also my kids seem to have a harder time squeezing it than other pump filters I've had.
I took off a star because of the potential for bag failure and since it has several parts vs a filter that is one complete unit. However for the price and the weight it's a dependable filter that can't be beat.
Source: bought it new
Price Paid: $22

Saved a three-week trip on the John Muir Trail. Brought as a backup, used as the main filter for two people.
Pros
Small
Lightweight
Durable
Capacity
Easy to clean
And it costs less than $20!
So we took off for a three-week leisurely llama trip on the John Muir Trail (National Forest section)...just goofing off and doing lots of fishing. Five llamas for carrying power and two dogs for company, entertainment, and a heat source for the tents. Most of the hikers on the JMT are pounding out miles everyday and miss the solitude and spectacular beauty of side trips off the main trail...not us, not on this trip!
My friend and I both have Katadyn systems that are great for the amount of water we go through...but somehow neither of us packed a system along. I thought he was bringing his and he thought I was bringing mine. Yikes! Fortunately we had a Sawyer MINI water filter along to use as a spare or backup.
After a little carving on the nipple of a Sea to Summit Sun Shower we connected the Sawyer MINI to it using a 4-inch piece of tubing cut from my Osprey 3 1/2 liter  hydration bladder. We were easily able to get 3 gallons of water, gravity flow style every evening in camp....filling the sun shower with water and letting gravity do the work. After a couple of weeks the filter was slowing down so we back flushed it with the included syringe and it was as good as new. Very impressive!
I  will never go out on the trail again without one of these trusty little filters! It weighs only two ounces, palm sized, will filter 100,000 gallons, easy to clean and costs less than $20. You can hook it to a soda bottle, an included squeeze bag, or use an included straw to drink directly from the source. How can you beat that?
Source: bought it new
Price Paid: $18

I like the ease of filtering and drinking.
Pros
Fits water and soda bottles
Lightweight
Inexpensive
Cons
Can be a bit slow
Provided flat container can be hard to fill
Never thought I would use a filter. Expensive, bulky, and subject to clogging, at least this is what I thought. I have been reading the blogs of a couple of AT thru hikers and the Sawyer Mini seemed to be a standard issue item. When I reordered chlorine dioxide drops I bought one of these to try.
It was real nice being able to drink water at every wet spot and stream. My son and I carried used soda bottles and would fill them at a stream or small trickle of water and screw the filter on the top. We could drink directly from the filter to quench our thirst and then filter a liter of water each in a few minutes. Much better than waiting for drops to kill of micro organisms. This let us carry less water.
I had no trouble filtering water for two hikers over three days. The included 16-oz flat container wasn't too useful in shallow streams as its natural shape is flat and gently trying to get water to flow in it without silting the stream resulted in only getting 8 oz at a time. Filling 20-oz soda bottles and squeezing them in to our clean water bottles worked best. Unscrew the filter periodically to relieve back pressure.
I have no way of knowing if it was effective. No one using it got sick, but that could mean uncontaminated water, or a good immune system.
Source: bought it new
Price Paid: $19

Very good little filter. I have used this filter on numerous backpacking trips and it has worked well every time.
Pros
Inexpensive
Reliable
Small package
Cons
Diminished flow after a while
Will freeze
Great little unit. I have used this on many backpacking trips and love it.
A little research needs to be done into what the water is like where you are going. In southeastern Ohio the water is pretty clear and contaminant free, so several bags of water can be filtered before the flow slows down. In the Dolly Sods region of West Virginia the water has a very high mineral content and only a couple bags can be filtered before the flow slows down.
This is not a defect of the filter, but the filter doing its job.  Either way if you back flush the filter with the supplied syringe and clean filtered water the flow will return to normal, you just have to know what your are filtering as to how many times you'll have to back flush it.
The Sawyer Mini is a very good water filter. It's reliable and very lightweight. It removes 99.9999% of bacteria such as salmonella, cholera, and E.coli, and 99.9999% of protozoa, like giardia, without using chemicals.  
I have bought this filter for both my sons and they love it also. They are avid backpackers also.
Source: bought it new
Price Paid: $20-ish at Wallyworld

Sawyer Mini Water Filter is a Must Have for every Hiker? - Full Review + Tips
In this video we are going to review our one and only water filter that we have, the Sawyer Mini. We have used it from the very start of our backpacking and hiking journey and now we are ready to share all our thoughts about it. We are going to look at the general specs of it, its features, pros and cons, how we use it on the trail and some tips and tricks we found with it.
Watch the full video here:  
Disclaimer: we don't have any affiliation with the brands and all items mentioned in the video were purchased by our own money.
Source: bought it new

The filter is very lightweight, along with the straw, bag, and cleaning plunger it comes with. It's good for backpacking, and filters up to 100,000 gallons of water.
Pros
Comes with straw, water bag, and cleaning plunger
Lightweight
Filters 100,000 gallons of water.
The Sawyer Mini is a very good water filter. It's reliable, and very lightweight. It removes 99.9999% of bacteria such as salmonella, cholera, and E.coli, and 99.9999% of protozoa like giardia without using chemicals.
You can filter the water by filling up the bag with your water source, then attaching the filter and squeezing it out. Or, you can attach the filter to the straw and drink directly from the water source. It treats up to 100,000 gallons of water, so it lasts a while.
All the parts and attachments have worked for me so far, and they hold up pretty well. This product definitely lived up to expectations, and is holding up really well. I have had it for around a month now, and I used it in streams and small lakes.
Source: bought it new
Price Paid: $23

Sawyer Mini Water Filter is a small lightweight filter. It is great for backpacking and hiking.

Pros
Small
Easy to use
Lightweight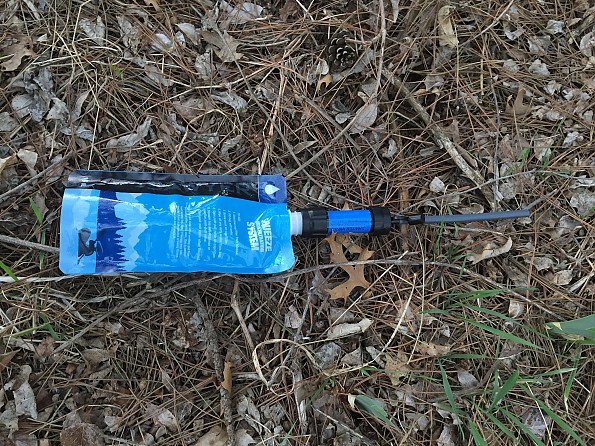 The Sawyer Mini WaterFilter treats dirty water when you squeeze the water through the filter. It doesn't take long to filter. All you need to do is put it together and squeeze. It is plenty of water for me, but if there was a group of 4-5 I would probably have to refill it 2-3 time.
Treating the water is very simple all you have to do is put it together and squeeze. It works constantly and always well. It is supposed to last a very long time. I've had mine for five years and it works great, and I've taken good care cleaning it and keeping it safe. I've used this in cold conditions and it didn't freeze open or anything.
This filter is a great choice because it lasts, it's durable, and it's simple.
Source: bought it new
Price Paid: 25 dollars

Love this filter. Started as a backup that I kept in my pack. I now use it all the time. Great value.
Pros
Easy to use
Lightweight and compact
Convenience. Fits on most regular bottles
This is a great filter for use as a backup or a main. Compact and lightweight. Includes one bag that rolls up or you can attach the filter to a regular water bottle. The water tastes great. Can squeeze water into a pot if needed.
I use it on all my day and multi day hikes. Not sure how it would be on a thru-hike, but I will take it and try it when I do the AT. Although, I will have drops just in case. Great product.
Source: bought it new
Price Paid: $19.99

Best water filter I've ever had! Lightweight, small, durable, easy to use, and best of all it's very affordable. This is the perfect water filter for 1-2 people who are weight/space conscious backpackers.
Pros
Lightweight
Durable
Affordable
Easy to use
Compact
Cons
Filter can get clogged and sometimes requires back flushing
Process can be lengthy if filtering a lot of ounces
Comes with cheaply made dirty water bag
This is hands-down the best water filter I've ever owned. I could have skipped listing all of the pros and just said there isn't anything better on the market if you're looking for a filter like this. You will NOT regret this purchase if you're a backpacker that travels more than 100 yards from your parked car.
The filter comes with a plunger to reverse flush in the event of a clog, but I've found a better solution. Instead of carrying an item that has one single use, use a Smart Water water bottle with the flip cap instead. You can use it as a water container and the small nozzle on the tip fits perfectly to flush out the filter. Throw the stupid plunger in the trash along with the cheaply made "dirty water" bag that it comes with.
I suggest buying a Platypus collapsible bladder or something similar to supplement the bag that it comes with. They are lightweight and very durable. Just make sure the threads match up.
Source: bought it new
Price Paid: $24.95

Very lightweight, small to pack, and best of all very low effort required to replenish your water supply. Low maintenance and low effort are a must while backpacking.
Pros
Mini filter has many configuration that are possible from the Sawyer bags to placing it inline on your bladder bag.
1 liter refill is very quick and doesn't require a lot of energy like pumping on other filters.
Backflow of filter is very easy.
Cons
Disappointed in the life of the Sawyer pouches that come with the filter; Other options like inline filter work to offset this small issue, bring more than one bag and be gentle.
Sleep with your filter to keep it from freezing — put it in a ziploc bag
Filter performs as advertised. Water quality was never an issue, filter backflow was very easy to do. I downsized from the full size Sawyer filter to the Mini to save space more than anything else and had same level of satisfaction.  Have used other pump style filters and find this much easier and faster.
Refill time on a liter of water using a one liter refill bag is less than a minute once the bag is full.  I found that there is a technique to filling the bag (pulling it through the water).  Don't put too much pressure on the bag or it might fail.
Best use is for an individual using ultralight or bagged meals.  If large volume of water would be needed it might become tiresome just filling a bag and would wear on the bag, not the filter.  Have not used the filter inline but saw others using it that way and it seemed to work well - next trip.
I have used either the Sawyer Original or Mini for three years and have experienced no issues at all.
Source: bought it new
Price Paid: Don't remember price but was no brainer to buy to get smaller size

Best for solo use. Can easily be used as an online filter on a Camelbak type system, although drinking then requires more effort.
Pros
Portable
Easy to use
Adapts to almost any use
Cons
When used as an inline filter on a water bladder, extra effort is required
Drink tube is difficult to attach/remove
The Sawyer Mini is my first water purification system, although I have used and seen many others that fellow hikers have had. The Sawyer Mini is a great device that can be used at base camp for filling water bottles or attached to a large water bladder for community use.
I had first tried this out as an in-line filter on my Camelbak, but quickly found out that did not suit my needs.  The retrieval of water, when used in-line, required too much effort for on the go drinking, while hiking or biking, and can leave you short of breathe quickly. 
I do like the size, compatibility, and many optional uses for such a small water filter. The filter, bladder, and drinking tube that are included can be stored just about anywhere and take up very little space in a pack. Filling up the bladder and drinking directly from it, through the filter, is an awesome option and solution for lightweight/minimalist hikers.
Source: bought it new
Price Paid: $24.95

Worked great, took up very little pack space, very light, easy to use.
Cons
Accompanying water bag very delicate
I used this on a two-day (20-mile) trip down the Eleven Point River in SE MO. I usually use chlorine tablets to purify my water in the backcountry, but waiting 4 hours is a bit inconvenient so I decided to try a Sawyer Mini.
Plain and simple, it worked great. The water flowed through it quite easily without a lot of squeezing and struggling. The reviews that I read complained about the water bag that comes with the filter being delicate and prone to leaks so I tested it at home and opted to not use it in the backcountry. It felt to me like it could give me problems and I already owned two 3 liter Platypus brand water bags and the threads happen to match up perfectly with nary a leak.
Since we were canoeing and had a cooler I didn't need to filter a whole lot of water (we drank beer instead) but I used it for about 6 liters total. I didn't get sick from drinking that water so I assume that it was working.
Bottom line—this will be my go-to water treatment device, with chlorine tablets being my backup, that sits in my fittest aid/survival kit that I take everywhere.
Source: bought it new
Price Paid: $50 I think

Taste and clarity are a plus for solo packing.
Pros
Compact
Weight
Ease of use
The Mini Sawyer is all right for an individual solo packing to conserve weight and space. Simple to use. Filling up the provided bladder is challenging in seeps trying to refill a 3-liter bladder and Nalgene bottle. Typically this took over 30 minutes to replenish water storage.
The bladder gave out at the seam making the filtering of water dependent on someone else's used 16oz bottle which the threads did not match.
Back flush takes time and requires a separate container of clean water to pull back through the filter. This became necessary once it was dirty and was required more often.
Taste and clarity were good even with the seeps and sediment left over in containers. Will consider another filter for long trips or two or more people to save time.
Source: bought it new
Price Paid: $25

Super lightweight, but needs to be backwashed often so the syringe adds weight. It also dispenses slowly. However, it is very versatile and easy to use.
Pros
Lightweight
Easy to use
Longevity
Cons
Recommended to carry along syringe
Dispenses slowly
I used this on a weekender trip to a GA state park. I decided to pick up a 1L reservoir instead of using the small included pouch. I'd imagine the pouch would be very difficult to get water from streams.
I was able to drink straight from the spout, so I didn't have to wait for water when I was already thirsty. However the water does come out slowly. It is also recommended that the filter be backwashed every few days.
All in all great filter, and will last a lifetime.
Source: bought it new
Price Paid: $20

Compact, lightweight, and efficient. A perfect companion for the trail. You'll never know that it is in your pack.
Pros
Lightweight, compact, and efficient filter
Huge filtration capacity
Cons
I simply cannot find any fault with this filter.
This is a great filter for backpackers, day hikers, and even those taking to the trail for an extended time. I felt perfectly confident with every use. It clearly worked well as I had no negative effects drinking from lakes, streams, and ponds.
This little filter is so small and light you'll never know that it is there. Easy to use and easy to maintain. This is my go-to filter far any outdoor adventure. The manufacturer states that this little powerhouse is able to filter 100,000 gallons. I don't know that I'll ever reach that volume but I will take their word for it.
Great price, great product, get one...or two...or three.
Experience
The price is the best that I have found for comparable products and the capacity of this filter far exceeds any other filtration system that I have used.
Source: bought it new
Price Paid: $19.95

The go-to for almost any backpacking trip or emergency preparedness. Easy to use, inexpensive, and easy to find stores that sell these.
Pros
Lightweight
Inexpensive
Convenient (found at most Walmarts)
We always bring our on overnight trips, but it's lightweight enough to bring on day trips for emergencies. I have recommended this to a few friends already. We used for a multi-day trip with four people, but I would recommend the regular sized Sawyer if you have more people or faster water flow.
Source: bought it new
Price Paid: $20

This is the perfect size for my get-home bag. It's versatile in that it can be used with pouches or screws on to most any bottle. 100,000 gallon life makes it useful for long-term water purification. Priced right!
Pros
100,000 gallon use
Price
Versatility
Cons
Would like to see a protective case for it
Too brightly colored. Needs neutral tones.
Source: bought it new
Price Paid: $19.95

Worked well until the water pouch bursted. Then it became rather useless.
When it worked, it worked really well. It takes some time to get your water, but this is a light and inexpensive system, so a tradeoff I was willing to make.
Without a warning, my pouch bursted and I could no longer use the filter. This was after about 200 litres of filtered water.
Source: bought it new
Price Paid: 40 euro

Great for ultralight.
Cons
Would like an ultralight Sawyer Mini-specific carrying case
I go on bicycle, climbing, diving, and mountaineering excursions frequently. I'm an ultralight nut and I won't use anything other than a Sawyer for my water purification needs. 
Source: bought it new
Price Paid: $18

Your Review
Where to Buy
Help support this site by making your next gear purchase through one of the links above. Click a link, buy what you need, and the seller will contribute a portion of the purchase price to support Trailspace's independent gear reviews.
You May Like
Specs
Price
Current Retail: $24.95-$56.99
Historic Range: $15.95-$76.99
Reviewers Paid: $18.00-$50.00

Weight
2 oz

Filter Material
Hollow Fiber

Removes
Bacteria, Protozoa, E. Coli, Giardia, Vibrio cholerea, Salmonella Typhi, Leptospirosis

Longevity
Up to 100,000 gallons

Recently on Trailspace