Gregory Deva 70 GZ

#6 in women's Expedition Packs
Specs
| | |
| --- | --- |
| Price | Historic Range: $163.93-$429.00 |
Reviews
1

review

5-star:

1

4-star:

0

3-star:

0

2-star:

0

1-star:

0
The Gregory Deva/Baltoro series is great for anyone from the weekend hiker who likes to bring everything but the kitchen sink to the long trail thru-hiker. The Deva is a very comfortable, durable, stable load hauler that comes packed full of removable features that allow you to have a custom and perfect fit. From the integrated solar panel to the water-resistant zippers and hip belt pouch, Gregory included almost every imaginable bell and whistle when they designed this highly detailed pack.
Pros
Super comfortable hipbelt, shoulder straps, and back panel
Very stable and supportive suspension system
Full of removable useful extra modifications
Very water-resistant
Cons
Heavy when all features are attached
Hydration tube port is narrow (can't accommodate tubes with large end caps if hose is fixed)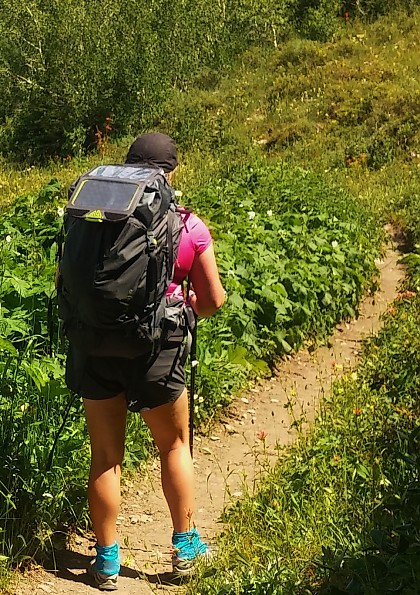 Specs:
XS 66L/4,028 c.i., fits torsos 36-41cm/14-16 ins. 5Lb 10 oz
S 70L/4,272 c.i., fits torsos 41-46cm/16-18 ins. 5 lbs 14 oz
M 74L/4,516 c.i., fits torsos 46-51cm/18-20 ins. 6 lbs 2 oz
Twenty inches is the longest torso size accommodated and Medium is the largest size available for women.
I tested the XS. I weighed it myself and the base weight with features removed was 5lb 1oz and it was 6lb 3oz with all features intact (including the Flip 10 Power Bank).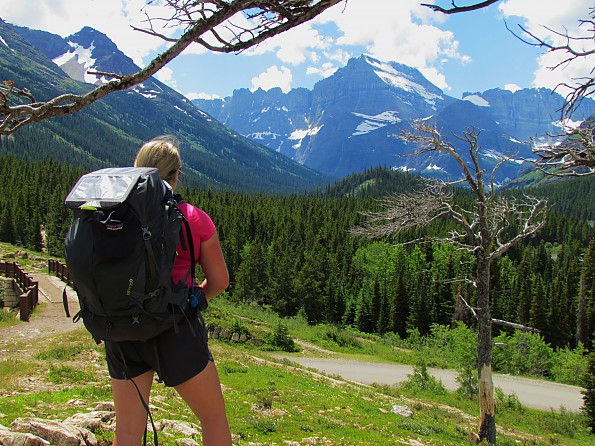 Gregory's ever-reliable Deva/Baltoro line was completely overhauled in 2015. This year, they have taken the updates a step further and partnered with Goal Zero adding an integrated solar panel in the lid to make one of the elite packs on today's market, the Deva/Baltoro GZ series.
Decked out from top to bottom with features and removable attachments, the Deva gives you the most customizable and personal backpack possible. It can hold 70 liters of gear and carry it very comfortably due to its very supportive A3 suspension system and plush padded shoulder straps and hip belt. Not only is the Deva comfortable, it is also very water-resistant. The external zippers are waterproof, it comes with a matching rain cover, and the solar panel is even in a waterproof case.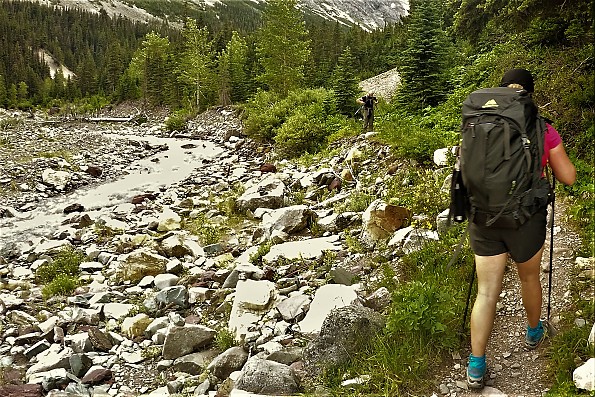 There is no doubt that the designers went through every aspect of this pack and made just about every imaginable upgrade possible.
Features/Design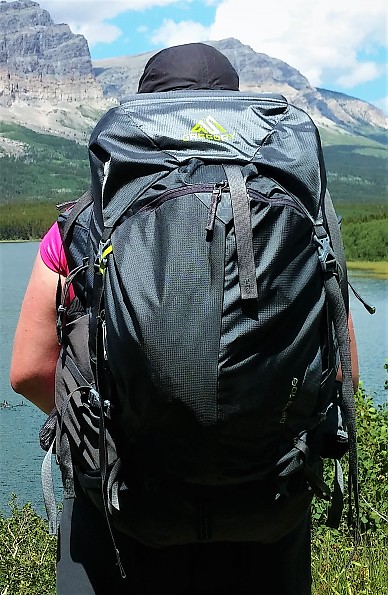 Main Compartment
The main compartment of the Deva has a large U-shaped center zipper to easily access the middle of the pack. I found this to be very convenient. As you can see below, the U-shaped zipper allows immediate access to the hiker's water bladder, for convenient mid-hike fill-ups.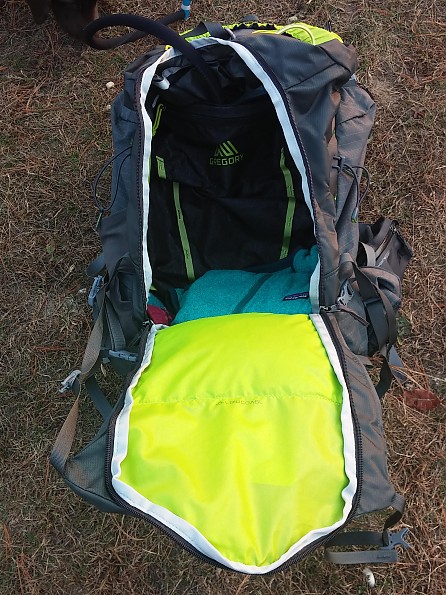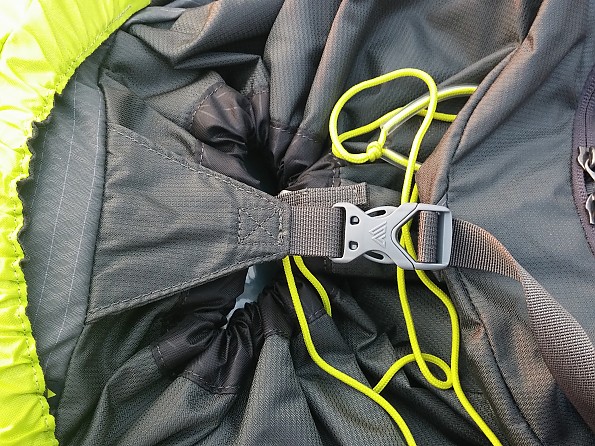 The main compartment is secured by a pull cord with grips on it for easy tightening/loosening and an adjustable buckle.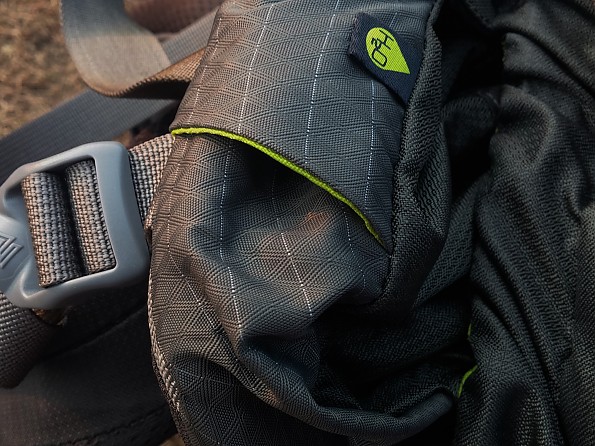 Sleeping Bag Compartment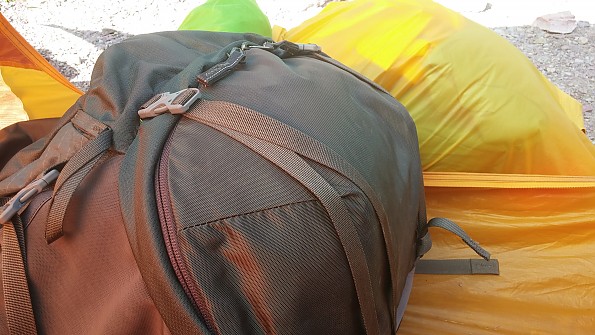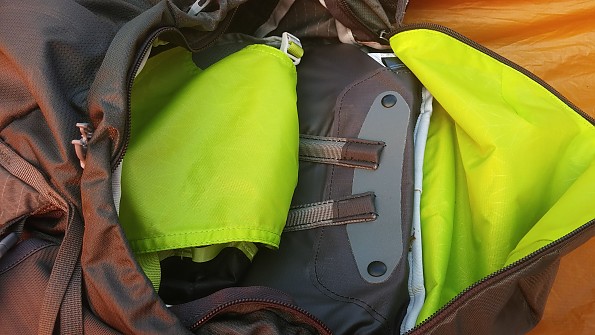 The sleeping bag compartment is standard size. It is separated by a removable toggled divider.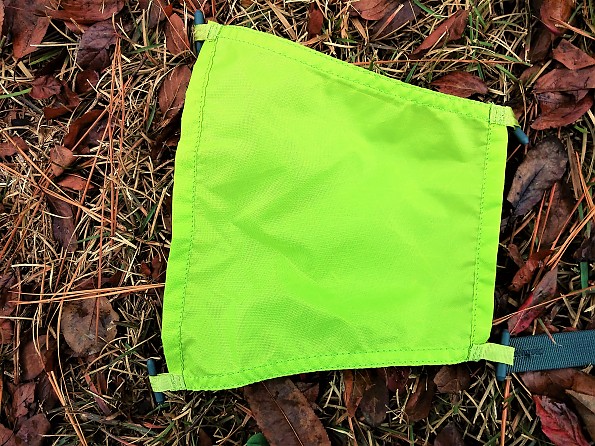 Pockets
There are several exterior pockets on the Deva: one vertical center-zip pocket, two generous sized side pockets, a water bottle pocket, and a tall mesh pocket (each underneath the vertical side pockets). The exterior zippers are all waterproof.
The long, vertical front pocket has waterproof zippers and plenty of room for several freeze-dried meals and or clothing/ rain gear.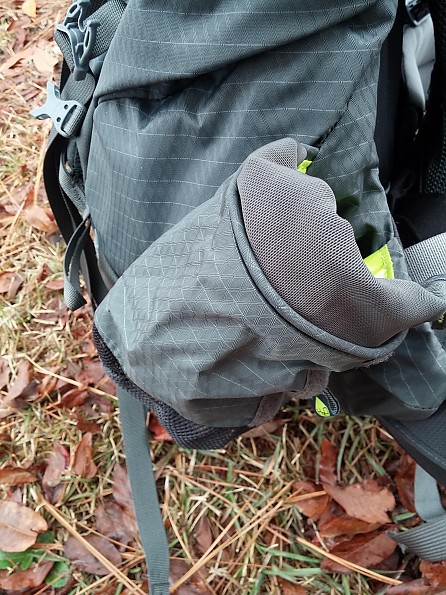 The Sidewinder water bottle pocket is angled, instead of vertical, so it is easier to grab your bottle while the pack is on your back.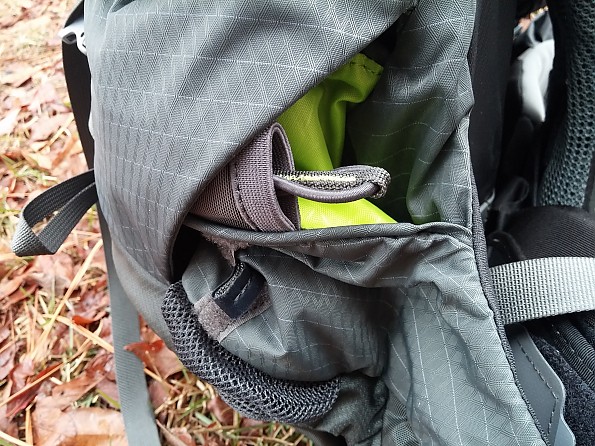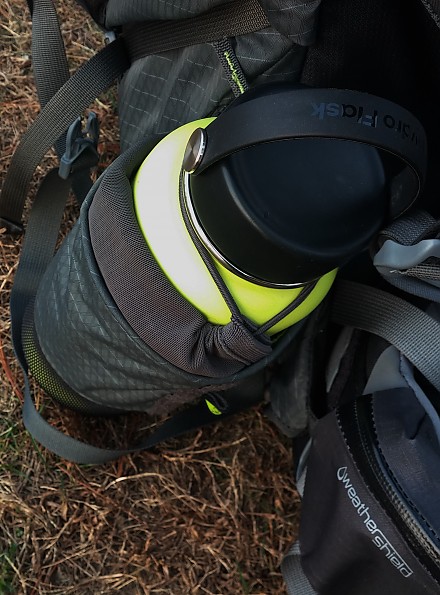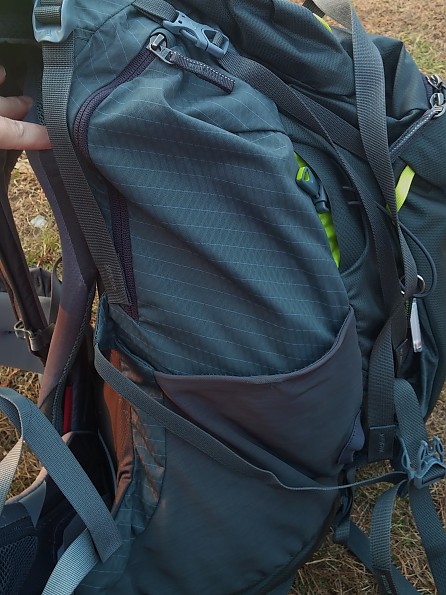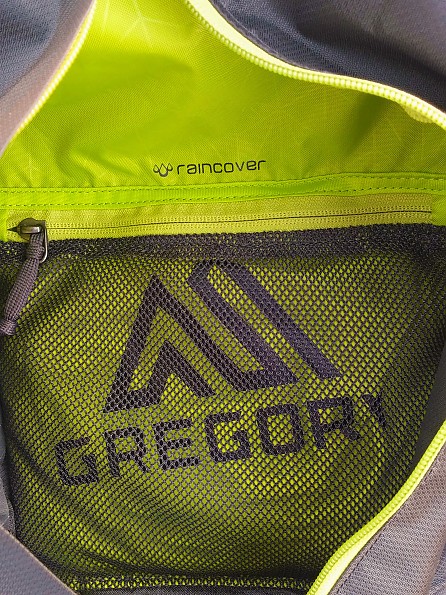 The rain cover has its own pocket, located behind the front center-zip pouch.
Sidekick Removable Hydration Sleeve/Summit Pack
Instead of a fixed hydration sleeve, Gregory included the Sidekick, a toggled removable sleeve that doubles as an ultralight summit pack. It has daisy chain webbing on the front to clip items to the outside if need be and a single pocket for a cellphone, GPS, or snack.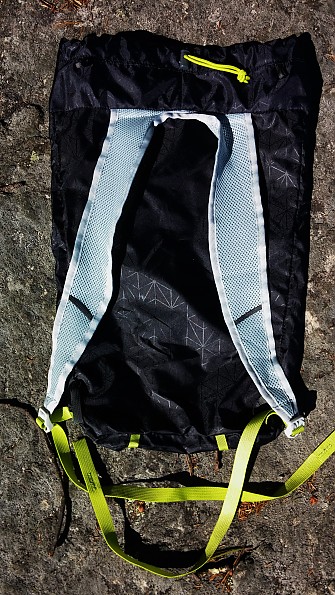 The Sidekick cinches at the top and has ultralight mesh shoulder straps.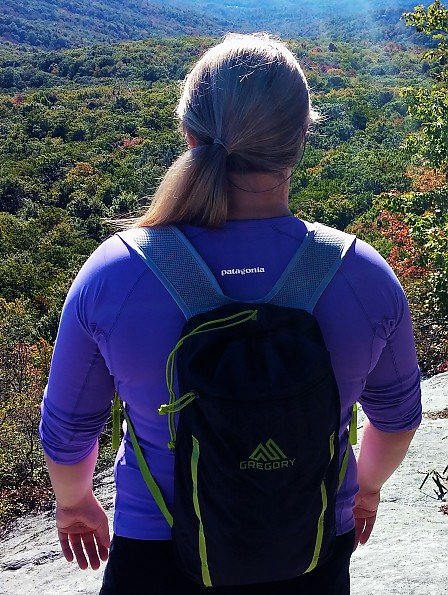 I am not sure of the Sidekick's volume (most likely 5 L), but it easily holds a 3L bladder plus has room for a rain jacket and a puffy.
Shoulder Harness/Straps
The shoulder harness is very comfortable and supportive. The harness is mounted to the pack via an independently rotating pivot so the pack moves with your body. The adjustable chest buckle slides up and down for customized support.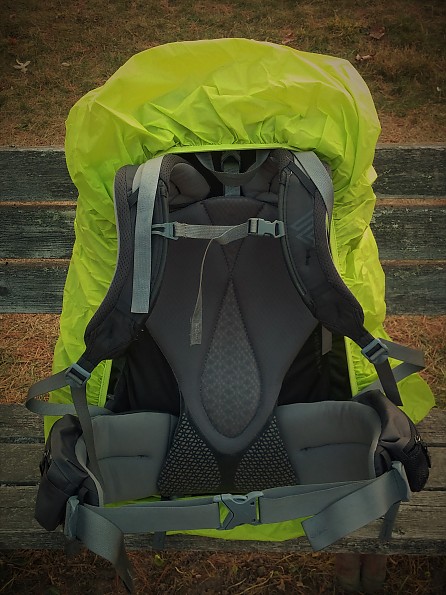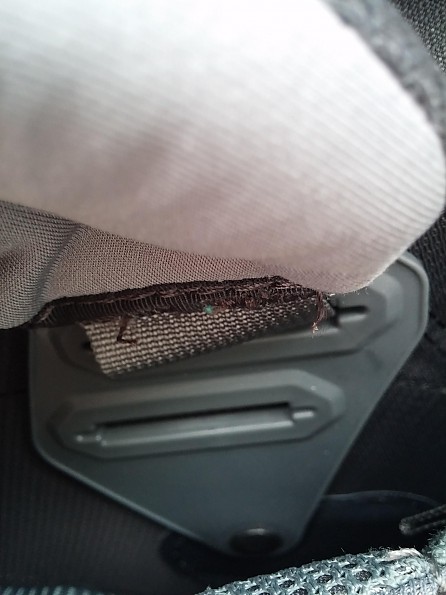 Here you can see the pivot and the adjustable height for the harness.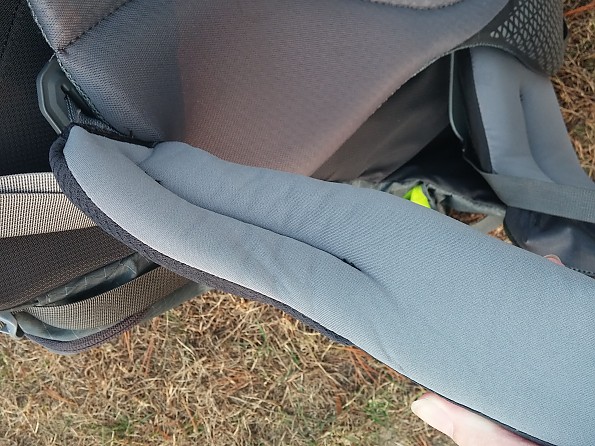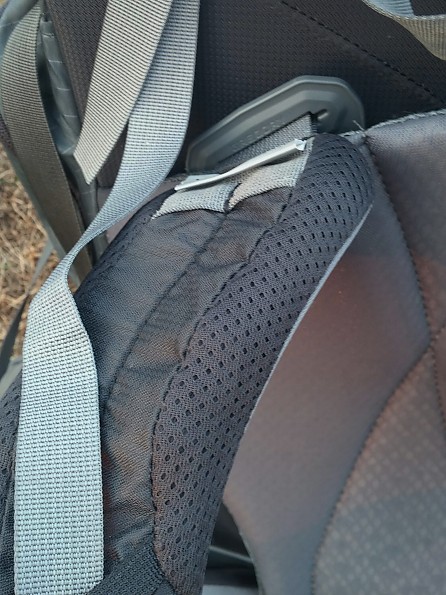 As you can see, the shoulder straps have thick padding for extra support.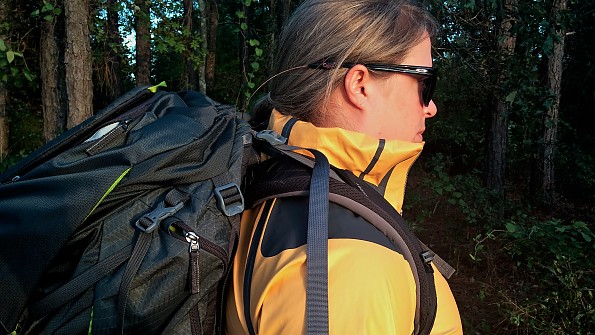 The pack's load lifters provide extra support for carrying heavy loads.
Hip Belt
The Deva has a patented Weather Shield waterproof hip belt pocket for electronic devices that need to be easily accessed and kept dry.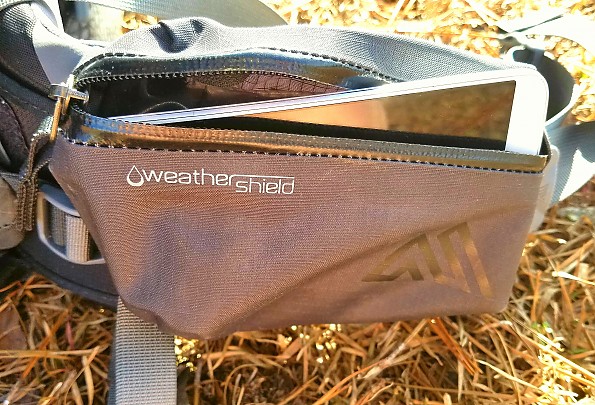 My 5 1/2" x 2 3/4" LG G2 cellphone fit perfectly. Larger phones might struggle to fit.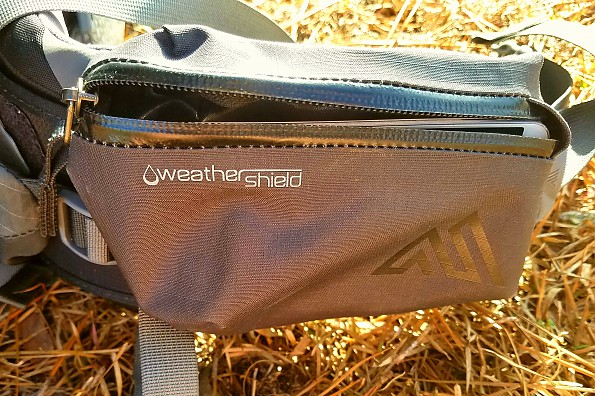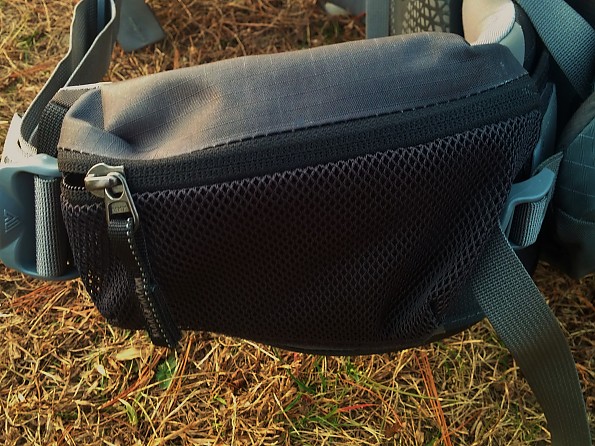 The other hip belt pocket is a see-thru mesh pocket for snacks or any other small item that doesn't have to stay dry.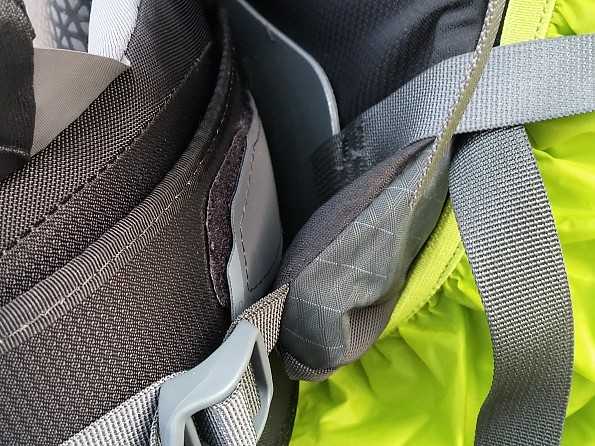 The hipbelt has hidden adjusters located underneath the pockets for an extra stable fit.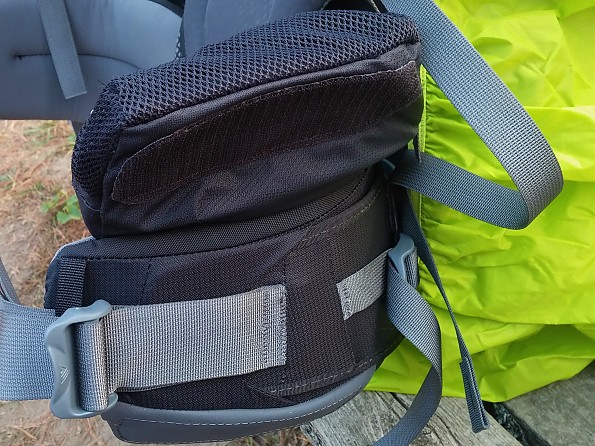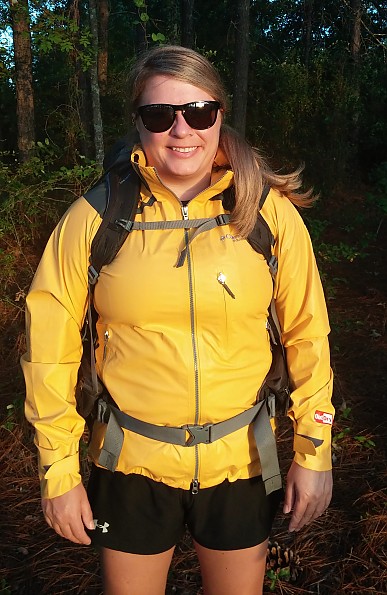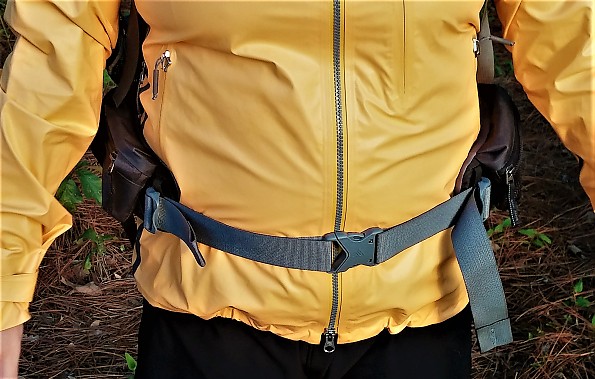 Here you can see that the low profile hipbelt extends to cover the hips, but it stops just past the hips, so there is no additional bulk and your arms do not rub against it.
Back Panel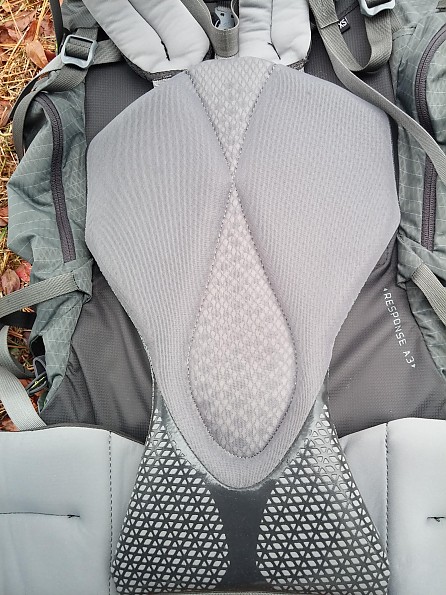 The back panel has really plush padding that provides extra comfort. As you can see below, it is well ventilated to prevent a swampy back.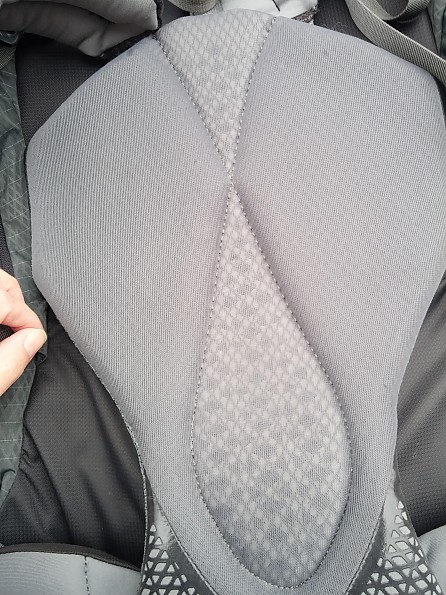 As if the very comfortable padding in the back panel wasn't enough, the Deva has a removable lower lumbar pad for extra cushion when carrying heavy loads. I have lordosis, so with the extra padding, this pack fit my back exactly how it should, a close fit, but still room for air flow.
The Deva also has a grippy pad at the bottom of the back panel to help the pack stay in place. This isn't something that every pack needs, but I feel it is very necessary when carrying heavy loads because heavy loads can make the bottom of packs sink on your waist. During my testing, I found it to stay in place very well without chafing me.
Integrated Rain Cover
I found the included rain cover to be very helpful and water-resistant. I hung my pack with the cover on one night and an unexpected rainstorm came through and stayed all night. The next morning when I went to check it, everything inside the pack was completely dry. 
I also really like that it matches the color scheme of the pack and that it is the electric lime color. It really looks good and stands out in low visibility. If you were to get lost, you would be much easier to spot with this on your pack.
Lid and Goal Zero Nomad 7+ Solar Panel
The Goal Zero Nomad 7 + Solar Panel is a great addition to the Deva. Its solar capacity is 7 W (8-9V) and it uses a 1.4 A USB for power output. I had mixed results at first, but after lots of testing I got consistent results to report. It works very well in direct sunlight. By direct sunlight, I do not mean it is bright outside or even the sun is out. The sun should be shining as directly as possible onto the panel.
If you see the picture below, you can see the sun reflecting off the panel, which makes for the best conditions. If the sun is not shining on the panel, you may get some charge, but you also may actually lose power in your device, so it is very important to keep an eye on the conditions and on the indicator light, which you will read about further down.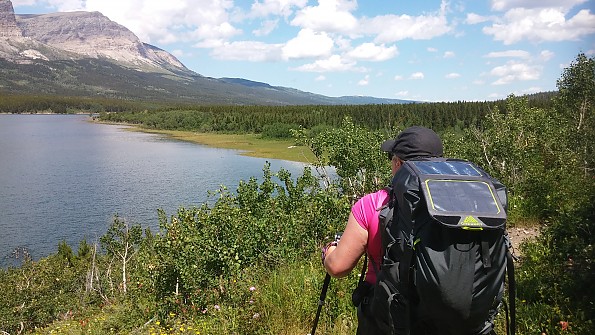 Once I figured out how to get the best charge, the Nomad 7 Plus consistently charged my LG G2 cell phone in 4 hours or 25% per hour when in good, direct sunlight. When the sunlight was intermittent, it didn't charge as quickly.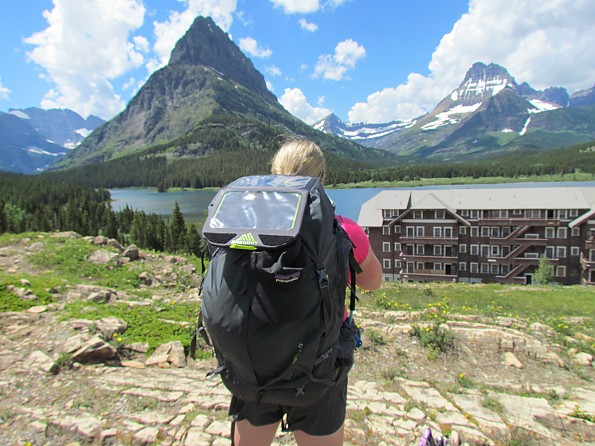 The Nomad 7 + is integrated into the top lid. It stays closed with magnets and Velcro. It stays closed, but it opens easily if you just pull it apart.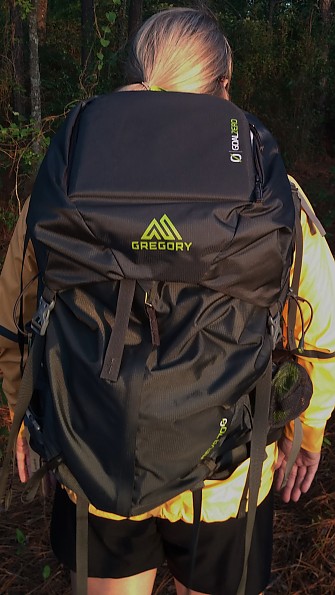 The lid is split into three segments: the solar panel at the very top, the middle, which has a holster for your phone while charging, and the underside, which has a zippered pocket.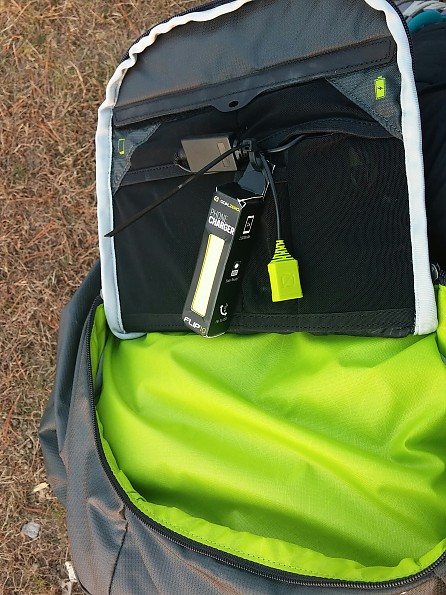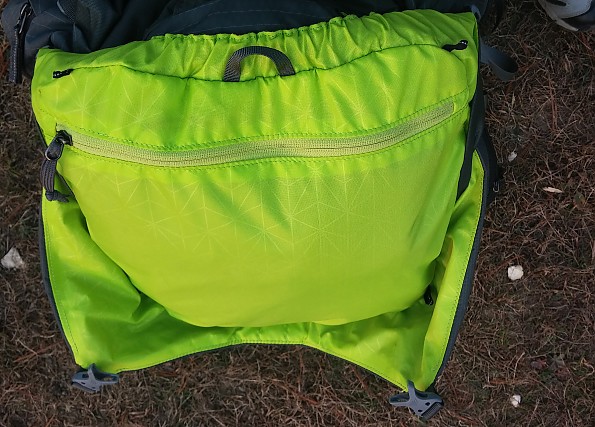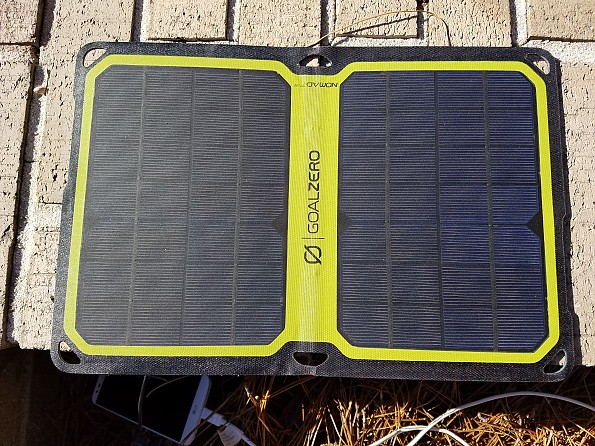 The solar panel itself weighs 8.9 oz and is removable. The Nomad 7 Plus includes an indicator light box that helps you to know whether or not your device is getting a good charge based on the position of the solar panel and the sun. If you see three or four lights, you are getting a good charge. If you are getting two lights, you should re-position if possible. You will still get a charge, but you are probably not getting good sunlight and risk losing power if it stays charging when it isn't in the sun. These indicator lights are a great idea and are super helpful.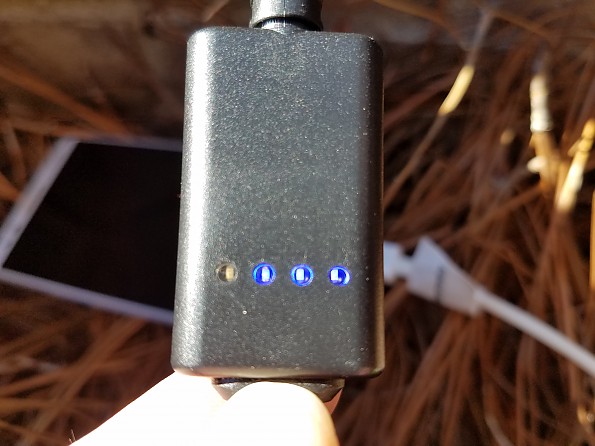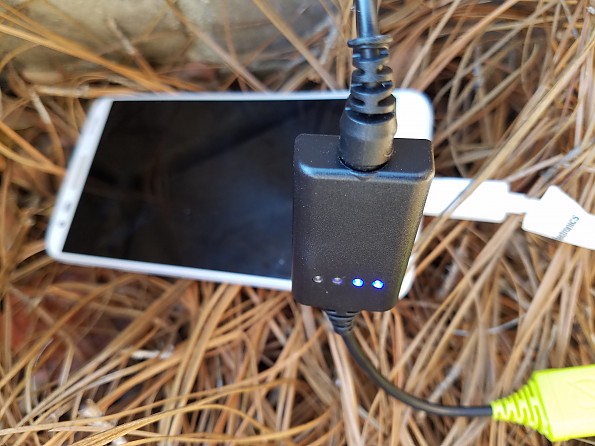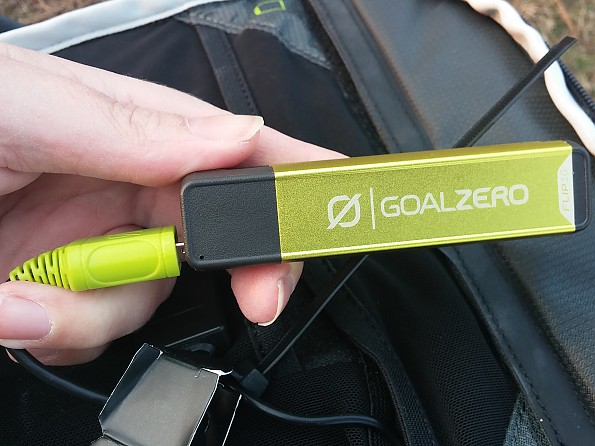 Also included in the Deva GZ 70 is a 9.4Wh 2600 mAh Flip 10 power bank. It can be charged via USB before you hit the trail or via solar power. When using the solar panel alone, the user is limited to charging cell phones, GPS, and other small devices but with the Flip 10, I was able to charge my phone, tablet, GoPro batteries, smartwatch and even the mtnGLO lights in my tent. A solar panel alone would have been a helpful addition, but adding the indicator light box and the Flip 10 really improved the experience for me.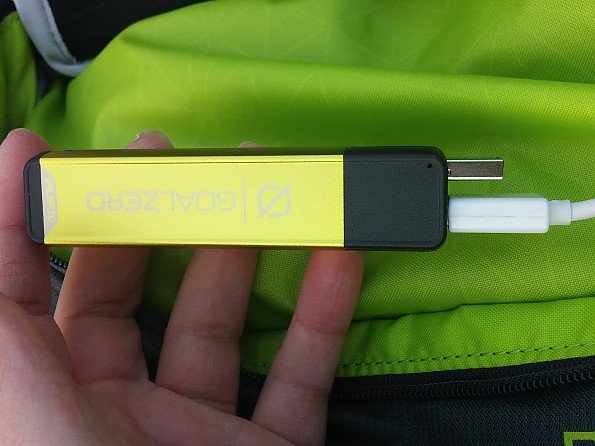 The Flip 10 only weighs 2.5 ounces. It charges in about an hour and a half electrically and 3-4 hours by solar power.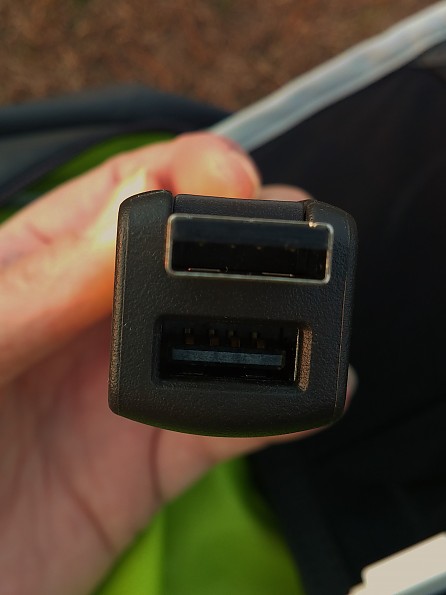 Fit
According to Gregory's website, a medium should have fit my 19" torso, but I ordered a small sample because I had previously had a medium Deva, which the frame sheet was way too long. When the small sample came in, the straps fit perfect, but the framesheet was still too long. I swapped it out for the XS, which was a much better fit.
The XS shoulder straps did end up being a little short for me, but definitely were long enough to be comfortable and still do their job of properly supporting the weight of the backpack. As I mentioned earlier, I do have lordosis in my lower back, which means that my spine excessively curves inward toward my body. This explains why I need a short frame sheet even though I have a long torso measurement.
Thankfully, Gregory has a removable hip belt and shoulder straps, so you can get the exact custom size that fits you. The shoulder pads have an adjustable height on the frame, so you get the proper length for your body frame. The hip belt can be set exactly where it needs to be for a perfect fit. Unlike traditional packs that have fixed shoulder pads and hip belts, the Deva/Baltoro's suspension system has pivoting shoulder pads and hip belt so the pack rotates with your body. This is especially important for ladies who can often have unusual hip rotation angles (like me).
Some backpacks have a trampoline back panel to create generous space between the pack and your back. The Deva doesn't have a trampoline back, but there is adequate space between your back and the pack to allow for ventilation.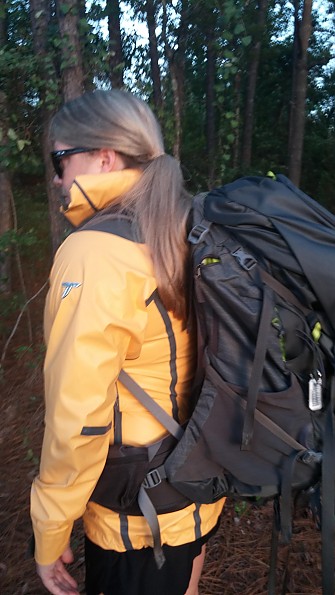 Comfort
I have worn many packs, but the Deva is easily the most comfortable pack that has ever been on my back. The ultra-plush, yet supportive shoulder pads and hip belt make carrying just about any load comfortable, whether it be five or fifty pounds. Not only are the hip belt and shoulder pads extra cushioned, they are also very flexible, which gives a truly broken in feel, as if you have already been wearing them for years.
Additionally, the back panel is super comfortable and well-ventilated to boot. I never came close to developing a sore spot on my hips or shoulder. Other packs have definitely caused soreness in the past, so I really appreciated the comfort level while testing this pack. I tested the Deva in 95 degree weather hiking uphill all day and it never felt sticky or swampy. The back panel, shoulder straps, and hip belt all breathed very well.  
Capacity
The XS sample that I tested was 66 L instead of the standard sized 70 L. It had plenty of room for everything I could imagine bringing with me. I stuffed it full with a bear canister, tent, sleeping bag, clothes, 3 L of water, and even a softside cooler (on a shorter overnight hike) and still had plenty of room.
Organization & Accessibility
The Deva is designed to be able to access anything in the pack as easily as possible anytime you need to. There are plenty of pockets throughout the pack so that you can organize your gear very easily. There is a place for everything you could need in the pack, so if you need to get to something in a hurry, it is easy to get to it and you know exactly where it is.
Ride
The Deva's weight is distributed very evenly and feels very balanced and stable. The Response A3 suspension system makes the Deva extremely stable, because it pivots to move with your body. I did some rock scrambling to make sure it stayed balanced and it performed perfectly. It was almost as if it was a part of my back.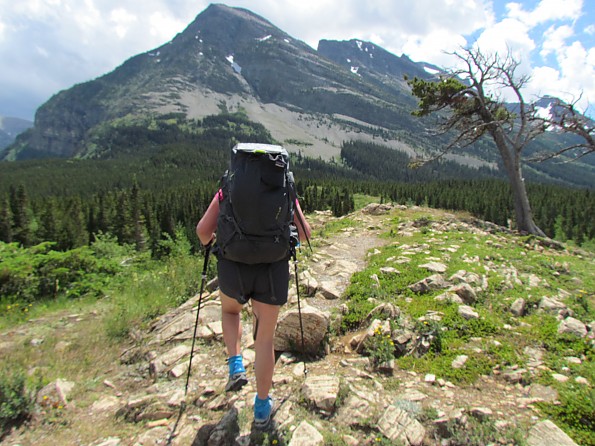 Compression
The Deva has compression points all over the pack, so it compresses very well, whether it be a small or large load. This also helps with the overall stability of the pack.
Construction & Durability
The Deva is made with very strong and durable 210 and 420 denier nylon. I can vouch that it is very abrasion resistant because I put this pack through the ringer and it still looks brand new.
Improvements from the Original Deva
I had a Gregory Deva about eight years ago. I have noticed several improvements from the one I used to own. The first is that the shoulder pads and hip belt are substantially more flexible and comfortable, creating a very broken in feel even when brand new. The back panel cushioning has also been greatly improved. The grip pad on the back panel has been softened and no longer chafes, but still holds the pack in place.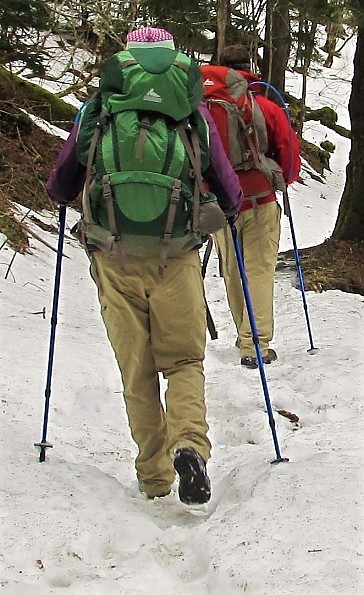 My original Deva also squeaked and creaked when I walked, the new one does not. As it was redesigned, a substantial amount of weight was also trimmed. I also noticed that the hip belt pouches were improved by making one waterproof and increasing the size of both of them.
Of all the improvements, I was most impressed with how much effort Gregory put into making the pack weather-resistant, the substantial comfort increase, and the design improvements to make everything in the pack easily accessible.
About the tester
I am a 5'4" hiker/backpacker from S.C. My husband and I travel all over the US to hike, but locally we hike in the southern Appalachians. I primarily go on overnight hikes and day hikes. My torso size is 19".
My first pack was a Gregory Deva 60. I bought it because the first pack I bought my husband was a Baltoro, and he loved his so much. It is still his go-to pack and it is still in amazing shape after all of that use. The frame in the original Deva that I bought was too long, so I sold it to a friend and traded for a lighter pack.
Testing conditions
The Deva GZ was tested this summer in Glacier National Park, Grand Teton National Park, and in Pisgah National Forest in western North Carolina in the fall. Temperatures ranged from 95 degrees to 35 degrees. It was tested on sunny, cloudy, and rainy days. Estimated mileage carried 100. Terrain varied from flat trails to uneven steep rock scrambles. Load weights ranged from 15 lbs to 50 lbs, but average carry weight was approximately 30 lbs).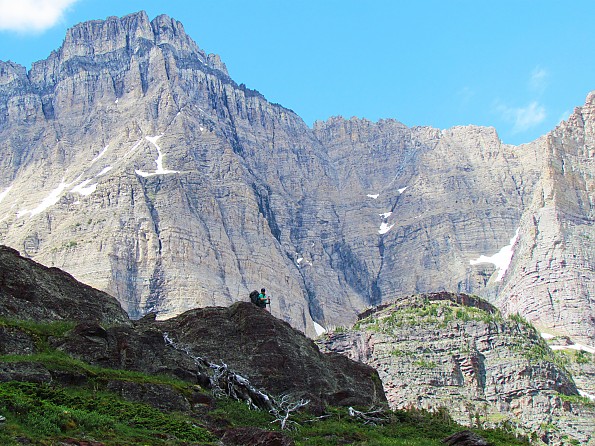 Conclusion
Unless you are a die-hard ultralighter or strictly looking for a 50L or smaller pack, I highly recommend that you try this one on if you are in the market for a new pack. It may weigh more than you'd like, but the comfort level makes up for it. There is no pack out there with more features and customizable options.
Thank you so much for reading my review. Thank you also to Trailspace and Gregory for the opportunity to test this awesome pack. I really enjoyed testing it!
Source: received for testing via the Trailspace Review Corps (Sample provided by Gregory for testing and review)

You May Like
Recently on Trailspace