Gregory Katmai 55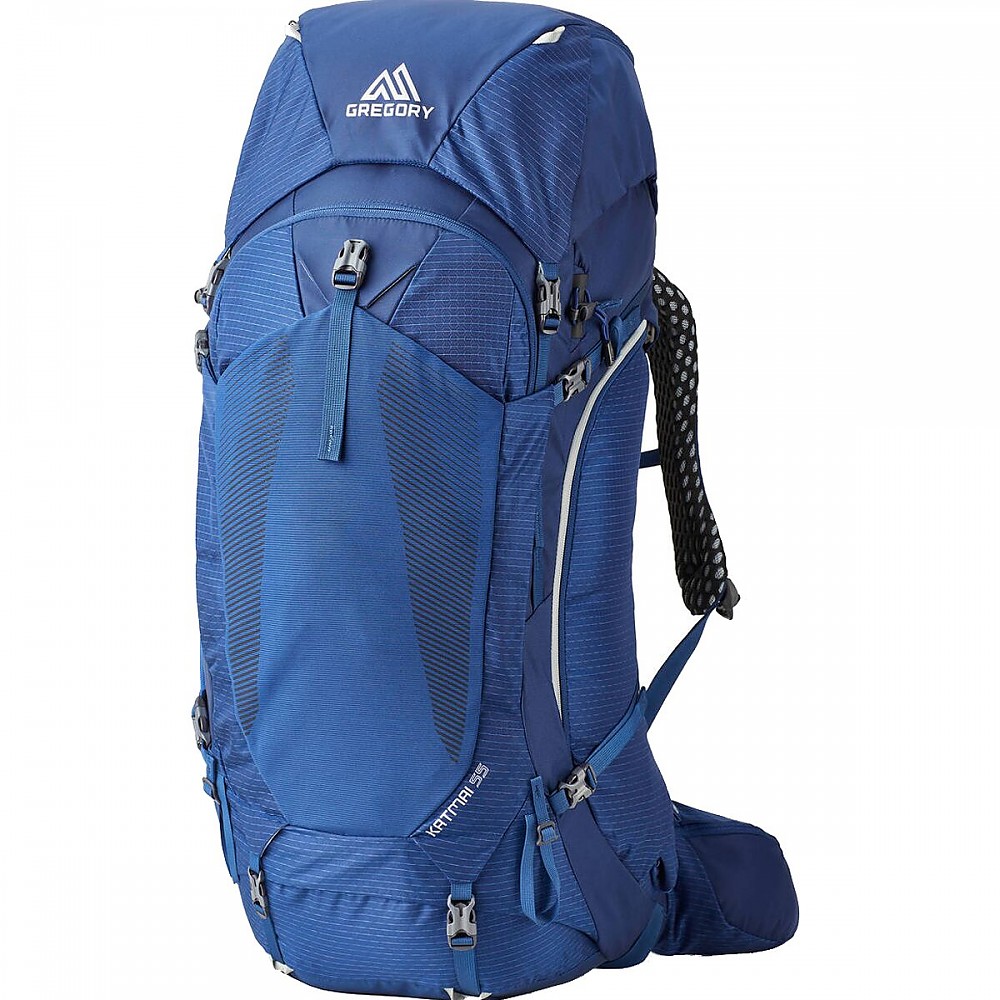 A backpack designed for weekend or longer trips with up to 45 lbs / 20.4 kg of gear. Top, side, and bottom access facilitates rapid gear retrieval and stowage, while seven pockets offer ample organization. The Katmai adjusts to its user's body and movements, allowing the user to carry a full load comfortably and securely. Better stuff your gear in a pack liner, though, as the Katmai does not come with a pack cover.
Pros
Excellent suspension adjustability
Very comfortable under load
Moves well and securely with backpacker's motion
Top, side, and bottom access to pack contents
Sizing: S/M, M/L and Plus sizes available
Great individual pack adjustability
Recycled materials lower pack's carbon footprint by 28%
Cons
No included pack cover
Zippers hard to close one-handed
Only 1 mesh side pocket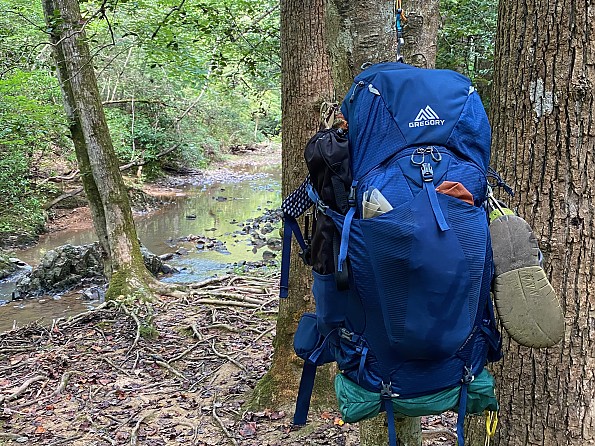 The men's Katmai 55 is part of a new pack line from Gregory that also includes the Katmai 65 and Katmai 65 Plus Size as well as the analogous women's Kalmia 50, Kalmia 60, and Kalmia 60 Plus Size. Gregory bills these packs as being "for any adventure," noting their "superior comfort and agile capabilities." The impetus for this rhetoric is Gregory's FreeFloat 360 suspension system (see Features, below), a system that allows one to finely adjust the pack's fit and comfort.
In addition, the packs in this series feature recycled materials (reducing the carbon footprint by 28%) and a suspension treated with "Polygiene odor-control, anti-microbial technology." The Katmai has top, bottom, and side access options as well as seven exterior pockets, and it is hydration-pack-compatible with an additional pull-out "SideWinder" water bottle pocket that stows when not in use. 
Features
For a 7-minute overview of features, please see the video below.
Features of note include the following:
FreeFloat 360 suspension

: To maximize comfort, Gregory opted for a suspended, "ventilated" mesh back panel that keeps air flowing between one's back and the main pack body. The shoulder straps are fully adjustable and mount on rotating pivot points on the adjustable-length torso panel. The shoulder straps feature an adjustable sternum strap, safety whistle, hydration hose clip, and a "Sunglass QuickStow" system. Note: the men's and women's packs feature gender-specific fits, with harness and hip belts designed for male and female anatomy.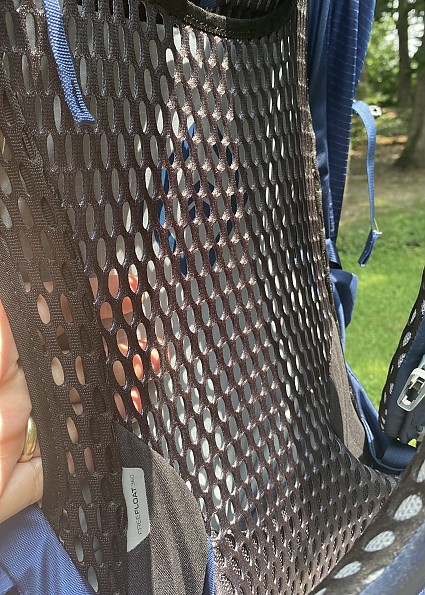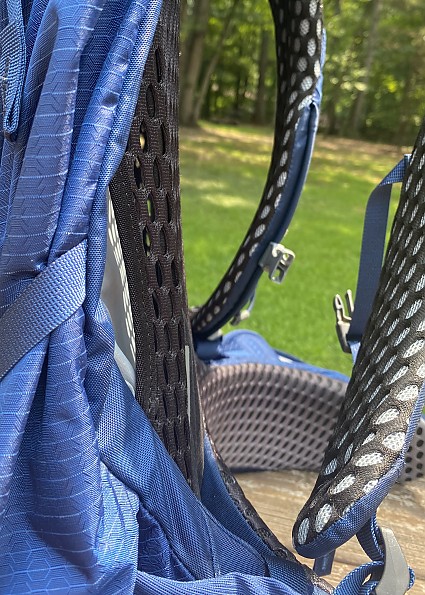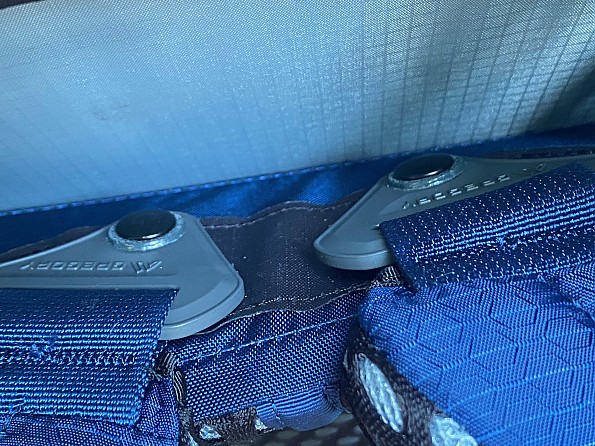 Perimeter frame stability

: An alloy perimeter frame with a flexible fiberglass anti-barreling stay keeps loads stable and effectively and efficiently transfers pack weight to the suspension.

Adjustable hip belt and "Comfort Cradle"

: Secure hook-and-loop closures allow one to extend the padding of the hip belt further around the hips and waist, while the belt itself is designed to flex up and down with the movement of the backpacker. The hip belt also features two zippered belt pockets.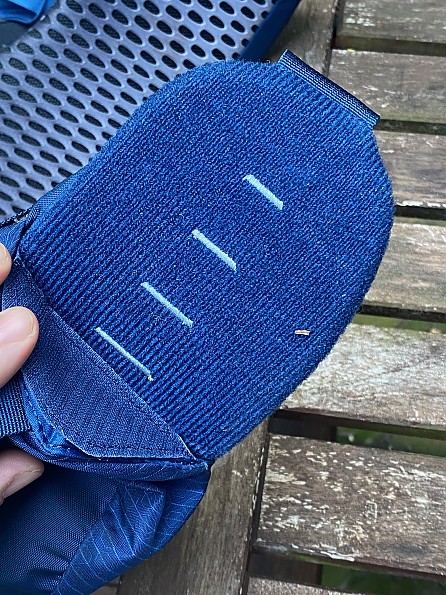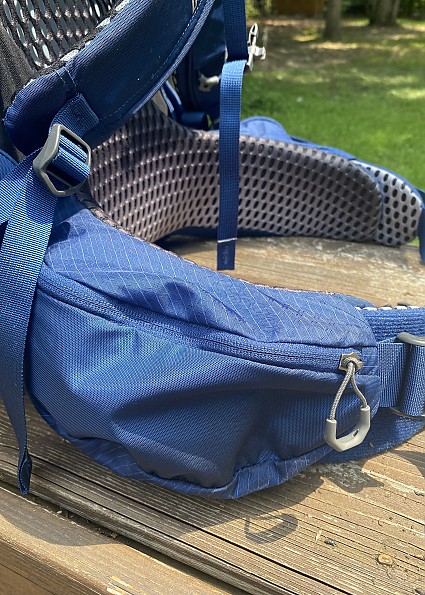 Hydration compatibility: Hydration features include an internal hydration sleeve, Gregory's  "SpeedClip" reservoir hanger, dual hose ports to the outside of the pack, and a 1L Nalgene-sized "SideWinder" water bottle pocket that tucks into the base of the pack when not in use. Note: above the hydration sleeve, toggles allow one to attach the Gregory Nano 14 daypack (not included).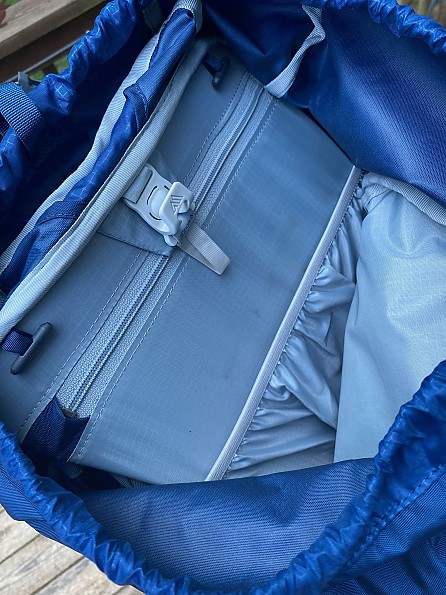 Fully adjustable attachment loops on front of the pack

: The top attachment points feature shock cord and a plastic hook for securing trekking poles or ice axes securely to the pack, but the bottom attachment loops are also adjustable—one can cinch them down with a buckle on each side for additional security, a really thoughtful design feature.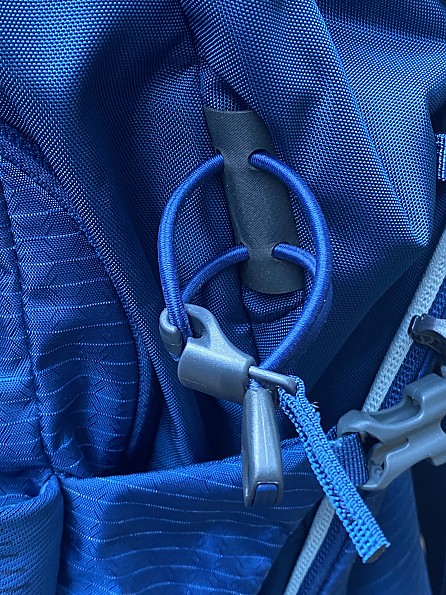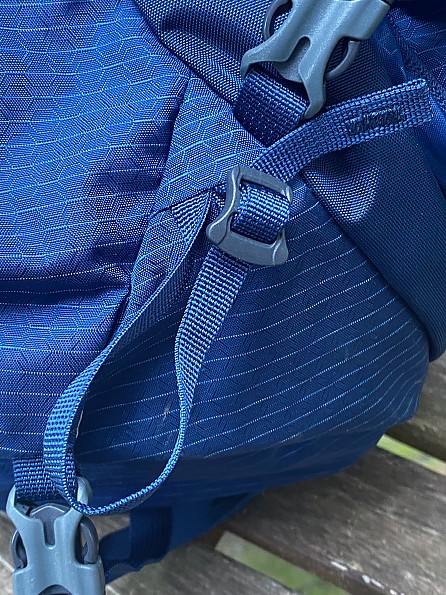 Lots of organization

: Behind a stretch front pocket is a zippered compartment with a mesh divider panel. The floating top pocket—secured by straps that can adjust to varying pack volumes—includes not only a sizable zippered pocket, but also two smaller pockets, one with a key clip, and twin attachment loops. A left-side stretch mesh side pocket allows longer items to be secured via pass-through compression straps. As mentioned before, the belt also includes twin zippered pockets.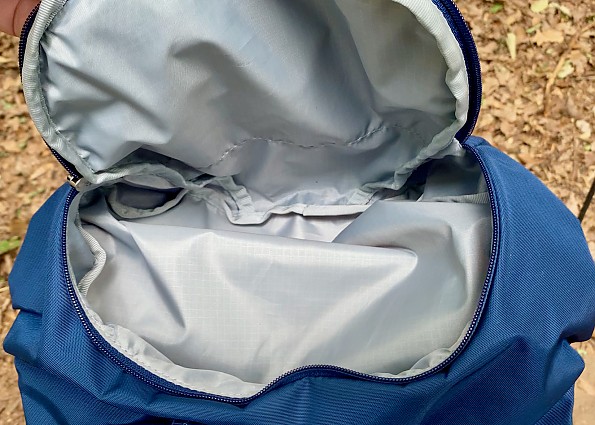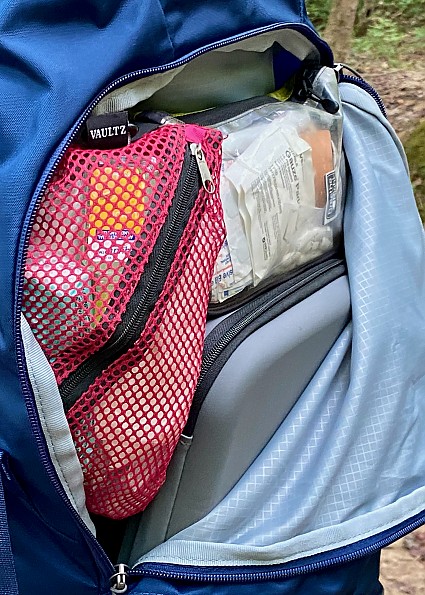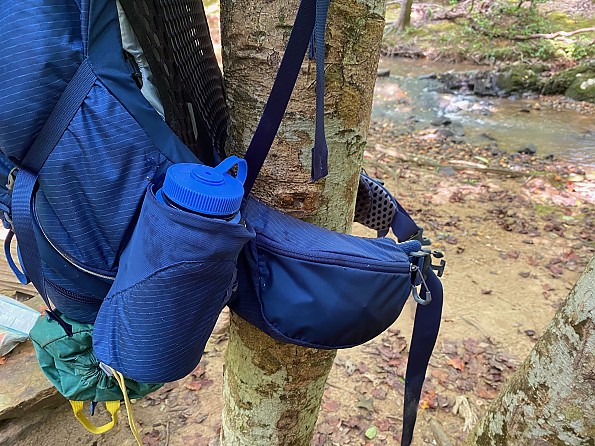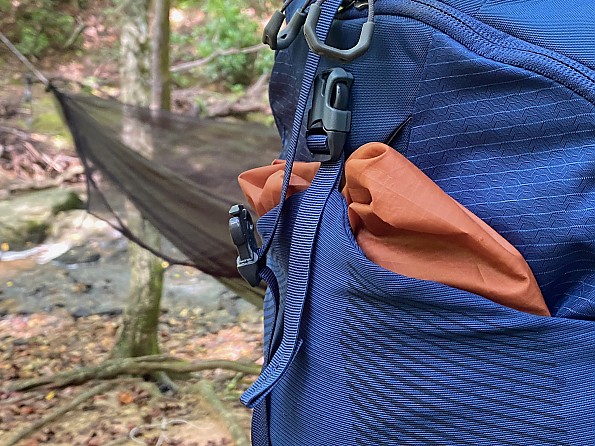 Ease of access

: A cinch cord readily closes or opens the main pack compartment, but for those who prefer other access points, there is also a right-side zipper access and a bottom sleeping bag compartment with zipper access and—should one not wish to use this as a separate compartment—a detachable divider to connect the bottom portion of the bag to the main compartment. Twin straps beneath the sleeping bag compartment may be used for compression or to secure a sleeping pad, a camp chair, or the like beneath the pack.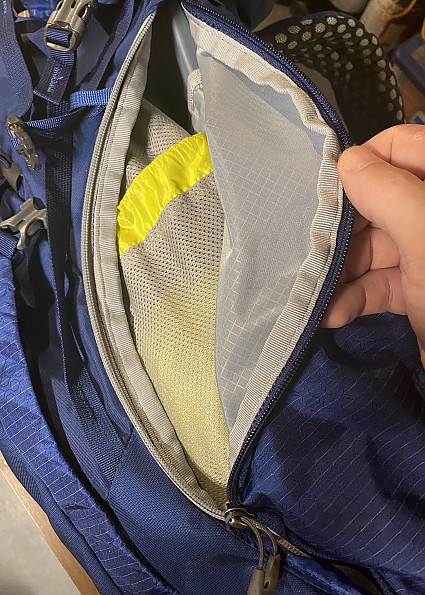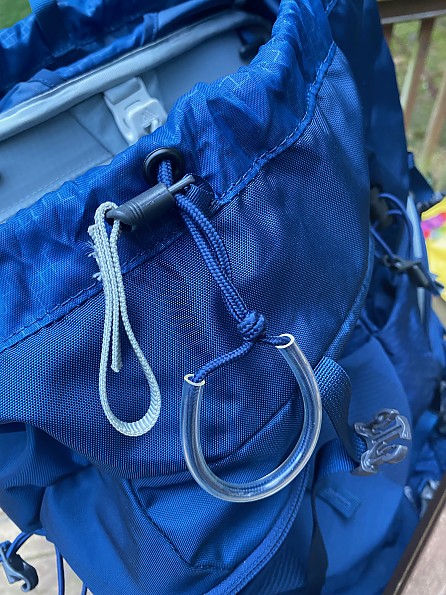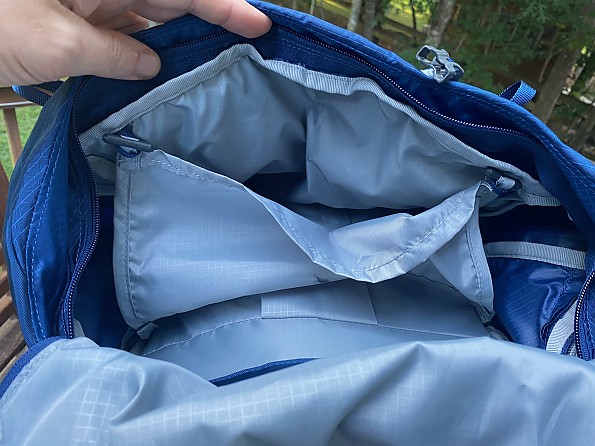 Field Testing and Observations
I tested the Katmai on both short overnighters and on a series of section hikes during a week on and along the Uwharrie National Recreation Trail. My pack weight on my initial field testing trips fluctuated between 35-41 lbs/ 15.9-17.7 kg; Gregory recommends a maximum carrying weight of 45 lbs/ 20.4 kg.
The Good Stuff
Sizing and Fit: I found the Katmai to be a very comfortable pack once I had dialed in the suspension. Gregory offers much guidance in pack fitting, although nothing beats trying them on in-store. The M/L size fit my 21"/ 53.3 cm torso well. It is worth noting that the Katmai line features packs that not only fit variously sized bodies--S/M, M/L, and Plus size—but also sizes to fit load sizes—55 or 65L. These options help different users get both pack fit and pack capacity dialed in, options that are also found in the women's Kalmia series, too.

I really appreciated how precisely one can dial in the back for one's own anatomy with the adjustable shoulder harness, torso panel, and hip belt. As with the Optic 58 that I tested previously for Trailspace, the Katmai 55 allowed me to forget about the pack and focus on the trail, whether scrambling over blow-downs, crossing creeks, or negotiating elevation gain and loss. It hugs the body, and the Katmai does seem to move with my body more than other packs I have used in the past.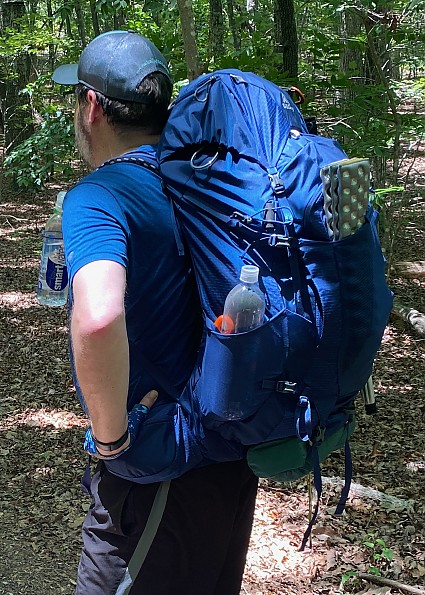 Comfort: At the end of long days, I slipped off the Katmai to find no hot spots or bruises. This was true even when I went on a "kitchen-sink" trip, lugging a tarp, a hammock, two quilts, a stainless steel cook kit, grill, utensil kit, stove and gas canister, chair, table, steak, potato, beer, a drone, battery packs, and more—41 lbs/18.6 kg of gear! Gregory lists 45 lbs/ 20.4 kg as a maximum load; that seems about right if you want or need to lug that much with you.

In the field, the shoulder strap and belt padding did their jobs, and the mesh back panel kept me relatively cool in summer heat—much better, indeed, than did the Optic 58, a trade-off between the Optic's significantly lighter weight and the Katmai's more ventilated and robust suspension.

Since I mentioned heat, let me touch on the Polygiene treatment: I have not noticed any odors emerging despite my testing occurring during hot, Southern United States summer months. At this point in the pack's use, the Polygiene seems to be doing its odor-prevention job.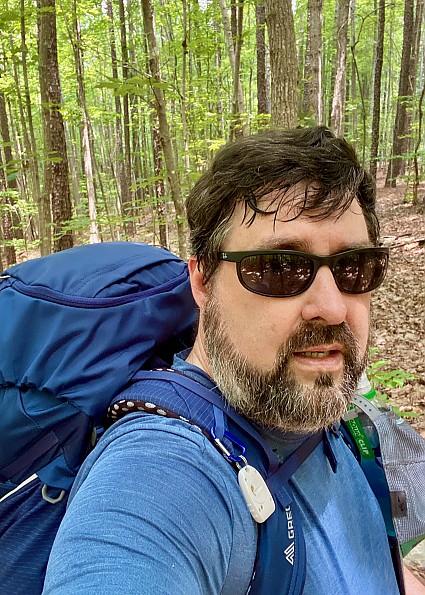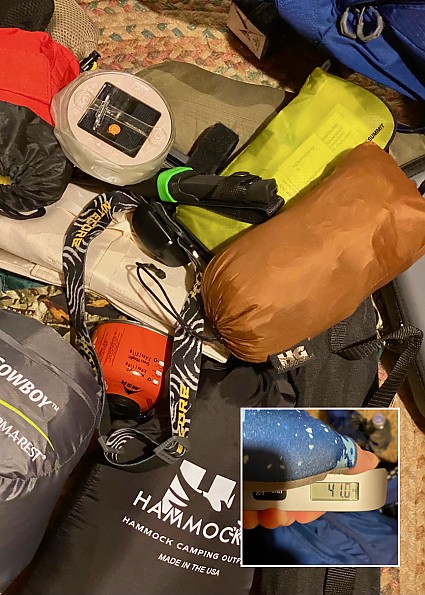 Loops: I also loved the attachment loop adjustments: adjustable bottom loops may seem like a small detail, but I loved that I did not have to worry about my Six Moons Designs Silver Shadow umbrella slipping out of these secure loops as I moved around trail obstacles.
Access: Initially, I did not think I'd use the side and bottom zippered access points because, over the years, I've adopted the stuff-everything-in-a-trash-compactor-bag approach to packing, but I quickly discovered how handy it was to stow items in the pack via these zippers rather than undoing the floating top pocket and the main compartment's cinch cord. It is just handy to slip something in or out of the pack, even with some things secured within a dry sack or trash compactor bag.

On a later trip, I used it as intended, stowing my Hammock Gear underquilt in this compartment in a stuff sack. On a different trip, the compartment also swallowed my Therm-a-Rest Space Cowboy bag. I'd think that most three-season backpacking bags or quilts would stow in this compartment, though a winter bag might require one to remove the separator panel to accommodate the bag's larger bulk.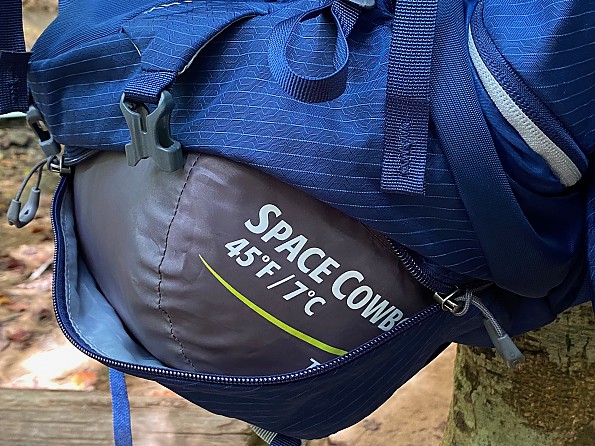 QuickStow: As with the Optic, I used the Sunglass QuickStow and an AquaClip to secure my SmartWater bottle to the Katmai's shoulder harness. I love using the QuickStow in this fashion!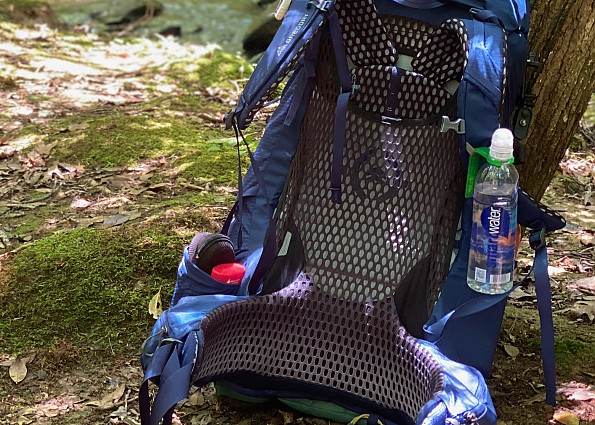 Some Drawbacks
Front Compartment: During my initial field use, I found the zippered front compartment to be of limited use. I love the notion of ample organization, but in practice, a full main compartment seemed to leave little room for items of any real bulk in this front pocket. However, on subsequent trips, I played around with loading this front pocket first. This procedure allowed the pocket to reach its full potential, although it was a bit unwieldy to load with the pocket's contents causing the main compartment to sag. This is definitely not a deal-breaker, but it can cause a measure of frustration.

Ease of Zipper Use: Perhaps it was the newness of the pack, but I found the pockets' zippers to be frustratingly hard to close with one hand. The zippers feature "ComfortGrip" zipper pulls that I really like—the loop in the pull allows one to easily hook a finger in the pull to whisk the zipper open—but time and again, after I had removed something from, for instance, a hip belt pocket, I found myself juggling that item in one hand while trying to hold the back of the zipper as I tugged the pull with my other hand to close it.

"Missing" Pocket: On the Katmai, the SideWinder water bottle holster and side access panel take the place of a second stretch mesh pocket, a trade-off of access convenience for storage. I found myself missing another external mesh pocket to stuff things in. Osprey's similar pack, the Kestrel 58, does include a mesh stretch pocket on the outside of a zippered side-access panel. The absence of a second mesh side pocket on the Katmai is a bit of a disappointment.

No pack cover: Gregory has used a DWR water-resistant treatment on the pack, but the pack does not come with a water-resistant pack cover. Why? Well, Gregory would be happy to sell you its available 40D sil-poly pack cover (50-60L) for $40! While I experienced one severe thunderstorm during this initial testing, I had already set up camp and the Katmai received only some minor rain splatter. It shed this water, but I'll likely stick to stowed dry gear in a waterproof pack liner. 
Conclusions
The Katmai 55 delivers on comfort, good back ventilation, and secure load-carrying ability for weekend or even longer trips. Tested during the summer and the early fall, I found that it readily handled my gear for overnighters and even for a five-day trip; I'm sure it would handle my Southern U.S. winter load-outs, too. However, those with more gear bulk, who might carry more than five days of food, or who want to backpack in the winter months in demanding conditions might want to consider the 55's larger brother, the 65L Katmai or Kalmia 60.
Gregory has included thoughtful features to add convenience to the user's experience such as the adjustable torso panel and belt padding, fully adjustable and secure gear loops, a stowable water bottle pocket, ComfortGrip zipper pulls, and the QuickStow holder for sunglasses that has other uses as well.
Access to pack contents is made easy with top, side, and bottom access points. Users who like organization will likely appreciate the three pockets in the top compartment as well as the zippered organizer pocket behind the front stretch mesh pocket. However, having to load the front pocket before the main compartment may frustrate some users, and the absence of a second stretch mesh side pocket may have some users reaching futilely for a pocket they may have had on another pack. 
While some experienced backpackers who favor simplicity and lower pack weights may see the side and bottom access zippers, the front pocket, and the robust frame as excessive—the pack weighs in a 4.61 lbs / 2.09 kg—others will doubtless appreciate the access options, the organization, and the load-carrying abilities of the Katmai.
Overall, the Katmai 55 is a sound choice as an all-around pack that can provide comfortable load carrying in three or four seasons. Just don't forget to line the pack with a waterproof liner when rain is in the forecast.
Experience
I've been backpacking for the past four decades, and I have used Gregory packs in the past. At the time of writing these initial impressions, I have used this pack on several overnighters and for a week and about 40 miles/ 64.4 km on and along the Uwharrie National Recreation Trail in the Uwharrie National Forest of North Carolina. Weather conditions were generally hot summer temps with one severe thunderstorm.
Source: received for testing via the Trailspace Review Corps (Sample for testing and review provided by Gregory)

Your Review
You May Like
Specs
small/medium
medium/large
Price
MSRP: $259.95
Current Retail: $223.96-$279.95
Historic Range: $197.58-$279.95

Fits Torso
15-19 in / 38.1-48.3 cm
18-22 in / 45.7-55.9 cm
Fits Hips / Waist
25-48 in / 63.5-121.9 cm
27-53 in / 68.5-134.2 cm
Weight
4.61 lbs / 2.09 kg
4.68 lbs / 2.12 kg
Volume
50 L / 3051 cu in
55 L / 3356 cu in
Packed Dimensions
28.7 x 12.6 x 16.5 in / 73 x 32 x 42 cm
30.3 x 12.6 x 16.5 in / 77 x 32 x 42 cm
Max Carry Weight
45 lbs / 20.4 kg

Recently on Trailspace