Therm-a-Rest Space Cowboy 45F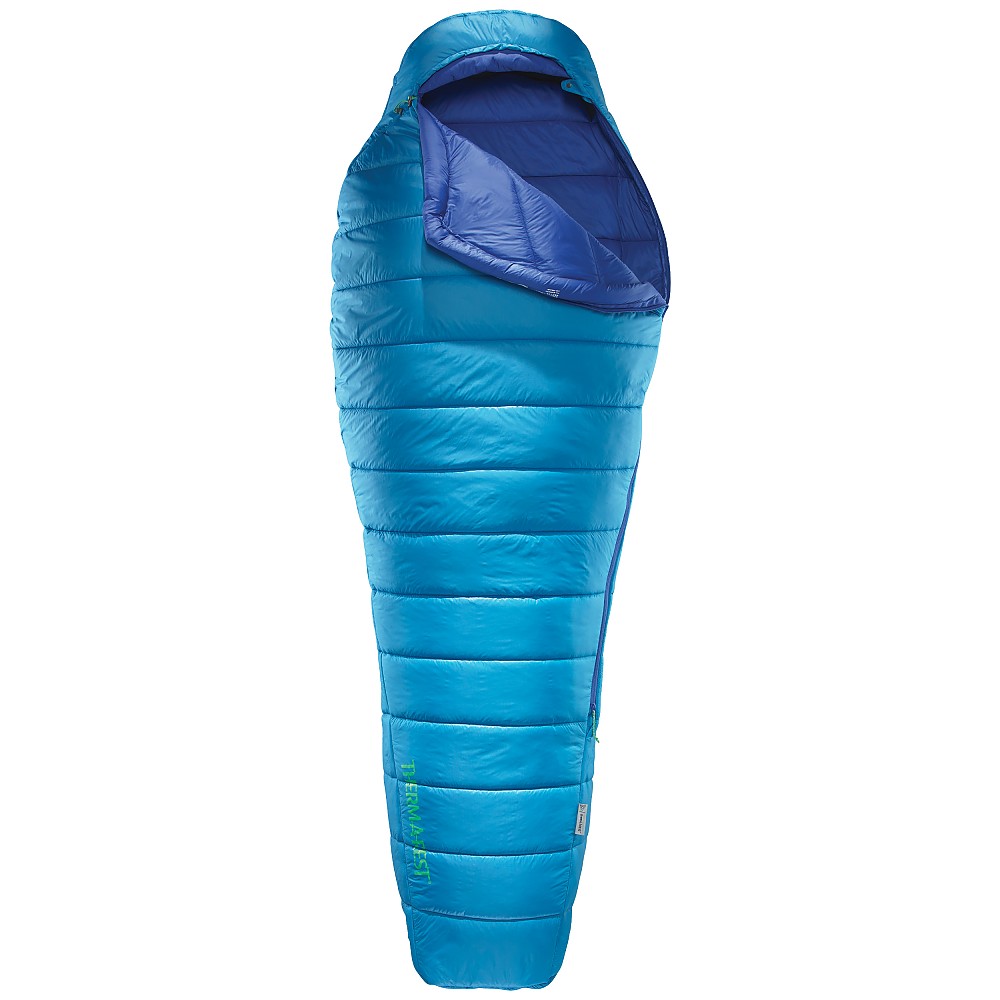 The Space Cowboy is a nicely featured 45˚F/7˚C sleeping bag for those seeking a highly compressible, lightweight synthetic sleeping bag option. This bag is readily stuffed into pack crevices or its supplied stuff sack, taking up less room at lower weight than a number of similarly rated bags (albeit at higher price), while providing mummy bag coziness with a draft tube and draft collar for unseasonably cool nights.
Pros
Highly compressible
Seems true to 45˚F/7˚C rating
Nicely featured
Includes pad attachment option
Designed to partner with other insulating layers
Cons
Upper-end price for synthetic summer-weight bag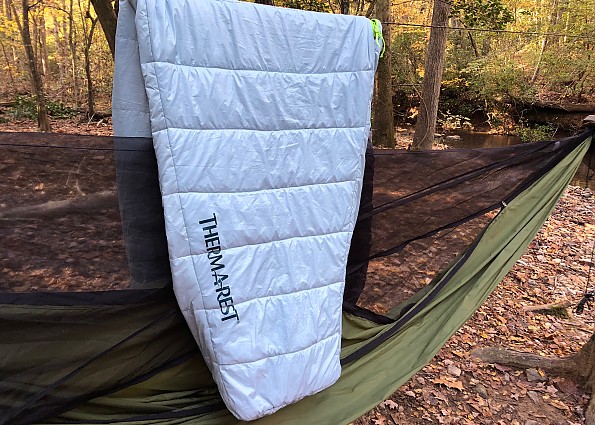 In the American South where I live, we've had the first few flashes of summer-like heat amid cooler spring weather. It's enough to encourage trip planning for summer treks. Therm-a-Rest's Space Cowboy synthetic sleeping bag offers a fully featured summer-weight bag that is well suited for such warm-weather trips.
I enjoyed testing the Space Cowboy in summer and early fall, but by layering the Space Cowboy with my Therm-a-Rest Corus HD 35˚F/1.7˚ C quilt, I was able to sleep comfortably in the upper 20s˚F/-2.8 to -1.6˚C, too, a layering option Therm-a-Rest had in mind when designing this sleeping bag.
Overview
The Space Cowboy is a lightweight, synthetic sleeping bag. Rated at 45˚F/7˚C and weighing 20 oz/567g, the bag compresses for packing to a size of 7x10 in/18x25 cm. It features draft tube and collar, cinchable hood, two-way zipper and has a shell of 20d polyester ripstop fabric with DWR treatment. Attachment points also allow the bag to be attached to a sleeping pad to avoid slipping off at night (it comes with two straps for this purpose) as well as attachment points for other Therm-a-Rest quilts or blankets to allow for layering.
In addition to bag itself, the Space Cowboy comes with the following items:
a storage sack (mesh panels): 35g

a stuff sack: 18g

retention straps ("SynergyLink Connectors"): 19g each (x2)
The stuff sacks compacts the Space Cowboy down to a 7x10 in/ 18x25 cm parcel while the capacious storage sack prevents compression of the insulation and provides breathable storage between trips.
The Space Cowboy comes with Therm-a-Rest's Warranty and Better Sleep Guarantee.

The Space Cowboy also comes in two colors (Ether and Galactic—gray or purple, basically) and three sizes. The Space Cowboy I tested was a Long that came in Ether, but the bag comes in three sizes with specs indicated below: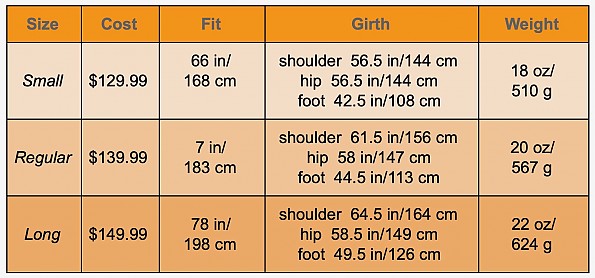 A Closer Look at What You Get

I noted that Space Cowboy is a summer weight synthetic sleeping bag: that means it is rated to 45˚F/7˚C and weighs 20 oz/567g. The bag's rating is conveniently printed on its side, and this rating adheres to both EN and ISO standards (standards which standardized and then revised, respectively, the temp ratings of sleeping bags). The complete Space Cowboy ratings are:
Comfort Range: 52˚F/ 11˚C

Transition Range: 45˚F/ 7˚C

Risk Range: 21˚F/ -6˚C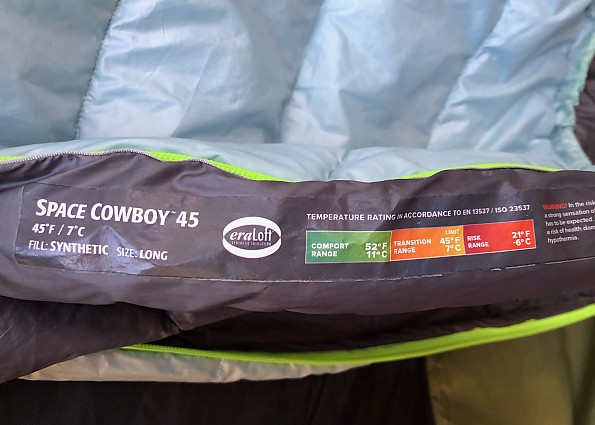 Therm-a-Rest proclaims it to be "among the lightest and most packable in its class. For reference, comparably rated bags such as the Big Agnes Lost Dog 45 (long) weighs in at 1 lb 15 oz/ 879 g; the Marmot NanoWave 45 (long) weighs in at 2 lbs/ 907 g. The Space Cowboy weighs considerably less.

Packed, the Space Cowboy long stuffs into a 7x10 in/18x25 cm bundle. In comparison, the Big Agnes Lost Dog 45 stuffs into a 7.5x15 in/ 19x38 cm bundle while the Marmot NanoWave 45 is listed as stuffing into a 7.5x1 in/ 19x30.5 cm bundle. Again, the Space Cowboy squeezes into a smaller  stuff sack.
The images below offer a sense of scale of the stuffed size (pack shown is Gregory Optic 58).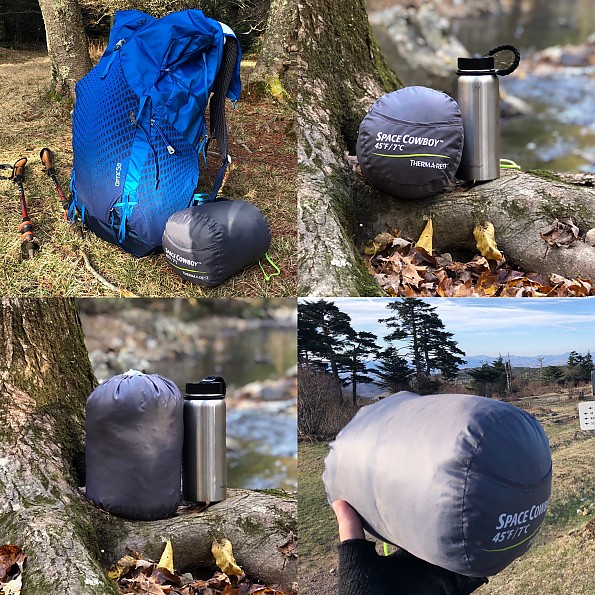 This bag features "eraLoft" hollow-core microfiber polyester insulation that the company claims "repels water and possess excellent temperature regulation." My test bag also features Therm-a-Rest's ThermaCapture Lining, a proprietary reflective coating lining the interior of the bag "to trap radiant body heat and retain warmth without adding bulk or weight" (see gray material, below).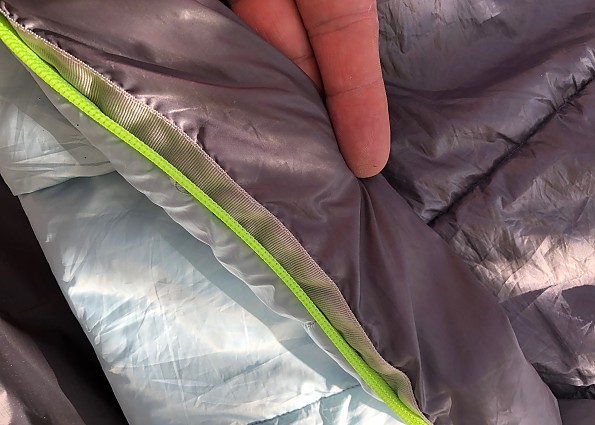 This lining is combined with "zoned insulation," a distribution of insulation that places 65 percent of the fill on top and 35 percent on the bottom. The goal of this is to provide adequate insulation to the parts of the bag that most need it while reducing the fill—and thus the weight—from the bottom of the bag, where it would be compressed anyway. The assumption is that a camper will pair the bag with an R-value rated sleep pad according to his or her needs, and that the pad will provide most of the insulation under the sleeper.

The snag-free zipper, a cinchable hood, and draft tube and collar are pictured below.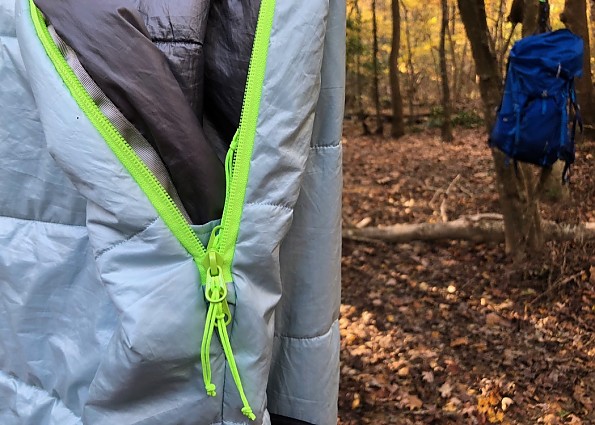 The zipper is two-way with double pulls, offering ventilation options to customize one's sleep experience.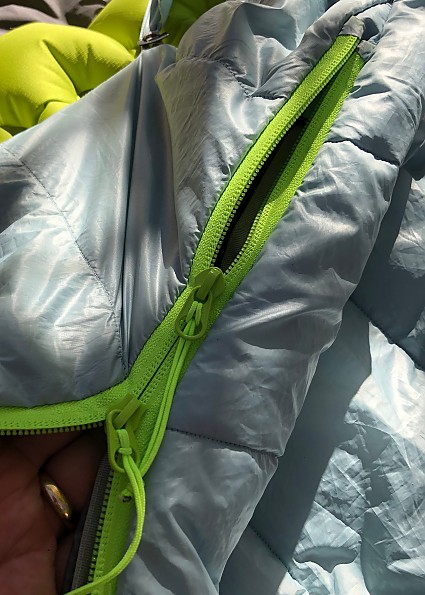 The cinchable hood (cinch cord pictured below) provided my 6 ft 2 in/1.88 m body with over-the-eyes coverage.

In the image below, one can also get a sense of the thinness of the tough but lightweight shell fabric (20d polyester ripstop with DWR treatment).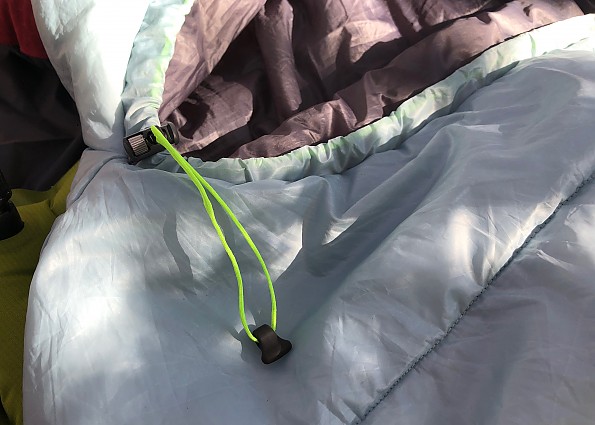 The draft tube (seen below), like the draft collar (seen above), provides cozy buffers against cooler temps when the nights turn chilly.

The SynergyLink Connectors attach to small ribbon loops sewn into the bag (along with other loops intended for attaching the Space Cowboy to other Therm-a-Rest blankets or quilts (see image, below). They are intended to fasten the bag to a sleeping pad.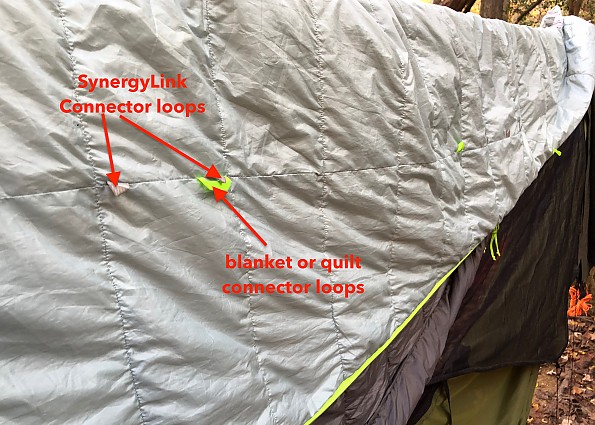 The SynergyLink Connectors readily and securely attach to these loops, allowing the strap to pass beneath the sleeping pad and secure to the other side of the bag, thereby preventing the bag from sliding off of the pad during the night.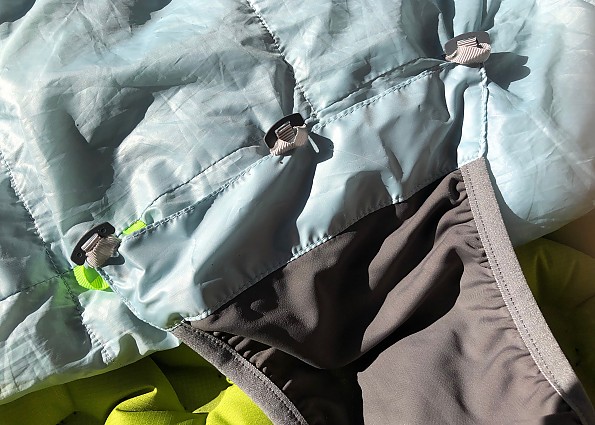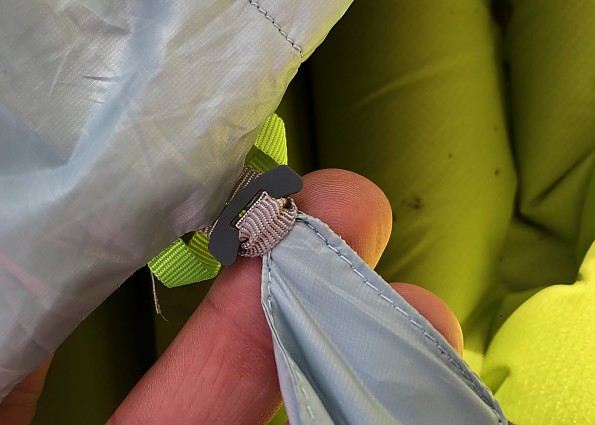 Care of this product is relatively simple: it can be hand washed or washed in a front-loading machine. For the latter option, a gentle cycle and mild, non-detergent soap paired with two rinses is recommended. Therm-a-Rest notes that the bag will last longest if it is air dried (4-48 hours, flipping periodically), but it can also be tumble dried on a low setting.

For those who wish to use them, the "SynergyLink Connectors" can secure the Space Cowboy to sleep pads or mattresses up to 25 in/63.5 cm wide (I used it with my Klymit Static V2 and my Therm-a-Rest Prolite). These connectors prevent the sleeping bag from sliding off the pad as the sleeper twists and turns throughout the night.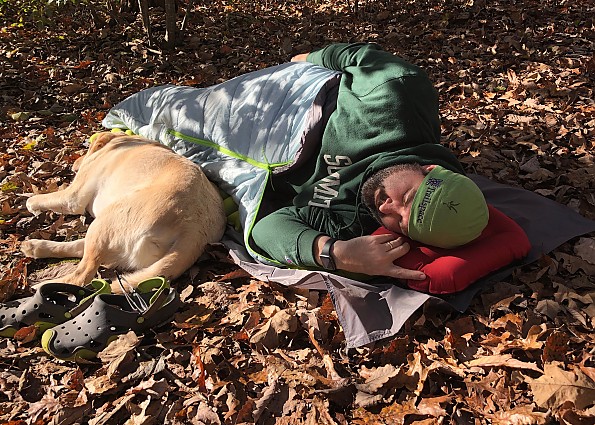 Observations
I was favorably impressed by the Space Cowboy. For one thing, I loved its comparatively small pack size and its reasonably generous cut: despite my 6'2"/ 1.9 m, 230 lb/ 104 kg size, the Space Cowboy never felt especially confining—with one exception, mentioned below. Therm-a-Rest notes that side-sleeping comfort in their bags is by design, as their bags have "extra room in the torso to allow your shoulders, elbows and hips to move freely."
The fabric also feels good on the skin when one slides into the bag, and the ThermaCapture Lining actually produces a palpable sensation of warmth as one's body heat bounces off this lining. This is especially nice on cool evenings.
The zoned insulation serves its purpose well; at no time did I feel that the bottom of the bag left me feeling cold, though naturally I had a sleeping pad (generally my Static V2) or underquilt (Hammock Gear Premium Incubator 20) as insulation beneath me during use.
Externally, on the rare occasion I got the bag a little damp, the water beaded up and rolled off the DWR-treated ripstop fabric nicely. Obviously I did not choose to sleep in the rain without a tarp and I chose my cowboy camping evening carefully after consulting a forecast, but the DWR-treated fabric meant that a little dew was not catastrophic, either.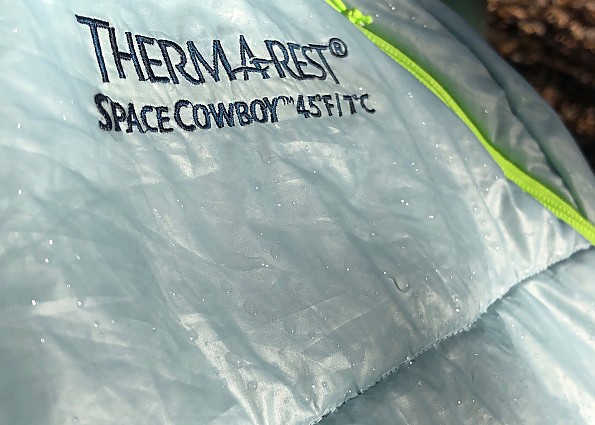 While temp ratings can be subject to personal interpretation, I found Therm-a-Rest's 45-degree Limit rating to be accurate. Throughout the summer and early fall, I was either too warm on hot nights and opened the bag up to allow air flow until the early morning hours or I was perfectly content and cozy. Evening temps on these trips were in the 60s-80s F/ 16-31˚ C.

On a November hammock trip, the nighttime temps dropped below 45˚ F/ 7.2˚ C, what Therm-a Rest labels as the "limit" of the bag's "transition range. I felt the cool of the night air permeate the bag's top (I was warmed on the bottom with an underquilt), and recognized that I was in no danger but also not comfortably warm, either. This was my own personal comfort limit, in keeping with Therm-a-Rest's ratings.
The Space Cowboy did well on unseasonably warm fall trips, too, when temps stayed within its cooler comfort range. It was then that I began to appreciate the nice design details. While the cinchable hood was a little tricky to adjust at first (the fact that the cord lock was fastened to the collar initially perplexed my sleepy, fumbling hands in the night's darkness), I found it delightful on the cool fall nights.
The draft tube and collar further protected me from the cool air and was another nice feature. These were features I ignored during the hotter evenings, only discovering their benefits when the nights turned crisper.
Reaching down on those nights when a warm day gave way to cool night air, I appreciated the strip of grosgrain ribbon lining the zipper that allowed me to snuggle into the bag and then quickly yank on the zipper to envelop myself in the bag, knowing the zipper would not snag the 20d polyester lining (this ribbon is evident in zipper and draft tube pictures, above).
For those who wonder: the Ether color is very light. It may not be the most practical, but I liked it. Despite the light color, I didn't find it getting unusually dirty or dingy, but I am pretty careful to keep any insulating gear out of the dirt.
Quibbles
I was not fond of the SynergyLink Connectors. This is a matter of personal preference. I understand their purpose, and I've woken up cold with other bags having slid off of my sleep pad onto cold ground during the night. These connectors are well designed, easy to use, and they worked well with my Klymit Static V2 and my Therm-a-Rest ProLite, keeping me on the pads at night, but they also made the Space Cowboy feel confining to me. Keep in mind I am 6'2"/1.88 m tall and about 230 lbs/104 kg.
The elastic in the straps pulled the bag a little too snuggly around me for my taste, more than this occasional side sleeper liked. Another person might conceivably feel that this was "cozy," though, so this is not a product flaw but rather this tester's own preference for a less confining sleep experience than what the SynergyLink Connectors gave me.
The long bag I tested also had a long section from the end of the zipper (mid-thigh) down to the bottom of the foot box. I may have uttered a few unkind words when, body weight on the bag, I struggled to corral my feet into that section beyond the zipper. In the hammock, this problem was even worse.
A longer zipper would have enabled a more effortless entry, but I am sure this shorter zipper reduced the bag's weight, and I suspect this struggle to get the feet in is only an issue on the long bag for those of us long of limb. After a few nights I learned a procedure to get my feet in, get my butt and back on and then in the bag, and then get it zipped up to the hood. Still a little awkward for me, but certainly manageable and not a dealbreaker.
Layering
Therm-a-Rest's approach to sleep system design is based on familiar core components of a sleep system. Typically, a sleeping pad forms the base of the system (except when hammocking), and the zoned insulation of the Space Cowboy is thus intended to be paired with an appropriate pad. But their design also permits one to combine elements to extend sleep systems through a process of layering.
In early January, I hit the trails again for a rainy, cold two-night, three-day trek. With lows in the mid to upper 30s F (single digits C), I knew I would not be able to take just the Space Cowboy, so I also packed my Therm-a-Rest Corus HD 35F/1.7˚ C down quilt. I repeated this layering combination in April on a bitter, wind-ravaged mountain side in southwestern Virginia—45-55 mph/72-88.5 kph gusts and a low of 27˚F/ -2.8˚C.
I'll term this functionality Therm-a-Rest's modular design: different combinations layered together yield different temperature ratings. Obviously, a sleeping pad forms the foundation of any such combination, especially given the zoned insulation feature of the sleeping bag that is intended to be paired with a pad. In the warmer months, I used my Static V2; in the cooler months, my insulated ProLite.
If one has the components, one can mix and match. This is something veteran backpackers have often done, but what is especially nice about Therm-a-Rest's approach is that the company has tested these combinations at Kansas State University's cold chamber and consequently has been able to assign EN/ISO ratings to these combinations. In the case of my Corus HD combined with the Space Cowboy, the comfort rating allows me to go down to 20˚ F/ -7˚ C (see image, below, of the Corus HD secured to the Space Cowboy).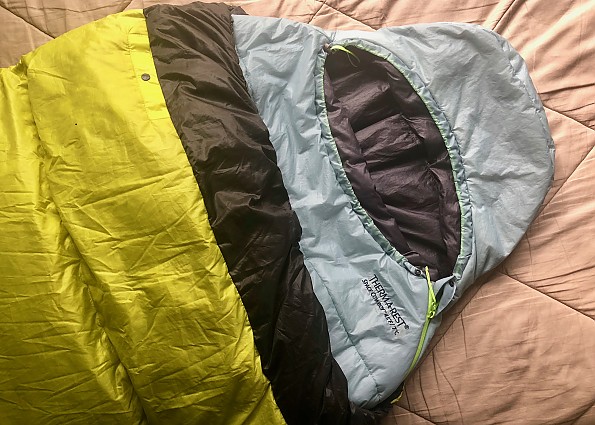 As I mentioned before, support for these combinations comes in the form of uniformly spaced grosgrain loops for for attaching quilts or blankets to the sleeping bags. In the image below, one can see the bottom of the Space Cowboy with the Corus HD quilt secured to it.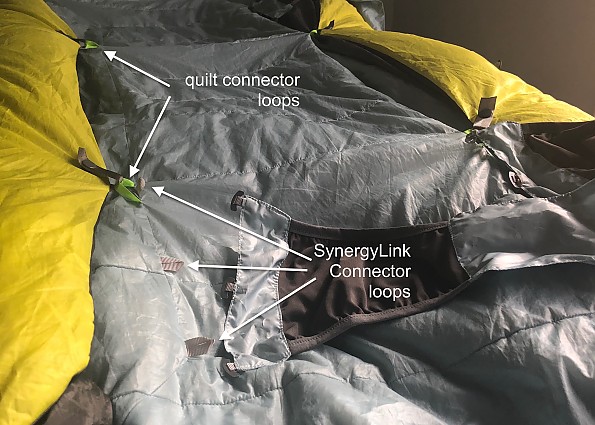 On my January trip, the combination of Space Cowboy and Corus HD quilt proved to be even a little bit overkill (I actually got a little too toasty on the second night), but nevertheless I saw how easy it was to attach the  quilt to the bag and how effective the combination actually was in the field. The loops and snaps readily connected, and I was snug, cozy, and completely and blissfully unaware of the cold outside my cocoon. In April, I needed every bit of the insulation given the sub-freezing temps and insidious wind, but I stayed warm throughout the bitter, blustery night.

This modularity is certainly something to consider if one is contemplating purchasing the Space Cowboy. The combination of these two items, then, allows me to camp throughout the summer and into fall with the Space Cowboy, turning to the Corus HD to carry me from the upper 40s F/ app. 9˚ C to 35˚ F/ 1.7˚ C, then take both—still just 44 oz/ 1.25 kg—down to a listed 20˚ F/ -7˚ C.
Conclusions
Overall I was impressed by the Space Cowboy. It was highly compressible, light, and comfortable, whether crammed into the bottom of my pack or stuffed in the provided stuff sack. It provided adequate warmth for the temperatures it is intended for.
The materials appear to be of good quality, and the bag has held up well during my months of use. I do wonder, though, how well the 20d shell will hold up as months of use stretch into years. While I have not experienced any damage to the bag, the thinness of the shell made me especially careful when using it.
Especially in cooler weather, I appreciated Therm-a-Rest's attention to detail that is manifest in such things as the grosgrain ribbon that provides a buffer to protect the bag's soft interior from the zipper or the forward-thinking design that permits attachment of quilts and sleep pads to increase the flexibility of one's sleep system.
At the end of a day on the trail, it was nice to be able to slip into the bag without any concerns, leaving the side open for venting on warmer nights or snuggling down in mummy bag mode when the temps were pushing the bag's comfort limits. It was nice to know, too, that I have the flexibility of pairing the Space Cowboy with the Corus quilt to extend this sleep system into colder temperatures.
The Space Cowboy's price point (MSRP USD $129.95-149.95) puts it at the higher end the synthetic, summer-weight bag range, but this price point also reflects its low bag weight and low bulk. That said, there are other summer weight options that cover this temperature range that cost significantly less: not all prospective buyers will want to pay this price for a summer weight synthetic bag, making the higher-end price point a drawback of the bag.
The Space Cowboy is recommended for someone willing to pay a little more to reduce bulk and weight and to get a compressible, lightweight, synthetic summer bag with a solid feature set and the option of being paired with other insulating layers to extend its use.
Experience
I've been wriggling into and out of sleeping bags for more than four decades. I tested the Space Cowboy for the better part of a year on trips in the summer and fall in temps that ranged from the 80s F/ 26.6-31.6˚ C to the 40s F/ 4.4-9/4˚C. I also paired the Space Cowboy with the Corus HD quilt in the winter and early spring in temps as low as 27˚F/ -2.8˚C. In that time I spent 11 nights in the wilderness (and quite a few more in my yard getting a feel for how it slept before I hit the wilderness), experiencing both peerless, dry weather, miserable and steady rain, and high winds. I cowboy-camped, tent-camped, and hammock-camped with it.
Source: received for testing via the Trailspace Review Corps (Sample for review and testing provided by Therm-a-Rest)

Your Review
Where to Buy
Help support this site by making your next gear purchase through one of the links above. Click a link, buy what you need, and the seller will contribute a portion of the purchase price to support Trailspace's independent gear reviews.
You May Like
Specs
small
regular
long
Price
Current Retail: $199.95-$219.95
Historic Range: $73.73-$219.95

Weight
1 lb 2 oz / 0.50 kg
1 lb 4 oz / 0.57 kg
1 lb 6 oz / 0.62 kg
Fill weight
9 oz / 0.24 kg
9 oz / 0.27 kg
10 oz / 0.29 kg
Fits
66 in / 168 cm
72 in / 183 cm
78 in / 198 cm
EN Comfort
52°F / 11°C

EN Limit
45°F / 7°C

EN Extreme
21°F / -6°C

Recently on Trailspace