Therm-a-Rest Corus HD Quilt

Top 25 in unisex Top Quilts and Blankets
The Corus HD Quilt has been discontinued. It was replaced by the Therm-a-Rest Corus HD Quilt.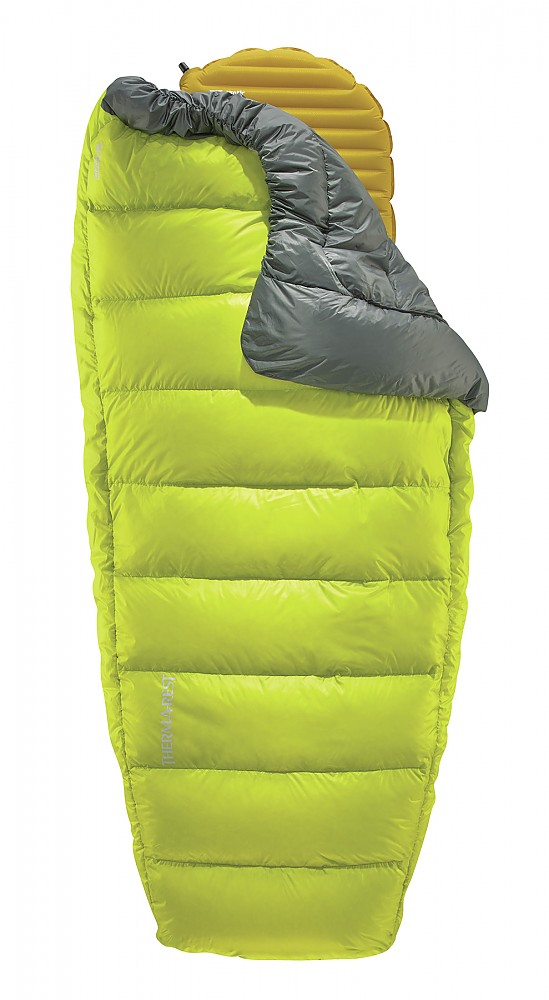 Version reviewed: long
The Corus HD is a 35°F-45°F, 650-fill hydrophobic down quilt that performs well in cooler weather. Its light weight and compact size is perfect for both the ultralight hiker and the heavyweight who wants to carry an extra bit of warmth.

While not specifically designed for hammocks, this tester used it exclusively in hammock testing and was quite pleased with the results.
Pros
Ultralight
Comfortable
Compact
True to temp rating
Cons
Sewn through baffles (see below)
Short foot box
Retail price is higher than comparable products
Testing Parameters:
The Corus HD Quilt was tested in a hammock over 10 nights in October 2015. Nighttime temperatures ranged from upper-50s Fahrenheit down to 38°F. This tester combined the quilt with a Therm-a-Rest RidgeRest foam pad in all tests. In sub-60F temps a JRB Greylock 3 underquilt was added.
The tested Corus HD was sized long to fit this 6'2" user. I consider myself a "cold sleeper" and frequently find advertised temperature ratings to be a bit off.
Warmth & Temperature Rating:
The Corus HD claims a temperature rating of 35°F-45°F degrees. I found this rating to be accurate. When using this quilt in the 50-degree range, I was easily overheated at night. In fact, I found I couldn't sleep with wool socks on when the temperature was above 45°F.
This is EXTREMELY unusual for me, and I almost always wear socks in the spring and fall to keep my feet warm. I only considered socks when the temperature hit 43°F. Testing this quilt down to 38°F had me dressed in my standard cold weather attire—base layer tights and a fleece pullover.
One of the cons I listed was the baffles are sewn through. The problem with sewn through baffles is it creates cold spots. The baffle seams become areas where no insulation can fill. Therm-a-Rest addressed this weakness by sewing reflective tape within the seams to prevent heat loss. In Therm-a-Rest's own words:
"The quilt improves upon its best-selling predecessor, the Auriga Blanket, with 650-fill Nikwax hydrophobic down insulation, and ThermaCapture™ - backed seams–a strip of reflective tape behind every baffle seam to reduce radiant and convective heat loss."
In my testing this solution worked. I noticed no cold spots in the quilt.
Fit & Comfort:
Because this is a quilt and not a full bag, there is no hood. A beanie is required in cooler weather. I was pleasantly surprised to discover the 77-inch long size was long enough to be pulled over my head. Because the down is hydrophobic (ie., "water proof"), my breathing underneath the quilt did not effect the insulation. In other words, I didn't get the gross soggy spot I often get with my down mummy bag.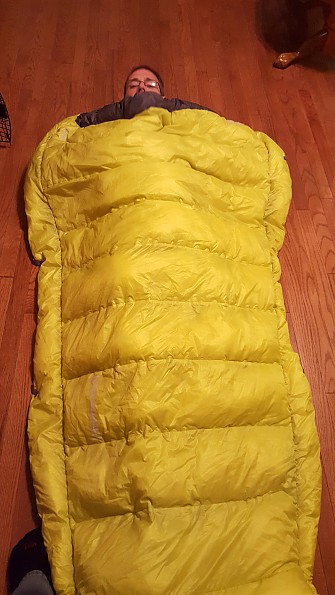 Pulled up to my chin, and...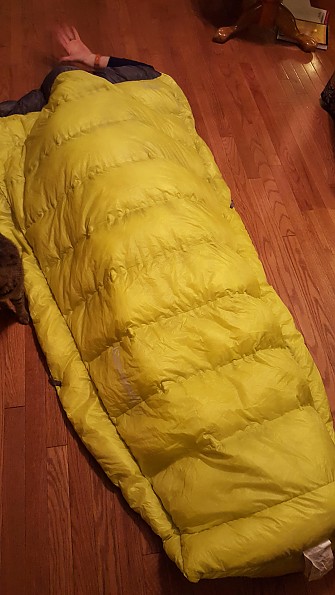 ...pulled up over my 6' 2" head.


The quilt is 46 inches wide, with insulated side baffles. This gave me plenty of room to cover my shoulders, without feeling squeezed.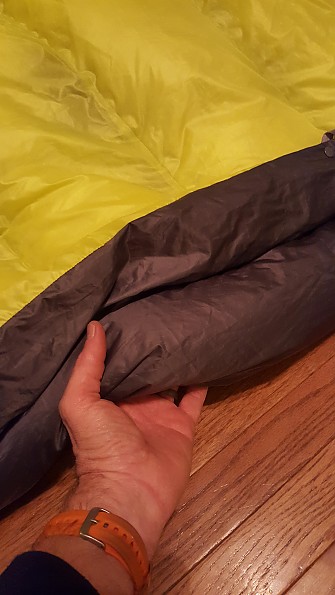 Side baffles, with lots of loft.
As I mentioned, the Corus HD is not really designed as a hammock quilt. Therefore the footbox is a mere 9.5 inches deep. For hammock use, I would have preferred a footbox nearly double that length. However, it worked well with the closed foam pad I used and did not slip out on any of the nights I tested it.
Loft & Insulation
As mentioned previously, the quilt uses 650-fill Nikwax hydrophobic down insulation. This provides a good 3 inches of loft. Keep in mind this is a quilt, not a full bag. So there is no bottom to loft up against the measuring tape.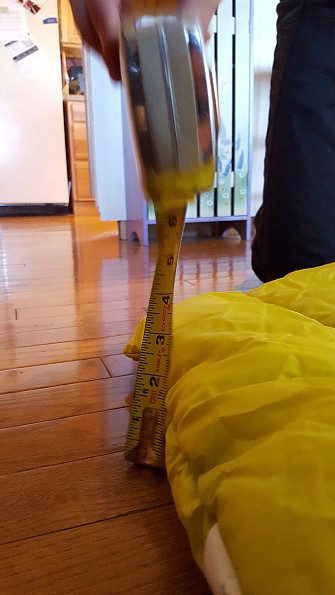 If you are wondering what Nikwax hydrophobic down is (as I was), here is the official statement by Therm-a-Rest:
Used in all Therm-a-Rest 3 and 4-season sleeping bags. Nikwax® Hydrophobic Down absorbs 40% less moisture than untreated down. This keeps you warmer over a greater range of conditions, and allows it to dry and restore performance faster. And since all water-resistant down treatments wash out over time, Nikwax Hydrophobic Down is specially formulated to be easily retreated at home using Nikwax DownWash™ and DownProof™, ensuring the long-term water-resistance performance of your bag.

In addition, unlike other treated down, Nikwax® Hydrophobic Down is a water-based formula that's Flourocarbon-free (a.k.a. PFO's, PFOA's or PFC's) and safe for you and the environment. We found this a particularly compelling reason to go with Nikwax, as questions are increasingly raised about the long-term effects of these chemicals and their persistence in our bodies and the environment.
As nice as that all sounds, there are a number of companies providing similar claims. Other down products are using names like "Down Tek" and "Activ Dri."
One thing I noticed is other quilt manufactures are using a higher loft (800 fill) and claiming water repellency, with a lower temperature rating, lighter weight, and a cheaper price. I haven't tested these competitors' claims. I just noticed, on paper, some companies are claiming more bang for your buck.

Weight & Packability:
This is a win-win. The long quilt weighs in at 25.4 ounces on my scale, and it stuffs down to 9.5"x6"x6" without using any compression straps.
Other Features:
1) A chest pocket is sufficient to hold your wallet or cell phone.
2) Along the sides of the quilt are six snap loops...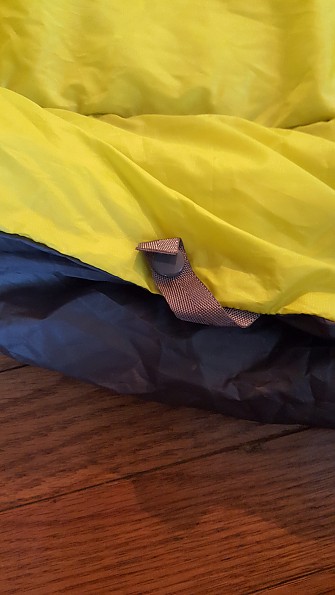 These loops pair with six sticky back taps designed to permanently attach to your sleeping pad...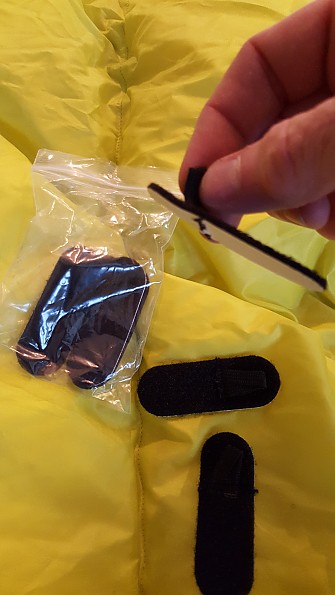 The general idea is to snap yourself onto your pad so you don't slip off at night. I did not try this feature, as it was unnecessary in a hammock, but ground sleepers may find this beneficial.
Note: Trailspace member LoneStranger proofread this review for me, and mentioned the snaps and tabs work with Therma-a-Rest's sheets.

3) The neck collar allows the user to close any drafts from creeping in under the quilt.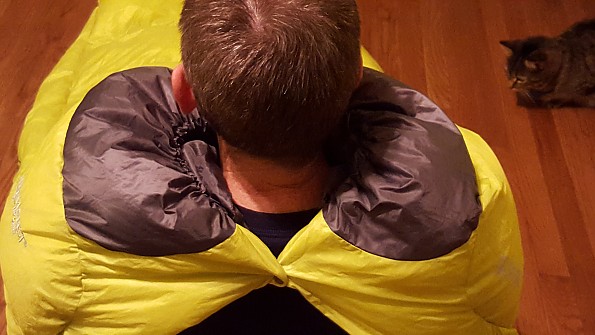 The cat does NOT come with the quilt, but does add warmth
on a cold night.


Questions from my proofreaders:
Several Trailspace members proofed this review and asked questions. Here are a few:
Daniel Oates asked:

With the baffles going horizontally across the user's body, did you feel that any down shifted to the sides overnight?
A: No, everything stayed in place I was comfortably warm every night.
dirtwheels asked:

I found it interesting that your foot pad stayed in the footbox, what size is it?
A: I was using the large RidgeRest, which is 25" wide.
Patman asked:

I have a DownTek bag (Nemo Nocturne) that I tested and I found that the coated down doesn't pass moisture as well as regular down; if you have to zip up it feels clammy. Maybe not an issue with a single sided quilt but I'm curious if you ever felt that way.
A: Nope. Not clammy at all. This may be because a hammock has more air moving underneath. Even with the quilt pulled over my head, it didn't get damp.
Lah asked:

I couldn't find any information about this quilt on Therm-a-Rest's website, so I'm just curious how the price-point compares to the Backcountry quilt ($319.95)?
A: Promotional literature I saw says when the Corus HD hits the market in 2016, it will be $240 for the regular and $250 for the large.
LoneStranger observed:

Also, if they make a winter quilt, I really think it needs to be tested by someone who is a long time ground quilt user who winter camps and looks a lot like me. :p
A: I imagine there will be a line of people wanting to test a four-season quilt from Therm-a-Rest.
Final Word:
I was extremely pleased with the Corus HD quilt. I would love to see Therm-a-Rest increase the fill power of the down and launch a true four-season quilt (somewhere in the 0°F-20°F range). Make the footbox a bit deeper and hammock hangers will be snatching these up like crazy.
Source: received for testing via the Trailspace Review Corps (Sample provided by Therm-a-Rest for testing and review)

Your Review
You May Like
Specs
regular
long
Price
MSRP: $239.95
Historic Range: $119.99-$249.95

Weight
680 g / 1 lb 8 oz
737 g / 1 lb 10 oz
Fill
650 fill Nikwax Hydrophobic Down with ThermaCapture Seams

Dimensions
196 x 177 cm / 77 x 46 in
203 x 127 cm / 80 x 50 in
Recommended Temperature Range
45°F to 35°F / 7°C to 2°C

Recently on Trailspace