Gregory Optic 58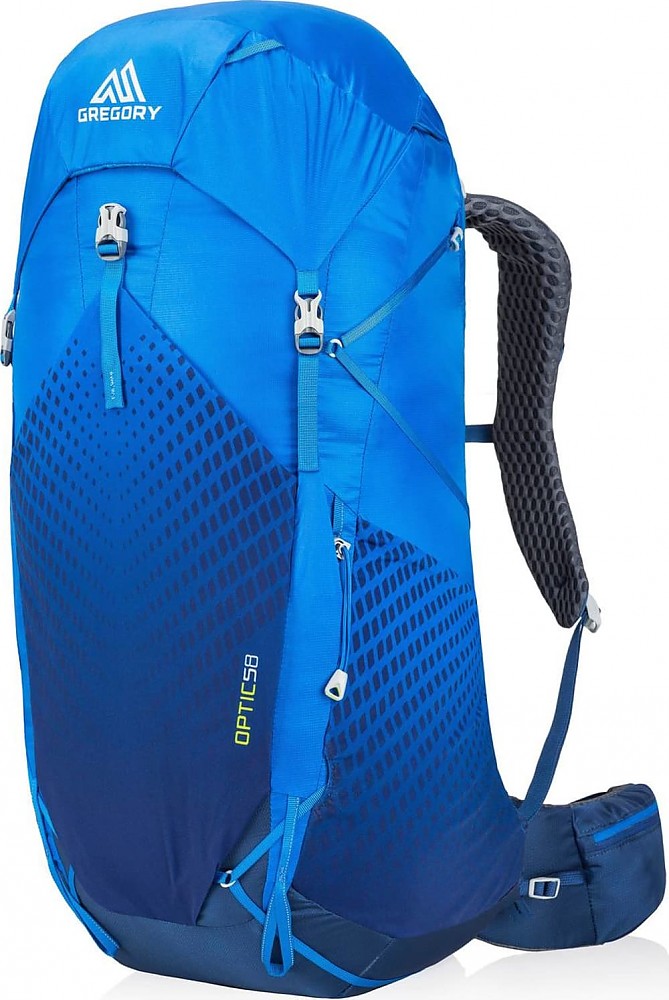 The Optic 58 is billed by Gregory as being "[f]or ultralight backpacking with the support to keep you comfortable and moving quick." While not the lightest option available for the volume or recommended load it can carry, the under three-pound Optic is a mass-market pack that is light enough to merit consideration as a lightweight pack option while providing—Gregory claims—"additional capacity [for longer distances] without compromising your ultralight priorities."

The Optic is a comfortable, secure, nicely featured pack that is well-designed and competitively priced, but a few material failures raise questions about its long-term durability (though it is protected by Gregory's guarantee).
Pros
Competitively priced, 2.5 lb. framed pack
Easy to pack and use
Carries loads securely and comfortably
Nicely featured
Cons
Concerns about long-term durability
The Optic 58 is part of a line of sub-3 pound (1.36 kg) Gregory packs that includes the smaller Optic 48 for men and the Octal 45 and 55 for women. Gregory's designation of this pack as 58 liters refers to the Medium pack; a stripped Optic (M) comes in at 2.42 pounds (1.1 kg). Below are listed popular packs in the same general capacity range as the Optic (size Medium). Note that packs from cottage industry makers often offer customizable options that may affect weight. Osprey is included below as a popular mass-market competitor to Gregory.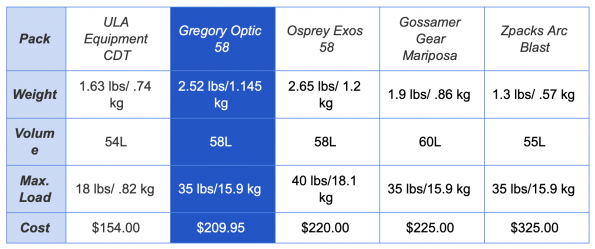 A brief video overview of the Optic 58 follows below.

A Quick Video Overview
Comfort and Fit
Gregory proclaims that the Optic's AeroSpan suspension provides "exceptional fit and load management." In fact, I found the Large Optic to be extremely comfortable. Three pack sizes accommodate most torsos (from 16-22 inches/40.6-55.9 cm). Three belt sizes accommodate waists from 27 inches (68.5 cm)(Small) to 53 inches (134.6 cm) (Large).
My rail-thin 6'5" (195.6 cm) son could wear the Large pack as comfortably as your 6'2" (188 cm) 240 pound (108.9 kg) writer—we both require the Large for our torsos, but the belt's 23 inches (58.4 cm) of adjustability can readily accommodate us both (the Large accommodates hips/waists from 30-53 inches / 76.2-134.6 cm).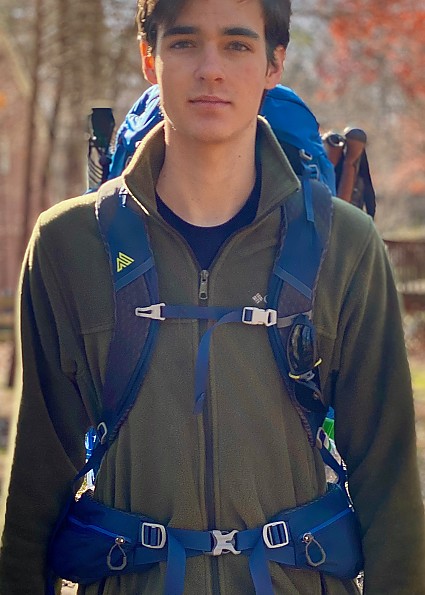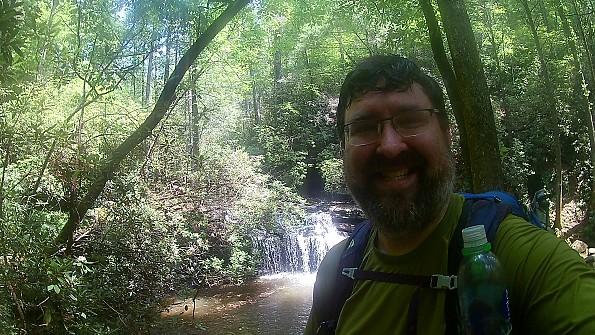 Note: the Optic's frame is not intended to be removable, nor can individual pack sizes be adjusted to accommodate different torsos: measure your torso before choosing a size.
The Optic features a perimeter wire frame with an anti-barreling stay. The frame is made from 7mm tubular 7001 aluminum with a 3mm Alloy anti-barreling stay additional HDPE for added structure. Light yet sturdy, the Optic's frame transfers weight nicely to the hip belt and gives the back a defined shape, making it easy to load or unload gear.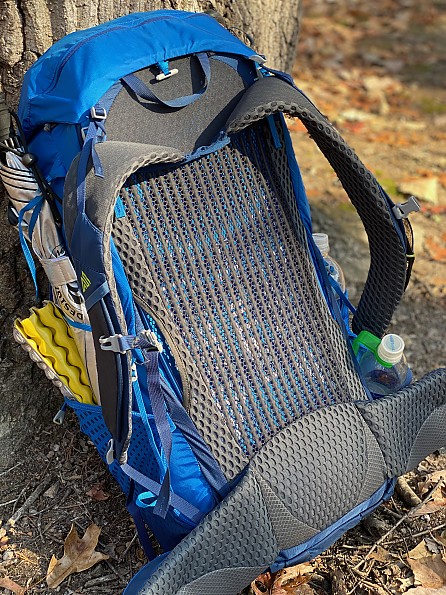 The contoured shoulder straps, lumbar pad, and hip belt are padded with EVA foam, which provides a dense and durable cushion that holds its shape well over time. I also found these straps to be comfortable, even after a twelve-hour during my week-long 76.2-mile (122.6 km) thru-hike of North and South Carolina's Foothills Trail (my maximum loadout for the trip was between 33.8-35 pounds (15.3-15.9 kg). The contouring of the shoulder straps helps the pack conform to one's body in a fashion that is both comfortable and secure.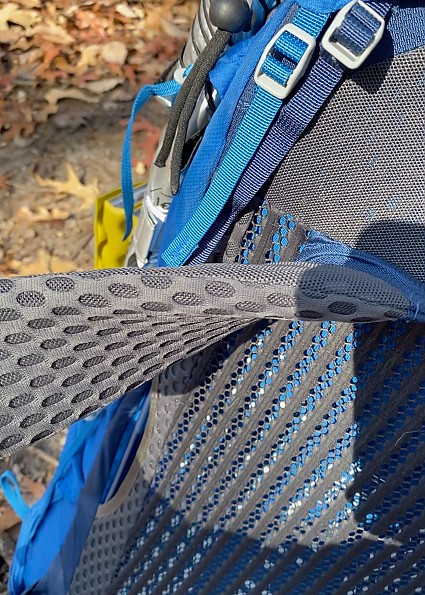 The pack also has ample adjustment straps to allow users to dial in a secure and well-distributed load. A sternum strap adjusts up and down on a rail, helping to disperse the weight and relieve the user's shoulders. Load-lifter straps on the shoulder harness pull the bag closer to your back, bringing the mass inward (I love these!).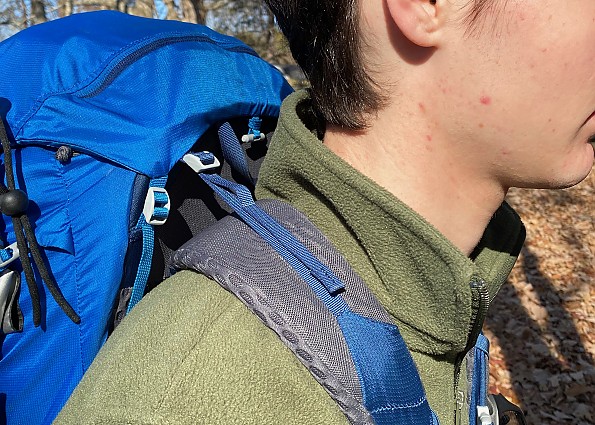 Complementary stabilizer straps on the hip belt snug the bottom of the pack close to one's posterior, aiding in balance by pulling the center of gravity closer.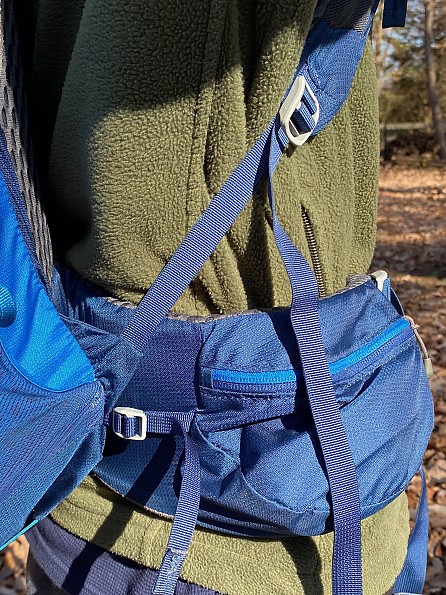 As I ducked under fallen trees, scrambled around obstacles, and cruised up and down elevation on my thru-hike, the Optic hugged my body securely in satisfying fashion and gave me the confidence to focus on the obstacles without worrying about what my pack might do. 
Twin V-compression straps on each side compress the pack and keep its load secure and balanced, although they also provide a way to help secure an umbrella or some other long item to the side of the pack.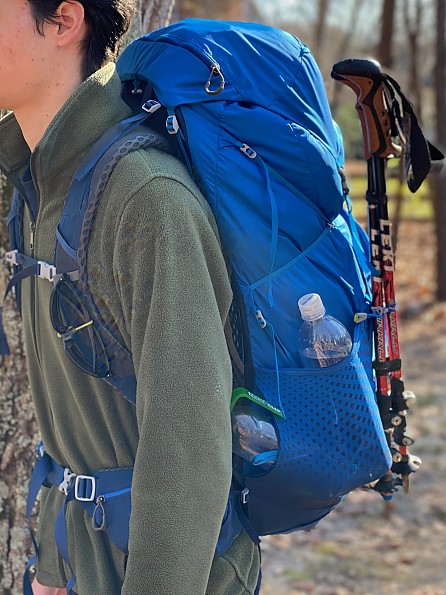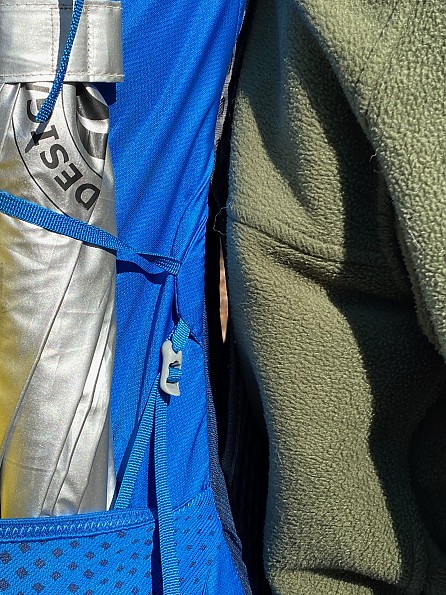 The bottom straps run through the interior of the side pockets and then under the corners of the pack: in a pinch, these V-straps can be used to attach a pouch or sleep pad to the pack.
At loads under 20 pounds (9 kg), I felt as though the Optic almost wasn't there by virtue of having ample adjustment straps that kept it close to my normal center of balance. The tubular frame and "leaf-spring lumbar pad and anti-barreling support" transfer the weight of the pack efficiently to one's hips, where the comfortable hip belt secures it.
At the maximum recommended weight of 35 pounds (15.9 kg), I found the pack provided adequate comfort for high mileage days without inducing undue fatigue, though it is at its most comfortable with a few pounds less weight. The straps and buckles hold fast, loosening only slightly with higher loads carried by vigorous movement over long miles, but they are easily tightened as needed. I wasn't shy about adding extras for those weekend getaway jaunts, either!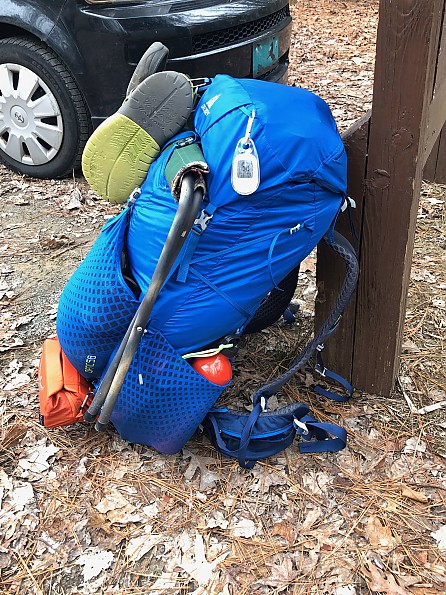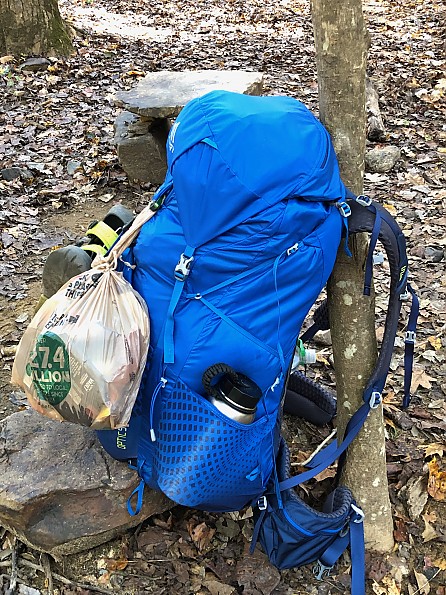 Despite the snug and secure fit of the Optic, Gregory's "AeroSpan ventilated suspension" actually provides airflow between the suspension's mesh and the wearer's back, as seen in the image below. The Optic doesn't cover the back in a closefitting blanket of sweat as might some packs. Heavenly breezes occasionally catch the pack just right and waft through this gap on hot summer days. Sweet relief!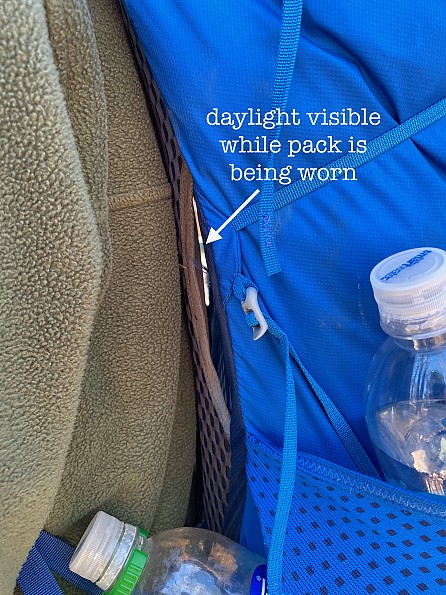 While this cushion of mesh and air is a welcome feature, summer heat and humidity invariably caused me to sweat, much to the delight of butterflies and bees when I took off the pack to rest at day's end. This isn't a factor of the Optic's design: the "AeroSpan ventilated suspension with moisture-wicking mesh" works to mitigate the effects of vigorous exercise, but the American South where I live just gets plain hot, and no pack design will triumph over Mother Nature's extremes.
Following Gregory's Care and Cleaning instructions, I have been able to keep the pack from smelling as bad as I have smelled on some occasions.
Storage Space
The Optic has a single large, top-access compartment with hydration sleeve and drawstring closure.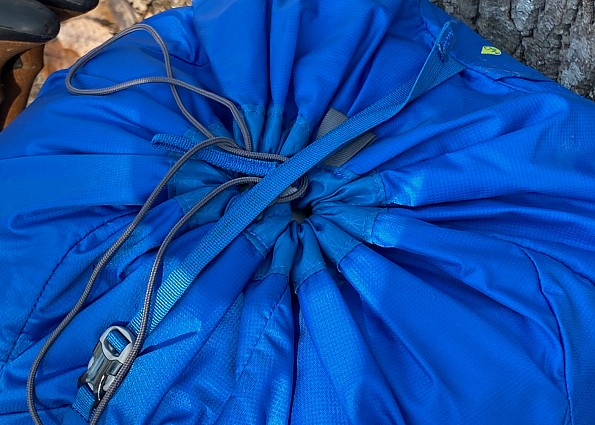 A compression strap allows one to cinch down the load from the top of the pack before closing and buckling the lid. Interestingly, the Optic comes with two lid options: a zippered top lid compartment with attachment loops, key clip, and a zippered pocket that stores the provided rain cover; and a simple weather flap that covers the drawstring cinch opening. Both fasten front and rear with buckles (and with a toggle for the lid compartment). The latter seems intended to attract those seeking a lower pack weight: one can exchange the 3.24-ounce (92 g) lid compartment for the 1.3-ounce (37 g) weather flap, a savings of 1.94 ounces (55 g).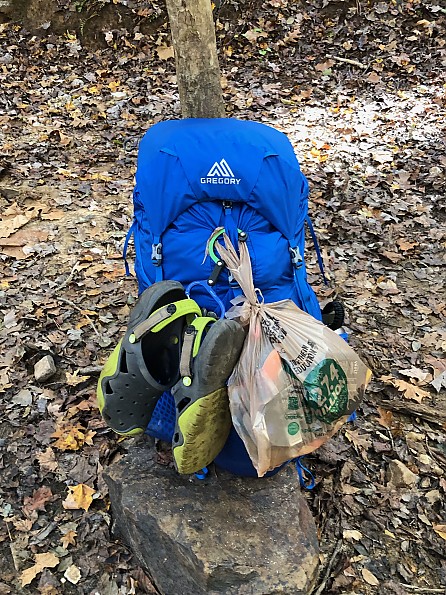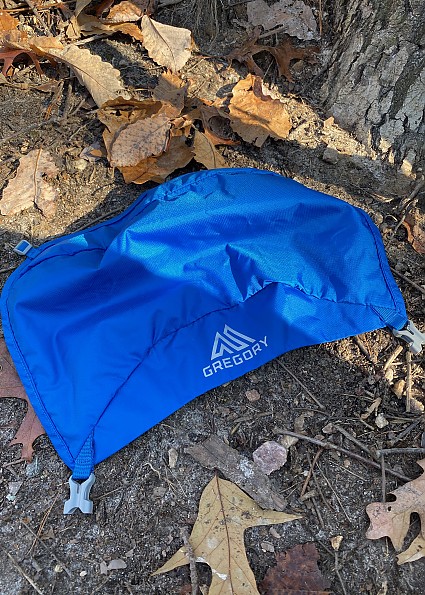 Naturally, in good weather (or with secure interior waterproofing) one could opt for neither, simply leaving both options off and going with just the drawstring top.
Gregory includes a quality elasticized, fitted rain cover (3.63 oz/103 g), too, with a grommeted bottom for drainage should that be needed.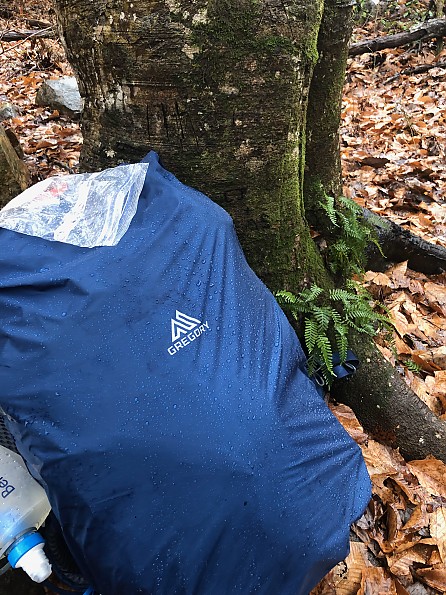 This provides a welcome layer of protection and helps to prevent the pack from acquiring added weight due to saturation. However, I've found that water has a pernicious way of finding its way inside any rain cover during long spells of driving rain. I took and used the cover on trips for added protection, enjoying its convenience and added protection against saturation, but I relied on a plastic bag inside the pack to keep my gear dry, as I always do. 
The hydration sleeve has an elasticized gather at the top to hold a water bladder in place. This sleeve is about 11 inches (27.9 cm) by 20 inches (50.8 cm); it readily accommodated my old MSR Dromedary 1.5L and seems likely to accommodate up to a four-liter bladder. A centrally located universal strap can hold a water bladder, but since my old MSR bladder had two connection points, I've made a makeshift bracket to hold it in place with the Optic's strap, as seen in the image seen below.
The hose can be fed through the hydration port in the top center of the back of the pack, allowing the hose to run down either shoulder strap.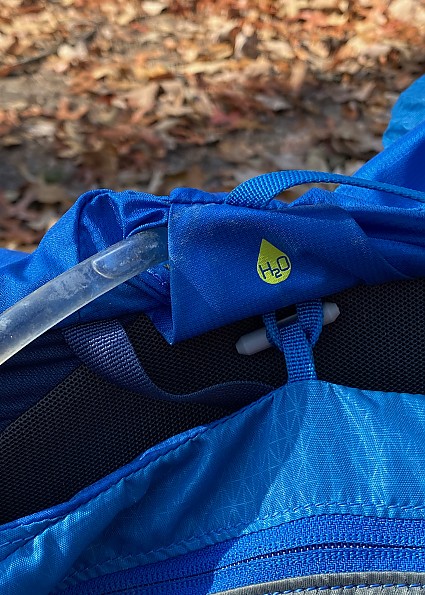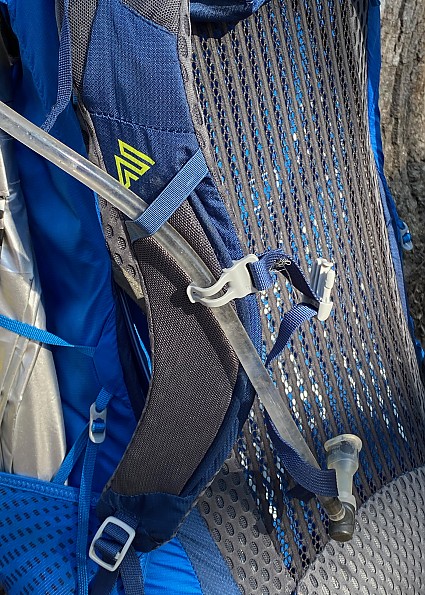 The exterior features three main pockets of stretch mesh edged in elastic. The main kangaroo pocket on the front is reasonably capacious, a perfect place to stash a rain jacket or water filter for easy access (amply stuffed on a bring-it-all trip, below).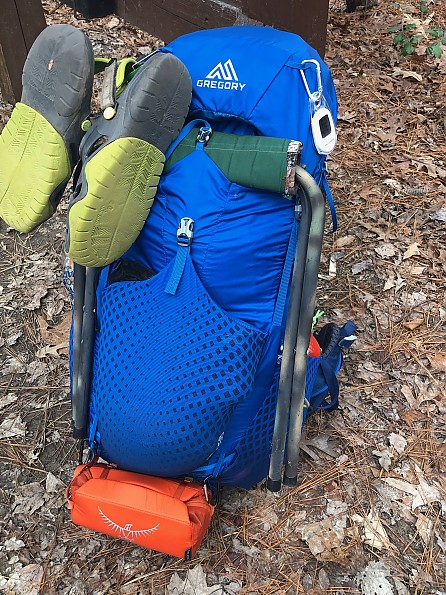 A buckled strap adjusts to accommodate larger loads in this pocket and to connect the top of the pocket to the pack.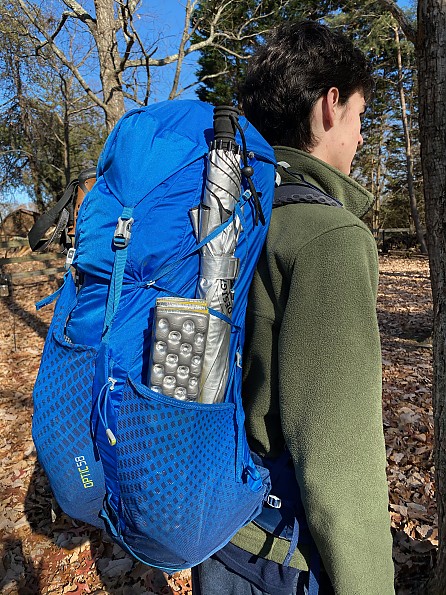 The stretch mesh side pockets are also generous, readily accommodating a Nalgene, a couple of SmartWater bottles, or even an ultralight tent (like the Mountain Hardwear Ghost UL2, pictured in the pocket, below; note sleeping pad attached via lower V-straps).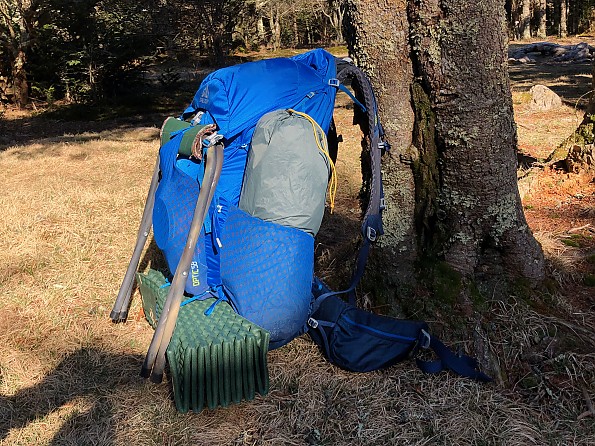 A nice feature of these side pockets is their "On-the-Go Bottle Stow" feature: a front-facing opening that allows a water bottle to be stowed in the pocket at a more horizontal angle. A thoughtfully provided loop allows one to pull the elastic edging wide as the other hand reaches across the body to readily liberate a water bottle without having to awkward arm contortions to pull the bottle out of the top of the pocket. I've always found it a bit of a struggle to return water bottles to vertically oriented pockets while continuing to hike, but replacing a bottle in the Optic is likewise a breeze by virtue of the loop that can be pulled to open up the pocket.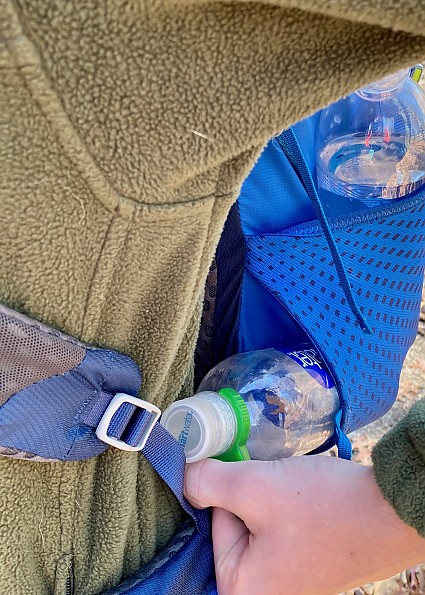 The shoulder harness features loops and a clip to secure a water bladder hose to the strap. On the left strap, Gregory has provided a "Quickstow" sunglasses retention loop to retain a pair of sunglasses around the nose bridge.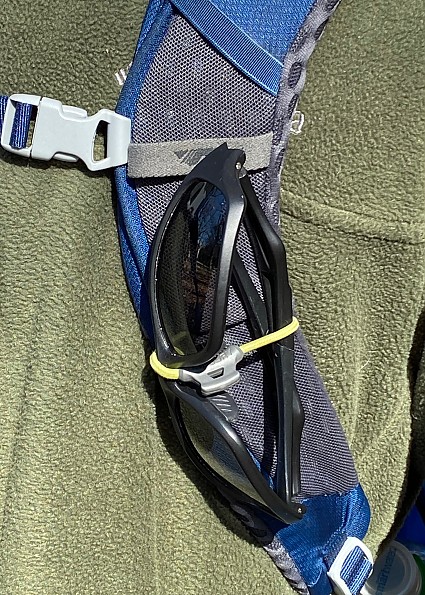 This feature is essentially shock cord with an attached plastic pull tab. It works well with sunglasses, but I found it was also sizable enough to work as a water bottle retention band when I hooked a SmartWater bottle on my shoulder strap with an AquaClip.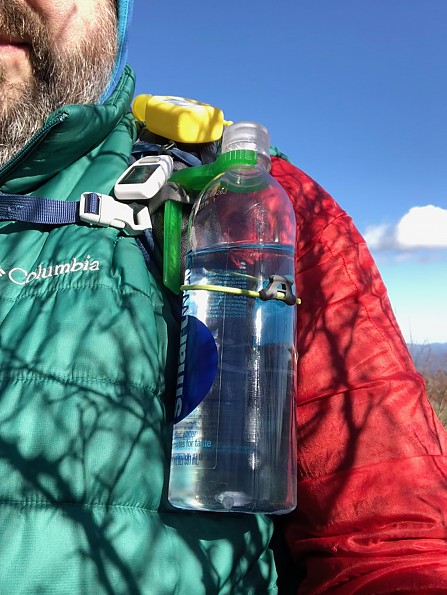 The hip belt features twin zippered pockets with molded zipper pulls for easy access while on the move.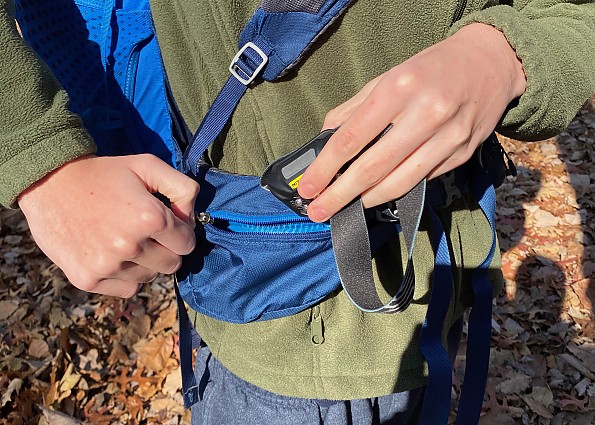 My only minor gripe about these is that I wish the belt pockets were more capacious. There are adequate for holding snacks, a pocket knife, spare batteries, or a headlamp—even an iPhone 11 Pro Max with a low profile case—but I found that they got full quickly. The phone stretched the limits of the pouch, allowing little else to be contained within. Then again, as the Optic is meant to be a lightweight pack, small belt pouches seem like an acceptable trade-off to lower weight.
Other external features include a gear loop near the bottom front on each side of the pack and corresponding gear attachment points directly above these about halfway up the pack.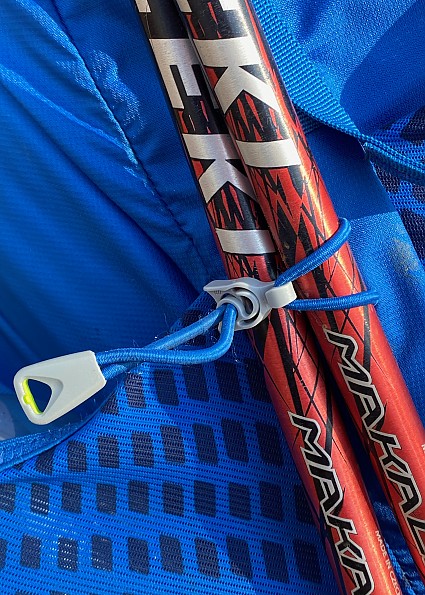 These attachment points are made of shock cord with a cord-lock to cinch them around trekking poles, an ice axe, or whatever one might need to attach and a plastic hook that speeds up the attachment process: just loop the shock cord around the item to be attached, slip it over the hook, and cinch down with the cord lock. Convenient, easy, and functional. 
Overall, I found the Optic had sufficient volume for a four-season loadout with readily accessible, functional storage areas. On my thru-hike, my gear settled into familiar spots in an organic manner, allowing me to pack or unpack swiftly as my needs demanded. Cinching the side and top compression straps and removing the lid compartment allowed me to use the pack with smaller loads. 
Materials and Wear
The Optic is made from several different sorts of fabrics, straps, and fasteners. The body of the pack itself is made of 100D high tenacity nylon. The pack bottom is made of sturdier 210D high tenacity nylon and 135D high density polyester. The pack's lining is 135D High Density Embossed Polyester for water and dirt resistance, while its exterior side pockets are made of four-way stretch mesh and the main kangaroo pocket is two-way stretch mesh.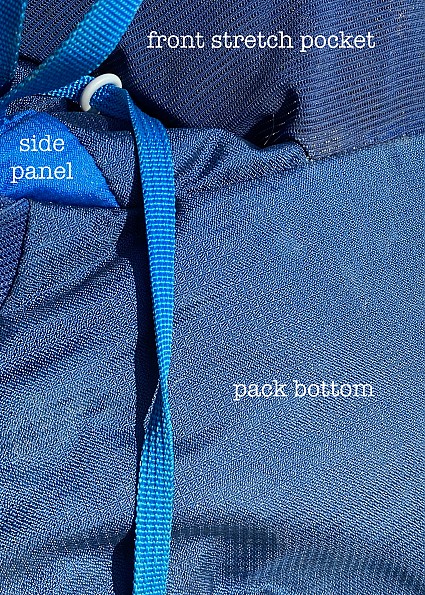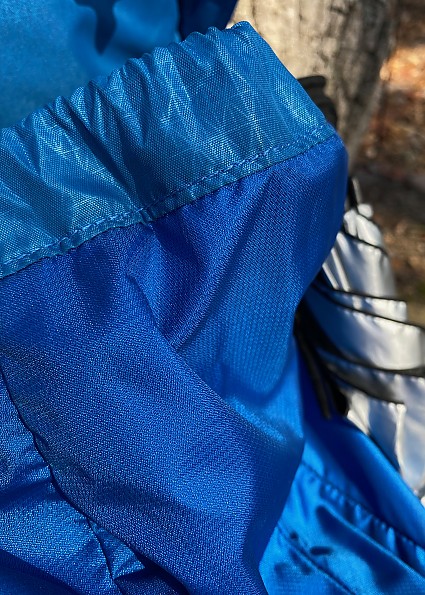 When I first began researching the Optic for field testing, I came across reviews on Gregory's site complaining of fragile buckles and an uncomfortable lumbar pad. In response to a customer inquiry about these issues, a verified reply from Gregory states "The reported issues with the buckles and lumbar pad have been addressed." Note: a subsequent Trailspace inquiry to Gregory confirmed this response; see "Gregory's Response," below.
In my own testing, I did not have issues with buckles or the lumbar pad, so Gregory's claim agrees with my own experience. The padding on the lumbar pad is not sumptuous, but I found it to be sufficiently comfortable for the maximum recommended pack load. As human bodies come in all shapes and sizes, though, you might want to try a loaded Optic at your favorite brick-and-mortar store to see how it aligns with your own body.
Where I did have one issue was with the sewing on the sternum strap. Midway through a 24-mile trip, the thread simply gave way on me, released the strap's tension. My on-the-trail expedient was to rethread the strap through the buckle and tie the end in a simple overhand knot, which readily resolved this issue until I had time to sew it back myself.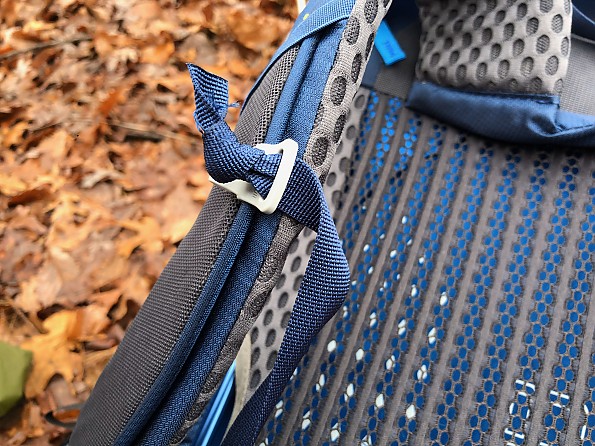 Overall, this was more brief inconvenience than substantive flaw in design. 
A second, possibly more significant area of concern emerged months into my testing when one side of the hip belt began to rip loose.

This, perhaps, could be a design issue. I did not abuse this pack in any way, but I did put miles on it. The belt is not replaceable, so if this tear continues, it could eventually render the belt unusable. 
A quick survey of reviews on Gregory's site revealed a Verified Reviewer (named "Physics") had experienced the same problem with his hip belt after 400 miles (644 km) of the Appalachian Trail. Gregory replaced his pack (kudos to Gregory for honoring their Lifetime Guarantee), but the replacement lasted 700 miles (117 km) before the second pack's belt began to tear.
Curious, I went online to look for similar failures and read other accounts online of this issue appearing on some Optics. In all cases that I found, Gregory seems to have either repaired or replaced packs in question, but the persistence of the issue raises concern about the design or manufacturing of this part of the pack. Gregory asserts that "We build our products to last a lifetime and that's how long we stand behind them." Their response affirms their standing behind their products. However, the recurrence of this issue from multiple users raises a legitimate concern about Optic 58's long-term quality.
Gregory's Response
Trailspace reached out to Gregory for comment. The following is the salient portion of their response:
We addressed both the top buckle and the hipbelt construction early in production.  The top compression buckle was swapped for a buckle using a different material although we have only seen a small percentage of those buckles break.  Additionally, on the hipbelt construction, we have gotten some returns, but those issues were addressed in production.  Unfortunately, these are handmade products, they're not made by machines so mistakes do happen, but we have a very high level of inspection that is meant to catch issues with the workmanship, or material failures.
Gregory had not heard of other sternum strap issues as a repeat problem but offered to repair or replace the pack regardless. I appreciated Gregory's candor and transparency about how the company has addressed these issues.
Conclusions
So what does all of this mean?
I found the Optic 58 to be a capable pack on the sub-3 pounds (1.36 kg) range. It provides the support and comfort of a lightweight frame in a pack for those seeking these features in this weight range. The Optic proved to be extremely comfortable for a lightweight pack, transferring its load to my hips nicely and keeping its center of gravity close to my own body. On the trail, I could forget about it, knowing the Optic and its contents were secure. It readily carried loads up to its listed maximum weight of 35 pounds (15.9 kg). Thoughtful features such as the dual hip belt pockets, sunglasses stowing strap, lid options, and comprehensive adjustment straps made the pack a delight to use. I really enjoyed the flexibility of the capacious side pockets, too.

Excellent design is attractive, and I generally think the Optic checks a lot of desirable boxes for a lightweight framed pack, but after the minor annoyance of the sternum strap seam ripping loose and with the seemingly more ominous start of a tear of the hip belt from the back, I do have some questions about the Optic's long-term durability.
Were it not for these concerns, this would be a 4-star pack. As I did experience the issues discussed above, I'm rating this pack 3.5 stars. To be clear, problems can arise with any pack from any manufacturer, and as Gregory has demonstrated that it stands behind its warranty and products, my concerns are generally assuaged: I get that things happen, but if they do, I want the company to do right by me. Gregory evidently does. So with this durability caveat in mind, my recommendation is this: if you want a well-designed, comfortable, and nicely featured lightweight pack that comes with a dependable guarantee, the Optic is well worth including in your deliberations. I have certainly enjoyed using it.
Experience
I am currently enjoying my fourth decade of backpacking and camping. In recent years, I've been focusing on reducing my pack weight to prolong my backcountry pursuits, giving the trimmed treatment to some packs or carrying light options like my Klymit Motion pack. My testing of the Gregory Optic was a four-season endeavor. I took the Optic on a number of seasonal, shorter one- and two-night trips throughout the year as well as a weeklong, 76.2-mile summer thru-hike of North and South Carolina's Foothills Trail. This allowed me to try different loadouts, from lighter loads for balmier conditions to deep winter loads that featured extra insulation.

Conditions during field testing ranged from hot sun to cold rain, from calm to 50+ mph/80.5 km/h wind gusts. Though I did not track every trip, I'd estimate I logged nearly 200 miles/321.869 km with the Optic and plenty of elevation change. My AntiGravity Gear Pocket Profile for the Foothills Trail indicates 42,228 feet/12871 m of total elevation change on that trail alone (PUDs or MUDs, not net elevation gain or loss). The bottom line is that I got to know the Optic well!
Source: received for testing via the Trailspace Review Corps (Sample for testing and review provided by Gregory)

Your Review
Where to Buy
Help support this site by making your next gear purchase through one of the links above. Click a link, buy what you need, and the seller will contribute a portion of the purchase price to support Trailspace's independent gear reviews.
You May Like
Specs
small
medium
large
Price
MSRP: $209.95
Current Retail: $154.95-$209.95
Historic Range: $119.95-$209.95

Weight
2.4 lbs / 1.09 kg
2.52 lbs / 1.14 kg
2.7 lbs / 1.22 kg
Volume
55L / 3356 cu in
58L / 3539 cu in
61L / 3722 cu in
Fits Torso
16-18 in / 40.6-45.7 cm
18-20 in / 45.7-50.8 cm
20-22 in / 50.8-55.9 cm
Fits Hips/Waist
27-45 in / 68.5-114.3 cm
28- 48 in / 71.1-121.9 cm
30-53 in / 76.2-134.6 cm
Rain Cover Weight
0.2 lbs / 91 g
0.21 lbs / 95 g
0.21 lbs /95 g
Stripped Weight
2.29 lbs / 1.04 kg
2.42 lbs / 1.10 kg
2.27 lbs / 1.17 kg
Max Carry Weight
35 lbs / 16 kg

Packed Dimensions
26 x 12.5 x 11 in / 66 x 31.8 x 27.9 cm
28 x 12.5 x 12 in / 71.1 x 31.8 x 30.5 cm
30 x 12.5 x 12.5 in / 76.2 x 31.8 x 31.8 cm
Recently on Trailspace