Gregory Nano Waistpack

The Nano is a 3.5L waistpack that provides storage for gear or snacks in three zippered pockets. Coming in a wide array of colors, from subtle to bold, the Nano is ideal for hands-free storage of gear, meals, or snacks on walks, hikes, or bike rides—from a short, impulsive walk to an all-day trek.
Pros
quality materials and construction
multiple compartments allow useful organization
capacious main pocket can stow much
Cons
single size may be too large for some users
DWR coating not as hydrophobic as some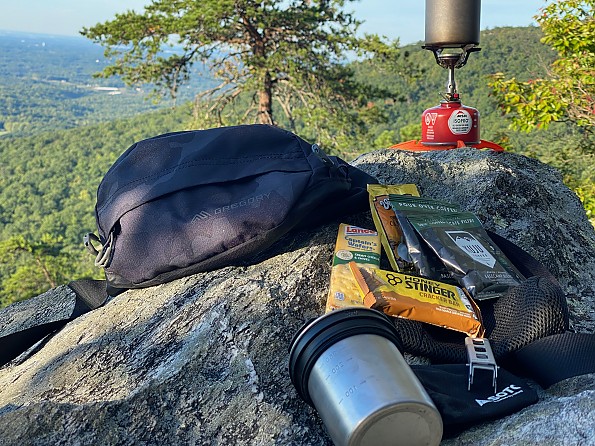 A waistpack is a great grab-and-go option for carrying phone, keys, snacks, camera, and more, offering the user convenient access to items without the bulk of a backpack or as a means of adding extra carrying capacity at one's fingertips.
The Gregory Nano is a 214 cu. in./3.5 L waistpack that features three zippered pockets, a 1.5 in/3.8 cm wide strap, and a padded "Airmesh" back panel. The back bottom is made of 420D High Density nylon while the pack body is made of 210D Honeycomb CryptoRip nylon. The interior lining is "40% Post-Consumer Recycled 135D Polyester." The zippers—single on the front and rear pockets, double on the main compartment—all feature "comfort-grip" zipper pulls for easy of handling.
Durable and capacious, the Nano carries a surprising amount of gear in comfortable and secure fashion. The Nano waistpack comes in six colors—Obsidian Black, Spark Orange, Calypso Teal, Tropical Forest, and—what is pictured in this review—Woodland Camo. This color range offers options from sedate to bold.
Design
The Nano features three pockets. The first is a flat pocket next to the back panel that is ideal for carrying flat items such as a cell phone. My iPhone 11 Pro Max fit in this pocket with room to spare. A pair of relatively flat sunglasses would also fit. Closest to one's waist, this is the most secure pocket. It does not have a hooded zipper, doubtless to facilitate getting things in and out of this pocket when the Nano is being worn.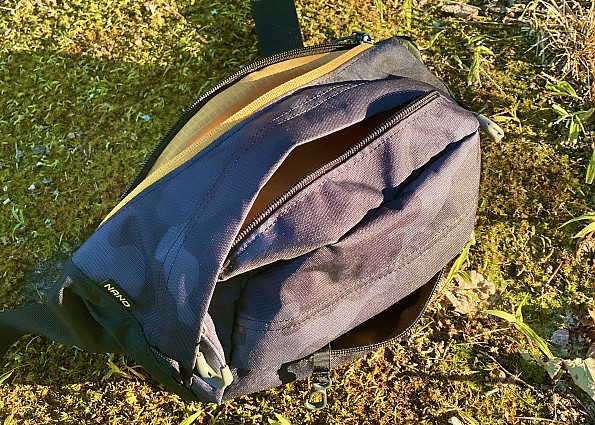 The second pocket is the capacious main compartment. Separated from the rear flat pocket and the front zippered pocket by gridded, ripstop nylon, this main compartment readily held my Canon EOS Rebel with an attached 35mm lens and a separate 18-135mm lens (I provided my own padding), for example, or—on another trip—my Soto Thermostack cook kit, a small isobutane canister, my Soto Amicus stove, and plenty of snacks and coffee for a day on the trail.
For perspective, this main compartment is also large enough to stash a 32 oz/1000 ml Nalgene bottle if one wishes to do so. The seams of this pocket are rolled and sewn within a black nylon reinforcement. The zipper for this pocket is hooded, providing a measure of weatherproofing.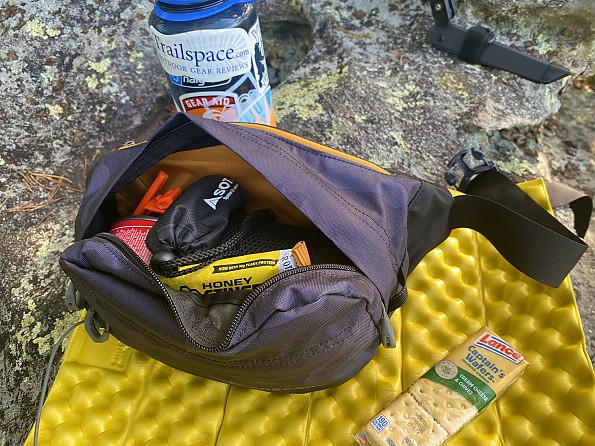 The third pocket, furthest from the padded back panel, is another flat pocket that is about half the height of the waistpack. Like the main compartment, it also features a hooded zipper. A key chain clip offers an option for securing one's keys in this front pocket.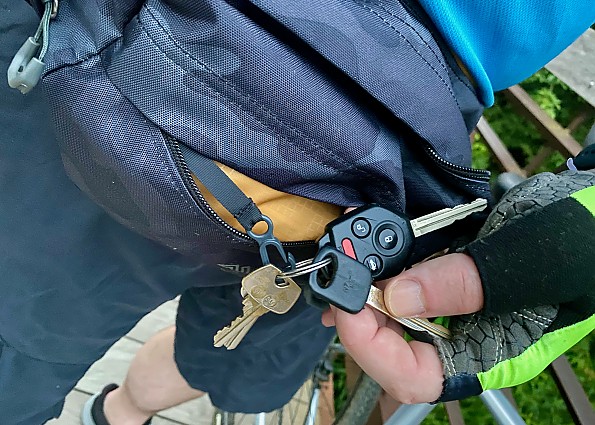 The padded back panel is about .5 in/ 1.3 cm thick. It appears to have a base of lightweight foam to provide structure that is covered with a more compressible, comfortable foam and a layer of black "Airmesh." The Gregory site lists the foam as "perforated CLPE foam."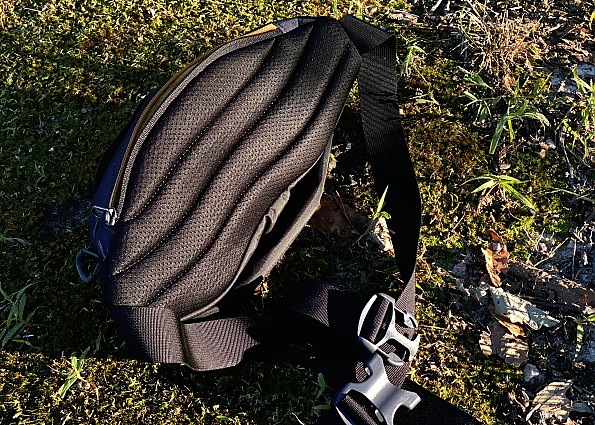 Use
The Nano's generous waist belt (about 54 in/ 137 cm in length) allows the pack to be worn about the waist or as a sort of sling pack over one shoulder and beneath the opposite arm. Regardless of wearing mode, the buckle snaps on with a satisfying and secure click, and the back panel that gives structure to the whole pack has a sort of football-shaped design that is comfortable and conducive to fitting my body in either the waist or the sling mode of wearing.
The strap's generous width prevents the sling mode of carry from being uncomfortable, although I'm not sure that I'd want to wear a packed, heavy Nano in this fashion for too long—no unpadded strap will remain comfortable if it is bearing too much weight.
While Gregory refers to the mesh padding as "Airmesh," it would be naive to imagine that a swath of foam pressing against one's body is really going to breathe. I did not find it noticeably hot or uncomfortable or annoying on warm days, and I was grateful that the sweat absorbed by the outer mesh seemed to dry up fairly quickly in a breeze once removed. 
When I wore the Nano with my Osprey Talon 22 daypack, I was able to fasten both my daypack's belt and the Nano's for greater security when clambering over blowdowns along the trail. I liked having the Nano in front, though of course one can shift it to the rear, too, when wearing it.
In my use, I found having such a capacious pocket at one's fingertips was quite satisfying when reaching for camera or snacks. Unlike my Osprey's small hip pockets, which require reaching back or across one's body to open and close, the Nano sat in front of me, offering easy access to energy gels, crackers, and the like. The zippers are workable with a single hand, too, another boon.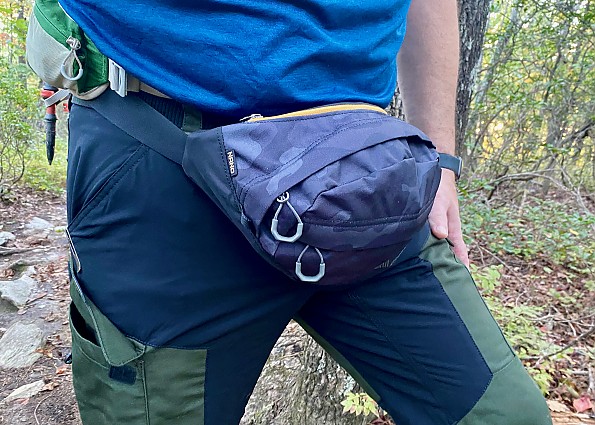 On one beautiful fall morning, the Nano carried everything I needed to boil water for coffee. While I did not attach a water bottle to the Nano or shove a bottle inside it on that trip, I could have secured a bottle to the exterior webbing attachment loops had I wished to do so. These webbing loops, incidentally, are billed as "reflective." They are: a single line of reflective stitching is present, but this thin line is hardly something that will call much attention to the wearer.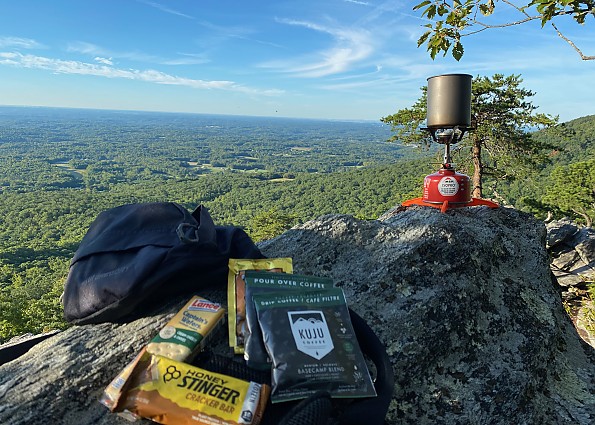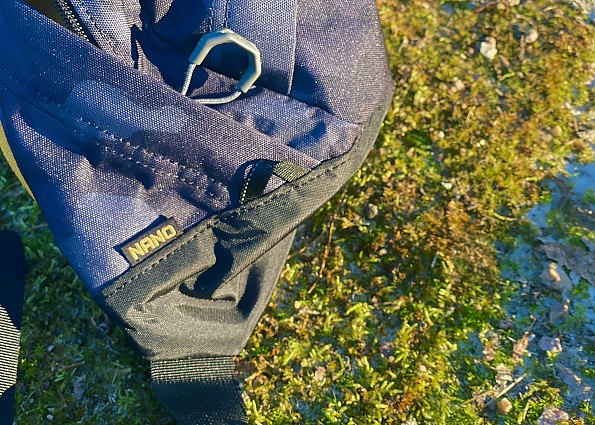 Overall, I did not find that the Nano impeded my stride when worn in front, but I should note that I am 6' 2"/188 cm. A smaller person might find the Nano to be bulky relative to his or her body size, and it could prove more of an impediment then.
Conclusions
Update (10/26/21): When testing the Nano, I was struck by what appeared to be a lack of a DWR coating on the pack. Upon inquiry from Trailspace, Gregory confirmed that the pack receives both DWR and PU treatment. The video below shows a comparison between another Gregory product with DWR treatment and the Nano.
When I thoroughly doused the pack to see how it would hold up, water did work its way into the main compartment, though nothing short of a microburst is likely to compare in nature to my dump-a-Nalgene-on-it test. Gregory speaks of the Nano as being for one's "daily routine"; perhaps their assumption is that one's routine is more of a fair-weather one. Update (10/26/21): Note the comparison video that follows the image, below.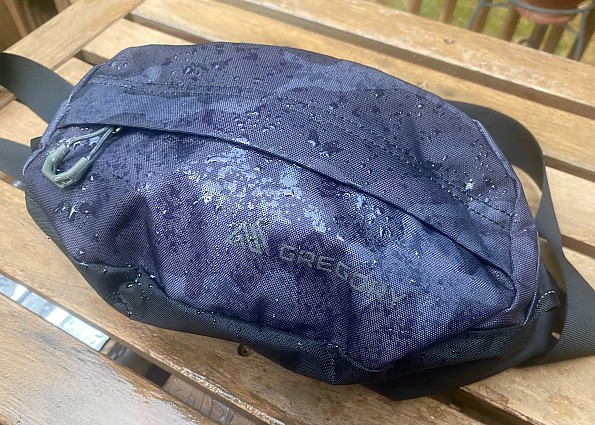 Aside from this curious DWR observation, the Nano proved to be a convenient, worry-free option for times when I wanted to carry items in a hands-free way, either on my bike, at times when I didn't want to carry a full pack, or as a means of supplementing a daypack with a convenient front-access pocket option. Loaded fully, it rests comfortably against the body; with a partial load, one might consider taking along individual pouches for items to prevent them from bumping together during vigorous movement. 
The Nano is capacious, though its capacity could be a pro or a con: Gregory offers only this relatively generously sized Nano waistpack; either fully or heavily laden, the Nano might prove an obstruction to movement or overly bulky for users with smaller and more slender builds than your 6'2" reviewer. The Nano is the only waistpack in Gregory's line-up; a smaller Nano (perhaps something in the 8-10 in/ 20-25 cm wide size) might attract users of smaller stature.
Overall, the Nano is a well-made and useful waistpack capable of hauling a significant amount of gear or goodies in comfortable fashion. The wide strap and padded back panel helps keep the pack in place while moving on the trail, although I never tried running with it on a trail—Gregory's marketing characterizes it as being one's "daily routine."
The Nano fills a niche of capacious convenience, providing ample storage at one's fingertips whether slung about the torso or about the waist. Its capacity, simplicity, and quality make it an excellent option for walks, hikes, biking, and travel or—as Gregory suggests—one's daily routine, should such a waistpack be a part of it.
Experience
A child of the 1980s, I sported trendy packs similar to the Nano around the globe on my travels. The Nano offers an updated and more dignified sounding "waistpack" design that I toted on numerous bike rides and day hikes in Southern U.S. summer and early fall temperatures and weather. While generally used in fair weather, the Nano did catch a passing shower on one trip.
Source: received for testing via the Trailspace Review Corps (Sample for testing and review provided by Gregory)

Your Review
Where to Buy
Help support this site by making your next gear purchase through one of the links above. Click a link, buy what you need, and the seller will contribute a portion of the purchase price to support Trailspace's independent gear reviews.
You May Like
Specs
Price
MSRP: $39.95
Current Retail: $39.95-$39.99
Historic Range: $21.99-$39.99

Fits Torso
14-19 in / 35.6-48.3 cm

Weight
0.46 lbs / 209 g

Volume
3.5 L / 213.5805 cu in

Packed Dimensions
5.5 x 13.0 x 4.0 in / 14 x 33 x 10.2 cm

Number of External Pockets
3

External Material
100% Nylon

Pack Body
210D Honeycomb CryptoRip Nylon

Pack Bottom
420D High Density Nylon

Lining
40% Post-Consumer Recycled 135D Polyester

Suspension
Perforated CLPE Foam