Gregory UM21 Backpack

The UM21 Backpack has been discontinued. If you're looking for something new, check out the best expedition packs for 2022.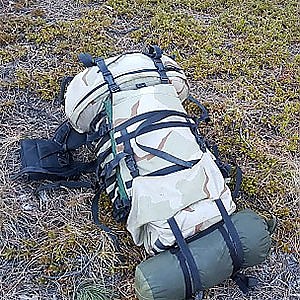 Specs
Price
Historic Range: $1,435.50
Reviewers Paid: $90.00-$300.00

Reviews
6

reviews

5-star:

2

4-star:

3

3-star:

1

2-star:

0

1-star:

0
Still relevant.


Pros
Bombproof
Lots of adjustment
U.S. made
Cool camo options, no girly multicam
Hauls massive amounts of weight comfortably
Cons
Heavy
Lots of adjustment (somewhat complicated)
Do you abuse gear? Do you hike off-trail, through brush, over rocks and don't want to worry about a branch tearing a hole in the latest, lightest and most expensive nano-fabric? Have you passed through the ultralight gear stage and want a pack (or in addition to UL) that lasts longer than two seasons and doesn't require kid gloves treatment?  Do you really like straps?
If yes to any or all of those then this may be the pack for you.
Fit: Tons of adjustment to fit almost any body type. Not sure about women as it was designed for Special Forces as part of the SPEAR program.
Comfort: I find it to be every bit as comfortable as my "modern" GoLite, Gregory, Six Moons Designed packs due to the amount of adjustability including torso sizing and hip-belt cant. In fact, it carries really heavy loads (60+lbs) better than any of my other packs because it was designed to.
Pic below I'm carrying around 60 lbs of winter camping gear up a steep ridge comfortably. My other ultralight packs begin to struggle around 50 lbs.
Capacity: 5000+ cu in not including the side pouches. There is PLENTY of room in the sleeping bag compartment for my 2lb 12oz, GoLite 850 fill, long, 4-season bag. I could fit five or six of my Western Mountaineering SummerLite bags in that compartment. No dice on stuffing the 3-piece MSS as it's a huge, heavy beast of a system.
Organization and Accessibility: This is one area where a lot has changed in 16 years (since the UM21 was developed). You do get a sleeping bag compartment and dual access for the top pouch but that's it. The optional side pouches are nice though as one can remove them or use them to keep things easy to access and organize.
Also, unlike your standard civilian backpack, MOLLE attachments allow for tons of different mounting options and pouches. E.g. an inexpensive rifle mag pouch is great for carrying a large smart phone in an Aloksak or small Pelican case or a 30 round PMAG. Canteen holders make great, inexpensive general use pouches. You can then remove and add pouches to tailor fit your needs.
E.g. I added a MOLLE II sustainment pouch on the rear of the compression pad for quick access gear.
Ride: Adjustment options and 20,000 straps should equate to a good ride. The UM21 is no exception. Great ride, tons of stability.
Compression: 20,000 straps also allow for good compression of med to large loads. Smaller loads would benefit from riding in a day pack.
Ease of Use: There are a lot of straps and adjustment options but once dialed, they usually don't require much readjustment. However, there are still a lot of straps that are like 2 feet too long. They can be cut but what fun would that be?
Features: The front compression "plate" doubles as a seat and works well to hold quick needed items like a rain shell. There are slotted openings for radio antenna that work GREAT for hydration hoses. There is also an internal pouch designed for a radio that also works great for a hydration bladder (it's actually large enough to carry two full 100oz Camelbak bladders). Lots of MOLLE attachment options as well as top and bottom pack straps to attach pads or other things to the exterior.
Construction and Durability: Top notch on both accounts. Ultra-heavy duty materials. U.S. designed and made by Gregory.My pack still had some desert sand and sweat stains and had clearly been well used and yet is still rock solid and could probably last through another couple of wars.
Conditions: I have used mine here in Colorado. Mostly cold weather. The three-color desert pattern is very low key as well and doesn't really scream "military pack" IMO as much as the woodland pattern would. Three-color desert pattern works fairly well in the semi-arid high country but could stand to have a bit darker tones if wishing to match this area. Regardless, is a good choice for those not wanting to disrupt others visuals or remain undetected for whatever reason.
Bottom-line: If you can snag one of these (without patrol pack or fanny pack) for under $200 in good condition then it's one heck of a bomb-proof pack for the money. Just take the time to PROPERLY size it and it will be GTG for a lifetime. Plus, these packs have cool historical value as they were actually used by some of the best like the Green Berets of the 5th SFG.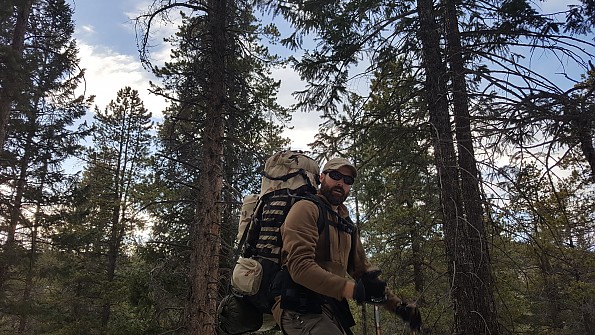 Source: bought it used
Price Paid: $90

Designed for the elite forces, load capacity up to 120 lbs, handles a heavy load like a dream. Ski carriers on each side holds your tent poles perfectly, very versatile with strap attachments all over the pack. You can literally strap just about anything you can think of carrying onto this pack!!!!!
Pros
Extremely comfortable with heavy loads
Superior materials / construction
Very versatile with all sorts of attachment straps
Ski holders double as tent pole slots - holds securely
Universal fit - adjusts to fit just about anyone
Top lid has two openings - 1 for when covering pack the other allows opening from bottom while you are in main pack
Cons
Strap system takes some figuring out
Straps need to be customized to your needs
This pack was made by Gregory in the USA for our Elite forces, made from top quality materials with American workmanship.
The pack is rated for 120lbs. It handled about 60 lbs on a 10-mile test for me with superior comfort and load stability. The Gregory Flo Form II strap and belt system is beefed up and gives superior comfort and weight distribution, very stable, no load shifting.
Obviously you would not want this pack for an overnight, but it has endless possibilities as an expedition pack at 5400 cu. inches and the ability to add numerous pockets increasing the capacity and organization. The cross country ski holders is extremely handy for stowing your tent poles on the outside of the pack.
This pack would last a lifetime under normal backpacking demands as it was designed for the harshest environments under wartime conditions. Get one while you are young and have fun trying to wear it out!!!!
Source: Purchased on eBay

absolutely bombproof pack, but it's not without its peculiarities and problems. you'd have to be on crack to pay $1200 for one of these. i don't care how superior the materials and workmanship are, these packs, used, with the 4 molle pouches, but, without the accessory assault and butt packs or the compression sacks, would not be worth a dime over $400. at least, not to me.
i've carried a um21 all over eastern europe and asia-let me tell you that it can get heavy. it weighs about 16lbs empty... all the straps on the thing take forever to secure and organize, that's a pain...the waist belt (the most important weight distribution part of a pack is designed to go over a military belt, if you are just civvy hiking, a support belt should be worn to comfortably carry the weight on your hips and legs.
if you pack it properly and get all the adjustments right, though, and it is completely comfortable with a lot of weight. but...believe me, you'll regret setting off with 125lbs in your pack unless you're a real badass. i'm 6ft/175lbs/run 10 miles a day, and the most i'll comfortably carry in my um21 is about 75lbs, because the damn pack weighs so much bone dry and empty, to begin with.
another annoying thing about this pack is that the standard 5-piece military sleep system (just 2 sleeping bags, a bivy cover and 2 stuff sacks) when properly packed will not fit into the sleeping bag compartment at the bottom of the pack.
i got a good deal on mine, but if i were to do it over again, i would definitely opt for either the usmc ilbe pack, kifaru emr, or a good ol' fashioned cfp-90 or a european bergen. i have heard good things about many civilian packs, as well.
BUT, if you were to look at my pack, today, you would never be able to tell how extensively it has been used in the field. it's been thrown into and out of so many vehicles, it's been drug on cement and genuinely abused, yet it cleaned up with soapy water and rags, has no fraying or marring, even on the seemingly delicate spongy-type shoulder/waist harness material.
the plastic pieces have not snapped in cold weather, the zippers have NEVER EVEN ONCE, that i can recall gotten stuck, much less damaged. the waterproofing on the interior is still completely intact.
everything that is supposed to be stretchy still is, everything that's supposed to be in a particular place has stayed put. no rips in the material, no weakening of the seams-whatsoever.
it is my understanding that 95% of the soldiers that were issued these packs hated them and used either alice/malice/kifaru/etc. mine has been good to me, but i'm not sure i could carry everything i needed in the pack AND a weapon/magazines and ammunition/comms/whatever other requisite tools. all of that and the pack could weigh as much as i do.
can you tell that i'm not exactly sure how i feel about this pack? i'll say this: i don't think i'd ever take it overseas again. but who knows?
Price Paid: $300 (years ago)

This pack is amazing. If you can find it with the "complete system" for a cheap price get it! (Make sure it comes with the 4 stuff sacks, and the 4 side bags.)
I've had mine over 3 years now and nothing has broken on it. Keep in mind that this is a military backpack, it's built for the demands of our special forces units. A "tank" for a backpack. A super Gregory.
A couple of modifications I recommend are, carefully cutting out the inner bulky compartment in the main bag, it just adds weight and takes up space. Also using one of the long skinny stuff sacks as a holder for any Camelbak pouch. It can hold two full 3L reservoir, and using the radio antenna holes for the hoses.
If you have any questions please feel free to email me at jasonallenryan@gmail.com
Max. Load Carried: 80
Height of Owner: 5'11"
Price Paid: $225

If only it had an integrated hydration provision it would be the best backpack in the world.
I very much love this pack. My wife and I each have one. They are beautifully over-built, super-heavy duty packs, made in the USA.
But the UM-21 packs don't have any provision for hydration and Gregory doesn't make a matching SPEARS/MOLLE2 hydration pouch for the UM-21. And let me tell you, when you communicate with the folks at Gregory and point out this glaring oversight to them, boy do they get pissy!
But regardless the UM-21 is a superb pack, just be ready to address the issue of on-board drinking water, because Gregory will be of zero help I assure you.
We have used our UM-21s as the basis for the making of two, mondo, bugout bags in anticipation of the almost inexorable implementation of martial law come the rapidly approaching fallout from peak oil. With that in mind, the UM-21 will carry a lot of very useful items and will do so with the utmost of comfort. No other pack is even remotely as easy to wear for extended periods as is the UM-21, and to be sure, no other pack will carry as big of a load as will the UM-21 - and still be easy on your shoulders and back.
Ebay sometimes has good deals on the UM-21 packs, just check to make sure that you also get the additional four side packs that come with the UM-21 main pack. They make a lot of difference and are excellent for holding all sorts of goodies. The matching butt pack (also made by Gregory) is a fine piece of equipment as well. Get one if you can.
Stick a Katadyn water filter in your pack, a reliable fire starting solution, some 550 paracord, a Hennessy hammock, a Heatsheets emergency bivy; a fishing kit, a Leatherman Wave, some ultralight cooking gear, Orikaso plates, a good spork, and a high quality survival knife (Ontario or Ka-Bar, for example), some good rain gear, and a Gerber axe combo - and you are basically set for business.
And if you do get yourself a UM-21, please be sure to email Gregory and express your displeasure about the sad fact that the UM-21 does not have any provision for hydration.
Have fun!
Design: Internal, top loading, with seperate sleeping back compartment
Size: 6000+ cubic inches (big)
Number of Pockets: numerous, easy to add more
Max. Load Carried: 105lbs, wife carries 93lbs
Height of Owner: 6ft
Price Paid: $225

Bloody awesome pack system. Very comfortable, and easy to modify to your size. The patrol pack is the best all around, everyday pack. This one was issued to special forces units in desert camo. Looks cool and will hold the kitchen sink too!
Design: top loading internal
Size: large
Number of Pockets: 5
Max. Load Carried: 120lbs
Height of Owner: 6'1"
Price Paid: $200 used

You May Like
Recently on Trailspace