Gregory Z 30

The Z 30 has been discontinued. It was replaced by the Gregory Zulu 30.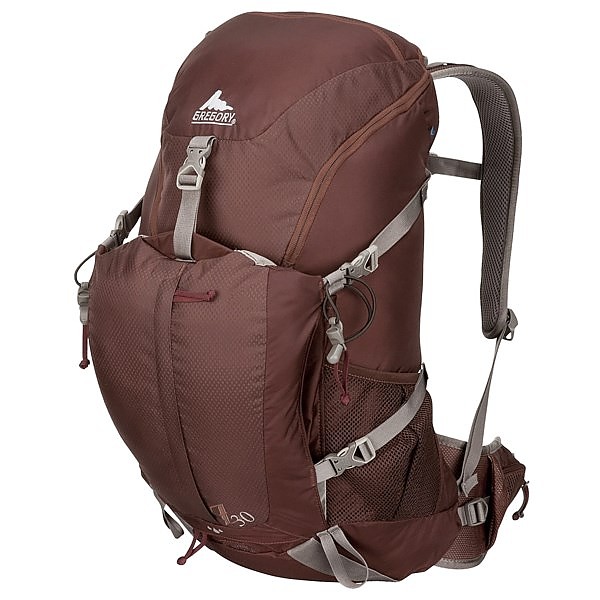 As with other Gregory packs, this one is well-designed and offers every feature I could imagine one would need in a daypack. That said, it could be tougher. Skinny hikers that have a medium build may also have trouble cinching the chest and waist tight enough.
Pros
Excellent design
All the features one would need for a daypack
Very light
Comfortable fit...
Cons
Material ripped a little too easily — delicate
Brain is non-removable
Fit is compromised for slim people (chest and waistbelt doesn't cinch tight enough)
Gregory makes great packs. That's why they are, by now, a household name within backpacking and hiking circles. For a daypack, this gear provides plenty of features and a comfortable fit. Just make sure that you don't play too rough!
The shoulder straps are very adjustable. The chest and waist are too, to a point. You slim folks out there had better try this pack on before deciding whether or not to wear it on those longer day hikes. On hot days the ventilated back does a great job of harnessing airflow to the packer's advantage. Although I couldn't get the ideal fit, the pack still rides well and is quite comfortable for its size. This I tested with a variety of loads.
The pack does manage to fit a good amount of gear in it. I have packed overnights with it, even though it's not meant for that. If you filled the brain, main, and back compartments for just a day hike, I'd recommend cutting some things out. There's more than enough room for that. The waist pockets are a handy place to keep small things you may need easy access to. The caveat there is the mesh pockets - so if you're out in the rain or around water, be careful!
The pack allows great options for equipment. A hydration pocket accomodates a sizeable bladder and water bottle pockets can hold 1 L bottles (possibly larger) with ease. The pockets do rip though — so be careful since they are mesh as well. Some of the buckles go all the way across the pack and can be used to secure multiple items. This is good in the simplicity sense, but can create problems if one is trying to retrieve an item from the pack and unintentionally knocks loose other gear. The straps and buckles are tough and work as needed and expected.
Other spots where the pack has ripped are on the outside of the brain and the bottom of the pack, which developed a hole. The brain hole is fine as it doesn't communicate to the inside of the pack (although water accumulation within the membranes is a concern) and the bottom hole was fixed easily with two pieces of hot pink and grey duct tape.
The brain is not removable, which I feel would be a helpful feature for mountain hikes where stashing the larger load would be useful while peak-bagging with the essentials. In contrast to this, the waistbelt pockets are very useful for easy access to things like a granola bar or lip balm.
Despite some lacking durability, the pack retains most of its functionality. Over the last few years, I have used it in Africa, Asia, and North America. It is easy to repair when repairs are needed and exceeds its intended usefulness. Whether as a travel pack or on short expeditions, I would find the Z30 to be a great companion. Hopefully Gregory has toughened up their updates to this model.
Source: bought it used
Price Paid: $120

Great for day hikes of all sizes. Small enough to not slow you down, yet big enough to take that extra gear for extreme conditions. Well organized thought out design obviously done by people that love and experience the outdoors.
Pros
Fit
Capacity for a 30 L pack
Organization
Cons
I am still old school and prefer water not in a bladder
Perfect sized pack for day hikes of all sizes, from lengthy all-day peak bagging to smaller outings.
Pack moves with your body as it should as you scramble, providing the balance that you need.
Has the rain cover neatly and conveniently stashed with the pack adding extra value and a much needed accessory.
I have had this pack a couple of years, using it almost every weekend. There are newer versions now available.

I have basically three packs that I use extensively:

A Gregory Forester that I have used hiking the AT and numerous week long hikes in numerous National Parks and lengthier hikes.
A Gregory Z55 that I have used for years for lighter loads and doubles as an airline carryon for me.
And my latest addition for the past couple of years is my Z 30. 

I have tried several other packs, but basically will stick to these three designs for all my hiking needs.

Source: bought it new
Price Paid: $95

Great pack. I got this as a present for my high school graduation, and it was a great gift. The fabric is very sturdy, and has stood up to plenty of wear and tear, including sharp rocks. As a day pack this excels. The volume is perfect for short trips, with room for a jacket or two, food, lots of water in the outside pockets, and plenty of easily accessible smaller pockets for general use.
The fit is perfect. Weight sits evenly on my lower back, and not on my shoulders. I rarely feel that I have any pack on at all, and it fits snugly enough for trail running.
My criticism: although the inside of the pack is ample volume for a small cook stove, some food, a jacket, and some essential overnight gear, it will not fit a tent or sleeping bag. Also frustrating is the lack of any kind of cinch pulls that could be used to put bigger gear on the outside of the pack. In reality, it is nowhere near a practical choice for an overnighter.
Great day pack, difficult for anything longer.
Design: Top-loading semi-external x frame
Height of Owner: 5'9"
Price Paid: $130

Great pack for light alpine day ascents (ie..14ers in Colorado). Pack has just enough attachment points for most gear you will need (ice axes, crampons, helmet).
I bought this pack for peak bagging in Colorado. This pack is perfect for just the essentials while climbing 14ers, ie.. shell pants and jacket, extra gloves and socks. Most times I don't even notice the weight, even with an ice axe and crampons strapped to the outside.
As with any outdoor gear if you use it with in the limits of what it was designed for, you will be happy with the purchase.
Source: bought it new
Price Paid: $80

Great pack to have if you're a frequent day hiker. There are just enough pockets and space to put what you'll need without getting too bulky. Could use an organizing departments.
It's a great versatile bag that doesn't restrict movement, and it's pretty well centered and balanced in terms of weight. Only use for day hikes and may not be sufficient enough for an overnight (however, not impossible).
Size: 1650 cu/in
Number of Pockets: 3
Max. Load Carried: 15 lbs
Height of Owner: 5'7"
Price Paid: $120

I bought this pack in women's size medium for my 12-year-old daughter to use for her wilderness survival training. She loved the comfort and not having to mess with a top "lid" to load the pack.
However, yesterday she carried it with about 30 pounds on a rigorous hike to Horsetail Falls in the Sierras near Tahoe and on the steep descent over the granite boulders, the material on the bottom of the pack totally blew out from scraping on the granite. The material is very thin and does not hold up to abrasions. It is damaged so badly that it is not repairable. This was only the second time she carried this pack on an outing and now it is trashed.
I only gave any stars because it is lightweight, is well ventilated, and loads well, but it doesn't hold up at all to trail conditions such as granite rock crawling. I would imagine this thin material would rip to shreds in the brush or think trees as well. It might be good for travel or easy hiking, but not tough conditions. I have several other Gregory packs and they have all held up well, but the material, especially on the bottom, is much more durable. Not money well spent.
Design: Top loading multi-day
Size: 3000 cubic inches
Number of Pockets: 3
Max. Load Carried: 30 pounds
Height of Owner: 5' 4"
Price Paid: $130

Your Review
You May Like
Specs
medium
large
Price
Historic Range: $27.73-$149.00
Reviewers Paid: $80.00-$130.00

Weight
2 lb 10 oz / 1.20 kg
2 lb 12 oz / 1.25 kg
Capacity
1739 cu in / 28.5 L
1861 cu in / 30.5 L
Torso length
18 in - 20 in
20 in - 22 in