GSI Outdoors N-Form Pot Gripper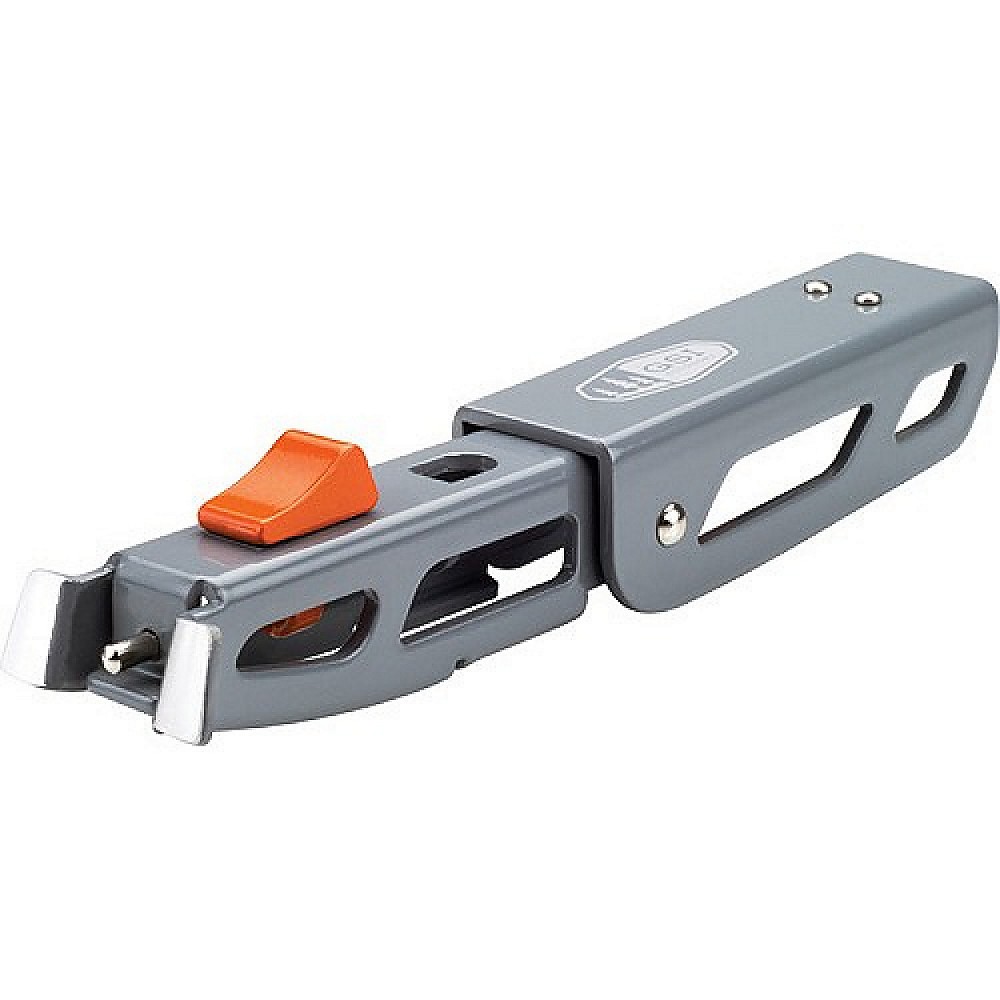 GSI Outdoors solves the problem they created by only including one pot gripper with their cooksets, and introduces this ala-carte accessory to you may have attempted with bare hands and a little brawn. Cheaper than an Emergency Room visit. Pricey, still, at $13 for something that should have come with the cookset to begin with.
Pros
The Optimus Prime of Pot Handles: Folds like a Transformer!
Prevents Damage to Cookware
Cons
Usually required for second pot/pan in GSI Cooksets
$13 for a Handle? Really? Really.
Conducts heat well. REALLY well.
Only Compatible with GSI Cooksets (is not universal)
I recently upgraded to a GSI Pinnacle Backpacker Cookset.
I've never been much of one for math, but opening up the set for the first time, I noticed something:
One pot.
One pan.
Only one pot gripper?
Yep...only one. 
You can't really review this product with saying something for GSI cooksets as a whole.
Personally, I love them, and really enjoy all the work they've put in to make their sets truly unique. They have a different approach for almost any piece of camp cookware (folding utensils with a pivoting hinge, for example).
Your standard, tried-'n-true, run-of-the-mill pot "gripper" is one that really lives up to its name. 
It GRIPS the pot.
Literally, clamps onto the side walls of the pot/pan like a vice.
If you're such a nervous cook that you want this kind of insurance against dropping that prize trout dinner?
Well, different strokes for different folks.
I'd rather opt for something that isn't going to bend, scratch, or decrease the life expectancy of my camp cookware.
FEATURES
Pros?
It doesn't damage your cookware at all, and folds down by way of a button-activated, spring-loaded hinge. A little too high-tech, perhaps, for a simple pot handle, but cool, nonetheless.
I don't know how GSI imagines folks could use their pots and pans without this handle. Not only does it spare you from picking it up with your bare hands, but it adds needed weight to the cookware to keep it balanced over your backpacking stove. These handles really do a great job as a counterweight, too, especially on windier days.
Here's a quick look: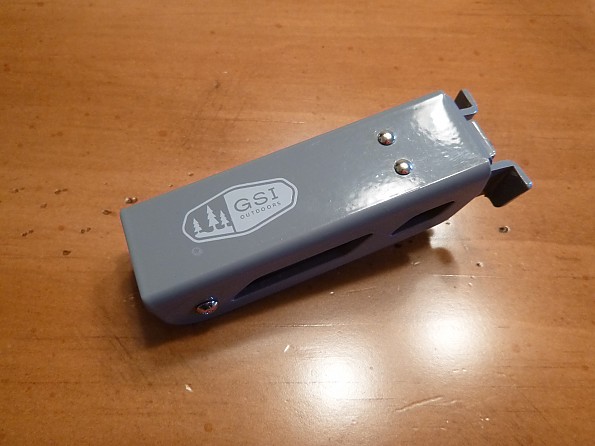 This is the pot gripper in its folded position. Nice 'n small!
How small is it, you're wonderin'?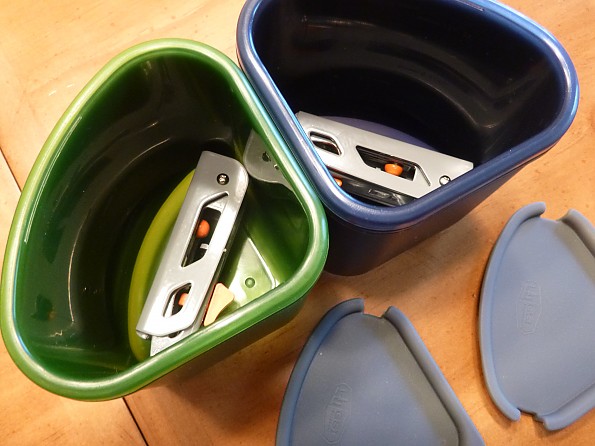 Small enough to fit perfectly inside one of your GSI cookset mugs.
(They both will easily fit into a single mug - I keep mine separate to avoid prematurely damaging the finish)
I keep two in my own set: one for the pan, another for the pot.
HOW IT WORKS (EASE OF USE)
Let's unfold this puppy and, well, show you how a pot gripper actually - you know - grips pots.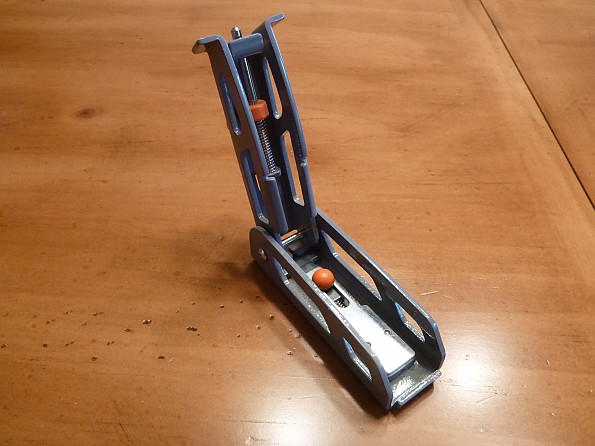 Slide the round orange button on the bottom, spread both halves of the handle outward until fully extended, and it automatically locks into place. 
Here's how it looks from the top, fully assembled: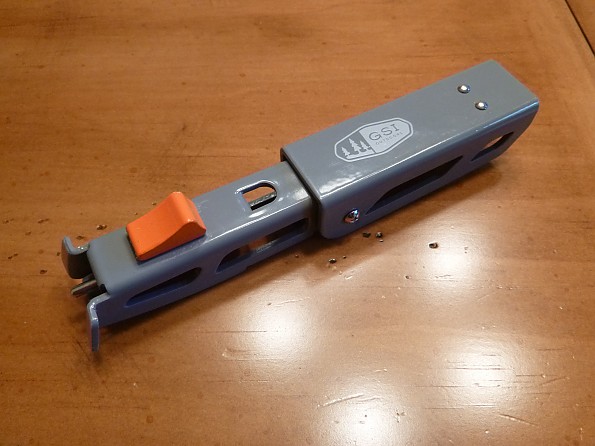 The "gripper" works by securing the handle to the pot/pan in 2 ways:
1.) The weight of the pot is supported by the outward-pointing flanges at the fron of the handle, which slide into the pot bracket from underneath.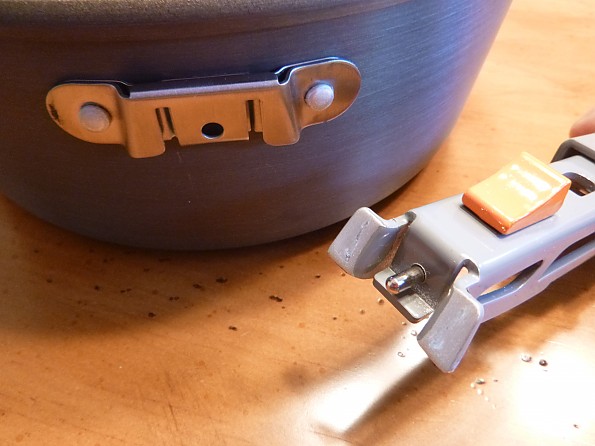 2.) The stability of the pot is locked into place by inserting the spring-loaded pin through the middle of the bracket. Pull the orange toggle back to unlock the pin, push the handle up into the pot bracket, and let the toggle reset to lock the pin in place.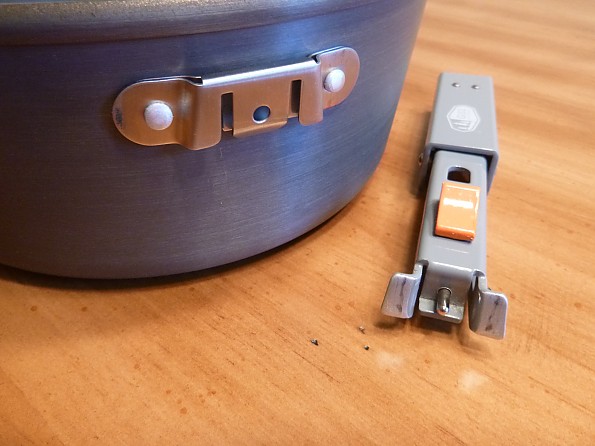 DURABILITY
You'll see I've managed to scratch-up my pot gripper a bit from it rubbing on the pot bracket, but the area around the bracket is completely unharmed.
TESTING CONDITIONS
I'm a more reliable cause of precipitation than most Native American rains dances, so I do most my photography indoors.
I've used this handle in conjunction with the original that was included with my cookset.
Over time, the spring action will lost a small amount of tension, sure. And the coating on the pot gripper will get worn down a little from coming into contact with the steel bracket on the pot. 
This is why I highly suggest anyone using a GSI cookset to invest in a second handle: the fewer times you have to swap the handle out from the pan to the pot, or vice versa, the longer the spring tension and protective coating will remain intact.
Want me to show y'all another view? Don't mind if I do: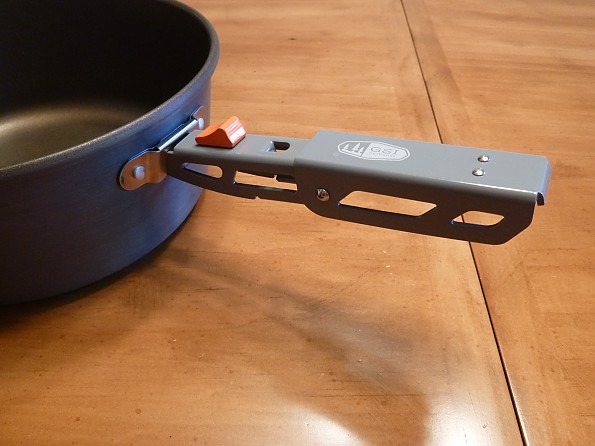 And, for good measure, one last frame of this in action: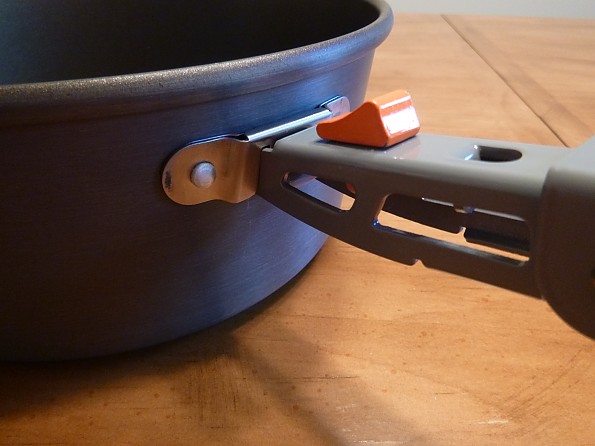 STABILITY
It's almost too careful in how it slips into the slot on the pot/pan, and slips the spring-loaded pin inside it to secure the handle. It jiggles and wiggles like a dancer on "American Bandstand." Still, though, it's not rockin' and rollin' enough to toss your dinner out accidentally. This has never been a problem for me, but for some folks, it may not be 100% secure enough. Don't go using this gripper to flip the contents of the saute pan like you've seen done on the Food Network.
COMPATIBILITY 
Perhaps the single biggest, obvious downside is the fact this is a gripper designed for, and only for, GSI cookware. This isn't a universally-adaptable pot gripper. If you pots don't have the brackets this is designed to support, well, it won't do you much good. 
CONSTRUCTION AND HEAT CONDUCTION
The second biggest downside is the construction: albeit a coated metal, it is ALL METAL.
Put metal anyplace near a flame, and it'll conduct heat, even if only attached to the pot/pan over the flame.
Be sure to have a glove, oven mitt, paper towel, or friend you don't like to pick this thing up.
MY TWO CENTS
GSI Outdoors should be hired by Michael Bay for the next "Transformers" installment, for nothing else but their solid reputation for making things that transform into other things, but don't suck.
For thirteen bucks, hell, it's cheaper than a visit to the ER.
Stop picking up your 2nd GSI pan or pot with your bare hands, and invest in this cool little gadget to do the heavy lifting for you.
Source: bought it new
Price Paid: $12.95

Your Review
Where to Buy
Help support this site by making your next gear purchase through one of the links above. Click a link, buy what you need, and the seller will contribute a portion of the purchase price to support Trailspace's independent gear reviews.
You May Like
Specs
Price
MSRP: $12.95
Current Retail: $11.96
Historic Range: $4.88-$15.95
Reviewers Paid: $12.95

Weight
2.2 oz

Dimensions
3.50 in x 1.00 in x 1.20 in

Materials
Aluminum

Recently on Trailspace