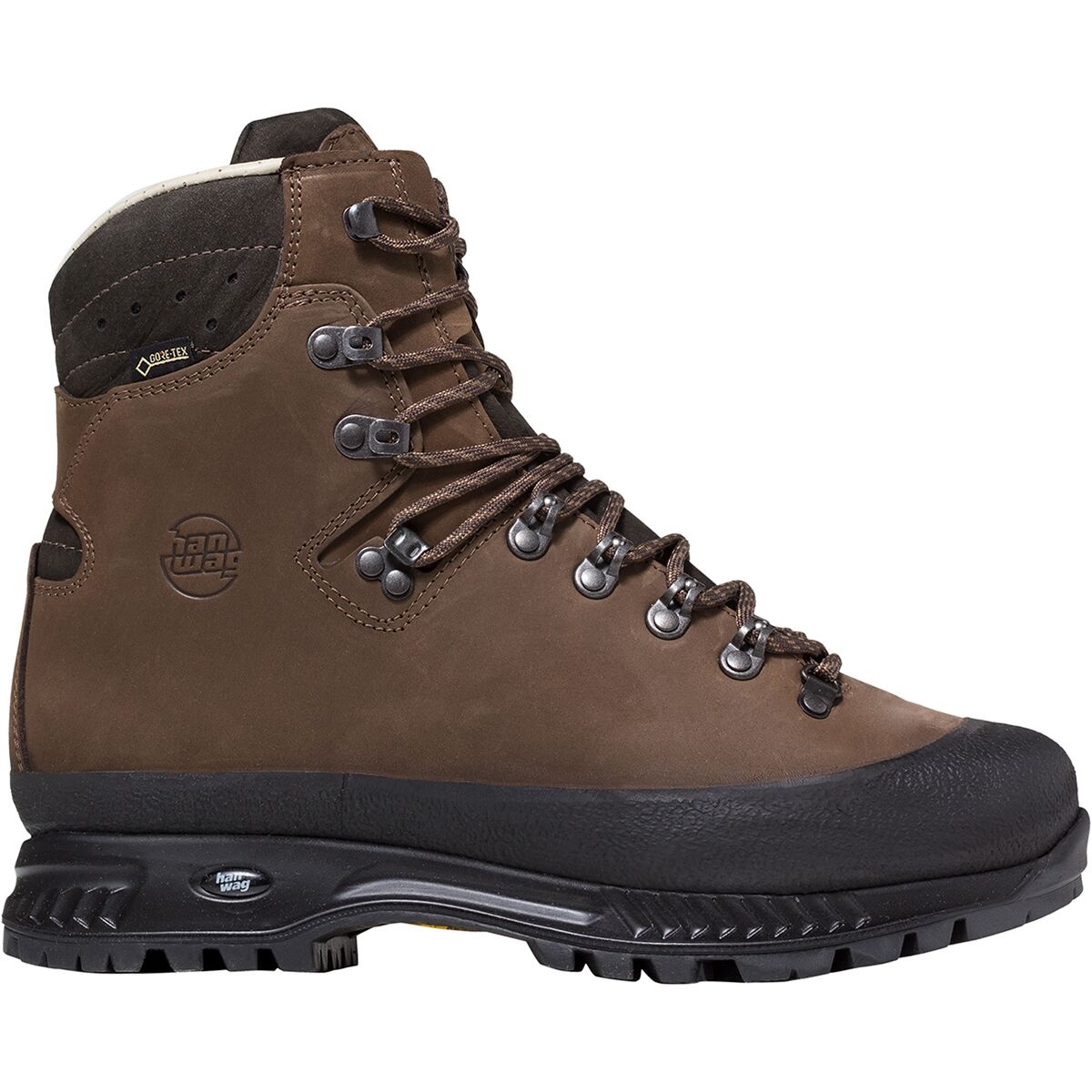 Specs
Price
Current Retail: $369.95
Historic Range: $184.90-$370.00
Reviewers Paid: $150.00-$400.00

Reviews
14

reviews

5-star:

6

4-star:

2

3-star:

2

2-star:

2

1-star:

2
Garbage boots. I wore these at most twenty times and the toe box collapsed. Hanwag completely ignored me and the retailer told me to see a shoe repair. They do not stand by their product and when I left a review on Hanwag.ca they deleted it.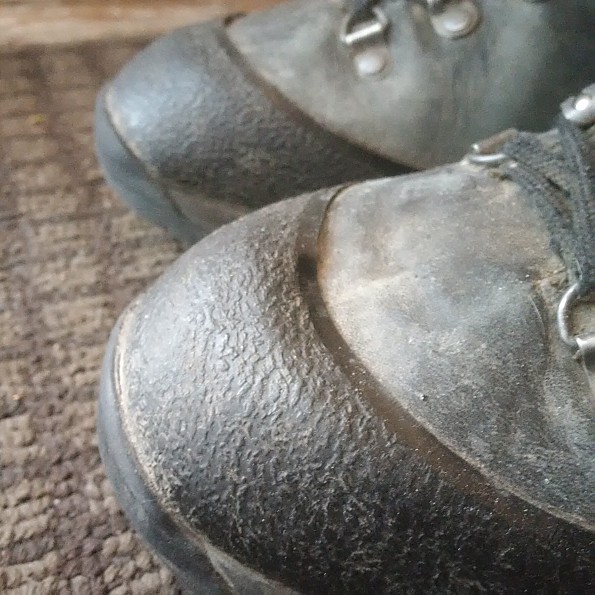 As I wrote above, these boots are garbage. I bought a pair new, worn at maximum 20 times. I've lived in cheaper boots for the past 15 years, but since changing duties I no longer wear boots every shift. Thus, how I know how many times I wore these boots.
The toe box completely collapsed. Hanwag told me to check with the retailer and the retailer sent me to a shoe repair. Hanwag has since ignored my messages and deleted my review on its site.
Terrible product for the money.
Source: bought it new
Price Paid: $400

Had these boots three years and only used occasionally. Both boots leak when out on the fells, and one boot just makes creaking noises when I am out walking. I have to say, I will be going back to Lowa boots.
Very comfortable walking boot, but as an occasional walker, it did not take long for both boots to take in water, which was hard to take. I think I will go back to wearing Lowas.
Also, the left boot was making creaking noises from day one, which I found very irritating.
Source: bought it new
Price Paid: not sure

Alaska GTX—not my cup of tea.
Pros
I struggle to find a positive point
Cons
Stiff
Leak
Eyelets move
They unlace
These boots are too stiff for me. They leaked within months of purchase. The eyelets move. They unlace. Rand has come away.
Compared to my Hanwag Lhasa they are VERY disappointing. Hanwag make fantastic boots but these not for my purpose. I walk a lot—2,000 miles a year.
Buy Hanwag Lhasa Instead. You won't be disappointed. I know they don't have Goretex, but just treat them regularly. 
Hanwag Lhasa are AMAZING!!!
Experience
I live and walk on Dartmoor UK my hobbies are wildlife photography, dog walking, bird watching 365 days a year!!
Source: bought it new
Price Paid: £259

Best boots ever!
Pros
Maximum support
Everlasting
Best boots ever! As a wildlife photographer I travel the world a lot—from Tropics to Poles. Always use these boots.
I bought my first pair in 2004 and they are still perfect and way better than other brand shoes I had before. I bought a second pair just to have two pairs of them if Hanwag would ever get the idea to discontinue this model.
Experience
I wear them for 15 years now. I travel the world around as a wildlife photographer.
Source: bought it new

Have tried Scarpa, didn't fit well, heel rubs. So went back to Hanwag. Went for Alaska so I could use them in the winter. Used them all over the lakes. Only one out of my group to have good dry feet at the end of all walks
Great for scrambles and all around a great boot. You only get what you pay for, so it's worth the extra money.
Source: bought it new
Price Paid: £165

AWESOME B1 rated boot, supportive, stiff, and great for scrambles!
Pros
Takes a strap-on crampon
Incredibly durable
Stiff (great for scrambling)
Incredibly comfortable over long periods
Well cushioned (great for backpacking/heavy loads)
Excellent heel fit
GoreTex lined (waterproof)
Rubber rand (protects leather to hell and back, almost)
I have now used this boot extensively including for a light low level hike (30 odd km) and then up and down Tryfan in Wales, UK, even on the eastern traverse (tending more towards grade 2+ scrambling and rock climbing). It performed excellently! 
To the stiffness 'problem' person, the likelihood is that the boot doesn't fit your foot shape at all, in which case of course they won't be comfortable. For your foot to flex 'with' the boot, you need a secure heel fit, in which case your foot will force the boot to flex, it's not like putting 150Ibs on it won't flex it unless it's not laced up properly or just plain doesn't fit.
Plus any hunters saying they're too stiff for stealth, totally true. This is a trekking/mountaineering boot, designed to take a crampon and stay stiff to ensure the crampon stays on your boot, and not in that crevasse 100 feet below. Not a stealth boot!
It's incredibly versatile, at home on the flat and then just comes along and you can toe point and use the toe to cling onto pretty small footholds for scrambling. Grip is excellent. They look as good as new after a lot of abuse, and add to that (they fit my feet very well) THEY ARE COMFORTABLE AS HELL. I can take them off after 3 days of walking and not notice the difference in comfort between the boot and thin air.
Source: bought it new
Price Paid: £225

The Alaska GTX is my second pair of Hanwags. I am on a budget so I waited, off and on, for six years on ebay for a size 10.5.
My first is a pair of Norwegian-welt Mountains purchased in 1977. They (the Mountains) are beginning to separate so cannot be dependable on the trail. They are still completely usable and are used often 3 season.
Why Hanwags? Getting to the summit is an option — getting down is mandatory. They are a piece of my kit that has never failed or let me down. Being of German origin you gotta play by the boots' rules. Small price to pay.
Price Paid: $150+

A nice boot and it gives wonderful support for the ankles.
The only unsatisfactory remark I have concerning this boot is when the weather is slippery. In a slippery weather I think boots from LacCosse gives a better foothold.
Having tried several different brands over the past ten years these boots are by far the best I have ever used. I use them primarily for my job as a K9 handler. They are light and very supportive around the ankles. I would highly recommend them to anyone in the same line of work.
So far the only unknown is the winter climate. I am not sure how they fare on slippery surfaces (ice) but have heard that Hanwag is looking at manufacturing a winter boot with crushed glass in the sole. Can't wait.
Now my all round, all year boots, my 1993 vintage Hanwag Alaska GTX has finally given up. The outersole has gone apart from the mid sole.
I have used these boots in Florida in the summer, on Iceland, Africa, Asia, wherever I went in this period, they always went with me. Only problem I have has is that the high plastic on the nubuck tends to come loose. Apart from this, they have taken me many many kilometers and all terrain and with different loads.
Highly recommended. I will probably buy the same again. 14 years of hard use is fine for me.
Materials: Nubuck leather, Goretex
Use: everything, short dayhikes, longer trips.
Break-in Period: none
Weight: supposedly around 900 g
Price Paid: 1200 DKK

This boot is awesome. After years of frustration with boots either not being up to hard use or not holding up, these guys have won me and my wife over. We have used them for over a year now, backpacking in the Sierras, Canadian Rockies, off-trail in the Grand Canyon, and they not only are still comfortable but are still in great shape.
Materials: leather
Use: trails of all kinds, off trail, heavy pack
Break-in Period: For me, 1 hour!
Weight: 220 lbs
Price Paid: $390 Canadian

Totally disappointing! The sole came apart after five years of moderate use. :( Way cheaper, sport chainmarket boots outperform these.
Cons
5 years for that price. Really, Hanwag?!
I invested in these, because I wanted high quality gear. I thought, German quality will guarantee that the boots will last for a while.
Unfortunately, after five years of moderate use, the sole completely peeled off on one of my boots. I expected more than that for the amount of money I paid for them. I am totally disappointed, since way cheaper boots bought in a sports market outperformed the Hanwag Alaska GTX.
I will never go for Hanwag again. Ever.
Source: bought via a "pro deal"

Nice and comfy right away, but if you intend to do work in them, ie. forestry (bushwacking and hiking every day) they're not going to last longer than six months.
Price Paid: $320

This boot appears to be made from top grade materials (the only reason I gave it 3 stars not 2).
The sole of this boot does NOT flex. I wore the boots for 6 weeks at work and around the house to break them in to my feet. The real test was scouting for an upcoming elk hunt. Hiking on uneven, rocky ground I found that because of the No-flex soles, my foot would flex but the boot would not, causing irritation spots on both heels. after 1 average day in the field I will not be wearing these boots again.
Most hunters / outdoor enthusiasts don't mind paying top dollar for products that perform well. I have owned several $150 boots that are far superior in comfort to these boots. The problem with the $150 boots is that they don't last.
I will continue my search for a comfortable boot that might last more than a couple seasons.
Use: Hunting
Price Paid: apx. $325

You May Like
Recently on Trailspace