Helinox Swivel Chair

Top 50 in Camp Chairs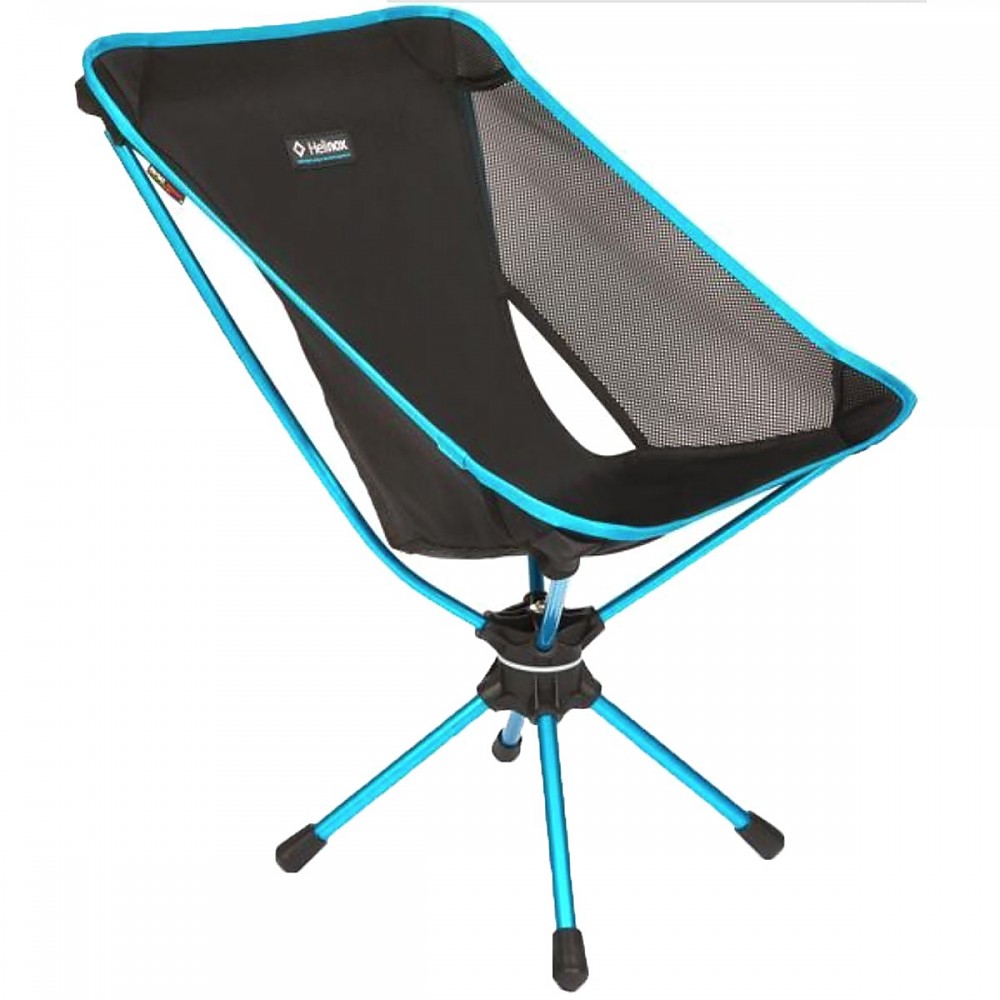 Specs
assembled
packed
Price
MSRP: $149.95
Current Retail: $149.95
Historic Range: $58.73-$159.95

Height
28.5 in / 73 cm
4.5 in / 12 cm
Width
19.5 in / 50 cm
15.5 in / 40 cm
Depth
20 in / 52 cm
5.5 in / 14 cm
Weight
2 lbs 11 oz / 1.21 kg
2 lbs 14 oz / 1.3 kg
Capacity
320 lbs / 145 kg
-
Reviews
1

review

5-star:

0

4-star:

0

3-star:

1

2-star:

0

1-star:

0
The Helinox Swivel Chair is a comfortable chair that swivels 360 degrees with ease. It's pretty big and heavy, which means it's not ideal for backcountry use, but it's great for car camping, tailgating, fishing, hunting, backyard cookouts, etc. The chair is well-made and sturdy, which makes for a pretty comfortable sit.
Pros
Smooth, quiet 360-degree swivel
Easy to clean feet (yes, they'll get dirty)
Fairly quiet fabric
Well-made and durable
Cons
Heavy (2 lbs 14oz / 1.3 kg)
Expensive
Accessories are also expensive
Limited color options
Conditions:
For nine months, I've used the Helinox Swivel Chair as my go-to chair for things like car camping, hunting, backyard cookouts, etc. Because of the weight and bulk, I do not take this on overnight hiking trips. I originally purchased this chair specifically because of the swivel feature.
As a hunter, I often sit for long periods of time in one spot. I've had other chairs in the past that would squeak or crunch when I shifted my weight or didn't allow me to freely move to get into a better shooting position. I suspected (rightly so, I must add), that the smooth 360-degree swivel feature would allow me increased maneuverability while hunting, but could just as easily go with me on car camping trips, picnics, etc. I've used the chair on snowy winter days in the woods and at muggy late summer tailgate parties and a large swath of weather conditions in between.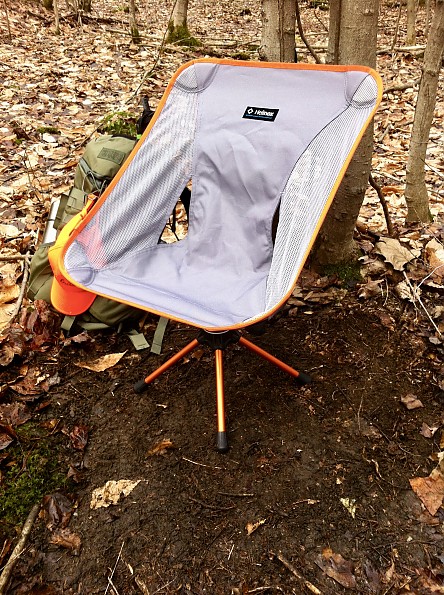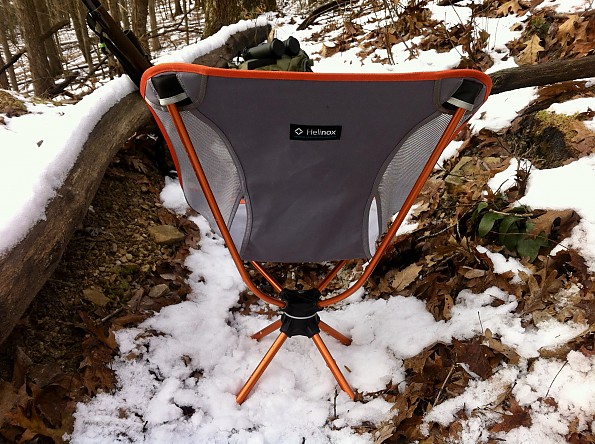 The chair was bought primarily as a whitetail deer hunting seat, as shown here. 

Specs:
Weight = 2 lbs 14 oz (1.3 kg)

Capacity = 320 lbs (145 kg). Although older models may be 265 lbs. (120.2 kg), as the manufacturer's website is a little confusing on this matter. I reached out to them and they confirmed it to be 320 lbs. (145 kg).

Width = 20 in (50.8 cm)

Total height = 28 in (71.1 cm)

Butt from ground height = 10 in (25.4 cm)

Color options: Previous versions had at least three options, but newest model for 2020 appears to only have one color option.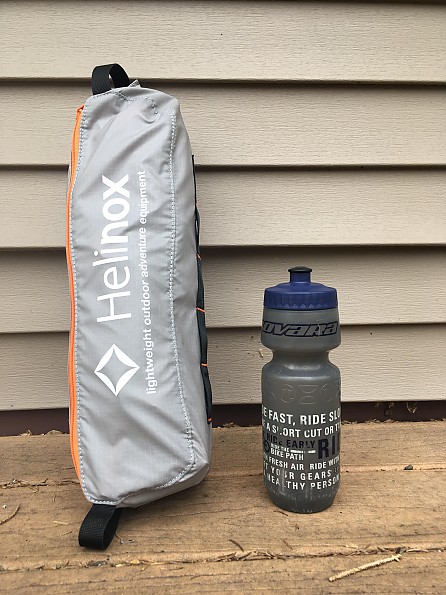 Packed chair size comparison to a 22-oz (650 ml) water bottle.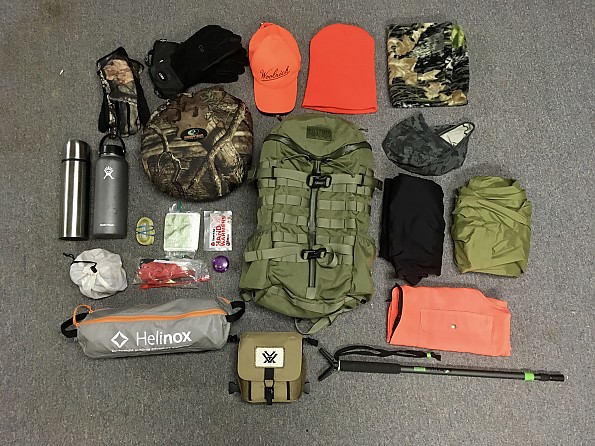 The Helinox Swivel Chair has become a part of my winter hunting kit. 
Comfort and Swivelability: 
As mentioned, I primarily bought this to get my swivel on. There are many chairs on the market, but very very few that swivel. This is what I wanted to make hunting a little bit easier and still for long periods of time a little bit more comfortable. First the swivel, then the comfort: 
The swivel mechanism is flat out flawless. I still can't believe that it makes absolutely zero audible noises when swiveling and is smoother than the smoothest whiskey ever produced. To my surprise the chair also rocks a little bit, adding to the overall appeal of the chair. The swivel mechanism allows for a full 360-degree swivel. 
The overall comfort is roughly average. The features that make it comfortable are the nice fabric, the slight rocking ability, the stability. The only drawback in the comfort category for me is the general slouch position the chair cradles you in, due to the curved poles in the back. This makes sitting straight somewhat difficult and slouching leads to some physical discomfort if sitting for long periods of time. Overall, it's comfortable enough to warrant using it, but not so comfortable that I'm going to start using it in my home office.
The ground clearance is a little bit less than many similar chairs on the market (i.e. butt is only 10 in/25.4 cm off the ground), but it's not something that gives me much of an issue, and I'm fairly tall at 6'2" (1.88m).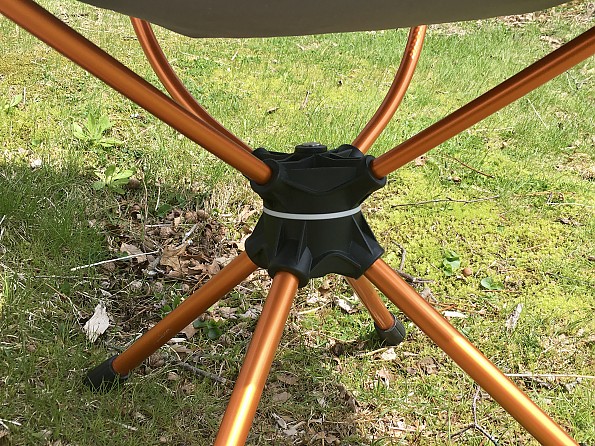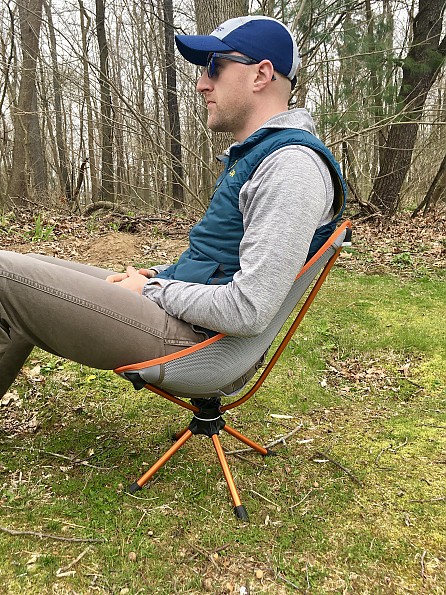 Construction and Durability:
The frame is made of sturdy aluminum poles and the swivel component is "made with a strong and light nylon resin outer and a precision tooled hub" claims the manufacturer. The chair's fabric is a tough 600 denier polyester with mesh side panels for breathability. After considerable usage over the last nine months, I see no signs of excessive wear, damage, or weaknesses. This thing is built for the long haul and comes with a 5-year warranty.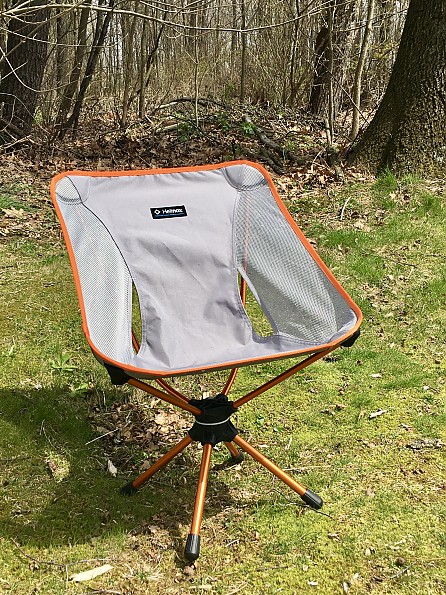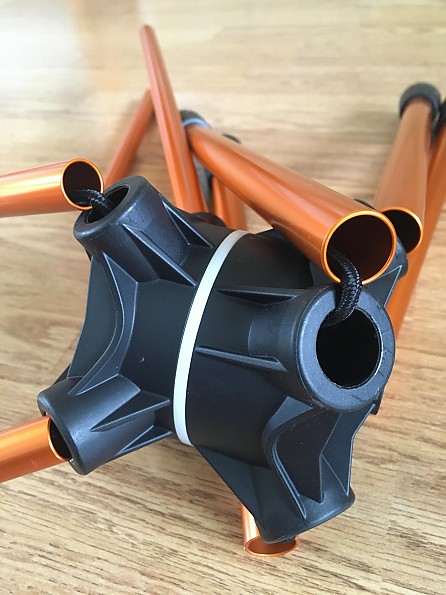 Cleaning:
Due to getting a lighter color fabric, I've noticed it gets dirty. It's easy to spot wash with soap, water, and a scrubbing tool or any kind. I've had to do this on a couple occasions (spilled chili on it while tailgating, oops!). I also clean the feet of these kinds of chairs after every use, since they get stuffed into the same storage sack as the fabric part of the chair. These feet are smooth and very easy to clean, as opposed to knobby feet, which are found on some other chairs on the market and are much more difficult to wedge dirty and grim out of. 
Stability:
The four stout aluminum legs give this chair a very solid base. I can easily adjust my weight around without concern for tipping over.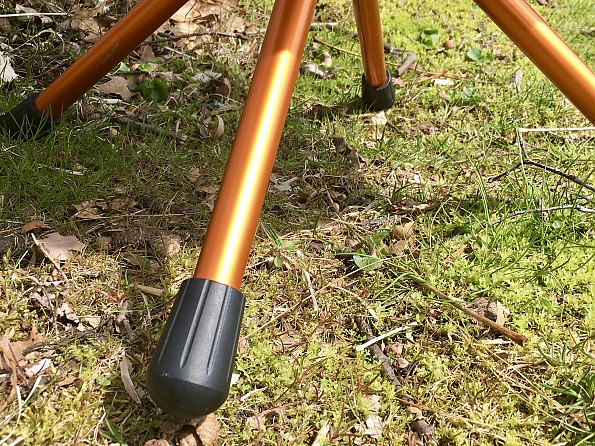 Setup:
The Helinox Swivel chair is easy to set up and tear down. With a single shock cord frame, the legs easily slide into their own holes, as does the back, and the fabric is then easily stretched over the frame, with the poles tucking into the reinforced pockets on the chair. I find it easiest to stretch the fabric over the top poles (chair back) first, then finish with the bottom.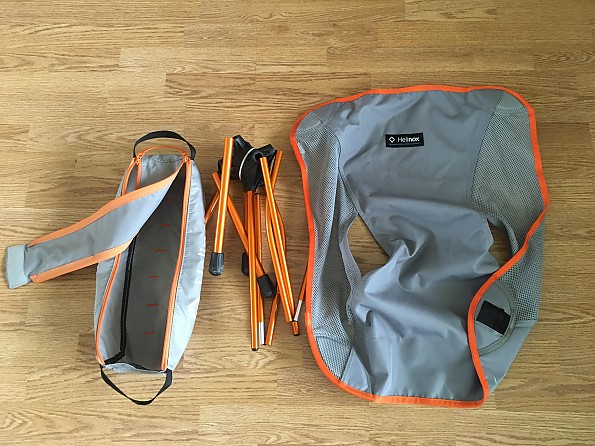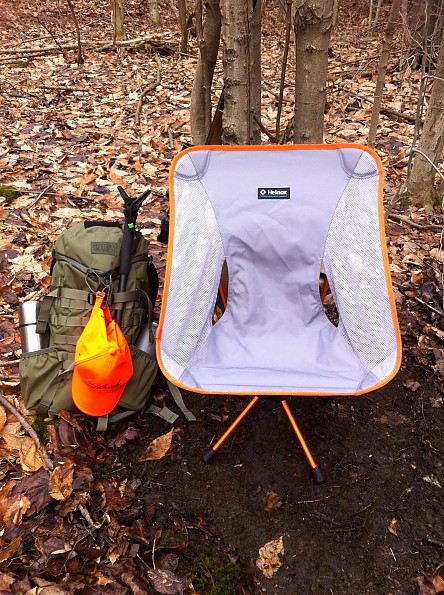 Storage:
This chair comes with a storage/carrying case, which I find to be somewhat frustrating. The mirrored dual zipper on the sack makes for a wide opening, which in turn makes it easier to stuff away the chair, but I find the zipping mechanism to be frustrating, jolty, and difficult when my hands are freezing cold (which they tend to be during mid-winter hunting trips). The zippers are also loud, which doesn't help when setting it up in a hunting spot. Aside from these quibbles with the storage sack, it is built with strong material and fits the chair well. It isn't frustratingly small like some others I've had in the past.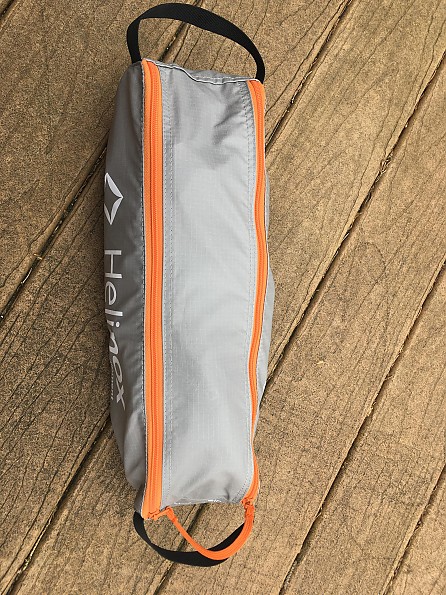 The dual zipper creates a larger opening, easier to get the contents in and out of the bag, but more difficult to zip closed.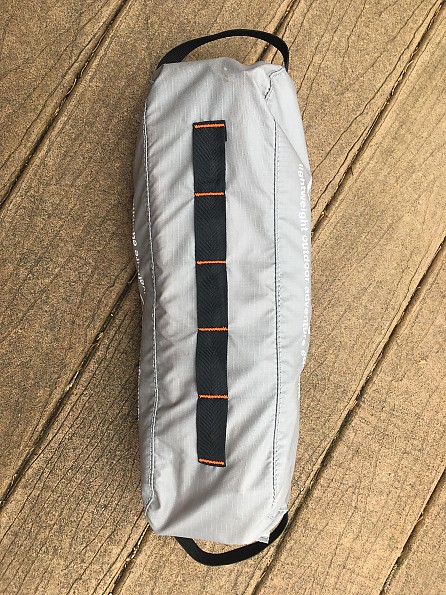 Daisy chain on the opposite side of the zippers makes for easy attachment points.  
Cost and Accessories:
I was able to find this chair on sale for $118 USD, and the retailer threw in a free t-shirt. The going rate is actually $150 USD, which I think is pretty steep for a chair. I shouldn't be surprised that a chair of this cost has expensive accessories to go with it, but I am. I'm surprised how expensive some seemingly cheap accessories are, like a $30 ground sheet or $35 ball feet to make sitting in soft ground easier, or a $40 seat warmer, or a $25 shoulder strap for easier carrying. The idea of a seat warmer is great, but I'll save my $40, and just bring an extra blanket. 
Comparison to Other Chairs:
Having accumulated a variety of chairs over the years, here's how the Helinox Swivel Chair compares to others in my repertoire.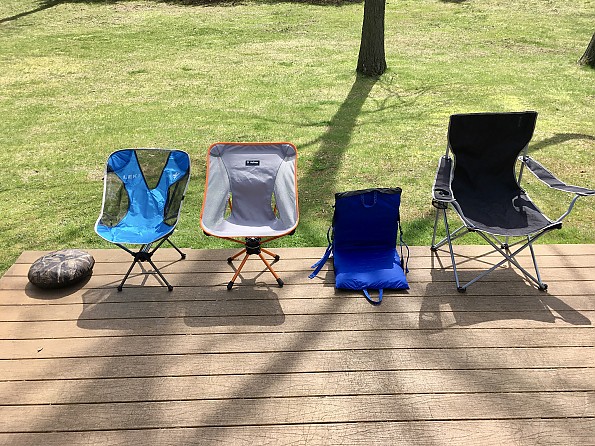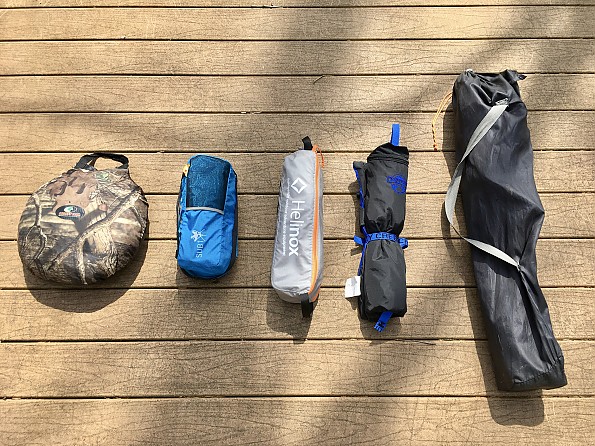 From left to right:
Hunting seat cushion

What I Like: Super inexpensive and no setup required
What I Dislike: Still sitting on the ground 
LEKI Sub1 Chair

What I Like: Small enough to go into the backcountry
What I Dislike: Knobby feet are a pain to keep clean

Helinox Swivel Chair

What I Like: Swivel feature and durability
What I Dislike: Cost

Crazy Creek Air Chair Compact

What I Like: Doubles as a nearly 3/4 length sleeping pad or pillow. 
What I Dislike: Metal stay bars make it larger than necessary

Generic Collapsible Camping Chair 

What I Like: Cup holder and back support
What I Dislike: Cheap materials means it falls apart quickly
Overall Recommendation:
Due to the cost and weight, the Helinox Swivel Chair is probably best for those who have a specific use for it, such as hunting or fishing, and maybe even birdwatching. It allows for a very smooth range of motion needed for these sorts of activities, along with a stable base.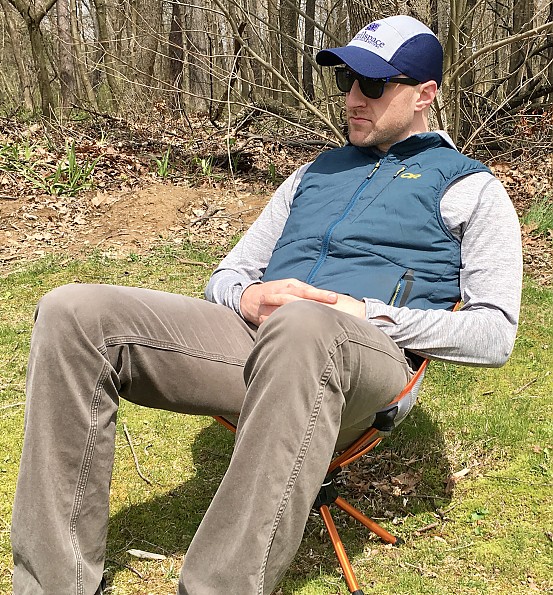 Experience
I've used the Helinox Swivel Chair for nine months, on three weekend camping trips, two tailgate parties, five full days of hunting, and too many backyard fires to count. I have experience owning and using a variety of camping chairs in the past, including ones similar to this chair but without the swivel feature, minimalist stools, large-backed folding chairs from big box stores (you know, the kind that cost $30 and break easily), and inflatable chairs. This is the first I've ever used a camping chair that includes a swivel feature.
Source: bought it new
Price Paid: $118 USD

You May Like
Recently on Trailspace