Crazy Creek Air Chair Compact

Top 25 in Camp Chairs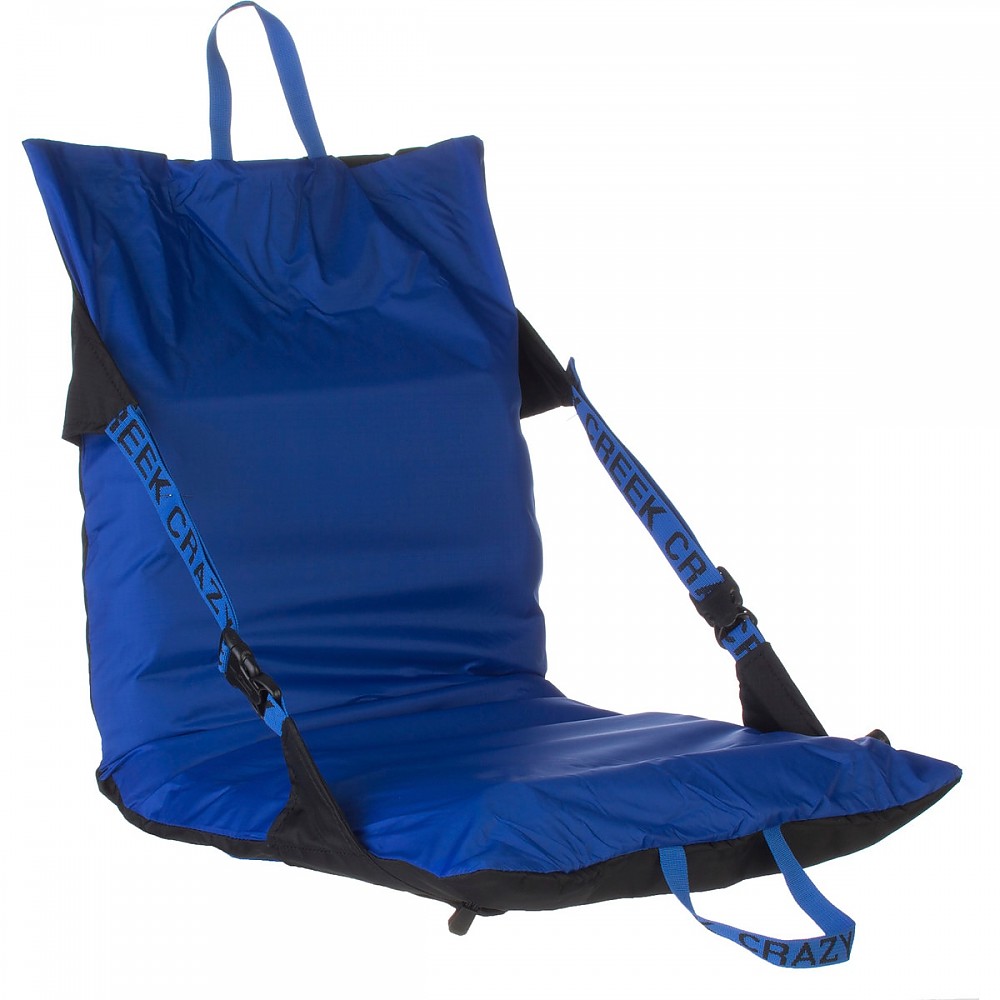 Specs
Price
MSRP: $79.75
Historic Range: $46.11-$83.00

Weight
26 oz / 737 g

Length
35 in/ 89 cm

Width
16 in / 41 cm

Capacity
250 lbs

Reviews
1

review

5-star:

0

4-star:

1

3-star:

0

2-star:

0

1-star:

0
Easy to inflate, comfortable to sit on, and a breeze to adjust, this air-cushioned chair is a great chair for many occasions, but it's sort of an in-betweener — meaning not exactly a car-camping chair nor exactly a backcountry chair.

Pros
Durable outer shell withstands abrasion and moisture
Valve is intuitive and only 3-4 blows to fill
Easy to adjust
Many access points to clip onto pack
Easy access to remove the air pad
Cons
Air pad can get "caught" between stay bars
Compression strap requires attention, nimble fingers, not easy with cold hands
Conditions:
I received this chair in late January 2015 and have used it extensively for nearly two months. In the first week alone, I vowed to use this chair exclusively when sitting in my living room (placed on the carpeted floor) just to get a sense of its use, comfort, and adjustability before taking it outside.
Since that first week where I sat in it for 12-14 hours combined, I have had it out on 9 day hikes of varying length and degrees of difficulty, some of which required a lunch break, others not so much but I brought along the chair anyways.
Each time, the chair was packed in either my or my wife's Osprey Talon 22 and all the hikes were in winter/early spring conditions with snow on the ground with temps ranging from 40°F to -10°F. I also took it on a few hunting trips to see how it compared to my Mossy Oak Insulated Seat Cushion, which has been my go-to seat for hunting trips since I was a young boy hunting with my dad.
I also packed this in my Osprey Atmos 65 on one overnight trip in early March when the weather was finally warm enough (for me anyways) for an overnighter. Lastly, I've used this chair at a couple local high school basketball games where the bleachers are very unforgiving. 
Taking a little break on a wintery day hike in a dry, long-tired culvert.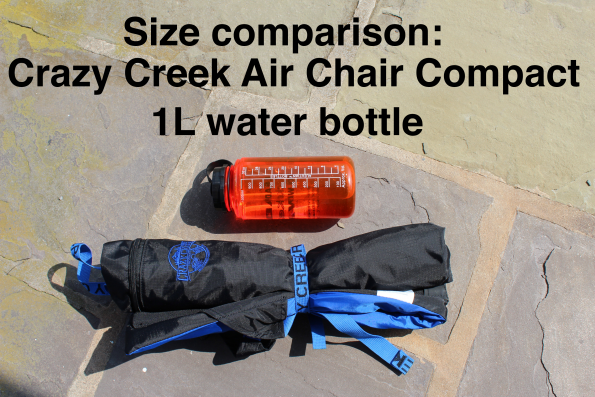 Ease of Use: 
For many folks, myself included, camping chairs are a luxury item. My experiences have suggested there are three basic types of leg-less backcountry chairs: 1) the kind that turns your already existing sleeping pad into a chair, 2) the kind that doubles as a sleeping pad itself, and 3) the kind that is solely a chair. The Crazy Creek Air Chair Compact is intended to fall into this third category (although I think it has potential for other uses, including as an emergency 3/4 sleeping pad when the air padding is removed from the shell, more on that later). While I tend to gravitate toward multi-functional pieces of equipment, this single-use chair is pretty darn good at being a chair.
Not including nylon webbing handles, this 26 oz. chair is made up of five parts: 1) outer shell made of 210D ripstop nylon 2) inner shell made of a finer, smoother 70D ripstop nylon, 3) carbon-fiber stay bars for support and structure, 4) air flow comfort pad which includes the valve and 5) the adjustable webbing straps with buckles that allow for proper sitting angle. 
My take on these five parts, based on my experiences, are as follows:
Outer Shell:
The first word that came to mind when I got my hands on this chair was "durable." This 210D ripstop nylon is able to withstand a good deal of abrasion from rocks, logs, dirt, gravel, etc. While I don't think it's waterproof, it is able to block water from getting on your derrière, as long as you're not sitting in a puddle. I've sat on wet logs and rocks and snowy ground with this seat and have yet to feel any moisture penetration. There are no visible signs of wear yet either.
Although it appears that the reviewers back is rested against the wooden post, this is not the case. The chair is solely serving as the back rest. 


Inner Shell: 
The finer, smoother, 70D ripstop nylon makes for a seat that is easy on the butt and back. The smooth nylon is still durable enough to withstand considerable amounts of rubbing and brushing up against the elements. The one thing I found to be a drawback to this inner shell fabric is the noise it makes when adjusting seat positioning. This would not be an issue for hiking/camping purposes, but for hunting purposes, this noise can be an issue.
Stay Bars:
These are touted as being "virtually unbreakable" and I have no reason to suspect there are not. These flat, carbon-fiber stay bars, while not jabbing into my back, also don't go completely unnoticed. After sitting for long periods of time (1+ hour), I feel them more than when only sitting for a shorter period. The stay bars give the chair form and stability on both the back and seat. My assumption is these bars are what give the seat the majority of its 26 oz. weight. They are sewn into small pockets and reinforced, so as not to poke through the shell.
Air Pad w/ Valve:
To me, the air is what makes the Crazy Creek Air Chair Compact special. Certainly, this isn't the only camping chair on the market that uses air as a cushion, but it is a nice upgrade from a traditional camping chair that has little more than some thin foam between you and the ground. The air cushion really takes the seat to a new comfort level and with only 3-4 blows in to the valve, the seat is fully inflated. 
The valve is a simple to use, pull-and-push, twist-and-lock valve (i.e. pull and twist clockwise to open the valve, push and twist counter-clockwise to close the valve) that is consistently effective and easy to manage. It locks and unlocks with ease, allowing the user to feel when it locks/unlocks, and remains in position. 
As for the air cushion itself, it provides 2 inches of air cushion through small pockets. One problem with the air cushion is that it can, on occasion, "catch" on the stay bars causing some bulging/uneven cushioning. In general, this doesn't effect the usability of the seat, as the air tends to even out with applied pressure, but I worry it may cause undue wear on the air cushion over an extended period of time.The air pad is made by the company Klymit and used exclusively for this product.
Close up of air cushioning.


Adjustable Webbing:
The angle you choose to sit in depends on how you adjust the two nylon side webbings. From upright posture to more of a reclined position, the easy to adjust straps allow for any angle and do not slip out of position. I have yet to find a reason to unfasten the plastic, quick-release buckles.
It should be mentioned, these straps are the very first thing I noticed upon taking the chair out of the box. They are emblazoned with the words "CRAZY CREEK" over and over. A little too bold for my preference, but this seems more and more like the norm with gear companies today. Oh well. 


Comfort:
For a camping chair, this is very comfortable. I have to remind myself that it isn't meant to be a replacement for my sofa. Its purpose is to be a comfortable rest while out on the trail and an upgrade from sitting on a log, rock, or ground. It does exactly that and more. It's much more comfortable than any non-air cushioned leg-less camp chairs that I've used and those include ones from a few of the leading camp chair brands. 

Packability/Portability:
The packability and portability is one of the limitations of this chair. The nylon webbing and buckle that serve as a compression strap requires nimble fingers. In warm weather this is not really a problem, but many of my trips with this chair, thus far, have been in sub-freezing temps, where my hands were often cold and hard the navigate the threading of the webbing through the buckle and back again. I'd often just forego the compression strap and just throw it in my pack, taking up more space than I'd prefer.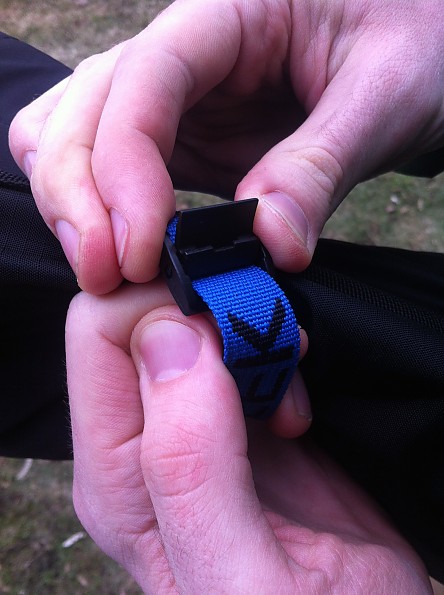 The compression strap requires nimble fingers.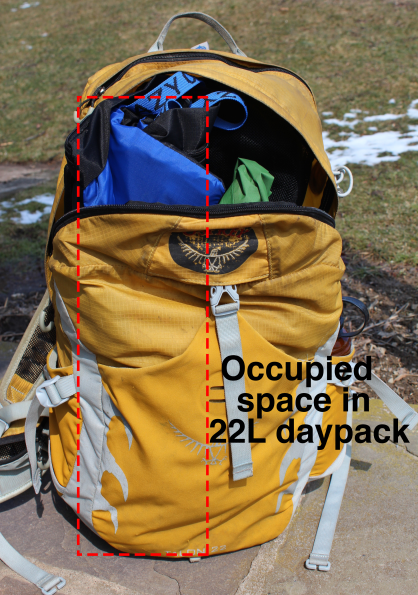 In the company's specs of this chair, Crazy Creek claims that it, "Rolls up compactly to 3" diameter for easy transport and storage." While it is easy to roll up (but tricky to compress using the strap), I have yet to find a way to get it to roll to a 3" diameter. Unless there is some top-secret trick for getting it that small, the best luck I've had is getting it to a 7" diameter, with 9" being the norm. 
The overall space this chair takes up in my daypack (Osprey Talon 22), even when compressed to its smallest size, is a little too much for me to justify taking it along when solo day-hiking. When day-hiking with my wife, we can split up our gear in a way that allows us to bring chairs, such as this one.
This sort of justification is different for everyone, but my solo day-hike kit, as it currently stands, nearly fills my 22L pack, so there isn't a lot of room for this or any other chair (if you couldn't tell, I'm no UL'er…yet). On multi-day trips, when the comforts of a chair are more rewarding and the space in the pack is far greater, I'll gladly find room for this chair in my pack, or just strap it on to the outside. 

Durability:
I don't think there is any question as to whether or not this is a durable chair. The 210D ripstop nylon outer shell screams durability and is capable of taking a beating. As with anything that uses air as a cushion, whether it be a sleeping pad, pillow, or chair, there is a risk of puncturing the air pocket, rendering it useless. That's just a risk you're going to have to take, but I do not think it'd be all that easy to puncture this chair. Again, like most air-filled gear, it comes with a patch kit, just in case.  
Alternative Uses: (Emergency 3/4 Length Sleeping Pad or Pillow)
While Crazy Creek does not promote any alternative uses of this chair, I've come to realize that because the internal air cushion and valve system can easily be slipped out of the shell through the top zipper, there are some potential alternative uses that could help justify bringing this on multi-day trips.
When laid flat, the air cushion is nearly that of a 3/4 length sleeping pad. While it's not meant to be a sleeping pad, I think it could reasonably and comfortably be slept on for a night or two, if one's primary pad malfunctioned. The measurements, when laid flat are 38"x18"x2" (96.5cm x 45.75cm x 5cm).
As well, thanks to the recommendation of Ashleigh (another Trailspace Review Corps member), I tried this as a camp pillow, and to my surprise, it was rather pleasant. I simply folded the air cushion in half and wrapped with a fleece jacket for a softer feel against the face. I slept soundly.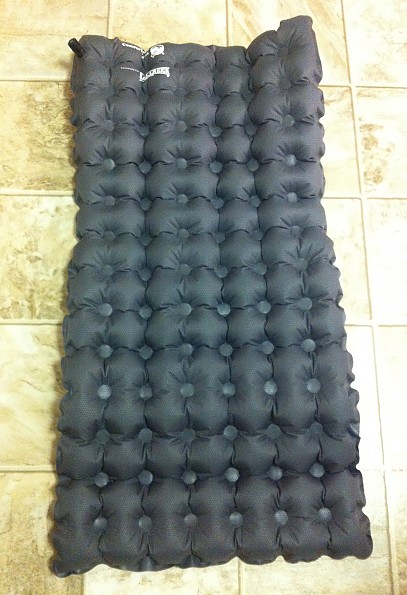 The air cushion laid flat could serve as an emergency sleeping pad or when folded in half, as a pillow.
Recommendation:
This chair is a somewhat caught in the middle of being a car-camping chair and a backcountry chair. Many car-campers would simply take a collapsable chair with legs because of its taller back support, being higher off the ground, and cup holders (let's be honest here), while many of those who wander into the backcountry on multi-day hiking trips and take chairs with them, would likely go for the ones that double as a sleeping pad in order to save precious weight. This chair is neither of those and I'm completely fine with that.
Because I do a fair amount of both car-camping and multi-day hiking trips, this chair can serve me fine for both purposes. Sure, having the higher-off-the-ground collapsable chair with legs would be a little more comfortable around the campfire while car-camping and yes, saving ounces is important on multi-day hiking trips, but I'm perfectly okay taking this chair on just about any adventure, knowing it will provide a comfortable, durable and consistent rest.
With that said, it's hard to recommend this chair to specific audiences, but easy to recommend, in general. Some hikers would surely consider it excessive weight and some car-campers may scoff at it because its a chair without legs, but I'd encourage both parties to consider this "in-between" chair.

Acknowledgement: 
Many thanks to both Trailspace and Crazy Creek Products for allowing me the opportunity to test this product.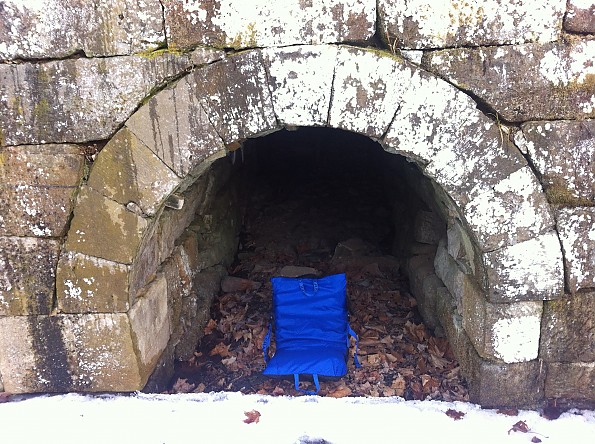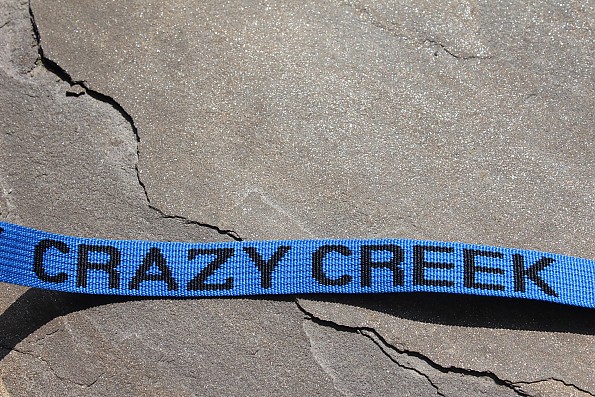 Source: received for testing via the Trailspace Review Corps (Sample provided by Crazy Creek for testing and review)

You May Like
Recently on Trailspace