Helly Hansen Odin Huginn Pant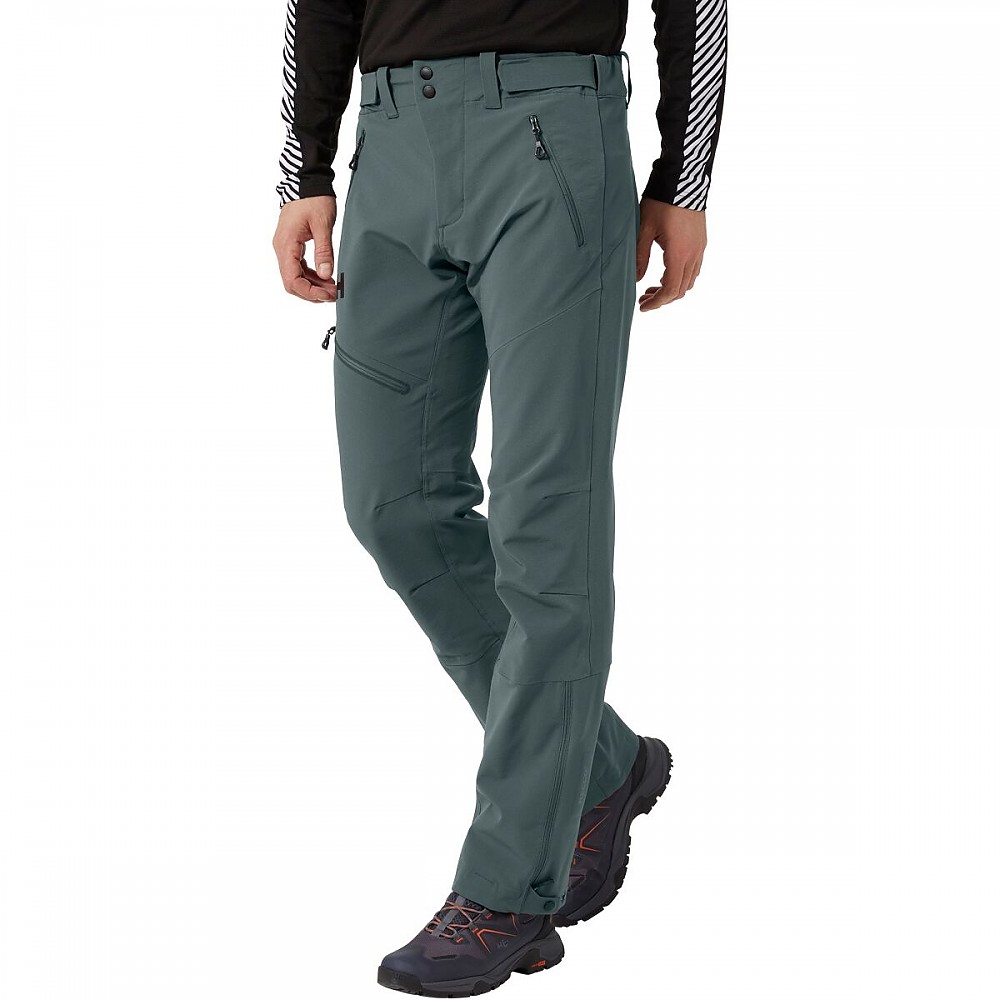 The Helly Hansen Odin Huginn Pant is a mid-weight soft shell pant that, when layered properly, works well for all four seasons. They are both highly durable and weather resistant while still proving excellent range of motion. Soft-shells by nature are best for active pursuits where passive venting of moisture is a huge plus, and these are no different. My few small concerns—lack of a back pocket, slightly flared calf section—are small in comparison to the overwhelmingly successful overall quality of the pant.

The Odin Huginn Pants would be best for someone looking for a versatile winter pant, anything from ice climbing to hiking to snowshoeing.
Pros
Durable
Highly weather resistant
Unlined
Integrated Velcro waist adjustments (but still has belt loops)
Large pocket/Zipper Pulls
Cuff with multiple snap closure
Cons
Minimal venting options
A little too flared in the calf area
No back pocket
FIT AND COMFORT
The fit of the Odin Huginn Pants is very good. For reference I am six foot, 175 lbs, 33-inch waist, and received a size large for testing. At the time of testing the Helly Hansen Odin Huginn Pant is only available in a men's model.
They feel just as comfortable with a pair of long johns as they do as a stand alone layer. The 86-cm (33.8-inch) inseam falls perfectly at the boot with a little extra for movement (I'm usually about a 33-inch inseam). They sit nicely, slightly above the hips, which allow you to tuck in a base layer top and avoid any cold gaps.
The cuffs have two metal snaps which allow you to adjust them between your big winter boots, or your trail runners, and keep those pesky mosquitos from biting at the ankle line! I do find the calve section of the pants to be a little too flared out, not bell bottom type extreme, but a little too baggy. Especially for winter pants where there's often pointy things on my feet—crampons, microspikes, snowshoes—I'd like to see this area a little more tailored. My thinking is they did this to accommodate chunky winter boots, but they are more than large enough for that, and then some. The largest boot I've worn them with is a pair of La Sportiva Nepal mountaineering boots—still more than enough room.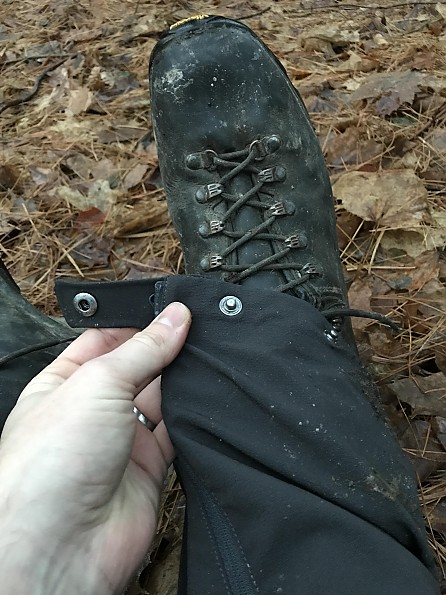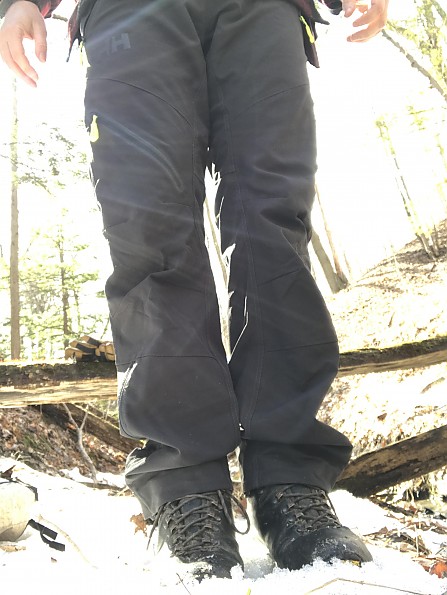 (This photo shows the slight bell bottom shape to the pants. They quite nicely fit through to about the knees, then have a little extra space around the lower half.)



The waist is adjustable with Velcro tabs for small tweaks in size, but it also has belt loops should you need them. They also keep the waist very low profile for when you're using the pants with a harness or backpack waist belt.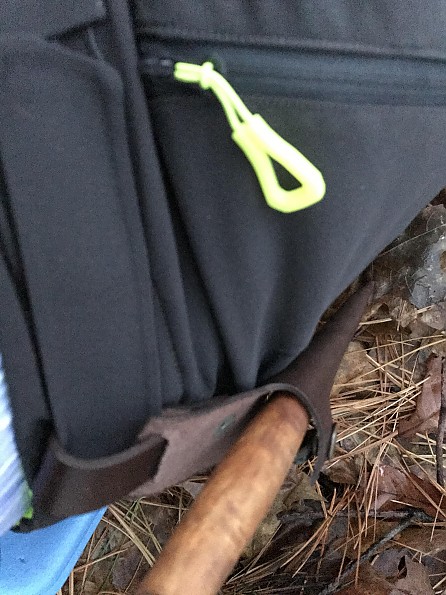 (You can see the belt loop on my knife fed through the Velcro tab which allows you to make small adjustments in the waist size.)


The Odin Huginn Pant checks all the boxes for movement—gusseted crotch, articulated knees, stretch fabric- check, check and check. I've been able to partake in all kinds of dynamic movement activities in these pants with no restrictions. Hiking to climbing, this pant moves with you.
The pockets are these pants are huuuuge. Like Trump huuuuuuuuge. I'm able to use them even with gloves on. There are three pockets on my pair (two hand warmer and a right thigh pocket), but it seems like they have added a back pocket, more on that below.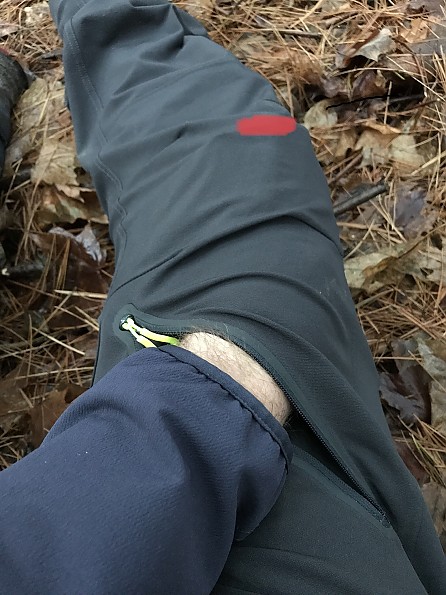 (The red line I drew on the photo to show just how far these pockets go. Very handy pocket for drying out mitts, not losing track of your tent stakes, etc)


WEATHER RESISTANCE
The Odin Huginn Pant is highly weather protective (keeping in mind that this is a soft shell and not a full on hard shell pant). This pant will keep you dry in all but the worst storms. Water beads up and rolls off quickly, so unless you are out in an extended storm the pants don't wet through. Snow, even the wet stuff, bounces right off. I wouldn't call them wind proof, but they certainly block 99 percent of it. Only the strongest gusts are able to get through and even that is very little. 
BREATHABILITY
The best part about soft shells is how breathable the fabric is and these pants are no different. I've used these pants for high level exertion activities—climbing, snowshoeing, hiking with a heavy pack—with little to no moisture buildup. What further confirms my findings is that on a couple of occasions I wore Gore-Tex gaiters (OR Crocodiles) and the part underneath the gaiter became soaked from the inside, everywhere else was dry. That means the pant was venting enough moisture and perspiration that the Gore gaiter just could't handle. Now if I had a full hard shell pant on the entire leg would have been wet.
I would like to see a mid thigh vent added for those times you are working extra hard. The only option for venting is a small zipper at the ankle, which I don't know about you, but I don't sweat at lot from my ankles.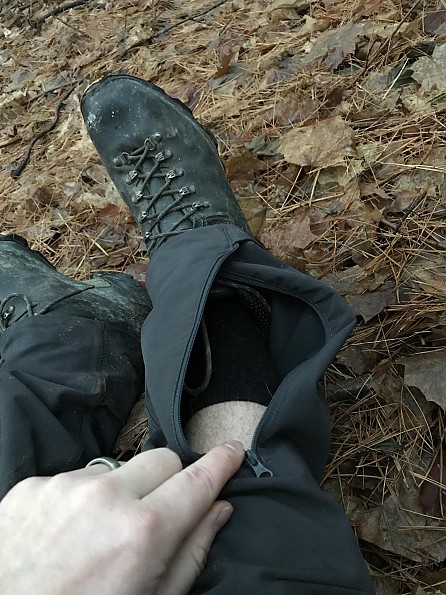 I did have a question posed to me about the upper range for these pants. This is a difficult, but relevant question, as there are so many factors at play—temperature, wind chill, how your body runs, hydration, etc. For me personally, I find it much easier to regulate my temperature through my torso. The amount of heat, and ease of venting heat, from my upper body, especially while on the move, can be as simple as unzipping a jacket.
That said, I am usually too hot in pants and looking towards shorts at around 12°C (54°f), that is for any pair of pants, and I find these are no different. So, short answer anything around 12°C or above is my upper limit (again, for me).
LAYERING 
These pants are unlined which makes them layer perfectly with a base layer. I've got rants for another day about fleece lined pants—hate em, makes them less breathable, doesn't layer as well, etc. These pants have enough room for a layer underneath while being tight enough to fit a shell layer over them, should you need it. The smooth fabric allows my wool long johns to slide easily within the pant.
ABRASION
These pants are tough. I've slid down icy chutes on my butt, caught them with crampons, and just generally abused them without any scuffs or tears. My 125-pound Mastiff thinks he's a lapdog and likes to snuggle in for warmth, especially on cold weather camping trips, and his excessively long, and rarely trimmed, nails have done nothing.
CONSTRUCTION AND DURABILITY
I have been unable to find any flaws in the construction of these pants. All seams are straight and tight. As mentioned above they laugh off abrasion and poor weather, and sharp metal points, as are often needed for winter recreation, have left no damage. 
Very small gripe here, but I'd like to see a back pocket added for those times you're coming out of the woods and you've become hangry; I need somewhere to throw my wallet when I run in for a greasy hamburger. More for the Apres, than the ski, but a necessity in my opinion. Helly Hansen mention one in the description, but my pair doesn't have one, nor do the photos on Helly Hansen's website.
The zipper pulls on these pants were clearly designed by a company that understand winter. They are huge, even with big winter mitts they can be utilized. Mine are neon yellow too, which may have been changed in the 2019 model, but I like the neon because it is super easy to see, even in low light. It's super handy to store your stakes in the pockets while struggling to set up a tent in the winter wind and not have finicky zipper or zipper pulls.
The pants are advertised as having boot hooks (mine do not have them), but it is a feature I like to have on pants. 
CONCLUSION
The Helly Hansen Odin Huginn Pants are wonderful soft shell bottoms that do everything you would hope a soft shell would do—vent moisture even under high exertion, fend off all but the worst weather, move freely and quietly, and layer well. The very small room for improvement seems to be addressed in the end product already, save for the back pocket and some extra venting. I would recommend these pants to anyone looking for a well rounded, do-all, outdoor jack of all trades pants.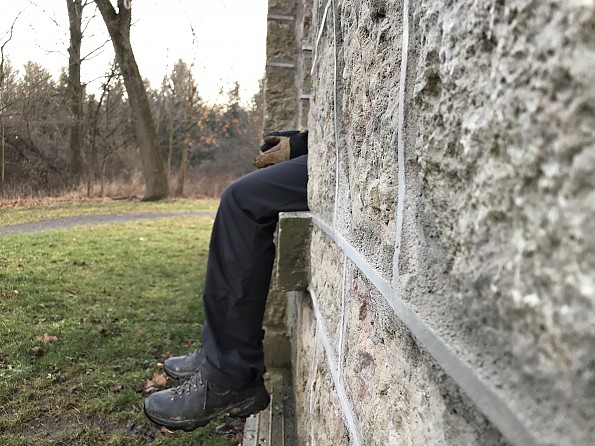 *My thanks to both Trailspace and Helly Hansen for the opportunity to test the Odin Huginn Pant.
Experience
I've been wearing pants for a while now. I'd like to say since I was about 8, probably whenever it was no longer socially acceptable for me to go outside in my underwear. Oh, you mean these pants specifically? I received them for testing in November and have worn them from late fall, throughout this past frigid winter, and into now early March. Temps from -30°c (-11°f) to about 7°c (44°f).
Source: received for testing via the Trailspace Review Corps (Sample for testing and review provided by Helly Hansen)

Your Review
Where to Buy
Help support this site by making your next gear purchase through one of the links above. Click a link, buy what you need, and the seller will contribute a portion of the purchase price to support Trailspace's independent gear reviews.
You May Like
In Norse mythology, Huginn is one of the pair of ravens that fly all over the 9 worlds, bringing information to the god Odin. A softshell pant that can stand up to this kind of challenge is hard to find as well. To complete the ODIN offering, this Huginn all purpose and all season pant was created.
Durable stretch, soft and flexible softshell fabric

Water repellant, Windproof and breathable

PFC free DWR

Softshell dynamic fit allowing comfortable movement during variable conditions

Well rounded, active fit provides comfort and protection for most daytime conditions

Inseam length 86cm
Specs
Price
MSRP: $180.00
Current Retail: $129.99
Historic Range: $63.00-$200.00

Recently on Trailspace