Hyperlite Mountain Gear UltaMid 2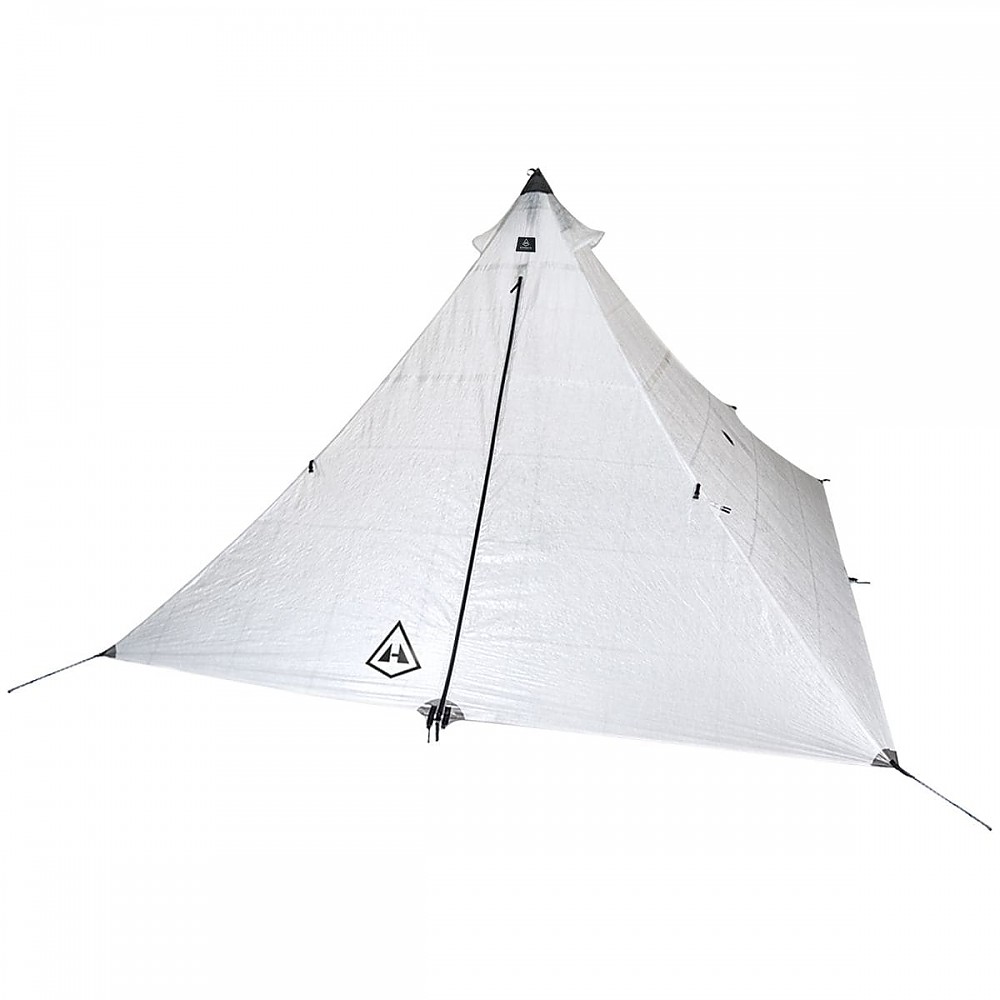 The HMG UltaMid 2 is a four-season, floor-less tent designed for the weight conscious adventurer seeking more coverage than a flat tarp without the weight of a full tent. This easy to set up, lightweight, pyramid shaped shelter is roomy inside and provides adequate protection from snow and wind.
Pros
Made from Cuben Fiber, a non-woven waterproof fabric
Completely seam sealed and reinforced
Waterproof door zipper
Lightweight
Line locks for perimeter staking
Cons
Needs to be pitched in an open, pretty level area
Minimum height requires two trekking poles to pitch
No line locks for the body tie-outs
Small vents
Equipment tested:
Hyperlite Mountain Gear, UltaMid 2
Key specifications from manufacturer:
Fully seam sealed
8 perimeter tie-outs w/line locks
4 body (center panel) tie outs
Tie out on cone for hanging the mid from a tree
Vents covered with no-see-um netting
Guy-line HMG 2.8mm Spectra core line
Can be pitched high off the ground or tight to the ground
Weight: No Guy-lines 16.6oz - With Guy-lines 17.6 (I measured the weight at 21.8oz.)
Width: 83"
Length: 107"
Height: 64"
Square Feet: 63
Shown below is a picture of what you get:
Shelter

Extra cordage for panel tie-outs

Stuff sack
My background and conditions of use:
I am primarily a backpacker/ day hiker and live in the Pacific Northwest. My trips range from coastal temperate rain forest to high desert and alpine mountains, mostly in Oregon.
I received the shelter for testing in winter conditions and was able to get two successful snowshoe trips in. A third trip was attempted but, turned back before making camp after deciding the high wind was too much (50+ mph gusts). All testing was performed in the Mt. Hood Wilderness of Oregon.
Setup:
The shelter is simple to pitch and took less than 10 minutes to complete.
Lay the shelter out, pull the four corners taut, and stake them to the ground. Since I pitched it close to the ground, I drew the perimeter tie-outs in tight before staking and then let them out several inches for adjustment before raising it.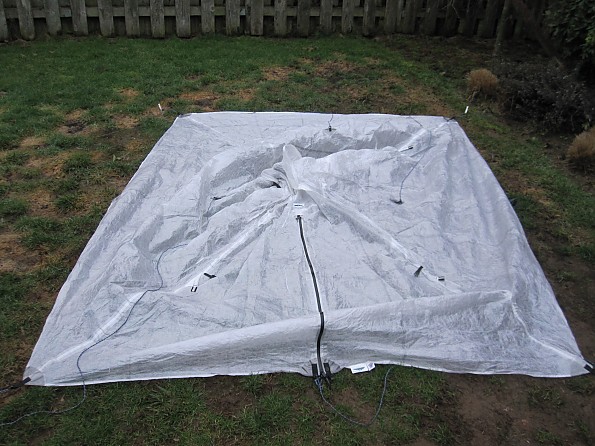 Unzip the door, crawl in and raise the peak to the desired height with two trekking poles lashed together. It is kind of a nuisance having to lash trekking poles together but, the increased height inside the tent is nice. I used two straps to keep the poles firm, which worked pretty well.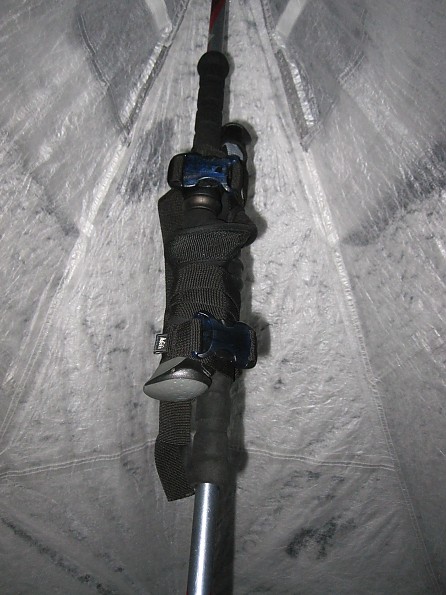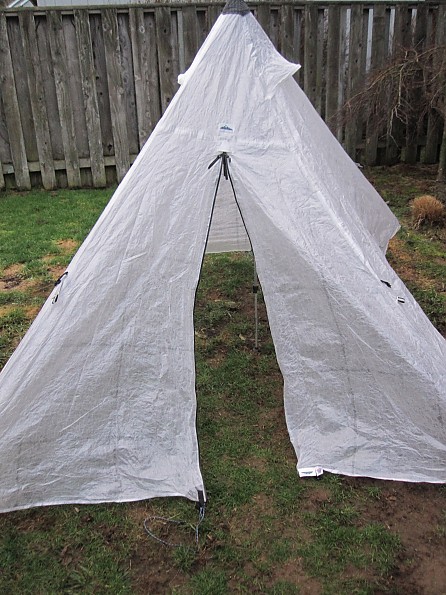 After the shelter has been raised, go back and draw in the perimeter tie-outs to make the make the structure more rigid.
Testing:
Out in the field with the UltaMid, I also used the side and rear mid panel tie-outs. It increased stability in wind and provided more roomy feel  inside.  I also found that the shelter needs to be set up in a fairly open and level area when pitching close to the ground or shape is easily deformed and difficult to pitch taut.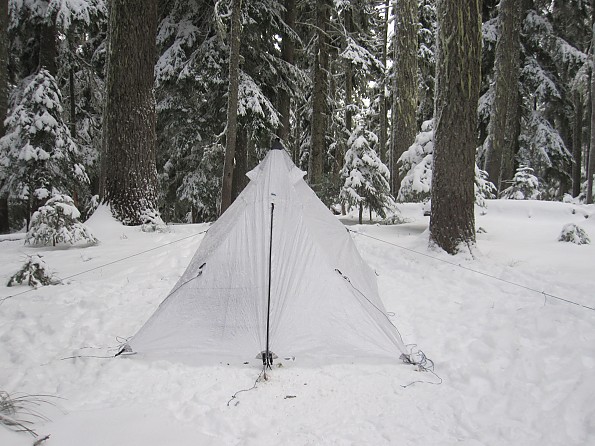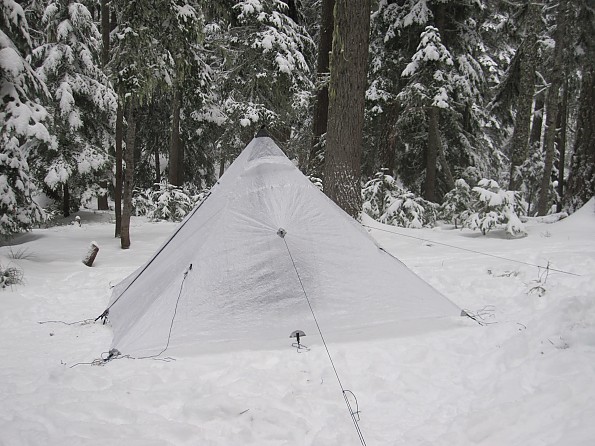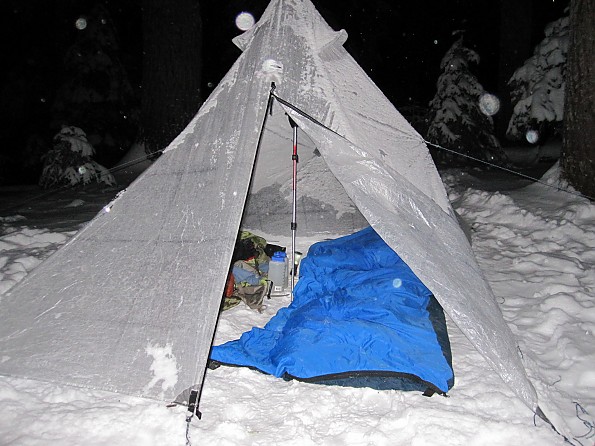 The UltaMid also did well in the wind. One night when out, sustained wind was forecast to be 20 to 30 mph. The structure stayed rigid and tie-outs remained taut. I didn't see a lot of snow, but am confident the steep pitch and slickness of the material would keep the UltaMid from collapsing in heavier snow.   
Not having a tent floor, I did have to make sure I kept track of my gear, especially small items. On the positive side though, I didn't worry about dragging snow in or knocking snow from my boots.
Overall, the UltaMid is a very well made minimalist shelter. The Cuben fiber fabric is strong and waterproof. All the seams were sealed, has a two-way waterproof zipper, reinforced tie-outs and a snap closure on the door flaps to keep the zipper from opening inadvertently.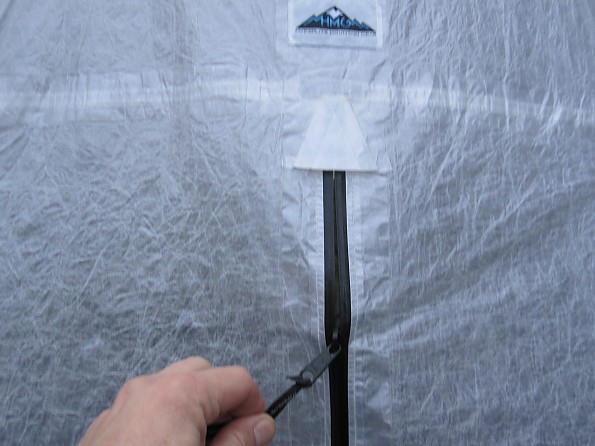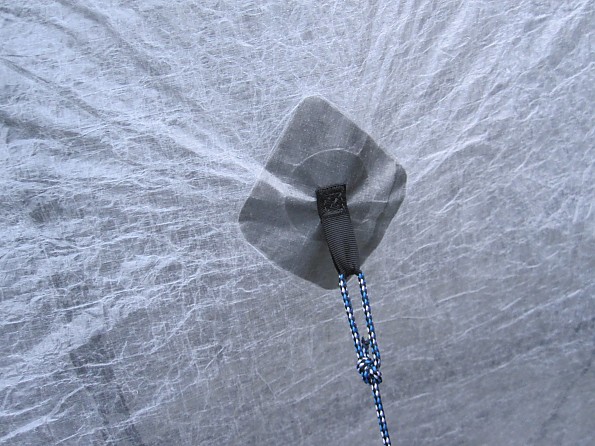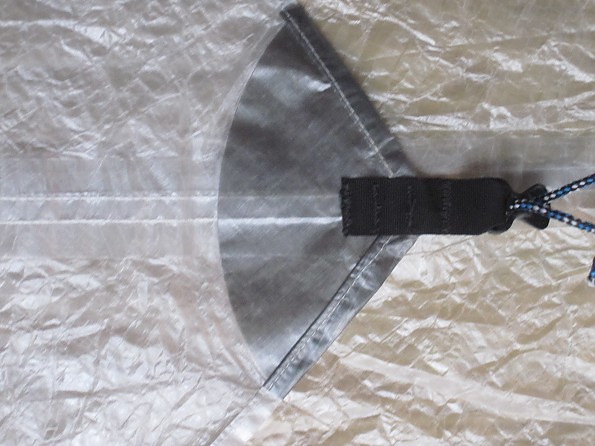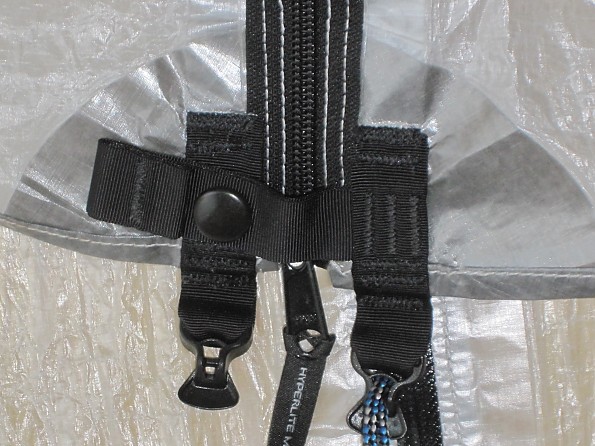 One thing I didn't really get to test was the vents. I kept them closed on my trips due to the cold. They are very small and I am not sure how effective they would be in a more humid situation.  In my tests the overnight temperature was in the low 20s and I only noticed a minor amount of ice crystals that formed inside the shelter.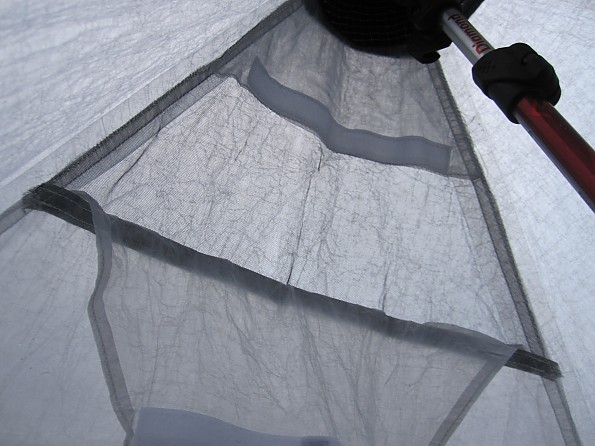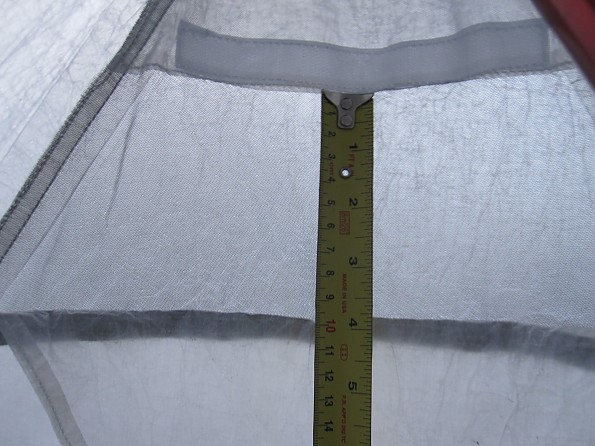 In Conclusion:
As stated earlier, the UltaMid 2 is a very well built minimalist shelter that would be comfortable for two +gear and is very roomy for one.  The light weight and small packed size of the shelter helped keep my pack weight down and the amount of bulk I had to carry along with other items needed for winter travel.
I found it very comfortable to move around in due to the height and easy to get in and out of. When pitched with the mid-panel tie-outs, it is very stable and rigid against the elements. I really like the line locks on the perimeter tie-outs and wish they were added to the mid-panel tie-outs.   
My only real concern about the design is small size of the vents and how effective they are in reducing condensation under more humid conditions. Hopefully, I will be able to continue testing the shelter and can update this review at a later date.
After using a flat tarp for a few years and then using the UltaMid, I liked the ease of pitching it and having full coverage from the weather. I would recommend this type of shelter to someone looking to shed weight and reduce bulk from what they carry and still have great protection from the elements.
Source: received for testing via the Trailspace Review Corps (Sample provided by Hyperlite Mountain Gear for testing and review)

Ultra light, roomy, sturdy shelter for bug-free trips.
Pros
Lightweight
Palace-like for one, enough room for two
Versatile
Weather-worthy
Cuben fiber is outstanding for shelters
Cons
Not super easy to pitch
No bug protection
Expensive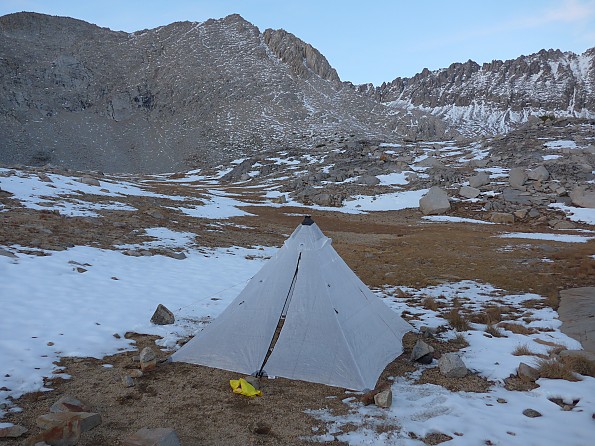 I won't post a bunch of pictures because the other review of this shelter has a bunch of great pics. 

The Ultamid 2 is a two-person shelter, and although there is a good amount of room for two, I have used it only as a solo shelter for me and sometimes with my dog. There is a huge amount of room for one person for the weight of less than almost all solo tents. You have the pole in the middle to contend with (unless you suspend it from a tree), but head and shoulder room is abundant.
The shelter is floorless without any bug protection, but you can buy an insert that has a floor and full mosquito netting. It attaches to the inside of the shelter — at a small weight penalty and with some loss of interior head and shoulder room. I plan to use it only on fall and high mountain trips where bugs are not a problem. You do need to bring a ground cloth for your pad, but the one I use weighs less than 1 oz.
Setup — you have to choose your site carefully and it does take up a lot of room because of the floor size and the guy lines. Site selection took more time than I was used to. I used it on a JMT trip and after a while I got faster at setting it up, but it definitely requires more care and attention than say, a free-standing tent. That is a tradeoff you make for a bunch of weight savings.
I brought six snow anchors/sand anchors, which are lighter than stakes and way more useful in high mountain terrain. They are like little corded parachutes that you can fill with rocks. They worked great with the Ultamid. I also brought four stakes along. It requires a minimum of eight anchors, and can use as many as 12.
When you it set up right with solid anchors, it feels very strong and wind worthy. I didn't get much in the way of strong winds, but I am sure this shelter would be very strong if anchored well.
The pitch is actually flexible — you can vary how high off the ground the walls are. I kept them about 3-4 inches high and that worked great. In a light rain that would be no issue because you can sleep away from the wall. Even in wind driven rain you could keep the lee side elevated for ventilation. That flexibility is nice.
A great thing about Cuben fiber is that it does not absorb any moisture, so once you get the thing tightly pitched, rain or dew will not cause it to sag like nylon. I think Cuben fiber is an ideal shelter material for that reason.
I had absolutely no issues with condensation. There are two peak vents, and depending on how much of a gap you leave at the bottom, there is great airflow. In a really bad storm you would have to pitch it snug to the ground to stay dry — that might change things. But I suspect, because of the shape and size, even then condensation would be minimal.
This would be a great winter shelter. If I were to get into winter backcountry skiing again, I would get the Ultamid 4 for traveling with one or two partners. I think that would be a killer setup — especially compared to the old nine pound North Face tent I carried on those trips years ago.
It does require either two trekking poles or one pole and an extender for setup. I bought the pole extension because I don't always take two poles. It weighs about 2 oz and works perfectly with one trekking pole. By the end of my trip I could set it up in about 10 minutes when I had a good site.
The construction quality and the fittings are very high quality. All tie outs are well reinforced. You can tell the design was well thought out.
If you are not married to the idea of a floor, can deal with more creative pitching, tend to hike in bug-free areas, and want a shelter that is weather tight that provides a huge space-to-weight ratio, this is the shelter for you. It takes a bit of a different mindset than regular tents. Most people look inside, see the bare ground and want no part of it. I often take only a bivy sack, so it is a palace to me that actually weighs the same as my bivy. I am really happy with it and I'm looking forward to using again on a long trip this year.
Source: bought it new
Price Paid: $650

Ultralite secure shelter.
Pros
Super light
Room for two, palatial for a solo
Made in USA
I've long been a fan of floorless single wall shelters. To me the advantages of space per weight, dry pitch, flexibility of just how much to bring along, tracking dirt in onto...the ground, more than offset the disadvantages of fussier pitch, condensation control, and BYO bug protection.
I've been a fan of pyramid tents since I first got a Chouinard MegaMid. The Ultamids from HMG are what the MegaMid wanted to be.
The UM 2 is a pretty easy pitch since it has a rectangular footprint. Just get it squared up, unzip the door, and put in the center pole. If you are planning on an elevated pitch for ventilation, still stake the first two (back) corners in close, then readjust after the pole is up. 
I have always been of the "just learn a few good knots, dag-nabitt!!" school of thought, but the adjusters on the built-in long perimeter guy lines (what a nice touch, I didn't have to add them like usual) are enough to make me mellow out. The adjusters work really well, almost with gloves on, and will be more user friendly than a trucker's hitch with cold, wet fingers in the dark.
HMG includes pullouts high on each corner seam for bracing, and on the center of three panels for stabilizing and room-enhancement. They also supply enough line for all of this. In truly severe conditions you could rig multiple lines from the apex loop for even more bracing.
Since this is meant to be an expedition-ready shelter, it is cut on a fairly dramatic catenary to enhance its high wind performance. While the cut does cause loss of some interior room, the UM2 is much more wind-worthy than the MegaMid, which was considered expeditionary in its day. This thing will stand up as long as your anchors hold.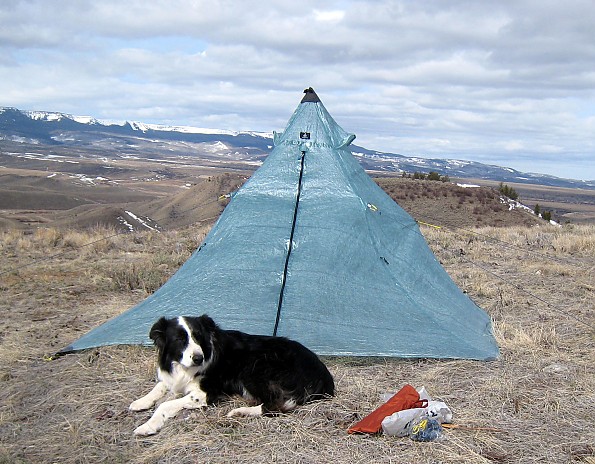 I was at first skeptical of the "strap together two hiking poles" idea, but it has proven plenty sturdy. (Thanks, Voile!) If one pole is adjustable it makes the setup much easier. My usual non-adjustable ski pole and extension are marked for setup on the ground, and elevated 3". The apex is very well reinforced, but I still often carry a ping pong ball with a hole for a pointy pole just in case. At a couple of favorite campsites that I use repeatedly, I've stashed wooden shear poles to eliminate the center pole.
Another cause for initial skepticism was the "waterproof" zipper. I didn't have experience with these, but it has proven itself in some really driving rain and wind with not even any discernible mist coming through.
One valid criticism of the pyramid tents is that they have an inward sloping door. This one is so light that you can carry a small tarp to rig as a vestibule. Going solo, half the tent is vestibule. I also bought the floorless net liner, but don't use it unless a tent-mate insists and is willing to carry it.
My experience has been that HMG's listed weights are very close to what I measure. Also, their stuff sacks are large enough to be useful rather than a marketing tool. Be careful not to let the wind steal the Dyneema stuff sack for your UM, it doesn't take much. Experience.
The UM2 has opened a lot of terrain for luxurious tenting where I used to have to go "almost-cowboy" with a bivvy sack. I'm already saving up for a UM4.
Happy Camping
Tim
Source: bought it new
Price Paid: 15% off sale from the manufacturer

Your Review
Where to Buy
Help support this site by making your next gear purchase through one of the links above. Click a link, buy what you need, and the seller will contribute a portion of the purchase price to support Trailspace's independent gear reviews.
You May Like
Specs
Price
MSRP: $735.00
Current Retail: $699.00-$825.00
Historic Range: $551.00-$825.00
Reviewers Paid: $650.00

Weight
1.17 lbs / 18.85 oz / 534 g

Packed Size
8.5 x 6 x 5.5 in / 21.6 x 15.2 x 14 cm

Area
63 sq ft

Width
6 ft 11 in / 83 in / 210.8 cm

Length
8 ft 11 in / 107 in / 271.8 cm

Height
5 ft 4 in / 64 in / 162.6 cm

Materials
DCF8

Recently on Trailspace