IMCO Triplex Super 6700 Lighter

#1 in Stove Accessories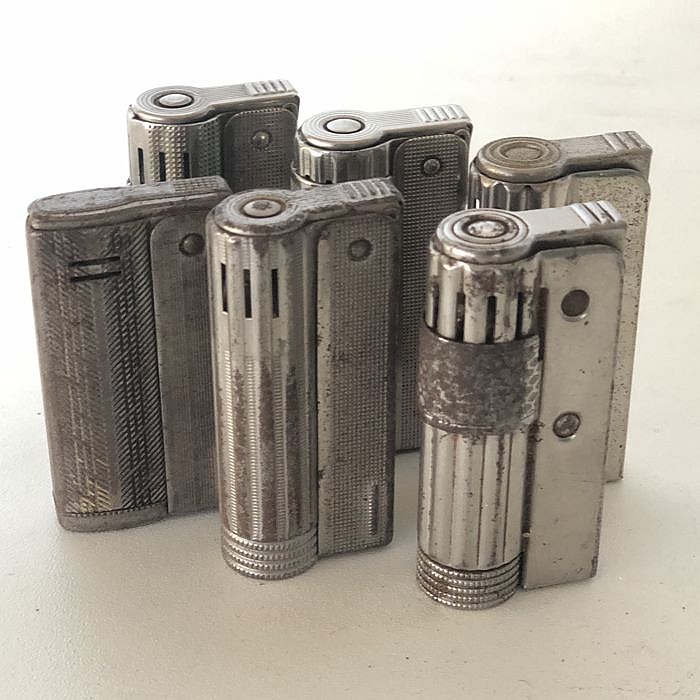 A great fire backup starting tool in the field....
Pros
A flint lighter that can be used to light just about everything in camp.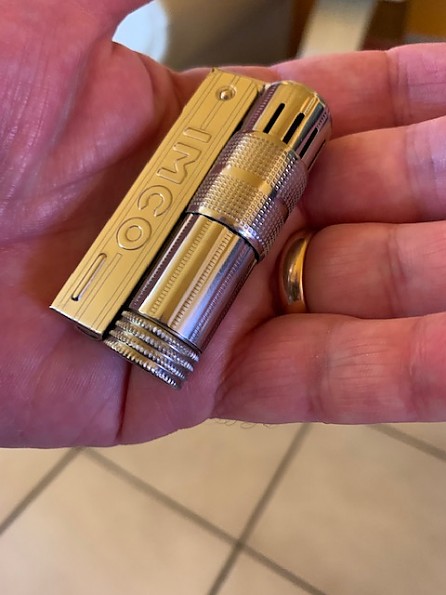 A great addition along with a ferro rod for emergencies at home or in the field. Here is a description of the product:
The original 1936 "foxhole lighter" from Austria. All chrome nickel (available in brass too) gasoline lighter with a flip-it-open to light, snap-it-shut to snuff it out. Has an adjustable wind ring around the air slots. Pull out the fuel container with burning wick to light your pipe or campfires or storm lanterns. For flint loading, push the button on the bottom and the side opens. Very "retro," a design that has yet to be beaten ....
It is a tried and true design. I highly recommend. They last a lifetime ....To get the originals go to deutscheoptik.com to get one.
Experience
It works well lighting alcohol, white gas, and canister stoves. Kerosine lamps, candles, and campfires. I use lighter fluid to refill this workhorse of a fire tool.
Source: bought it new
Price Paid: $34

An indispensable part of my outdoor cooking kit, for as long as I can remember. Cheap, tough, reliable as the dawn.
Pros
Robust
Inexpensive
Retains fuel safely
Lightweight
Cons
No longer manufactured (I believe).
Back when you could buy a Zippo—probably the platonic form of lighter—for £15, an IMCO was £2.50. Cheaper to buy and replace after a dark and muddy camping trip. Made almost entirely of thin gauge, mild steel—so it's lighter than alternatives—and of a design which seals better than some other petrol lighters.
I have lost a couple of IMCOs but never had one fail, or wear out. They are reassuringly old-fashioned looking, with a seemingly complex design.
Closer inspection reveals a candle-shaped, removable fuel vessel, filled with a long wick and wadding. This is also the obvious place for your spare flint. The cap of the lighter is flipped up with your thumb, and this simultaneously rotates an abrasive wheel against a flint, itself held under tension by a spring. There is a cap, under the lid, which covers the wick and traps escaping gas. First time ignition is extremely common, with this design, as a result.
IMCOs can be found in a few different shapes, but all work in the same fashion. If you have the choice, the adjustable flame guard types are the best—but each work very reliably, in wind or rain.
I keep an IMCO in my Trangia set. I also have one in my winter emergency kit, which lives in the car and includes a multi-fuel stove.  
The lighter will burn regular petrol/gasoline quite happily—but I dislike the smell, so only do this when absolutely necessary.
Unlike disposable lighters, which are commonly used instead of refillables nowadays, of course, an IMCO remains alight if dropped or placed on a flat surface. User discretion is advised!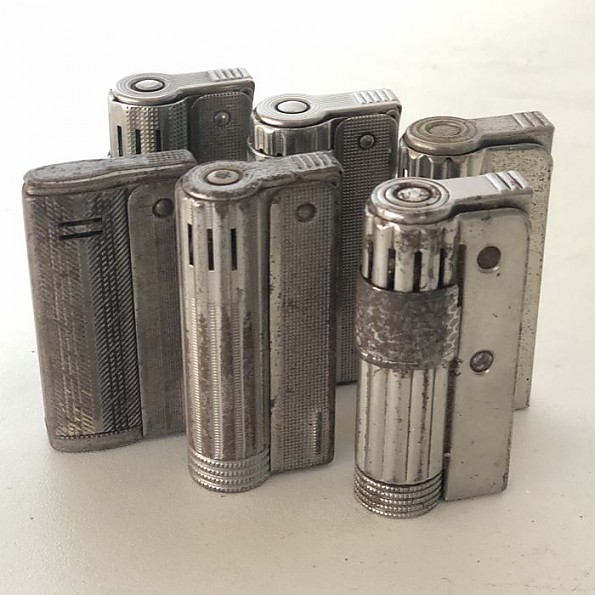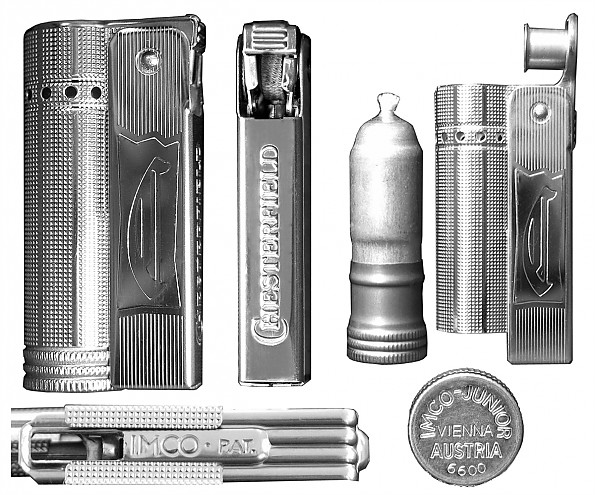 Experience
45 years. If I had found a tougher, more flexible and reliable product in that time I would be using it. I have a couple of unused IMCOs, in a drawer somewhere—but my two current models show no sign of degrading and each is more than 20 years old. My cigarette-smoking friend tells me that four or five years of all-day use is about the norm. For an outdoorsperson, I think you can safely treble that.
Source: bought it new
Price Paid: £2.50-£5

This lighter is not completely impervious to water. However, with that being said, Zippos aren't either. But I find this lighter to be far superior to Zippo, and the ability to pull out the tank and wick assembly once lit, and use it like a candle, is great for many applications.
I have also used this on various pipe smoking applications, and find that this lighter does not impart the strong, gassy taste that a Zippo does, but rather burns quite cleanly. The ability to keep spare flints in the wadding is similar to that of Zippo in that you can still lost them pulling the halves apart, and yet I don't seem to lose them out of the imco triplex like I used to with Zippos.
This lighter also has high points on style, and looks just as well matched the leather and spikes or fashionable dress. If you are kayaking it can be stored in a pill bottle to keep it dry. Great lighter!!!!!
Price Paid: $8

My father gave me his IMCO Triplex Super 6700 lighter when I was just a teenager and he has had it since at least the early '60s that I know of for sure.
It is a great lighter and still works perfectly after over 50 years of constant use. The only sign of wear is that the little flap that hides the back of the flint wheel has come off. Other than that it is still as shiny as the day my father gave it to me. There is no trace of any rust on it and it has never malfunctioned!
In my honest opinion this is the greatest lighter that has ever been constructed!
Mr. John Sweeney
Source: received it as a personal gift
Price Paid: given to me from my Father

I've had one for over 15 years now, and it still works great. I'm in the military and it has gone with me in the jungles of Central America, the cold windy winter of Northern New York and Alaska, and more recently in sandstorms in Iraq.
It has a tighter seal than Zippos tend to have, meaning it doesn't dry out in your pocket as quickly. The flint replacement is also superior to Zippo; unlike Zippo, there is no screw/spring to unscrew and go flying.
The ONLY complaint I can make about it is the small amount of rust whenever it gets damp.
Price Paid: $10

Want the coolest fire/whatever lighter in existence? Sure, flint/steel is neat and reliable. I like my Blastmatch sparker. Waterproof matches are nice too, as is having a couple of Bic lighters stashed in your gear.
But, there's nothing like the Imco lighter. Uses regular naptha lighter fluid (Ronsonol, Zippo fluid), and works fine with Coleman fuel too (although it smells a lot). The Imco is more windproof and controllable than a Zippo (safer, too), the fluid lasts longer since the lighter seals over the wick, and it's a beautiful piece of Austrian engineering and made of steel.
Look out for the cheapo Chinese fakes on Ebay and other places (Gawd, is there ANYTHING the Chinese won't rip off, and do a crappy job of it in the process? So much for "most favored nation" trading status).
I can light a cigarette in my convertible at 70 miles per hour with this thing. Try that with a Zippo, or with any disposable Bic-type butane lighter.
The Imco Triplex is a design classic--works like a charm in foul weather, is fun to use, and it's very high on the coolness scale. Your friends will chuckle at you, mostly cuz it looks basic and they've never seen one before, but then they'll be amazed by how well it works. Think of it as the Svea 123 of lighters. Isn't it great when Old School works better than New School?!
Price Paid: $11

The Sportsman guide caries these lighter. love the design and function. I wish it was more waterproof. I have had no problems so far.
Price Paid: $11

I always had a zippo, and this great lighter is just fantastic, and it's true, the petrol does not evaporate so kwikly. It just looks kool. and always works.
Price Paid: 3.60€ in

Your Review
Where to Buy
Help support this site by making your next gear purchase through one of the links above. Click a link, buy what you need, and the seller will contribute a portion of the purchase price to support Trailspace's independent gear reviews.
You May Like
Specs
Price
Current Retail: $18.99
Reviewers Paid: $8.00-$34.00

Recently on Trailspace