Jetboil Sol Ti

The Sol Ti has been discontinued. It was replaced by the Jetboil Flash Cooking System.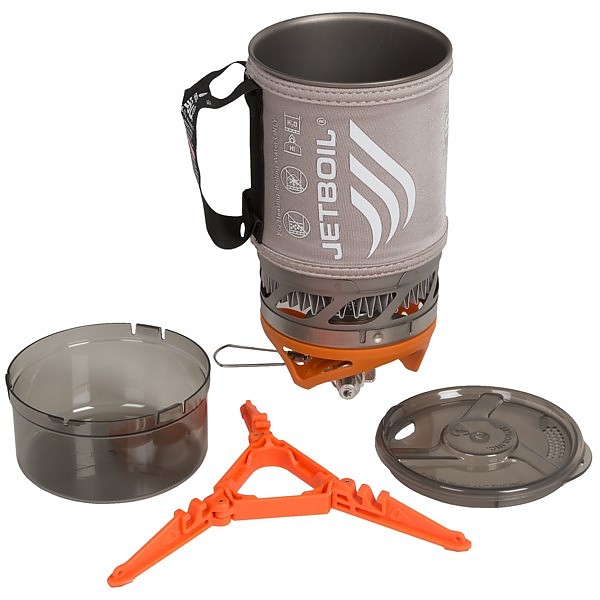 Hello Everybody,

I finally got my hands on the Jetboil Sol Ti - which was the first Jetboil I have purchased for myself. I have purchased them previously for family to keep in their cars but never thought they were light enough to make it into my backpack. Considering this new Jetboil has gotten under the 10 ounces mark I figured it was time to give it an honest try for myself.

Overall weight of the Sol Ti would be more than acceptable for those folks who are casual hikers, weekend hikers, and/or just about anybody who is already in (or looking to decrease too) the total cook kit weight of between 5 and 10 ounces. Obviously if you are an Esbit lover than the idea of going from ~0.36 ounces to 8.5+ ounces is unthinkable, but for just about everybody else I honestly do think the Jetboil Sol Ti is the first Jetboil worthy of making it into an UL backpack setup.
Overall Rating:In rating this on a 1-5 system I would give the Jetboil Sol Ti a 3.

I would remove one point because there is a black rubber-like handle (made out of hypalon) on the sleeve that gets very hot and feels way to rubbery. Included with this is the fact that the sleeve is just not secure enough. When the pot is full of water and you pick up the pot by this black hypalon handle the entire sleeve slides up above the top of the pot. I cut it off mine as it was just causing more problems than it was worth. By cutting it off I saved 0.14 ounces [4 grams] which brought the weight of the sleeve down to 0.40 ounces [1.2 grams]

I would remove another point because I had some rather series leakage from the fuel port - where it screws into the fuel canister - every time I have attached the stove unit onto a canister. There is this one small point when attaching/removing the canister (about one full rotation of the can) where it just spews out the fuel. At one point I had so much fuel leakage that I could feel the liquid fuel dripping off my fingers - and I was spinning fast. I have used multiple fuel cans from multiple manufacturers (including Jetboil canisters) and every single one of them [with the exception of one cannister] has had this happen.

The Sol Ti fit well within the side pocket of my ZPacks Blast as well as all ULA and Gossamer Gear and Osprey packs.
Boil times are what we would expect from a Jetboil but even a little faster due to the slightly smaller (0.80 liter) pot. I was unable to notice any difference between water from my tap (when I first tested it in my house) and water from a cold running creek while on the trail. No noticeable difference in performance in the 60 degree temps to the 28 degree temperature range that I have tested it within.
I do wish that Jetboil could find a way to reduce the weight on the fuel stabilizer. It is not included in their published weight because it hits the scales at exactly 1 ounce. Considering how helpful it can be at times they really do need to find a way to reduce the weight of this item.

Weights on my scale:
Pot: 4.70 oz
Stove: 3.55 oz
Lid: 0.65 oz
Fuel Stand: 1.0 oz
Pot Stand: 1.25 oz
Cup: 1.15

Material: All except the hypalon handle is superb!
Field Performance:Well within the performance level that I was expecting to get from it.
Design Principle:Typical brilliancy that we expect from Jetboil.
Performance-to-weight ratio:It is a strong contender to replace my MSR Titan Kettle and Soto OD-1R Micro Regulator stove.
Minor improvements:Fix the issues with the hypalon handle and reduce the weight of the fuel stabilizer.
Consumer Expectations:For those who typically carry a cook-kit over 10 ounces this will be an amazing replacement! For those who use 5-10 ounces cook kits, there is a new challenger in town! For those who are use to using sub-5 ounce cook kits, well, that should be obvious... leave this in the store.
Here is my initial video review of it, when it has just arrived:
Price Paid: $149.95

The specs on this stove state that it will boil 0.5 liters in roughly 2 min 15 sec. I was out a whole week at 10k feet in the Wind Rivers, WY, and this stove was able to boil that amount in much less time than stated. It is so fast, so light, and small. SO an ultralite backpacker would be satisfied all around.
Pros
Lightweight
Super fast boil time
Packable
I was a skeptic when it came to paying over $100 for a cooking stove for camping. But then again I wanted a lightweight stove, small enough to fit in my ultralite pack, and strong enough for high elevation cooking. Well, I thought I would give the JetBoil Ti Sol a chance. I could always return it right?
After a 10-day 60+ mile backpacking trip in the Wind River Range in Wyoming I have to say, "why didn't I buy this earlier?" It was so convienient pulling this out of my pack and getting meal time done in a flash. Once I clicked the starter I couldn't even get my dehydrated meal out of my pack and open before the water was boiling. Much faster than the specs give it credit.
So if you want a lightweight, fast-cooking stove, trust me when I say it is worth it.
Source: bought it new
Price Paid: $150

A quick easy way to heat water for cooking, and to stuff your food foil basin while it steeps. The manual says for heating water only, but it makes great tortilla soup.
Pros
Works on any surface, even hanging, or held in hand
Stores fuel (110g) inside itself
Includes measuring cup as base
Boils water very fast
Better simmer control than original
Cons
Heavier than ultralight
Not available in nonstick
Very high price
I have used the original model and the titanium model is a lighter version. It has a better burner, and better simmer control than the original. It is expensive but the best way to trim weight if you like the Jetboil.
I have tried other cook systems, but this one is not the lightest, but I like the fact that I can even hold it in my hand if the ground was wet. That is NOT recommended. But it will work in 2-3" of water....... What it doesn't do well is use pans. If the pan adapter is in your plan, this system loses its unique efficiency. IMO
Source: bought it new
Price Paid: $159

Your Review
You May Like
Specs
Price
MSRP: $149.95
Historic Range: $69.95-$159.95
Reviewers Paid: $149.95-$159.00

Fuel
propane/isobutane, Jetpower

Boil time for 0.5 L of water
2:15

Water boiled per 100 g fuel
12 liters

Weight
8.5 oz / 240 g

Recently on Trailspace