Katadyn BeFree 0.6L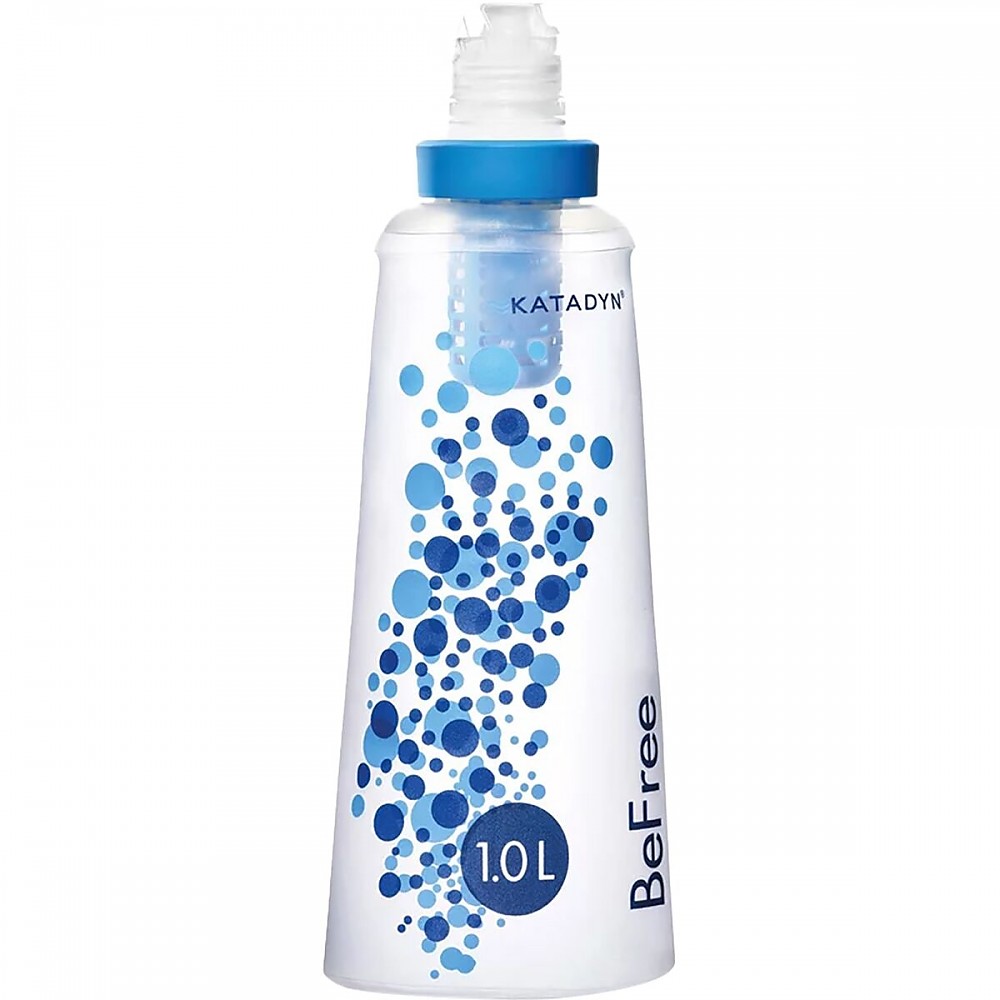 Great choice for every outdoor pursuit! The award winning Katadyn BeFree water bottle and filter gives you the freedom to drink anytime, anywhere. The collapsible .6 liter flask packs small and fits into tight spaces. It's a great backup water filter, but can readily be converted into your primary water filtration system.
Pros
Lightweight
Convenient
Fast
Compact
Cons
Small included bottle
Not compatible with standard bottles
Cannot freeze
Description:
The Katadyn BeFree Water Filtration System, a compact water bottle with integrated hollow fiber filter, makes a great choice for outdoor pursuits. The Katadyn BeFree Water Filtration System allows you to drink from creeks, alpine lakes, or mountain streams quickly and easily.
Instead of hauling along a full day's worth of water, just bring this lightweight, compact bottle with you. Simply fill the flask and let the EZ-Clean Membrane do the work. It's effective against microorganisms. And when it's not filled, the collapsible bottle packs up small so you can stash it in tight spaces.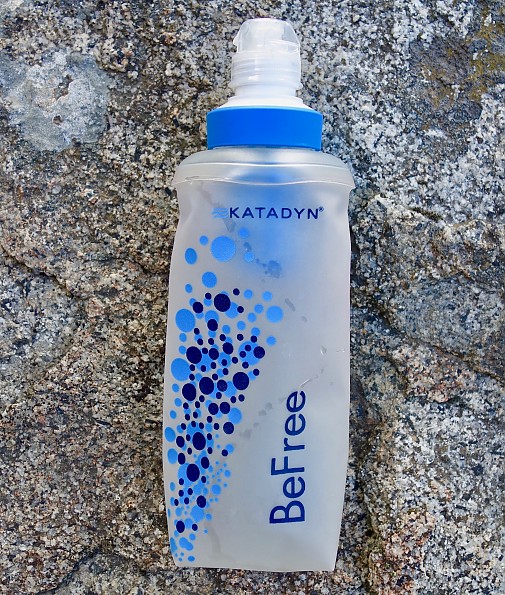 Katadyn BeFree Filter, drink nozzle, .6-liter bottle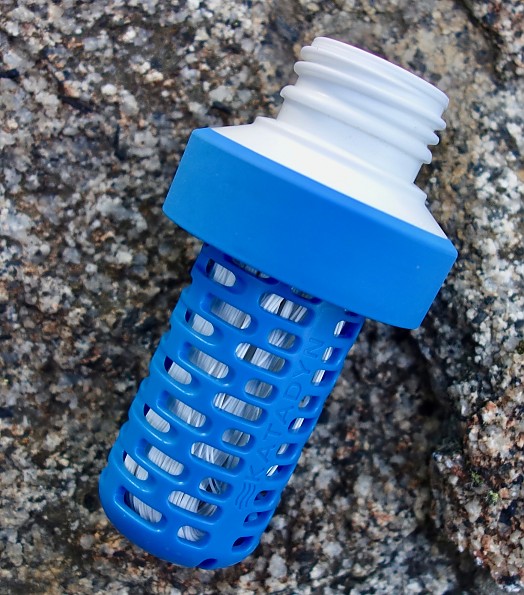 Closeup of Katadyn EZ-clean membrane


Features/Specifications:
0.1 micron hollow fiber micro filter is tested to protect against harmful organisms, removing protozoa (99.99%) and bacteria (99.9999%) to EPA standards
Collapsible 0.6L flask packs small to fit into tight spaces
Lightweight a 2.3 oz. (filter and .6l bottle)
42 mm, wide-mouth opening makes for easy filling from any water source
Easy to clean: simply shake or swish to remove debris (no back flushing)
Tested to 1,000 liters; dependent on water quality and maintenance
Filters up to 1 liter per minute
Testing:
I bought this at the local REI co-op to use as a backup for my primary filtration system for a five-night trip into Hell's Canyon. As it turns out this system was so convenient and fast that the primary system was never used. I primarily filtered water out of small creeks flowing into the Snake and Salmon Rivers. I did from time to time filter from the Snake River itself and one time out of the murky/muddy Salmon. I'm guessing that I filtered around 20 to 25 liters of water with this little filter without a hiccup. 
Observations:
The 42 mm bottle mouth allowed for quick, easy fills even from standing water pools. What really amazed me was the flow rate through the filter, or membrane, as Katadyn chooses to call it. With just a gentle squeeze I could drain the entire bottle in 15-20 seconds. 
Let me say that it was an absolute pleasure to drink COLD water from this filter as opposed to warm water that I was also lugging along in a bladder in my backpack. I was diligent about cleaning the filter element on a daily basis and only observed a slight buildup on the filter element when I filtered from the muddy Salmon River. It was easy to clean the filter by swirling or swishing it in the clear streams.
The 0.1 micron hollow fiber filter element (membrane) is made in Switzerland. The .6 ml Hydrapak collapsible bottle is made in China. The 42 mm threads on the filter inlet are NOT compatible with any other bladder currently on the market. It is only compatible with the Hydrapak Seeker 2- and 3-liter storage bottles and a collapsible Hydrapak Stash 750.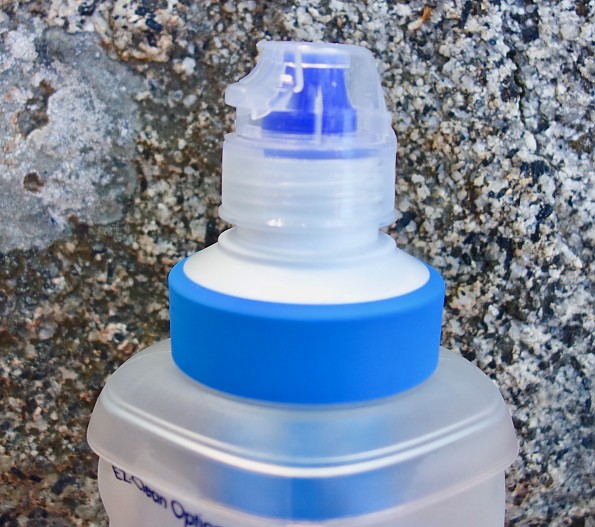 BeFree system with replacement Smart Water bottle nozzle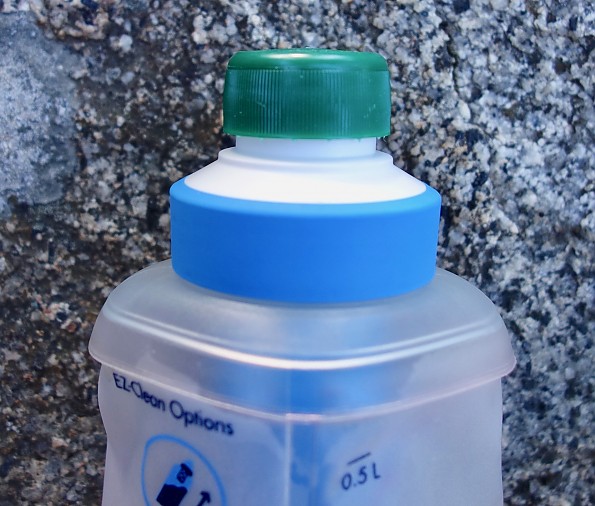 BeFree shown with generic water bottle cap in place 
The drink cap on the top of the filter is exactly the same as the drink cap on a Smart Water bottle, so if you were to lose or break the one on your filter it would be easily replaceable. You can also cap the filter with the lid from any standard water bottle. 
Given the fact that I was able to use this filter for a week with no problems I decided to test the feasibility of making it my primary system. To that end I purchased a Hydrapak Seeker 2 liter bottle. This bottle weighs 2.5 ounces and is able to fit into an included 4"x4"bag. It is fairly easy to fill from a standing water source because of its relatively wide mouth. I attached the Katadyn filter to the Seeker and was able to squeeze a liter of water through the filter in a little less than 30 seconds!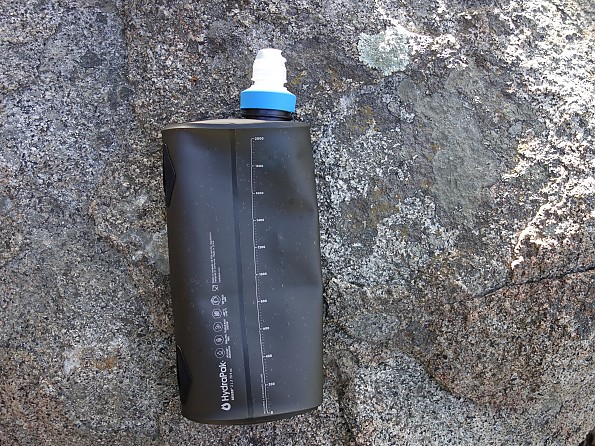 Katadyn BeFree shown attached to Hydrapak Seeker 2-liter bottle


                        Katadyn BeFree Filter attached to Hydrapak Stash 750 bottle


I found the included hydrapak .6 liter bottle to be quite durable. I capped it and gave it a very hard squeeze to see if it would fail at the seam at the top of the bottle. I noted no leaks or indication of seam failure on these tests. 
Also, I noted that on the original instruction manual with the .6 l bottle cleaning instructions included back flushing under a faucet or flowing water. With the newer model, back flushing is no longer a recommended procedure. 
As with all hollow fiber filters, the Katadyn BeFree cannot be frozen—it would damage the hollow tubes rendering the filter useless. 
Katadyn does have an integrity test. If you suspect that the filter may have been damaged in any way (i.e. frozen, dropped, stepped on, etc, first filter .6 liters of water through the filter. This test MUST be done with a wet filter.  Next, blow gently through the drink nozzle. If air passes through the filter the fibers are broken and you should not use the filter. 
Recommendations:
My main complaint for this system would have been the small size of the bottle. Katadyn has apparently paid attention to its customers as it now offers the BeFree with a 1-liter collapsible bottle! The cost is about $6 more than the price of the .6-liter system and, in my opinion, would be money well spent. 
One could also forego purchasing the stand alone "system" (filter and included bottle) and just purchase a replacement filter element for $24 and add it to a Seeker bottle and use it as your primary system. 
I am thoroughly impressed with the BeFree and highly recommend it with one caveat—lack of compatibility with other bottles. Should you lose your bottle or have it fail you're not going to find a quick replacement in the backcountry. For me, however, this is not a deal breaker so I'm rating this as a five-star because it's light, fast, convenient. 
Source: bought it new
Price Paid: $31.95

This is a nice simple water filter option that has great flow, is simple to clean, and is very light at only two ounces. The only negative is that the cheap flip top cap selected for use with the BeFree is the same as what you find on a typical disposable water bottle.
Pros
Great water flow
Light
Compact for storage
Simple filter cleaning process
Eco packaging
Cons
Cheap throw away flip top cap
Expensive
I've been using a Sawyer Mini water filter for over a year and it initially had adequate flow. It has gradually decreased (and I have been back flushing) to where I decided I wanted something that weighed about the same, but had much greater flow. After looking at what was available, I decided to give the BeFree a try.
Here is the basic packaging that the BeFree comes in.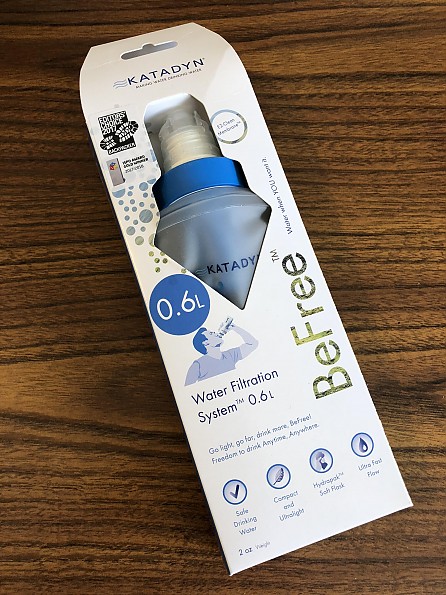 Within the package you get the filter and bottle assembly along with a set of instructions.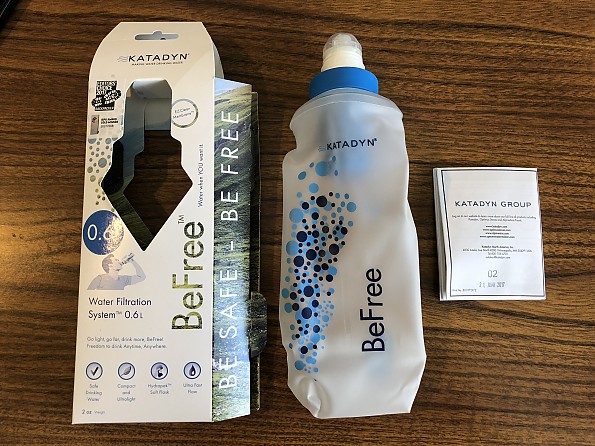 I found the overall assembly, filter, bottle and cap, to only weigh 2.1 ounces.
When you breakdown the assembly you have the filter assembly, a nice 0.6 liter Hydrapak bottle, and simple cap that has a nipple and flip top cap.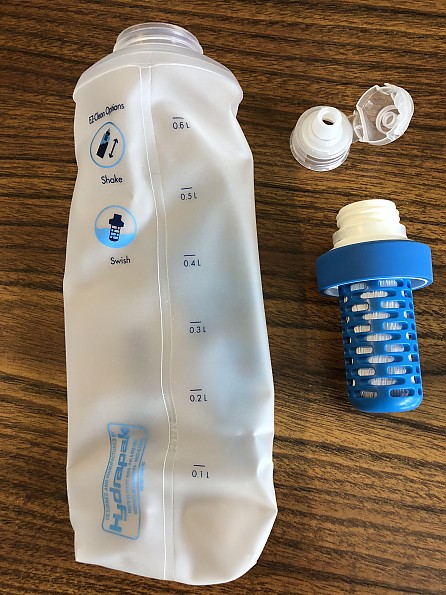 The filter assembly is nicely made and has a blue rubber like material around the rim that makes it very easy to hang on to the filter and not have it slip away while you are swishing it around in a creek using the recommended cleaning procedure. The thread on the top for the filter for the cap is the same that is found on a typical smart water bottle, so those caps could be used instead of the included cap.
The 0.6 liter Hydrapak bottle seems well constructed and has markings on the back side to reflect the level of water in the bottle and also simple pictorial instructions on the filter cleaning procedure.
The nipple/cap included with the BeFree was a big disappointment for me as it is the same as you would find on many sport drink bottles like you would buy at 7 Eleven. While the cap functions as it should, and the nipple is a nice size for drinking, the flip top cap has a cheap plastic hinge that is bound to break in a short period of time. Given how expensive the BeFree can be, Katadyn could have provided a cap that is more durable instead of providing a cheap throwaway cap like what was included.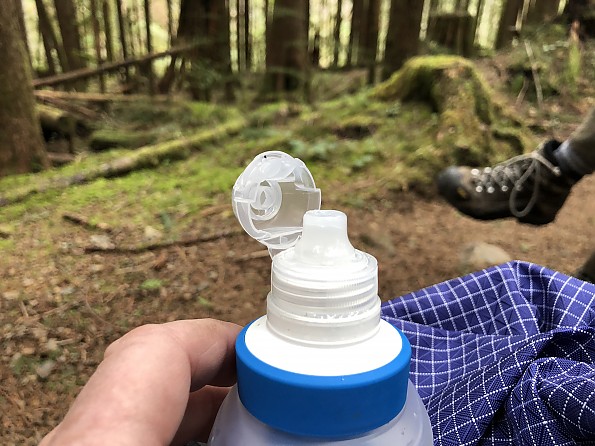 From a functional standpoint, I have had the BeFree out on a number of hikes and it works well. It is easy to fill the Hydrapak bottle and the filter flows great. I live in the Northwest and almost all the water you find on a hike around here is crystal clear, so I really haven't had to do any serious cleaning of the filter, but the rubber trimmed rim of the filter does make it very easy to hold on to when I have dipped it into a creek to go through the cleaning process.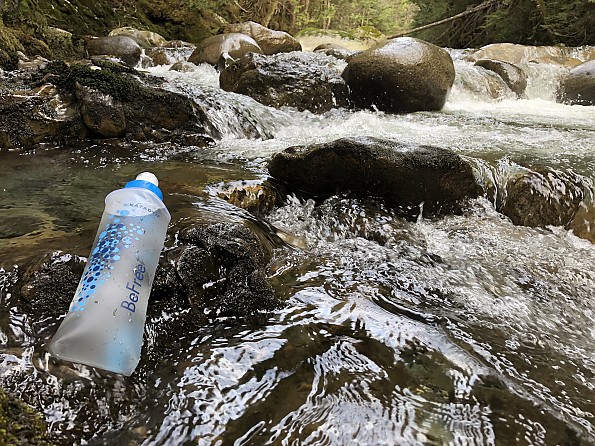 While the soft Hydrapak bottle is a needed feature so you can squeeze it to force water through the filter, it does make for a funny feeling water bottle and can almost be a two-handed process to try and drink from the BeFree.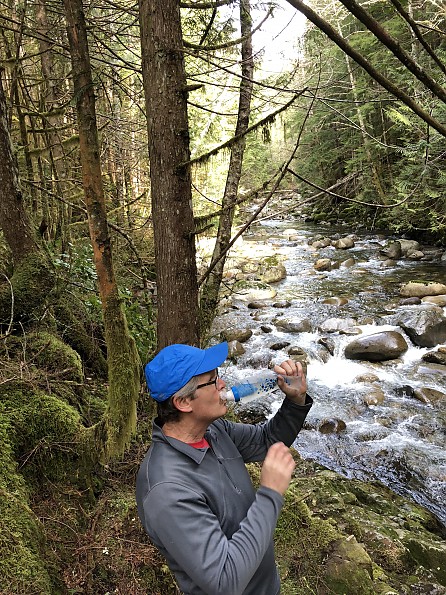 Overall, I think the BeFree is a good filter option especially if you can find it at a reasonable price. I'll try and provide an update in the future on if the flow starts to decrease like it did with my Sawyer Mini, but for right now I plan on keeping the BeFree in my pack as it's a nice light, high flow filter, that is easy to use.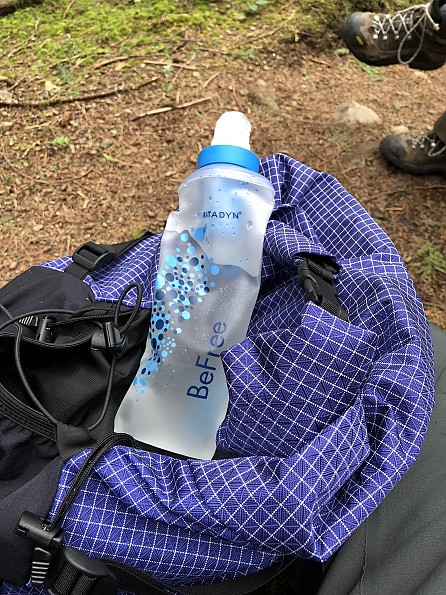 Source: bought it new
Price Paid: $19.98

This filter has been a literal lifesaver on my adventures. Its ease of use and modular bottle system allows it to adapt to various needs. Its flow-rate is top notch.
Pros
Lightweight
Flow-rate
Cap to keep nozzle clean
Soft bottle included and can be swapped out
Easy to clean
Long life
Cons
No virus filtration
Original soft bottle is fragile
Can freeze and break in cold weather
I have been using this filtration system for over a year now. Although I have replaced the original filter cartridge due to the slowed flow-rate, it still technically works. Recently, I used this filter for all of my water over five weeks in Nepal. The Khumbu (Everest Region) is beautiful, but the water quality is very poor (many contaminants). I not only used it for 3-5lt a day in the mountains, but also in towns, treating the tap water (there is a low risk of viral contamination in this area). After what I had seen go into the mountain streams, I KNOW this filter saved me much suffering.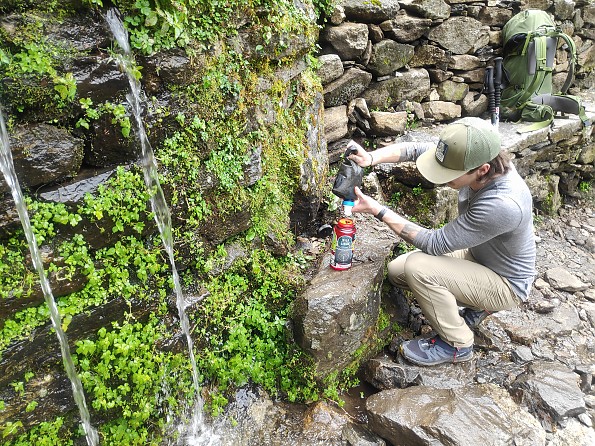 The filter cartridge has a nozzle with cap, and a cage around the micro-tube filtration system. The cap keeps contaminated water from coming in contact with the drinking/pouring end, and the cage around the filter keeps the larger debris out (which maintains a cleaner filter over time). The filter cartridge screws on to any 42mm soft-bottle. I have the original 0.6l bottle as well as a Hydrapak Seeker 2l that I use often with the filter. The original 0.6l bottle is a touch fragile and prone to pinholes. I find the Hydrapak Seeker to be more robust, if an odd size.
The soft bottles that work with the filter can make it hard to scoop up water, and I tend to look for flowing water in this case.
The claimed flow-rate is 2L/min which seems about right. A little squeeze on the bottle increases this. As the pores on the filter membrane fill with particulates, the rate slows. This is the only reason to replace the filter. Essentially, if water is coming out of it, it's safe to drink. You should also get around 1000L of filtered water from one cartridge depending on water clarity. The main reason my first cartridge slowed was because of filtering glacial and tannin rich water. Both water sources are full of particulates that blocked the filter's pores. It is easy to clean the filter by swishing it in water or shaking some water in the reservoir and them dumping it out. Either method removes external debris from the filter membrane.
The filter also works as a gravity filter with a large enough water reservoir. One nice feature of a filter like this is that it clarifies that water, which tablets won't do.
Because the filter tubes are made of ceramic, they can crack if they freeze. I always kept the filter in my sleeping bag at night to prevent this.
All-in-all, this is a brilliant, lightweight, filter that I am happy to bet my health on in the backcountry.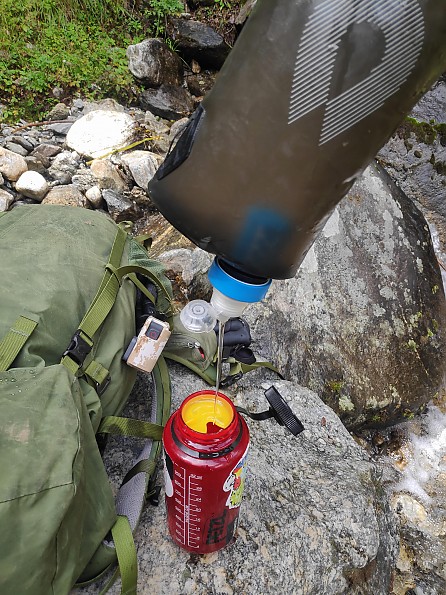 Experience
I have used this product as my exclusive water treatment system for the last 18 months in Canada, Alaska, Tasmania, and Nepal. It has been used over at least a dozen backpacking trips over a few-hundred kilometres in a range of environments (mostly temperate rain forest and mountainous). I have tried a handful of mechanical filters and fell in love with this system when I found it. I have friends with similar systems that haven't been as easy to use or have as high of flow-rate.
Source: bought it new
Price Paid: $60CAD for the original set; approx $27AUD for replacement cartridge.

Instant water filtering—but be gentle!

Pros
Fast—filter as fast as you can drink
Light
Simple to use
Cons
The flask is easily punctured
Flow will slow down as filter gets used
Cost of filters
Company support unresponsive
Edit: Customer service seems to have improved!
The filter itself is a great piece of gear. Yes, the flow will be reduced as it gets used, but I can overlook that shortcoming due to the convenience of simply squishing the flask for a drink of clean water.
What is not acceptable is that my first trip out the flask developed a pinhole leak at a seemingly random location—not on a seam nor corner. Thankfully, it didn't affect my ability to use it. I just learned where the leak was and put my thumb over it.
Upon my return, I used Katadyn's "contact us" page to inquire whether I should contact the store where I bought it (MEC) or if they themselves would be handling the issue. No response and none to this day. MEC (a Canadian outdoor equipment co-op similar to REI) has a very good return policy. I called them and they gave me a return shipping label and refunded my purchase. So Katadyn, you owe MEC a beer.
I have since purchased a separate BeFree filter and a Hydrapak Seeker in hopes that the Seeker provides improved durability. Time will tell.
Edit, September, 2019. On my last trip, the BeFree was to be our only source of water filtration. As such, I packed a spare Hydrapak Seeker as well as a brand new BeFree filter. During the trip, the old filter started to slow down and rather than struggle for the remainder, I deployed the replacement. Well, it slowed after about 2 litres of filtration. The water was clear with no discernible tannins.
We spent the rest of the time alternating filters, trying to clean them, but ultimately squeezing our hearts out for water. Katadyn did respond to an email I sent them regarding the issue and to their credit, they are sending me a new filter. But, I can't say that I will trust this system as my sole source of water (even with a backup).
Source: bought it new
Price Paid: $48 CAD

Works well when it works, but seems to be unreliable. My filter malfunctioned after just 10 days of use in the field, even though I followed the instructions in the manual.
Pros
Easy to use and maintain
Good flow rate
Compact
Cons
Unreliable
Thread size limits bladder options
I purchased a BeFree filter in March 2018 and used it for a total of 10 days on hiking and kayaking trips here in Australia before the pandemic started. It worked well in that time with a good rate of flow and I liked how simple and compact it was, enabling me to easily filter water even when inside my tent.
Two weeks ago, on my first hiking trip since that time, there were only drops of water coming out of the filter even after leaving it to soak for 20 minutes or so, and I noticed bubbles coming from the filter when I squeezed the Hydrapak bladder (which I remembered was a sign of failure).
The filter has never encountered freezing conditions in the field, has always been kept in a storage pouch when not in use and I've never washed it under a tap, but Katadyn initially refused to replace the filter as it was out of the warranty period. I had to point out the filter's very low mileage before they relented, and I'm now awaiting a replacement, but there was no advice as to what caused my filter to fail.
I liked using the filter but I'm now not sure if I will trust it again. I'm now thinking of bringing along a spare filter on my trips, but of a different make—I found that if you remove the filter element from a damaged BeFree filter, it becomes an adaptor for the Hydrapak flask and could possibly work with Sawyer, HydroBlu or the Platypus Quickdraw filters.
Experience
I have been on hiking trips for about 18 years.
Source: bought it new
Price Paid: US$22

Small, compact and easy to use. This filter is also fast and can be backwashed to clean out the filter.
Pros
Size
No need for extra bottle
I used this filter while section hiking 500 miles of the AT. I could filter a half liter of water in seconds into another bottle or bag but also drink straight from the BeFree.
It stores in the side of my pack. You just roll it up when not using so it's small and lightweight. It only weighs 2 oz. I never had problems with durability. It was great when the stream was low or slow moving because it has a wide mouth and the bladder is flexible.
The only negative, but it's really not a negative, is the bladder yellowed a little over time.
It's my favorite water filter I have every used.
Source: bought it new
Price Paid: $39

This handy water bottle and filter allows you to hydrate on the go, literally, and allows you to drink from any water source. Water tastes great and flow rate is good.
Pros
Convenient
Portable
Good flow rate
Cons
Replacement filters are costly
This is a new on-the-go water filtration system. The Katadyn purifier is a personal and portable water filtration system designed to give you safe drinking water on the go.
Now I am a believer in occasionally drinking unfiltered mountain water from very specific sources (and man is glacier fresh water tasty), but now with this handy little water filter, I'll be taking it with me in case I get stuck in an area where I'm not comfortable with drinking unfiltered water. This is essentially a plastic bag with a filter on top. It's so light and easy to use. It filters water as you drink. Literally, on the go. 
This is a personal size bottle that fills 0.6 L (or 20 ounces) of water. This is a great size that you can literally take anywhere, since it weighs next to nothing. In fact, it's so light and small, that I would also recommend stowing it in your backpack as a safety item, which will be helpful in case you get stuck in an area with questionable drinking water. 
The only downside is the filter costs almost $25 to replace, however, it lasts for 1500 L, so you don't need to buy them very frequently. I'm a big fan of this filter and now take it everywhere with me.
Disclosure: The reviewer received a sample of this product from the brand or its representatives in exchange for a review.
Source: tested or reviewed it for the manufacturer (I received a sample of this product from Katadyn for the purposes of review.)

Your Review
Where to Buy
Help support this site by making your next gear purchase through one of the links above. Click a link, buy what you need, and the seller will contribute a portion of the purchase price to support Trailspace's independent gear reviews.
You May Like
Specs
Price
Current Retail: $39.95-$49.95
Historic Range: $26.79-$49.95
Reviewers Paid: $19.98-$39.00

Weight
2 oz

Dimensions
3 x 3 x 11 in

Output
2 quart/min

Technology
Hollow fiber filter 0.1 micron