Keen Targhee II Waterproof Mid

The Keen Targhee II Mid is a comfortable, rugged, waterproof boot that I found to have great traction on all surfaces, wet or dry, except wet quartzite. However, it has what is to me a serious flaw in the lacing system that I'm going to keep working on, but because of which I can't recommend the boot at this time.
Pros
Very comfortable
Rugged
Waterproofing works very well
Traction
Distinctive looks
Easy to clean
I bought my Targhee II Mids on a whim about a month ago from a local shoe store chain that got me in the right size and sold me some very comfortable footbeds as well. I wore them inside for a few days to get a feel for them, and man, were they comfortable.
I got the regular width and they fit snugly but not tight across the forefoot, the heels are almost always just a tad bit loose for me but the footbeds have a deep cup that laterally stabilizes very well.
Construction is very robust, Keen doesn't have much in the way of specs on their website, but the vamp appears to be split-grain leather about 2mm thick. Running along the sides and around the heel are pieces that appear to be thicker full-grain leather, with the ankle/heel area having a third piece for a total of what looks to be close to 4mm of leather in all.
All the leather is on top of a lightly-padded nylon bootie. There's an awful lot of leather on these boots, which explains the 17.4oz per shoe weight that Keen lists for a men's size 9. I don't have a scale to weigh them, but the fact that I wear my big 10" Carolina all leather composite toes for 10 hours a day makes an ounce or 2 pretty inconsequential.
The sole has deep, wide-spaced lugs that grip well on everything except a smooth dome of white quartzite I slid on one rainy day. Mud, packed dirt, grass, granite, and scree, these boots handle them all. The toe cap is molded as part of the sole. I like the look of these boots, they look burly. 


Wearing them casually gave me no problems, but when I started hiking in them I ran into a problem — excessive heel lift, especially with my slightly smaller right foot. I was getting a hot spot on the back of my right heel within a mile, and in order to tighten the heel up more I had to tighten the whole boot to the point of discomfort in the forefoot.
The problem with the lacing system as I see it is there's no pinch hook at the notch or break that allows you to tighten the ankle separately. Maybe the laces are stretching, maybe the nylon lace loops stretch as well, or maybe it's both. Whatever it is, I get a lot of blisters on the back of my right heel with these, regardless of the socks I wear (Smartwool or Darn Tough.) I haven't had blisters in forever.


Simply tightening them more can't be the answer. That seems like it'll just just lead to the laces sawing through their loops or vice versa. The 4th pair of eyelet loops connects to a strap that looks like it should help lock the heel in place, but it seems more like a gimmick to me. My other mid boots have generally had 7 pairs of eyelets with a pinch hook at #4 or 5, and I think the Keens only having 5 pairs is part of the problem I'm having.
I still have a few things I want to try before I write these off for hiking use, after taping up the blister from today's hike I threw a half hitch in between the 3rd and 4th eyelets and it seems to let me tighten the ankle separately. I have a couple pairs of Asolo laces that don't stretch at all, and maybe I'll give those a shot as well. I may also try 2 thinner pairs of socks, or thin polypro liner socks with my heavy wool socks. I was also told about ENGO pads and may give them a try.
If the problem is the lace loops stretching there's not much I can do. My Koven Polar Mids fit exactly the same way and don't give me blisters; the only difference is they have actual metal eyelets instead of the nylon loops, so I'm not sure something can be done with the Targhees. 
Update 07-12-16
I've worn these on quite a few more shortish hikes (<=3 miles) and no matter what I did, I just couldn't get them to lock my heels in place. I'd start out by painting my heels with benzoin compound tincture and applying moleskin as a blister preventative, then putting a small piece of strength tape over that to keep the moleskin from peeling off.
Even with tightening the laces as much as I could while still remaining comfortable, my heels would soon be lifting. When I started out I couldn't get my heel to lift inside the boot even by stepping on the heel, but before long something changed. The laces still felt tight. I don't know where the problem is, but I'm done dealing with it. They went on eBay last night.
I wish they'd worked out because they were comfortable until I'd walked 1/2 mile or so. I ended up going back to my old Fugitives (which will probably get resoled), and also bought a pair of Keen Voyageur low hiking shoes. THOSE are very comfortable and feel great on a walk around my 2.2-mile block.
Source: bought it new
Price Paid: $135

These boots are comfortable, tough, and easy to use. They are lightweight and perfect for wet-weather hiking and backpacking. They are also a good value.
Pros
Comfortable
Tough
Nice lacing system
Lightweight for what they are
Cons
Not super breathable
Not super light
Like a lot of hikers and backpackers, I spend a lot of time worrying about and obsessing over my gear choices. I read review after review until my mind is numb, and even then I am still a compulsive product-returner. Footwear, however, is different for me. Reviews and features are secondary—fit is the most important thing.
I bought these shoes because they fit and were comfortable. No other reason. I wanted tough, waterproof boots, but I was willing to sacrifice almost any feature in order to get the right fit.
Boots, like backpacks, have to fit. I hope this review is helpful, but don't let it be the reason you buy these boots!
Fit: I've had trouble getting a good fit in the past. My feet are narrow in the backs, but my toes really stretch out. Keen's wide toe box is very forgiving in terms of fit. For me, they are the solution to my fit problems. Obviously, though, fit is personal and it's kind of silly to add or subtract stars based on fit. Keen says they run a half size small, but it's spot on for my size eleven feet.
The lacing system is simple and effective. There is a hook thingy that you run the laces through that does an amazing job of securing the laces in place. You really can lace these shoes and forget about them for the rest of the day.
Comfort & Support: The comfort is excellent. No break-in period required, which is typical of hiking boots these days. There is a lot of leather on these boots, and they seem a little stiff after wearing just tennis shoes and low-cut Merrells for a while. 
The cuff is not overly stiff. It never feels like the shoes are cutting into my ankles. The leather is pretty flexible but feels supportive enough to make the extra weight seem worth it.
Water Resistance: Choosing to use a waterproof boot is always a tough decision. As smarter people than me have pointed out, so-called waterproof/breathable boots are often disappointing in both respects. In my experience, that has been the case even with nice Gore-Tex boots from Italy. My experience with these boots has been no different. They are great for hiking through the snow or dewy morning grass and avoiding soaking wet, cold feet. I still try to avoid puddles, though.
The waterproof lining means that these boots are not very breathable. Your feet will get sweaty, but not as wet and cold as they would if you, say, stepped in an icy puddle in October in the Rockies. It's a tradeoff—if I'm hiking in snow or very wet conditions, I will wear waterproof/breathable boots. If I'm expecting mostly dry conditions with the occasional rain storm or creek crossing, I will wear quicker-drying non-waterproof boots.
Traction: Not much to say here. I'm perfectly satisfied. These are not Vibram soles. There's nothing sticky or tacky-feeling about them. But they have done everything I expect a hiking boot to do on rocks and in mud, ice, and snow.
Construction & Durability: I've had these shoes for about a year, and I've been pleasantly surprised with both construction and durability. I had read reviews of Keen boots that made me worried. I only bought the boots because of the comfort and my trouble in finding a good fit with other brands.
I have been pleasantly surprised. I have subjected these boots to a ton of abuse. I have taken them though through cactus and sagebrush and sharp, jagged boulder fields. They have been my hunting boots, and I've taken them through some very tough terrain. Maybe my boots are the exception, but they are actually perfectly functional. They still look nice.
Source: bought it new
Price Paid: $130

I had my Mid for about a month now. I use them only for day hiking and carry sling bag with 40oz of water.
I have put approx. 70 to 80 miles and had no problems. I only use them on the weekends and use work type boots during the week for training.
I live in Chula Vista, CA, and use the Mids at the Otay area. I have made 10 miles hikes and overall 3000 foot climbs, no toe problems, it has not come apart, the trails have been 50 to 60% rocks, hard pack dirt, and flour type dirt. I clean them once a week and only wear wool socks with the Targhees.
They feel great on my feet, they protect the bottom of my feet OK. When the raining season comes I plan to use gaiters and not go through streams.
The box that the shoes come in say 1 year warranty. I bought them at REI so if I have a problem I'll take them back.
I hope to get 1000 miles out of them, but only time will tell.
Update: September 19, 2010
I have a wide foot. I read reviews and went to REI to try on shoes after a 5 mile hike. I put these on and they felt great.
The shoe laces are strange but they are good. When you tie your shoes they give a snug fit and the toe box gives a lot of room.
I do clean the shoes every week and called Keen to ask if I could use mink oil. They told me no problems. When reading about the problems with this shoe it seems that if mink oil is used it could solve some of the problems. Also I think if your a large person, they'll break faster.
The sole has not come apart, and the reason I bought the shoes from REI at a higher cost, is because the shoes have 1 year warranty and I feel REI will help if the shoes come apart.
They are great on the trail, no problems with grass seeds getting stuck on the shoe, or feeling every rock. I had them now for 2 months and put about 175 miles on them. I use only wool socks with them, it's a little warm but I can deal with it. No blisters and no break in time.
One problem you'll find is, when they get wet it takes forever to dry, that is why I called about the mink oil. This fixes the problem.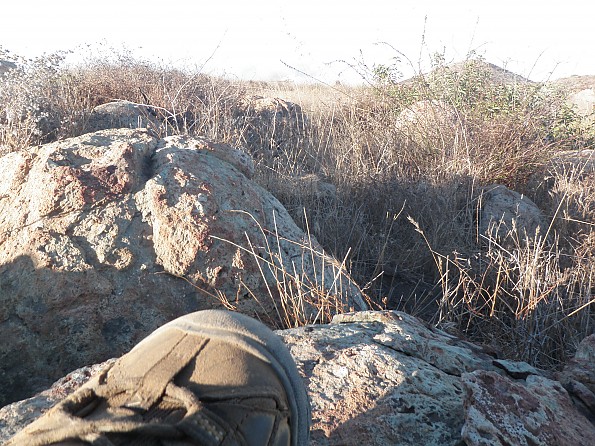 Update: December 2, 2010
This is a follow up about my Keen Targhee II.  I put about 400 miles on they before they failed.  The threads on both shoes started to come off.  I look at it and could see that the glue was not put on very good, which lead to the failure. 
The shoes fit and felt great. I read the reviews and didn't want to believe that there was problems with the shoes. I bought them from REI and they took them back with no problems.  This is a good place for the warranty. 
I also had problems with my laces which started to make coils. I change the laces and problem was gone. The shoes only went on the trail, and were clean and never left outside to dry. 
I wanted to get another set, but couldn't do it because I felt they would fail again in 4 months.  I'm trying Merrell boots now and will write a review in few months.
Use: Dayhikes, 20 miles max.
Break-in Period: no break-in time.
Price Paid: $125

These shoes are incredibly dangerous on wet terrain.
Pros
Immediate comfort, no break-in required
Breathable material
Large toe box
Rubber toe guard helps repel water (unlike the rest of the shoe)
True to size (but with a wide toe)
Cons
Not waterproof or very water resistant
Slippery when wet! (very dangerous on inclines, rocks and logs)
Very very dangerous when wet. (If a shoe has no sole, it's not a shoe worth owning.)
I can't stress enough, I feel very unsafe when i walk in the rain with these shoes. Almost like walking on snow when on wet rocks or inclines.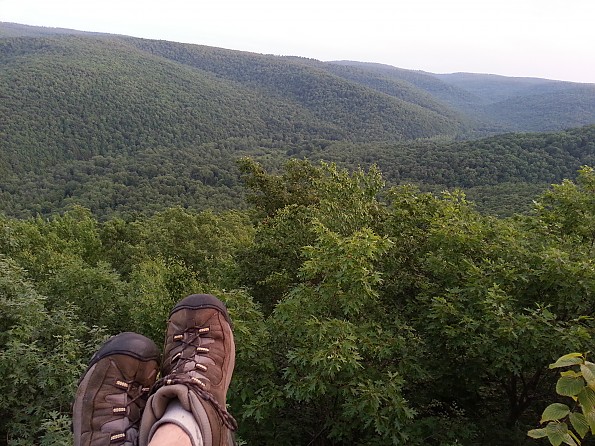 I ordered these online without ever having tried them on because I was in need of new shoes, and I found these reasonably cheap. All of my other boots and hiking shoes are size 10 1/2, so I assumed that these would be the same. Luckily they were.
I got them out of the box, put them on, and walked around the house for a bit. They felt comfortable and very flexible for a new shoe, so I took to my hiking grounds with a 20 lb pack on my back.
I recently found a scenic overlook on top of one of the mountains I hike around, but there is no trail to it at all, and it's about a mile straight uphill to get to it. It is not a hike for the faint of heart. This hill is what drove me to the decision of getting new hiking shoes, so I figured why not test them out on it?
The whole climb up was very nice. I didn't notice any loss of traction at all, and the snug fit kept my foot very secure.
After a "top of the mountain beer," some huckleberries, and watching the sun go down, I decided to head back down the mountain and test out my new Fenix E25 flashlight (very impressed, I also have the Fenix LD02 and it's also nice). These shoes are very reflective around the laces and back.
The climb down was pretty good, given the circumstances. I had watched the fog come down the valleys, and by the time that I decided to leave, the ground had gotten covered with a light layer of dew and made the rocks and logs a little slippery. I only lost traction once or twice (wet leaves), and I went through some pretty thick stuff.
I really appreciated the extra toe room on the walk down. I usually have sore toes at the end of a demanding hike from my toes feeling squished together, but my feet felt fine when I got home. The snug lacing system, combined with the extra toe space work great together. I also like the extra coverage of the rubber toe cap. It helps repel water when walking through wet grass.
My only concern with these shoes might be durability with the glues or stitching, but that's why I got them as cheap as I could. I wear out my shoes pretty fast, but so far they seem well worth what I paid.
UPDATE 6/1/2015:
I wouldn't buy these shoes again. I don't like the sole at all for traction, or the glued on plastic that's poorly place on the arch of the shoe. They are very dangerous on wet terrain, and become wet on the inside very easily. I would not recommend these for hiking.
Source: bought it new
Price Paid: $85

I have trouble finding hiking boots that I find truly comfortable. This is one of those. As boots go, they feel good on my feet. They also have a very roomy toe box as opposed to the unnatural-shaped angled toe box found on many boots. Unfortunately they turned out to be not durable.
Pros
Comfortable
Roomy toe box
Inexpensive on sale
Usually I research gear extensively before buying it. In the case of these boots, I bought them in a store without reading reviews first, because I have trouble finding boots that fit me well. These Keens fit well. The nice wide box toe avoids the typical problems of scrunching up my toes laterally, or my toes hitting the front.
They are pretty comfortable for boots like this. What I really like is that they feel comfortable, yet at the same time have a sole that's solid enough to avoid the soles of my feet feeling every pebble on the trail.
However I have to return them. I've had them for <3 weeks, gone on about 16 miles of day hiking, and 13 miles of backpacking and already the sole on one is starting to separate from the boot.
Surprise (!!!) several other reviews mention the same kind of issue.
Too bad ... I wore these boots on these hikes/backpack without a single blister, and they were as comfortable as I could expect a boot of this type to be. Honestly, part of me says "just cement the sole back to the boot" ... it's too hard to find comfortable boots that fit me. But I paid good money for them, even on sale, and I'm afraid if they're coming apart this soon, what'll happen months from now with n more miles on the trail?
Back to the drawing board to find another pair that fits me and is comfortable... :(
In spite of the positive attributes I had to give just a "2" rating because of the poor workmanship.
Update: November 24, 2011
I have used these boots for a number of overnight trips since posting my original review. The separation of the sole hasn't gotten any worse. I can probably seal up the gap with some kind of boot goo.  
The boots continue to be as comfortable as I could expect for this type of boot, without any real issue with blisters, etc. Therefore I've upgraded my rating to a "3.5" from the previous "2".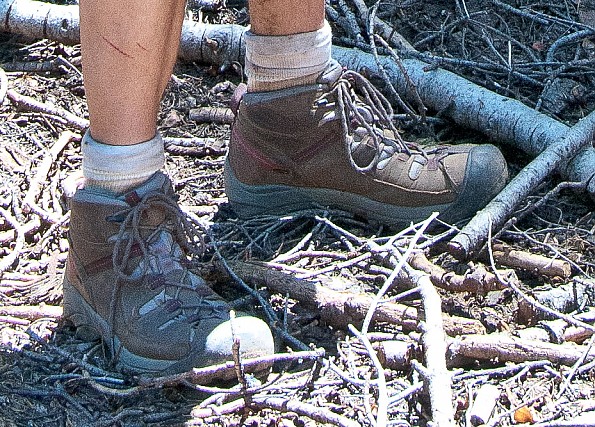 Materials: leather outer, vibram sole, and "Keen-Dry" innter (presumably their version of GoreTex)
Use: day hikes, not-too-heavy backpacking
Break-in Period: n/a
Weight: 21 oz per boot (size 12)
Source: bought it new
Price Paid: $89 on sale

I bought these hikers after reading the reviews here. I was looking for a lightweight waterproof day hiker. I required a wide toe box and these were one of the few that fit the bill for me. The terrain I predominantly use is hilly upland forest, cedar bush and farm field.
These boots have met my expectations nicely. I did have concerns about the toe piece delaminating but that has not been a problem and I have worn these boots almost daily now for about 10 months.
They are not heavy or "klunky" feeling. The tread has a good grip good on the surfaces I travel.
There is no sign of stitching coming loose or significant "hot spots" of wear.
I'll probably buy a second pair in the fall before Keen comes out with a new model and, as all shoe manufactures like to do, change something in the shoe to improve it but instead ruin it.
The real test for this shoe will be next month when I'll be hiking in Jasper...but I have no doubt it will perform well.
I highly recommend this boot.
Update: August 24, 2008
This is an update to my previous review.
I took my Keen Targhee mid II boots with me to hike in Jasper National Park in Alberta.
I love these boots for hiking the trails of southern Ontario but I am glad I brought my full grain leather Lowa's along. They were most suited to that terrain. The Targhee's were too light for hiking the Rockies especially if you were on all day hike. I found that after a half day on the trails when my lower leg muscles tired I needed the support of a heavier boot to prevent a rolled ankle...nothing against the Targhee's but they weren't built for that terrain.
I'm still glad I have them and still highly recommend them for lighter work.
Update: November 24, 2011
OK, three years later and I need to update this review.
My original boots are still in use for around the house — doing the dirty jobs where I don't mind if they get wrecked.
The waterproofing really lasted only about 18 months which was a bit disappointing (minus 1/2 star) BUT considering they were my everyday shoe also, maybe that's reasonable.
I live in southern Ontario which has four distinct seasons, (July, August, September and winter — well not quite that severe) so the boot takes a beating. Nothing has fallen apart on the boots. No de-laminating of the soles, uppers are good, only the cushioning is done.
I'm glad Keen is not like the running shoe companies that feel they have to change a shoe every 6 months. If it ain't broke, don't fix it is my mantra and it seems Keen feels the same way. To that end I purchased a second pair a few months ago.
A lot of miles were put on these boots so in my opinion they are definitely worth the relatively low cost.
My rating remains
Use: day hikes or overnighters with light pack
Break-in Period: a few hikes
Weight: unknown

I have very difficult feet to fit. I have flat feet, narrow at the heel, wide at the mid foot area, and normal width toebox. These fit pretty ok, except the heel is a little wide for my feet, so I can feel my heel roll a little. But so far no twisted ankles yet.
Despite what most reviewers say, I don't find it has a wide toe box. It's just not pointed like most shoes are shaped. But that helps reduce the impact on your toes then going downhill. It's also not a high volume shoe. I replace the stock insole with my custom made ones, which are slightly thicker, and the boots feel pretty snug around the feet without tightening the laces much.
The good: very comfortable out of the box. Good cushioning, uppers not too stiff, so requires very little breaking in. It feels like boots with the cushioning of sports shoes. Waterproof, good breathability. Kept my feet dry through a 30 min long light shower, except for water running down the ankles, which cannot be helped. Grip is good on all kinds of dry terrain, but on wet surfaces it does not grip that well. Definitely looses out to Vibram in that area.
The bad: Laces slip through eyelets. I find I have to retie the laces once in a while. I now use 2 short laces on each feet, one for the bottom three eyelets, another for the top two to tighten up the ankles area.
Not thick enough around the collar. I have thin ankles, and I have problem keeping the collar tight around the ankles. Maybe a second pair of eyelets further back will solve this.
Thew uppers are too soft to provide ankle support, which kinds of defeat the purpose of wearing boots.
The eVent membrane keeps your feet dry, but the leather itself dose not shed water at all. In fact, it absorbs pretty fast. Definitely wax it right out of the box. I regret not doing so. Now the leather is slightly stained from absorbing dirt along with the water.
The threads on the sole are showing wear after less than 50km, so I'm don't think the shoe is going to last very long.
The flat front at the toes makes it harder to grip on small ledges when climbing slopes.It's like the exact opposite of rock climbing shoes.
Bottom Line: Comfortable, decent boots. A bit pricey, but worth it if you want comfort without having toe spent months breaking in the boots.
Materials: leather, eVent waterproof membrane

It's a pretty comfortable boot, right out of the box. While durability is a question mark, given that one eyelet tore out on my first hike, it is the most affordable boot with a roomy toe box that I have found. It's probably best for light to moderate hiking for those on a fairly tight budget.
Pros
Comfortable
Roomy toe box
Wide width available
Room for orthotics
No break-in period needed
Cons
Durability
Eyelet came unsewn first hike
Plastic lace hooks on top
Shorter than some mid-top boots
I recently needed a wide toe box hiker due to a freshly healed toe injury. I had been wearing Vasque Breeze II boots for the last few years. The Vasque boots have been quite durable, and up until the last few months had been the most comfortable shoe I owned, period. Previous to that, I had worn Danner boots,, which were good, but a step below the Vasque. 
Regardless, requiring extra width and depth in the box presented quite a challenge. There aren't many affordable hiking boots for a high-volume or wide foot. There are "boots" available for diabetics, but they are more like high-top casual shoes, in my opinion.
So the Keens ended up being the right boot at the right time. If I end up with only the one broken eyelet, I'll feel better about them. Unfortunately, with the one tearing out the first hike, and plastic lace hooks, I'm not overly optimistic. 
Another thing that is not an issue for me, but could be for some, is that these really are mid-top. So if you need a lot of ankle support, they might not work for you. After having them for just a few weeks, only time will tell how durable they will be overall.
Background
I've been an avid birder for over 30 years, and have walked many miles in state and national parks, and local hotspots. My boot purchases started with budget type boots, but as I've gotten older and have had a multitude of orthopedic issues, I have learned the value of a quality boot when pursuing my hobbies of birding and wildlife photography. I'm not a hard-core hiker anymore, if ever, as you don't see many birds that way. Also, I'm too old and arthritic, but when I do hike a trail, I want to prevent further damage to my body. That starts with a good base.
Source: bought it new

Sturdy, Not too heavy and a thick sole make this a great value hiking boot.
Pros
Handles terrain well; can't "feel everything" on the ground
Somewhat light, not too heavy
Holds feet securely due to construction
Price
Cons
More rigid/hard than i'm used to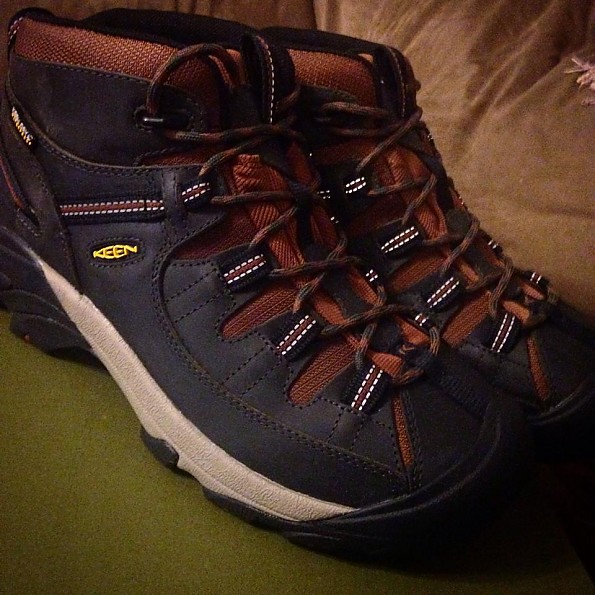 I really like they way these fit my feet and offer support. The lacing pattern etc. make my feet and ankles feel very secure to help avoid injury. I also like that I can address rocky, wet, sandy, woodland etc. terrain and so far have been very pleased with how they feel and handle the terrain. I don't "feel everything" under my feet due to the thick sole so I don't have to be concerned with where my every step goes in terms of comfort for the bottoms of my feet.
I'm not used to wearing boots often, so the shoe is heavier than a normal tennis shoe, but I think that's a good thing. I do think they are slightly rigid, still (I've only put about 13 miles on them) and am definitely ready to relax my feet at that point due to the more rigid shoe. It's hard to call that a drawback though as i've already stated, i think the weight, rigidity and construction lend themselves to helping me avoid injury.
I haven't put the water resistance to test, specifically, but I was hiking in Florida and it did rain before hiking out and i never noticed any moisture in my boots.
Given how much you can spend on hiking boots, I also think these are a great value. At the time of this review, you could find these for $135 almost anywhere and if you look around you can find sign-up offers or other discounts that really help (in my case a "percentage off" offer dropped the price to $101 - a GREAT value). 
Source: bought it new
Price Paid: $101 after a "sign-up" discount

Great for light to moderate hiking. Virtually no break-in time, breathable, and keep your foot well supported. On more rugged terrain (like jagged rocks) however, these boots will wear down quickly. Waterproofing is great at first, but deteriorates quickly.
Pros
Comfortble
No break-in time
Supportive
Breathable
Waterproofing (at first)
Cons
Waterproofing deteriorates
Soles wear down quickly
For light-moderate hiking, these boots are great. Require virtually no break-in time, are wonderfully comfortable and supportive, not to mention breathable. Some more jagged rocks in desert areas take a toll on the sole though.  Additionally, they don't maintain their waterproof quality well, even with additional treatments. Have loved these boots for a while, but with rigorous hiking, I've had to replace them at least yearly, if they make it that long. 
Fit: relatively good arch support, conforms well to the foot. I have wider feet and these fit like a very comfortable glove. 
Comfort: Top notch on comfort. No break-in needed, minimal hot spots, if any. Would suggest gaiters if you'll be trampling through deep snow. Debris tends to stay out of the boots fine. 
Water Resistance: even with reapplication of waterproofing (i.e. nikwax/other similar products), the waterproof quality advertised with the boots deteriorates quickly.  In the first few months of owning, these boots were great for crossing shallow streams, feet were always dry on the other side.  However, now (less than a year of wear), my feet will get wet even if I'm just wearing these in moderate rain. 
Traction: Stellar... until the soles wore down after walking on some jagged rocks (inevitable as a geologist).  Now the grip is still decent when wet, but on steep dry slopes, traction going down hill is somewhat debatable. 
Temp: Breathe great, always have. 
Construction and Durability: See water resistance/traction.  Parts of my soles are falling off after less than a year.
Source: bought it new
Price Paid: Bought at retail, around $120 (don't recall exact price)

Keen Targhee II Mid's are an awesome multi purpose boot. Hiking or everyday. Comfortable right out of the box with no break in period needed. Dependable on the trail keeping your feet dry and comfortable while giving you all the support you need. I highly recommend these boots.
Pros
No break-in period
Waterproof
Great support
Cons
A little warm on hot days
Slippery on wet cedar
These are great hikers. Bought for a trip to Vancouver Island's North Coast Trail in 2011. They did not need any break-in period and felt like they were custom made for me. Box to trail. 
The North Coast Trail had very wet and muddy conditions. The boots held their ground with the slippery rocks and logs and my feet were dry until we reached our beach destination. My husband's boots did not fare very well. (He bought the Targhees as soon as we got back to civilization). The only thing bad was they were slippery on the rain soaked cedar boardwalks.
I love that the laces clip in so if they come untied, you still have a tied shoe support. Large toe box and great support. I also wore them every day, five days a week on concrete floors at work. I had an injury and these were the best pair of shoes to support me during the healing process. They lasted up until this month where I replaced them with a new pair!
I highly recommend these very versatile boots.  You will not be disappointed!
Source: bought it new
Price Paid: $95 On sale!

Waterproof, wide, and comfortable.
Pros
Waterproof
Great toe space
Cleans easy
Cons
Heavier than trailrunners
Not quite as breathable
Prior to getting my Targhee II, I was using trailrunners when backpacking. I loved wearing lightweight trailrunners but found that I always get blisters after every trip (regardless of miles). Additionally, I didn't like how trailrunners tend to taper by the toes — it hurts when going downhill.
Enter the Targhee II. First impressions to me was the weight, compared to the runners I had, this was significantly heavier. However, I noticed how much wider the shoe was, especially in the toe area. I purchased a pair and began wearing them to town just so I can break them in. I found them to be quite comfortable.
After using this pair on a trail, I was convinced that this was a great shoe. Since wearing this shoe back in August of 2011, I have to say that I have yet to get a blister and I have yet to have any issues with any pain on my toes. It's a great shoe if you're not quite ready for trailrunners but want to trade up those heavy boots.
Yours truly slogging comfortably uphill wearing my Keens.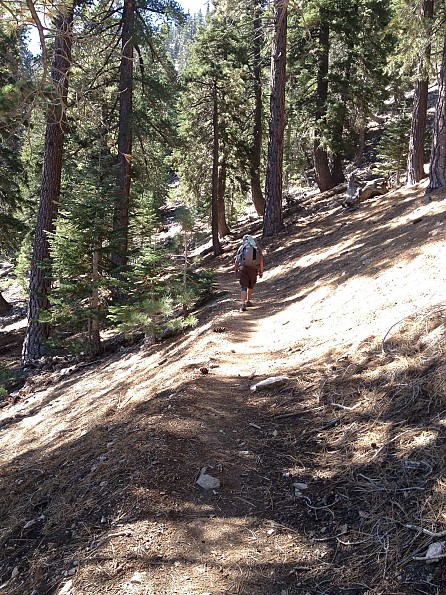 Source: bought it new
Price Paid: $30

I just returned from a 130-mile hike from Albany to Lake Placid, New York, consisting mostly of highway/road trekking, with about 30 miles of trails thrown in. I purchased 10 pair of hiking shoes from Zappos, and this baby won out over others at more than twice the price.
I'm glad I went for lightness and agility over the Asolo shoe I was deciding between -- which was twice as expensive, twice as heavy, and half as flexible (but had a lot more ankle support). Breaking in REALLY isn't necessary -- I wore the shoe a few times around the house before I left, and throughout the whole 8 day hike, I never once had an issue I could attribute to the shoe.
Of course, I got blisters -- but my 5 didn't compare to my friends' 15-20 each. I never even noticed I had blisters at all until I took my shoes off at the end of the day -- the Keens didn't rub at all. The only thing I added to the shoe was an insole for my mile-high arches.
The first day of trails, we got stuck in a torrential downpour 1/2 mile into our 2-mile hike to shelter -- we booked it, uphill, and I had no slips or losses of traction. My feet stayed absolutely dry until I was forced to walk through 12" water when the trail became a fast-moving stream of rainwater. Even then, the shoes dried out much better than my friends' did overnight.
I'd buy this shoe a hundred times over, especially at such a reasonable price. I wear a 8.5 in running shoes, and a 9 fit well with thick hiking socks and liner socks.
Break-in Period: none!

Light and waterproof BUT...
I had to go up a size in length to get them to fit, which isn't a problem but I have 'heel lift' in the left shoe and there doesn't seem to be any getting rid of it.
Also, after a couple hours of wearing them my feet hurt. A day on the trail would be terrible. I'm not sure if more breaking in will help that or not.
I have no chafing nor pressure points.
I don't find them with any more traction on slippery rock then most any other boot I've owned, maybe on granite or such but around here it's shale and bluestone and when those two stones are wet or mossy be very careful.
They are waterproof and lightweight.
They seem to fit my arch well and my ankle, which I broke years ago and was giving me problems last year, doesn't hurt wearing them.
If I could get a pair to fit better [no heel lift] maybe I'd give them more than a 'poor' rating but for now, I wouldn't buy another.
I have had them about a month and they seem to be built well.
I believe I paid a little less than they usually cost because the store I bought them in was closing for good.
The cleats are big and wide open so they don't mud up easily and clean off well.
Source: bought it new
Price Paid: $100

Decent boot for decent price.
Cons
Not very breathable
Rubber sole started to seperat from boot
Bought these because I needed a new boot when my 7 year old boots finally said "enough" after the first night of a weeklong trip in the Adirondack High Peaks. Boots were within my limited budget and bought solely based on a friend's recommendation of the Keen brand. 
Boots went from retail to trail with no break-in period and held up very well. My feet were comfortable and provided the waterproof ability that my previous boots decided it could no longer provide me.
Only issue with the boots are that they are not very breathable. I didn't think that my feet would sweat as much as they do because my previous boots were full leather just like the Targhees. It could be a combination of the boot and my body type but I often have to stop and take off the boots to air out my feet. Sometimes when I wear the boots during cold weather the seating of my feet makes my feet cold. 
After a few months the sole of the boots started to come apart. I ended up gluing them back together and they have continued to hold up for over two years. I have only had to water proof them after the two year mark. I have had to replace the insoles during this time, but the boot itself has held up over time.
Source: bought it new
Price Paid: $129.99

Solid, comfortable hiking boot.
I've had these boots for about four years now, and they've been everywhere with me—from hiking through the jungles of Borneo to walking around my hometown in snowy Minnesota.
I bought these because I was having knee problems after doing a lot of steep hiking in trail-running shoes. They were comfortable right out of the box and definitely provided a lot more support from my toes to my ankle. The boot is surprisingly water resistant, at a certain saturation point they do let water through; although I don't think it's the boots' fault when I step in puddles up to my ankle.
The only complaints I have is that they don't breathe well and can get super warm (great in the winter, notsomuch in the jungle), and also that after maybe a few months (of heavy use) the tread started to come loose, especially along the sides.
My friend who worked at REI said that was because Keen started using a more earth-friendly glue that isn't as strong; I question whether it's more ecologically sound to use harsher glue if the product lasts longer. That said, I haven't returned them or bought new boots yet because I just like these too much.
Source: bought it new
Price Paid: $120

Positives:
1. Permanent waterproofness due to eVent liner.
2. Reasonably light weight.
3. Square toe box.
4. Great "quick lace" system - can be laced up "too tight" within seconds.
5. Great reflective strips that can be seen for hundreds of feet at night.
I've worn the boots for over a year, and they keep me dry despite me using them to hike through frigid Tennessee streams and daily walks through the snow, slush and rainstorms of Minnesota winters.
I find that my toes never feel restricted in this boot.
Lacing up takes literally seconds as a set of lace-lockers at the top of the boot allow you to cinch the laces first, then the boots hold the laces tight for you while you tie them down.
The tread hasn't worn down much at all in the last year. I'm rather surprised about this.
Weaknesses:
This boot, despite the use of an aramid shank, has a very flexible footbed as well as a rather flexible ankle support. As a result, this boot isn't exactly a load-bearing hiking boot, but more of a light-hiker.
If you're carrying a 30+ lb load on your back, this may not be the boot for you...
How to improve:
If Keen somehow stiffened up the shank without increasing weight and improved the ankle support somehow, then this boot would move up to the "hiking boot" class. As it stands, the Targhee Mid II is more of a waterproof mid-height trail shoe.
Materials: leather/synthetic vamp, event liner
Use: daily use, hiking, fishing
Break-in Period: 3 months
Weight: ?
Price Paid: $125

My wife will never wear any other hiking boot. After painful ordeals with other brands and a trip to the foot doctor, she was ready to give up. I stumbled across an article about hiking boots that mentioned Keen. I called them, spoke to a very knowledgeable lady, and she recommended the Targhee II Mid.
Pros
The boots are very light
They are waterproof, to a reasonable point. (Think wet grass/shallow stream, not river crossing.)
The top lace hooks hold the lace tight, even if your boots come untied.
Cons
Would like a second set of hooks rather than eyelets, for lacing.
Overall, the most comfortable shoe or boot she have ever worn. She was talking to a friend about them and compared them to a pair of Saucony running shoes she had once. "Never wore socks with them. I wouldn't bat an eye about wearing these Keen without socks. I won't,  but could!"
They have fit like second skin since she took them out of the box.  They are light, have amazing grip on any surface, and best of all, are affordable.
Source: bought it new
Price Paid: $135

Nice fit, but...
Pros
They fit well
Decent traction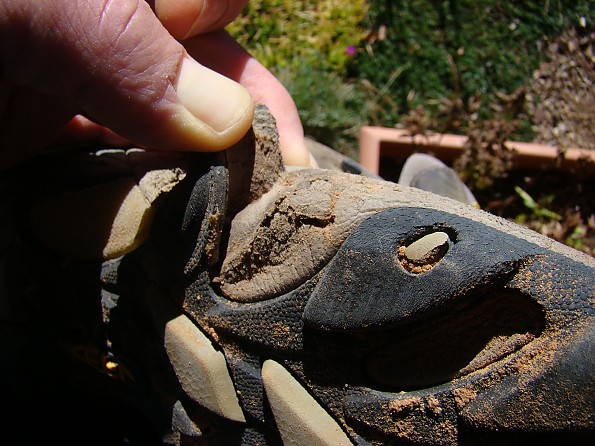 I've worn Keen footwear for years due to the comfort and durability that they built their reputation on.
Took these Keen Targhee II Mids on a three-day backpacking trip in SE Utah canyon country, and the cleats welded to the outside edges of the soles began to detach almost immediately. They snag on slick rock surfaces, especially on the down slope, causing a tripping hazard.
I hope that they honor their warranty and, if so, the next pair holds up...
Source: bought it new
Price Paid: $140

These are the best boots I've owned. They are incredibly light and comfortable and very supportive.  After a long walk over rough conditions my feet feel great as if it was just a stroll around town, this really surprised me as no other shoes or boots offered the same comfort. On a number of occasions I nearly rolled an ankle, but these held strong and prevented injury.
They are also pretty water resistant. I have crossed a number of streams and walked a number of muddy trails in moderate rain while my feet were perfectly dry. 
Currently I cannot imagine how to improve these boots, and would look to get another pair if they ever wear out.
Price Paid: $125

So comfortable, they've replaced my Vasques. After three days patrolling the Paradise area of Mt. Rainier, my feet felt like I'd walked a mile on soft dirt rather than about 15 miles on paved, dirt, snow-covered, and rocky trails.
Pros
Great arch and ankle support
Roomy toebox
Easy to adjust the tightness of the boot to handle swelling feet
I volunteer at Mt. Rainier National Park, patrolling the highly used Paradise area of the park. Miles of paved, dirt, rocky, and snow-covered trails are my beat. I've worn a pair of Vasques or a pair of Columbia lightweight hiking boots since I started volunteering, but I always felt like I'd done a 15-mile march with a 60 pound ruck at the end of the day.
Just one day of wearing the Targhee changed my volunteering life. I'm a big guy — 6' 3", 230, and have size 13 feet. Most boots I've tried (or worn) have created hotspots and left my feet hurting so badly that I would have to take them off and rest before leaving for the day.
Not the Targhee. While not quite a pair of slippers, they are, without a doubt, the most comfortable boots I've ever owned. I'd wear them to the office if I wouldn't violate policy!
Source: bought it new
Price Paid: $116

After a few short days of hiking in these boots, the sewn seam on the lateral side of the shoe at the pinky toe started to rip open. After one more longer day hike, the sole was peeling off of the shoe at the bend of the toes and the rubber that wraps around at the heel had also peeled off.
Prior to these problems the boot was comfortable and gave good grip and support. EMS graciously took them back for a full price store credit. I need to reselect but will be avoiding Keen.
Price Paid: $125

Great summer boot for those with a wide foot.
Pros
Great fit
Lightweight
Waterproof
Low break-in time
I haven't been wearing these boots too long but my initial usage has left me very impressed. I have a very wide foot and need ankle support. I ordered these boots online for a trip I was taking. They took longer than expected to get to me. I was worried about blisters as I hadn't adequately broken them in, but it was smooth sailing with a pair of lightweight wool socks.  
The boots are light and appear very well put together inside and out. I haven't really put them through the ringer yet, but so far I'm very pleased with the durability. I have treated the leather with snow guard to protect from cracking.  
The fit feels snug around ankle with room for my toes to wiggle, but my foot does not move around inside the boot. Any swelling from a long hike doesn't leave me in pain. My ankle feels well supported but the top of the boot doesn't come up too high, I can wear and regular ankle sock comfortably. 
I use these primarily for day hikes and moderate backpacking trips, weekend warrior style. I am happy with my purchase!  
Source: bought it new
Price Paid: $130

Where do I start? I love these boots. I don't ever give anything five stars but I cant think of a reason not to give them five stars.  I have had my boots now for about 6 months and I wear them everyday to include hiking in them. 
I was prepared to buy a pair of Asolos but I tried these on and knew this was my choice. I tried to like the Asolos over the Targhee but just couldn't. 
Reasons I like these boots:
1.  Comfort: They are immediately comfortable and become even better with age.  The inside of the boot feel great. I love the Gortex as well.
2.  Durability: I haven't had any problems with these boots coming apart. I read some reviews about the eyelets coming apart. I have had no such problems and like I said, I wear them daily.  The sole seems to be wearing slowly, which is good because that is usually why I replace a pair of boots.
3. Great Leather: The leather is great. It wears well. Mine are getting a distressed look which I like.
Price Paid: I am not sure but I think around $100 or so.

My expensive Keen boots are holding together quite well, but the nylon material eyelets for the laces are fraying badly and two eyelets have totally worn through rendering one boot unwearable.
Very disappointed...steer clear of these boots with nylon material eyelets!
Materials: synthetic
Use: short dayhikes
Price Paid: $250

Excellent day hiking boot, can be used for some backpacking as well. Not sure why MPstaples said no toebox room, these are the roomiest boots in the toes I have ever owned while still maintain a good snugness around my heel. Keens run small, so maybe that was the issue, MPstaples tried to wear their normal boot size.
Great waterproofing, I often splash about in shallow streams and the boots are always bone dry. Decent gripping in wet and icy conditions.
Alas, the molding around the bottom that comes up along the side of the boot does separate, at least they did on my first pair. And, the outer bootlace shredded on my first pair, leaving a thin inner core, which in turn cut the lace holder. I should have replaced the laces right away, I didn't, and so the thin core cut the lace holding. Probably more my fault than anything.
Be certain to dry your boots after a wet or muddy hike.
Good to go right out of the box. Great waterproofing. Decent grip. Roomy toebox, no downhill toe banging.

Use: Dayhikes of 8-15 miles with 15 pound pack
Break-in Period: none
Weight: a couple of pounds I guess
Price Paid: $105

These are the most comfortable boots I have ever worn. I wore them around running errands for one day and after that they felt like I had owned them for years. Very quick break-in. They are light, which makes them so easy to walk in.
On one trip I put about 10 miles on them. I went through wet grass, mud, sand, sharp rocks, snow pack, and crossed about 6 creeks. My feet stayed completely dry (warm in the snow as well) and I always had excellent traction, even in the mud. Good ankle support, laces stay tied and tight, and I didn't have any rubbing anywhere. No blisters or hot spots, yet.
One thing I did notice was after about five miles through sharp rock there is some wear on the rubber outsole, but not much. Doesn't affect performance and isn't very noticeable. The lugs didn't have any damage from the rock.
I hope these last for a long time. Very pleased with Keen.
Price Paid: $125

I now own the Targhee II's, but this is really about a problem I had with the original Targhees. Used around the city and on moderately rough 5-10 mile hikes. After 8 mos. the toe cap started separating from the leather. (A reviewer on another site mentioned this.) Keen has a fantastic warranty, and the dealer took them back without reservation. My size wasn't available, so they replaced them with the II's.
Of course, my primary concern is they stay in one piece. I'm glad the new style has Event waterproofing (whatever that is). However, I'm really disappointed they lightened up the tongue section. It's now the pinkish kind of color you get when you mix the colored's with the whites! Alas, I no longer have the coolest looking pair of shoes on the block.
Price Paid: $120

I have completed multiple hikes in these boots and have had no issues from them.
Pros
Comfortable
Roomy toe box
Laces stay tight
Cons
They are not fireproof...
I have had two pairs of these boots. The first pair was ruined on the Eagle Rock Loop Trail because I left them too close to the fire. FYI... Fire and sole cushioning do not mix well. I got home and bought another pair.  I have had this current pair for two years and have had no issues.  
Source: bought it new
Price Paid: $125

I experienced sole and lacing eyelet failure at about six months of light hiking. Initial fit was good but the boots failed. I do not recommend this boot.
Cons
Sole failure and eyelet failure
Hiked two to four miles maybe five times a week and the boots failed at about six months. Initial fit was nice. Durability is questionable.
I do not recommend for long hikes, my boots failed...
Source: bought it new

Great fitting hiker out of the box. Durable and good traction.
Pros
Fit
Durability
Waterproof
Cons
Keen should use a better insert
Best fitting shoe I have ever hiked in. Great toe space since I have a wide foot. Good traction on the trail.
I get 400-475 miles out of each pair only having to change the insert once. I am currently on my third pair.
Source: bought it new
Price Paid: $96 on sale

I love these boots. Roomy toe box, lightweight, and quick to break in.
Pros
Lightweight
Waterproof
Comfortable
If you're in the market for lightweight waterproof hiking boots, I recommend these. I'm usually not a boot-guy but these are really comfortable. The boot offers a roomy toe box, good ankle support, and are pretty waterproof as long as you're not sludging through ankle deep water.
Source: bought it new
Price Paid: $130

These boots are like an old friend, so comfortable and easy to be around. They were absolutely the most comfortable boots I have ever owned right out of the box, with just a short break in period I headed out for an two day hike with my son.
Never had a blister, sore spot or wet feet, that's heaven. Plenty of toe room with a really nice fit and just high enough on the ankle to support but allow lots of ease of movement.
I have spent more on others but would recommend these over the more expensive.
Materials: leather
Use: short dayhikes and rough trail with a heavy pack
Break-in Period: 2 days
Price Paid: $99

Excellent all around boots.
Cons
If not careful, can get to be a little "gamey"
Being involved with the Boy Scouts for many years, I have spent many hours on my feet and in my boots. Keens provide great toe protection, and if you have ever stubbed your toe on the trail, you'll understand the importance of the large toe cap.  
I have always found the fit to be very good. I own several pairs of Keens and actively wear them all.
Source: bought it new
Price Paid: $120

Most comfortable and durable boots I have ever owned.
Pros
No break in
Excellent construction
Cons
Edges of the sole wear a little funny, kind of "feather" at the edge.
Excellent boots. Better than boots that cost twice as much. No break in, these have been the most comfortable boots right out of the box I have ever owned. Durable and the way they fit your foot is like no other, boy I have tried.
Source: bought it new
Price Paid: $140

Run wide, good value.
Keens run wide (which, if you're someone who needs it, isn't always easy to find) and these boots are very solid. Good flex, but nice stable sole. They're a little heavy, but for the price are still a good value.
I love my Keen shoes and sandals. But don't be fooled. This is not built on the same last. Keen hit it big by making shoes shaped like feet (what a concept!). But they apparently abandoned that idea with these boots.
There is no more toe space in these than in any other pinchy-toed boot. Got severe blisters and returned them. Very disappointed in Keen. And they aren't leather—so don't expect them to ever stretch or break-in.
Materials: Gore-tex and nubuck
Use: rough trail
Break-in Period: Doesn't exist.
Weight: Don't know
Price Paid: $129

Very, very comfortable; hardly noticed they were there. Plenty stable on rough trails. Grippy on class 3/4 rock. Problems with durability, though. Needed minor repair after only 15-20 miles of (admittedly rough) hiking and climbing. Overall a good boot for someone with a medium heel and wide forefoot.
Materials: leather and fabric
Use: overnight climbing trip w/ 35# pack
Break-in Period: nil
Price Paid: $120

I love the way this boot fits but after only 3 months the sole cracked and the rubber that comes up around the heel started to peel off. Unfortunately, I'll be taking mine back to REI next week Surely they should last longer than that.
Use: some dayhikes some rough trail w/heavey pack
Break-in Period: none
Price Paid: $100 ?

Your Review
Where to Buy
Help support this site by making your next gear purchase through one of the links above. Click a link, buy what you need, and the seller will contribute a portion of the purchase price to support Trailspace's independent gear reviews.
You May Like
Specs
Men's
Price
MSRP: $130.00
Current Retail: $116.25-$165.00
Historic Range: $46.59-$165.00
Reviewers Paid: $30.00-$250.00

Women's
Price
MSRP: $130.00
Current Retail: $109.99-$165.00
Historic Range: $64.00-$165.00
Reviewers Paid: $95.00-$135.00

Recently on Trailspace