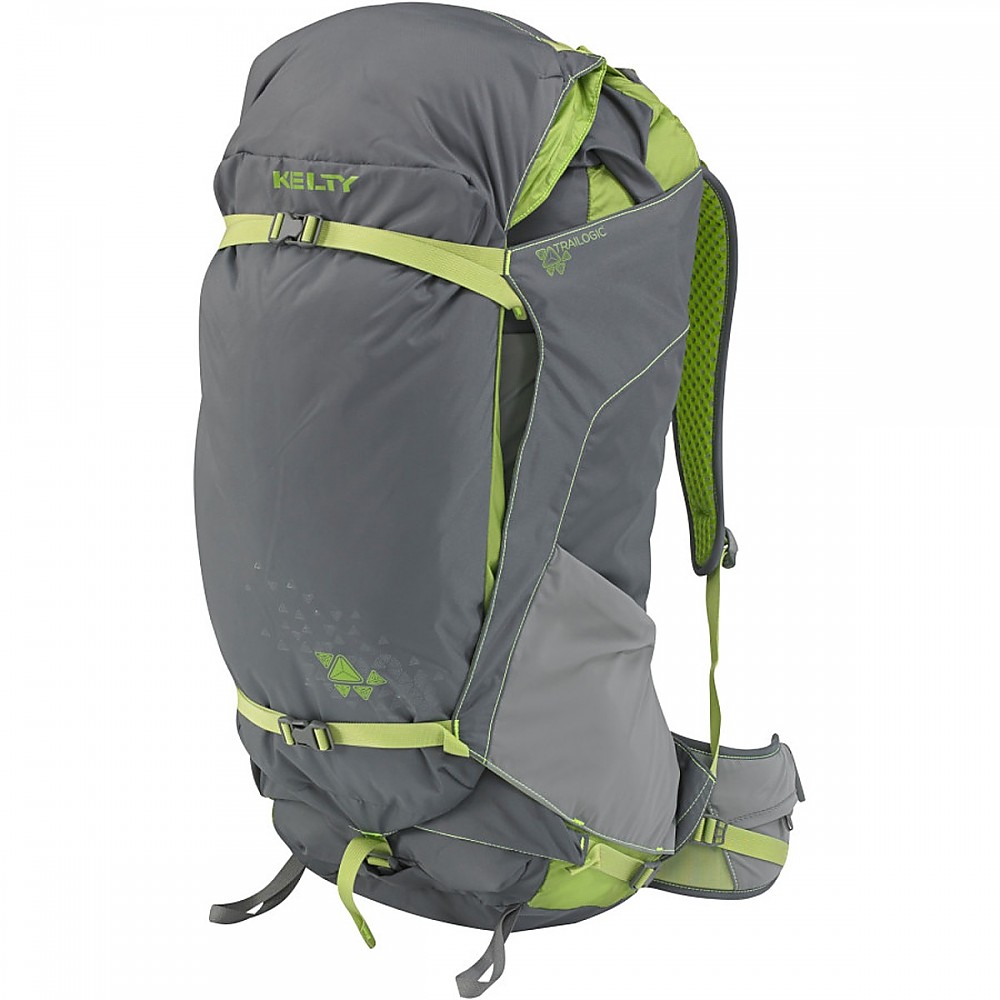 Specs
Men's
S/M
M/L
Price
MSRP: $199.95
Historic Range: $79.99-$199.95
Reviewers Paid: $150.00-$199.95

Weight
3 lb 2 oz / 1.4 kg
3 lb 3 oz / 1.5 kg
Volume
3050 cu in / 50 L
3175 cu in / 52 L
Length
26 in / 66 cm
28 in / 71 cm
Width 12 in / 30 cm (S/M); 12 in / 30 cm (M/L)

Depth
10 in / 25 cm
10 in / 25 cm
Torso Fit Range
14.5-18.5 in / 37-47 cm
17.5-21 in / 44-53 cm
Waist Belt Fit Range
30-48 in / 76-121 cm
32-54 in / 81-137 cm
Women's
Price
Historic Range: $99.93-$199.95

Reviews
5

reviews

5-star:

2

4-star:

2

3-star:

1

2-star:

0

1-star:

0
The Kelty PK 50 is a near perfect backpack for someone new to backpacking who is looking for one versatile, all-round pack. The ability to strip the extra 15L storage, and weight, gives you a functional day pack, while the 50L capacity is perfect for 3-season use. Highlights of the pack are the hipbelt pockets, the weight carrying comfort and the cost. Room for improvement? Small pocket storage in the day pack mode would be nice.
Pros
Cost
Durability
Versatility
Hipbelt
Backpanel
Cons
No small pocket when the 15L pocket is removed
Clips to open main pocket are hidden behind the wings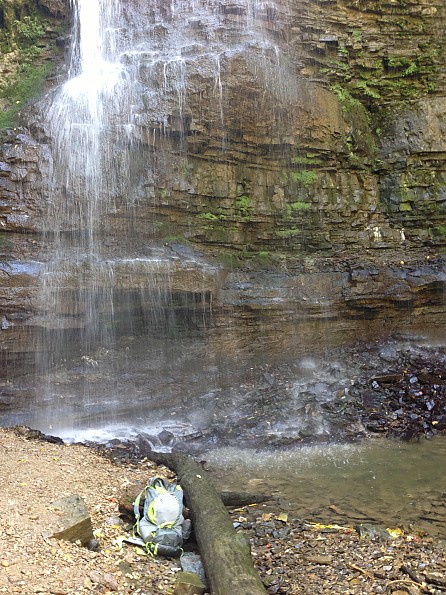 Manufactor's Specs: http://www.kelty.com/p-770-pk-50.aspx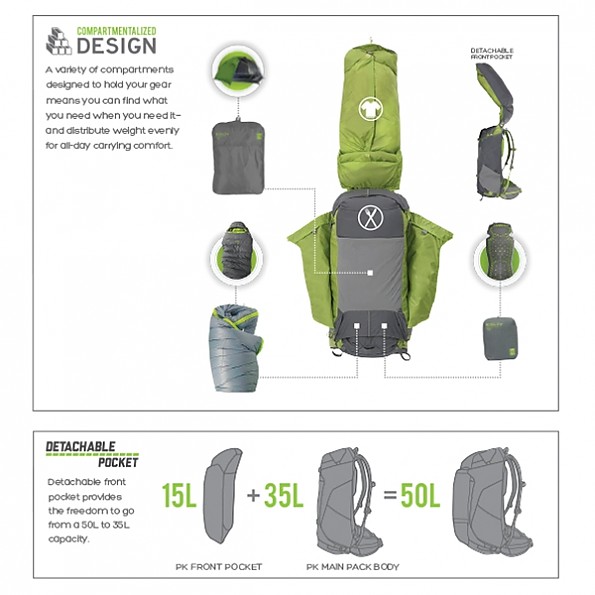 Dimensions S/M:
Length: 26 in. / 66 cm
Width: 12 in. / 30 cm
Depth: 10 in. / 25 cm
Volume: 3050 in3 / 50L
Suspension: Fixed
Weight: 3 lbs 2 oz. / 1.4 kg
Torso Fit Range: 14.5 - 18.5 in. / 37 - 47 cm
Waist Belt Fit Range: 30 - 48 in. / 76 - 121 cm
Dimensions M/L:
Length: 28 in. / 71 cm
Width: 12 in. / 30 cm
Depth: 10 in. / 25 cm
Volume: 3175 in3 / 52 L
Suspension: Fixed
Weight: 3 lbs 3 oz. / 1.5 kg
Torso Fit Range: 17.5 - 21 in. / 44 - 53 cm
Waist Belt Fit Range: 32 - 54 in. / 81 - 137 cm
Body Fabric:
200D Nylon
Reinforcement Fabric:
100D Robic Dobby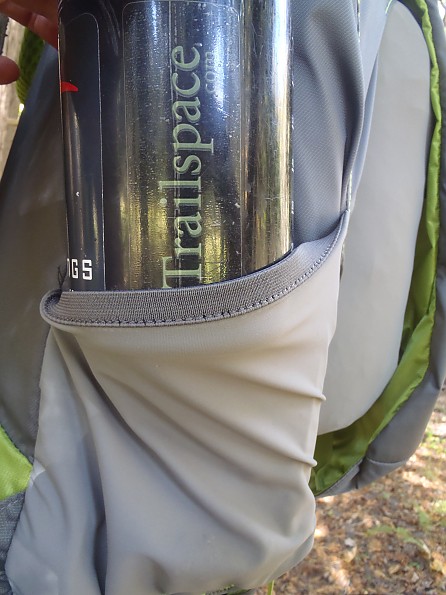 Truthfully I was a little skeptical about how this pack would perform before I received it, the whole marketing of it, and the Trail Logic collection, seemed a little gimmicky to me. Turns out this pack is near perfect...although you wouldn't know the huge upside to this pack by watching the marketing videos. First, let me delve into a rant before it bogs down an otherwise glowing review.
Claims... (from Kelty's website)
"Roll-top closures enhance compression and cut weight..."
A rolltop closure is best utilized on a dry bag to keep water and moisture out. The missing part here, a water resistant fabric. The numerous rolltop closures don't enhance any compression noticeably, and the weight savings is negligible. I've also seen the claims to not having to worry about zippers breaking in the backcountry. I'd be as concerned about the plastic buckles breaking, although neither are a high likelihood.
"...pack has a compartmentalized design to optimize organizing and accessing your gear while evenly distributing weight."
If you aren't using the entire Trail Logic collection (pack, sleeping bag, sleeping mat, tent) then packing your bag as they intended can be about as awkward and backwards as it gets. My one person tent (Hilleberg Unna), let alone my two-person tent (Sierra Designs Flash 2), in the front mesh pocket pushes the weight too far from my back. Both are also the single heaviest item I carry and conventional wisdom would tell you to have that closest to your back.
That said, do some reading on how to correctly pack a backpack/ properly distribute the weight and this thing carries with comfort comparable with top of the line, much more expensive packs.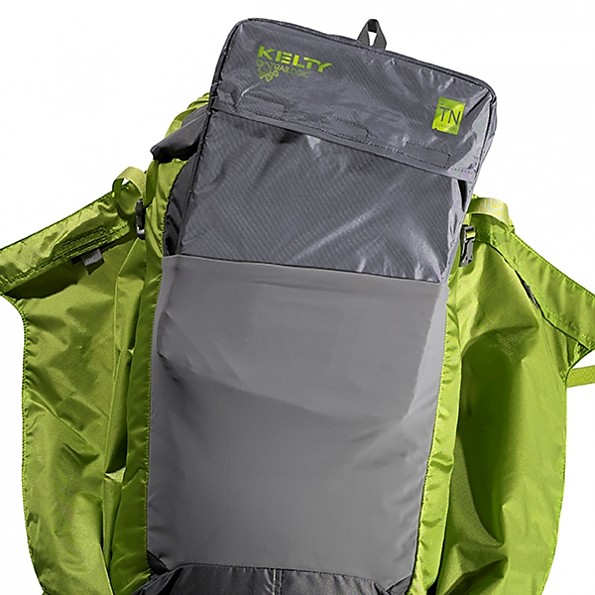 In Kelty's mind this is how well the stretch pocket fits the tent.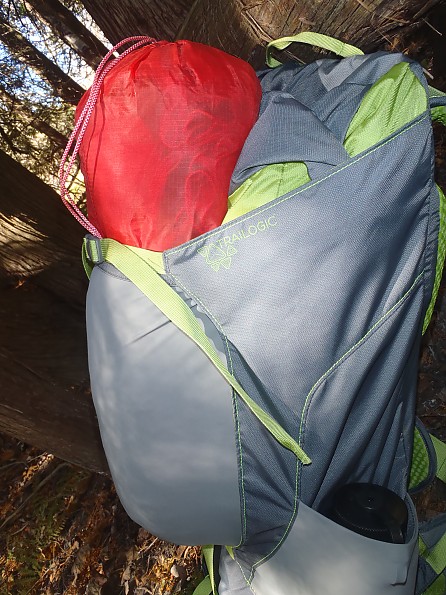 This is how it looks in reality (1-person tent).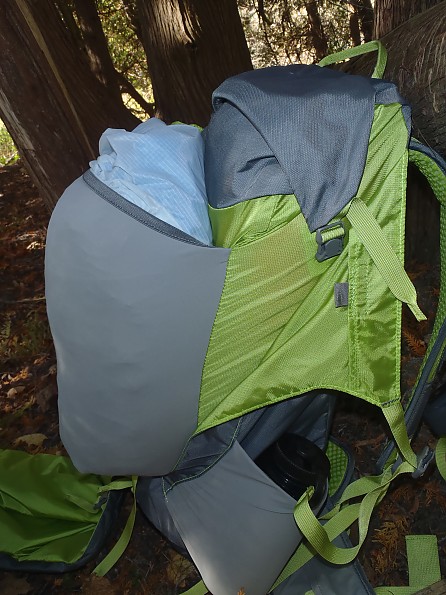 And two-person tent. Keep in mind that is without the 15L pocket even on yet. Packed that way the weight is pushed way to far off your back.
 
With that out of the way lets talk about the incredible value you are getting out of a bag with a minimal price tag... 
Versatility
I wish this pack was available when I first got into hiking. I want to call it a "Jack of all Trades, Master of None", but that has a negative connotation to it. What I mean by that is that it does so many things so very well, no it's not a highly specialized piece of kit — not UL, not bombproof, peakbagger or weeklonger, but it can perform those all those tasks admirably. With the removable 15L pocket you are essentially getting two backpacks— a 50L for backpacking, and a 35L daypack. For $200 that's a steal!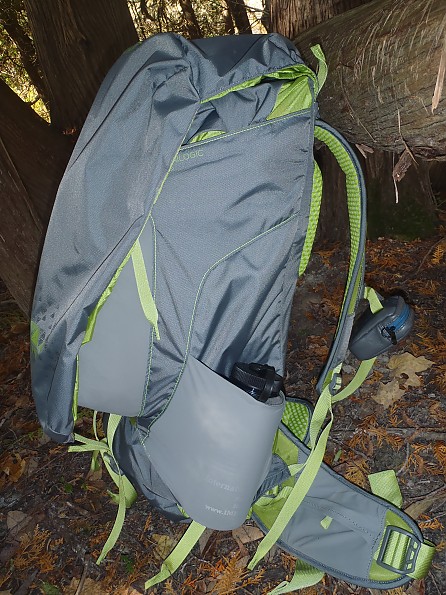 50L—perfect for 3-season hiking.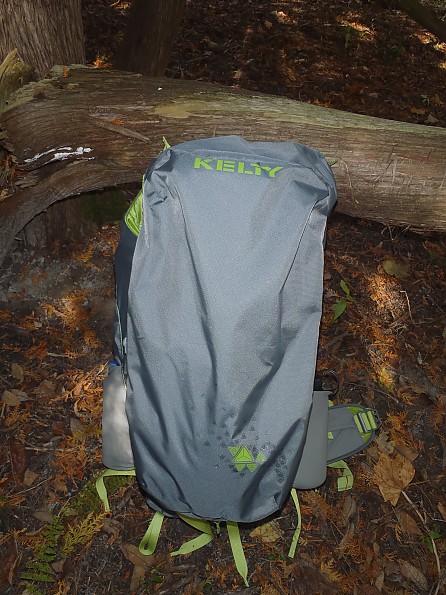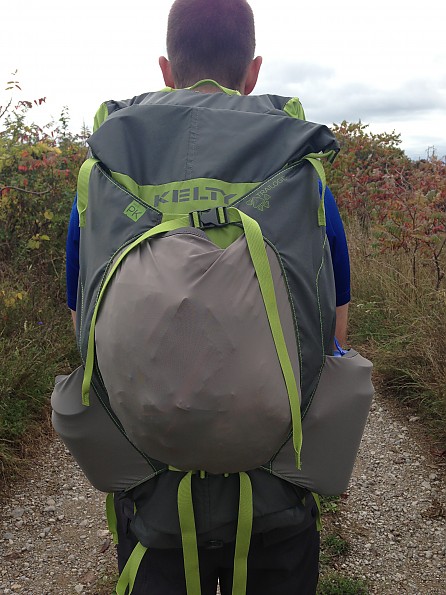 15L pocket removed—daypack! Magic.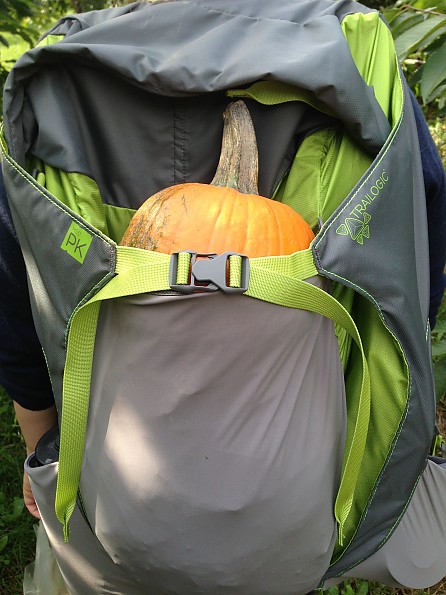 Whaaaat? This pack even does family duty? You can get creative with the stretch pockets.
Hip Belt
One of, if not the most, comfortable hip belts I've ever worn. My other favourite is the Arc'teryx Arrakis hip belt but then you're upwards of $500 for that. The thin, yet supportive belt wraps the hips like a second skin and goes un-noticed until you need something from the geniusly designed hipbelt pockets. They best way I can describe them is like an envelope made of an elastic mesh. They sit completely flat and out of they way when there is nothing in them, then expand to swallow a couple cliff bars, camera or GPS with ease.
My only issue with these is that they are very far forward, and while that makes them really easy to access while on the go, it can also interfere with your arms while walking if there's something bulky in there.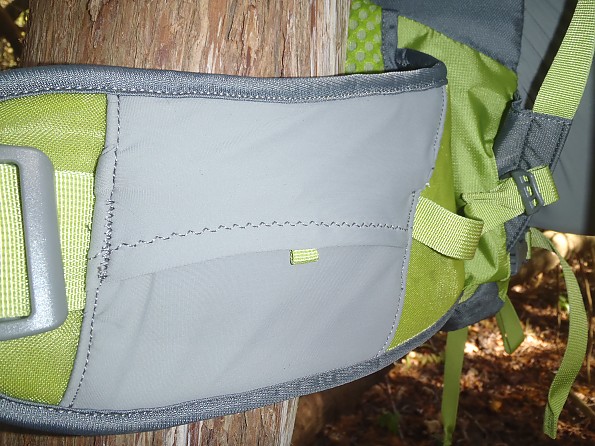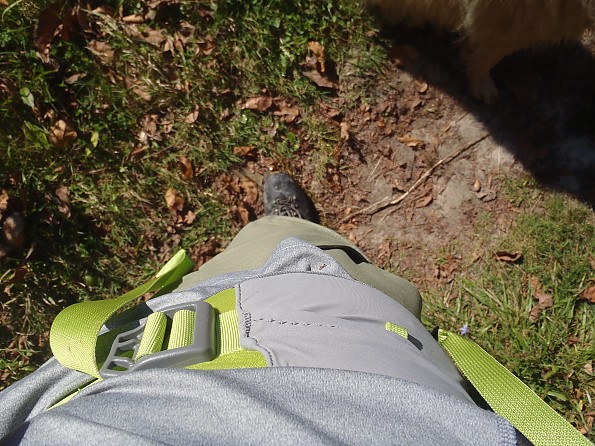 Pockets sit flat and out of the way when not in use. 
Comfort
With a single aluminum stay, a well designed lumber pad, and an airy backpanel this thing is a dream to carry. The heaviest load I've carried is 37lbs and I chuckled as I hiked, impressed once again with this pack. The hipbelt I already raved about doesn't slip at all and the green mesh you see is raised slightly from the rest of the backpanel allowing for some airflow.
My constructive criticism here is that the shoulder straps could widen a little more as I've found they rub slightly under my arms, although I do have a wide chest.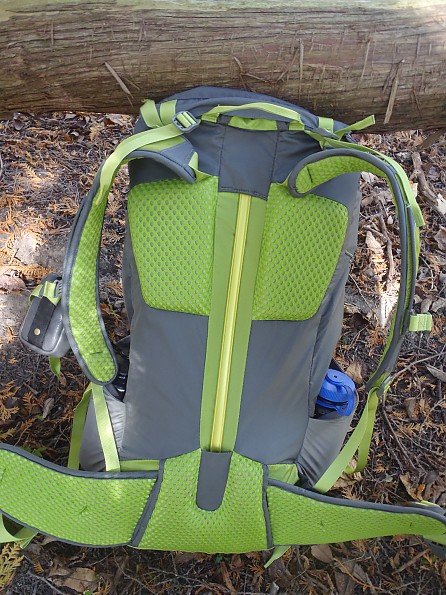 Rain Cover
The fact that it's included is another $20 saved compared to most other companies' packs, besides that, it's well designed too. It's hidden at the base of the pack in its own sleeve. Two things I like here:
It's attached, but removable. The majority of the time I forget to pack my cover until it's too late. With this it is always there unless you want to tempt the rain goods and save the weight!

Adds a level of protection to the contents of the pack. I've set it down unknowingly in a shallow puddle without any water seeping through.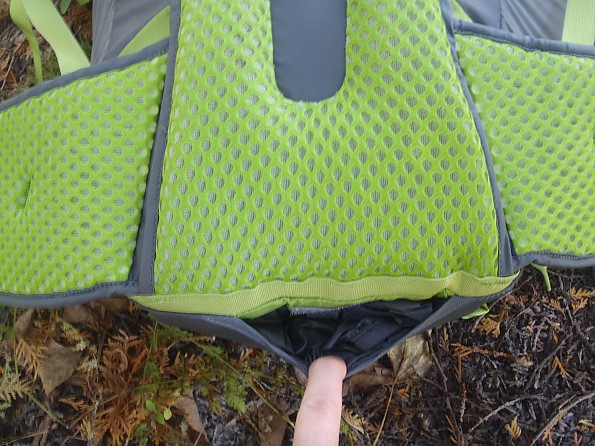 Oooh what's this secret pocket?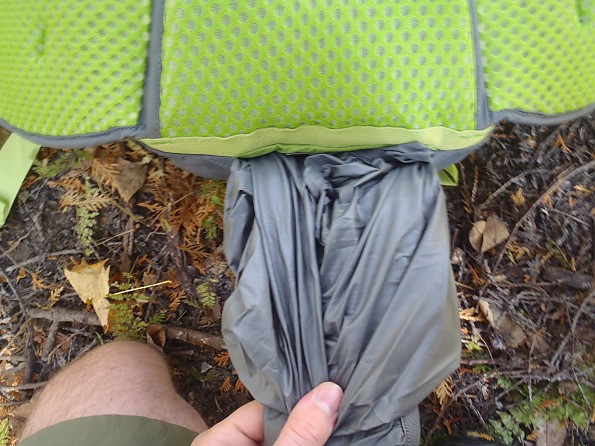 Insert music of clown pulling out never ending scarf.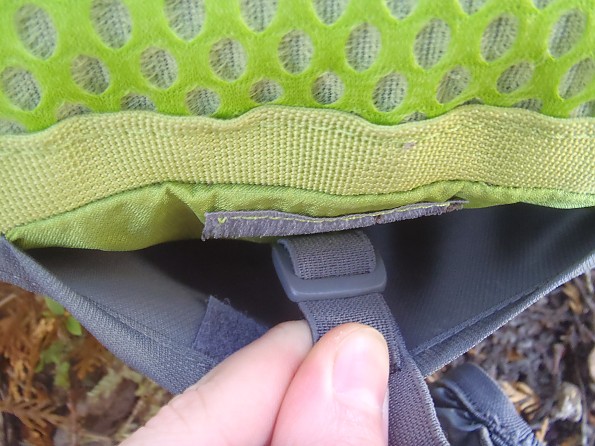 Buckle to remove the rain cover.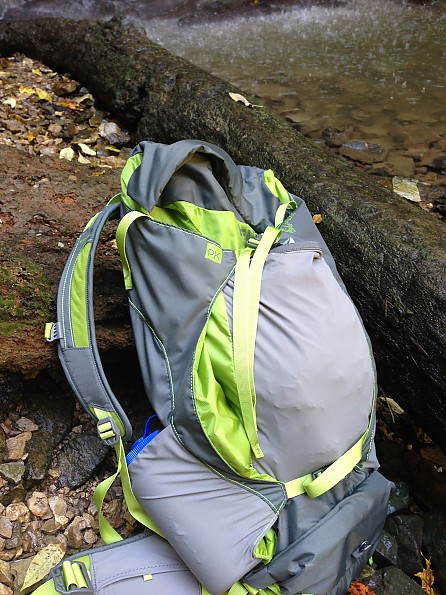 Whoops, didn't mean to put it in that puddle!
Durability
I've tried to make this pack fail, I really have. I've thrown it down rocky slopes, bushwhacked through areas with no openings, strapped on microspikes and taken it spelunking. All things it wasn't really designed to do and yet it's come out unscathed. Pack-1, Jake-0.
The back of the pack is very clean, not much to snag or rip and although the stretch pockets would be perceived to be the weak points, they've exceeded my expectations for durability.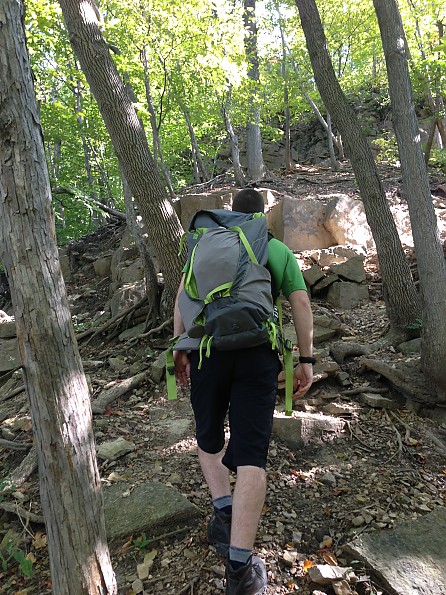 Me, hiking to the top of this hill. Why?...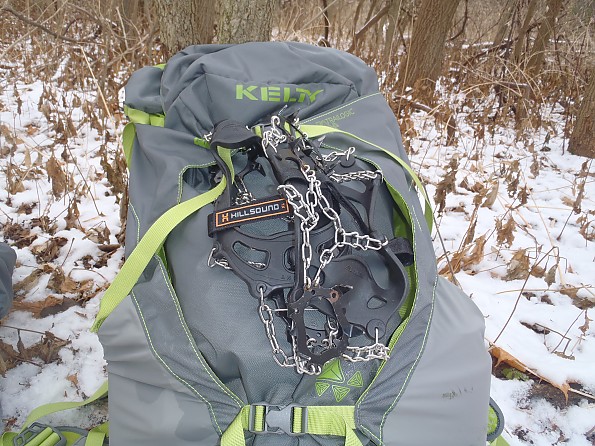 Packs love spikey things right?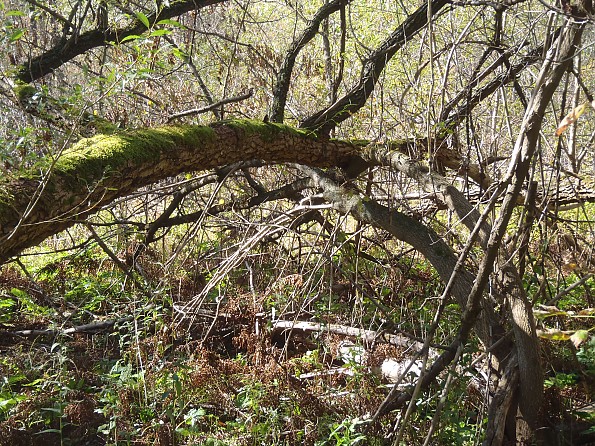 Crashed through like a bull in a china shop.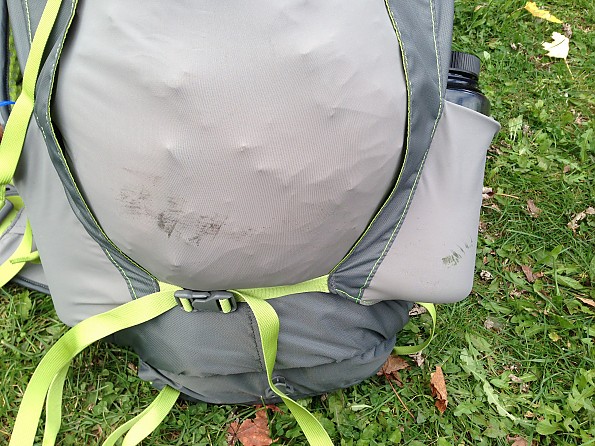 Extent of the damage to this pack, nothing but surface dirt so far.
Conclusion
Best value-to-cost ratio I think I've ever seen in a backpack. If you're on a budget and looking for one pack to do it all, I think this is it.
Notes to Kelty to improve an already fantastic product: add a small pocket for when the 15L pouch is removed, ditch the whole marketing scheme and let this great pack stand up on its own merits.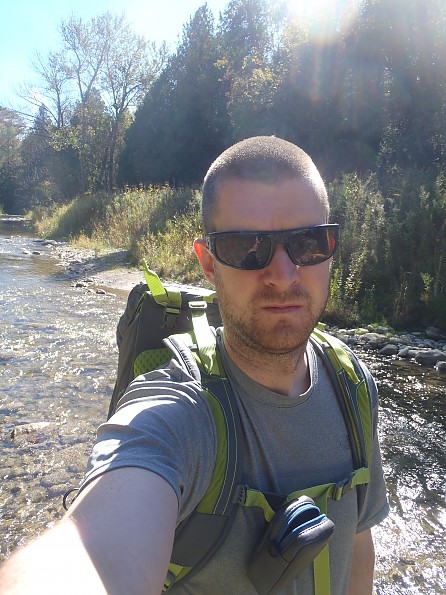 Tester/ Conditions
I am a six foot male, 165 lbs, 19.5 inch torso and I got the size medium/large. I've had the chance to use this pack extensively over an almost 4 month period. It did everything for me from family pumpkin picking to backpacking. Weights varied from 12 to 37lbs, temperatures from 25 to -12 celcius. I'd like to thank both Trailspace and Kelty for allowing me the opportunity to test this pack. If you have any questions or would like further pics of the product I'd be happy to answer them.
Source: received for testing via the Trailspace Review Corps (Sample provided by Kelty for testing and review)

Innovative new design has promise, but needs refinement.
Pros
Organization capabilities
Removal front/top pocket
Big side mesh pockets
Side wing pockets
Cons
Inferior suspension system
Smallish top opening
Buckles hard to use with gloves on
Straps not long enough to strap items to outside of pack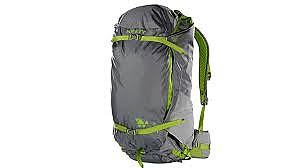 I really wanted to like this back because of its innovative design, lack of any zippers, and organizational features. But unfortunately the uncomfortable suspension system kept me from doing so.
I will start with the pack bag itself; it is a 50 liter which can be downsized to 35 liters by removing the exterior pocket. The outside pocket was one of the features I liked because it could hold all my clothing in the lower section and all of my personal items in the top section. When I got into camp I could unclip it and put it the tent where the items would be accessible. It could also be used as a pillow if need be.
My complaints about the pocket is the straps were not long enough and the buckles used on the PK 50 are frustrating to use and would be even more so with gloves on. The top opening on the main bag could be bigger because it is not wide enough to get a bear canister into.
The bottom sleeping bag compartment is small and anything bigger than a 2-season down bag would take up a lot of the pack capacity. I unclipped the divider and used it as one big compartment. That way it fit all my gear for a weekend trip.
Another one of my favorite features were the two wing pockets which are great for tent poles or other long items. You could also put gear in between the wing pockets and the main pack body. If the outside compression straps were moved closer together it would be a better set up to prevent items from slipping out. I also liked the stuff it pocket on the front and the big stretch pockets on the side.
I think with some refinements the bag could function much better. As the pack is marketed to the beginning or casual backpacker these refinements would make it more user friendly for a beginner.
The frame and suspension system were the big disappointment on this pack, it is almost like they put all their creativity into the bag and forgot about the most important thing about a good backpack, the comfort.
The plastic frame sheet and single aluminum stay would be adequate for a load of 30 pounds or less, but I wouldn't want to put more weight in than that. The single stay down the center is Kelty's standard Light Beam suspension.
Why they put the stay on the outside is beyond me because unless you have perfect upright posture the stay will hit you in the spine. This was most apparent when having to cross over or under deadfalls. It was downright painful! There is insufficient padding on the back of the pack to cushion one from the stay. The shoulder straps and hip belt are lacking sufficient padding for any loads heavier than 25 pounds.
Source: borrowed it

Used this pack for a 6-day Boy Scout event and worked beautifully. I didn't have to hike far to the campsite, but it was more than comfortable and I was able to stand around waiting until the site opened up without any complaints.

Love the closure system and the fact that it doesn't use zippers which can often fail and bunch up on the fabric. The only real flaw that I have noticed is the two pockets which make up the flaps aren't very usable when the pack is loaded and I think it would work better if the pockets could be loaded from the outside.
Pros
Unique closure system, doesn't use zippers.
Goes from 50L to 35L with ease.
Plenty of usable space.
Cons
Flap pockets limited when pack is loaded out.
The PK50 fit extremely well, without any discomfort at the hips, shoulders or back. It was extremely hot, reaching the upper 90s and it didn't cause me to sweat any more than usual.
It's a 50L, which would normally limit you to about three days, but I easily got six days worth of gear and garments into the pack. I utilized a 15L detachable sack to carry my clothing and the main pack to carry my Eureka Sunriver 3, sleeping pad, pillow and sleeping bag.
All in all, I had about 25 pounds of gear and was able to make it from the parking area to campsite in one trip, a feat that would normally take at least two trips.
I'm extremely pleased with the PK50 and would recommend it to anyone looking for a versatile lightweight pack!
Source: bought it new
Price Paid: $185

Lightweight, 50 ltr or converts to a 35 ltr backpack. Compartmental design with built-in rain cover.
Pros
Weight — light — just over 3 lbs
Fits more than you think with compartments 50 ltr backpack
Converts to a 35 ltr pack
Built-in rain cover
Cons
Takes a few repacking to get the gear into it the first time
Compartments are custom made for Kelty matching Gear (bag and tent)
Hydration pocket is a little small
At first I was unsure if I could fit all my gear into the pack. After playing around with moving gear to different compartments I found I had room left over for my over night into the desert (include filled two hydration bags).
Look carefully for the compartments as you will not find them by the zippers... there are no zippers (cutting weight) — they all have similar closing devises as you would find in a waterproof bags with the fold over and clip. Side pocks are gear to fit poles for the tent in, and other longer gear.
Many of the pockets are stretch material so they expand and can be stuffed very full. There is small compartment that fits first aid kit and my personal hygiene kit, head light, and other small items. Belt had small pockets for GPS or phone.
The cool thing about the pack is the outside pocket (15 ltr) can be removed and by storing light items (clothing and tent gear) it can quick be removed and you then have a 35 ltr pack ready for a hike out of camp. It has a rain cover built in (I have not tested it yet) but it is not even noticeable. Everything and everywhere this pack has compression straps with act as part of the closing system to tighten the load firmly.
So far the pack has been easy to balance weight and very comfortable. Nothing rubs me in the wrong places.
If your looking for a pack that carries a lot of gear, light and it pretty amazing design you should go check out the Kelty PK50. Just give yourself time to play with packing it as you have to learn where your gear goes best.  
This is a newpProduct on the market and so time will tell on the craftsmanship and construction but my examination of the pack, it appears well made and will last.
Source: bought via a "pro deal"
Price Paid: $150

Maybe because this is the first real pack I've owned I love it. I forgot I was wearing it! Zero load on my shoulders and tons of room.
Pros
Roomy
Very organized
Attached pack shell
Comfortable
I just received this pack and took it for a test drive along with my new Salomon Quest Gtx 4D boots. I cannot give a detailed review yet. Just an initial impression.
First off I have never owned a "real" pack before. I've hiked in the Marines with Alice packs and Mollie packs and have used them for hiking since leaving the military. I thought they were great. I could carry tons of weight long distance with no problems. I also owned an Ascent 3500 pack, but it fell right apart.
Well, I didn't know what I was missing. I always carried weight with my shoulders. With this pack it's all in my hips. Talk about an eye opener! I could care less about weight. I'm like a U haul. But to carry that weight comfortably is just awesome. This thing hugs my back like it's part of me. I can fit all of my gear and food with no problems. It cinches down nicely too.
The colors aren't my favorite, but who cares? I know that a lot of experienced hikers might think this is a gimmick but it isn't. Try it out. I don't have the experience with ULA or Osprey to compare though. I can't imagine a more usefull and comfortable pack. I look forward to getting the TN2 now.
Source: bought it new
Price Paid: $199.95

You May Like
Recently on Trailspace