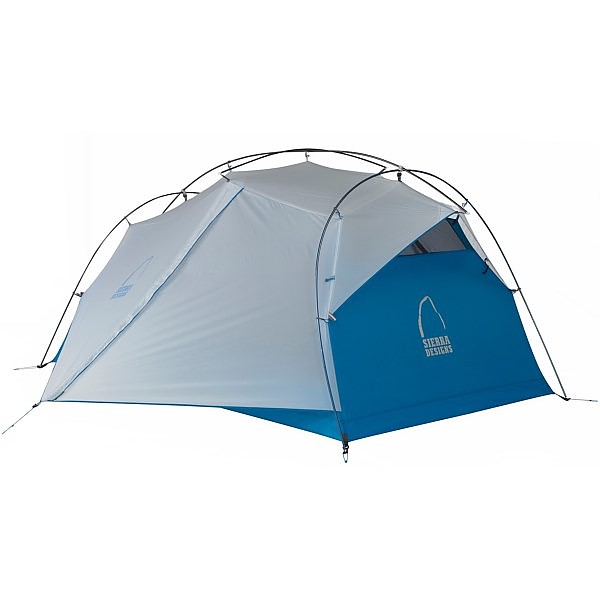 Specs
| | |
| --- | --- |
| Price | Historic Range: $116.98-$389.95 |
Reviews
1

review

5-star:

0

4-star:

0

3-star:

1

2-star:

0

1-star:

0
Version reviewed: 2012 Model
The Sierra Designs Flash 2 is a hybrid single wall, double walled tent that further blurs the line between tent, tarptent and tarp. It is best for people looking to lighten their load without major sacrifices in durability, space or stability. With an exoskeletal design this tent sets up fast and dry for that incoming storm, although I would not want to use it in an extended deluge due to the reduced vestibule size.

Creative venting and mesh walls make condensation a non-issue even under the worst circumstances. This tent would not work for you if you are in a sandy environment, beach or desert, due to the amount of mesh. One corner, although taped, did leak through in an downpour. I sealed it up with McNetts seam sealer and haven't had any further issues with it leaking. I would hope that a tent at this price point would come "field ready".
Pros
Lightweight
Increased durability (over similiar/comparative products)
Ventilation
Cons
Corner leaked
Vestibule size is not completely useable
Non-freestanding
Manufacterer's info: http://www.sierradesigns.com/p-562-flash-2.aspx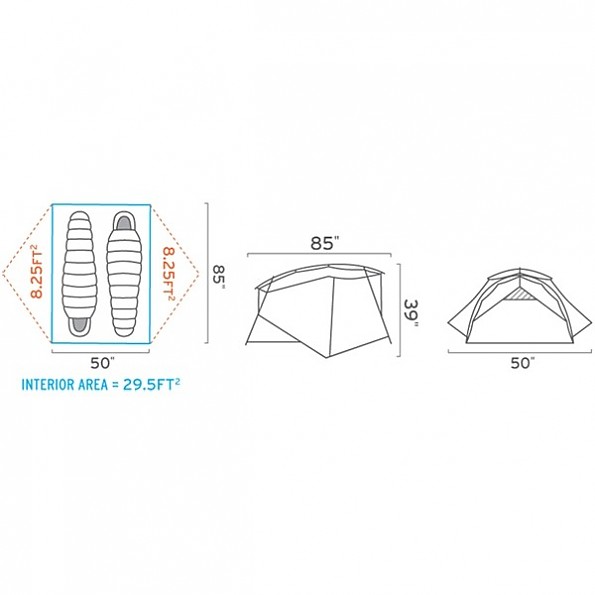 Capacity: 2
Season: 3
Trail Weight: 3 lbs 15 oz. / 1.79 kg
Packed Weight: 4 lbs 6 oz. / 1.98 kg
Interior Area: 29.50 ft, 2 / 2.74 m2
Vestibule Area: 8.25 + 8.25 ft2 / .74 + .74 m2
Peak Height:39 in. / 99 cm
Length: 85 in. / 216 cm
Width: 50 in. / 127 cm
Packed Length: 20 in. / 51 cm
Packed Diameter: 6 in. / 15 cm
Number of doors: 2
Number of poles: 1 main hubbed, 1 ridge
Pole Diameter: 9.6 / 9.0 mm
Package:
The Flash 2 comes with 1 main hubbed pole, 1 ridge pole, 10 DAC V stakes, extra guylines and the connected fly/ floor.
SD includes a separate bag for the poles, guylines and stakes. Initially I loved the design of this bag as it has an extended length with an additional pocket on top secured with a hook and loop enclosure. That pocket folds over the opening of the longer section and is to be tied to secure them together. I have found over time this become more of a nuisance though and would just prefer a smaller bag to store the stakes and lines. The silnylon slides too easily against each other and it becomes untied easily leaving the stakes part of the bag flopping around. I have taken to storing the pole bag outside my pack upside down. That leaves the stake part secured within the water bottle pocket. Minor inconvenience.
The main bag, used to store the tent, is large, almost too large. One of my pet peeves is including a bag that is too small and you have to wrestle your tent into it, but this one is excessively sized. On a tent meant to cut weight it seemed odd to me to have it so big. More weight could be cut, yes only an ounce or two at most but everything helps, by sizing this bag down slightly. This would also help in the overall packed size.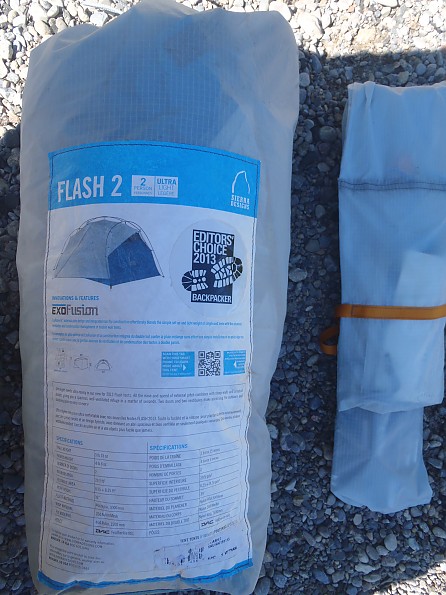 (Main bag holds the fly, smaller has the poles, stakes and extra guylines.)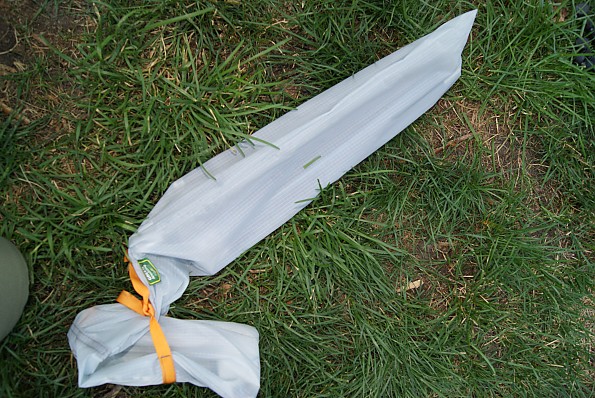 (My problem with the secondary bag, it often ends up like this flopping around strapped to the side of my pack.) 
Setup:
Both setup and take down are very intuitive. I did not read the instructions on purpose and was able to get it set up in under 5 minutes on my first use. Having a hubbed pole system speeds up the whole process as you just snap all the pole sections together, lay it on top of the laid out tent, start with all the Jakes foot corners and then the rest clips on.
The ridge pole greatly increases the interior space and pulls the fly taught. There is a slightly different height on the head and foot end and the only way to tell which way the pole goes is to match it to the cordage on the end of the Jakes foot. This could be improved by colour coding either the Jakes foot itself or the clips on the fly to simplify the problem, although once you know where to match the poles to it gets a lot easier.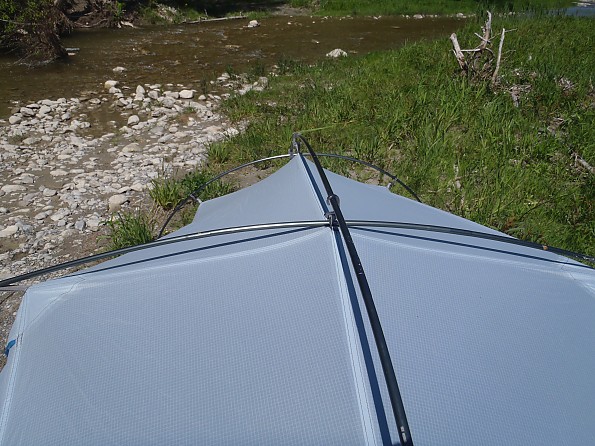 (Clips and the cross ridge pole)
Having an exoskeletal design (or ExoFusion as SD is marketing it), allows for a dry pitch even when you lose the race with the rain to your campsite. The interior is never exposed when pitching- poles go on top of the fly, clip in and the tent is erected.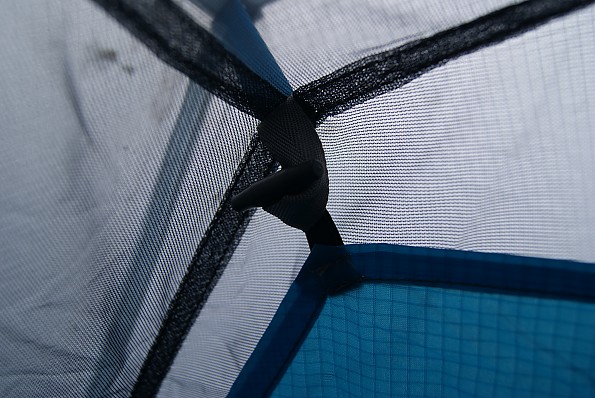 (Body/fly are clipped together allowing for the dry pitch)
There is of course much debate over what constitutes a "free-standing" tent. SD's labels this as a free-standing tent; in my opinion this is not free-standing. The tent will stand with just the one hubbed pole in, but you will not get the given specs and will not fit two people.
To get the width and length stated, all four corners need to be staked out tight. The vestibules also need to be staked out. Hence my verdict of non-freestanding, let the debate begin. This will deter some as you need to great creative with the pitching where it is difficult to get a stake in (beaches, above tree line, etc).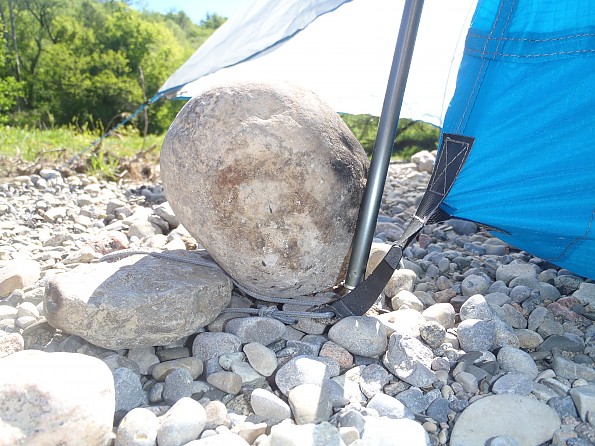 (Sometimes you have to get creative with the pitch.) 
Size (Livability) :
The Flash 2 is a bit of a rarity, in a good way, in that it is a genuine two person tent. Not, one normal sized and one small person, not a me and my dog, but two adults of normal proportions. At 50 inches wide you have room for two wide sized sleeping pads, let alone the 21 inch most people use. The 85 inches of length is enormous, and given the near vertical slope on the walls, it is all useable space.
I have plenty of room (I'm 6 foot) for my pack at my feet which is good because the vestibule is lacking, see below. The 39 inches of headroom allow you to wait out the storm without getting that neckache from awkwardly bending just to sit up.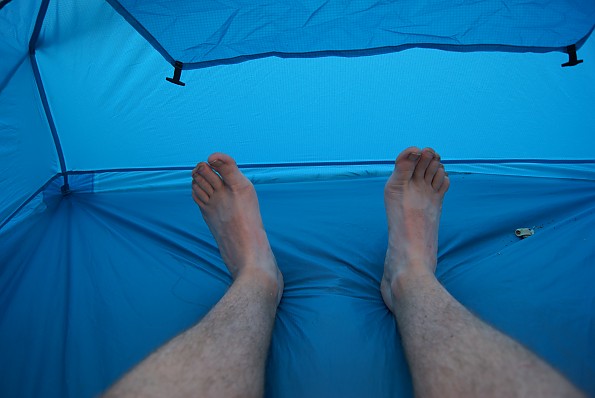 (Please excuse the awkward tanlines!) 
Vestibules:
There are two vestibules, one at each door so everyone has their own space for storage. Unlike the interior, the vestibule is not completely useable. Listed at 8.25 square feet each I would go as far as to say that almost half of that is unusable during a driving rain. The fly is cut asymmetrically and only comes to the ground in the middle and tapers up to almost 14 inches at the one side.
I have two problems with this design:
Anything near the edge of the vestibule is prone to splash back, unfortunately for me the first time I used it that ended up being my boots, starting the morning with wet boots sucks!

Not being able to use the outer parts of the vestibule you have to stack it all right in the middle, right in front of the door zipper. It makes it awkward to crawl out of the tent for any midnight duties.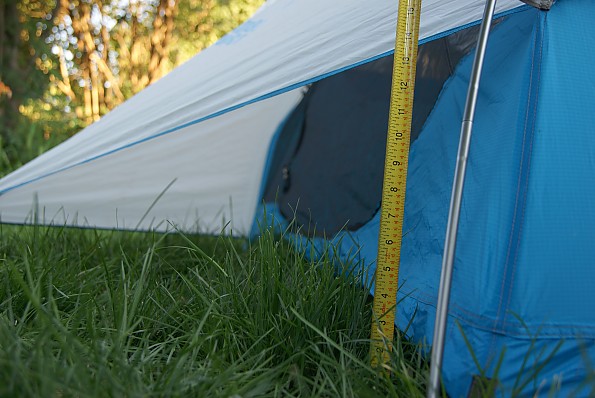 (Asymmetrical cut on the vestibule, 14 inches)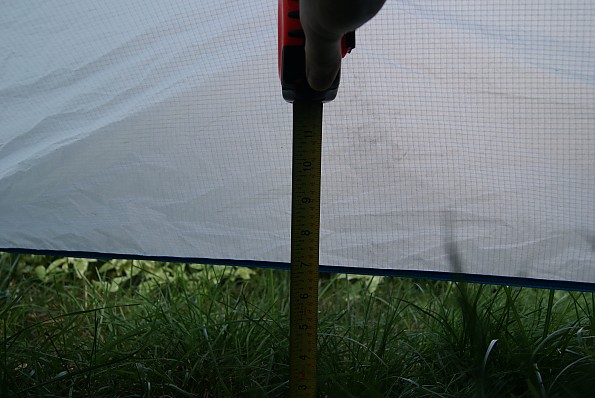 (Asymmetrical cut on the vestibule, 7 inches)
Packability:
Weight:
This is somewhat dependent on where/who/how you like to backpack. If you use this product as intended—with another person in an attempt to lighten your load—then this tent does well. Being able to divide the tent and poles/stakes between two people makes it almost unnoticeable. Broken down to roughly two pounds a person while still providing adequate rain and bug protection is pretty impressive. Yes, there are many options available for shelter at two pounds a person, but in my experience none have been livable as this.
Size:
The tent is not quite as packable as some other UL tents for a couple reason. The enjoyable extra living space and the added durability comes with the price of slightly less compactness. The average size of the bag is 16 inches long by about 12 inches around. SD lists it as 20 by 6, I have not been able to come anywhere near that number and it didn't even come that small factory packed. Maybe with a compression sack, but I don't generally carry my tents in one, nor does it come with one.
Durability:
This tent, although marketed as lightweight, still provides a nice balance of long term durability and weight. The 40 (floor and fly) and 20 (body) denier nylon used is still significantly better than the 10 denier used in most other UL tents. The feeling of the materials does instill a little more confidence than the paper thin floors of competitors tents.
The left upper corner of my tent did leak the very first day I had it out. Luckily I was just in my backyard on the first night I had recieved it as the amount of water let in would have been in danger of ruining a trip. I sealed it up with some McNetts Seam Sealer and haven't experienced the leaking since. My opinion is that it was a mis-stitch or error in the seam taping (although there were no problems visible to the naked eye) and that it isn't a question of overall quality.
Weather Resistance:
Rain:
I've had the chance to test this tent more times in ridiculous rainstorms than I have in good weather so I am pretty confident in giving this the stamp of approval. (Look up Toronto rain storm July 8th to see what it went through!).
After seam sealing the tent it was without a drip inside while sitting in a pool of water. There is an overhang over the windows with an additional storm flap. When you look at the design you think water is gonna splash on you all night long! I know because I was skeptical too (Insert foot into mouth). My concerns were all proven completely irrelevant, I slept dry and comfy! I have read accounts of splashback reaching that high and getting in. With the flaps up the splashback would have to be almost three feet high to get in, I put those chances at highly unlikely.
My opinion on the vestibule still stands— fly needs to extend on both sides to be completely useable.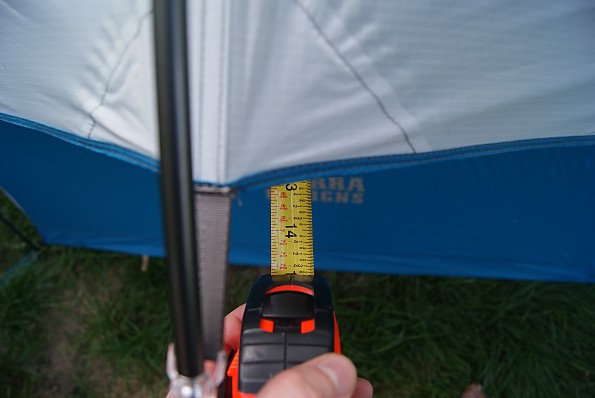 (Awning extends a full 14 inches beyond the window opening)
Wind:
Having the interior size that this tent does makes it susceptible to high winds. You can't have near vertical walls, good interior height and good wind resistance. The two are completely polar opposites. To cut that wind you need sloping walls, hence less space. This tent clearly is not made, IMO, to deal with high winds- box shape, thin guylines, only 4 tie out points.
No stars taken off here for that. Not what it's made for, just keep that in mind if you are looking for a tent expected to deal with high winds. Also the wind can catch on the awnings that overhang the windows.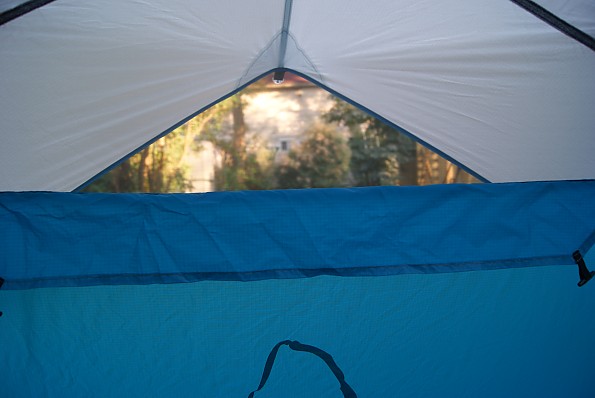 (Storm flap open)
Other:
Jakes foot- My bias based on the awesome name aside, this is a well thought out design! The pole sits cleanly and firmly in the socket on the foot and does not leave a lot of "play", yet it comes out easily by twisting it in the opposite direction. I do not have the footprint for this tent (I will be purchasing it as I am happy with this tent) but have looked up how the footprint can snap into the bottom of the Jakes foot, looks equally as well designed.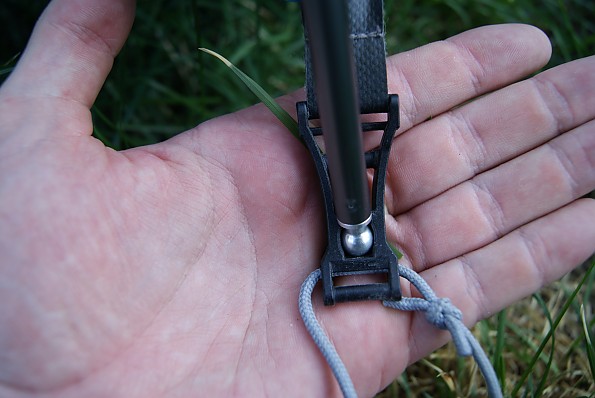 Ventilation- Superb. With the creative ventilation options and mainly mesh walls this tent treats the dreaded "C" word as if it were blasphemous. Condensation is nonexistent, especially if only using this with one person. I had the chance to use this on a couple very muggy, high humidity nights with surprisingly positive results. I'm interested to do some further testing in some cooler conditions and to push its limits somewhat.
Interior pockets- There are two, one at each side of the head end. Terribly small. They are about 9 inches long and 4 inches deep. The edges are also rounded cutting down on the space. I'd like to see these a little bigger. I like to be able to keep things handy throughout the night, especially so if you are staying at one site for a couple days.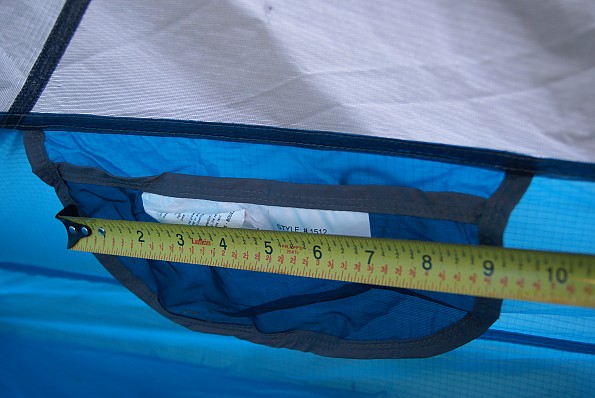 Colour- The colour choice seems odd to me, although keeps in line with a lot of SD's products. While aesthetically pleasing, it neither subscribes to the blend in, nor the been seen, philosophy. It is a nice colour blue, and is actually quite calming to wake up to, however unless you have some water backdrop (ocean, lake, river) it sticks out, not enough to be noticed in an emergency though. Those hoping to do some stealth camping, or those wishing for a little more privacy, might be bothered by this.
Conclusion:
This is not a do-it-all tent. If you are looking for one tent to deal with a variety of temps, wind speeds, seasons, then this is not the one for you. However, if you are looking for a lightweight, specialized warm weather tent that is able to adequately deal with summer, and the odd shoulder season, rain storm, then this might be perfect for you. Great interior space and superb ventilation/ bug protection make this tent a winner.
I would love to see a couple small changes: more guy out points, increased vestibule coverage, and bigger interior pockets.
A big thank you to you, the reader, for taking the time to read my review, and Sierra Designs and Trailspace for the opportunity to test the Flash 2. Please feel free to ask any questions, or for some more specific photos and I'd be happy to help any way I can. Also see the Sierra Designs Flash 2 album on my profile for more photos. 
About me and the testing conditions:
I am 6 foot, 170 lbs. My pack weight is usually in the 40 lbs range dependant on the trip and length, although I have recently started trying to lighten my load hence my interest in this tent. All my testing was done here in Ontario where we have had a hot, humid and wet summer thus far.
I have had the chance to test the Sierra Designs Flash 2 on eight trips over a three month period. Temperatures tested ranged from 15 to 30 degrees Celcius with humidity levels up to 85%. The highest wind speed I experienced during testing was 40 Km an hour. I most often used my Exped downmat 7 to sleep on and had plenty of room solo, as well as with a buddy who used a closed cell foam pad.
Source: received for testing via the Trailspace Review Corps (Sample provided by Sierra Designs for testing and review)

You May Like
Recently on Trailspace