Klean Kanteen Insulated TKPro

Top 25 in Thermoses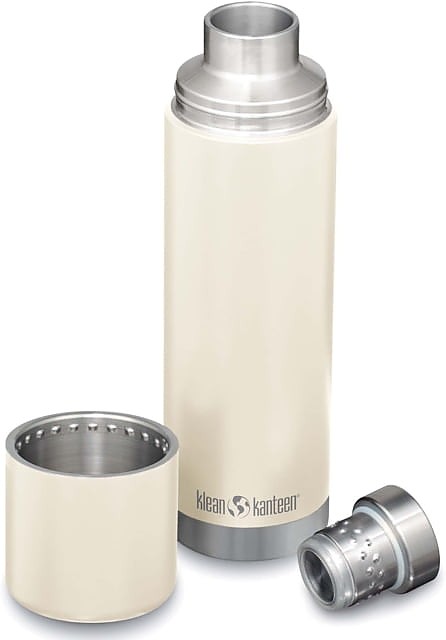 The Insulated TKPro (25oz.) bottle from Klean Kanteen is everything an insulated bottle should be—durable to the max, well insulated, easy to pour, and comes with a comfortable cup. This bottle is a solid choice for those needing a solid insulated bottle.
Pros
Keeps hot things hot and cold things cold
Rock solid construction and design
No plastic
Large, insulated cup for drinking
360 degree pour-through spout (no spilling)
Cons
Narrow bottle mouth
Lid can be hard to remove
Conditions:
I've used the 25 oz. Klean Kanteen Insulated TKPro (also comes in 16 oz. and 32 oz. options) for three months in the spring and summer, including during car camping adventures, a few fishing and deer scouting trips, and on a roadtrip. I've used it for hot beverages, namely coffee and tea, as well as keeping soup hot. I've also used it for iced coffee in the dog days of summer. This fall and winter it will be my go-to coffee or soup kanteen for hunting, and it would have been a go-to vessel for tailgating, but that's cancelled this year.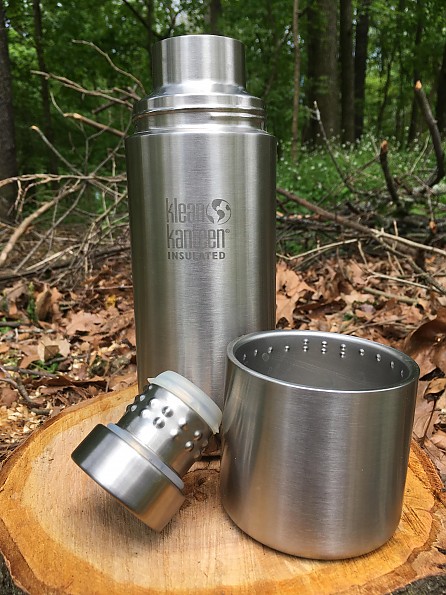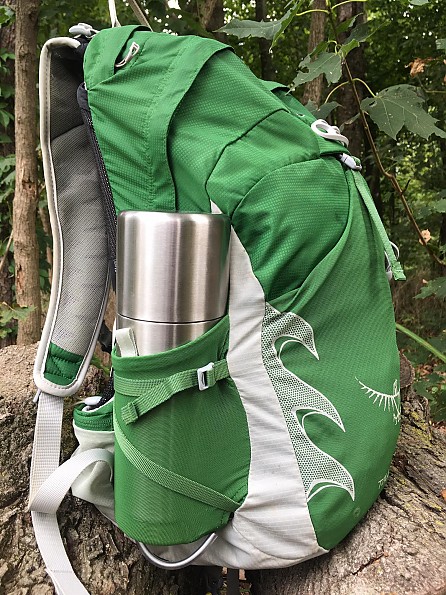 Construction, Durability, and Features: 
The construction of the Insulated TKPro is top-notch. The bottle, cap, and cup are all made from 18/8 food grade stainless steel, and there is a small silicone ring at the end of the lid's threading to ensure a tight seal. There's simply no breaking this thing or wearing it out. I just hope it doesn't wind up like my last Klean Kanteen bottle, the Reflect Kanteen, which was stolen. Ugh!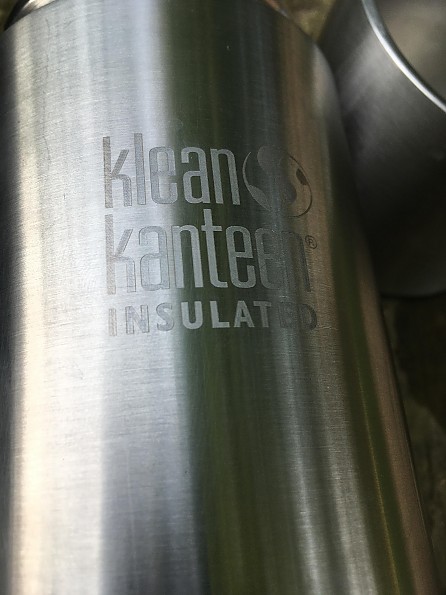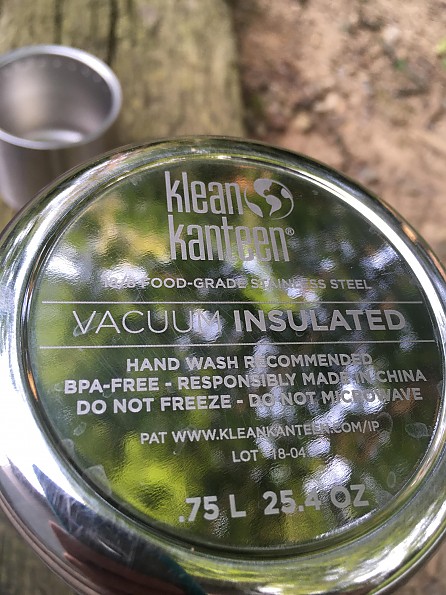 A lot of double-walled, vacuum-sealed thermal bottles like this one come with a cheaper cup, often single-walled, and they get very hot to the touch. Not this one, even the cup is double-walled stainless steel and has a comfortable lip to drink from.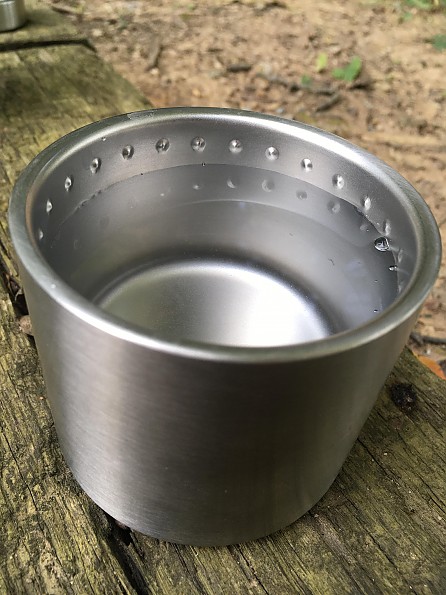 Perhaps my favorite feature of this kanteen is the 360-degree pouring capability, which makes it super easy to pour liquids out of, all with no spill. This pour-through capability is particularly useful when pouring liquids out while in motion (e.g. in a moving car) or in low-light conditions (e.g. pre-dawn hunting trips or sitting around a campfire). I can't be certain, but I believe one of the reasons this bottle keeps heat for so long is because the lid doesn't need to be fully taken off to pour liquid out. This keeps considerable heat from escaping.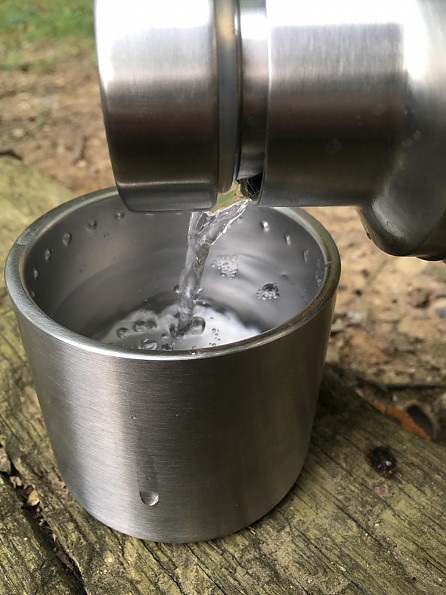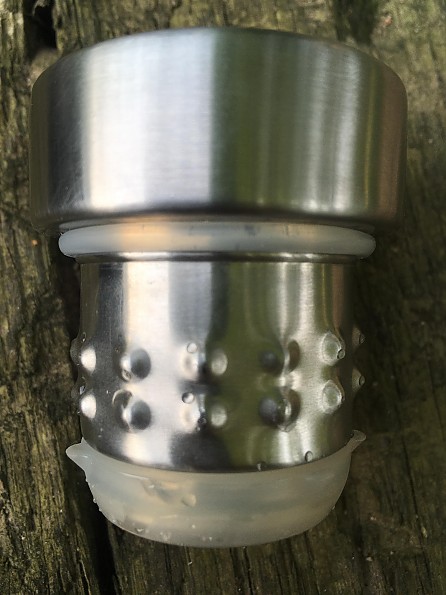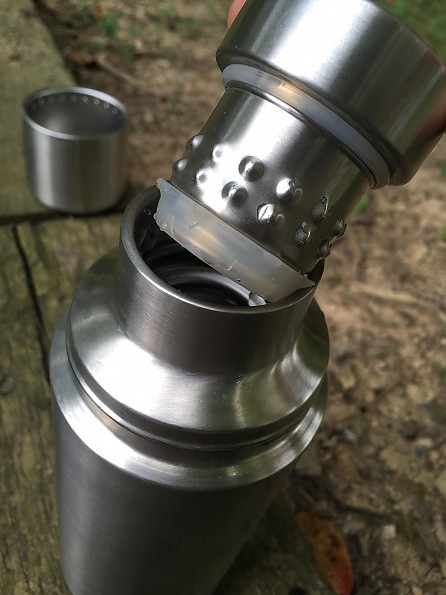 In addition to the 25 oz. (750 ml) Insulated TKPro bottle, the manufacturer also offers a smaller 16 oz. (500 ml) option and a larger 32 oz. (1 L) option, as well as other insulated products like the Insulated Classic and the TKWide. 
Heat Retention:
The following two tests were conducted to measure the heat retention of water in the TKPro 25oz. 
Claim: Klean Kanteen claims the 25 oz. bottle keeps contents hot for 28 hours. (Note: 38 hours hot for the 32 oz. TKPro bottle and 20 hours hot for the 16 oz. TKPro bottle). 
Test #1: I preheated the bottle with hot tap water for 5 minutes. Dumped that water out and replaced it with 198°F (92.2°C) water and secured the lid and cap. I then left it completely alone for 28 hours in ambient air temperatures around 74°F (23.3°C). At the 28-hour mark, I opened the bottle and recorded a water temperature of 123°F (50.6°C), which is a nice warm temp for sipping a hot drink, but not burn-your-tongue piping hot.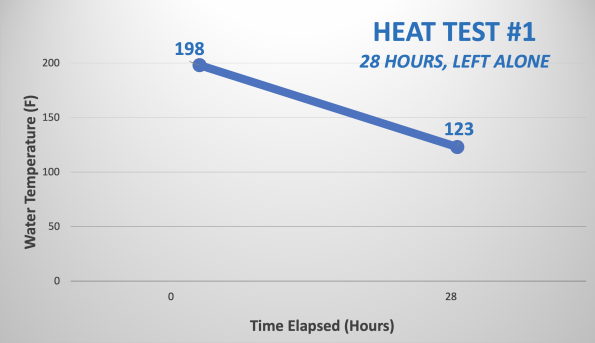 But because no one just leaves a bottle of coffee or tea untouched for 28 hours, I did another test to mimic more real world conditions, where I opened the vessel and dumped a bit out each time to simulate drinking. 
Test #2: No preheating the bottle this time. I poured in 190°F (87.8°C) water and secured the lid and cap. Every 7 hours, I would crack open the bottle, pour out 6 fl. oz. (177.4 ml) and record the temp of the water I poured out. At the 28-hour mark, the final remains of water measured at 100°F (37.8°C). This is equivalent to the temp of hot tub water. It's certainly warm, but not as warm as you might prefer your tea or coffee. (Side note: I like my coffee between 120-140°F (48.9-60°C).)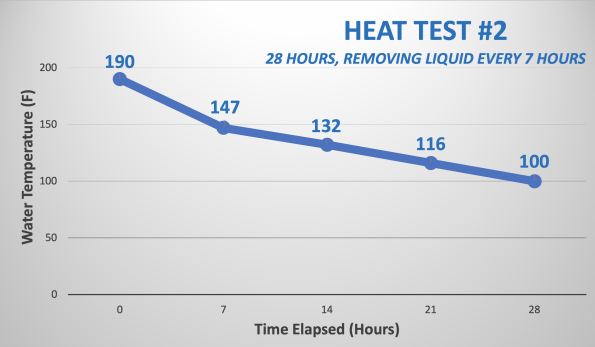 Cold Retention:
The following test was conducted to measure the cold retention of water in the TKPro 25oz.
Claim: Klean Kanteen claims the 25 oz. bottle keeps contents cold for 90 hours when iced. (Note: 100 hours iced for the 32 oz. TKPro bottle and 75 hours iced for the 16 oz. TKPro bottle)
Test: I filled the bottle with two handfuls of crushed ice and water, put the lid and cup on and left it alone for 90 hours with an average ambient air temperature of 74F (23.3C).
Starting temp of water in the bottle was 32°F (0°C), and after 90 hours, the water temperature was 46°F (7.8°C). After the test, I poured the water into a glass to drink, and my wife took one sip and said, "that feels like it just came out of the refrigerator." So yeah, I'd say it lives up to its claim.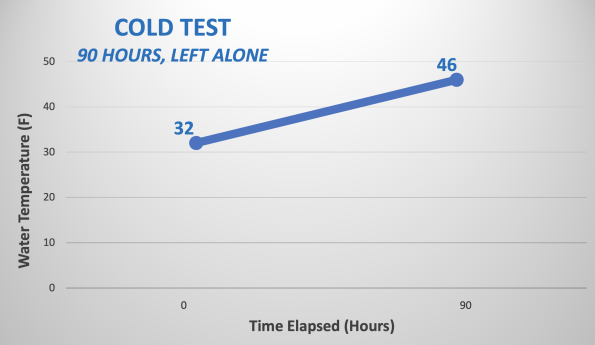 Drawbacks:
My only two complaints about this bottle are both catch-22's, because they both aid in the heat retention, but also have room for improvements. First is the narrow mouth of the bottle. The opening at the mouth is 1.75 inches (4.45 cm) wide and tapers down to 1.4375 inches (3.65 cm) which is too small to fit even an ice cube from a standard ice cube tray. This makes for a challenge when making a cold drink and wanting to ice it down. I've gotten by with crushing ice beforehand, but that's kind of a pain.
The narrow mouth also makes it essentially required to use a bottle brush to clean it. As previously stated, Klean Kanteen does offer a TKWide line of products that would be of benefit to those looking for a wider opening, but those don't offer quite as long insulated time as the TKPro line does. Give and take, I guess.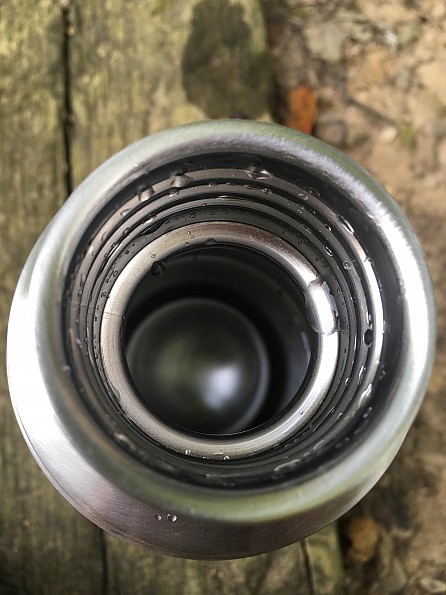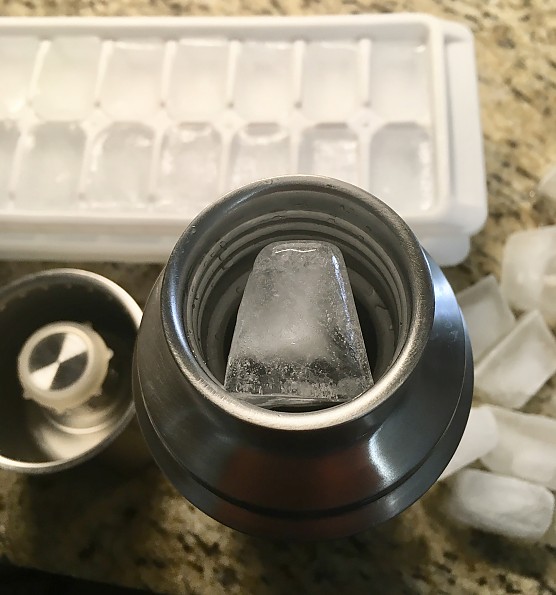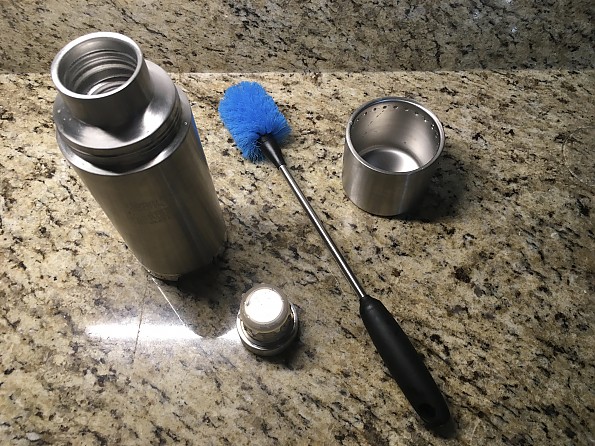 The other drawback is the difficulty and noise in which the cup comes on and off. With no grip aids on the smooth metal and the cup being just a hair shy of 3.5 inches (8.89 cm) wide, it makes for a hard turn sometimes, especially if wet or with gloves on. Again, this snug fit probably aids in heat retention, so it's not all bad, but has its drawback nonetheless. The noise issue (i.e. metal turning on metal) is more of a concern for hunting, when I'm trying to be super quiet, so I'll have to be careful where and how I use the bottle, but that's probably not a huge concern for most. 
Overall Recommendation:
I'd highly recommend the Klean Kanteen TKPro insulated bottle for those who want to take along a hot or cold drink (or soup) on their adventures. It's designed to be bomb-proof, not ultralight, so it's a bit bulky and heavy for backpacking usage, but great for more accessible adventures where weight and bulk isn't a primary concern, such as car camping, hunting/fishing, canoeing, skiing, winter day hiking (my fave), and more. I've used many other insulated bottles like this before and haven't met one yet that quite stacks up to the TKPro.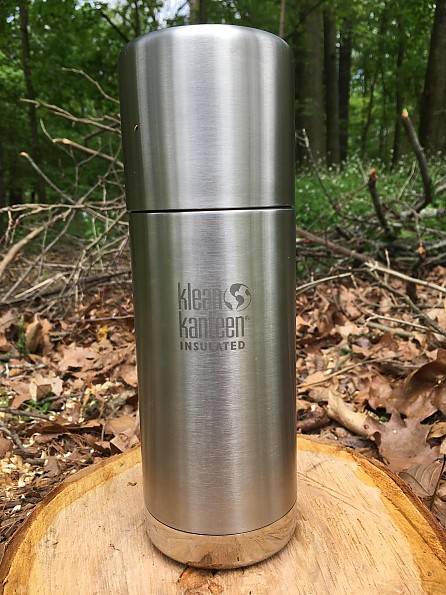 Experience
I've used thermal kanteens for many years, most often for hot drinks like cocoa, coffee, and tea, while hunting. In the last couple years, I've found myself using an insulated vessel for making iced coffee as well during warm weather adventures that allow for the extra weight. I typically carry an insulated bottle of some kind when hunting, fishing, and car-camping. In addition to this Klean Kanteen TKPro, I've also owned such insulated bottles from Sigg, HydroFlask, Stanley, and Thermos.
Source: received for testing via the Trailspace Review Corps (Sample for testing and review provided by Klean Kanteen)

Your Review
Where to Buy
Help support this site by making your next gear purchase through one of the links above. Click a link, buy what you need, and the seller will contribute a portion of the purchase price to support Trailspace's independent gear reviews.
You May Like
Specs
16oz
25oz
32oz
Price
MSRP: $34.95
Current Retail: $29.95-$49.95
Historic Range: $29.95-$49.95

Weight
18.3 oz / 520.0 g
21.9 oz / 620.0 g
26.0 oz / 736.0 g
Capacity
16 fl oz / 500 ml
25 fl oz / 750 ml
32 fl oz / 1 L
Cup Capacity
7.3 fl oz / 216 ml
10.3 fl oz / 305 ml
10.3 fl oz / 305 ml
Dimensions
10.2 x 2.9 in / 260.0 x 74.7 mm
10.2 x 3.4 in / 260 x 87.5 mm
13.5 x 3.5 in / 318.0 x 87.5 mm
Insulation
20 hrs hot / 75 hrs iced
28 hrs hot / 90 hrs iced
38 hrs hot / 100 hrs iced
MSRP
$29.95
$34.95
$39.95
Recently on Trailspace