Klymit Insulated Hammock V

What works on the ground does not necessarily work in a hammock. Unfortunately, Klymit's attempt at a hammock pad proves this point. The Insulated Hammock V Pad is a comfortable inflatable pad that will have some appeal to front country hammock hangers in mild-to-warm weather conditions. But a vastly overstated R-value is the primary takeaway from nine nights of March-April testing.
Pros
Comfortable in temperatures above 50°F
Fully covers shoulders and hips
Can go-to-ground if necessary
The first pad I have ever comfortably slept on the ground with
Inflates easily
Deflates quickly
Does not slip in the hammock
Allows for the diagonal lay hangers prefer
Cons
Overstated claim of being a 4-season pad
Not for side sleepers below 50°F
Heavy (and heavier than stated)
Difficult to pack up
Grit and grime stick to it like glue
Value—high price for minimal warmth
Testing Parameters:
The Insulated Hammock V Pad was tested nine nights in March and April 2017. Three nights were tested while car camping. Six nights involved backpacking on the Ozark Trail in Missouri. Overnight temperatures ranged from the upper-50's to the low-30's. The pad was tested in conjunction with the Therm-a-Rest Chorus HD Quilt, which I have previously reviewed.
About the Reviewer:
I am 6' 2" tall and weigh 160 lbs. I have been exclusively hammock hanging since 2010. I am primarily a side sleeper. I tend to sleep cold, but I know how to hang warm in temperatures down into the teens.
Out of the Box
The Hammock V arrived in its own 5" x 10" stuff sack, factory folded nice and neat. Dimensions and instructions were printed on the sack. Inside the sack is a small pocket with a patch/repair kit.
Before even unpacking it, I threw the Insulated Hammock V onto the postal scale at work. The weight came to 2lbs. 4.2oz. This is 4.2oz heavier than the advertised weight (32 ounces), and easily the heaviest pad option I have used. While weight could be an argument against backpacking with this pad, I hike relatively light and still managed to carry a base weight of 25 lbs.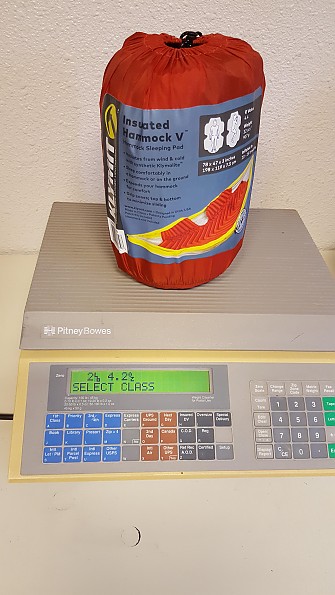 Out of the stuff sack, the Insulated Hammock V measures 47" x 78". This is more than enough pad for my 74" frame.
The above pictures were taken on the Ozark Trail one afternoon. We tend to start hiking pre-dawn and take a long break mid-day. While the other guys slung their hammocks for an afternoon nap, I inflated the pad and slept COMFORTABLY on the ground.
In the hammock, the Hammock V lived up to the marketing claim that it would keep your hammock spread open for a more comfortable lay. It was nice to easily reach in and out of the hammock for any gear I needed as I was setting up camp each evening.
While the Hammock V does lie straight in the hammock, I had no problem sleeping at an angle to get the flat lay hammock hangers prefer.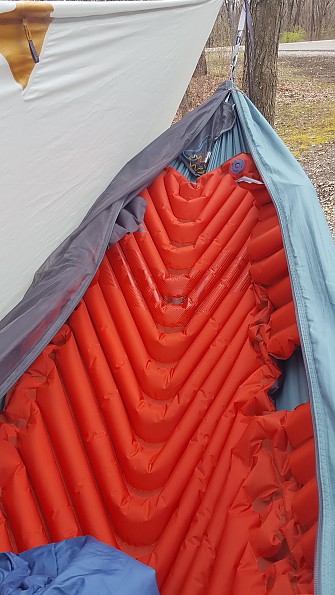 Inflating/Deflating
Inflation and deflation occurs with two valves located at the top of the pad. The values are clearly marked. The values snapped firmly into place and held tight as I laid on the pad.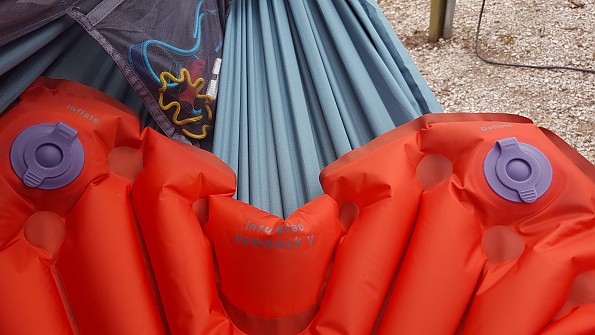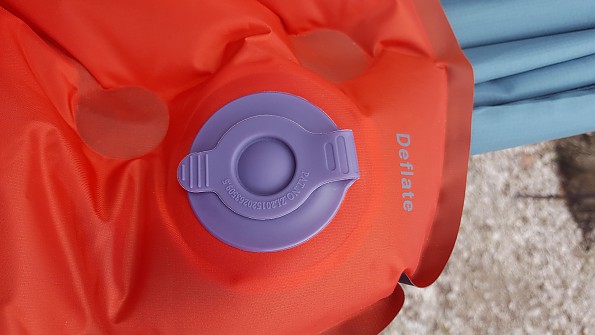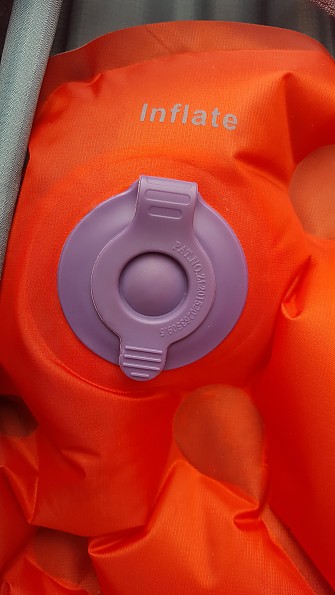 Looking at the interior of the Inflate value (below), one can see the flap of rubberized material that ensures air does not escape as the pad is being inflated. I was skeptical that air would not just blow out between breaths. However, the valve worked very well, every time.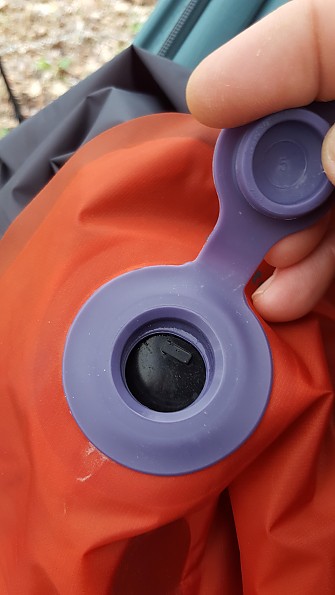 Klymit claims the Hammock V can be inflated in 15-20 breaths. I found 20-25 breaths to be more realistic. The lower channel, especially the lower "wings," were not inflated with only 20 big breaths.
One humorous error on my part: make sure the deflate value is closed before you start. I wasted 30 breaths one evening before I caught my mistake!
How it Sleeps
The Hammock V is comfortable. Both in the hammock and on the ground, the pad felt good.
The Hammock V is easy to get in and out of. I usually get up once or twice per night to use the bathroom, look at the stars, etc. It was never a chore climbing back in.
The Hammock V stays in place, as advertised. One of the chief cons of using a pad is they move on you as you are getting into the hammock. Because of its "Non-slip Zones," the Hammock V never moved from where I put it.
The Hammock V wraps around you. This was neither claustrophobic nor uncomfortable. The "wings" did their job to wrap my shoulders and hips, which are notorious cold spots, requiring a pad extender.
=======================
Warmth/R-Value
It is here that the Hammock V fails in its claims. Klymit's Q&A section of their website states:
With its 4.4 R value, the pad is a true 4-season pad...
When I headed out on the Ozark Trail, I was confident that even if temperatures fell below forecasted temperatures, I had plenty of pad to stay warm. I have used inexpensive closed-foam cell pads down into the 20's multiple times. These have much lower R-values and have performed well for me. My 20-year-old Therm-a-Rest Camprest air mattress gets me even lower. So even if Klymit exaggerated a bit, I believed I would stay warm.
This was definitely NOT the case.
Low 50°F: I found that if the temperature dropped into the low 50s, I could no longer sleep on my side. The compression at my hip and shoulder was too great to hold the heat in.
While having the first draft of this write-up peer reviewed by other Review Corps members, Lah  expressed a similar experience with Klymit's uninsulated Hammock V pad. She pointed out a "fatal flaw" in the design are the sewn through baffles. In her words...
This design produces sections of up to an inch in length that are without insulation (no air or foam, just the outer material). It is the same design as their regular pads (static V), which seems to work ok on the ground...as I can attest to, unexpectedly having to use it on the ground. But in a hammock, the baffles flex and leave parts of your body pressed directly against the bottom and cold air. Cold air can also easily circulate between the baffles.
So lying on your back will prevent contact with the uninsulated sections, but switching to your side immediately shifts the baffles and compresses the pad to the point where sections of your shoulder and hip are no longer warmed. 
Mid-40s: You don't want to move around much when temperatures drop into the mid-40s. 
If you look at Klymit's website, you see a cozy model nestled in a full sleeping bag. Hammock hangers don't sleep in a full bag. It's too hard to get in and out of, and your body weight negates any R-value beneath you. Hangers sleep with top quilts or under an unzipped bag. However, the Hammock V does not work with this predominate style of hanging. 
So as temperatures dropped, anytime I shifted under my quilt, my body would come into contact with a different part of the pad—a part of the pad my body hadn't warmed yet. You know how you can flip over your pillow to get to the cool side? Same deal here, except the "cool" side is cold and a quick wake-up call in the middle of the night.
This is something I have never encountered with underquilts, foam pads, or other insulated air pads. 
Low 30s: You never want to take this pad down into the 30s!
The forecast was for our coldest night to get down to 42°F. Then there came that night when we awoke with frost on our tarps. That cold, miserable night where my backside felt like I was sleeping on bare concrete. 
Because the "wings" prevent the pad from fitting within a quilt, the air chambers begin to take on the outside air temperature. While your body is warming the chambers beneath you, the rest of the pad is siphoning that heat away from your body. 
As Lah posted to me...
If an air pad is exposed to the environment, that area gets quite cold and becomes a heat sink for the rest of the pad. This means that while your body is warming the air directly below you, that heat is being distributed throughout the rest of the air volume and causes what is known as a "heat pump" effect. You can think of this like an internal convective cooling effect.
We had one other cold night on the trail (low 40s). That night I used every stuff sack I had with me, and I filled them with clothes and gear, including borrowing extra clothes from my fellow hikers (pic below). I packed these around my butt, hips, and feet. A sit pad covered a good portion of my back. After temps rebounded to the upper 40's I went back to sleeping more comfortably.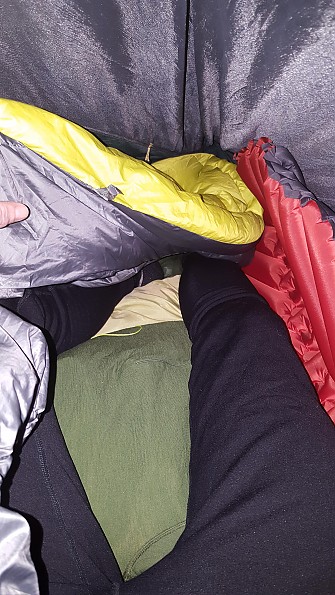 Two Other Minor Cons:
Two other things really do not fit into any other category of discussion so here they are…
Remember that first picture of the Hammock V folded nice and neat in its stuff sack? You are never going to get it back into that sack again when you are on the trail. Front country camping, I was able to lay it out on a picnic table and work on it until it squeezed back into the sack. But in the backcountry, you do not have that option. A hammock is not firm enough for the folding needed. This is a minor con, as I simply switched it out with a larger stuff sack.
The "Non-slip Zones" involve some kind of sticky material (think Post-It Note). This definitely keeps the pad from moving around in the hammock. However, if you drop it on the ground, the Zones will be instantly covered in grit and grime, as shown in the picture below. This debris would not brush off with the hand. It required a wet bandanna scrubbing at it to clean it.
Some who proofed this review thought that 3-stars was too generous, but I feel there are things to like about the Hammock V. If your hammock hanging takes place mostly in warmer weather and weight is not an issue, then it is a product worth considering.
I liked being able to pull this out on a warm afternoon and take nap on the trail, and I was content with its performance in temperatures above 50°F. However, the overstated R-Value and the price vs. the warmth-return were significant cons. I may use this for car camping, but it will never go out on the trail with me again. 
Source: received for testing via the Trailspace Review Corps (Sample provided by Klymit for testing and review)

Goes flat every 20 minutes. Multiple leaks. Bought pad Brand New and used once.
Pros
When inflated it's warm, but that's short lived.
Absolute Garbage. Good intention but poor execution and materials. I wish Therm-a-Rest made a similar pad.
I bought it brand new at the Boy Scout Store in Atlanta. Next day I drove to the Blue Ridge Mountains here in Georgia. After I hiked in to camp I set up a ground sheet for keeping stuff of the ground, set up my Warbonnet Blackbird XLC (American Made) and then inflated the Insulated hammock V Pad (Chinese). Went to climb in for bed and noticed the pad was almost flat so maybe I didn't put enough air in it. So I inflated it again with an inflator bag that came with another pad I have that has the same valves so it clips right in, which that one has never let me down, ever.
Anyway I got it inflated and back in my hammock and went to sleep for the night or so I thought. 20-30 minutes later I woke up freezing, the pad was flat again. Luckily I am a Army Veteran and have always carried more than I need because I don't go ultralight, but I had my 20-degree underquilt and slipped it on there and was good for the rest of the night.
I wanted the pad because of how spread open it made the hammock, but just wishful thinking on my part. I broke camp the next day and hiked back to my truck. When I got to the parking are I threw away my camp garbage and that included this pad. Looking back I should have just got my money back from the store I bought it from, but I figured they would do like everything else I have returned in the past and say did you use it? and I'd say yes, then you need to go through the manufacturer and the heck with that.
Luckily I bought it on a sale and didn't pay Klymit's asking price which is absolutely absurd. Maybe I will drive back up there and see if it is still in the trash and if it is, I will make a full YouTube review of this product.
Background
Years of experience using Therm-a-Rest pads in the Army, using Therm-a-Rest, REI Co-Op pads and one from Amok and haven't had a single issue, countless hikes, hunts out west and miles of overlanding. I have used all these great pads in hammocks, to lying under a ground tarp on the ground with the only thing between me and the ground is a Therm-a-Rest pad and never had a single issue. I even have an old Therm-a-Rest pad I keep in my truck for side of the road repairs.
Source: bought it new
Price Paid: $149.99

Your Review
Where to Buy
Help support this site by making your next gear purchase through one of the links above. Click a link, buy what you need, and the seller will contribute a portion of the purchase price to support Trailspace's independent gear reviews.
You May Like
Specs
Price
MSRP: $189.99
Current Retail: $139.73-$199.99
Historic Range: $99.99-$199.99
Reviewers Paid: $149.99

Weight
36 oz / 1021 g

R-Value
4.4

Dimensions
78 x 47 x 2.5 / 198 x 119 x 6 cm

Packed Dimensions
8 x 5.5 in / 20 x 14 cm

Fabric
20D Polyester

Recently on Trailspace