Klymit Insulated Static V Luxe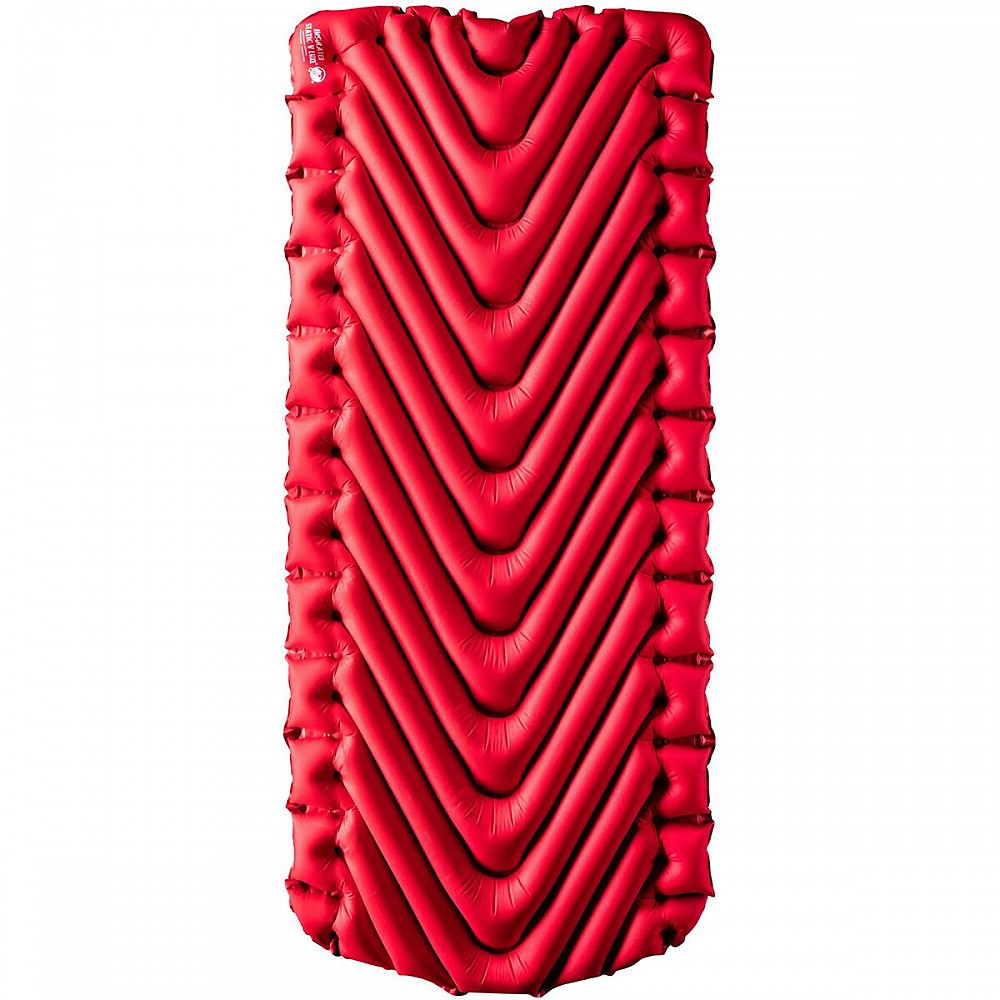 The Insulated Static V Luxe is comfortable, but falls into a category somewhere between car camping and backpacking.
Cons
Could take a while to inflate if you blow it up
Not as warm as advertised
Short
2lb 4 oz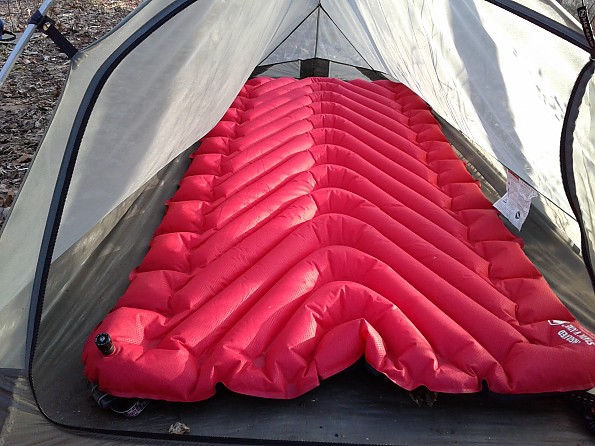 A number of my friends bought the Static V pads after comparing price with R-value and quality based on reviews. After hearing quite a few points of positive feedback, I was pleased to receive the Insulated Static V Luxe as a gift during the holidays. 
I've used the Insulated Static V Luxe for about 1.5 years now and thought it might be time to give some feedback based on my experiences with the pad. 
Ease of Use: The Insulated Static V Luxe has double inflation valves.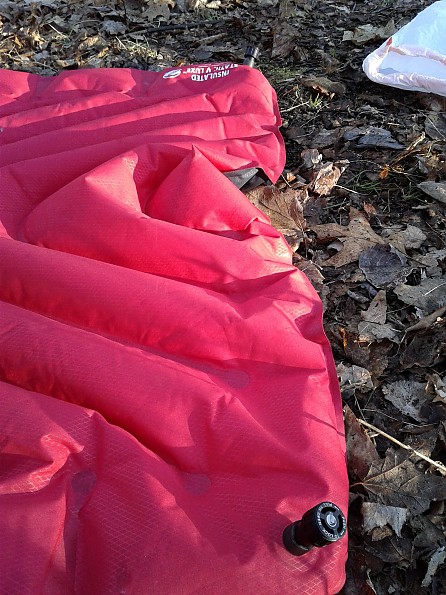 The valve stems are decent length at 1.5 inches.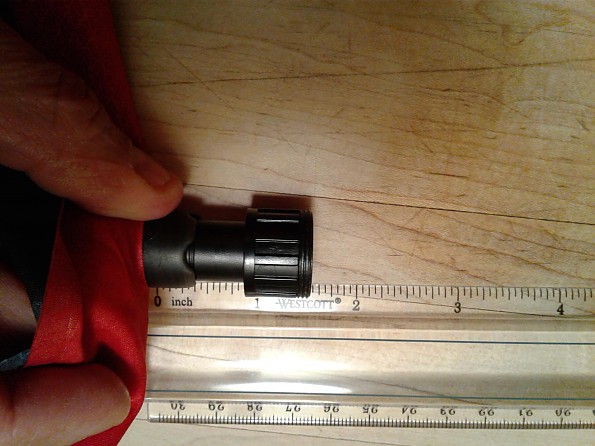 This facilitates the inflation of the pad when using a small durable plastic bag. I just quick fill the plastic trash bag, wrap the end of the bag over the valve and squeeze the air into the valve like I'm playing the bagpipes.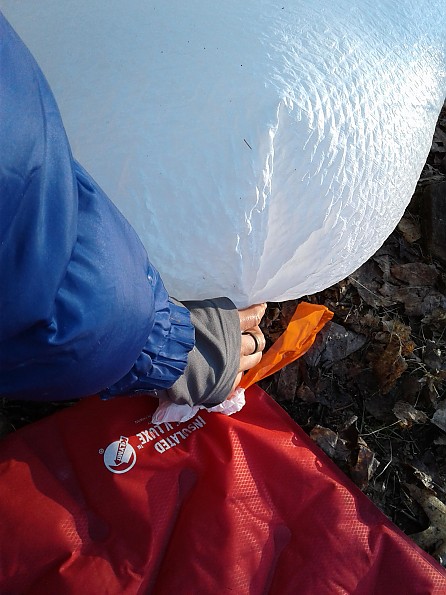 It fills up with 3 medium sized trash bags of air. The process takes 1 minute 15 seconds.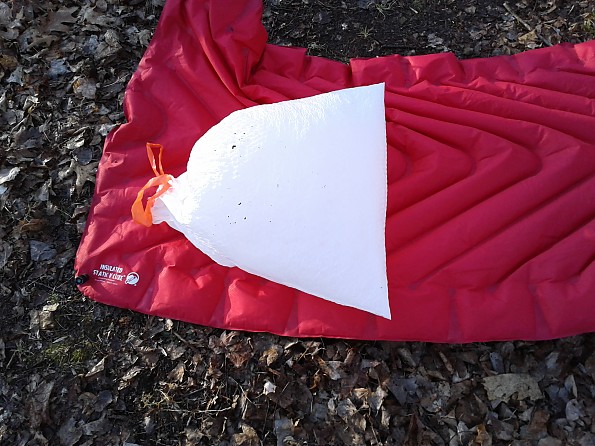 I always use dry air with any non self-inflating pad. The process is 5X faster and it keeps moisture out of the pad. The dry air is a better insulator than the moist air from your lungs and it reduces the chance of mildew and other bio corrosives building up on the interior of the pad. 
The valves are a simple depress and 1/4 turn lock. They work every time.
Because of the double air valves, you can fold the pad over twice lengthwise and roll it up. The valves allow the air to exit so you don't get any bubbles trapped in sections that are cut off. 
Features: The V shaped channels create a comfortable sleep. With this kind of pad, under inflating  can cause you to make contact with the ground and over inflating can be too rigid. After a couple of uses, you find your sweet spot. I like that the underside of the pad is black. On colder nights, I flip the pad over to the black side to retain a little more heat. 

The Luxe version is luxuriously wide. This is great for a wider people or for people who tend to move about more at night. There's less of a chance of you rolling off. The pad fits pretty snug into solo tents so there's no way of you rolling off.  
It's advertised at 76 inches long but I measure it at 74 inches at its longest point when inflated.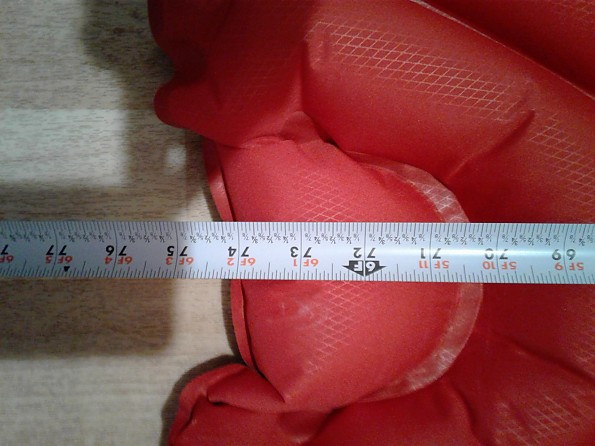 The length from corner to corner where it's shorter is 71 inches.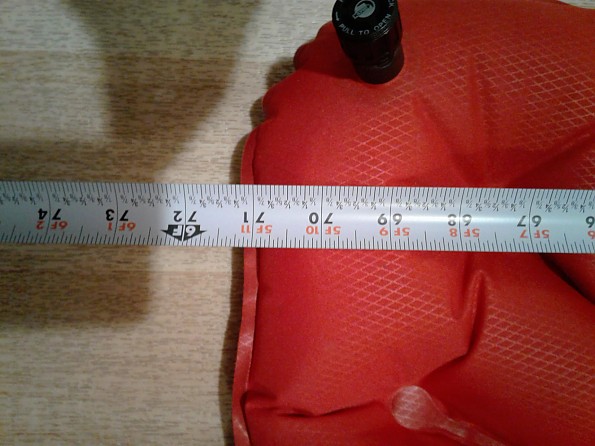 In warm months, this is not an issue but in cold weather, it's nice to have a bit of extra length for your bag to sit on top of. I find that it's a little short in the cold season. My feet and head go right up to the edges so any shifting at night can take your tootsies right over the edge and cause you to wake with the shivers.
The R-value is advertised at 4.4. Compared to my Therm-a-Rest Basecamp (R-value 5), I think there's a noticeable difference. The Therm-a-Rest seems to be substantially warmer. I suppose charts show that an 2.5-inch pad with R-value of 4.4 should be comfortable down to the upper 30's to lower 40's F. Based on my experience, I find that the pad is too cold for comfort at those temps when used with a down bag. A 20°F synthetic bag works in that temperature range when used with this pad. 
I find that with this pad (> 20 nights), the minimum comfort range is somewhere in the upper 40's to low 50's. (I'm about an average sleeper) when used with a 20°F down filled bag. 
Construction and Durability: I've owned mine for 1.5 years and have used it in sub zero temps in conjunction with a foam pad underneath. The valves didn't crack but this might be because I use dry air in the pad so they don't freeze shut.
There's a synthetic fiber inside of the bag that acts as insulation. I don't really know what's going on in there after 1.5 years but it seems to be working the same as ever. 
I'm not the type that throws my bag on a bunch of sharp rocks or small cacti to sunbath in midday. For this reason, I don't worry about popping my pads. I've used the pad inside of a tent and it's holding up quite well even after 20+ nights.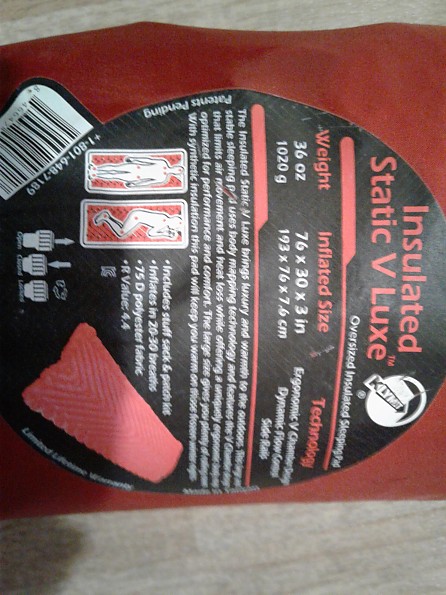 In the end, the pad is a medium weight at 36oz ( I noticed on the newer version of the same pad, it is advertised at 25oz -see link in the comments section). It packs down to a medium size.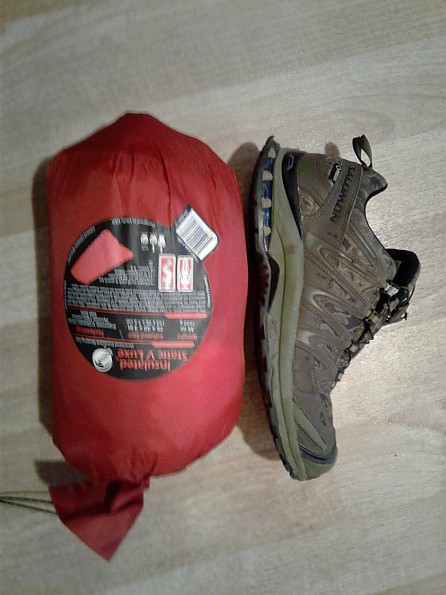 These days, I use a thick 3.5 inch pad for car camping. I use a lightweight, more narrow pad for backpacking. The Insulated Static V Luxe is in that odd category in between. 
I think I'd stick to the more narrow Static V version of the same pad if I could choose. 
Source: received it as a personal gift

Klymit's Insulated Static V Luxe is the perfect solution to those backpackers and car campers seeking a higher level of comfort with compactability. A sleeping pad for all seasons and a myriad of applications.
Pros
Plush comfort
Easy inflate/deflate
Comparatively Compact
4.4-5.0 Insulation
Not crinkly
Fits hammocks
Cons
Tad heavy for the ultra light crowd
Does take about 20 deep puffs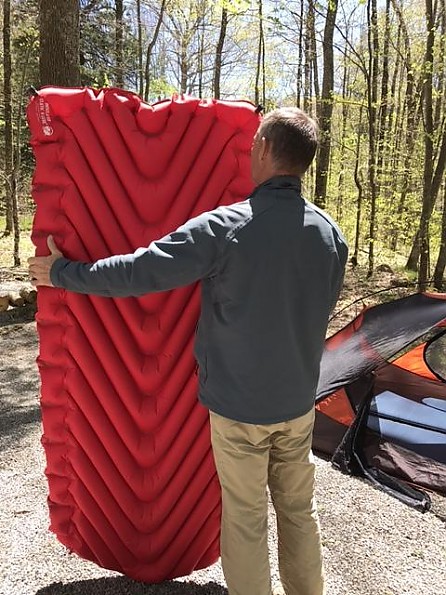 Sleeping pads are a very personal item and should be carefully chosen by their users.
I have had opportunity to use a variety of various sleeping pads in the past 35 years of serious backpacking/camping...so I was excited when given the opportunity to pick up the Klymit Insulated Static V Luxe at a heavily reduced rate in exchange for a review..
Personally, I've been in the market for a new sleeping pad that packs smaller, lighter, yet offers a great deal of comfort. Having lived life on the edge, like many others, my body has suffered as a result. So a comfortable sleeping pad is imperative if I desire to continue my passion of backpacking/hiking/paddling/camping.
I am of average height, weight and build (6'0", 180 lbs), and deal with a severe, permanent low back injury. Klymit's Insulated Static V Luxe offers 3 inches of cush between me and terra firma and 30 inches of width...so I was anxious to try it out.
My review is based on using the Klymit Insulated Static V Luxe the past 50 days of camping across the U.S. I was also interested in the insulating R rating, as the bulk of my camping is shoulder season and into winter months.
After moving on from the limited ensolite foam sleeping pad back in the '70s, all of my sleeping pads have been "self-inflating," so I pondered if a sleeping pad I had to inflate entirely would be a negative. In my quest for a new sleeping pad, I have not been impressed with recent ultralite pads that use a "crinkly" material, that is neither comfortable to the skin, nor quiet... sounding more like balled-up paper upon any body movement.
I found the Klymit Insulated Static V Luxe material softer and quieter than those of their competitors. Almost every night, I slept in comfort directly on the "bare" pad with my 20-degree down bag unzipped and utilized more like a quilt. The pad material offered enough "griptian" that I did not slide off the pad when forced to sleep on uneven/angled terrain.
The Klymit Insulated Static V Luxe has dual inflation/deflation valves, so if you want to share the burden of inflation you can do so. Through experimentation, it took me 19 deep puffs to inflate the pad to my desired pressure. While on the subject of desired air pressure...with Klymit's chevron style "V" channels...adjusting your desired "stiffness" is a bit of science, but once you get it dialed in...comfort is superb!
(Caveat: Don't be discouraged if you sit on the sleeping pad after inflation and your tail end bottoms out on the ground. Once you recline you won't feel the ground again.) I was also able to use a battery operated Coleman Quick Pump to inflate the pad when car camping, just by lining up the the pump opening with the pad valve top.
I used the Klymit Insulated Static V Luxe in Florida's Panhandle, the Ouachita Mountains of Arkansas, NW New Mexico, Rocky Mountains of Colorado, Appalachian Mtns of Virginia, Maryland, Pennyslvania, and West Virginia...in both cold/dry-cold/wet conditions and a variety of ground profiles. Rocks and roots were never noticed or felt.
Klymit claims with their "V" channels and "body mapping," a person can sleep on their side in comfort. Well, I'm here to tell you...it is a legitimate claim. Not only could I sleep comfortably on my side, I slept on my stomach in comfort too. 
Lest you think I am giving a glowing report based on receiving a handsome discount, I was compelled to purchase two more Klymit Insulated Static V Luxe sleeping pads for my wife and daughter.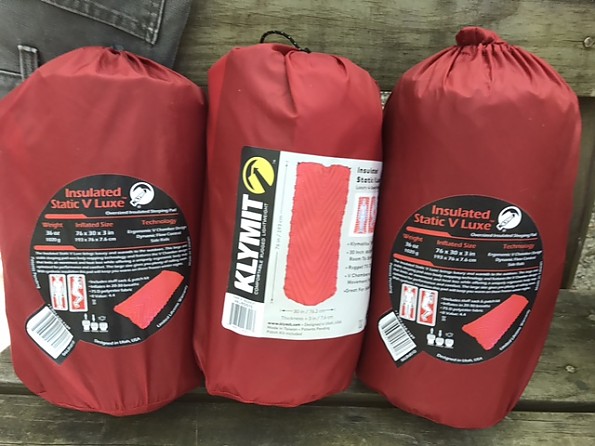 The specifications Klymit posts on their website www.klymit.com/insulated-static-v-luxe.html were accurate when compared to my measurements. 76" x 30" x 3," and a hair over 2 lbs. I could only evaluate and confirm the claimed 4.4 R value, based on my comfort on numerous below 30 degrees nights.
I felt that the "V" channels also offered a bit of unfelt, but noticed airflow between the pad and my body which resulted in no sticking to the pad or sweaty hotspots. The valleys between the air channels also offered comfort for my heels to rest into, relieving tension off my knees.
The width is a coveted luxury I longed for...but note...your three-person tent is now only a two-person, as two pads cover a full 60 inches wide, which was the width of my tent. I did not think that one through, but lucked out despite my ignorance.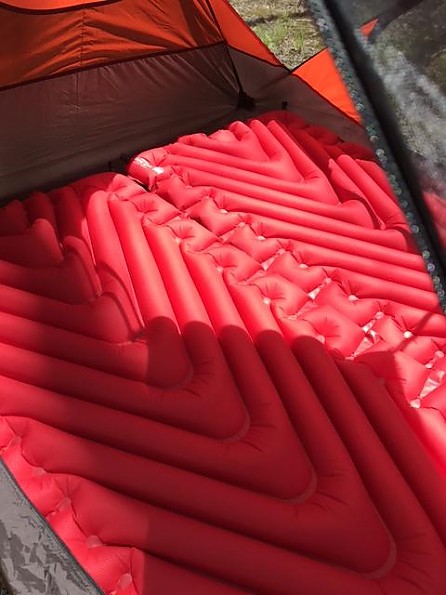 Our Klymit Insulated Static V Luxe sleeping pads retained their air pressure over longer periods. Due to prolonged cold heavy rains in WV, we hunkered down for a week and did not need to top-off the pads with air.
Deflation is simple and quick. Open both valves, fold in half lengthwise...run your forearm from bottom end to valve end, fold lengthwise a second time...run your forearm from bottom to valve end again pushing out remaining air and then roll it up tight. It is smaller around than a regulation football and fits easily back into its supplied stuff sack.  
The provided stuff sack also has an integrated pocket that contains a patch kit, should you puncture the pad. The Klymit Insulated Static V Luxe appears to be constructed very well and I have no doubt concerning it durability.

I'm not an ultra-light hiker, so the 2.1 pounds is acceptable (much lighter than what I previously used), and takes about the same space as my GSI dualist in my backpack.
Additionally, while Klymit does offer an interesting hammock-specific inflatable pad, I found the Klymit Insulated Static V Luxe sleeping pad to fit perfectly in my double hammock and offered incredible comfort.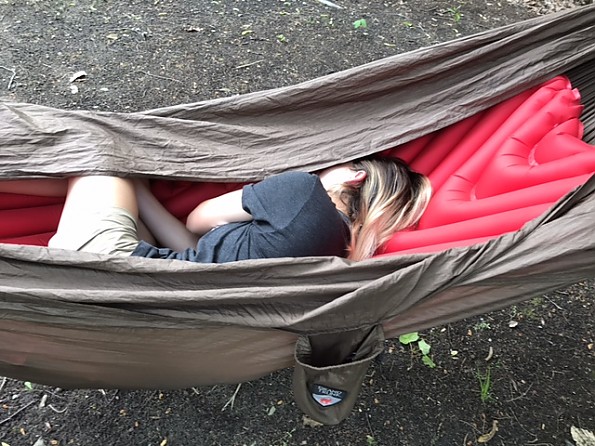 Am I a fan? Yes, emphatically. I am looking forward to years of comfortable service from these pads from Klymit...and highly recommend the Klymit Insulated Static V Luxe!
Source: tested or reviewed it for the manufacturer (I kept the product after testing.)

Disclosure: The author of this review received a sample of the product from the brand or its representative in exchange for a review.
Didn't think side sleeping on a air pad comfortably was possible. This pad changed my mind. Couldn't be happier!
Pros
Quick to inflate and deflate
Side sleeping now comfortable
Cons
Two ports = more failure possibilities
As a member of another website, I often get the opportunity to try out different products in exchange for a review. When I found out that I was able to test out this sleeping pad I couldn't get my hands on it fast enough.
I love camping, but often have trouble sleeping exactly how I want to. I'm a classic side sleeper and rarely get the opportunity to do so comfortably while in the backcountry. After reading that side sleeping was possible with the Insulated Static V Luxe, I was ready to put the pad to the test.
Needless to say, the pad passed with flying colors. I took the pad on my recent road trip around the western U.S. and loved each and every night with the pad.
The only potential drawback is the two ports that you can use to inflate or deflate the sleeping pad. The ports work perfectly, but I don't see the need for two. I think that having two of them could possibly increase the points of failure with the pad. This hasn't been a problem yet, and may never be, but don't see the need for two.
But regardless this is an AMAZING sleeping pad!
Source: tested or reviewed it for the manufacturer (I kept the product after testing.)

Disclosure: The author of this review received a sample of the product from the brand or its representative in exchange for a review.
Your Review
Where to Buy
Help support this site by making your next gear purchase through one of the links above. Click a link, buy what you need, and the seller will contribute a portion of the purchase price to support Trailspace's independent gear reviews.
You May Like
Specs
Price
Current Retail: $139.99
Historic Range: $89.93-$159.99

Weight
32 oz / 907 g

Material
75D polyester

Dimensions
76 x 30 x 3 in / 193 x 76 x 8 cm

Packed Dimensions
10 x 5 in / 25 x 13 cm

R-Value
5.0/ASTM 2.4

Recently on Trailspace