Kupilka 21 Classic Drinking Vessel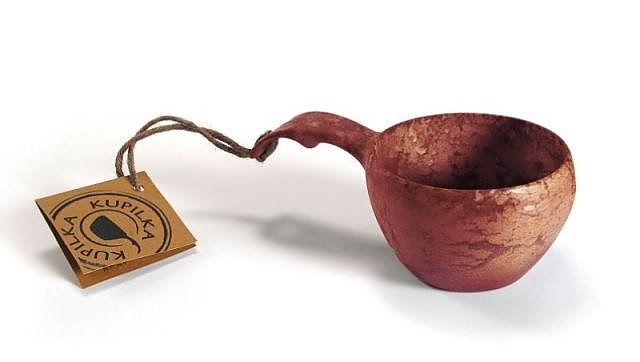 A drinking vessel for home, work, or the wilderness for those who prize traditional styling. Not for ultralighters except as a luxury item, but this cup is good quality, easy to use and clean, and satisfying to use.
Pros
Classic, elegant design
Quality material and construction
Eco-friendly material and packaging
Easy to clean (rinse clean, but also dishwasher safe)
Cons
Size—a little small for some
Can't be used to heat water like single-walled metal cups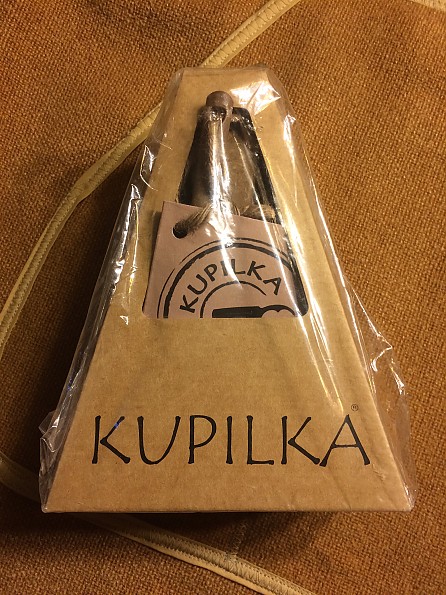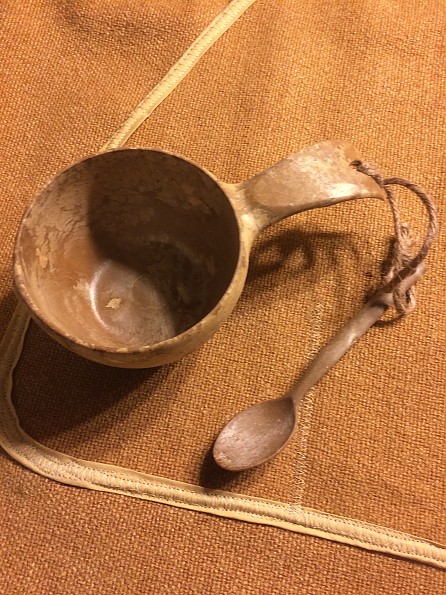 For quite some time I was obsessed with gram shaving, an addiction that seems to befall some backpackers inclined toward such madness. There is a glee in weighing all of one's gear, and for some time I was content to carry a TOAKS titanium mug (450 ml/15.2 oz; weight: 92 g/ 3.2 oz) with a silicone Snow Peak Hot Lips attachment to prevent me from burning my lips on the hot cup when I was sipping coffee. This combo weighed in at 92 g/ 3.2 oz, not the lightest in the world, but I rationalized that it gave me an extra cooking vessel should the need arise.
But my problem was simple: I like to savor my coffee, to cradle a mug in my hands and enjoy the emotional warmth that accompanies coffee drinking for those who are susceptible to this simple pleasure. My single-walled titanium mug went from blazing hot to cool; cradling and savoring was subordinated to waiting for the optimal temperature and then drinking it quickly before it cooled too much.
I needed a more soul-nurturing solution. Enter the Kupilka 21, with a capacity of 210 ml/ 7.1 oz and a weight of 91 g/3.24 oz for cup and accompanying spoon.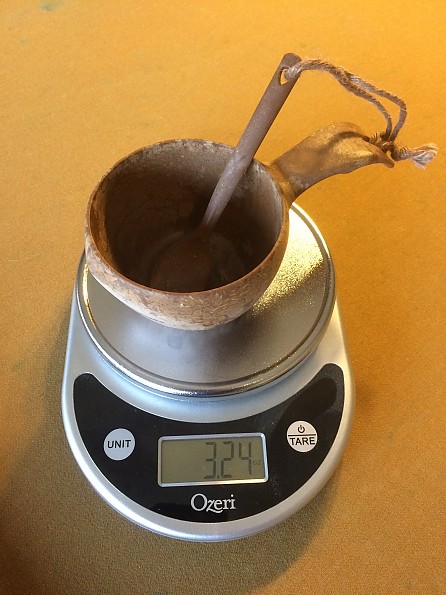 The Kupilka 21 is based on the Finnish kuksa or Swedish kåsa, a traditional design the origins of which date back to the culture of the Sami people, who have lived in northern Scandinavia for many millennia since prehistoric times. Originally made from the carefully dried and carved burl of a birch tree, the kuksa was a simple but elegant wooden cup.
Working with a material engineered in in Finland, the Kupilka company has updated this classic design for the twenty-first century in the form of the Kupilka 21 cup. The product is a handled cup that comes with a matching spoon attached to the cup via a piece of jute twine.
A brief word about the Kupilka company, which has been around since 2003 (my source is their web site): the name Kupilka means "little cup," and the products are designed by Kari Kuisma and architect and designer Heikki Koivurova. All packaging is recyclable (as are the products), and all products are BPA-free. Kupilka indicates on their website that these cups are made of a "biomaterial," in this case Kareline Natural Fibre Composite—a 50-50 mixture of pine fiber and thermoplastic that boasts a number of benefits including heat endurance (recommended range of -30˚C/-22˚F to 100˚C/212˚F), dishwasher-safe washing, and the ability to be engraved, in addition to the fact that it doesn't acquire smells and is unaffected by humidity.
Product quality is good, as is its design, and it comes at a reasonable price. The cup comes with a spoon, and a hole in the handle permits the cup to be hung from a pack with ease. In the hand, the cup is a handsome mottled brown color. The random pattern does evoke something of a wooden burl, though it is unmistakably man-made.
The cup feels good in the hand, but I took some fine sandpaper to the material to smooth out some residual manufacturing lines, quickly getting a baby smooth feel all over. This is not necessary, just an outgrowth of my penchant for customizing my gear. The flat bottom is stable, the handle comfortable and ergonomically curved to permit multiple hand holds. With thumb on top, one can hold the Kupilka like a dipper (an additional use for it).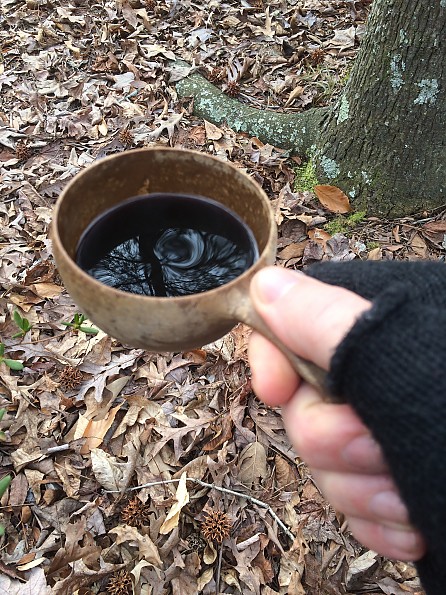 Rotated slightly, it functions to lift the cup to your lips.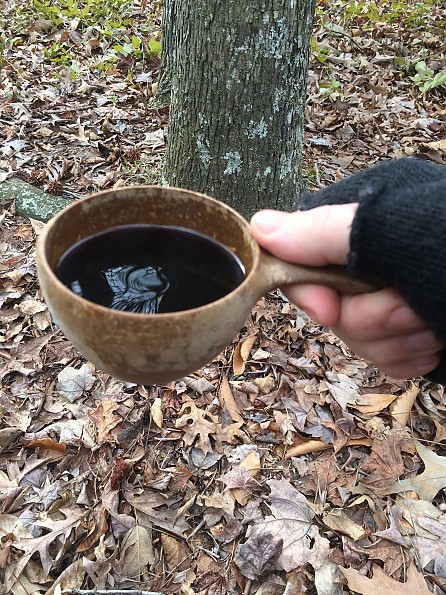 My own favorite hold, though, is to cup my hand around the base of the cup with my thumb resting across the top of the handle. In this way, I can cradle the cup in one or both hands, the pleasure I missed with my titanium mug.
The Kupilka works well as a cup. The spoon that comes with it is nice, but small: I find it a little small for eating (though the cup works fine for this purpose), but the spoon is fabulous for mixing drinks like hot chocolate in the Kupilka.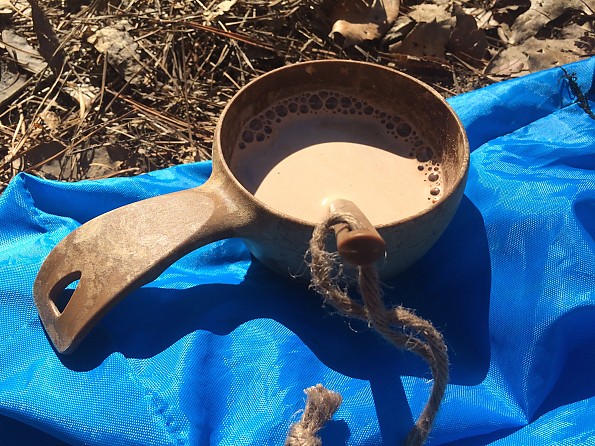 While I love the hand feel of the cup, I have found myself wishing that it were slightly bigger at times. The cup's volume is obviously much less than the titanium mug I used previously, and one can't boil water in this cup like one can in a metal cup. A little more coffee would nice sometimes, and the contents of this smallish cup will cool quickly once one has consumed a good portion of the beverage (unlike the titanium, this cooling is more a factor of small volume rather than the absence of insulation).
I don't use the Kupilka as an eating vessel—I am a rehydrator on the trail—but its small size is definitely something to consider if you are looking for a one-vessel option for your backcountry food and drink. Over all, these criticisms are minor and do not discourage me from taking the Kupilka with me when backpacking or hiking, but prospective buyers should consider these potential drawbacks.
Ultimately, this is a luxury item, not a necessity—a highly functional and contemporary update of an ancient design that feels a bit more in harmony with nature than some plastic or metal cups with which it might compete. If aesthetics and small creature comforts motivate you more than gram-shaving or multi-purpose functionality, the Kupilka 21 is worth your consideration.
Source: bought it new
Price Paid: $20 USD

A beautiful cup of Finnish design, made of composite material, that is the perfect solution to one's need to cradle a cup of hot coffee in your palms on a cool, backcountry morning.
Pros
Great design
Fits imperfectly in your cupped hands
Keeps drinks hot
Doesn't burn hands or lips
Easy to clean, doesn't absorb moisture or odors
Cons
Relatively heavy
Relatively low volume
Can't cook with it
The Kupilka 21 is modern interpretation of the traditional Scandinavian kuksa drinking cup. The originals were hand carved from birch burls, and would last a lifetime. These are made of a composite of wood and plastic, and ought to last a lifetime.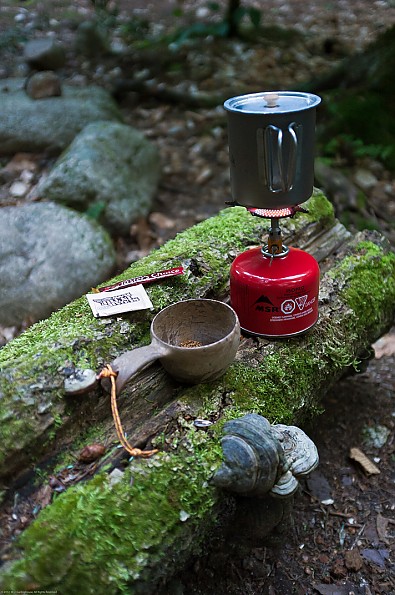 Design - It was designed by the company's managing director, Kari Kuisma along with well-respected Finnish designer Heikki Koivurova. It has a traditional shaped cup, with a highly stylized handle. It is a thing of beauty that begs to be filled with coffee, and cupped in one's hands on a cool morning.
Material - Kupilka's products are constructed out of a "biomaterial" composite of 50% pine fiber and 50% plastic.  The wood fiber provides better heat endurance, and higher durability. The plastic provides a low-maintenance cup that cleans easily, doesn't absorb smells, and is insensitive to humidity.

Sounds good so far, eh?
Stats - Kupilka claims the 21 holds 7.10 oz, and weighs 85 g / 2.99 ozs.  8 ozs filled mine to the rim, so 7 ozs is probably a more useful volume. It weighs 3.03 on my scale, and I suspect that's within normal manufacturing deviation when biomaterials are concerned.
Compared to the Snow Peak 300 Titanium cup:  
The ti cup holds 10.6 ozs and weighs 2.5 ozs.  On weight and volume, the ti cup wins. I'm gonna say durability is a wash. One can cook with the Ti cup, but that would melt the Kupilka. So the Ti Cup wins the multi-use test. Once filled with boiling hot water, the ti cup will scorch your lips, and you certainly won't hold it in cupped hands. So, in the watching the sun rise with a cup of hot coffee gently warming your hands test, the Kupilka wins!
Clearly, the Kupilka wins the funky, groovy test …
Hey Romeo!  What about your promise to the He-Men, Gram-Weenies Club?
Sure, the ultralight illuminati will eviscerate me over the very act of carrying a cup, which as we all know is a completely unnecessary 3 ozs.  
I'm sorry, Spanky. I've got to live my own life.
In the morning, if I'm having a hot breakfast, I'll boil enough water for both my coffee and my cereal. I'll pour boiling water into my cup, stir my cereal ingredients into the pot, and make my coffee while breakfast is cooking. When a water source is too shallow to fill my squeeze bag, I'll use the cup to dip. Its round bottom makes it perfect for mixing stuff, like my peanut butter and granola snack.
I have either eliminated, or changed a whole lot of stuff in my efforts to reduce weight, yet this has accompanied my on all four long sections of the AT totaling 1,318 miles. 
Bottom Line: It will accompany me on this summer's section.
Source: received it as a personal gift

Your Review
Where to Buy
Help support this site by making your next gear purchase through one of the links above. Click a link, buy what you need, and the seller will contribute a portion of the purchase price to support Trailspace's independent gear reviews.
You May Like
Specs
Price
Historic Range: $9.93-$26.95
Reviewers Paid: $20.00

Recently on Trailspace