La Sportiva Crosslite 2.0

The Crosslite 2.0 has been discontinued. If you're looking for something new, check out the best trail running shoes for 2023.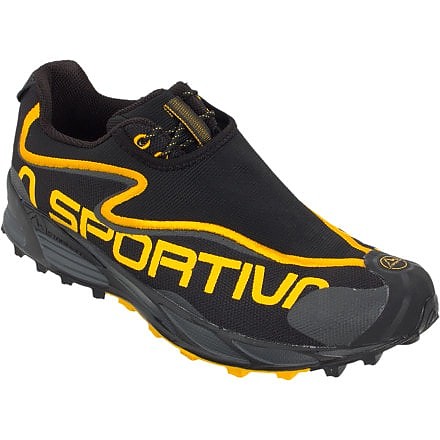 The La Sportiva Crosslite 2.0's are solid, moderately lightweight, and aggressive trail runners with excellent traction, fit, and comfort. I'm now on my fourth pair over three years and recommend them to other trail runners looking for a gender-specific shoe (they come in men's and women's models) for trail runs, races, and some fast-pack hiking.

La Sportiva calls the Crosslite a "lightweight low profile aggressive shoe for trail running in demanding conditions," which I think is a fair statement.

Durability of the front uppers is my one concern and costs the Crosslite a star.
Pros
Excellent traction on wet, muddy, and most terrain and conditions
No break-in needed, comfortable from get-to
Great fit, for average-footed me
Slip last is comfortable and performs
Scree guard protects from rocks, sand, dirt, abrasion
Low cut
Comes in women's model
Adequate cushioning for relative lightweight
Cons
Uppers eventually ripped in same spots on first two pairs
Scree guard makes it tough to attach a trail gaiter and impossible to replace a lace
Some runners may want more cushioning
You can get lighter trail runners with more drop if desired
2/13/14 Final Update :
I'm now on my fourth, and last, pair of Crosslites. The third pair eventually had the exact same front wear issues (no great surprise), tearing in the same spots of the upper (see below). However, the wear also happened when it was time for a new pair anyway, so I didn't fault the shoes anymore than I already have in the review below.
I've been running in my fourth pair of Crosslites all winter (about four days per week outside on icy and snowy back and unpaved roads) and am still happy with their performance (and no wearing, yet, though I expect it will come).
When I bought this last pair of Crosslites, I also bought a pair of lighter La Sportiva Helios shoes. I'm currently using those for my weekly winter speedwork on the treadmill, but will try them for three-season speed and racing outside as the weather gets warmer and drier outdoors. Since the Helios shoes are lighter with less of a drop, I wanted to ease into using them.
At last month's Outdoor Retailer tradeshow, La Sportiva reps told me that the Crosslite is replaced by the Bushido for 2014. I plan to buy a pair of Bushidos for spring, once I can locate a women's pair. As I said to La Sportiva, I've really, really liked my Crosslites, except for their one consistent flaw of wear and durability (the rep nodded along knowingly). If the Bushidos can match the Crosslites for traction, fit, and performance, I'll be happy.
Selection
I picked up my first pair of La Sportiva Crosslite in the summer of 2011 and am now running in my third pair. At the time, I was training for my first 50K trail race and wanted a trail runner that was lighter, more aggressive, and less clunky than my Wildcats (now relegated to strictly-hiking use). It also had to come in women's specific sizing.  
La Sportiva's shoes fit me well and I really like its traction, so essentially I picked the lightest weight women's trail runner La Sportiva offered at the time—the Crosslite 2.0. Done.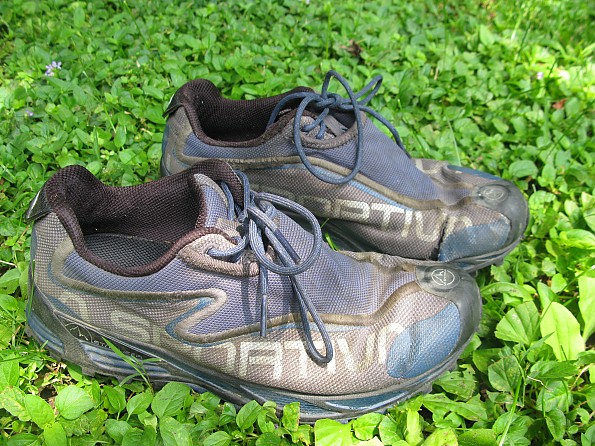 CrossLite pair #1 purchased in 2011.
I'm now on my third pair (all purchased at retail) and highly recommend the Crosslites to other mountain and trail runners and racers looking for a moderate, all-around, technical shoe. However, there is one flaw (see Durability below).
Fit and Comfort
The Crosslites have a fantastic fit! At least for my very average sized foot (7.5 women's/39 EU), which I consider average width to slightly wide. I avoid footwear with unisex sizing, so I'm glad La Sportiva offers technical trail runners for women. Of course, feet come in different varieties, so find ones that fit you.
La Sportiva describes the Crosslites as: "slip lasted upper hugs the foot with no dead spots and provides the best fit possible." I find this true.
The Crossliite has a snug fit at the heel, a smooth, streamlined fit overall, and plenty of room at the toe box. I have had an occasional black toenail, but I think that's sometimes par for the course if you run and race up and downhill a lot.
La Sportiva also describes the Crosslites as a medium/wide fit, which is accurate in my experience.
With all three pairs, I have had minimal to no-break in time. In fact, in May of 2013 I broke a cardinal rule of running and raced a 50K trail race in a brand new pair (#3) in which I'd only run 10 easy miles in the week before.
Due to torrential rain the week prior and a very muddy course, I paired them with an—also new—pair of Dirty Girl Gaiters (yup, all new gear on my feet before a big race—I was living on the edge).
After nearly six hours of running a two-loop course with ankle-deep mud and some puddles that soaked me, feet to shins, I finished with loads of mud caked on me and wet feet, but not one blister. None. I was astounded. I actually told people about it, as if they cared.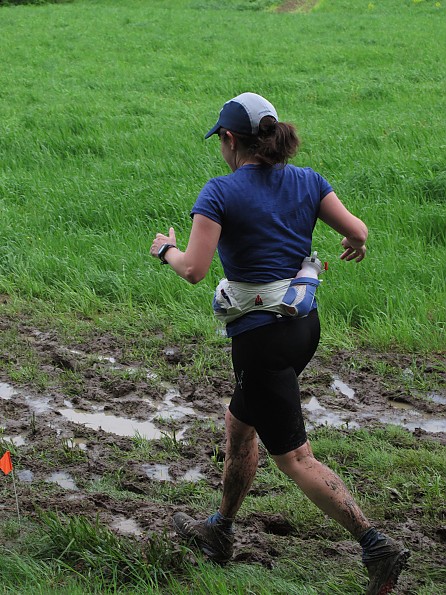 Running 50K in wet and mud in new pair #3 of Crosslites. No blisters!
While I have developed the occasional hot spot or blister while using the Crosslites, it's usually the result of conditions (like running 18 miles in snowy, wet slush in old socks), and not a fault of the shoes.
They are overall quite comfortable from day one. I give the Crosslites full marks for fit and comfort on my feet (yours may vary).
Traction
I love the traction of the Crosslites! They absolutely excel here.
The shoes' sole (La Sportiva's FriXion sticky climbing rubber formula) and aggressive lugs and patterns (Impact Brake System) are truly confidence inspiring. I do not consider myself an extremely aggressive runner, but I feel very confident and much more aggressive on wet, rocky, muddy, slick trails with the Crosslites underfoot.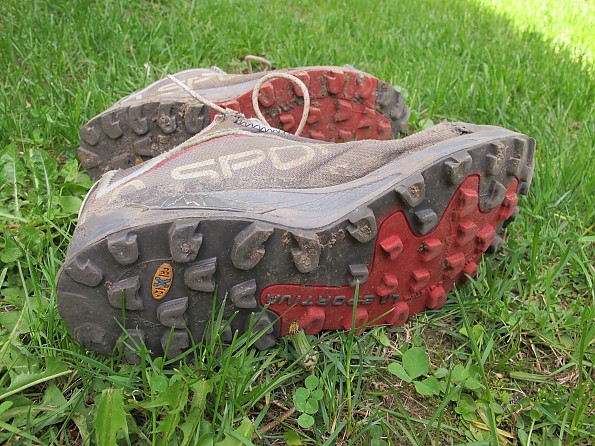 I love the CrossLite's traction, thanks to FriXion sticky rubber and aggressive lugs.
I'm willing to push it harder in the Crosslites, simply because I trust their traction and know what they can do. They make me feel like a better, faster runner and racer, and I've found I can pass more runners on trail downhills in races when I'm willing to let them fly. In winter conditions I add Microspikes.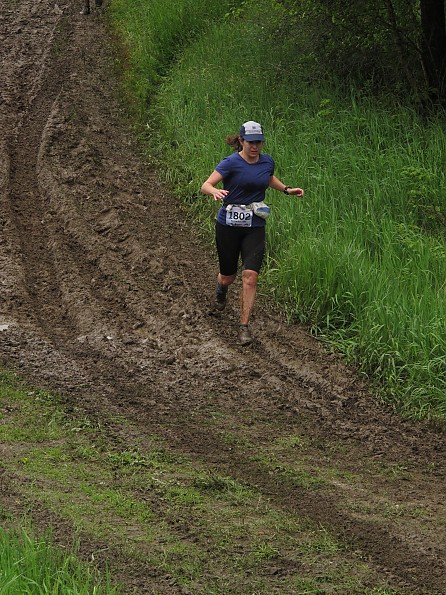 Slick and muddy downhills are all good in the Crosslites.
Construction
Generally the Crosslites are well constructed from the soles up (though see Durability below) and hold up to miles of year-round use.
I usually discover I need a new pair not because the shoes look bad or worn out, but because I've passed that 300-500 mile mark without notice and start to get some shin pains (time for new shoes!).
If you're into shoe construction, here are some details. Otherwise, feel free to skip on down.
Slip Last: The Crosslite is made with a slip last, which means the upper is sewn into a sock and then slipped onto the last. The shoe does not have an insole, but get stiffness from the midsole located just above the outsole. It has an injection molded ergonomic EVA midsole, which La Sportiva says provides a stable, lightweight, flexible platform.
I like the slip last and its snug fit, which helps the shoe perform better. If given the choice between two equal trail runners, I'd likely choose the slip-lasted one based on my experience with these.
Cushioning: I find the cushioning moderate and adequate. Having used these for more than two years I have adjusted well to them after using more cushioned road and trail shoes previously. However, if you're used to heavily cushioned shoes, it might take some adjustment.
Overall, my take is the Crosslites are well designed and constructed, allowing them to fit and perform well.
Durability
Abrasion: La Sportiva puts a mixture of sand, rubber and glue (they call it Uretech) on the shoes to provide a lightweight, abrasion resistant coating that is flexible and highly moldable. It mostly works, with the exception of the upper wear issues below.
Wear: The Crosslites are fairly rugged and durable. The sole lasts, the toe guard stays in place, except for one problem.
My first two pairs both developed rips along the same spots on the front uppers. The rips occurred several months into use on both left and right shoes, both sides of each foot. Each rip grew and was joined by more wear around the area, till I could see into the upper itself. (On the upside, I got to peek at the layers inside my shoe without taking a knife to them).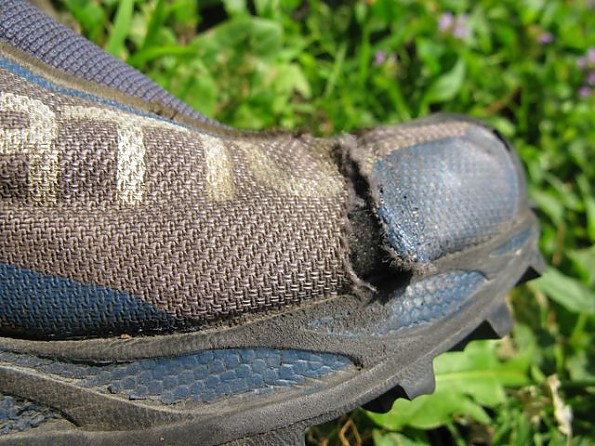 Rips and wear on pair #1 bought in 2011 (above).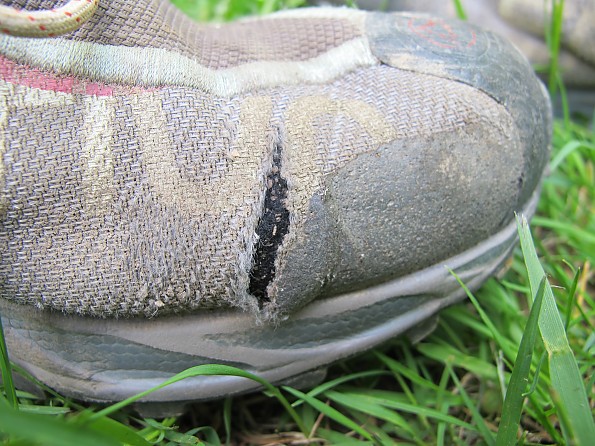 Same rips on pair #2 bought in 2012 (above)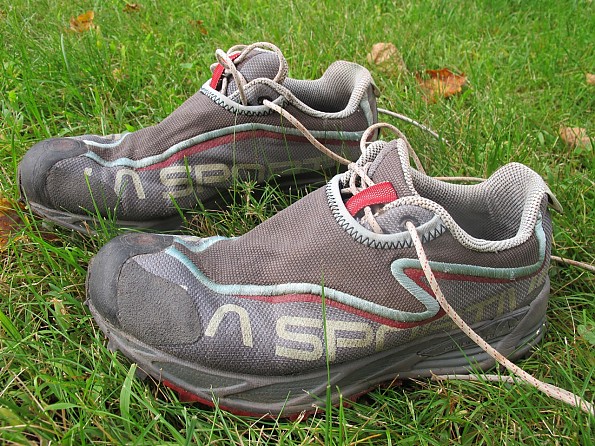 Pair #3 bought in 2013, still holding strong after 4-5 months of use.
Lest you think I have odd feet, last fall (9/12) I met a woman at a trail race with the same shoes and the same exact rips. Hers had appeared even sooner though, within the first month or two, and she was disappointed in an otherwise great shoe. Mine took months longer to appear, but she may have run more miles overall in hers.
The rips and wear at those upper areas are the one major drawback of the Crosslite for me. So far, nearly four months in, pair #3 does not show rips, but I'm keeping an eye on them for signs of wear.
Despite this issue, I was willing to buy a second pair of Crosslites after the initial pair's ripping and a third yet when it was eventually time to replace the second one.
That says something about the rest of the shoe, which is otherwise very well made. (It probably also says something about me and my attachment to these shoes).
Breathability and Water Resistance
La Sportiva says the ideal terrain for the Crosslites are "trail running and racing in every condition especially wet and muddy." This is accurate.
I wear the Crosslites year-round in Maine and they work well in a variety of conditions for me. My shoes encounter snow, slush, rain, mud, heat, dirt, grass, rocks, and are great all around shoes for most trail and mountain running.
I consider the Crosslites a good middle of the road (or rather trail) runner. They're not waterproof, nor do I want them to be. Nor do the uppers let in every breeze.
Water-Resistant: The Crosslites are water resistant for most general use, if you don't mind getting your feet wet on occasion. If you want true waterproof protection in a trail runner(I don't), go find a waterproof shoe.
Breathability: The Crosslites are fairly light and breathable thanks to an AirMesh upper made from nylon fabric woven into a breathable mesh pattern. I find the breathability acceptable for year-round use. I've run in them in heat up to the 90s in summer (Maine gets heat waves too).
But, if you want lots of ventilation and breathability solely for running in hot, dry conditions, find a specialized shoe for those conditions. Otherwise, the Crosslites work well across the board as a great, year-round shoe or three-season trail runner.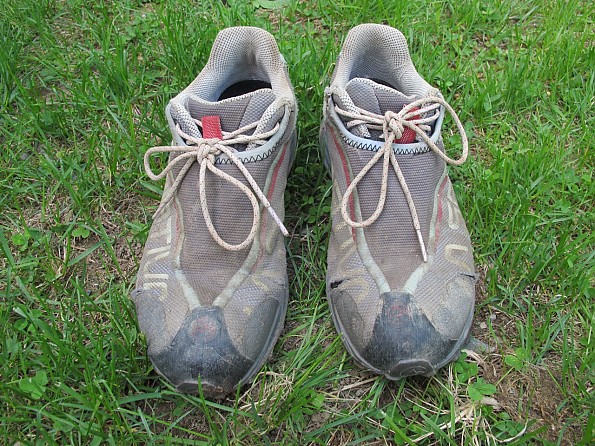 Features
Scree Guard: I really like the scree guard covering the laces on the Crosslite's sleek upper. It helps keep debris like rocks and sand out of the shoe, though I still manage to get some in the back of my shoe due to the low cut.
It also gives the shoe a nice streamlined look and feel.
Be aware though, the scree guard makes it significantly more difficult to attach or remove a trail gaiter (like Dirty Girl Gaiters). You have to work the gaiter's hook down under the guard down as far as you can to hook back it onto a lace that you cannot see. This makes it quite hard to get a taut fit.
Then, once your trail gaiter, is on, you have to decide if you really want to remove it the next time you run.
Laces: The laces themselves are generally good. They tighten easily and well. However, if you don't double knot, or if it's wet, they can come undone. The last time this happened to me was this summer in a trail race. I thought I had double-knotted them as usual, but discovered one flapping along mid-race. I was unhappy to have to stop and tie my shoes.
Also, due to the scree guard, I've wondered what would happen if I broke a lace. How would I replace it? Would I need to get new shoes (versus new laces)? To be fair, I have never broken a lace, but it has caused me to wonder.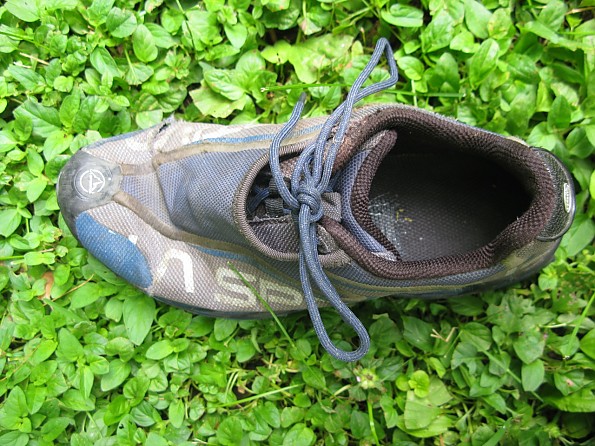 Specs
Weight: I picked the Crosslites because they were the lightest women's trail runners La Sportiva offered in 2011. I wanted moderately lightweight, but not ultra lightweight, minimalist shoes, and that's what I got.
La Sportiva claims a weight of 8.56 ounces per shoe. I weighed my second pair (#2, 2012) and got 9.8 and 9.9 ounces per shoe, a bit higher than published. I weighed my third pair (#3, 2013) and got 10.4 and 11 ounces per shoe (though they were a bit damp).
For comparison, my women's Wildcats claim a weight of 9.84 ounces per shoe and weigh in at 10.3 and 10.4 ounces on my scale. So, I really didn't drop much weight for the switch, if any at all, depending on which shoe you go by. However, the Crosslites feel far more aggressive and less clunky than the Wildcats and the weight has never bothered me.
Drop: The Crosslites are not minimalist shoes. They have a moderate 8 mm drop. They were my first step down from higher drop running shoes (12 mm), and they feel comfortably low to the ground for me.
I'd like to try out the more minimalist La Sportiva Helios for its lighter weight (6.75 oz) and lower drop (4 mm) as a compliment to the Crosslites, not as a replacement. I may be working my way down the La Sportiva weight-drop scale just a bit.
Sum Up
I really like and trust my La Sportiva Crosslite trail runners and the many runs and races I've enjoyed with them. They've given me little to think or worry about on a race or run, which is an excellent point in their favor.
At this point, despite the upper durability problem, the Crosslites are on my own automatic-replacement plan. They give me few reasons to look for a new or different shoe.
The Crosslites perform as they should and excel in a variety of trail and mountain conditions (great for New Englanders with our variable weather and terrain). They have excellent traction on wet or dry terrain, are comfortable from day one, and perform well in runs and races. I love mine and strongly recommend them to other trail runners who want a good, all-around, somewhat aggressive shoe.
Uses and Conditions
Writing this review it struck me how much I do in my Crosslites. If I could only have one three-season shoe, it would likely be my Crosslites.
Run: I primarily use the Crosslites for trail running and racing in central Maine and New England. If road running in three-season conditions I use a road running shoe. When roads get slick, snowy, and/or icy, I then use the Crosslites for their superior traction.
I've worn three different pairs of Crosslites since the summer of 2011 for three 50K trail races and other trail and mountain races from 3K distance on up, plus regular training runs. I average 1,000 to 1,500 miles run a year (not all on trail).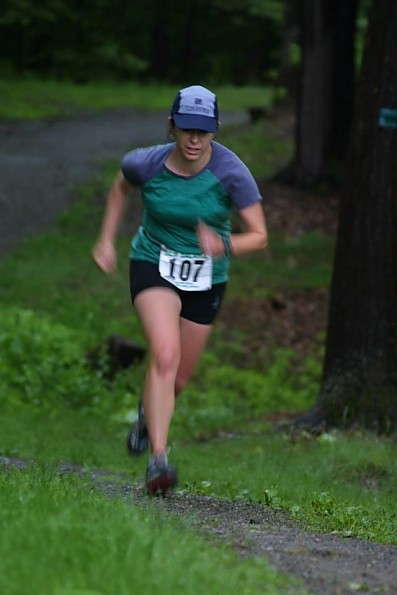 Crosslites—Good for 5K trail race.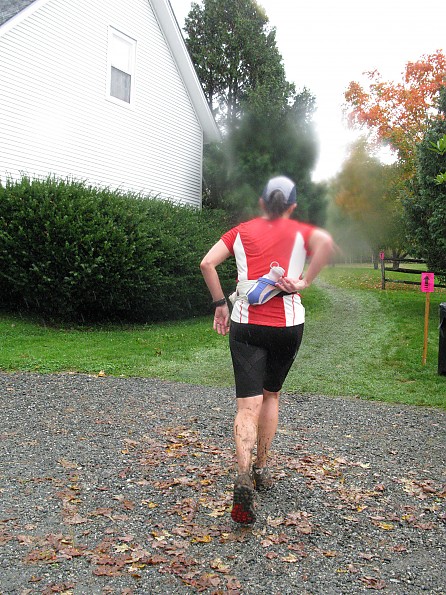 Crosslites—Good for 50K trail race.
Hike: I also use the Crosslites as my light and fast hikers here in New England, and on trips. They work well for me as a light-and-fast hiker, but if you're on overly rough and rocky trails (like New Hampshire's Presidentials or Whites) you will feel rocks underfoot by the end of the day and may prefer something sturdier with more cushion. That said, the next time I do a one-day Presi Traverse, I would consider using these shoes.
If taking only one pair of shoes on a trip, it would be the Crosslites. They've been my shoes of choice for family camping-hiking-exploring trips to National Parks. I can run virtually anything with them, plus hike and walk in them. I find them very versatile.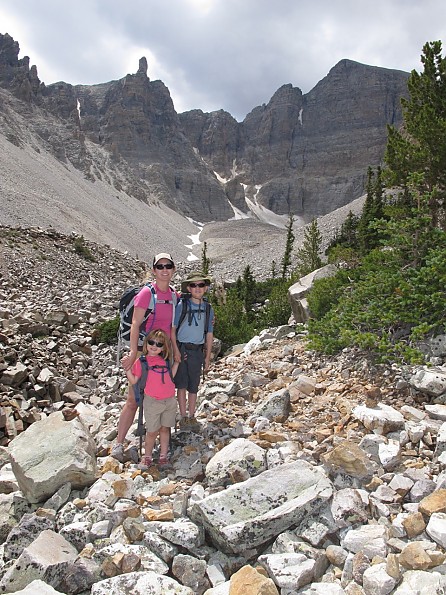 Other: I got a mountain bike this year and also use the Crosslite when mountain biking on local trails (until I graduate to clip-less pedals).  I also wear my older Crosslites around town. I like their looks and think they look sporty, but not too flashy for casual use. For what it's worth, I've had people comment on their looks and style ("Those are cool!").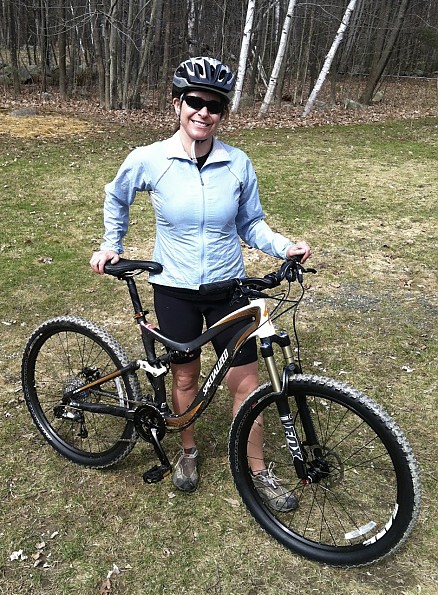 Source: bought it new
Price Paid: Retail 4x

Your Review
You May Like
Specs
Men's
Price
MSRP: $100.00
Historic Range: $52.99-$110.00

Women's
Price
MSRP: $100.00
Historic Range: $39.98-$110.00

Recently on Trailspace