La Sportiva Ganda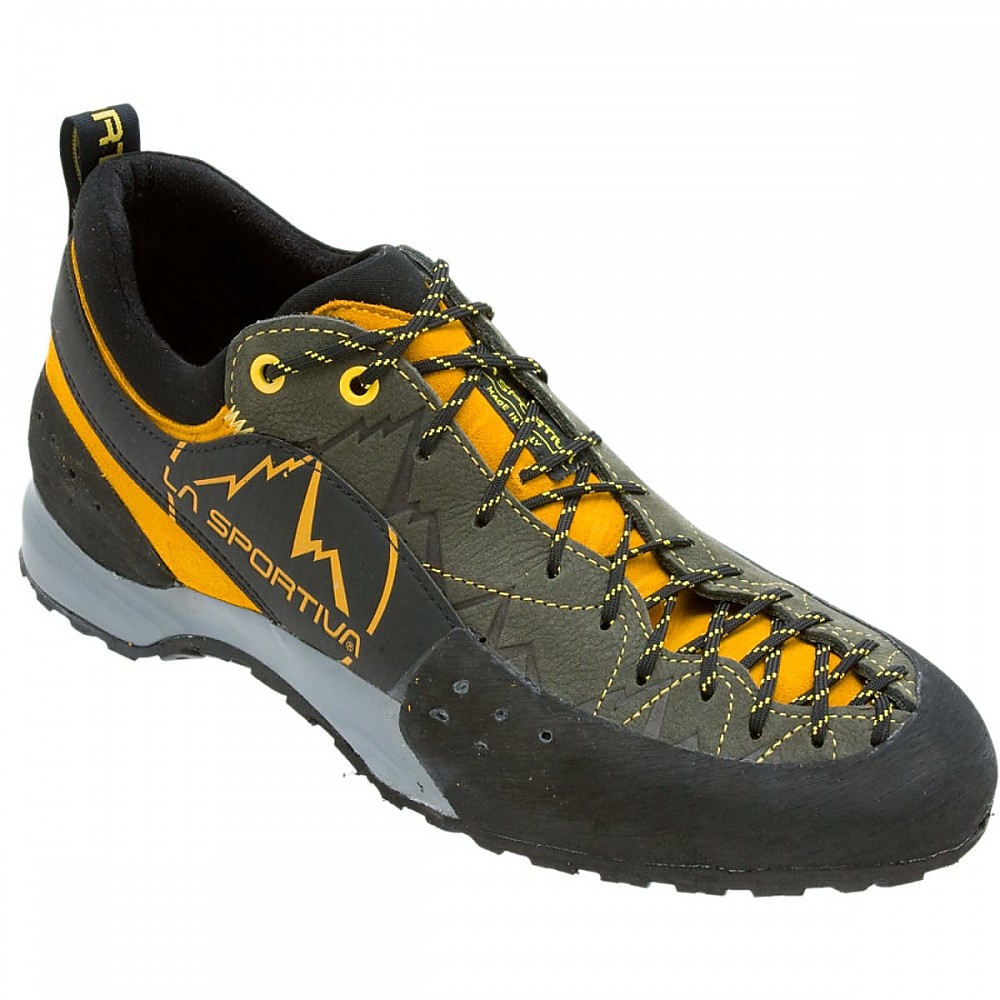 Super-capable neo-approach shoes that climb "the gnar" and last 5000 miles of hiking. Put the Gandas on and do things you want to do. Forget about them until it's time to take them off.
Pros
Full rubber rand done the right way
Uber-sticky Vibram dot-rubber sole
Very well-executed lace-to-toe design with trim, climbing-shoe-like toe point
Thick leather uppers withstand abuse
A killer-climbing approach shoe that hikes well‽
Resoleable, for years of service life
Cons
Sole still not as sticky as other companies' (admittedly quicker-wearing) dot-sole rubber
Very limited crampon compatibility
Best For: Those who guide on peaks, climbing under their limit, wanting a multi-season shoe. Rock rats. Anyone who lives at Camp 4, Joshua Tree, or Hueco Tanks for part of the year. Anyone who likes durable, multipurpose things. Parkour enthusiasts.
The Backstory: Getting the La Sportiva Gandas was a process in itself. I had read reviews online and heard accounts (side note: these are the same shoes as the Gandalf model; I assume a few people had a problem with that name being used...) but it wasn't until I stood in front of the clearance table at my local climbing shop that I actually held a pair in my hands. I had read that they tend to run on the small side, so I was holding the only pair that might remotely fit me, a pair of size 45s, in my hands. A sales associate stood in the wings…
Me: Any chance I can return these if they end up too small?
Her: Sorry, not on clearance items…
Me: Of course not…
Trying them on in the store, I thought right off the bat that they might be a bit tight for longer walks. After a break to accost myself for whining about the long-term walking comfort of an approach shoe, I got back to the specifics: The forefoot, while being just barely wide enough, didn't have the length I liked to see in the toebox, especially considering it was quite a low-volume, climbing-purposed toebox.
The one saving grace was that the shape of the shoe fit my foot very well, almost seeming to be made for those having a longer second toe, as I do. The tongue was lightly padded, and the lacing extended down to the very tips of my toes, so I knew I had a bit of give there…
Walking around the store with them on felt good: my heel was locked down with every step, and for an approach shoe they felt very comfortable. I was especially surprised with the ample under-foot cushion and ergonomically-designed last that allowed my toes to splay and crunch while keeping my mid-foot secure. I've worn a few approach shoes in my day (La Sportiva Cirque Pros, 5.10 Guide Tennies, 5.10 Exum Guides, Patagonia Finns, to name the last few I can remember…) and so I know that a "true" approach shoe is one that inherently makes a compromise, right? Either it hikes well (which makes it a mislabeled trail runner, or worse, a mislabeled hiking shoe) or it climbs well, and you often don't even get that.
So, I was kinda pleasantly surprised, if wary, to find the Gandas seemed to hike well. I did notice a decided lack of rocker in the sole—likely on account of their other duty as climbing shoes, I thought—but found that the soles flexed well enough to compensate.
There's never an adequate-enough rock wall at climbing shops to properly test climbing shoes. For my impromptu test, at this store they have a small incline with some rock-like things glued to it, and a small section of climbing wall about 8 feet high, so I was also able to test the shoe's vertical abilities if only a very little bit.
Out of the box I could tell that they were going to be an effective climbing shoe: that lack of rocker built into the shoe mentioned earlier does indeed make them rather capable in the steeps. The forefoot is so encased in rubber that the front is formed into a nice little point, not unlike many full-on climbing shoes.
A full-length Vibram dot rubber sole, closely-trimmed and fully-sanded for good edging, is as sticky as all but the fastest-wearing climbing slicks, while the pointed toe with flush rubber allows one to stand on all but the tiniest ledges. The design is unique, using a full-length Polyurethane midsole to provide both cushioning and sensitivity. In theory it doesn't seem like it will work, like the PU would dampen feel and "give" too much, but in this instance—with a PU of this density—it does… It works wonderfully in fact, surely due also in part to the shoe's unique construction.
Construction: The Ganda is hand made in Italy, using a very novel assembly method which essentially stitches two shoes together. The front half of the shoe is slip-lasted as a climbing shoe would be, while the back half is board-lasted like any hiking shoe might. A prominent, contrasting stitch line runs up both the inner and outer of each shoe, showing where the halves were united.
This construction allows the shoe to literally have the best of both worlds: edging and pointing like a climbing shoe, but with the ability to walk like a hiker. In the store, when I placed my weight on a small chip on the wall, I could see the midsole conforming to the hold, but without the sole's edge flopping over and collapsing like it might in other shoes. The Gandas are, however impossibly, an adept climbing shoe in front with a comfortable, hiking shoe heel and midsole.
This is not to say that the Gandas do not make some compromises; as mentioned, they do tip the scales quite noticeably towards the climbing side of things. The Gandas employ 11 sets of eyelets per shoe—for a low-top!--giving one myriad options as far as lacing pressure goes. As mentioned earlier, a beefy rubber rand surrounds the forefoot, effectively protecting the sole seam when stuffing one's foot into some impossibly deep crack. The uppers are full leather, with a thin, neoprene-like liner around the ankle…very nice stuff.
The shoes really are well put together, and it shows. They are striking, sexy shoes, and yet not as flashy as some of La Sportiva's offerings. Everything about the Gandas is well-thought-out, reinforced, and purpose-built. They are resoleable, but La Sportiva expects most people will get around 5000 miles of use before the first rebuild. Though I paid a substantially-discounted price for mine, this is one pair of shoes for which I wouldn't have minded paying full price; they simply climb better than any other approach shoe I've worn.
Me, pulling on some weak @$$ $h17...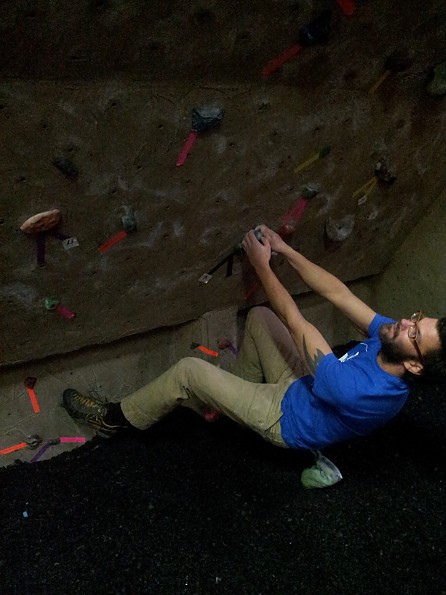 Fit: I usually wear a size 11.5 in most shoes, so the sizing of the Gandas, at 45, was right in there. Again, sizing an approach shoe is a tricky thing, for if one tends towards a more precise fit for climbing, long-term comfort will suffer, and it one sizes them too loose, they will climb sloppily. Of course in the end I pulled the trigger on them for $140, and the Gandas have worked out beautifully in the long run.
The leather has stretched just a bit in the right areas, which allows me to lace them loose when hiking and cinch them up for climbing. The Gandas come from the factory with a removable insole that La Sportiva suggests is best left out while hiking, and put in when climbing to take up volume, but I have left it out altogether. The foot-bed and forefoot of the shoe is lined in sueded leather, working perfectly with a single sock. The PU midsole molds wonderfully to my feet, and I find that I appreciate the extra volume.
I've seen a lot of reviews online dogging this shoe due to fit issues and general sizing problems, and I think it really is unfortunate, because the Ganda is a great shoe. In many cases I think what has happened is that, with the Ganda, La Sportiva has designed a shoe for a niche market, though they have employed a foot last very typical throughout their product line. Thusly, especially here, as in so many of La Sportiva's shoes, if your foot doesn't fit, your foot doesn't fit. If you're not lucky enough to have a foot that fits the shape of the Ganda, don't blame the shoe.
Whole shoe manufacturers are off-limits to me because their last doesn't fit my foot; La Sportiva's do, and I'm quite glad because we work well together. For reference, I have a very low-volume foot, a high arch, a normal-width forefoot and a very skinny heel. I do have Morton's Foot, with my second toes being about ¼" longer than my big toes.
La Sportiva Ganda toebox close-up...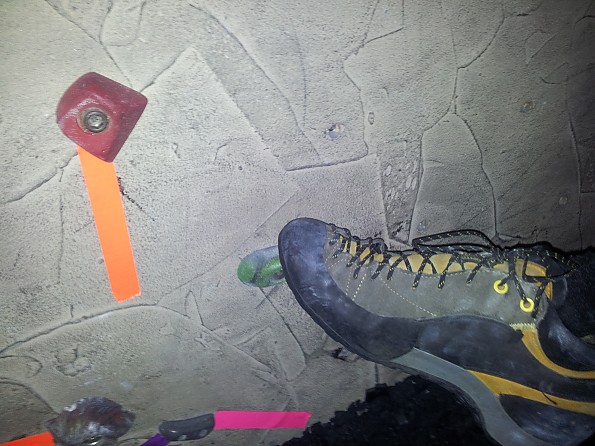 Performance: Though they did start out a little on the small side, they have turned out to be the finest approach shoe I have worn. I had already told myself that if they did end up too small I'd relegate them to off-day climbing gym duty, but now that they are broken in I wouldn't want them any other size; any bigger and they wouldn't climb as well as they do, and yet my toes never hit the end of the shoe.
I've climbed some really fairly difficult routes in these shoes—up to 5.10a—which is something to say for a pair of approach shoes. On the other hand, they provide all-day walking comfort. Really, they almost force you to think differently of all approach shoes altogether; gone are the days when an approach shoe had to be either a clunky trail runner or a board-stiff wannabe trad shoe.
Go with your normal street-shoe size if you plan on wearing just one pair of socks with them and enjoy a fit more suited to climbing, and size up one full EU size if you're a two-sock person, or like more room in the toebox.
Me, in a, like, totally BS static shot...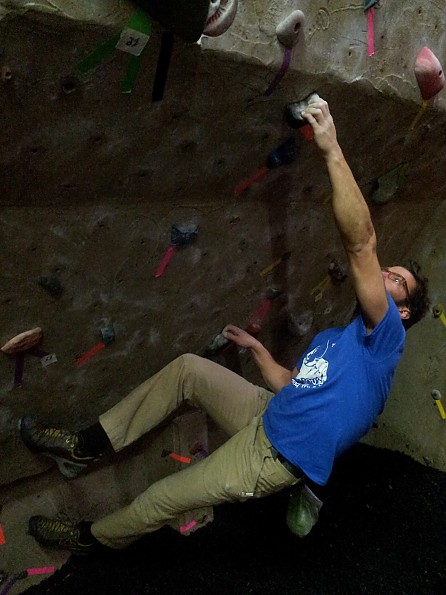 The above wall, to show overhang angle...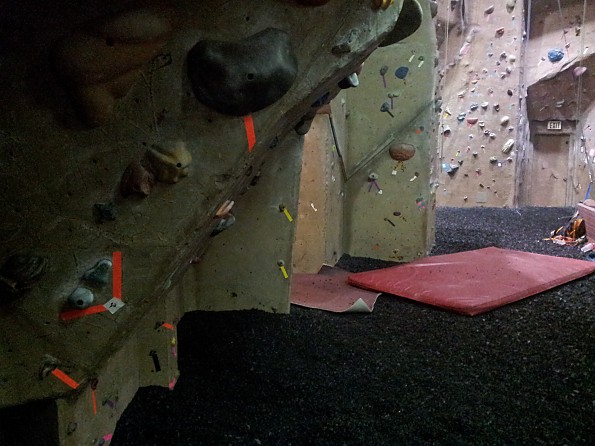 (Note: All these shots of me climbing are not meant to suggest that you could also climb like that while wearing the Gandas, nor should they suggest that I'm a badass at climbing and thus, have found the limit to these shoes. Meaning, if you can climb a given 5.13 blah blah blah..., or V8 crimper thingie in your chosen rock shoe, then you can probably also do it in the Gandas, if only with a bit more difficulty.)
The limitations of this shoe are few indeed. Firstly, the design of the dot sole does not provide much traction in wet, off-trail areas where a block lug sole would be more appropriate. Simply put, the depth of tread on the dot sole is no more than 1/4", making the Gandas dreadfully slick in mud or wet leaves.
Also, due to the quantity and quality of the leather used there is a lack of ventilation throughout the shoe. While this helps to keep fine dust and sand out of the shoe, the lack of synthetic mesh or perforations in the leather can make them, at times, much less breathable when compared to a trail runner. On the plus side, these qualities help make the Gandas remarkably water-resistant.
Additionally, due to their low-cut nature most, if not all, universal crampons will not work with them (without some modification), though something like Katoola Mircospikes will work. At any rate, long glacier crossings might be better addressed with another pair of shoes.
Conclusion: If you climb hard and want an approach shoe that can keep up, the Gandas have the ability to climb at a higher level than maybe any other approach shoe out there. These are not the shoes for an all-day-woods-romp with a little bit of scrambling. These are not the shoes for a summertime, sunup-to-sundown slickrock trot through The Maze. These are for every 5-mile-approach-leading-to-the-5.10-stuff anywhere. These are for getting to the hidden spots at Squamish, for finding geocaches in the Tetons, for the choss up on the Maroon Bells. Feed 'em a little blood, sweat, and rock a few times a week and they'll keep your feet very, very happy.
Like all truly good gear, one can undoubtedly trust in the La Sportiva Gandas, thereby forgetting about them and eliminating one more variable in the ever-growing equation; in this respect the Gandas can allow one to do things that would be much more difficult to do otherwise. La Sportiva may have designed this shoe for a very small market, but that market would do very well to take a hard look at the Ganda.
About the Author:
Vince Contreras has been working as a professional Forester and Ranger for various federal land management agencies since graduating with a Bachelors Degree in Forestry from Southern Illinois University in 2010. He enjoys rock climbing, backpacking, and German Idealism. Other hobbies include leatherworking, bushcraft, and really, just creating original things.
Vince always welcomes questions and suggestions from his readers. Visit his Trailspace page at: www.trailspace.com./people/pillowthread or email him at pillowthread@yahoo.com
Source: bought it new
Price Paid: $140

Your Review
Where to Buy
Help support this site by making your next gear purchase through one of the links above. Click a link, buy what you need, and the seller will contribute a portion of the purchase price to support Trailspace's independent gear reviews.
You May Like
Specs
Price
MSRP: $215.00
Historic Range: $136.99-$249.95
Reviewers Paid: $140.00

Recently on Trailspace