LifeStraw Mission Gravity Water Purifier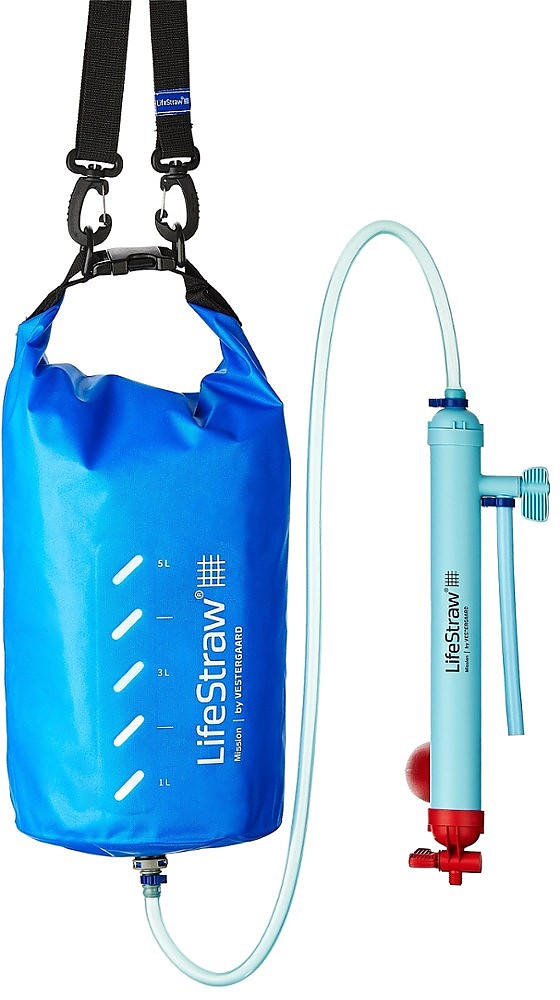 The Lifestraw Mission gravity purifier is overall an OK performing filter, and I would probably trust it to adequately filter any water source not contaminated with chemical contaminants, radioactive material, etc. However, it is not without its flaws and quirks.

Filter functionality alone, I would rate this filter 2 or 2 1/2 stars, but when its other flaws are taken into account it brings my rating of this filter down even lower. If someone asked me to describe the Lifestraw Mission in as few words as possible they would be, "A poorly designed filter that will handle viruses".
Pros
For every Lifestraw filter purchased, a child in Africa will be provided with safe drinking water for a year.
Purifier removes 99.9999% of bacteria, 99.99% of protozoa, and 99.999% of viruses thanks to a .02 micron filter size
Purifies water mechanically through filtration, no chemicals, or batteries required
Works by gravity, no pumping or squeezing required.
Filter up to 12L at a time
Prefilter catches large particulate making the need to backflush rare with relatively clean water
All components BPA Free
Designed to handle turbid and muddy water
Cons
Serious potential for cross contamination during operation and storage due to leaking valves and poor recommendations for storage
Can be confusing to maintain and backflush due to conflicting instructions.
Unit is rather large, and bulky valves and backwash bulb make for awkward use and difficult packing
Heavy at 18.6oz (packed wet weight, excess water removed.) , 17.1oz (dry packed weight)
Slow flow rate
Backflush does not clear prefilter, nor does it always effectively clear the filter body to restore flow. Multiple backflushes are sometimes required.
Difficult to fill some bottles/containers
Slow flow rate can cause clean water output to freeze up with ice and slush during cold weather use.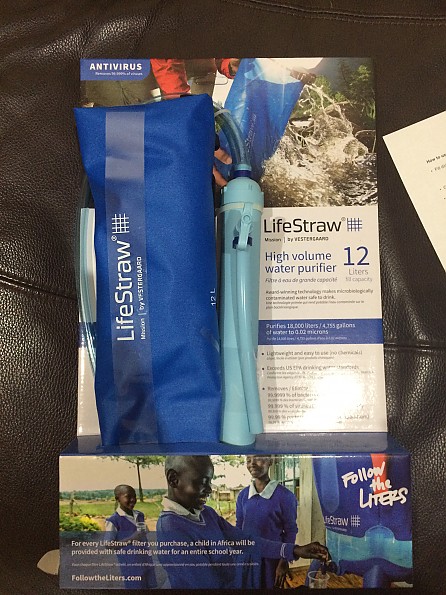 Overview and General Impressions
I want to preface this review with this. This filter/purifier does work, it didn't break, but it leaves much to be desired. The next few paragraphs will be giving some background and preface to the review, followed by my overview and general impressions.
Lifestraw's mission statement as found on their website:
"The LifeStraw team is committed to redefining the safe drinking water space through technology innovation and product quality and design. In doing so, our work is driving sustainable access to safe drinking water by engaging governments, donors, and individual consumers to understand the problem and become an active part of the solution."
I feel a water filter, no matter the type or style should indeed provide safe drinking water. Most water filters out there today do accomplish this goal. However, they are not all created equal and every filter or treatment method has its pros and cons.
Lifestraw products are primarily focused on parts of the world where safe drinking water is a true concern on a daily basis. I fully commend Lifestraw's focus on this real worldwide problem in many developing areas of the world. The Lifestraw Mission was developed in 2015 and marketed towards the hiking and outdoor community specifically. In my opinion I feel that Lifestraw has failed in their core mission statement for this product. It works, but is inherently unsafe to use. I would not trust a novice user to use it and be able to do so safely for a prolonged period of time.
The Lifestraw Mission gravity purifier is overall an "OK" performing filter, and I would probably trust it to adequately filter any water source not contaminated with chemical contaminants, radioactive material, etc. However, it is not without its flaws and quirks. Filter functionality alone I would rate this filter 2 or 2 1/2 stars, but when its other flaws are taken into account it brings my rating of this filter down even lower. If someone asked me to describe the Lifestraw Mission in as few words as possible they would be, "A poorly designed filter that will handle viruses".
A perfectly capable filter with relatively clear water, but requires frequent backflushing with water that is obviously filled with sediment, mud etc (this is not unique to the Lifestraw, most any filter will require frequent cleaning or backflushing when using it with visibly dirty water).
This filter is relatively easy to use, and the instructions are printed directly on the storage bag as well as the dirty water bag so they are always available for reference. However, they are contradictory to instructions found elsewhere with the product. I would be extremely hesitant to recommend this filter to anyone looking for a gravity filter. My main reservation is the safety concerns with leaking valves and cross contamination.
There are smaller, lighter, more compact gravity filters on the market that are easier to use and maintain than the Lifestraw Mission. This filter would be best suited to a basecamp type of scenario, where time is not critical in regards to getting your water filtered rapidly. But wait, there's more!
Safety
I would first like to take a moment to say that you are responsible for your own safety. Failure to use proper sanitation practices, basic hygiene, follow manufacturer instructions, and good judgment in regards to treating your backcountry water sources can result in serious illness or death.
I feel it is important to put my safety observations into perspective. The Lifestraw Mission is a PURIFIER and is fully intended to be used in sections of the world where viruses and other very bad bacteria and pathogens are in the water sources. Folks in the USA and other more civilized/settled sections of the world might very well think I am blowing smoke here. But in my opinion, based on my experiences, I find the Lifestraw Mission to potentially pose a very great risk for cross contamination and it is because of that that I cannot in good conscience recommend this product.
There is a very real and very concerning risk for cross contamination with the Lifestraw Mission. It is very easy to get the clean water tube dirty or otherwise have it come into contact with the ground, other objects, or even contaminated water. Even your hands touching the clean water tube can contaminate it, didn't you just use those hands to fill the dirty water dry bag? Then placing the tube inside of a drinking vessel or container to store our clean water can potentially contaminate the vessel.
Then of course there is how the manufacturer suggests you store it when not in use, I won't provide commentary for this picture because it should be blatantly obvious by now what the potential problems are…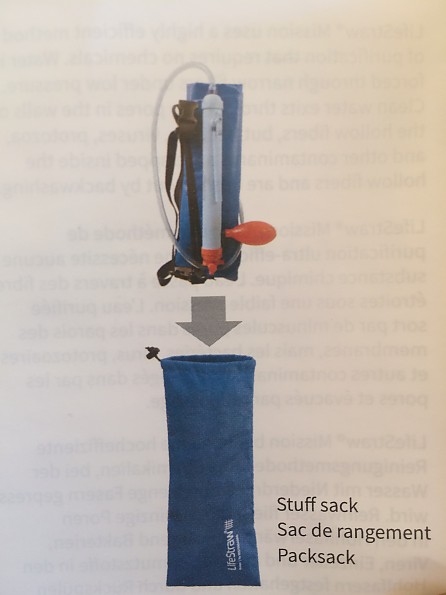 OK I lied, there is a lot wrong with this picture that is right in the instruction manual.
Problem 1) Dirty water bag is in the bag with the filter, major contamination risk.
Problem 2) Dirty water hose is now disconnected, also a major contamination risk.
Problem 3) In my case my red dirty water tap/valve leaks by therefore leaking contaminated water into the stuff sack from residual water remaining inside the filter body. The leaking dirty water valve also has a strong potential to drip into some water containers when filtering, extreme care must be taken to ensure the clean vessel is not below the dirty water valve.
Lifestraw states that freezing or dropping of the filter can cause permanent, unrepairable, undetectable damage. Caution must be taken to prevent the filter from freezing. Unfortunately there is no published method to test and verify the integrity of the filter to verify if it is safe to use. If you suspect that your filter has frozen or suffered significant shock from dropping/falling then I would refrain from use and seek an alternative treatment method.
Construction
The Lifestraw Mission gravity filter body seems well put together, but my first impression was that it just felt cheap. The plastic has a different feel to it, reminiscent of many mass produced plastic items. However, it has held up well over the course of the testing and shows no signs of damage, distortion, or stress points on any portion of the filter body plastic.
It is large and clunky; the valves and backflush bulb seem oversized which make it difficult to pack and even store in its own stuff sack. The valves leak by when closed, and they have a tendency to separate from the filter. It doesn't take much force to cause the valves to separate from the filter body, if one is not careful when storing the filter in a pack it is plausible that the valves could become separated or dislodged causing a potential cross contamination or filter clogging issue.
In contrast, the dirty water dry bag is extremely nice and has a true feel of quality to it. The dry bag is specified to hold 12L, though I found it can easily hold 13-14L if one chose to fill it completely. The dry bag is a BPA-free 200-denier nylon with thermoplastic urethane lining. It functions the same as most dry bags with a roll top and a snap buckle closure, and two plastic D rings and a strap with two lightweight plastic carabiner style swivel snaps used to hang the bag. The strap is adjustable in length from roughly 2-3 feet.  This bag feels more than capable of hauling and holding water, it feels robust and strong, and at no point did I ever feel the need to baby it to prevent damage.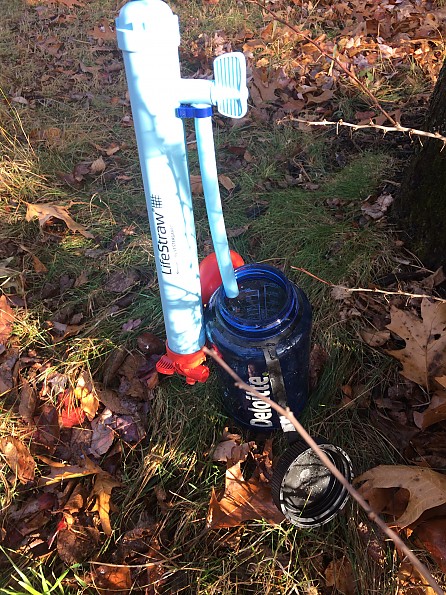 Specifications:
MSRP: $120-130 depending on which size is selected.
Filter pore size of .02 Microns
12L capacity Dry Bag style dirty water bag
Purifier removes 99.9999% of bacteria, 99.99% of protozoa, and 99.999% of viruses
Estimated to purify 18,000 liters /4,755 gallons of water over its life
Entire filter, hose, and bag assembly is BPA free
Wet weight
Filter body and dirty water hose weight: 8.4oz
Dry bag weight: 9.2oz
Stuff sack weight: 1oz
Combined weight: 18.6oz
Dry weight:
Filter body and dirty water hose weight: 7.1oz
Dry bag weight: 9.0oz
Stuff sack weight: 1oz
Combined weight: 17.1oz
Dimensions in inches
Filter body: 13 1/8
Dirty water hose: 28 ¼
Clean hose: 6 1/8
Backflush bulb: 4 ¼ x 1 5/8 x 1 ½
Clean water valve including stem: 2, valve handle ¾ x 1 3/8
Dirty water valve including stem: 1, valve handle 1 x 1 7/8
Packed dimensions in the stuff sack(this can vary slightly depending on how it is packed): 15 ½ x 6 ½ x 3
Now let's break this filter down piece by piece and talk about it.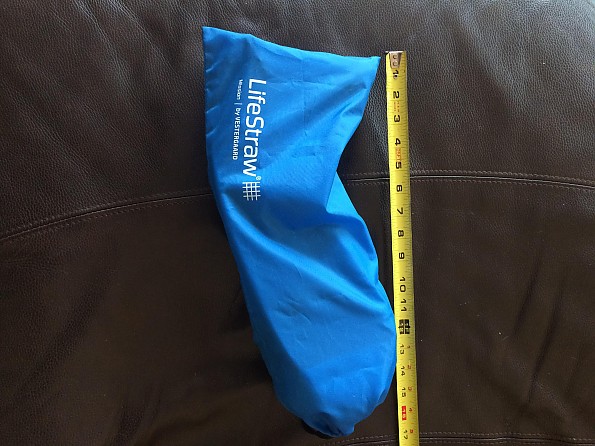 Instructions
Instructions on how to use the Lifestraw Mission can be found printed on the bag, on included documentation, and in the instruction manual. However, they all say something different. Leaving me a bit confused…
Let's take backflushing for example:
Option 1 (instruction manual): "If water is not flowing or the flow rate is slow then close the blue safe water tap, open the red water tap for three seconds and squeeze the backwash bulb once."
Option 2 (instruction manual on a different page) " Step 1: Ensure there is water in the roll bag. Close BOTH the blue safe water tap and the red water tap. Step 2: Squeeze the backwash bulb and release until it fills up with water-repeat three times. Step 3: Open the red water tap and dispose the dirty water away from where it could come into contact with drinking vessels, cutlery, or other human contact."
Option 3 (Random info sheet included in package): "To backflush first close the blue safe water tap, then open the red contaminated water tap. Squeeze on the red backflush ball pump a couple of times to force water back through the filter and out the bottom of the red spout. Let it flow for a few seconds before closing the red spout. Continue normal operation and gather safe water from the blue spout."
Option 4 (instructions printed on the dry bag) " Step 1: Ensure there is water in the dirty water bag. Close BOTH the blue safe water tap and the red dirty water valve. Step 2: Squeeze the red bulb and release until it fills up with water-repeat three times. Step 3: Open the red dirty water valve and dispose the dirty water away from where it could come into contact with drinking vessels, cutlery, or other human contact."
Option 5 (also printed on the dry bag just in a different spot): "If water is not flowing or the flow rate is slow then close the blue clean water valve, open the red dirty water valve for three seconds and squeeze the red backwash bulb once."
Which option shall we choose? The other instructions for priming and use also each vary between each other. Some are very similar other than minor wording changes, where others are essentially different procedures entirely.
I find this very strange to have such varying information with what I would deem a critical piece of equipment. This product is meant to be used around the world, by all manner of users, one would think that the company would publish a standardized set of instructions.
Dry Bag
The dry bag is a well built 12L capacity bag with a roll top closure secured with a plastic snap buckle measuring 33 inches x 13 inches. The dry bag also comes with an adjustable length strap that attaches to the bag to facilitate carrying or hanging. Two plastic D rings are attached to the top of the bag. One can use the provided strap or any other manner of cordage to hang the bag with the D rings.
Graduated clear see-through markings along the bag allow you to have a visible indication of the water level inside the bag. I did not find these markings particularly useful, as you can clearly see the bloated width of the bag when it is full of water. On the outside bottom of the dry bag is the quick disconnect port where the dirty water hose attaches.
Hang/Carry Strap
Nothing fancy, but it is strong enough to fully support the dry bag when it is full with water. Each end of the strap has a simple plastic carabiner style swivel snap that attaches to the D rings on the dry bag. I found that the strap was not always adequate for hanging the bag depending on the circumstances. It is not wide enough to go around medium sized or larger trees if there are no low hanging branches to hang from.
Prefilter
The prefilter is reminiscent of a thick coffee filter type material which will filter out particulates in the water down to 80 microns. This prefilter is in the bottom of the dry bag, and is easily removable to be cleaned and or replaced. Several spare prefilter discs come with the Lifestraw Mission filter. Small particulates can still be visibly seen flowing in the dirty water tube as the filter works. The prefilter is purely intended to remove large particulate matter, and not actually filter anything harmful out of the water.
I found that you can use many improvised items instead of the actual prefilter discs. Items such as a coffee filter, bandana, or other thin cloth all work sufficiently allowing one to avoid the expense of purchasing new filter discs. Speaking of purchasing new prefilter discs, despite a rather intensive internet search I was unable to find any merchant selling them.
Pouring clean water into the dry bag and sloshing it around was usually sufficient to clean the prefilter of most debris. Rarely did I need to remove it from the dry bag for cleaning.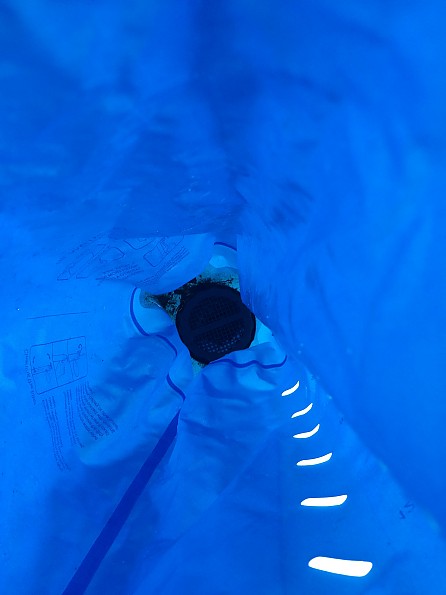 Quick Connect Port
A quick disconnect is on the bottom of the dry bag, the dirty water hose coming from the main filter body simply clicks into place. Pushing the blue button on the fitting will release the hose. A small amount of water will drip from the fitting momentarily after removing the fitting which is normal with this style of connection.
This is the only fitting on the Lifestraw Mission that DOES NOT leak.
Dirty Water Tube
A simple tygon rubber tube connects the main filter body to the dirty water bag. A quick disconnect male fitting is one on end, and the other is secured to the main filter body with a plastic hose clamp. These clamps are not easily removed. This brings up a quality of construction point.
Most filters that utilize tubing use a barbed hose fitting of some form or fashion. This filter does not. Instead the tubing is stretched over a threaded portion of plastic and secured with the plastic clamps. It would be wise for anyone using the filter to have a few small zipties on hand in case a field repair is needed. I am not sure if the hoses would stay on under load if not at least partially secured in place.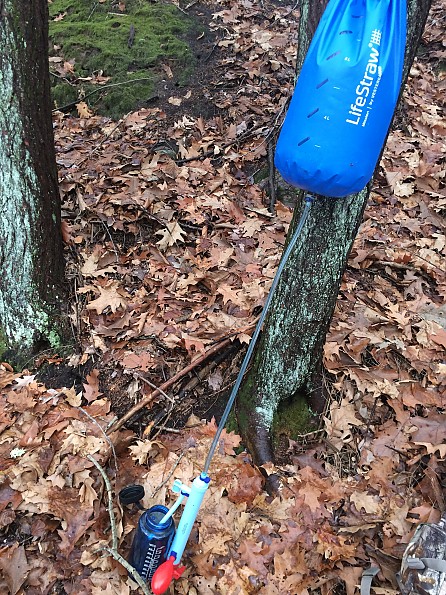 Filter Body
The filter housing is 13 1/8 inches long, and 1.5 inches wide not measuring valve stems or backflush bulb. Blue plastic signifies clean water, and red indicates dirty water. The filter medium itself is an "advanced ultrafiltration membrane" according to the manufacturer. I speculate that it is actually a hollow fiber membrane of some fashion.
The fittings on the top and bottom of the filter do not appear to be removable, if they are, they require a sizable amount of force to do so. I attempted to open them to gain access to the filter internals, but did not want to apply such force to risk damaging the filter.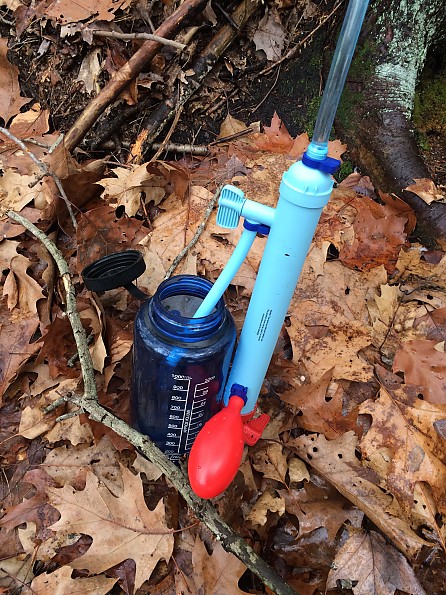 Clean Water Tube
A six-inch long section of blue tubing is connected to the clean water valve for dispensing of the filtered water. The water comes out at a literal trickle, and since it is shorter than the filter body it can be difficult to fill some types of containers, especially if you are not on level ground.
The slow flow rate can lead to ice buildup in the tube in cold weather resulting in blockage which required manual manipulation (squeezing/massaging) of the tube to break it free. I often just gave the backflush bulb a squeeze so a forceful amount of water would come out of the tube clearing any ice/slush beginning to form. I asked Lifestraw if this was safe but have yet to receive a response from them.
Care must be taken to keep the tube clean, and avoid making contact with contaminated water. Most water filters simply have a small nozzle, nipple etc to safeguard and most come with a cover. The Lifestraw complicated matters in this regard by having a large surface to protect and not having a cover for it.
Clean and Dirty Water Valves
Large and bulky best describes these. Oh, and cheap. However, they are easily removable...either on purpose or inadvertently. They also leak. All jesting aside, these valves are indeed much larger than they probably need to be and as a result have a tendency to not pack well and can easily get caught on items in your pack and dislodged or fall out completely especially so if the stuff sack is not being utilized. The filter doesn't really fit in the stuff sack exceptionally well to begin with. With a slight tug they will come out, however this does provide a means to clean the valve if it happens to become clogged with debris etc.
The valves do not have a solid on or off position, they are free spinning, and so you must line them up perfectly to stop flow completely, but even when they are in the off position they both leak by. The dirty water valve has a steady drip, at times almost rivaling the actual flow rate of the filter.
The clean water valve has a very slow dripping leak. Leaking of the dirty water valve does pose a significant contamination risk for clean water vessels and of the filter itself during storage. This style of valve is notorious for leaking by. The clean water valve on my filter did not begin leaking until about half way through the testing process. The dirty water valve leaked from day one.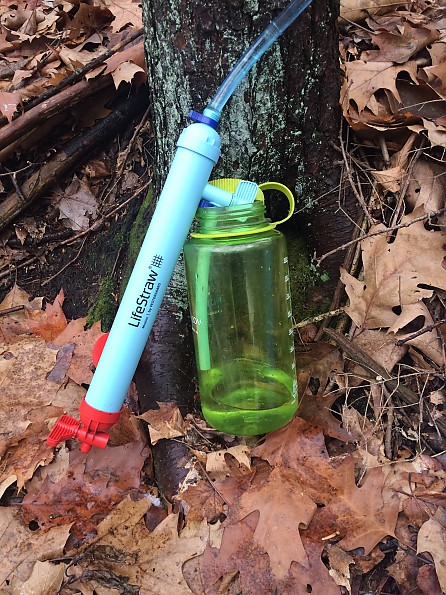 You can see in the above picture where the dirty water valve has been dripping while filtering.
Backflush Bulb
Large and bulky definitely describes the backflush bulb. It is the largest protrusion on the filter body, and it makes packing the filter challenging at times. This is purely speculation but I strongly suspect that it is only a manner of time before it breaks off or otherwise disconnects in a pack, and then you will not be able to unlatch the hose clamps easily, and zip ties will more than likely be in order. If the backflush bulb becomes dislodged from the filter, your filter will be unusable as water will rapidly drain out of the filter.
My backflush bulb did not ever become completely disconnected from the filter; however it did come pretty close on one occasion and had to be stretched and worked back into place. Care must be taken to carefully pack it away in your pack, shoving it in is not the wisest choice and could potentially lead to problems over time.
It does work as intended though. However, I did find that when backflushing after prolonged use with muddy or otherwise very turbid water that backflushing can be tedious and require multiple completions of the procedure to reestablish adequate flow. The issue being that there is only so much water inside the filter body and adding more of the same water isn't really helping matters. Under such conditions I found it best to empty the dirty water bag and drain the tubing, and pour in about 8-12 ounces of clean water and backflush using this water.
Disconnecting the tubing from the dirty water bag with "clean" water in it and backflushing while disconnected seems to work the best and prevents the backflush from returning to the bag. There are two ways to backflush the filter, both accomplish different things. Backflushing with the dirty water valve open, and backflushing with it closed. I will talk about this more under the Field Use portion of the review.
Flow Rate
Specified at 10 fluid ounces every 90 seconds, this should fill a liter water bottle in about 4.5-5 minutes, and a overall rate of 9-12 liters per hour. I found this to be accurate provided the filter is primed decently well to remove air from the tubing. I found the actual flow rate to be 5-9 minutes per liter on average, though once or twice I was able to get a liter in just over three minutes.
Flow rate was directly affected by the amount of air remaining in the line, clarity of the water, and the state of the filter medium itself (recently backflushed etc), and how much water is in the dirty water bag. Flow rate drops off substantially when there is less than two liters of water remaining in the dirty water bag.
At maximum flow the water output from the clean tube is a literal trickle. It is slow and rather minuscule, and as a result it is incredibly difficult to fill some containers. Many things can contribute to the ease or difficulty in this regard and I will elaborate more on that in the following section though I will mention that the two main factors were wind and ground level/angle/slope.
It is possible to increase the flow rate of the filter by applying pressure to the dirty water bag and squeezing it gently. Flow rate will increase by approximately 2x, however it can also make it even harder to fill containers. A second set of hands would definitely make this method more viable.
Taste
I compared the taste of water purified with the Lifestraw Mission to water purified with a Steripen Adventurer on several occasions. In each instance the water purified with the Lifestraw Mission tasted a fair bit better than the water purified with the Steripen.
I give the Lifestraw a big thumbs up in this regard. Even muddy stagnant water came out tasting OK with little funk factor remaining. This filter has nothing that improves the taste of the water such as a activated charcoal core etc. I believe that filtering to such a small size (.02 microns) that a lot of the particulates that cause bad tasting water are physically removed.
If not properly stored during long term periods of no use an off taste can develop. It is important to run water treated with bleach through the filter before storage.
Field Use
Four months and nearly three hundred gallons filtered with the Lifestraw Mission gravity purifier. This purifier definitely works and will get the job done, but is it the best option on the market?
I had the opportunity to test this Lifestraw product from late fall through the majority of the winter here in the Northeast United States. The majority of the water filtered was from unfiltered well water at my residence, though it also saw quite a few day hikes where I sought out the nastiest water I could find to really put it through its paces. The Lifestraw Mission also accompanied me on several overnight and weekend trips, a three-day trip, and a week-long trip in locales ranging from the Catskills, Taconic range, and the Tunxis and Nipmuck trails in Connecticut. I tested the unit with a variety of water sources, from relatively clean streams and brooks, stagnant debris filled standing puddles, snow melt, mud puddles, and bog water. The Lifestraw mission performed well with all of the water sources I threw at it.
Overall I was satisfied with the Lifestraw Mission's performance when it came to actually filtering water. It didn't blow me away and make me swoon, but it performed what was asked of it with little issue. It worked flawlessly with all of the well water, and any remotely clear water source I encountered, but then what water filter wouldn't, right? The true test for any water filter is how it will handle less than desirable water sources; mud, muck, silt or otherwise excessive amounts of particulates in the water.
I found that if you could see through the water, even if it was murky, that the Lifestraw Mission could easily filter a minimum of 8-10 gallons before needing a back flush. It certainly would perform better with more frequent backflushing, but after several gallons of somewhat turbid water the flow rate would definitely begin to dwindle. When filtering this type of water I never once found a need to clean the prefilter disc.
If the water was murky to the point that you could not see through it, and or it had quite a bit of visible particulates the Lifestraw Mission would filter anywhere from 4-6 liters to 2 gallons before needing to either clean the prefilter and or backflush the filter.
Cleaning the prefilter is simple enough, you simply empty the dirty water bag to where you only have a small amount of water remaining in the bag, give it a good sloshing to dislodge particulate on top of the prefilter and dump it out. Repeat with pouring a cup or two of clean water on top of the prefilter, slosh, dump.
This simple form of cleaning typically resolved any clogs or degraded flow that was prefilter related. Only rarely did I actually have to twist off the prefilter housing and remove the prefilter disc for a thorough cleaning. It would be nice if the prefilter was accessible from the outside of the dry bag, but it is able to be cleaned in place decently enough as is.
Let's talk about back flushing. Backflushing the Lifestraw Mission was simple enough, but doing it per the directions did not always restore the filter to pristine operating condition. The procedure is to close the clean water valve, open the dirty water valve, squeeze the backflush bulb, and the backflushed water will be forced out of the dirty water valve. So this works…kinda. You can definitely see visibly dirtier water exit the filter. However, this frequently does not restore flow rate to optimal, especially when the dirty water being filtered is "less than desirable". 
To restore optimal flow I found that I needed to perform the stated backflush procedure first, and then let the backflush bulb fill up again, close the dirty water valve, disconnect the dirty water hose from the dry bag and then squeeze the backflush bulb. This would backflush the filter in the other direction, and you could again see visibly dirty water exit the filter through the hose. It always seemed like the water being discharged this way was much dirtier than the other method.
Backflushing one way or the other was not always sufficient in restoring optimal flow, sometimes both were needed. This whole backflushing procedure is still relatively simple and can be accomplished in under a minute. It is important to remember to disconnect the dirty water hose from the dry bag though because otherwise you are just sending everything clogging up the filter back into the water reservoir to be filtered again.
Sometimes the filter's flow might be severely reduced or stopped entirely. If this is the case your filter might not be bad, but might just need to be backflushed utilizing clean water. I found that when I backflushed with the same murky water I was trying to filter in the first place that the results were sometimes subpar. Emptying the dirty water from the dry bag and putting in about a half liter of clean water to use to do the backflushing always provided superior results.
I found the flow rate of the Lifestraw Mission to be disappointing. I am not referring to the amount of water it filters per minute/hour etc. I am referring to the physical amount of water coming out of the clean water tube at any given point. It is a proverbial trickle.  This trickle of a flow rate made it quite difficult to fill containers.
Why is it hard to fill containers with the Lifestraw Mission?
 It is hard to fill containers because the filter body is longer than the clean water tube. This makes positioning of a container challenging if not on relatively flat terrain. The clean water tube is shorter than the filter body to help with reducing the chance for contamination, but it hampers the filling of containers with clean water and more than once caused a spill.
Most other water filters, dirty water comes in one side and clean water comes out the other. This allows you to easily hang, squeeze, pump or whatever the case may be the water directly into a container without much fuss. With the Lifestraw you have to get the height just right so that the clean tube can be put into the container. Filling a container on a hill side or slope requires some finesse with positioning the filter body and container to prevent one or the other from falling out of position. No adaptors etc come with the Lifestraw Mission to allow you to connect the filter output with a reservoir bag like most other gravity filters on the market.
The flow rate is not fast or strong enough to free fall into a container, unless it's rather wide, such as a cooking pot. Even a slight breeze will prevent the water from making it successfully into a standard Nalgene. I found using straps, bungees, etc to tie the bottle and the Lifestraw together provided better results. The best results were with a soft sided, or collapsible bottle such as a Platypus Plusbottle. I could put the entire clean tube inside these styled bottles and they would fill without issue whereas a Smartwater, Gatorade, or Nalgene would frequently slip or shift out of position for one reason or another.
I would also like to again bring up the fact that the dirty water valve leaks by. This poses its own challenges when filling containers as due care must be taken to avoid cross contamination.
Conclusion
Overall I found the Lifestraw Mission to work as advertised, and I would trust it to filter my water if it was my only available option. The quality of the product could use a little fine tuning in my opinion, especially the valves. I also think that if this purifier was redesigned to remove the backflush bulb entirely, so that it resembled something more akin to a really big Sawyer Squeeze that it would be more user friendly. It truly is no trouble to backflush with clean water through the clean water discharge point. After all there is a reason most water filters on the market use this method…because it works.
The bulk and size of this product is really one of its main downfalls. It is hard to pack, it is hard to use, poses significant cross contamination risks, and it's just awkward in general. The only thing that would make the Lifestraw Mission function better as it is currently designed is to increase the flow rate so that a light stream comes out of the tube and not a trickle. If it did that, then I feel the awkwardness in regards to the unit's size and shape could be overlooked to a great extent.
Based off of my experience with this product I would be generally hesitant to fully endorse and recommend this product knowing that there are better options currently on the market. The only thing that gives the Lifestraw Mission a slight leg up is that it is a purifier. Though there are other purifiers on the market as well.
If someone is willing to overlook the flaws of this unit in compromise to have a purifier at a somewhat reasonable cost, then I am sure they would be happy with the Lifestraw Mission once they learn and came to understand its flaws and limitations. Personally, I couldn't endorse this product for use in the backcountry in good conscience based off of my experiences thus far.
Source: received for testing via the Trailspace Review Corps (Sample provided by LifeStraw for testing and review)

The gravity filter allows you to do other things during filtration, instead of pumping. No need to stand by the river to filter. You can carry the water back to camp.

I agree with other reviewer about potential cross contamination during storage.
Pros
Gravity fed, you can forget about it once it is set up.
Price is low compared to any virus filtration systems
Remote filtration from water source
Cons
Potential cross contamination
Bulky
Thanks to the other reviewer for the review, very detailed indeed and very accurate. 
I used the filter for a two-month bike trip in Namibia and  Zambia, almost exclusively in clear water sources. I agree with your concerns about cross contamination during storing, some contaminated water can escape in the carrier bag during storage.
I wanted to add few good points though.
I found the low flow not to be an issue as it is a gravity filter, you can do other things during filtration. 
You are also not bound to stay by the water source as you can carry the water in the bag, which can be a big advantage when getting water of a river or a muddy pound.
Probably not the ideal for a single person backpacking trip, but great if you need to filter 5 to 10 litters of water per day.
Source: bought it new
Price Paid: £97.95

Your Review
Where to Buy
Help support this site by making your next gear purchase through one of the links above. Click a link, buy what you need, and the seller will contribute a portion of the purchase price to support Trailspace's independent gear reviews.
You May Like
Specs
Price
Current Retail: $104.67-$129.95
Historic Range: $103.96-$144.95

Recently on Trailspace