Light My Fire Spork Original

An eating utensil that gets the job done at a low cost. Best for backcountry meals, especially trips with multiple meals where the user may need to use a spoon for breakfast, fork for lunch, and both for dinner. This durable tool has you covered.
Pros
Low price
Feel of the finish in both the mouth and hand
Seems like every outdoor retailer carries them
Doesn't scratch cookwear
Cons
A little bit longer would be ideal
Little bits of food can easily get trapped in the teeth of the serrated edge
Conditions: I've owned and operated these sporks for almost 18 months. I originally purchased a four-pack with a giftcard that had just a few dollars left on it. I thought why not purchase a set of four for general camping and hiking purposes (car-camping, day-hikes, and multi-day hikes). For the last few months, I have started also using them on a daily basis in the office during lunch (they are sort of a conversation starter in the office).
I've used them in as low as 40°F weather, and had no issues with brittleness as can sometimes happen with plastic at low temps (but 40°F isn't all that low) and have stirred boiling water with them on many occasions and have experienced no problems.
I use the fork end the most (pastas, salads, etc.), but also use the spoon end regularly (soups, breakfast cereals, stirring hot drinks, etc.) I find I don't use the knife edge all too often, especially when out on the trail, as I always have a sharper knife with me.

The bright colors certainly aren't subtle. 
Ease of Use: The purpose of this utensil is to get food from point A (i.e. bowl, cup, pot, frisbee—I'm not the only one who uses a frisbee as a plate, right?) to point B (i.e. my mouth) and it achieves that purpose consistently. 
As a spoon: The spoon end is deep enough to scoop an adequate amount of food, but not too deep where it's difficult for the lips to clean off the spoon while pulling out of the mouth. The spoon generally works well for stirring needs, except for the thickest, chunkiest of dishes.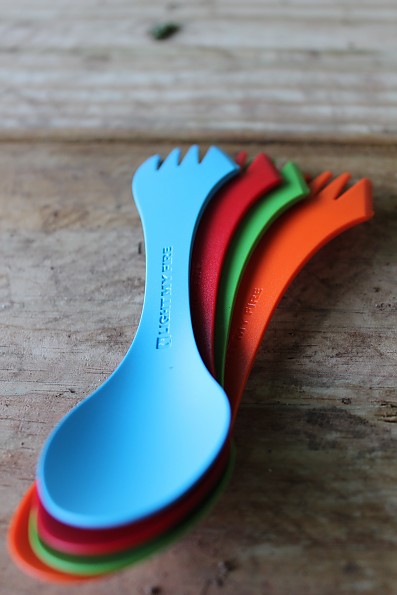 As a fork: The fork tines are slightly wider than "normal" fork tines (normal meaning the ones regularly used in homes and restaurants here in the U.S.). My assumption is that being plastic, the wider tines were needed to ensure durability. In terms of function, the wider tines have no drawbacks nor benefits.
As a knife: The knife (or serrated edge of the fork as it is) is a little tricky. While it does work reasonably well (I recall the first time using it I cut up two chicken breasts and had no issues), it takes a little more concentration and effort as opposed to cutting with a reasonably sharp pocket knife or half-decent kitchen knife. While at first I thought the serration on the fork's edge would bother me when I put the fork in my mouth, in all reality, it goes completely unnoticed.
Where the knife lets me down is when food particles get caught in the serrations and they won't budge until the knife is rinsed off with water. This isn't an issue when eating at the office and a sink is nearby, but when on the trail and water is a precious resourse, I hate wasting water in order to dislodge food particles.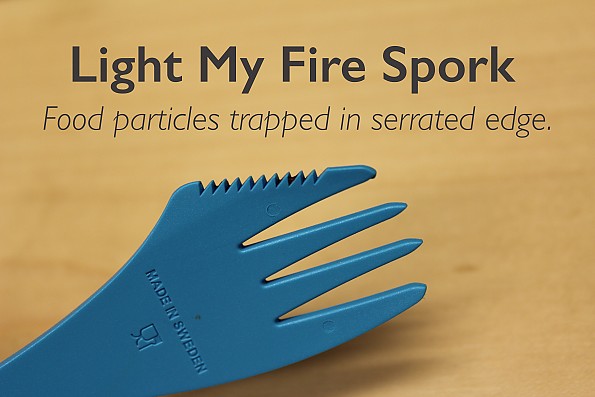 You may have to look closely to see the food particles, but they are there. 
Construction & Durability: I have four of these sporks, so I rotate through them on a daily basis and haven't had any durability issues whatsoever. When I throw them in a hiking pack I usually cover the fork ends with a cloth of some sort so as not to catch the tines on the lining of my pack (especially when stored in the top-zipped mesh pocket of my Osprey Talon 22 daypack). 
The mouthfeel is particularly nice. The plastic isn't just a normal fast-food restaurant quality plastic, it seems to have a more textured, brushed outer coat, which is pleasant on both hand and mouth.
The plastic is heat resistant (not fireproof) so there is no melting or warping issues when stirring hot liquids or foods. This also means it's dishwasher safe. The plastic is also safe to use on non-stick cooking surfaces like the JetBoil GCS (review forthcoming) that I use.
The length could be a little bit longer for me. Part of that reason is because the longer it is, the easier it reaches and stirs the bottom of the cooking pot. Also, my hands are fairly large, so small utensils feel especially small in my hand. Light My Fire does manufacture a large version of this spork that is more than 3 inches longer, but I don't feel the need to purchase those since these ones work just fine. 
Recommendation: For the cost, these are well worth it. Having used my four-pack for roughly 18 months now, and during the last few months using one nearly every day for lunch, they shine in the areas of durability and versatility (for plastic utensils anyways). While titanium utensils are certainly stronger, they are also much more costly, especially if needing to buy four at a time. With the benefit of having both spoon and fork in the same utensil, these sporks go with my wife and I on every trip.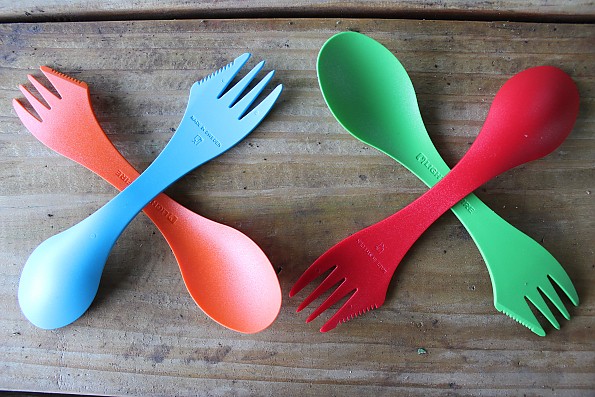 Update (03/2017): 
After 20 months since the time of this initial review, I have continued to use these on an almost daily basis, rotating through them as I eat my lunch at work. In that time, one was showing signs of considerable fragility and finally snapped in half. Another broke a tine when trying to spear food, but I still use it sans one tine. Two are still in perfect working condition, but I am now considering upgrading to the titanium version of this same product.  
Update (10/2017):
Three of the four sporks are now broken and unserviceable. I have since purchased two of the titanium sporks and have reviewed them here. In short, I recommend the titanium version over the plastic version.
Source: bought it new
Price Paid: $6 for 4-pack

It's a cheap, plastic spoon, fork, and knife. Good design from a durable, food-grade plastic.
Pros
Fairly durable
Kinda versatile
Weighs very little
Cons
Spoon is shallow
A bit short, for stirring (but it works)
May puncture some fabrics, if not carefully packed
I had never owned a spork—or anything similar. REI wanted just over a dollar...so I gave in, to curiosity.
I never really understood why I needed special cutlery, for camping. I was once gifted an ancient, ex-army set—knife, fork, and spoon—made of aluminium and fitting together, but I've never put them/it in a backpack. I usually use a spoon, for everything but cutting and preferably one which fits in my cookset. I stir a lot of tea, spoon a lot of muesli, and chop up noodles or pasta beforehand—because I'm impatient and like my food warmer, rather than cooler. The Light My Fire Spork is good, size-wise, and the spoon is fine, if a little shallow. I never use the fork/knife end—other than as a handle. It's a good stirrer and I've failed to melt or snap it.
I've never bonded with my Spork, which may sound strange. I usually use cutlery that my grandparents bought, in the 1920s and '30s and generally use spoons from that cache, when camping. I'm careful how I use them and where I put them, because they have meaning, to me. My Spork feels disposable, by comparison.
The Spork now lives in the cubby of my car. On the rare occasion I eat on the move, it's available. The curve of the handle feels comfortable and both fork and spoon are a functional shape and size.
There is little to complain about, with a cheap product, which works. Folks who have broken or otherwise been disappointed by the Spork won't buy another.    My only regret is that I bought a disposable plastic item, when I have a drawer full of better spoons in my kitchen.
Experience
I bought the spork in 2013. I only took it camping—or to eat lunch on day hikes—a handful of times in the intervening years. It's not the first piece of outdoor equipment I've bought, which never made it to my core kit list—and it won't be the last. If it works for you, you'll marvel that something so clever and functional can be so inexpensive to buy.

Kudos, to the company who market this product. In the last ten years, it has become...ubiquitous.
Source: bought it new
Price Paid: $1.20

Overview:
The LMF (Light My Fire) Spork is made of heat resistant plastic, has a spoon head on one end and a fork on the other and the fork end has a serrated cutting edge.
My general assessment is that the LMF Spork is a convenient and acceptable quality plastic eating utensil for backpacking use.
Details:
I first bought one after using one a friend owned. I noticed that it was lightweight, yet strong enough to stir thick foods. The fact that it had both a normal spoon and a real fork ends was surprising, as most "sporks" are just a more rounded spoon with short slits or notches on the outside edge of the spoon.
I have owned multiple LMF Sporks for several years now, and can attest that they have held up well. I have not had one break yet. I have bent mine in a nearly 90 degree angle, and have not had any break. The heat resistant polycarbonate plastic they are made of has also proven effective. Only once have I ever-so-slightly melted the edge of one, because I left it in a fry pan on full heat for several seconds by accident.
The "knife" edge of the fork is convenient for "cutting" food items into smaller chunks while eating, just as one often might with a normal fork. But it is not functional as a real knife for any true cutting.
I usually cook more than the "just add hot water" type of meals, and like having the additional options that the LMF spork offers. I recognize that one reason I like the LMF Spork is purely a personal preference: I really dislike actual sporks. The bowl of most are an annoyingly round and blunt shape. The "tines" are rarely long or sharp enough to use as a real or functional fork, and that jagged edge doesn't allow for smooth or effective spreading either.
In summary, there are multiple features and reasons that prompt me to recommend the Light My Fire Spork:
A Real fork end
A Real Spoon end
The Fork has a convenient "sharp" edge
High resistance to heat (for plastic)
Won't harm non-stick cookware
Quite rigid yet still retains some flex
Multiple sporks nestle perfectly together, taking up very little room.
Weighs less than virtually all other plastic or metal cutlery, even titanium.
Costs a fraction of most other utensils design for backpacking.
Price Paid: $2.99

A ubiquitous piece of gear that is inexpensive and meets most needs, but has some shortcomings. What much can be said about a spork?
Pros
Inexpensive
Easy to find/purchase
Cons
In using one end, grimy hands are placed all over the other end, making it somewhat unsanitary
Melts easily when exposed to high temps
Handle too short to eat dehydrated foods out of the bag
We all love gear that serves double-duty in the backcountry, yes? And I believe the intent of a double-ended utensil was in good following with this idea. This spork is one of the most ubiquitous pieces of gear out there, so apparently a lot of people agree.
I was at first sold on the idea, as well. But after a lot of use, the detractors started to outweigh the multi-function.
My main criticism of this design is the short length of the handle and that fact that the handle is the other utensil. This is a big deal because your trail-grimy hands end up getting all over the surfaces that you eat from.
Likewise, in switching between utensils mid-meal, you may also end up getting foodstuffs all over your hands...unless you give it a really thorough licking. And honestly, I so rarely used the fork side that I switched back to using a long handled spoon. Not once have I missed the fork.
I will also warn that I've seen one of these melt when used to fry bacon in hot grease...so don't do this! For stirring noodles in hot water, it's fine. Not one broken yet.
Understanding that this spork is not much more than a plastic spork, you won't be disappointed. They are pretty durable, inexpensive, and easy to come by. I still have all four that came in a pack... great as a back-up and for loaning out to friends.
Source: bought it new
Price Paid: $2

The biggest possible bang you will ever get for your buck when it comes to a lightweight, durable, multifunctional eating utensil. I bring this with me every place I go, and eat every meal with it, and it still looks and performs the same as the first day I used it. If you can find a better way to spend a couple dollars, I'd like to hear it, because for me? It doesn't get better than this.
Pros
3-in-1, spoon/fork/knife, multifunctional design
Won't scratch non-stick cookware
Heat-resistant
Dishwasher safe
Lightweight and easily packable
Durable
Cons
Zero. Absolutely none. Does everything it should, and does it well.
Short. Better tilt those MH meal bags to reach bottom.
Until you're making the big bucks and can afford the titanium equivalent, this is the best possible utensil you can get for your money.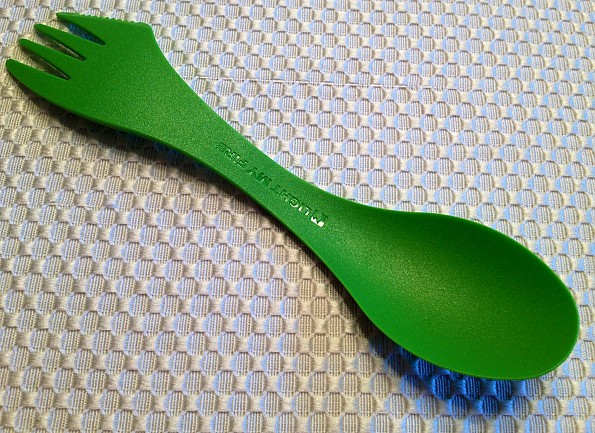 The LMF spork isn't just that. It's a fork that's, well, a full fork. No truncated, frustrating prongs to poke pointlessly at your steak with. Legitimate tines.
Better yet, one of those four tines has a serrated edge to it. Yep, it's a knife, too.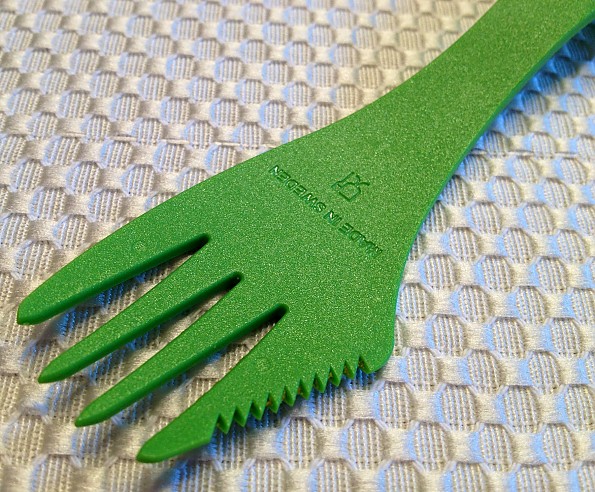 Now, I know you're wondering, "Why in hell would I put a cutting blade in my mouth?" Don't sweat it. The serrated edge isn't surgically-sharp. It simply puts some teeth there to make it easier to cut things with the side edge of the fork. You'll never cut your mouth, and for all the meals I've eaten with this, and for as quick as I've eaten them, I've yet to suffer an injury.
Naturally, you've can't have Larry and Curly without Moe — there's a full-sized spoon on the other end of this double-sided utensil. Much the same, I like that it is only spoon and nothing more. Eating soup with a spork is more of an unnecessary challenge than it needs to be. LMF makes sure that's never a problem you'll suffer from.
I've eaten every meal I've ever had while camping with this utensil. 
Heck, if I don't feel like doing a lot of dishes, I even use it to measure and stir and cook with.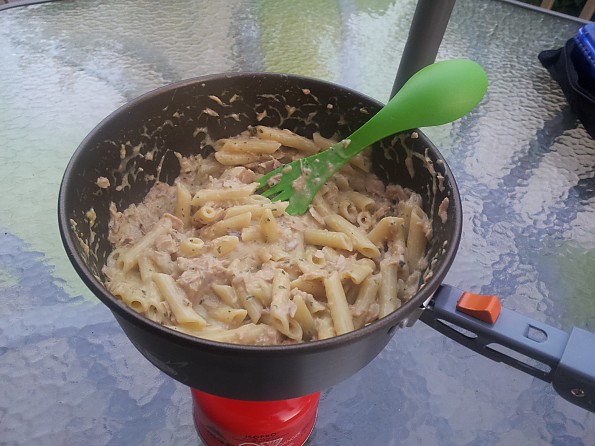 That said? Don't leave it sitting in a hot pot or pan. Or leaning against one (mine is stuck straight into the food in the above photo). It is heat-resistant, but not heat-proof. The Tritan Copolyester is durable, the finish is matte, and the texture is almost micro-pebbled so it doesn't slip out of your hand (especially convenient when using it to cook). Moreover, since it isn't metal, you can move this thing however the heck you want about in your non-stick pots and pans, and it won't ever scratch them a bit. Unlike metal, it doesn't conduct heat, and is safe to the touch, too, when cooking.
For your number-counters and math folk, it measures 6.6" X 1.5" and weighs .2 oz. I always keep a spare tucked inside my GSI Crossover Kitchen Kit (nested inside my Pinnacle Backpacker cookset). It nests in with the rest of those cooking accessories as if it isn't even there. There's simply no excuse not to pack one of these with you.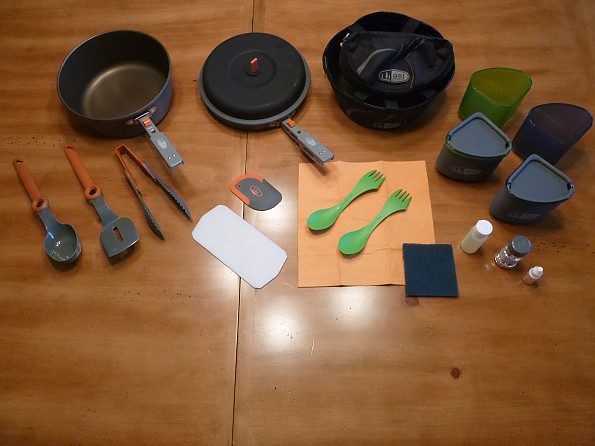 The heat-resistance is also a bonus in that it makes this sport dishwasher-safe, so you can just toss it in with your regular dishes when you get home from your trip.
This is literally a one-piece cutlery set you can fit in one hand, and is so well made and built that mine looks as good as the day I bought it.
REI has these on clearance for less than $2 each currently. You'd be hard-pressed to find another spork at that price that does as much and lasts as long as this one does. Quite honestly, probably the single biggest bargain a beginning backpacker can score.
Only drawback to mention is the length (again, it measures 6.6" X 1.5"). If you're hoping to make your Mountain House meal good-to-the-last-drop, tilt that bag to the side and get at it that way. Better than having to get all "Medieval Times" about it and get food on your hands.
Everyone should own one.
Well, two.
You wouldn't let a friend eat with anything less than this, would you?
I didn't think so. 
Source: bought it new
Price Paid: Less than $5 for a set of two

Very useful.
The only complaint is if you need to actually cut something with it you need two: one to hold the food and one to cut.
It's a spork. It's what you get for two dollars. I used to stop by Wendy's to grab free utensils. This is better.
Breaks easily. Not very useful. Expensive (compared to what you get).
Pros
Lightweight
2- in 1 spoon and fork (I don't include the knife since it's useless)
Cons
Breaks
Low quality (knife is useless)
High price
Plain disaster. I've had a few and never seem to learn the lesson. They break extremely easily. Last one broke after three days, trying to use it in the peanut butter jar. I'd never buy one again. Pure crap. Not even cheap thinking about what you get. Better buy something slightly more expensive but 100 times more functional. That knife part barely even works but is just added onto it to give it the right appearance.
I'd never buy one again. Not even the platinum one. It's a joke. One is made of plastic that breaks from digging a bit in a peanut butter jar, one is made of some kind of super strong metal. Why not just make one in the midst of the two extremes?
Source: bought it new
Price Paid: 4 NZD

I've owned three of these (bought one and received two as gifts). All three broke at some point.
Pros
Lightweight
Does not accidentally cut fabric in your bag
Cons
Breaks easily
Short in length
Knife doesn't really cut
This is one of the pieces of gear that I always see in stores and am always tempted to buy because it's not priced high at all and seems very practical — but every one that I've owned has broken, and so have many of the ones that my friends have owned. And each time I'm on a camping trip and one of these breaks, we all talk about why we just didn't bring a disposable plastic fork or spoon with us (you can still wash disposable utensils and keep using them over and over until they break too).
Although metal utensils are much less likely to break, they are more likely to puncture a hole in your bag. I usually tend to bring a metal utensil with me and just keep it wrapped in a small cleaning cloth to prevent it from puncturing anything.
Source: received it as a personal gift

This is a great little tool. It is lightweight, but still strong.
Pros
Lightweight
Strong
Colourful
Cons
Not being able to use the fork and knife at the same time.
It is very handy because you don't need to carry three utensils, just one. Although it has one weakness, if you are trying to use the fork and the knife at the same time it is very hard to cut stuff. I like the colours. If you lose them they are very easy to find.
Source: bought it new
Price Paid: $2.75

Owned two, broke two.
Cons
Plastic is very brittle in the cold.
I recommend spending the extra $ and get the titanium version. Two cold mornings and two thick cups of oatmeal killed my plastic sporks. Suddenly being utensil-less makes a nice relaxing meal, not so nice and relaxing.
Source: bought it new
Price Paid: can't remember

This is a fantastic utensil. I even use it in my lunchbox for work.
I thought I was going to need two of these, one to hold food and the other to cut. But, the knife portion works very well on its own. Fits nicely into a Yoplait cup and can cut a pork chop. It's the all in one utensil.
I purchased one at a mountaineering supply in Tennessee and loved it. Two weeks later I went to a local parks department backpacking expo, and they were giving them away. I might just replace all my flatware at home with these things!!!
Source: bought it new
Price Paid: $2

Love them!
Pros
Durable
Easy to clean and reuse
Fun colors
Reasonable price
I love these sporks! I have several and use them often. They are durable and lightweight. They have a knife, fork and spoon on them so it saves room in your pack and is eco friendly. They are great for camping, hiking,  or even to take in your lunchbox for work.
Source: bought it new

Lightweight, cheap enough to lose without worrying about.
Pros
Cheap
Bright colors (easy to see in the dark)
Cons
Small
Wide tines make food hard to grip in fork mode
Not a bad product for the money, could use a hole drilled for string (personal preference). I haven't tested it at high temps.
Source: bought it new
Price Paid: $4

Bought a couple of these at closeout from REI.com last month. I keep two in my frame pack for outings and one at work for snacks in the shop.
Easy clean up, lightweight and durable so far. I know the Ti ones are probably much more durable in the end, but for two bucks, I couldn't beat it for my needs. Highly recommended.
Price Paid: $1.49

I have only used this spork on a few camping excursions, but when I did use it I found it very delightful and useful. It has a sloped design which makes it a lot easier to eat with, and since it's plastic the cleanup is a dip in the creek.
I have been very pleased with this spork so far, but it is only a piece of plastic after all, so I will probably get some titanium utensils that will most likely hold up for longer.
Price Paid: permanently borrowed from a friend

Broke too easily. I had to use other friends utensils for 40 days.
Price Paid: $6

I found this to be a nice and serviceable product. I personally prefer a fork and spoon rather than just carrying a spoon as some u.lers do. So I thought I'd try this combo. Both the fork and spoon are serviceable for whatever you use them for.
But the small serrated portion is useless for anything other than a back-scratcher. It is under normal usage, unbreakable but after repeatedly bending it slightly to put it into my cookpot it broke in two.
So I went back to my 30+ year lexan fork and seperate spoon, handles shortened and holes drilled in them.
Price Paid: dont recall

I only gave it half a star because it is weak and fits weird in hand. I broke two of these on the same trip. I had to go back to my titanium spoon. I am still looking for another lexan or plastic solution.
Price Paid: $2

At first I thought this was the perfect utensil. Seemed very sturdy and light — an all-in-one device ready for backpacking. Unfortunately, the first time I tried to use it on a trip it broke in half (clean break too) while trying to eat some cooked ramen out of a freezer bag in 60 degree weather. Still, not bad for the price, but just like pairs of socks - take 2.
Price Paid: $2.50

Pros: It's a spork!
Cons: It's a spork!
Seriously though, what else can be said for an idea that is tried and true. Spoon for soups and chili and the fork side for noodles and such. Sometimes you're using your spoon and realize you need your fork. No need to look for one, just lick it clean, flip and there ya' go.
Now, don't think you're going to eat a steak with this. Then again, if you're on the trail eating steak why wouldn't you be using your hands!
Me, I stick to Ramen noodles, Backpacker's Pantry, and Mountain House meals. This is perfect for that and stirring your coffee.
Honestly, for $2.39 at Walmart, you can't go wrong.
Giving it 4 stars because the idea of integrating a knife is a waste. You can use it to cut your noodles or cut boiled veggies, potatoes, etc. but that's it.
Price Paid: $2.39

Flimsy and weak. Mine only lasted a few months before it broke in half. On the plus side it's cheap and lite.
Price Paid: $3

I really like it. Sure it's not fine silverware, but it works and it is lightweight. I took it on a 1-week scout camping trip as a backup to my lexan knife, fork, and spoon. I ended up using the Spork every day because it was easier to carry in my pocket, always ready to eat, instead of getting the knife and fork from my tent. It was a lot simpler to clean up, too.
One drawback is that the cutting edge is biased for right-handers, so I didn't use it much.
WE LOVE IT!!! My husband and I pack our spork everyday in our lunches; if it is to eat our yogurt overs it is always in our bag! Also great for our camping trips. Price is right, lightweight and durable. However, not the best cutter.
Price Paid: ~$3

Very lovely design. My girl and I were so much fascinated but I haven't felt free using them since I broke the first one I bought several years ago. Plastic is not at all durable. So I had another titanium one ever since.
The light my fire spork works great as a utensil for eating but don't try and cook with it. It will melt if you try and use it for flipping your backcountry pancakes.
Price Paid: under $2

This thing is the bomb. Four colors for everyone in the family. Light as a feather. Tough to break. I would buy it again.
Price Paid: $10 @ REI

Not very practical. Very lightweight. The fork part isn't very deep and won't stab deep into food. It fits odd in the hand too. It has kind of a knife part to it that doesn't make sense seeing as though you'd need a fork to hold food down while you cut it. I bought them cause they are all in one, and super cheap but I think next time I go into the woods I'll buy something else.
This is a handy must-have for the trail or any trip where grub's gonna be! Made of lightweight polycarbonate material, this spoon and fork combo weighs 0.35 ounces and has a length of 6.7 inches. It's heat resistant material which means no getting soft when stirring a boiling pot. I got a chance to test it out in the Tennessee mountains and noticed its pot friendliness because it didn't pull up any of the non-stick surface on my pots. The spork also features serration on one side of the fork to help you hack away at some sausage or slice through some hearty pancakes! The spoon did pretty well in my "soup test," but I felt the depth of the spoon could have been a bit deeper, though it does the job just fine. In my backpacking trips I managed to fit it in my MSR cook set pot.
Over all, I can tell that this utensil is pretty darn durable. It's available in a variety of trendy colors like: red, yellow, blue, green, orange, and pink. It is dishwasher safe and it's just plain simple! Get this spork for your next venture and you may have a few jealous eyes staring back at you...
Price Paid: $3

I love this little utensil. The size is perfect for backpacking and any other use away from home. I have used this thing at all-weekend conferences and everywhere in between.
Price Paid: $1.50

Your Review
Where to Buy
Help support this site by making your next gear purchase through one of the links above. Click a link, buy what you need, and the seller will contribute a portion of the purchase price to support Trailspace's independent gear reviews.
You May Like
Specs
Price
Historic Range: $0.93-$598.00
Reviewers Paid: $1.20-$10.00

Recently on Trailspace