Lowe Alpine Contour Mountain 40

Top 25 in unisex Overnight Packs
The Contour Mountain 40 has been discontinued. If you're looking for something new, check out the best overnight packs for 2020.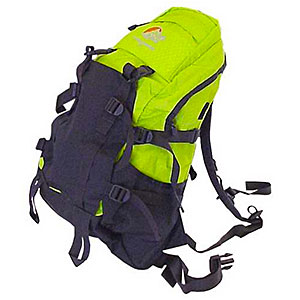 Specs
| | |
| --- | --- |
| Price | Reviewers Paid: $40.00-$99.00 |
Reviews
10

reviews

5-star:

7

4-star:

3

3-star:

0

2-star:

0

1-star:

0
Great pack.
Pros
Just the right bells and whistles
Wish I could get another one.
Source: bought it new

The Lowe Alpine Contour Mountain 40 is the best day pack ever designed. It's my favorite! I have two. I use it everyday. I use it for biking, hiking, day trips, skiing, grocery shopping, traveling, anything!
Pros
Comfortable: ergonomically correct and falls forward
versatile: switches sizes easily
Holds a lot!
Designed to be repaired
The Lowe Alpine Contour Mountain 40 is a wonderful day pack. I would recommend it it anyone. It is designed to fit regular sized women to big men. The fit has quite a large range. The harnesses are comfortable and easy to adjust. On a hot day, with a lot of activity, my back does get pretty sweaty.
The CM40 supposedly holds 40 litres, but is my suspicion that its capacity is much greater. This pack holds a lot and can carry great quantities of weight. The CM40 is designed to fall forward so it rides very close to the body. This makes any size load easy to manage. The compression straps are long, so it transforms from a very small pack to a pretty big pack easily.  The shovel flap comes in handy for more than just the shovel.  It is durable, because it is constructed with 500D Cordura and tightly knit webbing.  
Lowe Alpine packs are designed to be repaired and come with a lifetime warranty, so when the zippers wear out, Lowe Alpine will repair them quickly, at no cost to the customer. I have had my CM40's for many, many years and I continue to use them everyday.  
Source: bought it used
Price Paid: $40

I think this is a great pack. I've used it as a weekender a number of times and have had it out twice for about 5 days at a time. I've carried around 30 pounds on the longer trips, and was able to carry tent, sleeping pad, ground cloth, alcohol stove, a change of clothes, rain gear, food and water, etc. Very nice compression system. At its heaviest the pack was a little uncomfortable on the shoulders, but after eating a day or two worth of food it was fine.
This pack has been in the Grand Canyon, Tetons, on the AT, China, Thailand, Colombia, and other places. It's held up very well, and when clean looks like new. It makes a great carry-on bag. You can put a lot in it and still fit it under the seat, and when you get off the plane you can make tracks. A very useful pack, and money well spent.
Design: rucksack
Size: 2400 c.i.
Number of Pockets: Main plus smalltop pocket and shovel pocket
Max. Load Carried: 30 pounds
Height of Owner: 5'8"
Price Paid: $45

This is a great pack. Had it for 5 years and it never let me down. It's comfortable - carried loads of 20kg (44lb).. it was heavy, and hurt a bit, but not too bad, considering that load. Needless to say, the pack itself shows no signs of distress, even after having slid down rocky mountain sides and used by Lowe as an emergency brake!
The side pockets are really useful for water bottles and tent poles. Contour shape fits snug, and keeps weight lower down, making for better stability.
Pros: Tough, side compression straps, wand pockets, ski-carry system for that extra gear you can't leave behind...
Cons: The waist belt is not padded... but i see they've fixed this in the latest model!
Design: contour
Size: 40lt
Number of Pockets: 1
Max. Load Carried: 44lb, 20kgs
Height of Owner: 1.7m
Price Paid: $89

I've had the Contour Mountain 50 for about 3 years, and liked it so much, I bought a Contour Mtn 40 for snowshoeing (and the Diamond Mountain 30 as a general daypack). I love these packs. The 40 and 50 are no-nonsense, no-bells-and-whistles packs that carry decent-sized loads, have easy access water bottle mesh pockets, and shovel pockets for snowshovels, tevas, a jacket, whatever.
I use the Mtn 50 for overnight summer backpacking when I don't need to carry a tent or a lot of clothes. The pack doesn't look too big; it has a narrow profile, but release the side compression straps and you can shove some serious stuff into that pack. And the zippers are good quality that stand up to years of overstuffing. I've used Mtn 50 for extended eco-vacations as well; and it holds up well to being tossed on top of busses (and off again). And packed carefully (carry your tevas & jacket) and it will fit in airline overhead compartments.
The Mtn 40 is the perfect snowshoeing or other winter sports. It's just big enough to carry my shovel, extra clothes and food, first aid kit, camera bag, without any wasted space or weight. Ski or trekking poles can be easily attached to daisy chains and loops. The only complaint I have about the Mtn 40 is that the waist belt is a wimpy nylon strap (Mtn 50 has a standard backpack hip belt), so you can't pack a ton of weight in the Mtn 40, or you'll be carrying the weight on your back, not your hips.
Overall, though I love these packs and use them all the time. These are great packs even at full price. If you can find them on sale, so much the better!
Design: Internal
Size: 2800 (Mtn 40)
Number of Pockets: 1 + main compartment. Mesh water bottle holders
Max. Load Carried: 40-ish
Height of Owner: 5'8"
Price Paid: $80 (on sale)

A no-frills roomy rucksack that you can stuff to death! Comfortable shoulder straps and a sternum strap that keeps everything stable. The waist belt could be beefed up a bit though. Expandable shovel pocket is also great for sandals or a shell. Great pack for carrying skis too. Overall an excellent pack for the money.
Design: Daypack
Size: 2400
Number of Pockets: 1 Lid, 2 Side
Max. Load Carried: 8-10 kgs.
Height of Owner: 6' 4"
Price Paid: $100 Can.

I bought myself the 50-liter size and got the 40-liter as a gift. Liked them both so much I decided not to return one (kept them both!).
the 50-liter is the perfect ski pack. The reinforced ski slots on the sides make carrying skis (alpine or telemark) easy, secure and hassle-free. Shovel pocket on the outside is very versatile! The pack is the perfect size for ski boots, camelback, food, extra layers of clothes. Then when you get to the top of the hill, take out the ski boots, use the multiple compression straps to squish everything down, and start skiing! It's teardrop shape hugs your body and interferes less with your skiing than any other pack I've tried. It is the perfect Tuckerman's pack!
The 40-liter size is a bit smaller (obviously) and does not have a padded hip belt. I understand that it because it is designed more for ice-climbing -- where a thick padded belt might interfere with your climbing harness. Well I haven't tried that yet, but it sounds logical. But I do use it all the time for day hikes and for hauling climbing gear to the crags. The 50-liter is almost too big for these kinds of things. The 40 is just right!
They are both very good packs. The tear-drop shape is a different strategy than what most companies are doing. It has advantages and disadvantages. I love them both. I would recommend them more for technical kinds of uses rather than pure "trail-walking with a load" though. The lack of a suspension system does hamper them there.
Design: rucksack
Size: 40 liters
Number of Pockets: 2.5
Max. Load Carried: 20 to 30 lbs
Height of Owner: 5.10
Price Paid: a gift

The Contour Mountain 40 has been a very comfortable and conveinient pack. Complete with a shovel pocket and daisy chains, this pack couldn't offer more. It is easily adjustable and extremely comfortable. I highly recommend this pack- it is excellent on day trips and light overnights.
Design: rucksack
Size: 2400
Number of Pockets: 4
Max. Load Carried: 25
Height of Owner: 5'8
Price Paid: $70

I was looking for a backpack instead of the fanny pack I had been using for search and rescue operations I had looked at some other packs that looked great and then I saw the Lowe Alpine CMM40 and decided it was a quality pack. It is but the weight limit should be carefully watched, the pack has no frame therefore it is tough on the person carrying it when it is overloaded, it is very rugged and I wouldn't ask for more in a rucksack, If you aren't going to get it look for a pack that has the same type of flap because it is the best feature next to compression straps and good padding, it can carry everything from shovels to camelbaks.
Design: Rucksack
Size: 2400
Number of Pockets: 3
Max. Load Carried: 30
Height of Owner: 5'10"
Price Paid: $99

The Contour Mountain 40 is the best skiing pack I have ever used.
The compressions straps can make the pack paper thin when carrying a light load. The pack fits very comfortably. Unlike some packs well placed buckles make adjustment easy so the contents will not move around during descent. Its only problem is that the hip belt is unpadded.
Design: rucksack
Size: 2400
Number of Pockets: 3
Max. Load Carried: 30
Height of Owner: 6'0"
Price Paid: $80

You May Like
Recently on Trailspace