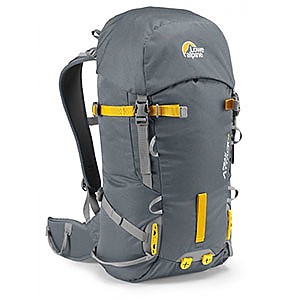 Specs
Price
MSRP: $95.00
Historic Range: $76.97-$99.95

Weight
0.95 kg / 2 lb 1.5 oz

Volume
42L / 2,565 cu in

Reviews
1

review

5-star:

0

4-star:

1

3-star:

0

2-star:

0

1-star:

0
The Lowe Alpine Peak Attack is a 42L classic, single compartment mountaineering -inspired pack. With those uses in mind the pack boasts added durability without a weight penalty, weighs 950 grams, and includes glove-friendly features (zipper pulls, buckles and grab loops) and a unique ice tool attachment system.

This pack would be best for winter mountaineering, summer backpacking, or as a large day pack for hiking or cragging.
Pros
Buckles
Backpanel and hipbelt foam
Multiple haul points
Harness compatible
Fit
Cons
Bivy pad/ framesheet
Backpanel breathability
Specs (from Lowe Alpine):
Volume: 42lt / 2565cu.in

Weight: 0.95kg / 2lb 1.5oz

Back System: Moulded

Fabric: 300D Nailhead
Comfort:
This pack fits me better than a well tailored suit. For reference I am 6 feet tall, 165 lbs and ordered the size large pack, I have a longer torso (20.5"). The shoulder straps are contoured so there is no rubbing, and the length is perfect, maximizing the efficiency of the load lifters.
I contacted Review Corps wizard Seth after I received the pack to inquire about the foam used in both the backpanel and hip belt; the best I can describe it is it is like a firm memory foam. Turns out after hearing back from Lowe Alpine that it is just standard EVA (Ethylene-vinyl acetate) foam.....I'm not buying it! Unless it's been sprinkled with some magic fairy dust, then this is not the same quality EVA I'm used to, it is far superior.
I'm not new to EVA foam either. I've seen it, used it, slept on it. Maybe there're far differences in quality of foam, as there is with almost everything, and I'm used to some second rate stuff. Let's just say it's worth the price of admission. For me it strikes the perfect balance of enough firmness to provide some support and rigidity, and enough softness to pad and contour to the body.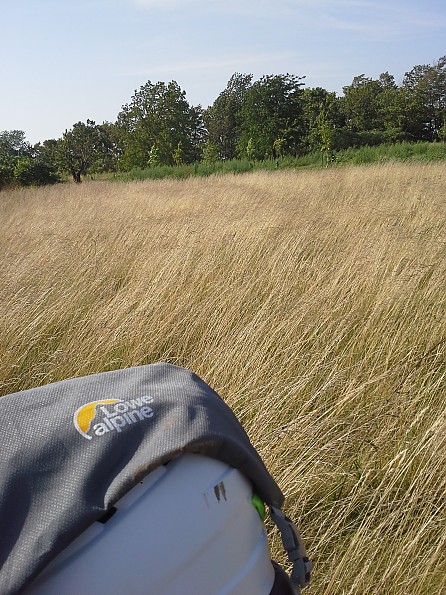 The sternum strap is adjustable to four different heights, and the ranges are sewn to the shoulder stars so there is no chance of it riding up on you.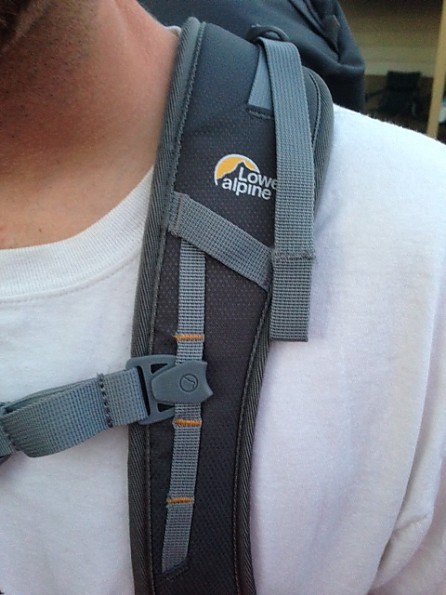 The hip-belt is perfectly sized for me (33 inch waist), wraps the hips nicely, and boasts gear loops on each side. I don't really use the gear loops as I have enough on my harness, but that brings me to my next point....the pack is harness compatible. It is a good follower's pack, albeit a large one, but still suitable.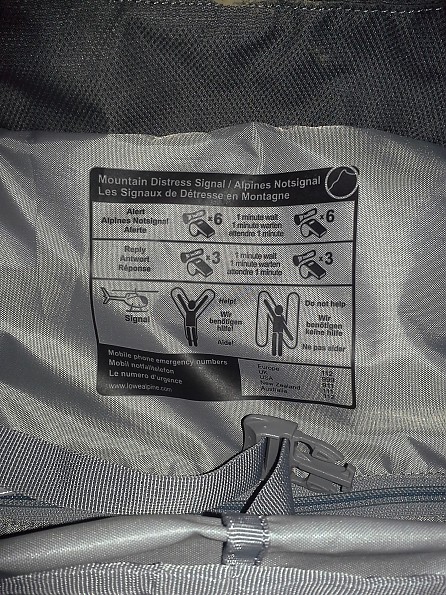 My one negative, and it's a small one, in this category is the breathability of the back panel is not its strong point. It can get a little hot on warm days, but then again this is not as much of an issue in winter.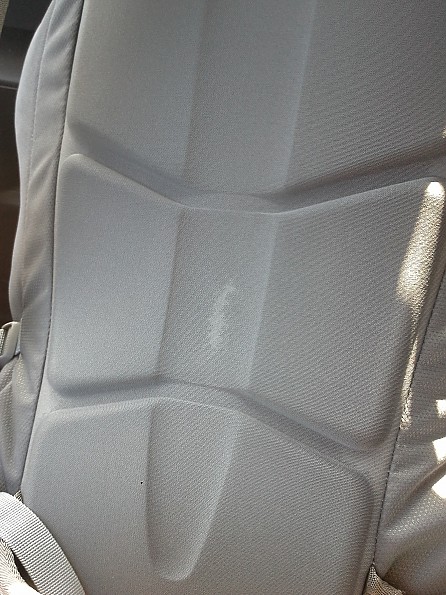 See that little light grey part? That's the only part that wasn't covered in sweat! 
Organization & Accessibility:
What can I say about a single compartment mountaineering pack? This one all comes down to how organized you are. There are two pockets in the lid, one with a key fob, and the large single compartment. Don't pack it well and something is hard to find, well, that's your own fault. The rucksack design is about as tried and true as you can get in a mountaineering pack. The interior is a little dark, grey fabric, which doesn't lend you any favors in that regard.
There are lots of lash points on the exterior of the pack, I've used them to clip climbing shoes, chalk bag, anything you don't want to dirty the contents on the inside. I think this will be especially good come winter time- crampons, snow shoes, ice axes, etc. The interior also has a hydration bladder sleeve and buckle to keep the hose organized.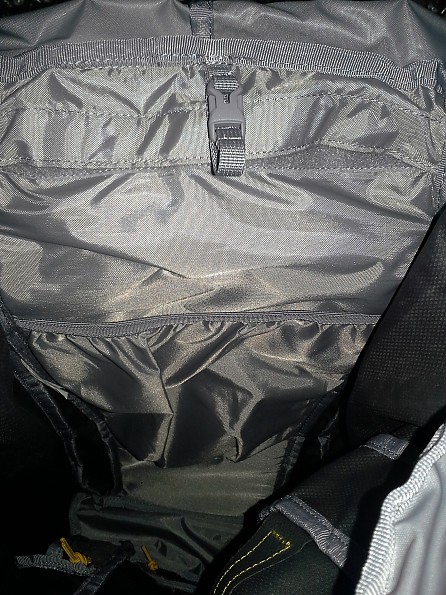 Ride:
Again, it's all based on how well you pack it. As it in the larger region for a frameless pack should you not evenly distribute the load, especially near the top of the pack, it can be uneven.
My only other small gripe with the pack is the framesheet is not up to par with the quality of the rest of the pack. It is small, not soft enough to offer a bivy option, yet not firm enough to offer any rigidity to the pack. I have either just gone without it, which is just fine at lower weights, anything up to say 25 lbs, or used a framesheet from another pack (hint: the Klymit Airbeam framesheet works really well in this pack!).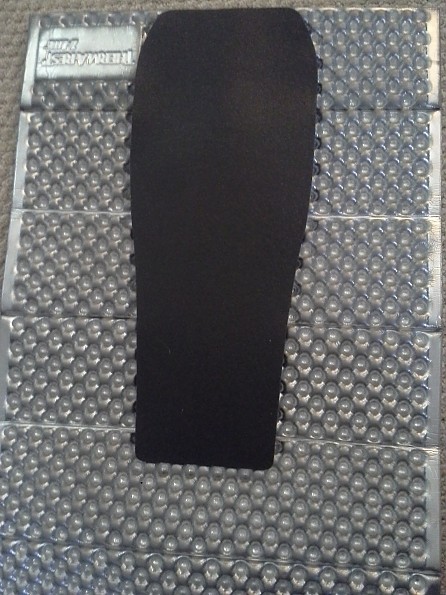 (Shown against the Therm-a-Rest Z-Lite for scale)
There are two compression straps on each side, which double as your ice axe and trekking pole holders. The design take some getting used to but works fairly smoothly.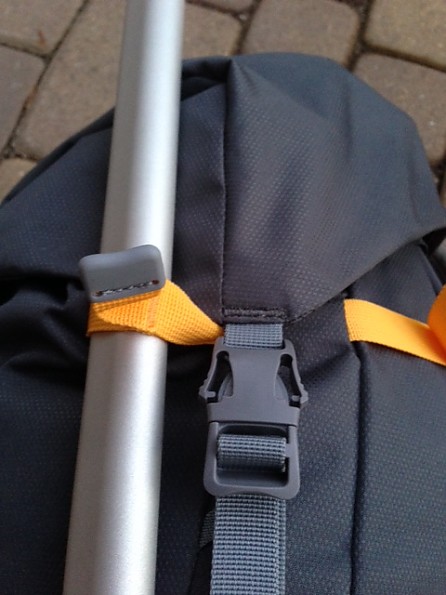 (Closeup of the buckles I love, and compression straps) 
Other:
Headlocker: The ice axe attachment system Lowe Alpine is calling its "Headlocker" is designed to work with all modern day ice tools, both mountaineering and vertical axes. It is basically a bar that slides through a hole on the head of your axe and holds it firmly against the pack.
I like the ease of getting at the tools but I see two small drawbacks — one is it is made of plastic, I'll be interested to see how it hold up to the winter time freezing and thawing/being beaten by tools, and two, the picks of your tools are exposed. Personally I like the sleeves used on some packs as an added protection for the tool.
Trekking pole carry: Secure and accessible, yet still out of the way should you need to scramble. Small hole to hold the tip of the pole at the base of the pack and run the handle up through the compression strap. Done, easy.
Only issue is that the same part of the compression strap is expected to hold the ice axe and trekking pole. I can really see a trip where both of those are necessary at the same time but that could be a problem, maybe?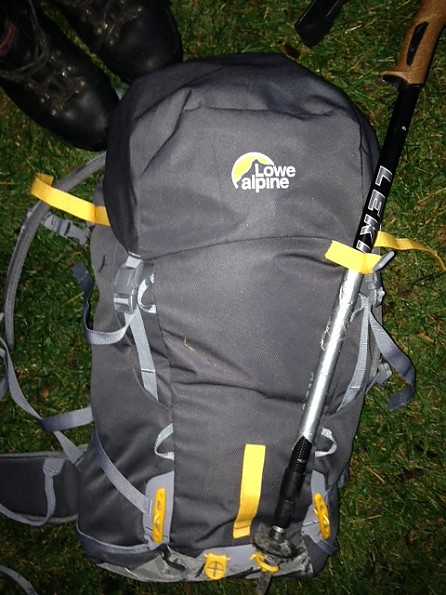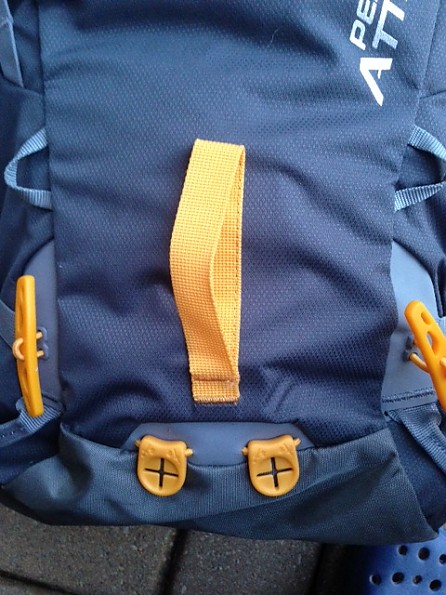 Nailhead fabric: The pack is made from a burly 300D Nailhead fabric. Cool name aside, it is quite abrasion resistant, moderately puncture resistant, and minimally water resistant. Used mainly on rock so far the abrasion resistance has been welcomed.
I glissaded (see: awkwardly slid) down a rocky slope, half on my behind, half on the pack, with no damage to speak of. It's been caught in the vestibule of my tent with a sideways rain coming down and soaked, had to move it inside eventually (see my review of the Sierra Designs Flash 2 to read about my frustrations with that vestibule).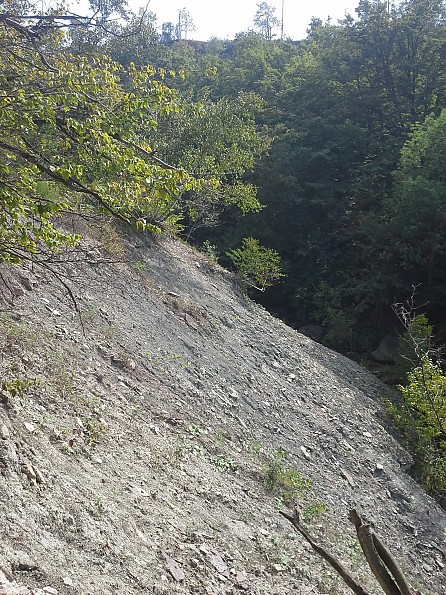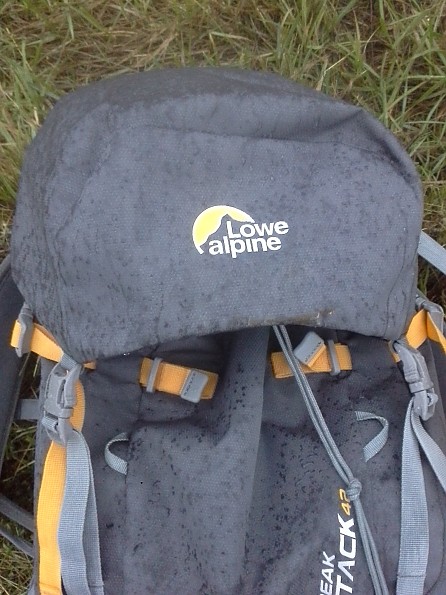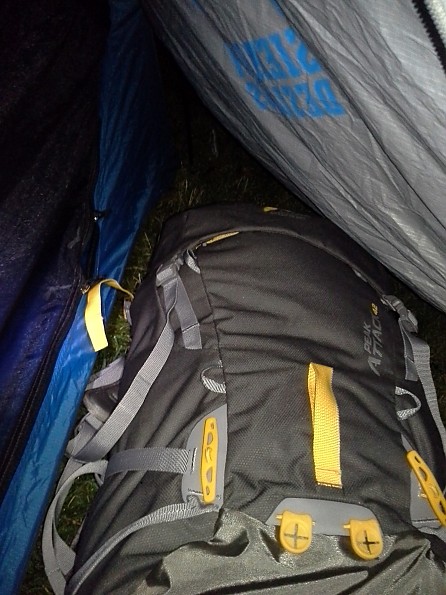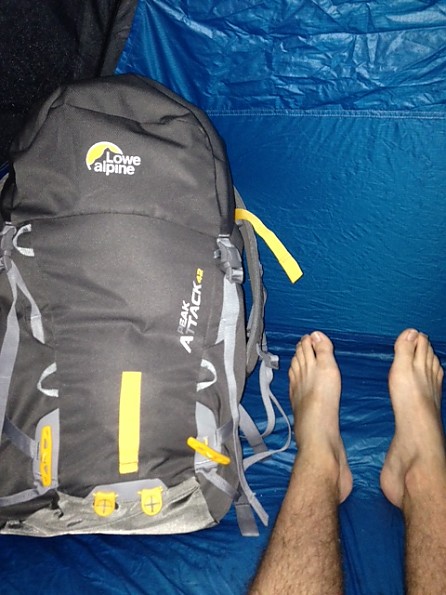 Conclusion:
This is what you'd expect from a manufacturer who has been making packs for almost 50 years. They get the major things perfect, things like fit and quality of materials. They understand the niche of each of their packs. With the Peak Attack you are getting a durable, lightweight, comfortable pack designed to take some alpine abuse. I'd say swap out the framesheet, or leave it at home and you'll be a happy camper, or hiker, or climber, you get the idea!
Testing/ Tester: I am a 6 foot male weighing 165 lbs, with a 20.5" torso and ordered the size medium/ large pack. I have been testing this pack for the past three months. Activities includes hiking, climbing, cragging, biking, and travelling.
Most days, as you'd imagine, since I've been testing the pack during the summer, have been rather warm. I'm looking forward to further testing this pack for what I've believe to be its best use — winter. The 42L size lends itself well to the added bulk of warmer layers and more gear. I'll be adding to my review once I have a chance to put it through the ringer this winter.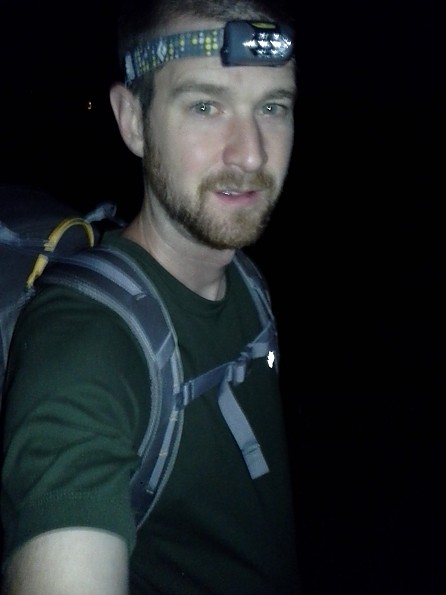 —My thanks to Trailspace and Lowe Alpine for the opportunity to test this pack. Please feel free to ask any questions that I'd be able to assist with.
Source: received for testing via the Trailspace Review Corps (Sample provided by Lowe Alpine for testing and review)

You May Like
Recently on Trailspace