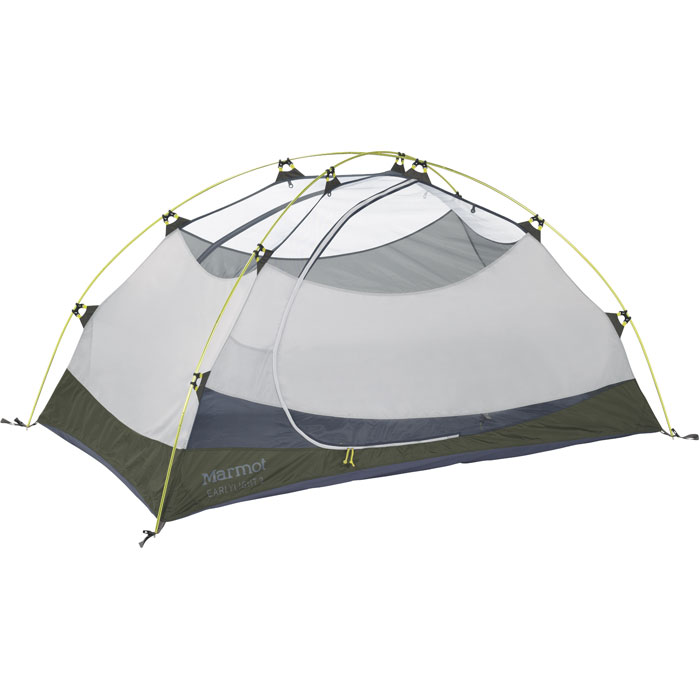 Specs
Price
MSRP: $219.00
Historic Range: $128.95-$229.00
Reviewers Paid: $159.00-$190.00

Maximum Weight
5 lb 5 oz / 2.4 kg

Minimum Weight
4 lb 12 oz / 2.2 kg

Dimensions
39 x 54 x 88 in / 99 x 137 x 224 cm

Packed Size
7 x 18 in / 18 x 46 cm

Vestibule Area
11.5 sq ft / 1.1 sq m

Tent Poles
2 / DAC Press-Fit 9.0mm

Floor Area
30 sq ft / 2.8 sq m

Tent floor Material
70d 100% Nylon PU 3000 mm W/R, F/R

Tent canopy Material
68d 100% Polyester Ripstop, F/R

Tent fly Material
68d 100% Polyester Ripstop 1800 mm, W/R, F/R

Reviews
9

reviews

5-star:

2

4-star:

2

3-star:

2

2-star:

3

1-star:

0
Suitable results for the cost.
Pros
Good headroom solo
Luxurious amount of sleeping space if traveling solo
Interior is very bright, cheery (my model is orange)
Fair sized vestibules accessible from both sides of inner
Cons
Collapses under gale force winds (as do I)
Interior is very bright (if you like to sleep in)
I submit this for historical interest as though the product has been discontinued by Marmot, it appears substantially similar to the currently-available Marmot Catalyst 2P.
I purchased this tent used perhaps four years ago from a friend that had used it once and deemed it to not meet his needs (for reasons never made clear, he eventually replaced the Earlylight with an MSR Hubba Hubba).
I have found the Earlylight reasonably easy to pitch in wind and dark of night, though I have found I have a 50% chance of getting the rainfly the right way around, despite the marked ribbon on one of the corners. The footprint is well matched to the shape of the tent and stakes easily, while the fly is attached with with side-release buckles at all corners and easily pulled taught via an integrated ladder lock buckle.
The only incidence I had concern with instability in wind was after setting up in 50 mph sustained winds in an unsheltered location in Grasslands National Park in southern Saskatchewan, Canada. The tent had a tendency to partially collapse which I "solved" at the time by guying additional points and partially dropping the interior mesh tent within the fly and tying the two poles together at the crossover point with additional cordage.
Ventilation has never been a concern in my outings nor has condensation. On that same trip to Grasslands we recorded temperatures of 34°C/94°F. As the park has no trees I had left the fly on to serve as shelter from the sun yet found the tent to (unsurprisingly) serve as a makeshift hothouse.
I have used this tent on solo outings, where the space including gear is luxurious, as well as sharing it with another occupant. Solo the tent borders on too heavy to justify carrying long distances with its associated fly and footprint, but with two people the weight is easily shared. I typically give the footprint and fly to the girlfriends while I take the tent body, poles and pegs. I haven't weighed the items, so I'm not sure who's getting the better deal in that scenario, but it seems to work.
Similarly, solo with all accoutrements the tent is large. I'd be happier to see it pack smaller but it's never been an inconvenience enough for me to leave the tent body at home. The fly/footprint/pole combo is enough to stand as a minimalist option but the aforementioned inconvenience factor has never been enough to offset vs protection from mosquitos, black flies or the cooler Rocky Mountain evening breezes afforded by the high nylon sides of the full combo.
After four years of consistent use I've yet to see any issues with tearing, wear, or longterm use.
To summarize: I've had it up mountainsides (below the treeline) in Alberta and British Columbia and on the open, wind-swept prairies of Saskatchewan—always at a minimum of 7-10 km hike into the backcountry—and to this point it hasn't substantially let me down.
I am presently seeking both a lighter option for solo backcountry use and a heavier, 4-season option for winter backcountry use, as the Earlylight is not quite the tool-for-all-uses that I've pressed it to be up to this point. For short-distance hikes, shared use or car camping in temperate weather I feel this has been an acceptable option.
A cursory look at the aforementioned current-model (2016) Catalyst 2P appears to have increased airflow within the inner tent, and greater support/crossbracing and headroom employed an additional pole while otherwise being substantially similar in design, area and weight.
Source: bought it used
Price Paid: 150 CDN (as I recall)

I am an experienced camper, older in age, and with all experience in the U.S. This is a fine quality tent. The materials used in all parts and components as well as workmanship are above average. 
I have several Kelty and Eureka tents of varying sizes. This Marmot ranks above these products. The clips on the tent beat sleeves and the poles are super light and sturdy. And the since the tent is not "square" in floor plan, the fly must be put on one way only. After the first time you pitch this tent, you will see the pattern on the fly that corresponds to the layout of the tent. this is no big deal. Other reviewers make a negative out of this.
The price is right for a 2P that will accommodate taller persons. Two doors and lots of room under fly for gear. The tent has high and low mesh for good vertical airflow, even with the fly on, since the fly has two vents in it.
Have pitched in the hot and raining. Good ventilation with fly open and no leaks when fly zipped closed. Even though other have comments on zippers, while smaller have no problem with zippers. Light weight and packs small size.
For the price this is a great tent.
Price Paid: $159

I really like this tent. I have used it for three seasons now and in at least three rain storms.
It held up very well for me in the Adirondacks in one storm. I never once had the impression that it was going to fold. During a stronger wind, it would make its way through the mesh, so using this tent when it is cold out would not be the best idea.
Overall, I have enjoyed spending many summer and fall nights in this tent.
Design: Three season
Sleeps: 2
Ease of Setup: Easy
Price Paid: $190

I was looking for a 2 person backpacking tent that wouldn't break the bank. I stumbled across the Earlylight and was impressed with the space/weight ratio. I'm 6'3" and fit comfortably in this tent. It has enough height a accommodate sitting up, and the dual vestibules are nice for my gear.
After a couple nights out in Florida on some cold nights, I was sold. I stayed 100% dry in this tent. Other friends of mine had some condensation built up in their tent, but the Earlylight stayed very, very dry. The 2 vents in the rainfly do a great job of ventilating the tent. It does well in wind also.
The one drawback I've found so far, is that the guylines are not reflective, which is kinda tricky in the dark when walking around the tent. Other than that though, I have no complaints.
Design: 3 season freestanding 2 person dome
Sleeps: 2
Ease of Setup: very easy, except the rainfly takes a second to figure out what direction if goes
Weight: 5 pounds fully packed
Price Paid: $159

I like Marmot products and I bought this tent so I didn't have to take my 4 season tent to North Dakota in September. It's a nice little weekend tent if you're near the car, or home but not for back country. I saved money and weight but that was the extent of it.
I spent 4 days on lake Sakakawea in central ND and it collapsed on me in a bad rainstorm. Additionally, the zippers are light and get stuck. Rule #1: It's OK to save weight but not money.
Design: three season free standing
Sleeps: 2
Ease of Setup: Easy to set up even in the rain.
Weight: Light enough for one to carry.
Price Paid: $189

The good news is that this tent is lightweight and well-ventilated..... the bad is that this tent is lightweight and ventilated.

So, it rolls up small, feels like a feather in your pack, and sets up in a flash. In warm weather you'll stay cool and dry. The sun makes this thing literally glow.

But as soon as the weather turns, things get less fun. The multitude of screens means that chilly breezes enter unimpeded. There are screens parallel to where your body is when prone, meaning the winter pours straight into your sleeping bag. If it rains, you'll find that even with all the lines staked down, the rain fly is about 2 inches short on both ends.

The plastic sunroof is a cool idea, but ultimately pointless and at times uncomfortable. There is no way to close the window, meaning that at any time, anyone can just walk over and look into your tent. If it's sunny, the tent is bright enough. At night, for star-gazing, the view is muddied by the screen and plastic - just go outside!

If you want something cheap and light but still high-quality, and you'll be camping in good weather, go for it.
Design: 3 season freestanding dome
Sleeps: 2
Ease of Setup: Fast, Simple
Price Paid: 140

High expectations, disappointing results.
Pros
Easy to set up
Nice roof vents can be opened from the interior
Color and windows add brightness to tent interior
Cost
Cons
No headroom
Sagging interior walls
Poor workmanship
Zippers do not pull smoothly
Interior doors do not open wide enough
Unable to control airflow
I have been canoe tripping and wilderness hiking for 33 years and needed a new reasonably lightweight two-person tent. When I purchased the Marmot Earlylight I was expecting a better quality tent. It certainly is a higher quality tent than a Kelty or a Eureka brand, but that isn't saying much.
After a little practice this tent is easy to set up. The fly doesn't extend too far from the main body, which makes it easy to set up in tight wilderness locations. The vestibules are adequate for my needs, since I hang my covered pack on a tree during the night, and can fit my boots and several small items underneath.
I found the design and the fit of the fly to be excellent; water is shed far from the tent and the height of the fly is just the right distance above the ground when staked out.
My most serious criticism of this tent is the design and workmanship of the main tent body. After several camping trips, and many nights of claustrophobia, I had my seamstress wife cut and resew the walls so that they would not hang on my face during the night (even when fully staked out).
I am only 5 ft 10 inches in height, and my sleeping bag only 6 feet long, so the advertised 88 inch length should have been adequate for my frame without any adjustment at all. My wife ended up taking 4+ inches (!!!!) out of the head-wall. It still sags over my head, but at least it isn't laying on my forehead any longer. The foot of my sleeping bag still gets damp from rubbing against the drooping end wall.
The tent is advertised as 44" (feet) and 54" (shoulders) wide yet the walls slope in so steeply to the apex that two people cannot sit up at the same time without one of them getting knocked out of the tent. With the tapered tent design there isn't any possibility to sleep head-to-toe and avert the head-room problems.
During the three trips I have used this tent with another person we had to take turns prepping for bed and getting into our sleeping bags. The same routine is necessary for the mornings, but in reverse. Additionally, there is barely enough floor room, when using lightweight air mattresses, for the screen netting to clear the edges of the sleeping bags as it tapers to the ceiling.
I would hate to be trapped in this tent with another person during inclement weather. Essentially, this is a 1-person tent, and borders on being a heavy tent for 1 person to carry.
The airflow through the Earlylight is terrible. I expected much better with the great roof vents. With only one bottom vent along the base of the door and limited upper netting on the main body this tent gets hot and stuffy on summer nights, even under the forest canopy and with opposing vestibule doors pulled wide open. I get better venting with my winter tent than I do this one.
The lower vents cannot be closed in any way, which means that in colder weather (early spring, late autumn) all incoming air flows across ones face and upper torso, which makes for some chilly drafts. This tent has poor venting options resulting in a tent that is comfortable in only a very small range of temperatures.
I purchased a Big Agnes Jack Rabbit SL2 for my son as a graduation present about the same time I purchased the cheaper Earlylight for me. My experience in using both is that the Jack Rabbit is a superior tent and it weighs less than the Earlylight. I wish that I had purchased two of them rather than wasting my money on the Earlylight.
Source: bought it new
Price Paid: Cannot remember

I live in the UK and bought this tent in June 2010. I have just returned from a few weeks in the Outer Hebrides of Scotland and had to move into a simple hostel after just seven days because the tent was not stable/wind/rain proof.
It was pitched in an exposed position on a remote island because I wanted to test it out to the max. It was quite tricky to erect in a moderate wind and once up would not stay 'square'. When the wind increased, along with rain, the side of the fly pressed against the inner and the fly-vent lifted, allowing rain through to the inside - and onto my four-season down-filled sleeping bag!
Sorry, Marmot, but this is a lowland tent suitable only for low low wind conditions. I've had £40 Blacks/Millets tents much more weatherproof than this. If I'd known, I would have bought a more expensive/weatherproof tent -- but the dealers obviously aren't aware of this tent's limitations.
Sleeps: 2
Ease of Setup: no good in moderate to strong wind
Weight: light
Price Paid: £148

Inner tent end walls sag and eat up space. Fly end walls also won't pitch tight. Don't take this tent in a sandy windy environment. Needs simple toggles and cords to hold open doors, has weird bungee/cordlock deals that aren't neat or simple. Zippers aren't readily usable one-handed.
You May Like
Recently on Trailspace