Marmot Ether DriClime Jacket

The Ether DriClime Jacket has been discontinued. It was replaced by the Marmot Ether DriClime Hoody.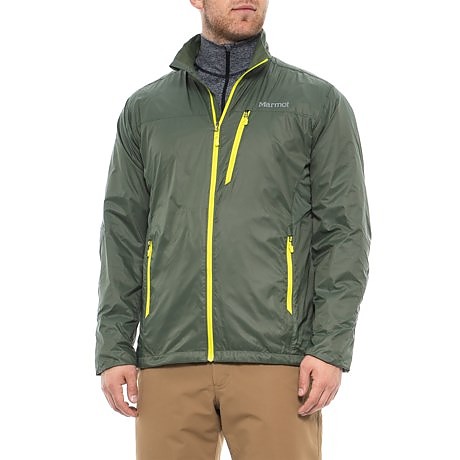 The Marmot Ether Driclime Wind Jacket is just about the only piece of my outdoor clothes closet that always gets packed—year round. It's a great wind jacket that keeps the chill off in a solid breeze through major wind gusts, is water repellent, and breathes well while providing some insulation.

The perfect "not too hot – not too cold" shell for my metabolism on most trips throughout the year. Light and quick-drying, it's difficult to find a reason to leave it behind.
Pros
Lightweight
Dries quickly
Wicks away sweat
Wind resistant
Water repellent
Insulating inner layer
Generous pit vents
Trim fit but comfortable
Cons
Lining limits warm weather use
Athletic fit may not work for everyone
Slick-feeling outer fabric
Hood not adjustable (fixed in new Hoody model)
Cuffs not adjustable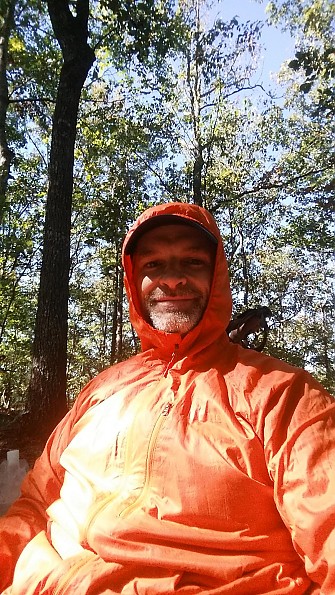 When Trailspace asked what my most essential piece of gear was for the Reviewer of the Month article a while back, I decided it should be a piece of my kit that I carry on every trip regardless of weather. Since I don't hike much in mid-summer heat (I usually switch to canoeing for a couple of months), the easy choice was my Marmot Driclime Ether Wind Jacket. 
NOTE: This is the older Ether Driclime "Jacket" with hood, not to be confused with the newer "hoodie" model currently with adjustable hood or the "jacket" without a hood.
Usage:
I have had the Marmot Ether DriClime for well over a year and used it in many seasons (fall, winter, spring, and early/late summer) on more than 30 nights of backpacking. This included temperature ranges from 10 degrees to mid-80s, with winds from steady breezes to strong winds over 40 mph (wind chills down to -15). 
I have worn the Ether DriClime in light and heavy rain (the latter under an outer rain shell), as well as sleet and a little snow. Trips included several hundred miles of trails, and a lot of off-trail bushwhacking through scrub, rhododendron thickets, and bogs. Most usage, except around lunch stops and camp, was while carrying a 20 to 30 lb pack.
Design/Construction: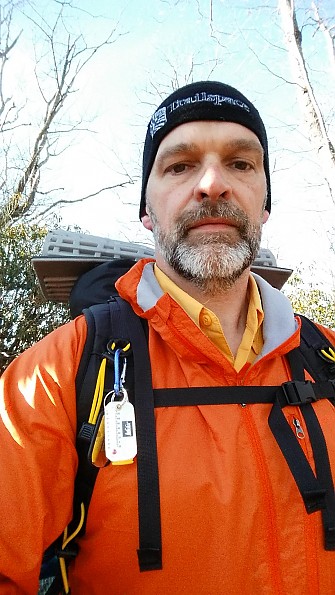 The Marmot Ether Driclime Jacket (with non-adjustable hood) is an earlier version of Marmot's current selection of wind resistant insulated outer layers. It is an athletic cut that fits my 6 ft 170 lb build very well but may not fit everyone just right.
The hood, cuffs, and hem are elastic without being uncomfortable, and the hem has a drawstring adjustment but the hood and cuffs do not. The outer layer is ripstop nylon with a thin fleece-like lining of 78% polyester and 22% nylon.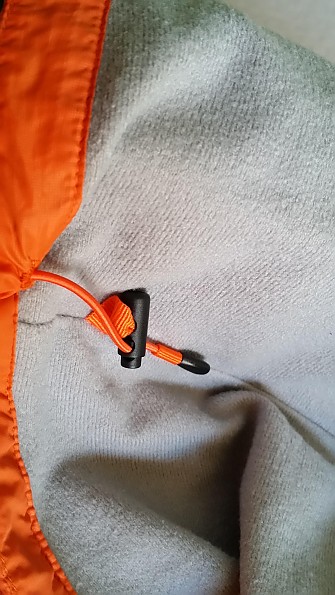 The hood has a rollup option with a simple snap that loops through a hoop at the back of the jacket.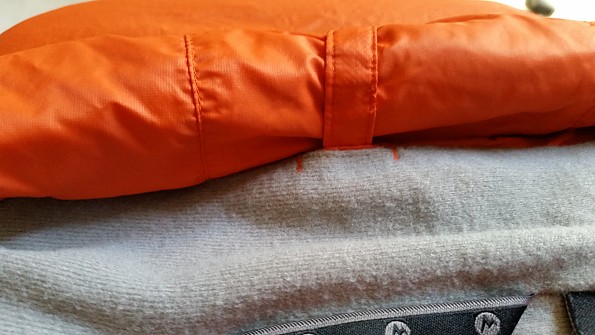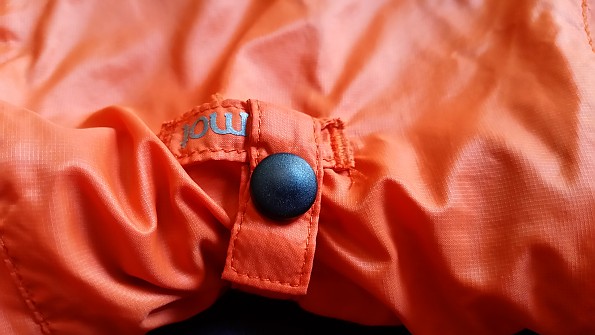 The two hand pockets are lined on the body side by the fleece and outer side by the shell. A chest pocket on the left side is mesh lined with a small loop inside which allows the jacket to be stuffed in the pocket and carried or hung by the loop.


Two generous mesh vents are built into the underarms.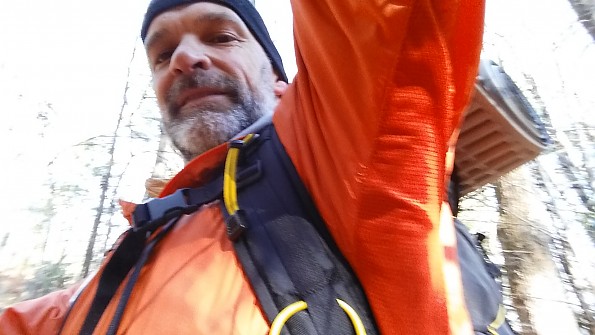 The inner lining stops about halfway between my elbow and wrist, and the remaining length is just the outer shell.  No lining is in the hood. The jacket comes in a variety of colors, and I like the blaze-orange hunting safe color for my favorite fall shell.
Weight/Packability:
The Ether Driclime jacket weighs under 10 ounces, and packs within its own chest pocket to a 3 by 5 inch approximate shape.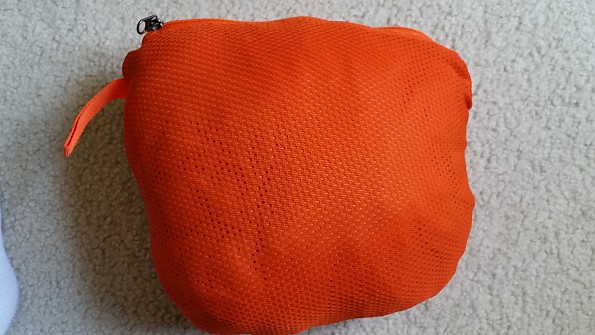 However, it is so light and easy to stuff into empty pack space that I just prefer to stuff it in a pocket or part of the pack so it is easily accessible, as this is the piece of gear that I would add first in many weather conditions.
Performance:
Wind Resistance & Insulation
The Ether Driclime does an excellent job of blocking wind. I wear it over a light polyester t-shirt in warm weather (50-70 degrees) and haven't suffered any "chills" from wind up to 40 mph. Above 70 degrees, I don't usually worry about wind protection, but would probably suggest a non-lined version for that range. From 30 to 50 degrees I usually wear a Capilene base layer with the jacket over it and this combination is fantastic.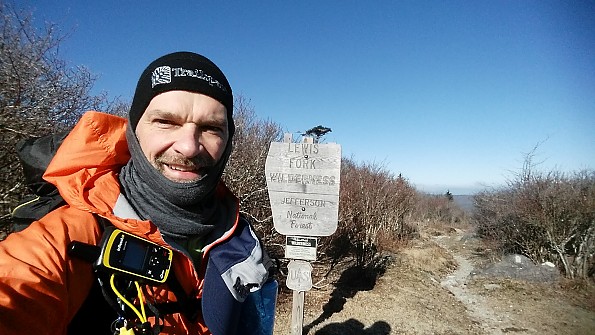 Below 30 (down to about 10 degrees with a wind chill to -15) I have worn the Ether Driclime over a light fleece and Capilene base layer and have not been cold until I get to camp.
Rain Protection
Marmot claims this jacket is "water resistant" and I agree. At first, I would quickly throw a rain jacket over it, but as I became more familiar with its capabilities I use it to protect from light rain and mist without worry.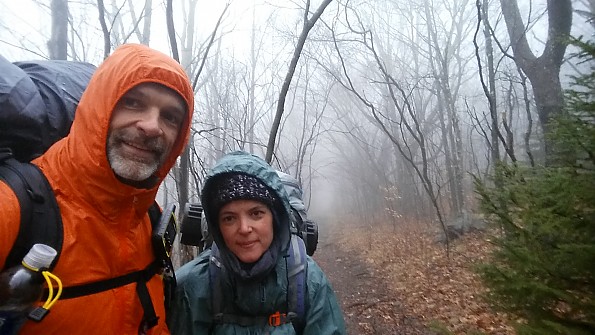 It will eventually wet out and is not suited for heavy rain, but dries in just a few minutes of sunshine or dry wind.  Now I use it as my primary protection for short rain showers in warmer temperatures when I know my body heat and the sun will dry it out later. It also gets used as my primary shell in misty conditions. 
The one application it is not suited to very well is as a second layer under a waterproof shell—I usually opt for a light fleece for that.
Breathability
The Ether Driclime breathes about as well as I can expect, given that I am a sweat factory with a high metabolism. The large pit vents do a good job of allowing moisture to escape and the lining wicks very well.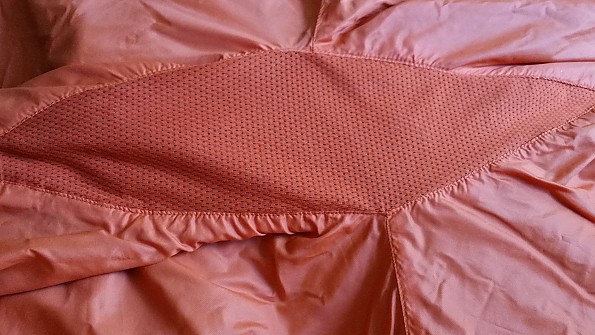 Marmot stopped the lining short of the wrists where you might overlap with gloves, and this helps to reduce the number of layers and heat build-up there. I do experience some dampness around the wrists when moving at a steady clip in anything near warm (above 40°), but as mentioned above the Ether DriClime dries so quickly this is not a concern for me and I usually use the non-lined portion as a vent by rolling back the sleeve.
Fit/Comfort
As mentioned earlier, this is an athletic cut jacket that is relatively trim but not too tight. It fits me well, but if you are a body builder or tend to the larger side it may be too snug. I would not like a looser fit as wind resistant shells should avoid flapping around. The elastic around the hood and wrists is form fitting but not tight, and the hood turns with me when I look around and doesn't block vision (I usually wear a runners cap or something else underneath). 
The inner lining is soft and not irritating. The outer shell is soft but is slick-feeling, which some may not appreciate. The hood rolls up nicely and is so soft there is no discomfort at the back of your neck.
Durability
This was my biggest concern with any wind shirt or jacket. However, I have been really pleased with the durability of the Ether Driclime. I spend a lot of time off-trail scrambling through all sorts of vegetation and tend to be rough on my outer shell layers.
The Ether Driclime has experienced a few nicks and scratches, but the performance has not seemed to suffer. I had to search quite a while to find the couple of damaged areas pictured here, but neither has allowed water to get in during rain.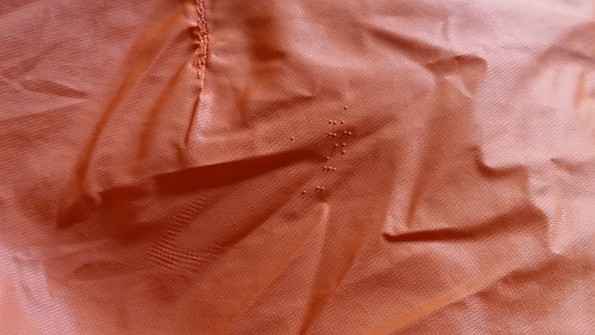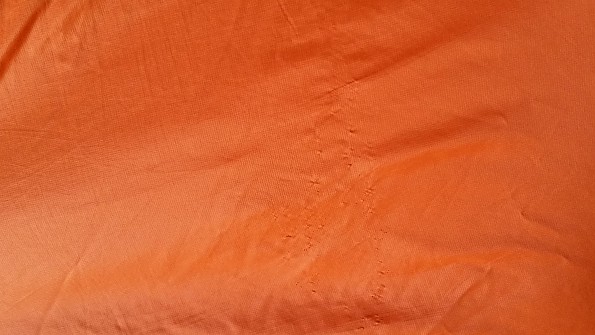 I have found no wear along the shoulder or belt strap locations, and the lining looks like new. There is one minor nick in the mesh lining of the chest pocket, but it has not spread.
Conclusions/Recommendations:
This is a key piece of my clothing system for backpacking in anything but consistently warm weather. The balance of wind/water resistance with the light lining make it a great "shoulder season" shell for those who tend to the warm side like me, and is an integral part of my winter layer system.
If this one wears out, I will be trying the new model (with adjustable hood) as I rely on the Ether DriClime to keep me comfortable in a wide range of temperatures and weather conditions.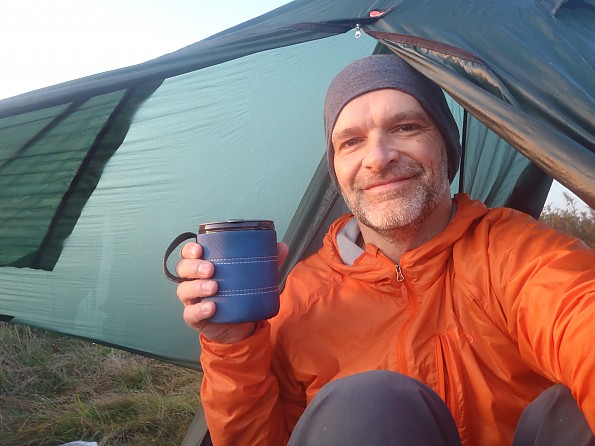 Source: bought it new
Price Paid: $62 (on sale)

Moisture Management.
Pros
I much prefer wearing this than getting clammy and wet under Gore-tex on the trail.
Cons
I wish the front zip went about 2 inches higher.
I agree with the points in the other review. I wear the Ether full time next to my skin alone when on the trail hiking/backpacking in CO and WY in the 20°F to 65°F range. So many conditions like wind, rain, sleet, grapple, snow flurries can happen at my typical altitude range of 8k to 11k anytime.
In the warmer temps I sweat a bit, but this manages it nicely by drying quickly. So I just lower the front zip and keep it on. 
Source: bought it new

Your Review
You May Like
Specs
Men's
Price
Historic Range: $44.98-$100.00
Reviewers Paid: $62.00

Women's
Price
Historic Range: $25.73-$100.00

Recently on Trailspace