Marmot Limelight 4P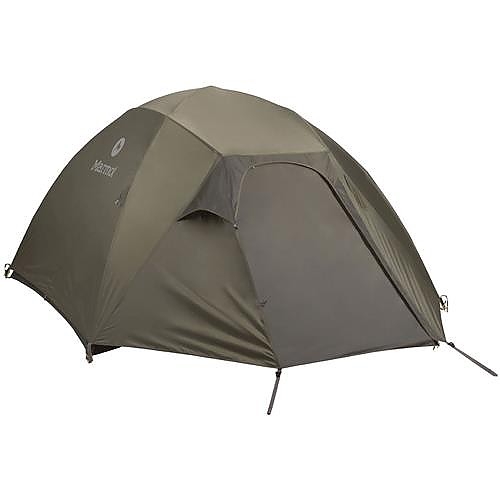 Room with a view!
Pros
Accurate room for four adults
Near vertical walls increase liveable floor space
Two quad zippered doors offer many options
Full coverage rainfly
Cons
Heavy interior rainfly condensation in cooler climes
Four corner orange-colored webbing dirties quickly
No tension adjustment on included loose fitting footprint
I have been searching for what I want to be the perfect 3/4 person tent for several years. I have owned scores of tents over my lifetime and still possess some of the great classics that serve me well..but I wanted a packable 3/4 person tent that is both reasonable in weight and dependable in usage.

When considering manufacturer cred, square footage, features, weight and cost...I made the plunge and purchased the Marmot Limelight 4P from a website store of goatworthy fame. View Marmot's web page for all technical specifications.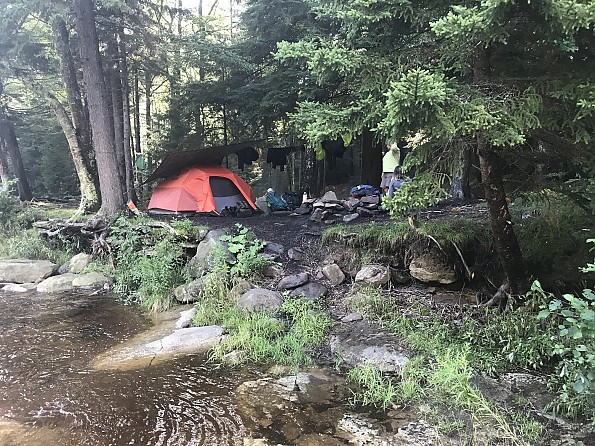 Upon receiving the Marmot Limelight 4P, I immediately took the time to set everything up on my porch to survey construction quality, fit, and finish. Without need to consult the instructions, the Marmot Limelight pitched quickly within less than five minutes.
I always take time to inspect stitching, zipper function and seam taping on the tent body and fly of any tent I purchase. The tent body clips that attach to the poles appear small and thin, but functioned properly. The quality was good, as I anticipated, with only one small "run" in the netting overhead. It comes with decent "twisted" aluminum orange stakes and reflective orange guylines.
One item that could easily be avoided if instructions were read and observed, in attaching poles to the tent body...pay strict attention to the location of the center clear-plastic clip that mates the two major orange tent poles. It possesses the attachment disc for the tent body clip to fix to...you can erect and attach the tent poles with the attachment disc facing skyward, rendering it useless and must detach the poles and essentially flip it upsidedown. Pay attention to that key piece before placing pole tips in the corner grommets and you're golden.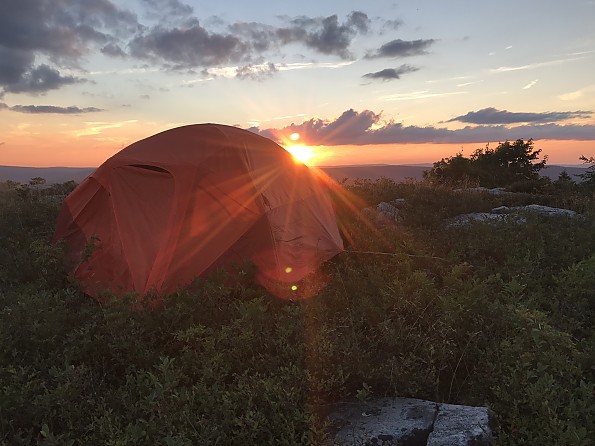 Another feature I was looking for is higher nylon on the tent body sidewalls, which it seemed only the Limelight series offered. My desire for this is two-fold: Greater protection from blowing sand and frigid winds...and greater "fly-less" privacy. I recently purchased, used, and sold an unnamed noteable brand tent that eliminated all "fly-less" privacy... experiencing blowing sand and howling frigid temps in the High Plains drove me to burrow deep in my bag...and coated all tent contents with dirt and sand. So far, I am more than pleased with the Limelight's higher nylon sidewalls.
I appreciated the large doors and multiple zipper options. Being slightly older than some and after a lifetime of bodily abuse...larger tent doors make ingress and egress much easier. The Limelight also has a featured pocket in the bottom center of both doors which allows you to entirely unzip the doors and stow it away in this door "garage," out of the way of messy feet and ground. Little "light diffuser" headlamp pockets are in two areas of the tent body mesh roof.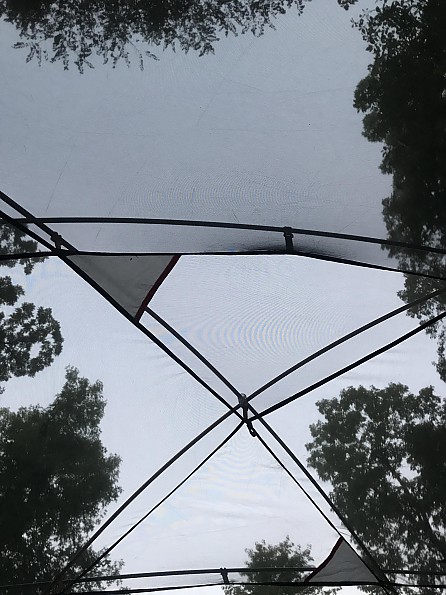 Speaking of storage pockets, there are double pockets in the four corners. Of perfect size for my nightly items and I found they do not sag, when the tent body is staked properly.
I am weight conscious, but by no means an "ultra-light" type of person. I am comfort driven, so I'm willing to trade off on certain items...like the three main "S's": Shelter, Sleeping pad, and Sleeping bag. These items can be slightly heavier if they provide multi-faceted comfort for me.
So yes, I do pack this nearly 8 lb tent in my backpack for extended wilderness jaunts. I want to sleep in comfort, and if weather bound...I want to move about without going "stir crazy." One might suggest a 3P tent...well, I've tried...my choice of sleeping pad eliminates today's 3P tents. My "K" sleeping pad is 33" wide/3" thick...it's true. So two of those utilize every square inch of tent floor real estate in a 3P.
On that note, three of these "K" brand 33" wide sleeping pads stole every ounce of floor space in the Limelight 4P. But that is what I needed on this recent family trek, there were three of us. The everyday average size sleeping pad would permit four sleepers in the Limelight 4P.
Absurd as it may seem, I purchased the Limelight 4P based solely on a few reviews...sight unseen. Strangely in SW FL, we don't have outdoor stores that carry quality namebrand products to tangibly view and handle. So I was banking on the claims of increased usable by reviewers. They were accurate...at 6' I can be seated erect nearly anywhere in the tent...headspace is amazing. Although, with that "boxier" construction, I noticed the fly caught more wind rather than deflecting it...but it was not a cause for concern.
I expected the rain repellancy of the fly and floor to be trustworthy right out of the box...and it was. We experienced torrential rain for about 24 hours and it did not permit water through the fabric and coating.
However...condensation on the interior of the rainfly was abundant! It not only dampened my spirits, it dampened all the tent interior contents. There were large swings in temperatures from day to night, but the only option to avoid consendation on the rainfly interior was to leave it in my backpack...which was not an option in the wilderness we visited.
The rainfly does have pop-out vents with kickstands by each door...but this did not eliminate condensation. The rainfly doors have two-way zippers, allow you to zip from the top down for increased ventilation...but this did not improve the condensation problem either. As the condensation got heavier and the rain dropped harder, it would knock droplets of condensation onto the mesh tent body, which would shower us with a spray. Not cool!  When it wasn't raining, a mere brush or hit of the tent body would send a shower of condensation droplets down into the interior.
You can see how the water droplets would run down the poles and drip on the mesh in the photos. Mind you, this is only with three occupants...it would be exacerbated with four. So that is a huge negative. Even in dry climate conditions, you were packing a drenched rainfly each day.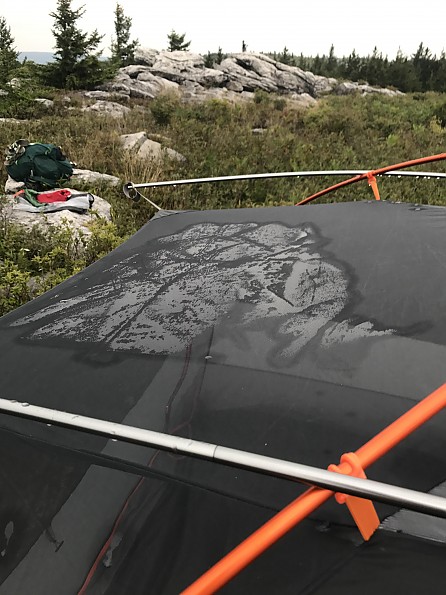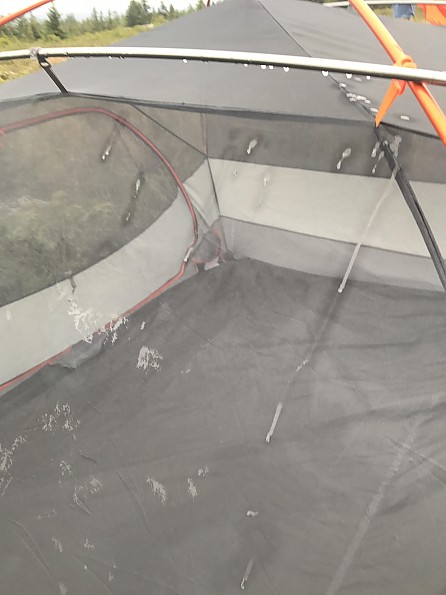 Returning to the positive, I felt the rainfly vestibule was large enough for boots and packs, and still was not too far a reach for the zipper. Some tents I've owned, you really have to exit the tent interior to fully zip the rainfly door. For most, this is probably a non-issue...but in insectopia, every moment the mesh door is unzipped, unwanted and uninvited pests enter.
The Limelight 4P is spacious and comfortable living quarters, but keep in mind the overall footprint...as some backcountry "sites" are not large enough, nor level enough for this large a tent. Campground tent pads or sites were plenty large enough for the Limelight 4P.
Postive and negative. The Limelight 4P comes with a footprint...a positive. The footprint is super lightweight and folds small. I put it in a quart-sized freezer ziploc each day. The negative...I prefer more floor coverage...like two inches short of the tent floor all the way around...and this footprint covers much less, so the wet ground dampens your tent floor unnecessarily.
I also wish the webbing was adjustable, as the pole end grommets would drop off the pole ends unless the tent fly was buckled into the footprint rather than the tent body. Not a deal breaker, but definitely something I would change. Along with that change...I'd ditch the orange webbing on the tent, fly and footprint webbing. It got filthy quick with all the rain, dirt and mud. With black, it gets filthy too...but the dirt doesn't stand out and look as dirty.  Pet peave, nothing more. I would have chosen the green model had it been available.
Overall, I like the tent. I'll have to figure out the condensation issue, or change trekking climes...which I don't foresee occuring. I can't afford to buy expensive tents and sell them at a loss...so it's a keeper.
Would I recommend the Marmot Limelight 4P tent to others? Yes, definitely those camping in dryer, less humid climates. For those in the East...you too will have to figure out the condensation issue, but it's a worthy shelter.
Source: bought it new
Price Paid: $257 competitor price match

Best 4 Person Tent. Hands Down! - Form, Fit and Function
Pros
spacious and large vestibules
well balanced and durable
jingle free zippers
comes with footprint and gear loft
color-coded poles and snaps
double stitched/boxed stitch guy points
vertical wall entrance for added space
cheap for its category
Cons
a bit heavy — 9lbs
storage bag cannot be used to compressed
need to install the fly and/or close the vestibules for privacy
BACKGROUND:
Been searching for 4-6 person tents here in HK and I was so disappointed on how the outdoor shops here lack the inventory in this tent category. You have options though to get a Chinese knockoff, which is totally out of the picture or go for 2-person backpacking tents from good brands suchs as MSR, Kelty, Snow Peak etc. but you have to buy 2.
So I decided to go and try online stores. So got this tent from Sierra Trading Post during their clearance sale last February. I've paid a total of USD 175 including the shipment to Hong Kong (not bad, really not bad!). Just took me well over a week for this tent to come knocking at my office (went home early, as I was so excited to unpacked and set it up).
SETUP:
I have to be honest, after I've sent my purchased and gave my card information, all I've ever did was search for articles pertaining to this tent. That includes setup videos from Marmot website as well as user submissions in You Tube :-). So basically. I was kinda familiar with the setup before I even got my hands on the actual product
Setting up was about 7-10 minutes and that already includes tightening the guy lines and fly. The snap (I am not a great fan of sleeves) design are a breeze. You could setup this tent from the inside. This is very useful when you try to setup into the rain. I can setup the tent in the order of fly - footprint - tent! The color coded poles and snaps are dumb proof.
The tent has a red colored tabs that would match the tabs on the fly for easy orientation. It secures both tent and fly via Jake's Foot snaps.
The ultimate test was to ask my 8-year-old daughter to assemble the tent. And she did it in about 10 minutes! Perfect!
STABILITY:
The tent design is well balanced! Hands down.
I have taken this tent to Tap Mun Island. This campground is on an elevated grass land and facing the South China Sea. It's been known to be extremely windy at midnight.
Our tent was pounded by around 20-30kph winds coming from the East. The winds started around 1:00am and didn't ceased til around 9:00am.
The tent stood firm and handled it gracefully. In fact, my kids were never awake.
I had 2 bent Y-Stake in though.
WATER RESISTANCE:
When it rains, it pours!
On another outing at Lantau Island. The HK Observatory has issued a thunderstorm forecast and a Red Rainstorm Warning. That means heavy rain has fallen or is expected to fall generally over Hong Kong, exceeding 50 millimeters in an hour, and is likely to continue.
Indeed it continued. From 10:00pm to around 8:00am the following day it rained heavily.
It was a big amazement for me that the fact is I am totally exposed to the elements and the only thing that separates me from it is a couple of millimeter thick nylon. Yet I remained completely dry. Not a single drop has fallen or sipped into my tent.
The wet and rainy morning provided a cozy feeling. My family and I were happily snug in and shared a hot cocoa drink.
CONDENSATION AND VENTILATION:
I had condensation in one occasion during one of those calm nights and wind is nowhere found. Underneath the fly was damped and I got it fixed just by opening the built in vents wide, I used chopsticks which are longer than the built in vent supports. I also opened a bit of my vestibule doors.
PACKABILITY:
The tent is heavy at about 9lbs. But for a 4-person family like mine, it's a small issue as I have evenly distributed the weight with my family. I had the main tent and fly, my son carries the poles and stakes and my daughter carries the foot print.
FEATURES:
I loved the windows on both vestibules. It gives you easy monitoring of what's going on outside.
The four pockets on each corner is a lovely touch. With my family, we own one corner and can stuff it with some personal items.
The reflector guy attachment and Marmot logo not only aids visibility at night but adds beauty to the tent!
Source: bought it new
Price Paid: USD 170 (inclusive of shipping)

As with most tents, 4p=3p, 3p=2p, and so on. Especially if you have a dog ;) We moved up from the Marmot Limelight 3P and so far this has been a great upgrade.
Pros
Ease of setup
Roomy
Price
Cons
Packed weight
Packed size
As I said, we moved up to the Marmot Limelight 4P from the 3P.  At the time when we got the 3p, it was just my wife and me. Eventually we got a dog and we made one attempt at fitting all three of us plus our gear into the 3p.  No go for camping.  We could afford to go bigger.  I found a good price on the Limelight 4p on eBay and snatched the newest model year.
The differences between the 3p and the 4p are the doors. On the 4p they are D shaped and open to the side, on the 3p the door opens to the floor and constantly gets stepped on and stretched.  Big improvement.  There is also improved vestibule space and the rainfly also has a D shaped side opening door.
Setup:
Since my 3p was the previous years model, we had never experienced this color coded pole setup that marmot uses.  All poles has a color and that color has a place. So you when you assemble a blue pole for instance, you clip it in the to the clips with the blue webbing. Very convenient! The poles are of the bungie variety, but are lightweight and don't look prone to breaking.  This tent has two main poles for the structure of the tent (it is freestanding), and two more short poles that support the rainfly and hold the fly out away from the doorways.  Stake down the tent and then stake down the guy lines and you're done.
Use:
We do mostly car camping, and with this tent, you can't really do much else. It weighs in at 9lbs packed. This is a big jump from the 3p which was manageable if you split the weight up amongst people.  Also it's fairly big too.  We just toss it in a rubbermaid tub with our sleeping pads and other gear. It's a trade off but bigger packed in this case means bigger space once setup.
The tent is huge inside.  My wife and I can sleep on one side of the tent and it leaves an entire half for the dog and our gear.  This is the way it should be for car camping.  It has small gear pockets at every corner and also includes a large gearloft overhead.  We were also able to stand up, albeit bent over, and move around.
We haven't had a chance to use it in any rain yet, but our last trip it was extremely windy and cold.  I made sure the guy lines were tight, and the tent held firm and wasn't really even noisy.  I did opt to keep the rainfly on the wind facing side staked a little closer to help block the wind from sweeping up and into the tent.  But like I said, solid as a rock.  This also kept pretty warm and we didn't notice any kind of condensation building up either.
I've been very happy with my two Marmot tents so far, I think they would make a great purchase for you and your family!
Source: bought it new
Price Paid: $260

Following an internet search for a recreational tent for myself, my wife and our small dog, I settled on the Marmot 4P. We are "older" campers (minus the dog), and found this tent to suit all our purposes: Easy set-up; amble room; durability; interior stow away compartments; and simply a cool color (orange for us).
Cons
Would be very tight for 4 people
I seldom rate items, and I do so for the following reason. I would recommend this tent to recreational campers as my wife and I that were looking for a quality tent that is reasonable priced that will deliver in various weather conditions.
I must stress that if you are looking for a tent for 4 people; don't buy this tent unless you are hobbits or teenagers......oh well, nothing against hobbits or teenagers whatsoever!
But if you are looking for a two person tent with amble room that will stand up under "most" weather conditions, this tent is for you! The Marmot 4P for 2P!!!!
Happy Camping to all & thanks to Trailspace which was instrumental in my purchase.
Source: bought it new
Price Paid: $300+/-

This is a great tent! It's easy to put up and comes with footprint and gear loft. Roomy and rainproof, perfect for family camping. Love the color, too.
Pros
Rainproof
Easy setup
Roomy
Cons
One more window in the rainfly would be nice
Setup was easy. It is very stable in wind and rain, stayed dry and comfortable in Pacific Northwest and on the beach. Ventilation was great, we love the windows. Very roomy, the gear loft is awesome, plenty of room for people and gear.
Easy to pack, small pack size for larger tent makes is easy to carry, fairly light for a larger tent too! Easy to use, holds up well, time after time, lots of use, it's still perfect.
Source: received it as a personal gift

I love this tent!
Pros
Its low footprint makes it aerodynamic and wind resistant.
The storage vestibules are great for chairs or extra gear.
Comes with its own drop cloth to fit the tent.
I am a 5 foot female who typically camps with the Boy Scouts as a leader/chaperone. Therefore, I needed something that I could put up by myself that was quick and easy. I can have this tent up in 15 minutes rain or shine. This then give me time to help with setting up our camp kitchen and/other tasks. 
It's lightweight, safe, and durable. The small corner pockets are great for storing eye glasses, keys, and small flashlights. 
Source: bought it new
Price Paid: $375

Your Review
Where to Buy
Help support this site by making your next gear purchase through one of the links above. Click a link, buy what you need, and the seller will contribute a portion of the purchase price to support Trailspace's independent gear reviews.
You May Like
Whether your outdoor adventure takes you to the remote reaches of Alaska or the Appalachian Trail, you'll be at home in this four-season, four-person Limelight tent. It sets up fast and easy using the color-coded clip and DAC pole pitch system. All seams are fully taped for a watertight seal. The canopy and rainfly are made of 68 denier polyester ripstop, and the fly has an 1,800 mm water-resistant coating. The floor features 70 denier nylon with a 3,000 mm waterproof coating. The Limelight 4-person tent comes with a tent repair kit, gear loft, and footprint.
Features:
Lightweight DAC press-fit poles
Welded, waterproof port window
Set up just the fly for a bare-bones, lightweight shelter
Fully taped and waterproof catenary cut floor
Floor seams lifted off the ground
Light-reflective material for locating at night
Multiple internal pockets for personal belongings
Nylon zipper pull and flap
Features "Velcro-weld" technology
Specs
Price
MSRP: $379.00
Historic Range: $198.95-$408.00
Reviewers Paid: $170.00-$375.00

Max weight
8 lbs 8 oz / 3850 g

Min weight
7 lbs 15 oz / 3605 g

Dimensions
54 x 81 x 92 in | 137 x 206 x 234 cm

Floor area
51.7 sq ft / 4.8 sq m

Packed size
27 x 9 in | 68.6 x 22 cm

Floor fabric
68d Polyester Taffeta 190T 2000mm F/R

Fly fabric
68d Polyester Taffeta 190T 1500mm F/R

Canopy fabric
40d 100% Polyester No-See-Um Mesh F/R | 68d 100% Polyester Taffeta F/R

Recently on Trailspace