Specs
Price
MSRP: $495.00
Current Retail: $524.21-$699.00
Historic Range: $363.32-$699.00
Reviewers Paid: $375.00-$500.00

Maximum Weight
8 lb 6 oz / 3.8 kg

Minimum Weight
7 lb 10 oz / 3.5 kg

Dimensions
43 x 56 x 93 in / 109 x 142 x 236 cm

Packed Size
8 x 20 in / 20 x 51 cm

Vestibule Area
10 sq ft / 0.9 sq m

Tent Poles
6 / DAC NSL Poles

Floor Area
38 sq ft / 3.5 sq m

Tent Floor Material
70d 100% Nylon 5000 mm W/R, F/R

Tent Canopy Material
40d 100% Nylon Ripstop, F/R

Tent Fly Material
40d 100% Nylon Ripstop Silicon / PU 1800 mm W/R, F/R

Reviews
7

reviews

5-star:

5

4-star:

1

3-star:

0

2-star:

1

1-star:

0
Good and sturdy, had poor seam strength at door zipper seams, and Marmot replaced the tent quickly.
Pros
Nice design, like the color, reflective tabs make locating tent in darkness very easy.
Overall sturdy.
Color creates a nice ambiance when inside with daylight.
Cons
Poor seams at door zippers were taken care of by Marmot replacing the tent.
None since replacement tent arrived.
Good design generally, but poor strength at zipper seams in door. Where the door zippers turn from horizontal to upwards the zipper to tent fabric seam pulls apart after two or three camping trips. Even with careful/delicate use of the zipper second time and second door seam has pulled apart at the stitching.
To qualify I have 50 years of camping experience and many tents have lasted me 15 to 20 years, but not the Marmot tent.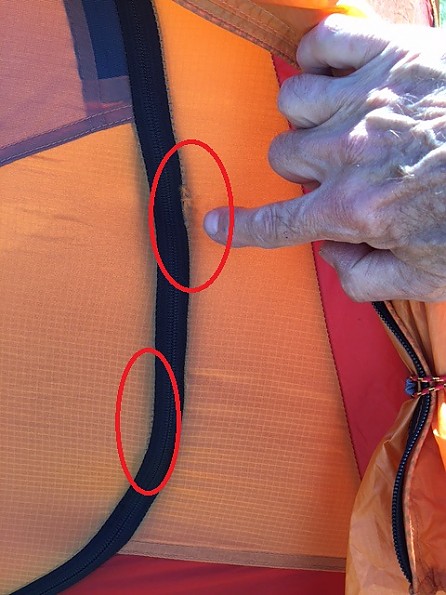 This is the second door tear. The other door, repaired last year, was much worse as I could have put my hand through the hole. This one I can put my finger through. This I caught early. 
Since the last post I have spoken to Marmot and they are paying for the return shipping (4th time) and agree that this is very unusual, so we'll see what happens. Maybe I just got a lemon? I will keep updating.

9-22-16 Update:
I have just received a new tent! I got a call from Marmot yesterday and they agreed with me that there must be something wrong with the tent material as it should not have had the problem, especially twice, once on each door. They said they usually exchange the whole tent kit, but they happened to have a new tent which they could part out so I would be getting a new tent only as I wanted. It arrived today (one day service, wow).
Now see below why this was important to me.
In the past I had to also return the tent fly twice for the Velcro tabs and top vent posts that came away for the seams. The tabs and posts are heat welded onto the seam. The post seams gave out on the second use, probably from the heat of a California summer (Yes, I had the fly on in the heat. Different story). Marmot re-welded the posts and returned it.
This past summer I was camping in 80+ degree weather and on breaking camp I noticed the Velcro tabs lying on the ground, never having even been used. The post tabs had come away as well. Back went the fly to Marmot who apologized and said they would take care of it as it should not have happened.
I did recommend that they first stitch the tabs and post attachments to the seam and them heat weld them. Well what do you know? They took my advice and I had the tent fly returned the way I wanted it. As an engineer I know a little about how things should be put together whether it be fabric or metal. I am surprised that they did not say a word to me, just did it my way and returned it to me.
I am very impressed as this fly will probably now last the 20 years I expect it to.
Let's see how the tent fares. More to come.
6-15-17 Update:
After nine more months of use I find the replacement tent to be without issues. The door zipper has not shown any signs of pulling the seams apart. The operation of the new tent's zipper feels a lot smoother than the first tent and does not pull as hard at the fairly sharp turn as it opens the door.
I think there may have been a problem with the turn angle on the previous tent or the actual fabric may have been faulty to pull apart so easily. Either way the zippers to the doors pull very smoothly on this replacement tent, so I think it may just last em a long time as I originally expected.
As I may have said before, I am very pleased with how responsive Marmot was to my problems and suggestions.
Source: bought it new
Price Paid: $500

Original Review: November 22, 2011

I bought this tent last year and a half. I live in Colombia, South America. Here it rains a lot for days and days, especially in the paramo areas. For this reason, I bought this tent. It is very spacious for two people. It has a large and comfortable vestibule, good ventilation, without any condensation.
I love the color, but this is not important.
It's a bit heavy, but when you feel safe from the rain it does not matter the extra weight.
I am very happy with the purchase and I do not regret anything.
I had problems with the Coverage Fly, but it is already solved. Now I have the 2017 version, I will try it, I will leave my comments.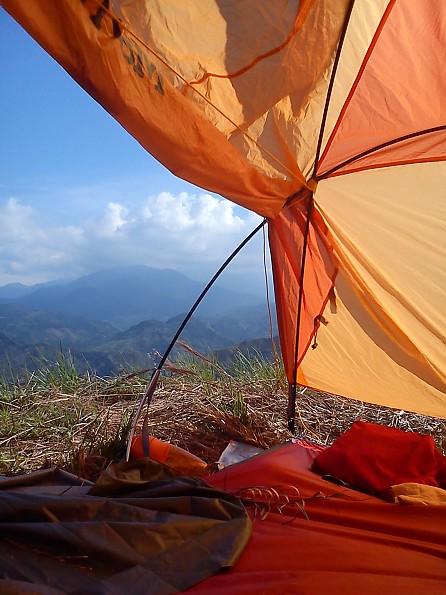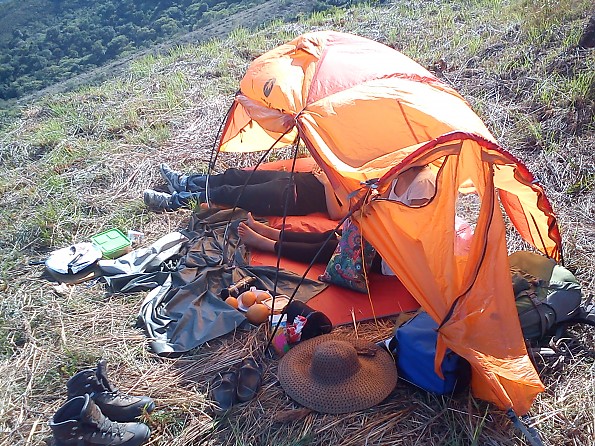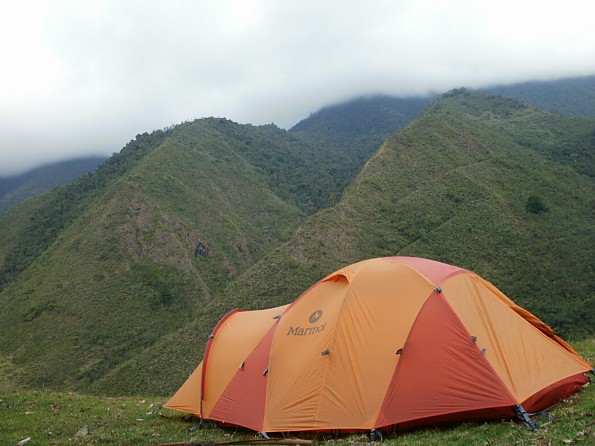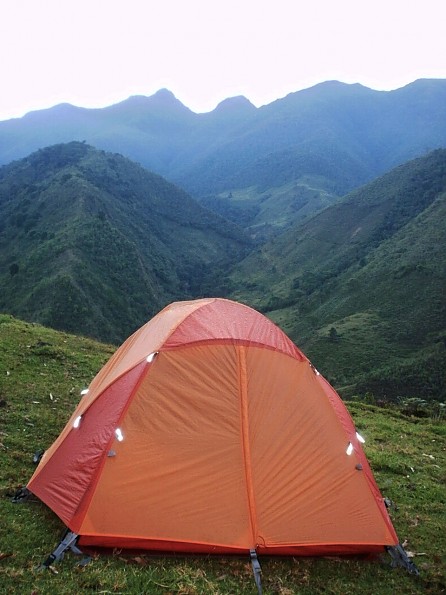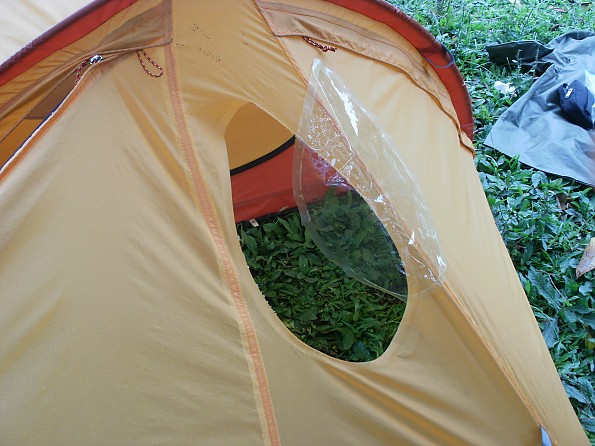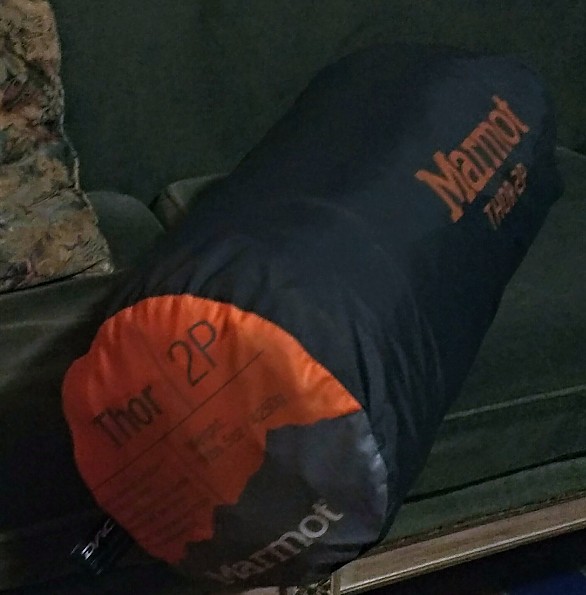 MODEL 2017
This is my first impression of this tent.
I have only used it once, with the previous model despite being a very good tent, I had some problems, but the people of marmot have behaved incredibly well, a little delayed but finally I have my tent.
With respect to the previous model is a little shorter 221 (236), higher 112 (109), wider 147 (142), changed the poles, have no knees and are easier and faster to install (still 6 poles) .
It has a Poled Vestibule in the front, and another Vestibule in the back, the one of the front has 2 configuration options one with Trekking Pole, and the other with 2 access doors, the ventilation is crossed, although the windows are bigger I think it is not more efficient than the previous model possibly can influence that the tent fly has flaps around it and difficult the entrance of air, is very comfortable for 2 people, could fit up to 3, (very fair) but is incredibly spacious, I used in a wet forest, with rain, there were no problems, a little bit condensation, this time I was alone, with another person it may be a problem.
The access doors are large and comfortable, the main access door has double wall one is completely in mesh, which improves ventilation, Zippers work very well, although at the beginning they are difficult to handle.
PROS
Very spacious
2 vestibules, 2 accesses
Easy to set up
Strong and solid
CONS
To heavy 4.8 kg (10,58)
A little condensation
Update: June 11, 2017

Is a strong and solid 4-season freestanding tent, very spacious and good design.
Pros
Very spacious
2 vestibules, 2 accesses
Easy to set up
Strong and solid
Cons
Too heavy 4.8 kg (10,58)
A little condensation
This is my first impression of this tent.
I have only used this new model once. With the previous model, despite being a very good tent, I had some problems, but the people of Marmot have behaved incredibly well, a little delayed, but finally I have my tent.
With respect to the previous model, it is a little shorter 221 (236), higher 112 (109), wider 147 (142), changed the poles, has no knees, and is easier and faster to install (still 6 poles).
It has a poled vestibule in the front, and another vestibule in the back. The one on the front has two configuration options, one with trekking poles, and the other with two access doors.
The ventilation is crossed. Although the windows are bigger I think it is not more efficient than the previous model possibly can influence that the tent fly has flaps around it and difficult the entrance of air.
It is very comfortable for two people, could fit up to three (very fair), but is incredibly spacious. I used in a wet forest, with rain, there were no problems, a little bit condensation. This time I was alone, with another person it may be a problem.
The access doors are large and comfortable. The main access door has a double wall, one is completely in mesh, which improves ventilation. Zippers work very well, although at the beginning they are difficult to handle.
This is all for now, I will be updating the information.
Source: warranty
Price Paid: $399

I love the clever design of this tent. While most reviews talk about the obvious (floor print size, weight, pole design, etc), few take the time to really use the tent and pick up on the details.
So let me state the obvious...this is a fairly light (about 8lbs) 4 season tent. Which I plan to use 3 out of the 4 seasons (and it's not winter which I'm eliminating). It features 38 ft of living/sleeping space, which is plenty for 2 people. 2 full size adults can sleep next to each other and still have extra space towards the feet. The vestibule has its own pole for extra space.
Now for the small interesting things that I think separate this tent from others, in no particular order.
1. A window through the rainfly in an obvious spot easy to see through.
2. snap buckles for the rainfly. you no longer need to stake the entire rainfly; only the vestibule. thanks to this clever design point you need fewer stakes and its a quicker setup.
3. vent windows on top for cross ventilation and condensation removal. In fact the windows have little poles with velcro to seat the poles in place and hold them there. this allows for uninterupted air flow. The nice thing is that you can close it completely if its raining hard.
4. 2 doors on opposite ends.
5. Color design - highly visible, pleasant to look at from the inside, gives off a nice tone.
6. A combination of pole design takes the best of both. Excellent sturdiness against winds or snow fall, while balancing ease of assembly.
6. Marmot makes floor tarps cut to the exact shape
7. mesh windows have covers which can be closed for maximum protection or allow for extra ventilation.
8. lots of pockets! it has double the amount my 4 person North Face has.
9. snap buckles in the interior allowing the use of the burrito bag (which holds the tent) to act as a supplies bag while inside (very clever).
10. stakes - small, strong well designed.. hold well in a variety of conditions, not just one or two (unlike some others).
11. tensioners between rainfly and freestanding tent body. Gives maximum amount of robustness to the design...less flutter at night in high winds, which can be a real annoyance if you're a light sleeper.
12. Did I mention the nice size vestibule with its own pole?? haha..
OK, that's enough...I hope that shows you what kind of thought went into this tent. It's actually the first product that I took the time to register....why..I don't know...oh, by the way..even if I didn't get it on sale, I'd still be praising this tent design. While none of these design elements are exclusive to this tent, not all, in fact few have the combination that makes it so special.
Design: 4 season freestanding
Sleeps: 2
Ease of Setup: fairly easy
Weight: 8
Price Paid: $379

I previous owned a lot of tents. My favorite 2 person was the Moss Stardome. The Thor is my replacement for the Stardome.
Thor is heavier. Make no mistake this tent is built for gale force wind and heavy weather.
Some features:
-Lots of internal room. Tent is large enough for winter camping in comfort. Its an enjoyable tent to be in. 4 net wall pockets and one net pocket up near the ceiling.
-Tent setup is very easy and intuitive. Setup time is fast after one or two practice runs. If your tent partner helps setup is very fast.
-Full coverage fly covers entire tent.
-Fly and tent floor are factory sealed.
-6 poles – 5 for tent 1 for vestibule.
-Pole sleeves are mesh at the top to help facilitate air flow
-Secondary poles bow out away from tent at bottom which holds tent fly away from tent body.
-Tent has adjustable pole attachment points for primary poles for extreme cold (see below)
-Pole system completely suspends fly over tent – no tent body touch points for condensed liquid on fly to wet tent body
-Secondary poles have webbing which can clip onto steak loops for added strength (first tent which I have seen with this feature).
-Stake loops are reinforced at tent body for strength.
-Best air flow and condensation control of any tent I have owned or seen.
-Top vents in fly can be opened from inside and have small supports to hold them open.
-Ceiling panels open for lots of air flow.
-2 doors, 1 front 1 back. Each door has a zip open window. While this is a winter tent I believe the ventilation is so good it should be fine in all seasons.
-Aerodynamic design sheds wind. Looks like a turtle.
-Tent fly has 16 guy line tie out points for extreme wind conditions – with reflective detailing. Photos on Marmot site and sale sites do not show all the tie outs.
-Tent body has a total of 14 stake loops for survivability in wind. Each of the 4 corners of the tent have 2 stake loops each for the tent body! One is oversized for skis. Of course you don't have to use those. This is a serious tent.
-Color – I prefer tan tents and earth tones. Not sure why tent makers give people who love nature unnatural colors.. The yellow and terracotta are not bad but jeez how about some friendly earth tones?
- On my 2006 model, there is no burrito bag or burrito bag attachment points in the tent and I could care less.
- The vestibule pole sleeve is sewn with the sleeve on the outside of the fly which makes it much easier to insert the pole (unlike other tents where your wrestling under the fly).
-Bug protection is excellent
-Vestibule opens on 2 sides. You can cook in there if you have to – if you don't kill yourself with carbon monoxide.
- Aero design and fabric cut does not flap in wind. It's quiet.
In very cold temps the nylon on tents shrinks and I have been on trips where people snapped poles trying to set their tent up because the fit was so tight. Others could not fully set up their tents below -10 F and colder. The Thor solves that problem with an adjustable pole webbing foot. You can tighten or loosen it. The tent is festooned with useful features. Of course all that adds weight. But they are all features that increase survivability not fluff. Some of the features like the webbing on the secondary poles and the XC ski/I-beam stake loops are removable.
The front and back door, Vestibule with 2 doors make for easy egress and reduce tent mate grumbling. One of you can cook out one door while the other door is still free for the call of nature. If your gear is piled up in the vestibule – use the back door!
If you like to camp on mountain tops with a view, where the wind blows. If foul weather is your call to go backpacking (as I do) you will love this tent. You won't have to worry about being caught out in extreme weather of all types in this safe haven.
If you want one tent that you can use in any conditions, is roomy, and enjoyable to be in but don't mind the weight – you would be hard pressed to find a more survivable tent than the Thor 2p. Survivability, ventilation and livability were designed into this tent. It is the finest example of a mountaineering tent I have seem Marmot (or anyone else) build. But it is not light weight.
You can remove the straps on the secondary poles and some other stuff to save a little weight if you like.
The tent is mostly free standing except for the 2 stakes needed for the vestibule. You can set the tent up with about 4 stakes or even 2 if you wanted. However if you want to fully deploy all guy outs and loops – it would take 33 stakes! But sleep well, this tent will be standing when the rest of the camp is blown to shreds.
I am very happy with the Thor. I plan on using it on kayak, snow shoe trips, backpacking, winter trips etc. I have lighter tents when weight is an issue. But none are stronger.
You might want to look at the North Face Mountain 25 tent which looks like it was made by the same manufacturer. It appears to be the same basic tent (just about the same size, same peak windows and same peak vent design) re-branded with the NF log and a few changes on the design. I liked the Thor better. There are more similarities than differences…
Design: Mountineering Bomb Proof.
Sleeps: 2
Ease of Setup: easy setup
Weight: Mine weighs in at 10 pounds but it can be striped lighter

I posted a review for this tent long ago but for some reason it did not make it here. I wanted to give you a true story about how strong this tent is. We had been on a fishing/hiking/camping trip in Alaska and caught in a snowstorm that left a foot of new snow on the ground by morning. During the night I used my wind gauge to measure a constant wind speed of 70 mph and gusts of 90 +. The Marmot tent while clearly buffed by the storm had no damage to it then next day.
Later on in the trip a bear came into camp and thought it smelled food in this tent apparently. The grizzly poked and prodded at the tent (luckily we were outside camp at the time watching the bear) but gave up after an hour. Upon inspection of the tent again no damage but a lot of bear drool.
On our way back and the last two days of the trip I was bit tired and not thinking clearly. I pitched the tent under a large spruce tree for the night. The next morning it was kind of windy and just as breakfast was over a large tree branch from the spruce snapped and fell directly on the tent. The tent was of course flattened as the branch fell from about 30 feet and weighted over 70 lbs. Had I been in the tent I likely would have been killed.
When we pulled the branch off the tent it sprung back to shape. There was no damage to any of the poles at all. There was no damage to the tent itself except for some tree sap on it. Bear drool, tree sap and no damage to the tent after all this.
This tent has paid for itself many times over on just this one trip. You cannot buy a more durable well built and put together tent. I would state that anyone saying otherwise clearly is not giving an honest review.
Design: 2 person
Sleeps: 2
Ease of Setup: Moderate
Weight: - 9 lbs
Price Paid: $375

Good tent, though bent poles and useless fastex clip design present an Achilles heel. I used this on a major trip to Alaska. During a snowstorm, most of the poles snapped, demonstrating that weakness in design is not worth the tradeout in the miniscule space gained by the "elbow" pole system. I like the idea of having more room, I just don't think it's worth the tent failing -- mid trip! Testing, testing, testing, in the field, not a lab, before introducing a new concept...
I agree with the previous reviewer (Tom); this is a really well designed and thought-out tent. I use this tent exclusively for winter, and it handles wind and snow very well, but most importantly, condensation is very minimal thanks to the great venting. Very roomy inside, and wondeful color. It also seems like one of the lightest 4-season tents out there (at least ones that are roomy enough and have a vestibule), and seems to pack up nice and small in the pack.
Design: 4 season, 2 person
Sleeps: 2
Ease of Setup: straighforward
Weight: about 8 lbs
Price Paid: $500 CDN

You May Like
Recently on Trailspace