MEC NorthWind

The NorthWind has been discontinued. If you're looking for something new, check out the best four-season tents for 2023.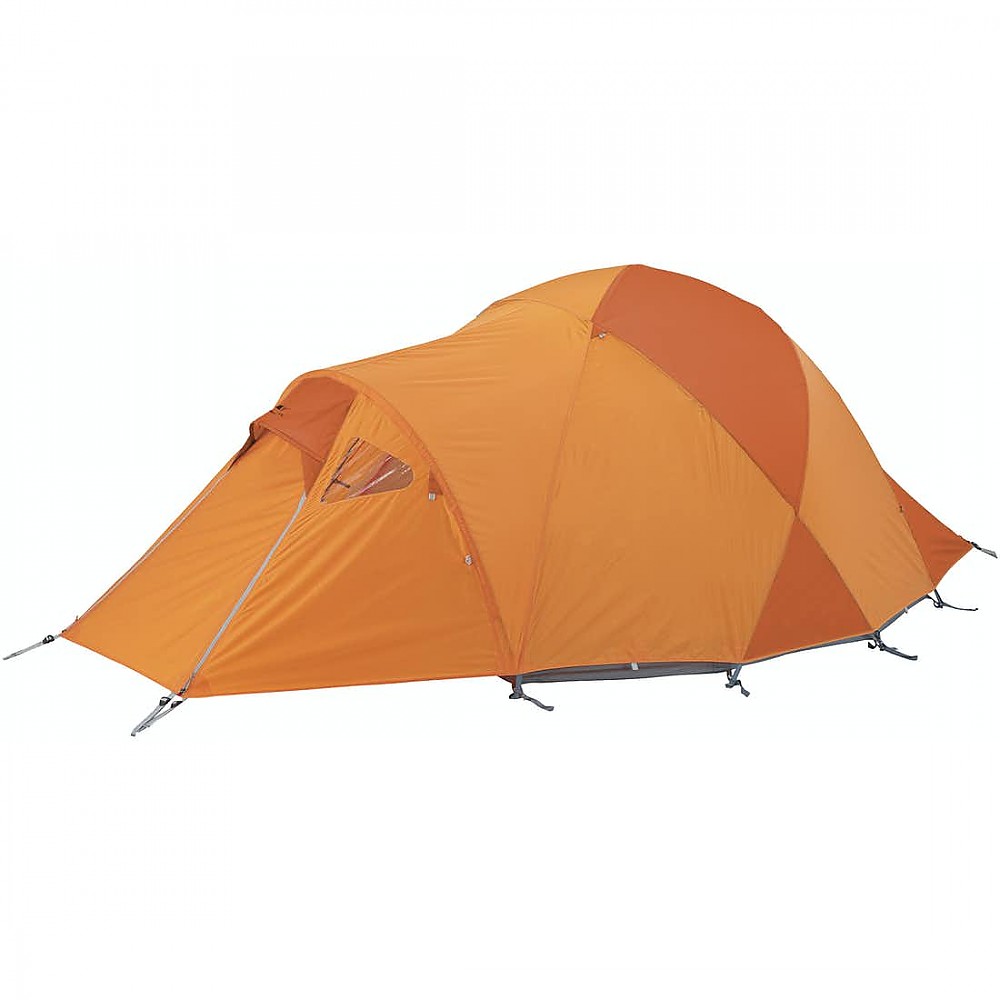 I purchased this tent two years ago. I've slept in it for approx. 50 nights since. I can tell you that this tent is Bombproof!
I've slept in it in -37°C with 90km/h of glacial wind at 1000' in North of 50th parallel.
I've also slept in when it was raining, snowing, raining etc. In the same day without any leakage problem or too much condensation.
I've slept in it near Montreal in the summer of '06 when there was a big storm with lots of wind. (A big maple tree broke and fall at 10 feet of it! My girlfriend was horrified! :P)
I've also slept in Shippagan this summer for three weeks without any problem. It was a bit hot but to be really comfortable, place it under big trees to protect from the sun because the tent is orange and yellow. So the sun heats it very fast.
Don't hesitate to open the door in the night to prevent condensation. The tent is very roomy for 2 people and ok for 3 people. Front vestibule is roomy and has two little windows that tend to be orange with the time. The back vestibule is only for stockroom.
I prefer this tent than Nunatak because the two vestibules are bigger. And this tent is also a bit lighter. By the way the attach system is very nice with all the little clips.
You'll never regret this tent!
Design: 4 season freestanding dome
Sleeps: 3
Ease of Setup: very easy I do it eyes closed
Weight: 12 pounds
Price Paid: 450$ CAD +TX

After lots of deliberation, I decided to purchase this tent. I wanted something that would hold up in the winter here in Ontario, but also something that I could use year-round (ie. half-decent ventilation). I also wanted something as waterproof as possible, and this one fit the bill (has floor waterproof rating of 18500 mm—much more than anything else I researched).
It also has two vestibules (one larger and one quiet small) as well as a zip-out skylight and two mesh doors. The fly also comes right to the ground. The tent comfortably fits myself (average sized male) my girlfriend (average sized), and my dog ("chubby" yellow lab). I purchased a footprint for it as well for a cost of about $45.
I made a few modifications to the tent, to make things a bit easier as well as a bit more weather-proof (not that it isn't waterproof enough right out of the bag).
Here is a list of the easy modifications I made to the tent:
Seam sealed anywhere there was a guy / velcro tie / etc on the fly / floor (most seams are taped, however these areas were not).

Tied string around inside tent ceiling (through hoops) for a make-shift gear loft / lantern hanger.

Used sticky-backed velcro strips (about 1 inch long) and stuck them to the zippered area of the vestibule (4 sets of zippers). Did this to increase waterproofness under vestibule).

Made 2 ties for the guy-lines that I will use when packing up the tent. I always find that when you put the fly on, the guy-lines always get caught on eachother or the tent, making it difficult to pitch alone. Hoping this will make it a bit simpler.

Cut a cheap blue tarp to fit the inside of the tent when I bring my dog (don't want her nails ripping through the floor).
Please feel free to email me with any questions and/or comments.
Design: 5-pole design
Sleeps: 3
Ease of Setup: 10 mins solo
Weight: 10lbs (approx)
Price Paid: $450 Can

All I can say is Brilliant.
The Northwind was one of the only tents to offer all the features I was looking for. Two doors (for great ventilation and access), double vestibule (for better organization of equipment and storage space), 3 people (me, my girlfriend and our dog), 4-season (comfort, comfort, comfort, no matter what Mother Nature throws at you), and cost (most of the tents even $200 more did not come close to offering the above features).
The only negatives, which are directly related to cost are the weight and pack size.
Northwind 1 - Tornado 0
After three fair weathered trips in the Northwind, I was finally able to put the tent to the test. And what a test. The Northwind survived 6 hours of torrential downpours and high winds. As it was my first wet experience in the tent I explored all the seams, zips, ceiling, walls and floor. The tent passed all inspections.
The only minor adjustment I will make is to the back vestibule; I am adding a second set of velcro tabs to the vestibule door to eleminate water leakage from the zipper.
All in all the Northwind is the best buy for a 3-person/4-season tent.
Design: 4 season dome
Sleeps: 3
Ease of Setup: Easy to set-up between 2 people
Weight: 9.5 lb.
Price Paid: $375 Cdn

22 years, 600 nights
Pros
Handled the wind, snow, sun, rain
Did what it was supposed to
Replacing it this year
Cons
Wrecked the door zippers
Fly needs annual waterproofing
A little heavy for normal backpacking.
No longer available.
This tent never let us down. 
Source: bought it new
Price Paid: $500

I think that this tent is a good shelter for two people and it holds up well in snow and wind, but it still will sleep three people good. What I mean is that the vestibule is not big enough for the gear of three people.
There is one thing that can be done to fix that. I ordered a new fly for the tent and used the new fly to add on to the other one. I constructed another vestibule on the other end. It Is the same pattern as the front vestibule and you just have to make the window into a door.
If you do that should have enough room for the gear of three people in the winter. and easier for people to get in and out while you're cooking.
Design: 4-season dome
Sleeps: 3
Ease of Setup: Easy to set up with 2 people because everything lines up more easly but with one person it is not to hard
Weight: 8-9 lbs depends on winter tie downs and dead mans
Price Paid: $375 Canadian

This tent is really solid. The fly covers the whole thing right to the ground.
The fly can hook on to the ends of the poles, or be pegged out for maximum coverage in bad weather. The fly can also be pegged out to form a roomy vestibule. You can roll up the flaps to expose the huge door, and also role up the back of the fly to allow ventilation through the window in warmer weather. The tent also features a skylight that allows for further ventilation, and stargazing.
For added stability in really brutal weather, the fly can be attached to the poles via four velcro tabs on the inside of the fly.
This tent can stand up to a winter in Ontario, or be used as a rock solid shelter anytime for backpacking, or canoe tripping.
I love this tent, and I plan to take it on a 42 day canoe trip in the summer of 1997!
Design: 4 Season Dome
Sleeps: 3
Ease of Setup: Not hard at all. Takes about 5 minutes with 2 people. Colour coded clips make it easy.
Weight: 9.5 lbs.
Price Paid: $375 CDN

Your Review
You May Like
Specs
| | |
| --- | --- |
| Price | Reviewers Paid: $500.00 |
| | $489.00 CAD |
Recently on Trailspace