Meindl Super Perfekt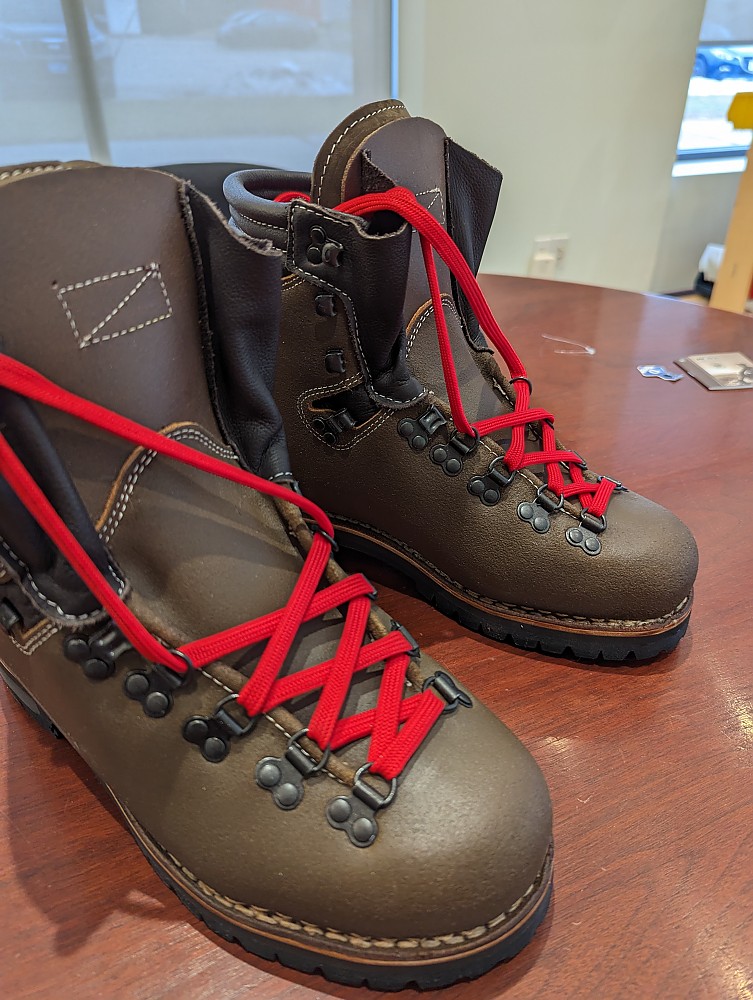 Great "old style" mountaineering/backpacking boots.
Pros
Old World craftsmanship
Bullet proof construction
Quality materials used
Finishing is very good
Cons
Heavy
Slippery on wet surfaces
I was not in the market for a new pair of boots, but I stumbled upon the Super Perfekt online (and on sale) and it was love at first sight.
Less than a week later (thank you, FedEx!) they were on my feet and being broken in. I got a size 9 UK (43 continental) and they are true to size; ample room in the toe box, and quite wide for the toes to wiggle, relax, and be happy.
I have another pair of Meindl's heavy duty boots, the Himalaya, but the Super Perfekt is a class (or more) above in terms of construction and materials used.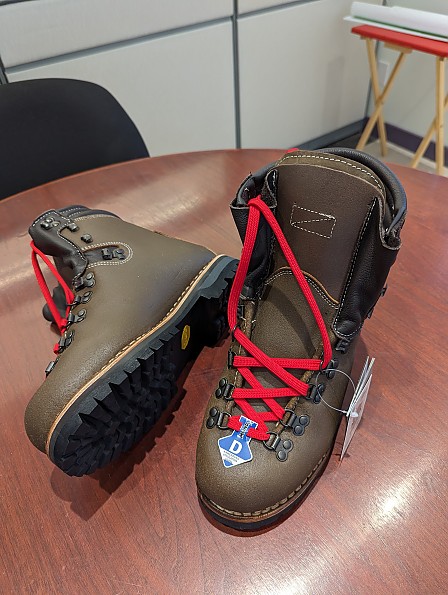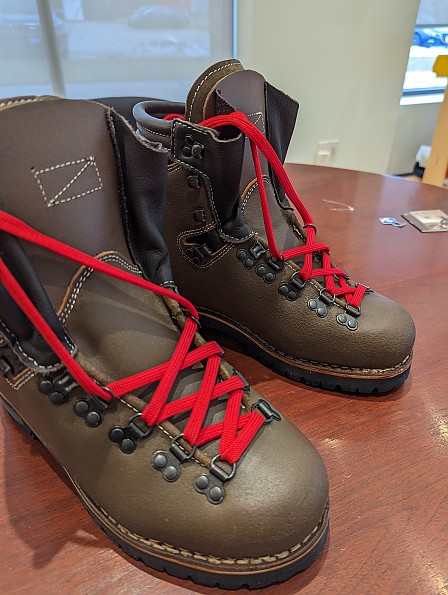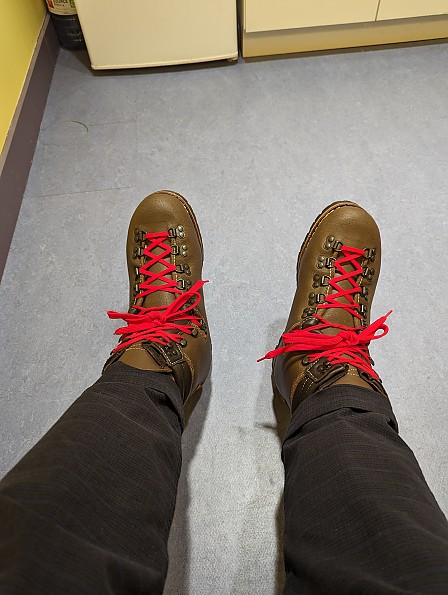 Digression: contrary to popular belief, even boots with glued soles like the Himalayas can be resoled; one needs just a cobbler with the right skill set and proper supplies.
Very stiff out of the box, it took a couple days of wearing around indoors for the sole to start flexing. The uppers are made of very thick Swiss sourced leather that adds to the boot's stiffness but started to soften after a few days.
Have not wore them yet on Mount Kilimanjaro, but there are no friction/pressure points yet and they are not fully broken in. Breaking them in on local trails with Smartwool and Rohner socks, with a thin liner sock for extra protection. Very comfortable already after about 25 Km. However, the sole is very slippery on wet surfaces (rocks, smooth concrete) and on ice.
For maintenance I bought a jar of Meindl SportWax and a couple replacement Barth laces; the Super Perfekt takes 200 or 220cm laces. Not a fan of oils or greases that soak into leather and weaken the structure.
Source: bought it new
Price Paid: CA$516 (€355) all in

Heavy duty and handsome boots built to take a beating. Best boots I've ever worn. Best footwear purchase I've ever made.
Pros
Strong construction
Comfortable after break in, seriously comfortable.
Look great
Can handle any terrain
Pleasure of caring for them
True to size fit
Fit wide feet well
Cons
Heavy and big (see pic, I am size 11.5, 6 feet tall, 210 lbs for reference
Stiff at first
Very expensive
Require diligent care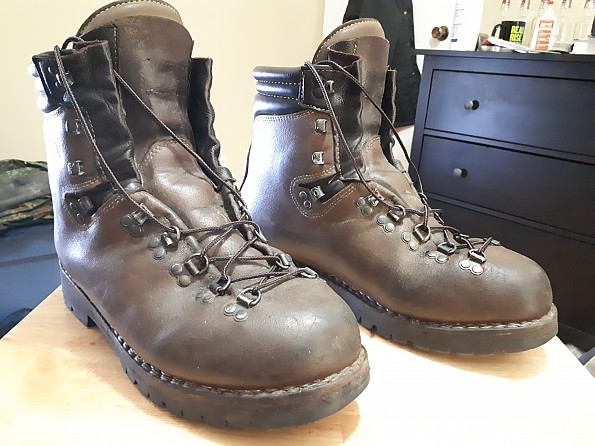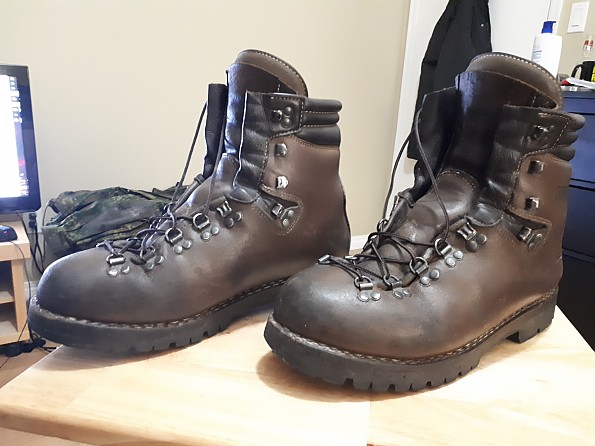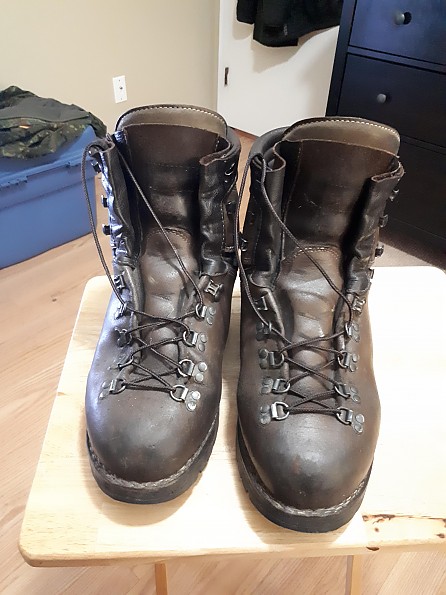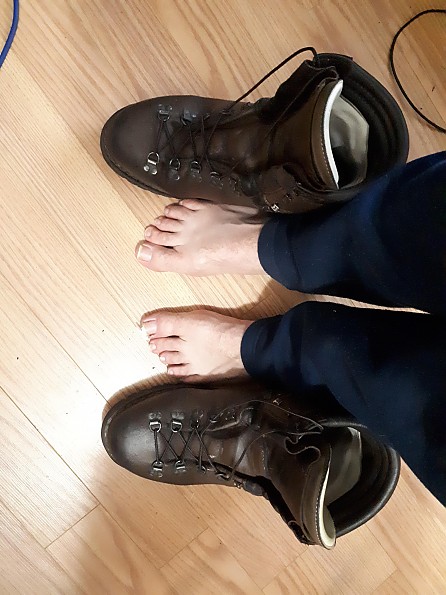 I settled on a pair of the Meindl Super Perfekts after deciding I needed a pair of footwear to last me forever or as close to that as possible. So I set off learning about the old school leather mountain boots that hipsters usually wear to walk to Starbucks every morning. Of course I hope there aren't any hipsters using these boots for that as that would be a shame and a waste of some amazing leather.
I've had the usual synthetic oven-mitt-like hiking boots and shoes that need replacing every year or two. They are never actually waterproof despite fancy linings and such. The soles come off easily and the fabric interior causes more blisters than anything else because your feet are sweating buckets.
I was looking for stitch down double stitched Norwegian welted boots made from a single piece of leather With a regular leather lining. No Gortex allowed. It was the Regular Perfekt, the Zamberlan Latemar or the Danner Mountain Lights. Then when I went to the shop to check out the Perfekt, I saw these next to them and my curiosity got the best of me to try them on. Fell in love instantly and there was a pair that fit. They weighed a little more and cost more but they seemed a lot stronger and I liked the TRIPLE STITCH welt. Over built like a Toyota inline 6. Sold.
I bought mine two years ago in Vancouver, B.C. I've taken them on a few trips and many hikes and walks since then. Wore them on the street to get them broken in and my first hike was painful and blister ridden. They needed a lot more use before being trail ready. They are very stiff to start. In fact I'd say they only really have broken in properly during the second year of use.
I'd say wear them for a few hours, daily, for about three months and you're golden. I'm not kidding. They are fine to do moderate hikes in after a couple weeks but over ten miles and you will be wanting different boots. Not only are they stiff, they are heavy so you have to be broken in as well.
I highly recommend liberal amounts of Sno-Seal. I use leather conditioner for one coat after every three times using Sno Seal. Helps break in a lot. Don't neglect the welts or where they attach to the soles either, which is also leather. Get a ton of wax in there. Every time they get dirty and scuffed up I have to clean them up and wax them.
I'm diligent with maintenance on these and although you don't have to be they are very pricey and it's worth the half hour every couple weeks to keep them nice. Alway remove laces when cleaning and waxing. Don't forget to get the stitching too. And wax over the metal fittings as the coating wears off and metal rusts. I like the maintenance though. It's almost fun. Use all natural products on all natural boots.
They dominate the snow, as this winter (2016-17) we had a lot and I wore them every single day for about 4 months. Warm. Dry. Traction. Support. Just the right height too. They aren't extra tall like military boots. And they look great. Lot of comments on them too.
You can drive standard if you want in them but it is tricky at first. I am wearing them nearly every day at the moment. They are my primary footwear pretty much. I just used them for a full day of landscaping (top dressed 8 lawns in them) and they were disgusting so I spent a good hour cleaning them and then let them dry overnight. Then good coat of conditioner and two of Sno Seal. They are back to their clean but well used and broken in look.
Also, I must say the red laces have lasted me still to this day. Great pair of laces. Meindl's insole isn't that great. I'd recommend a different one. It's a little hard on the feet.
The soles haven't worn a huge amount either despite two years of good hard use.
MAJOR UPDATE 2/26/18: OK, not THAT major as my opinion on the boots has not changed one bit. I have added photos of the boots as they sit right now (Feb 26th 2018). I've worn them every single day since my initial review in all imaginable weather and conditions. So out of three years of ownership, I'd say they've been on my feet daily for a year and a half, and the rest of that time a minimum four days per week, if that gives you an indication of the amount of feet time they get. When I wear them they stay on a minimum of eight hours, usually longer though. Still not one blister or hotspot excepting the initial couple months when I first bought them.
I've done several hundred hours of welding and metal fabrication in them now as well. They've been exposed to high heat, slag, molten metal, sparks and all manner of abuse you won't find in the wilderness. I've got a new set of laces on them now too, old ones burned through multiple times and I ended up just getting a new set from the local Red Wing shop (Free to boot!). I very recently stopped wearing them for metal work, I didn't want to beat on them anymore since they are such nice boots.
It's been snowing here and there this year, nothing too crazy like last year. Still perfectly waterproof, still maintaining them diligently as needed. Wore them in the cold winter and deep snow, and with shorts all summer long, no issues either situation and everything in between. With merino wool socks these are the be all end all of boots. Every time I try on or look at a pair of boots that aren't these, I just can't tell the saleman that I want them because I don't. Everything else is cheap, thin, plasticky dry leather. 
They are still the best boots I've ever owned, and still the best money I've ever spent. Old world European craftmanship at its very best, nothing else compares.
Source: bought it new
Price Paid: ~$650 CAD all in

I researched the web for ages before buying these boots. It's hard to find good info, and these few reviews below were a large part of what decided me on the purchase.
They are funny boots to place in modern line ups — old-school mountaineering boots built (yes they are "built" not made...) with pride and skill. There are plastics in this class, and more common nowadays your Scarpas and La Sportivas which are purpose built, light, and stiff.  But these are olden day "real" mountaineering boot which are in a do-it-all category while being top of the line in the Meindl line up. As said in other reviews if you are over 200 lbs these are the perfect boots for you, so stop looking, and buy these.
The quality cannot be faulted. The materials and skill in construction are second to none. They are very stiff, B3 boots, and built with attention to detail. They are heavy, so you need to be a "quad walker", i.e., someone with strong legs.  The sole does flex a little, so you will be happy hill walking or alpine climbing in them, but again, really only if you are a large fella over 200lbs.
They are a boot for those that appreciate quality and do-it-all ability, but willing to sacrifice some of the modern construction and fabrics. Once you buy these boots, you'll never buy another type, I'm super confident in that statement.
My Super Perfekts have now been through the break-in period, and have done a few alpine trips as well as including some typical Welsh scrambles, walking around town (to break them in) and some Haute Routes and over 4km ascents on AD+, and I love them. Super stiff, and once broken in, super-duper comfortable. They are now the most comfortable footwear I own, bar none, and all of a sudden my expensive approach shoes seem redundant.
Search the web, find this short review and buy them.  Old school, heavy leather boots with no place in the modern lineup of boots, but are the best thing you will buy for the mountain.
For truly great service and prices try using Wildnessport in Germany. I don't work for them or have any association, but in the world of internet buying they offer the service and personal touch which is rare to find.
Price Paid: 280 euro

Just Perfect hiking boots. It will take a few days to get used to them; they are quite heavy (just like me, I'm 250 pounds)!
Once used to walk with these boots you'll be surprised about the comfort! The roughest terain is like a walk in the park with this boots. I just bought (I paid 274 euro in Holland) my second pair because my first pair finally "died" after 14 years of daily use! 
Properly waxed they are perfect in dry conditions and also in a moist enviroment. I've used them in Morocco, Egypt, Turkey, Peru, Cambodia, Australia, and all over Europe. I have patched them a few times and resoled them about every three years.
These are the last hiking boots you will ever buy, once you tried them you'll never be satisfied with lesser boots. In my opinion they are very good value for money, they last at least up to ten years (daily use) so they cost you about 40 euro each year including patching and resoling.
These boots are Perfect, just as the name says.
Price Paid: 274 euro

I bought my first pair of serious hiking boots (Meindl) in the mid 1970s and had them resoled several times at least. I always treated them properly, and they held up and performed for OVER THIRTY YEARS!!!
I have learned over time that one's gear can make or break a trip and that there is a huge difference in "cost" versus "value". If comfort, support, warmth, and dry feet are important then there is no better value available than Meindl.
Meindl were my first proper pair of boots and will likely be my last ... if I'm still going in my 80s!
Materials: leather
Use: you name it—everything!
Break-in Period: short
Weight: not light
Price Paid: CAN $500

These are the best hiking boots ever made. Better then Meindl Perfekts. (I have two pairs of regular Perfekts.)
If you are over 200 lbs there is nothing in the world that will suit you better. You can use the Super Perfekt for anything then the Perfekt but the Super Perfekt will not soften out so much as the Perfekt does. The sole is not 100 percent stiff, so you can use it for longer walks.
Materials: leather
Use: rough trail
Break-in Period: 2-3 weeks/3-4h/day
Weight: 1,5 kg each
Price Paid: 270€

In every lifetime there are things you never will forget. One of these things are Super Perfekts. Once you bought them you love them more every day. I have two pairs; one pair for every day and one for Sundays and church.
I bought what essentially is the Super Perfekt model of today about nine years ago before making an expedition to Ethiopia.
I had been used to buying new hiking boots every year. I have called these the best shoes ever made. I have patched them a few times and resoled them in Alaska and Mexico. They are absolutely the best boots ever made.
Even though my original pair is still in good condition I am looking forward to tracking down another pair. My friend is going to Germany and I am counting on him getting me another pair.
Materials: all leather, foam cushion between leather
Use: rough trail and anything except jogging!
Break-in Period: 1-2 weeks, a couple of hours a day
Weight: I have size 15, about 1 Kilo each
Price Paid: 1500FF ($300)

I used them in Norway. Their name says it all! Perfect in very difficult terrain, stiff enough to use crampons (no step-ins!!) for snow field crossing and glacier walks (up to ~ 30-40°).
If waxed properly, they are waterproof; strong leather (+ 3 mm). Comfortable on longer walks (20 km), because sole is not 100 percent stiff. BUT not suitable for jogging: they are quite heavy!
They need their break-in period!!!!!!!!! After that, you'll fly over the boulders!
Materials: Leather
Use: rough trail also with crampons
Break-in Period: 1 hard week (1-2 hrs per day)
Weight: + 1,5 kg
Price Paid: 450 DM

I have put over 300 kilometers on these boots, which are four months old and for which I paid a king's ransom, and they are the most uncomfortable boots I have ever worn. The foot bed is like cement. After an hour of walking in them my feet are aching.

Why are they made so hard and inflexible? Typical German overengineering. I walked the Camino Frances (800 Kms) in another model of Meindl boots and they were great, but I wore them out. Thought this time I'd try the Super Perfekt (supposedly the best). Big mistake.
Pros
Apparently indestructible
Cons
Uncomfortable, particularly the foot bed
Hot
Inflexible
Heavy
Cause feet to ache when worn for about 1 hour
No good for long distance trekking
The fit is too snug. When lacing them up they seem to be either too tight causing the feet to go numb or too loose allowing chafing and hot spots to form which lead to blisters. Impossible to break in after four months and about 300 kilometers of hiking.
On a damp surface traction is not good as they are very slippery. When used for hiking in temperatures of 20°C or over they are extremely hot and your feet will perspire profusely. I walked 25 kilometers yesterday on relatively flat and easy terrain and by the time I had finished my feet were killing me and I could not  get them off my feet fast enough.
I have used these boots for four months in both Canada where I come from and in Spain where I have spent the last six weeks on a winter vacation. My purpose in buying them was to break them in and then use them for a long distance trek in France (750 kms) from Puy en Valey to St Jean Pied de Port (the Via Podiensis). I don't think I will be using them for that trek as they are far too uncomfortable to be walking 25 kilometers a day for an extended period of time.
I had another pair of Meindl boots that I walked the Camino de Frances with and they were great. I should have bought that model again rather than the Super Perfekt.  
Experience
I have used this product for four months and have walked over 300 kilometers with them. I owned another less expensive model of Meindl hiking boots before the Super Perfekt and wore them out. The leather split where it joined the sole and as the sole was vulcanized onto the leather upper they couldn't be repaired. This previous pair of Meindl boots was excellent and my experience with them was the reason I decided to buy the Super Perfekt model.
Source: bought it new
Price Paid: 300 euros

Your Review
Where to Buy
Help support this site by making your next gear purchase through one of the links above. Click a link, buy what you need, and the seller will contribute a portion of the purchase price to support Trailspace's independent gear reviews.
You May Like
Specs
Men's
Price
Reviewers Paid: $300.00

Weight
1370g

Upper
Swiss military cowhide leather

Lining
Leather

Footbed
Air-Active Soft Print drysole

Sole
Vibram Montagna Sole, genuine triple stitching (suitable for crampons)

Recently on Trailspace